It's a tough comparison between TMDHosting and SiteGround, since both web hosting services offer excellent features and have a bunch of happy customers. It's true that TMDHosting offers more budget-friendly packages than SiteGround, but it also offers a lot of paid add-ons at checkout, and these increase its overall cost.
To compare TMDHosting and SiteGround fairly and effectively, I've tested both services in terms of features, performance, pricing, security, and support.
 SiteGround's top-notch support, sophisticated feature set, and innovative security measures make it the winner of this comparison.
Click here to see SiteGround's latest deals
, or read on to find out which of these hosts is the right choice for you.
1. Plans and Pricing
TMDHosting Is More Affordable, but SiteGround Includes More Freebies
TMDHosting and SiteGround offer similar hosting services, including regular web hosting (shared), WordPress hosting, cloud hosting, and reseller hosting. TMDHosting also offers VPS and dedicated server plans.
Both services provide free SSL certificates, daily backups, free CloudFlare CDN, and unlimited email accounts.
TMDHosting offers free website migration with its subscriptions, whereas SiteGround only offers it with higher-tier packages. TMDHosting offers a free domain name and 60-day money-back guarantee, while SiteGround doesn't offer a free domain and only gives you a 30-day money-back guarantee. Price-wise, you'll notice that TMDHosting offers cheaper prices than SiteGround. On the other hand,
SiteGround offers some attractive premium features with its shared and WordPress hosting plans free of charge
(more details in the features section).
A free domain name is included with some hosting plans from SiteGround
A free domain name is included with some hosting plans from TMDHosting
The winner? TMDHosting wins this round for offering all the necessary resources needed to run a functional website at more affordable prices than SiteGround. Nevertheless, if you have some room in your budget and want premium hosting, I recommend SiteGround.
2. Features
SiteGround Offers More Interesting Features Than TMDHosting
While TMDHosting offers the industry standard cPanel with its Linux hosting plans,
SiteGround has stopped using cPanel and now offers its own proprietary control panel, Site Tools, which is more intuitive and more user-friendly than cPanel.
Both services offer feature-packed managed WordPress hosting, where you can host from one to unlimited websites (depending on your subscription). However,
SiteGround offers more WordPress-optimized features
with its GrowBig and GoGeek plans such as SG Optimizer (to easily manage your website and boost its performance), Git ( lets you create repositories of your website that you can access, install, and edit later), and Staging Tools (allows you to test and make changes on a copy of a live version of your website before uploading it). ٍExplore more differences between TMDHosting and SiteGround's features in the following comparison table.
| | | |
| --- | --- | --- |
| | TMDHosting | SiteGround |
| Hosting Types | Shared (Linux and Windows), WordPress hosting, reseller (Linux and Windows), cloud, VPS (Linux and Windows), dedicated server, application hosting | Shared, reseller, cloud, enterprise hosting, WordPress hosting, application hosting, |
| Free Domain | ✔ | x |
| Free SSL Certificate | ✔ | ✔ |
| Disk Space | 30 GB – Unlimited | 10 GB – 120 GB |
| Bandwidth | 400 GB – Unlimited | Unlimited |
| Automatic Backups | Daily | Daily |
| Control Panel | cPanel, Plesk | Site Tools |
| Email Accounts | Unlimited | Unlimited |
| Free CDN | ✔ | ✔ |
| Free Site Migration | ✔ | ✔ (only offered with higher-tier plans) |
| Money-Back Guarantee | 60 days | 30 days |
The winner? Although TMDHosting offers a very good feature set with its hosting services, SiteGround outshines TMDHosting by bringing more value-added features.
3. Performance
TMDHosting Is Faster, but SiteGround Is More Reliable
Both TMDHosting and SiteGround promise a 99.99% uptime guarantee, but only SiteGround lives up to that promise.
 Various users have experienced multiple downtimes in one month with TMDHosting.
In terms of website loading speeds, SiteGround gave poor results in our tests even though it offers a free CDN (to boost your website's speed) and has servers in the US, the UK, Singapore, and the Netherlands. Find out what went wrong with SiteGround's loading speeds in our
expert SiteGround review
. On the other hand, TMDHosting's global network of servers (US, UK, Netherlands, Japan, Singapore, and Australia) and free CDN all paid off when we tested its page loading speeds. See the impressive results in our
detailed TMDHosting review
.
4. Security
SiteGround Takes Better Care of Your Website
Both TMDHosting and SiteGround offer free SSL certificates with all their services,
 along with free automatic daily backups (great for safeguarding your data). TMDHosting relies on two systems to secure its servers – Cisco and Barracuda – that act as a protective shield against malware as well as  all types of DDoS and brute-force attacks. As an additional security measure,
all TMDHosting's accounts come with preinstalled BitNinja,
 that detects IP addresses with suspicious behavior (e.g., accessing the same web page in short intervals and filling an incorrect password multiple times).
SiteGround, on the other hand, secures its servers with a web application firewall (WAF) and its very own artificial intelligence (AI) anti-bot system
 to protect your website against DDoS attacks and any malicious activities. SiteGround customers also get access to its Sucuri-developed application, SG scanner, which detects all types of malware and other cyber threats. The winner? SiteGround. Despite its admirable security features, TMDHosting is no match for SiteGround's advanced and proprietary online security technology.
5. Support
TMDHosting Can't Beat SiteGround's Outstanding Support
Both TMDHosting and SiteGround have sleek websites that are easy to navigate. Both websites include comprehensive knowledge base sections that cover important topics, and
both hosts offer 24/7 customer support through phone, live chat, email, and ticket system.
TMDHosting's live chat support is quite responsive and fairly knowledgeable.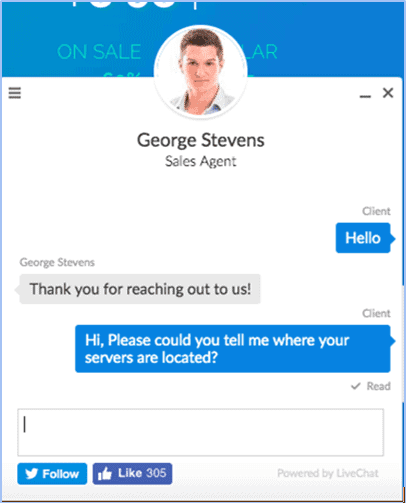 On SiteGround's live chat, not only do the agents respond quickly and comprehensively, but they go the extra mile
 by offering the next possible help tips before you even ask. In addition, every answer (even in the email and support tickets) seems to be well-prepared in order to reduce any possible follow-up questions.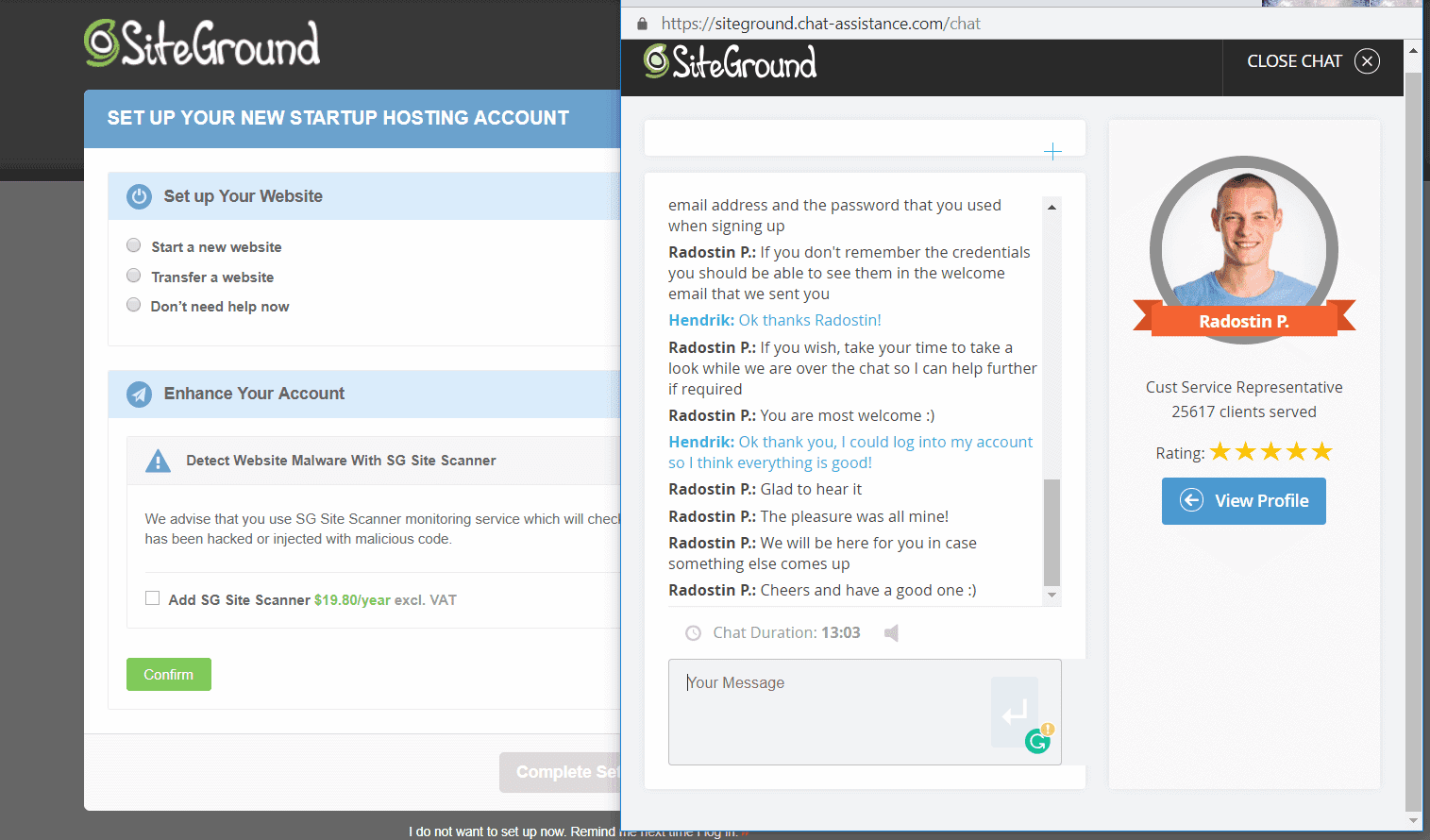 SIteGround is also widely popular for its vast community forum, where you can get help anytime you want and engage with other SiteGround users. SiteGround is the clear winner here! While both vendors provide exceptional pre-sales support, users of TMDHosting have reported issues with their technical support down the line. In contrast, SiteGround remains committed to delivering top-notch support solutions.
TMDHosting Loses to SiteGround
There's no doubt that
TMDHosting is a very capable hosting service
 that offers an array of hosting options and affordable, feature-loaded packages for small to medium-sized websites. Even though it's slightly more expensive,
SiteGround offers better features, better support options, and more security features
,
making it the winner of this comparison. If you're still undecided, you can see more recommended hosting solutions in our
list of the best hosting services
.
Plans and Pricing
Cheaper plans. Offers 60-day money-back guarantee
Slightly more expensive. Offers a 30-day money-back guarantee
Key Features
Free domain, free site migration, unlimited storage, and unlimited email accounts.
Free site migration (with higher-value plans) and unlimited email accounts.
Performance
99.9% uptime guarantee, few downtimes, faster loading speeds, free CDN, global network of servers
99.9% uptime guarantee, fewer downtimes, slower loading speeds, free CDN
Security
Free SSL certificates, Cisco, Barracuda, BitNinja
Free SSL certificates, AI anti-bot system, WAF, SG scanner
Support
24/7 live chat, phone, email, ticket support, problems in technical support
24/7 live chat, phone, email, ticket support, dedicated support in both pre-sales and technical
FAQ
Which host is better, TMDHosting or SiteGround?
These two hosts are very closely matched in terms of reliability and features. If you're on a small budget, then TMDHosting is a good option. However, if you're looking for premium features, easy-to-use tools, and more managed WordPress-focused hosting, SiteGround is the best choice. If you're not sure if either host is right for you, I recommend you check out these fantastic web hosting services before you make your final decision.
Does SiteGround offer VPS hosting?
No, SiteGround doesn't offer VPS hosting. The closest to VPS that you can get with SiteGround is cloud hosting. SiteGround offers four cloud hosting plans – Entry, Business, Business Plus, and Super Power. The disk space ranges between 40 GB and 120 GB (SSD), RAM from 4 GB to 10 GB, 5 TB bandwidth, and from 2 to 8 CPU cores. Need cheap and reliable VPS hosting? I recommend any of these VPS hosting services.
Can I use cPanel with TMDHosting?
Yes. TMDHosting offers the latest version of cPanel for free with its shared, cloud, VPS, and dedicated server hosting packages. cPanel is also coupled with Softaculous one-click application installer giving you access to hundreds of CMS apps.
Does SiteGround use SSD?
Yes. SiteGround stores all files and databases on SSD disk drives instead of using traditional HDD drives. SSD drives perform much faster and boost your website's overall performance. Do you need cheaper SSD hosting options? Check our list of the best and cheapest SSD hosting services.