Squarespace alternatives
, and each has its pros and cons. Therefore, it pays to do research regarding the specific opportunities they present as well as the obstacles you might encounter for any given platform. Do this before you start building your website to maximize your chance of getting it right from the start.
You'll Enjoy Free Rein To Customize Beautiful, Responsive Templates
One thing Squarespace takes very seriously is the quality of its templates.
Squarespace makes all 70 of its templates freely available instead of limiting them to specific plans or making them paid, as some other platforms do. The templates are attractive and visually appealing. They fill a number of niches and are organized according to common categories like Food & Drink, Art & Design, and online stores; as well as a few interesting categories like Music, and even Weddings. All templates are also fully responsive and look great on all mobile devices.

That means that the last thing you'll need to worry about when building your website with Squarespace is access to high-quality templates that look fantastic and work well.
Once you pick a suitable template, you basically already have a modern and beautiful website that attracts positive attention.
You can then customize templates extensively using a drag-and-drop webpage builder.
Because it's based on the concept of "layout blocks" that are like rows of content that form a unit of related elements, it's very simple and easy to use. However, some may find these layout blocks a bit limiting compared with other "pixel perfect" website builders that allow you to drag elements to the exact position you like.
You'll Have to Be Content With Squarespace's Built-In Features
One big difference between Squarespace and most other website-hosting platforms in the same league is that there are no plugins, extensions, add-ons, or whatever else you want to call them.
You get only the features already built into Squarespace, and there's no way to extend functionality through in-house or third-party plugins. Yes, Squarespace does provide a decent amount of features related to SEO, marketing campaigns, e-commerce, and blogging. However, if you compare Squarespace with
Wix
, for example, you'll notice that the latter offers many different online store apps, blogging apps, SEO apps, and more. This allows Wix users to choose the apps that suit their needs best. By contrast, it's impossible for Squarespace to provide the same richness of features or possibilities all on its own.
The upsides, however, include a much lower chance of accidentally breaking your website, as well as better consistency when it comes to quality and experience.
On website-building platforms, plugins become the main source of issues when they get outdated or interact with incompatible plugins. On Squarespace, that won't be a concern.
The only way you'll be able to use any third-party platforms or widgets is if you're comfortable using custom code to inject scripts, code blocks, or content on your website.
There are code blocks available to do this right in the builder.
The Whole Squarespace Experience is Mobile-Friendly
As part of Squarespace's strict curating standards, all the templates offered are mobile-optimized for responsive design and performance.
You'll be able to see this in action when you edit your website, as you can switch between a mobile, tablet, or desktop view of it.
This is a handy tool to ensure you don't break the design for other devices while editing. Hopefully, you're aware of just how important mobile browsing is, as it currently accounts for about 51% of all web-surfing. However, if for whatever reason you prefer to switch off the mobile view, you can do so.
One feature that's unique for mobile devices is a "mobile information bar" that will appear with important shortcuts and contact information, such as your email address, phone number, location, and business hours.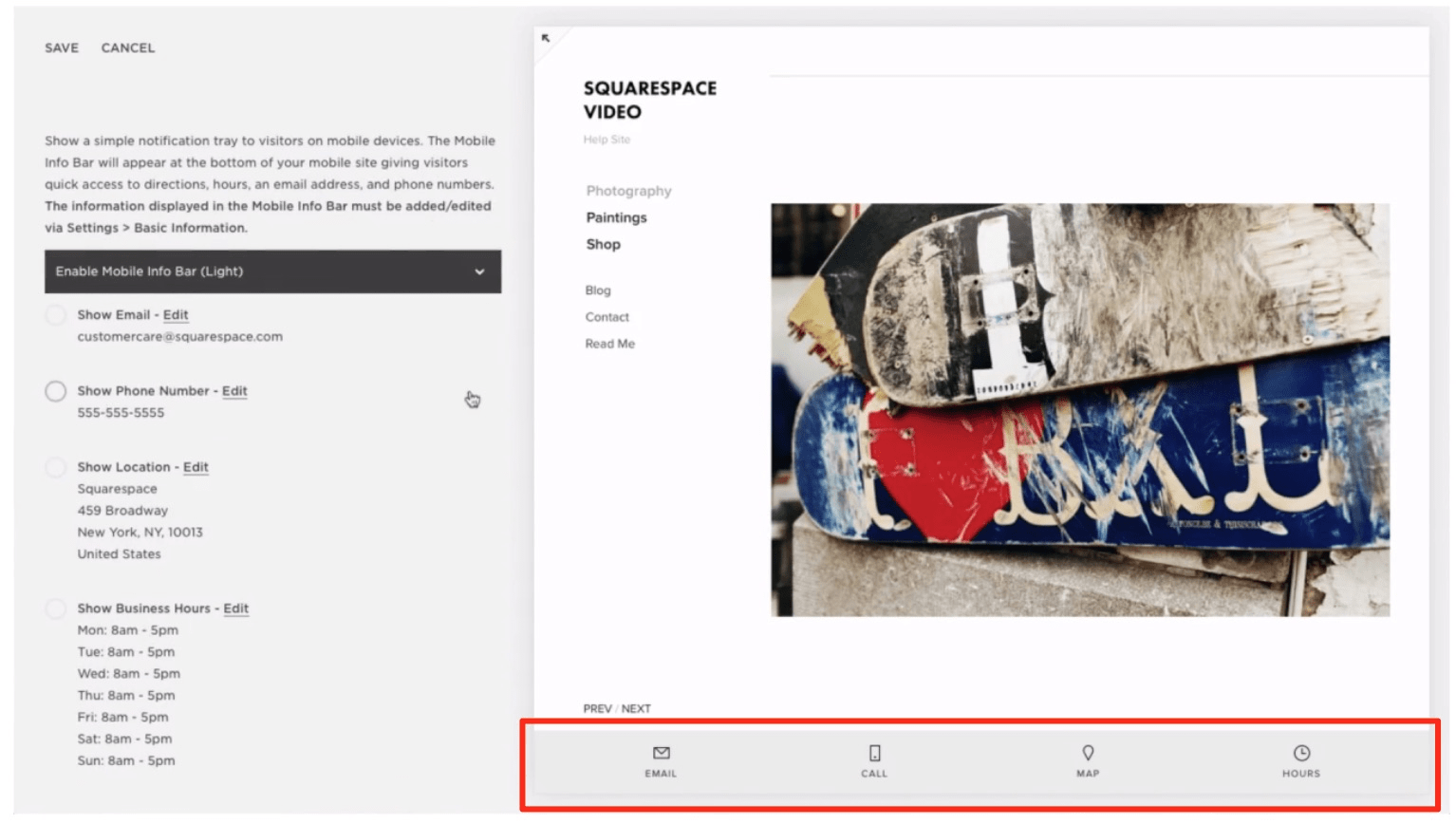 Another great feature, especially for those who are frequently on the go, is that Squarespace provides a way for users to access all the dashboard tools, like analytics and reports, from their mobile device.
Squarespace Has Lackluster SEO But Exciting Marketing Tools
One of the areas where the lack of plugins or extensions probably hits Squarespace users the hardest is when it comes to SEO. You'll have to make use of Squarespace's built-in tools, which aren't that extensive and can be particularly limiting to e-commerce customers.
However, Squarespace promises that its templates are built with easily indexable HTML, pre-generated sitemaps, and automatic redirects, which are all fundamental to SEO.
You can edit webpage titles, descriptions, and slugs for SEO purposes; however, you can't do the same for product webpages.
Your SEO settings in the builder are also limited to creating an SEO description and choosing your default title formats. You'll need to make sure you do your part by optimizing all your titles and creating SEO-friendly descriptions and URLs for everything to take full advantage of
Squarespace SEO
features. However, Squarespace does provide a number of marketing tools to use other platforms or email campaigns to market your website, content, and products (if you have an e-commerce plan).
Facebook and Instagram are two very lucrative channels for e-commerce entrepreneurs that Squarespace allows you to target directly.
So, this is great if these social media platforms are part of your selling strategy and you want to embed webpages or products on them. The email marketing tools are also great, as you can choose from layouts to create targeted emails for specific email lists and view their performance.
Squarespace Has You Covered With Any Type of Website
Regarding pricing and features, Squarespace could be suitable for a broad range of potential website owners. Whether it's the right option for you will primarily depend on how it differs from other platforms concerning the factors we've discussed previously.
If you're building your website with Squarespace, you can expect to start off with a beautiful and optimized template, an easy-to-use webpage builder, and fantastic support.
However, don't expect all the features and customizability of an enterprise-level solution.
Hopefully, this information not only gives you a good idea of whether
Squarespace
is the right builder for you, but also sheds light on what to expect when you actually start making your website — regardless of the builder you choose. Any platform has its own advantages and limitations; it's finding the right balance that will make a service a winner for you.