StableHost may have cheaper prices than SiteGround, but in terms of features and performance, it simply can't match what SiteGround has to offer.
SiteGround is also one of the best hosting services for WordPress
, whereas StableHost doesn't even have specialized WordPress hosting plans. Add to this the fact that SiteGround has special features to boost your website's loading speed and security, and the higher price begins to make sense. To accurately compare SiteGround and StableHost, I've researched and tested both services in five essential categories. SiteGround came out on top on almost all counts, which makes it the clear winner.
Click here to see SiteGround's best plans
, or read on to find out more.
1. Pricing and Plans
StableHost Is Cheaper, but SiteGround Gives You More Value for Your Money
In terms of pricing alone, StableHost is the clear winner. Whether you're looking for shared hosting, VPS, or dedicated servers, it's more affordable across the board. It also offers more flexibility, with 1-month, 3-month, 6-month, 12-month, 24-month, or 36-month billing cycles, depending on which plan you choose.
A free domain name is included with some hosting plans from SiteGround
But there's a catch: You can only get StableHost's best prices if you commit to a three-year plan.
 If you opt for a three-month billing cycle, you'll pay almost double the advertised cost. SiteGround costs the same regardless of the billing cycle you choose, but its minimum term is one year. You could opt for a one-month trial, but then you have to pay a setup fee. With both hosts, renewal fees are steep and can double your initial cost. However, even after the increase in cost and even if you opt for a shorter billing cycle, StableHost remains the cheaper alternative. You also get free domain privacy with StableHost, while SiteGround charges you extra for this service.
But if you can afford the higher price tag, SiteGround is worth it.
For example,
SiteGround's managed WordPress plans
 cost the same as regular shared hosting but include automatic updates for WordPress and related plugins, advanced security tools, and access to WordPress-specific support. StableHost gives you none of the above for free. Its three all-purpose shared hosting plans include a good mix of resources and basic features, but these pale in comparison to the powerful tools you get with SiteGround's more specialized plans.
2. Support
SiteGround Is Always There, While StableHost Is Barely There
How do you know if a web host's customer support team will still be there for you after you sign up? Well,
I've tested support for both SiteGround and StableHost so that you know exactly what you can expect once you become a paying client.
Both hosts offer 24/7 support through live chat, tickets, and phone.
 If you want to handle an issue yourself, both also have ample knowledge bases with useful tutorials and guides. After testing the live chat feature for both services, I have to hand this win to SiteGround.
SiteGround aims to respond to all questions quickly and to address tickets within 15 minutes, which is, in my experience, 100% accurate.
 An agent was with me as soon as I opened a chat box, and her quick replies made me feel that I had her undivided attention throughout the conversation.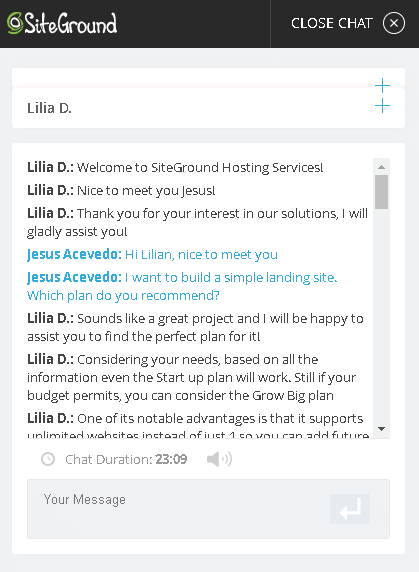 When I asked Lilia if I could use WordPress on the plan she recommended, she explained to me how to set it up and even offered to do it for me for free.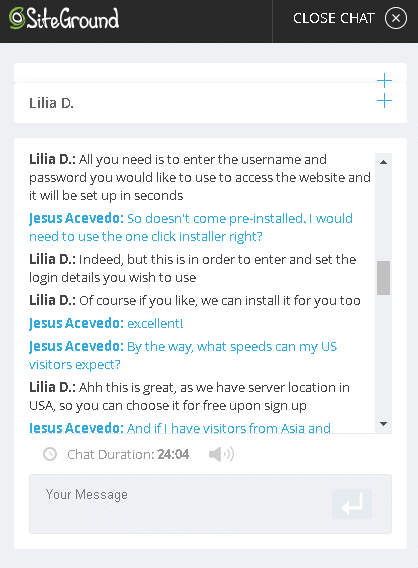 When I asked about loading speeds for visitors from around the world, the agent told me that this depends on the content of my website and reminded me that all SiteGround plans include a free CDN, which could improve my site's performance. I felt that this was a good answer.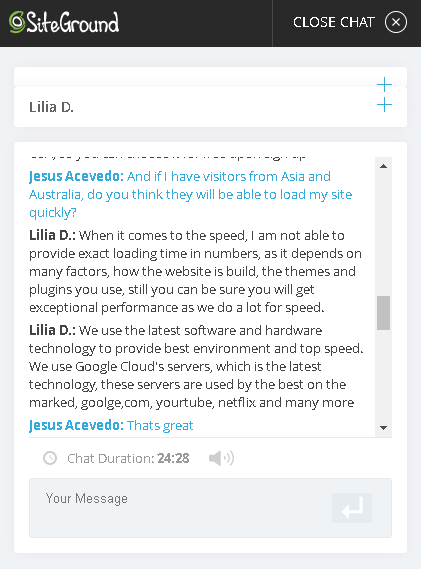 Lilia did spend a fair amount of time trying to sell me a more expensive plan, but overall, I felt that her responses were professional. This is considerably more than I can say about my interaction with StableHost's customer support.
I asked the StableHost agent the same questions, and not only did I get very little information in the process, but I also couldn't shake the feeling that I was, in some way, bothering him.
I told George that I wanted a simple landing page, and he recommended the Starter plan. So far, so good. But when I asked whether the plan supported WordPress, he seemed to accuse me of misleading him about how many pages I wanted to host. I had to clarify my needs and reiterate my question, and the answer I got was just plain rude.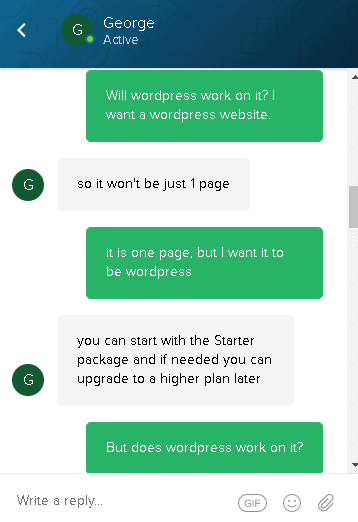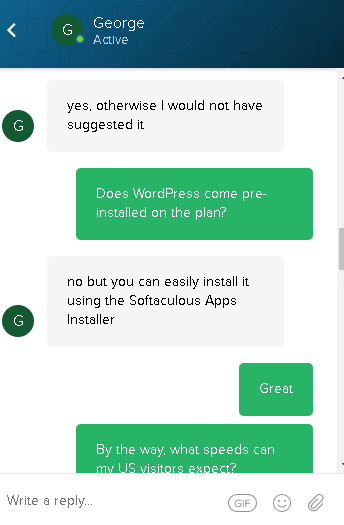 I also asked about the website loading speeds that I could expect with StableHost, and George's response was brief and dismissive. The same happened when I asked if my visitors from Asia or Australia would be able to load my site quickly. No mention of optimization tools or a CDN.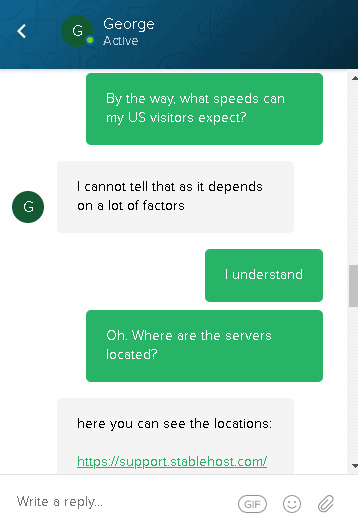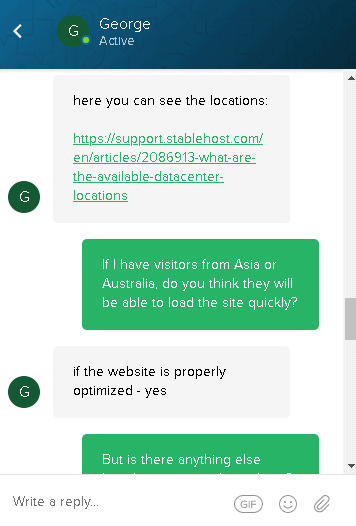 I couldn't help but wonder: If this is how a support agent treats me as a potential client, what could I expect if I were already paying for their service?
3. Features
SiteGround Gives You Powerful Features for Free, While StableHost Only Covers the Basics
When we take a closer look at the features offered by both hosts,
SiteGround is the obvious winner, thanks to plenty of freebies and optimization tools.
Both hosts offer a range of basic features, such as
automatic backups, unlimited email accounts, generous amounts of SSD storage space, and a free website transfer on some plans.
 But that's about as far as StableHost goes. On the other hand,
all SiteGround accounts have access to its proprietary caching solution, the SuperCacher,
 which improves your website's loading speeds. If you're a developer, you'll be happy to know that
SiteGround includes a proprietary tool for SSH access on all plans for no additional cost.
 With StableHost, SSH access must be purchased separately. Another perk is that SiteGround's hosting comes with PHP 7.1 as the default version, while StableHost uses PHP 5.3.
It's also worth noting that while StableHost offers the industry-standard cPanel control panel, SiteGround offers its proprietary Site Tools instead.
 This is a big plus for beginners, since Site Tools eliminates many unnecessary features from cPanel and has a more user-friendly interface. While you do get more storage space on all plans with StableHost, this is a small victory when you add up the additional features that SiteGround offers for free.
| | | |
| --- | --- | --- |
| | StableHost | SiteGround |
| Hosting Type | Shared, VPS, dedicated servers, reseller | Shared, managed WordPress, managed WooCommerce, cloud, dedicated servers, reseller |
| Free Domain | No | No |
| Free SSL Certificate | Yes | Yes |
| Disk Space | Unlimited | Unlimited |
| Bandwidth | Unmetered | Unmetered |
| Automatic Backups | Yes | Yes |
| Control Panel | cPanel | Site Tools |
| Email Accounts | Unlimited | Unlimited |
| Free CDN | No | Yes |
| Free Site Migration | Yes, if your previous host uses cPanel | Yes, but not on all plans |
| Money-Back Guarantee | 45 days | 30 days |
4. Performance
SiteGround Takes Performance to Another Level
Both SiteGround and StableHost let you choose your data center to improve website loading speeds for visitors from specific regions.
 SiteGround has servers in the US (Chicago and Iowa), Europe (the UK and the Netherlands), and Asia (Singapore). StableHost also has servers in the US, Europe, and Asia, but has more locations in Europe (Germany, the Netherlands, Sweden, and Spain) than SiteGround does.
Both providers offer SSD drives
 – which are up to 20 times faster than traditional HDD drives – on all plans. SiteGround has Nginx servers, while StableHost uses LiteSpeed – both excellent choices.
SiteGround takes performance one step further with the SuperCacher plugin and a free Cloudflare CDN included on all plans.
 It also provides a proprietary optimization tool, the SG Optimizer, to help you set up WordPress and any additional plugins you need to improve your loading speeds.
Both SiteGround and StableHost have 99.9% uptime guarantees backed by service level agreements (SLAs),
 but the compensation for additional downtime is different for each host. SiteGround gives you more generous compensation, offering a free month of hosting if uptime falls below 99.9%.
SiteGround achieved an excellent score in our performance tests. Find out more in our
in-depth SiteGround review
. We have not yet had the opportunity to run the same tests on StableHost, but you can read more about its performance-enhancing features in our
expert StableHost review
.
5. Security
SiteGround Is Proactive, While StableHost Does the Minimum
StableHost does offer free SSL certificates and basic spam filtering, but it can't compete with SiteGround's advanced security features and infrastructure. SiteGround also gives you a free SSL certificate, but you also get an anti-hack web application firewall, advanced spam protection from SolarWinds Spam Experts, and on-demand backups. More importantly,
SiteGround's infrastructure is based on Linux container (LXC) architecture
 that keeps each hosting account safely isolated from other accounts on the same server. Other users won't take up your resources, and if they ever experience a security breach, the issue won't spread to your website.
SiteGround even develops and applies its own security patches whenever new server software vulnerabilities are discovered.
These patches keep your website safe until official fixes are released. For yet another layer of security, you can use the SG Site Scanner, SiteGround's proprietary malware detection and removal tool, although this comes at a small extra fee. In any case, SiteGround goes out of its way to protect your account and website with features that are far better than what StableHost offers.
Choose SiteGround for Better Performance, Support, Features, and Security
StableHost gives you all the basic tools to start a website, but when you pit it against a service like SiteGround, it simply doesn't have enough features to stand out.
SiteGround's superior infrastructure, performance, and excellent customer support make it the clear winner in this matchup
.
If you're working with a tight budget or don't need additional tools,
StableHost might be worth a shot
 –
or you could go with Hostinger, a budget-friendly service that provides excellent service.
If you're still wondering whether you should go with StableHost or SiteGround, consider that neither of the two made it into our list of the
best web hosting services
. The table below includes both hosts' most important features:
Plans and Pricing
More affordable than SiteGround across all plans, but the best prices are only for the three-year billing cycle
Cheap to begin with, but becomes expensive with renewal fees; overall, better value for your money
Key Features
Unlimited storage, unmetered bandwidth, unlimited email, free automatic backups
Unlimited storage, unmetered bandwidth, unlimited email, free automatic backups, free optimization tools
Performance
SSD storage; data centers in US, Europe, and Asia; 99.9% uptime guarantee
SSD storage; data centers in US, Europe, and Asia; integrated Cloudflare CDN; 99.9% uptime guarantee
Security
Free SSL certificates, free ID protection, spam filtering
Free SSL certificates, web application firewall, advanced spam protection, on-demand backups, LXC architecture, SG Site Scanner available for an extra fee
Support
24/7 support via tickets and live chat; phone support for enterprise plans; decent knowledge base
24/7 support via tickets,  live chat, and phone; extensive knowledge base
FAQ
Is SiteGround the best host?
SiteGround's hosting plans include an impressive set of proprietary software. Depending on the plan you choose, you can get WordPress-optimized infrastructure, an excellent website caching tool, an integrated CDN, and advanced security software in addition to knowledgeable and swift customer support. The issue with SiteGround is that its renewal fees are very steep, which puts it at a disadvantage compared to other top providers. To see which hosts can give you many of the same features at a lower cost, check out our list of the best web hosting services.
Is SiteGround's WordPress hosting good?
Any of SiteGround's managed WordPress plans can be a great solution for a WordPress site, especially since they all come at no additional cost compared to basic shared hosting. WordPress is preinstalled on all plans, and you have access to SiteGround's proprietary optimization tools for improved website performance and security. SiteGround even made it to our list of the best managed WordPress providers.
Does StableHost offer VPS hosting?
Yes, StableHost has five preconfigured VPS plans, ranging from 1 CPU core and 1GB RAM to 8 CPU cores and 16GB RAM. However, these offers do not live up to what you could get with any of the best VPS hosting services. For instance, all StableHost VPS plans are unmanaged, which means that you need some serious expertise to operate them successfully. Head over to our coupon page to see which VPS hosts are offering the best deals right now.
Is SiteGround good for an online store?
SiteGround's managed WooCommerce plans are a good choice for an online store. All plans are optimized for WordPress and include smart caching tools designed specifically for WooCommerce stores. The only significant drawback is that you get only 10GB of storage on the StartUp plan and up to 40GB on GoGeek. To find out more about the features you need to support an online store, check out our expert guide to WooCommerce hosting.