There's no one right way to manage your project.
Sure, different approaches work better for certain types of projects, but the way you organize your tasks and keep your team on track will always come down to your own preferences.
This is perhaps the most significant difference between Smartsheet and Asana.
Smartsheet is fantastic if you like grid-based project management, but Asana's flexibility and kanban boards are great if you prefer a drag-and-drop interface.
Overall, Smartsheet won in this matchup – but it was a hard call.
When I was testing both of these platforms, I really liked Asana's flexibility, and it's one of the few platforms that offers built-in direct messaging. In the end, though, these features just can't compete against Smartsheet's time-saving automation capabilities, massive template library, and highly customizable dashboards. Let's dive right into the Smartsheet vs. Asana battle. Or, if you'd rather test out the winner for yourself, you can
get started with Smartsheet for free
.
Features
Smartsheet's Form Automation Makes Data-Based Projects a Breeze
Smartsheet has a fantastic suite of features, so let's start with the basics. With
190+ sheet templates and 100+ template sets
 (which include sheets, reports, and dashboards), you're likely to find a template that covers your exact project type.
You can also save your projects as a template
, making it super easy to start a similar project next time. It's a great feature that both Asana and Smartsheet have in common. But as much as I like Asana, its 100+ templates can't compete on the same level. On the other hand,
Asana offers far more integrations than Smartsheet.
Asana has 200+ integrations available on all plans, while Smartsheet only has 80+, and some of those are only available on the Business plan and above. Based on numbers alone, Asana clearly wins on the integrations front.
So, how do Smartsheet and Asana perform on the battlefield of advanced project management features?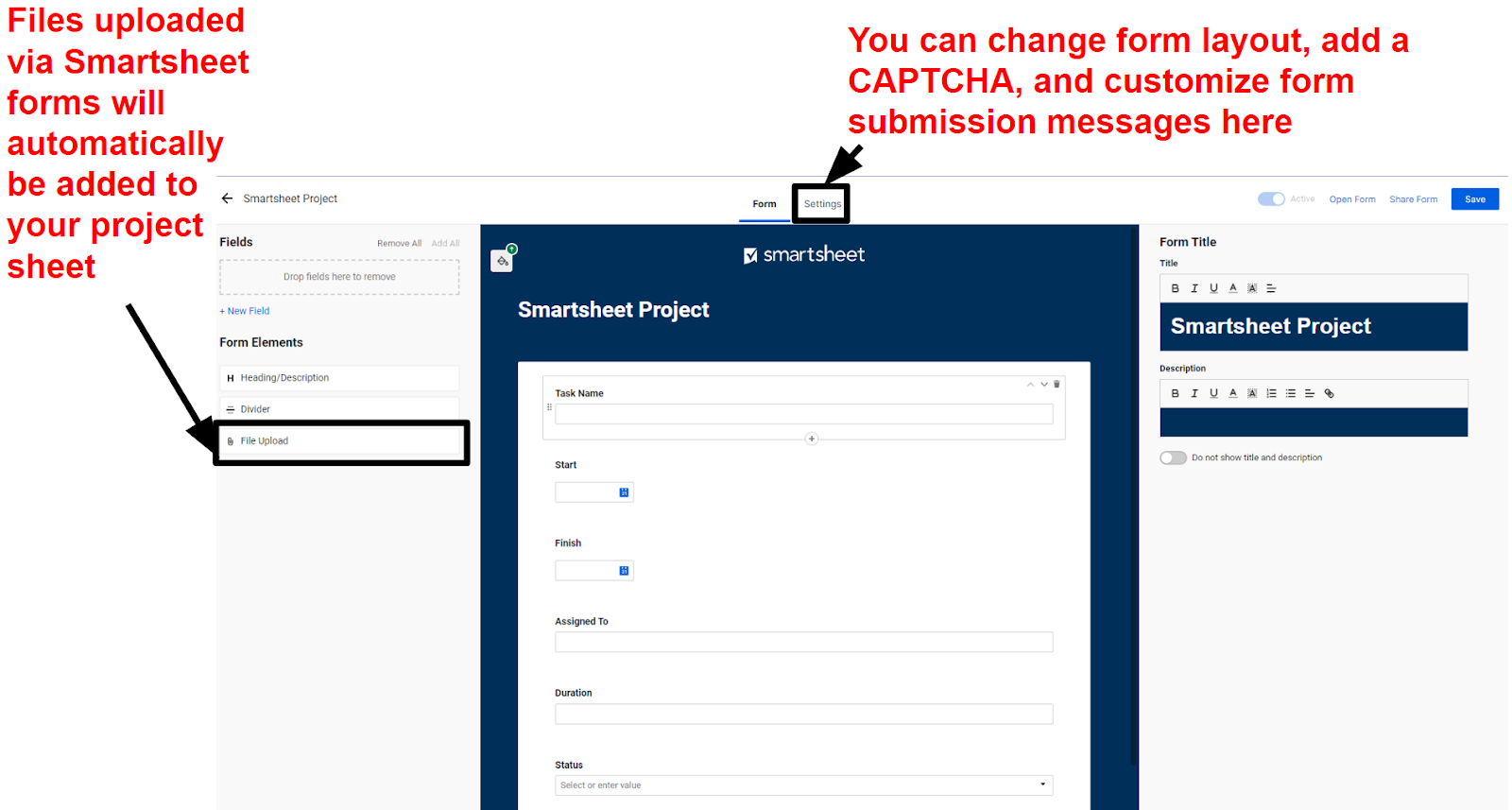 Smartsheet's stand-out feature is its built-in form editor – it's one of the best project management features on the market.
I very rarely see this feature outside of marketing software, so having it here is a nice touch. Plus, Smartsheet's Forms automatically populate a sheet of your choice with the gathered data, making it super easy to see all of your data in one place. If you're running a data-heavy project like a company-wide survey or a support ticketing system, Smartsheet is ideal.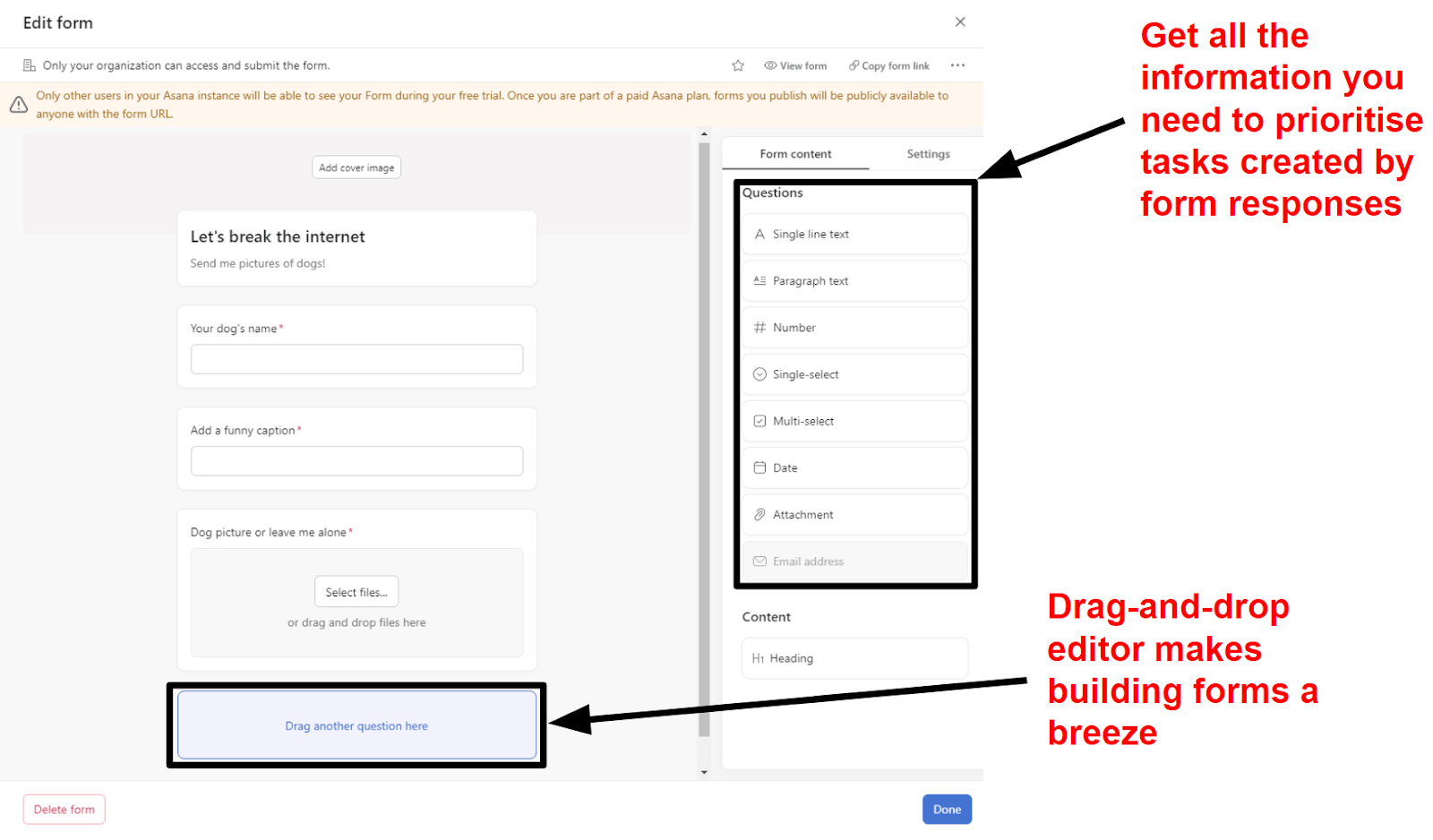 This is a pretty unique advanced project management feature, and it's one that Asana can't match.
While Asana has a forms feature, its automation is limited to turning submissions into tasks.
Sure, it's helpful if you want to use it as a task submission or asset request system, but you'll have to do a ton of admin work if you want to run a data-heavy project. It's a fairly even battleground, all things considered.
However, I have to give the win to Smartsheet.
While its integrations library is considerably smaller, its fantastic form editor with automated data population is one of the most helpful project management tools on the market.
Ease of Use
Keep Your Smartsheet Organized With Sheet Summaries
If you're a spreadsheet wizard already, then you probably won't find it hard to get to grips with Smartsheet.
Personally, I found Asana easier to get started with, but that's because my knowledge of spreadsheets is limited to adding data into cells. On the other hand, my partner who loves setting up a spreadsheet for every occasion had no issue finding his way around. In technical terms, I believe that's called a "tie", so let's take a deeper look. I set up a test project on each platform, and while both were good, I could see Smartsheet working for a larger number of different team setups.
This is thanks to Smartsheet's Sheet Summaries (say that three times fast).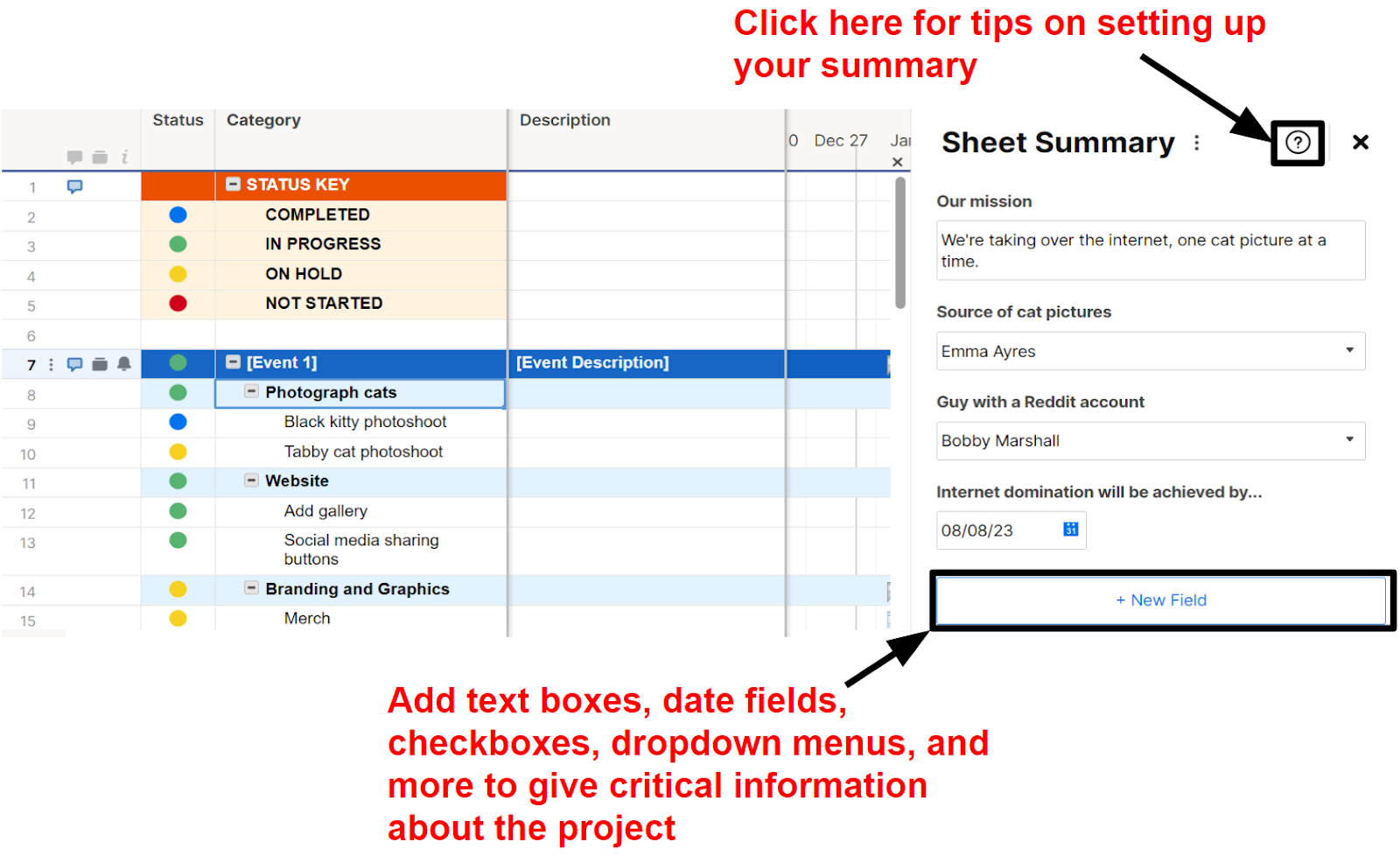 Sheet Summaries are a customizable panel you can add to your project to provide crucial information for your team. You can
add as many fields as you need and even embed formulas
to display key metrics about your project's progress. I love that you can
generate reports from your Sheet Summary
 (or multiple!), too – it's a great way to keep organized. In comparison, every project in Asana has an Overview tab. This isn't as customizable as Smartsheet's summaries as it has one fixed text field, a section to display team members and their roles, and an activity feed.
You can also create a project brief in Asana and add any relevant links or files.
It's good, don't get me wrong, but Asana's lack of customization means Smartsheet takes the trophy for this section.
Collaboration Tools
Smartsheet's Customizable Dashboards Make Project Management Personal
Asana is often showered with praise for its collaboration features – and quite rightfully so – but I actually think Smartsheet is better. Please hear me out before you pelt me with rotten tomatoes and run me out of town. Yes, Asana's collaboration is good. Great, even.
Not many platforms (including Smartsheet!) offer built-in direct messaging
, and its appreciations feature makes collaboration fun. As good as this is, though, it can't compete with Smartsheet's stellar customizable dashboards.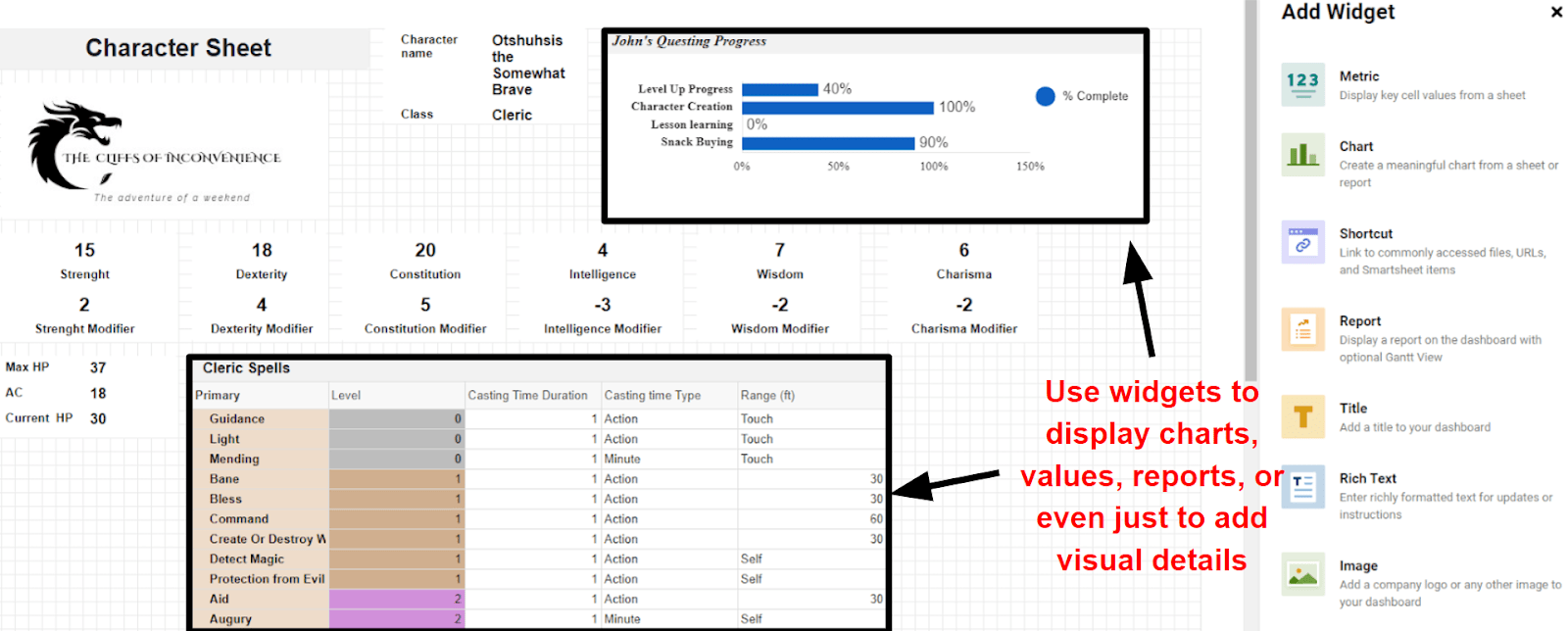 Customizable dashboards are one of my favorite collaboration features, as they allow you to display the data that's most important to you and your team.
While Smartsheet's dashboard feature isn't the prettiest, it provides real-time updates to your team through easy-to-use widgets.
Most importantly, you can share dashboards with
everyone
. Team members, clients, even your dog (although maybe not your dog unless it can read. In which case, good dog!). How does this relate to collaboration? I'm glad you asked.
Imagine how many pointless emails and Slack messages you can avoid just by providing a central source of information that everyone can access.
Having that dashboard with information about upcoming deadlines, project progress, or your workload
optimizes
your collaboration. It means that the conversations you have with your team are a lot more meaningful. And, you won't have to tell your client for the 30th time that their project is due to be delivered in a week.
Pricing
Asana's Generous Free Plan is One of the Best
Both Asana and Smartsheet offer similar pricing with two paid tiers and a custom Enterprise plan
with additional business features like automatic backups. On top of that, these plans are all similarly priced, with some variation between Smartsheet's Pro and Asana's Premium plan.
The standout difference between these two platforms is in their free plans.
Asana simply gives you a lot more for the low, low price of free.
Here's What You Get for Free
Smartsheet's free plan is decent, don't get me wrong.
You can have up to three users on the free plan, and you're limited to tracking two projects at a time. You'll get four project views, including Gantt charts, which is more than can be said for some other project management tools. If you want to try a paid plan,
both the Pro and Business plan offer a 30-day free trial.
Unlike some other software solutions I've tested in the past, this doesn't get you access to every feature on the plan, which is frustrating. For instance, when I was trying out Smartsheet's Forms, I couldn't share those forms externally without upgrading to a paid plan.
I don't like it when free plans lock features like this as it's hard to get an idea of how useful the service is when you can't use every feature before you choose to upgrade.
In comparison, Asana's free plan gives you access to all of Asana's base features. More importantly, though, all of these features are unlimited.
You can have as many projects and tasks as you want and store as many files as you need alongside them.
Given that Smartsheet's storage is limited outside of its custom Enterprise plan, it's a clear win for Asana.
Here's What You Get If You Pay
Smartsheet's Pro plan is cheaper per user than Asana's Premium plan. However, it's worth noting that
even though Asana costs a few dollars more per seat, you'll benefit from the same unlimited essential features that are on the free plan.
This gives Asana a ton more functionality as a central source of truth for your project With that said,
Smartsheet's Pro plan is a good budget option
for businesses that only run small projects of a limited scope.
You can only have up to 10 editors (in addition to you), but you'll get an unlimited number of projects and 20GB of storage. This plan costs a couple of dollars per user less than Asana's Premium plan. Moving up a tier,
Asana and Smartsheet's Business plans are similarly comparable.
There are some differences, granted – Asana's plan offers built-in time tracking, while Smartsheet's plan offers additional document proofing tools. However, they both have a great deal in common with no limits on guest seats or workflow automations. It's a difficult comparison to make as I can see both plans offering good value for different kinds of teams.
Teams that are happy to use integrations over built-in features to save money will get on well with Smartsheet's pricing.
However, if you don't mind spending those few extra dollars on a platform that creates a central repository for your project, you'll likely prefer Asana. Because of this,
Asana is best suited for freelancers, small businesses, or individual teams.
While there is an Enterprise-level plan, all of Asana's most useful features are available on the Premium and Business plans. The unlimited storage in particular makes it a great choice for agencies that need to create a central source of truth for their project that clients can view and contribute to. In comparison,
Smartsheet is more useful for larger teams or businesses looking to plan high-level projects in detail.
The limited storage outside of the Enterprise plan is likely to be
too
limited, even for smaller departments within a large organization. Given that the paid plans are roughly comparable, the battle comes down to the free plans,
which makes this section an easy win for Asana.
I can't (and don't want to!) argue with a generous free plan that offers unlimited essentials and tons of functionality.
Smartsheet
Asana
Starting Price

$

7.00

$

11.00

Templates
190+, plus 100+ template sets
100+
Integrations
80+, plus 10 sheet addons
200+
Storage
20 GB
Unlimited
Project views
5
5
Automation
Pre-built and custom workflows, 250 actions/month
Pre-built rules, unlimited actions
Customer support
Email and phone support, knowledge base, webinars, support forum, self-paced courses
Email support, knowledge base, support forum, webinars, video tutorials, self-paced courses
Support
A Close Call, But Smartsheet's Response Was More Helpful
Both Asana and Smartsheet have a very similar support offering.
You can contact support via a ticketing system or use their knowledge bases, support forums, or self-paced courses to help yourself. Smartsheet also offers phone support if you can't wait around for email support. Asana offers 24/7 support on the Enterprise plan only, but you can get this on a Business plan and above with Smartsheet. On top of this,
Asana offers live and on-demand webinars in English, French, Dutch, Spanish, and Japanese.
There are also video tutorials covering Asana's features, use cases, and helpful tips and tricks for using the software. While Smartsheet's tutorials are limited to English only, it offers a
ton
of training resources, including Smartsheet Certified courses so you can brag about your project planning prowess on your resumé. And, if these resources don't cover what you need to know, you can book one-on-one coaching with a Smartsheet expert.
It even has a handy list of spreadsheet functions you can use in Smartsheet,
which is amazing for users like me whose knowledge of functions is limited to simple addition and subtraction. With Smartsheet taking the lead, I contacted both customer support teams to see whether talking to a real human would change my mind.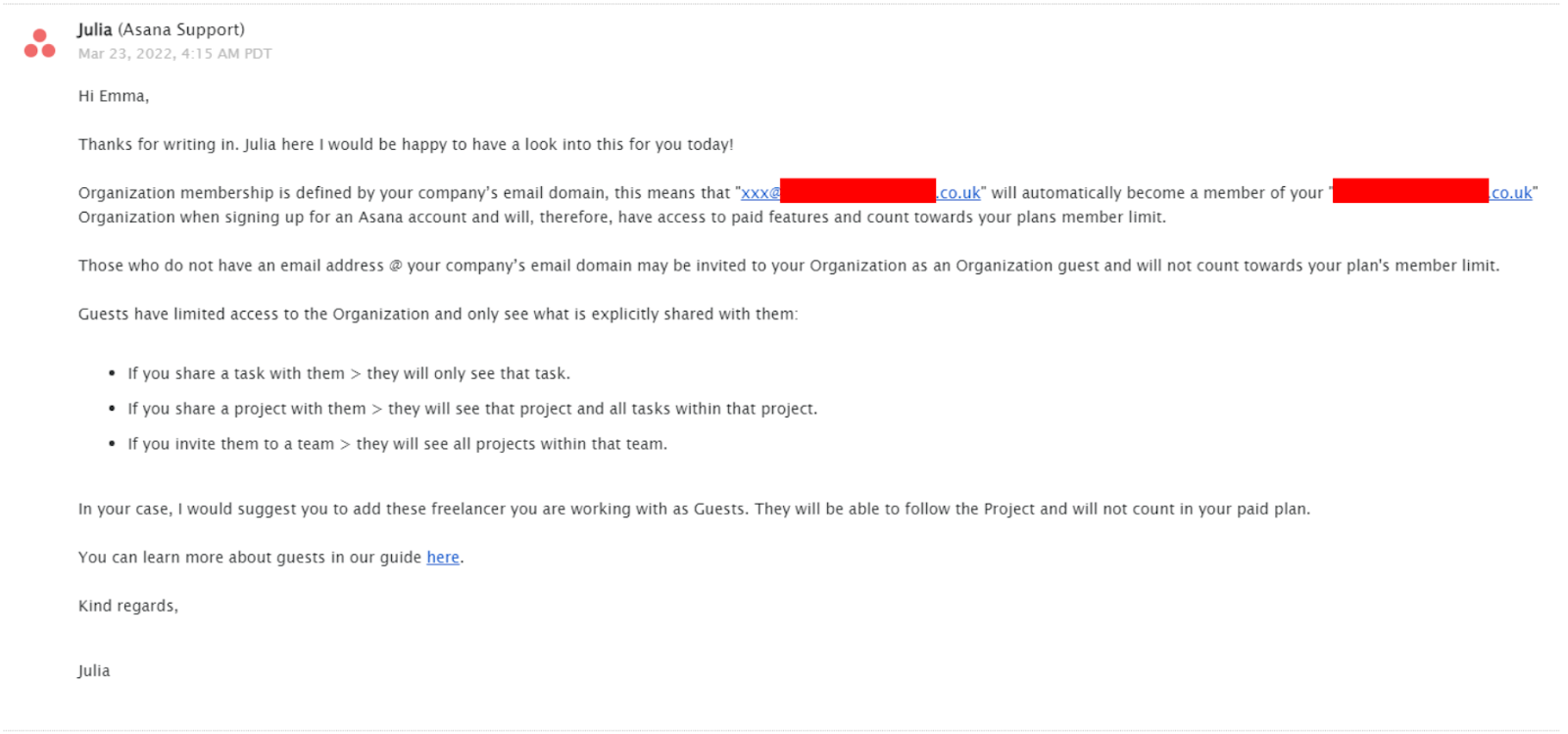 Asana's response to my question came within an hour of contacting them.
However, I have to say getting to this point wasn't the best of experiences. I had to click through multiple pages to figure out how to contact Asana. Even links labeled
Contact support
lead you to pages that don't make it clear where you need to go. Not exactly ideal if you have a time-sensitive issue.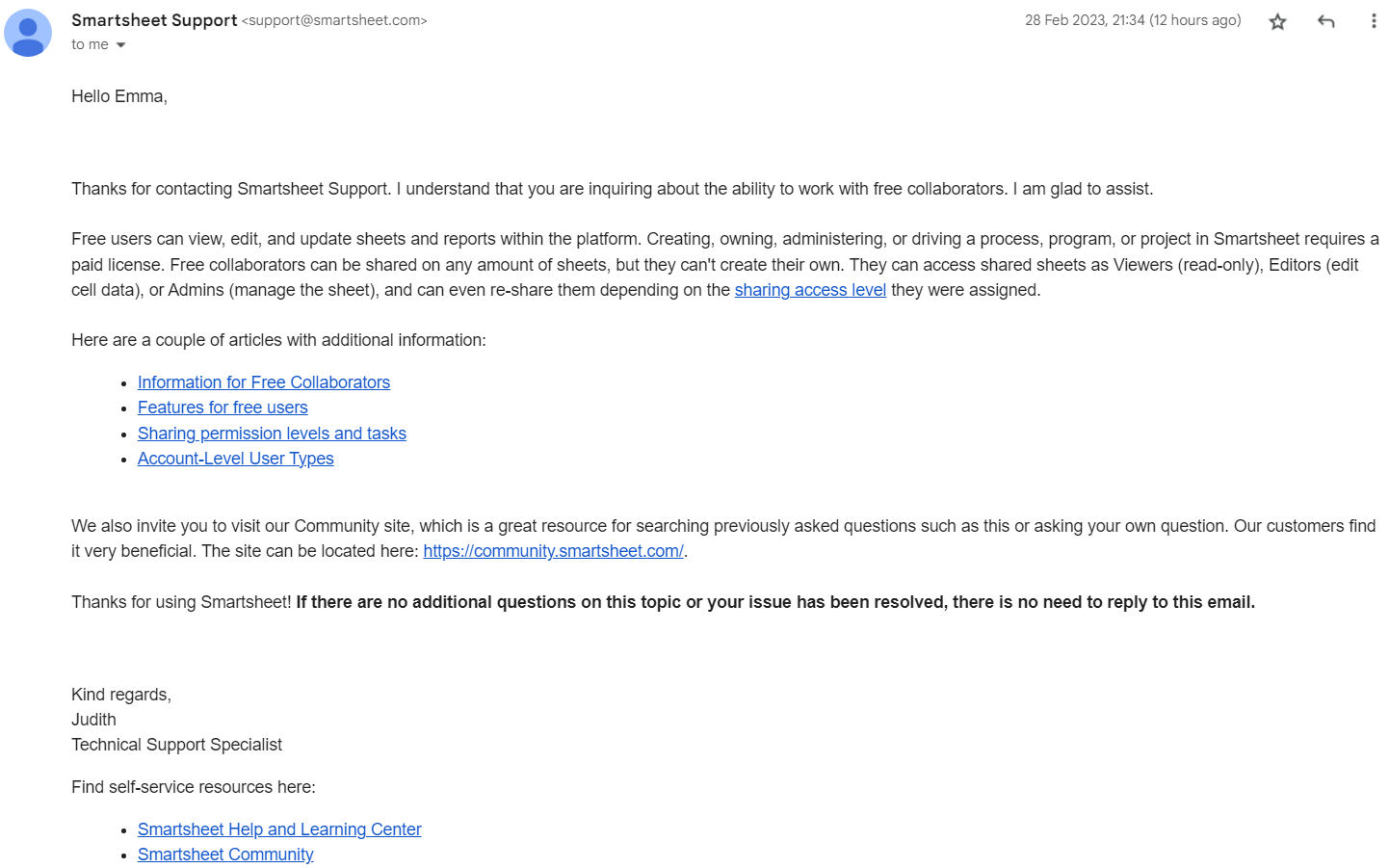 Smartsheet's response took around 7 hours. However, the trade-off here was that it was far easier to find out how to contact the support team, and the
Contact us
option on the help button actually leads to a support portal. Yes, I know it's a low bar, but it's one that Asana didn't clear. The longer response time isn't great for time-sensitive issues, admittedly, but
I'm still impressed I received a response outside of business hours even though I didn't have access to 24/7 support.
So, once again, while Asana is good, Smartsheet is even better.
What Project Management Style Is Best?
Both Smartsheet and Asana have their merits.
Even though Asana didn't win many sections in this matchup, I still think it's a good project management solution. It provides some great tools that allow for seamless collaboration within smaller teams, and its pricing structure offers a ton of value. With that being said, Smartsheet steamed ahead in this matchup because its feature set feels more focused on reducing your administrative work.
Its automated forms and customizable dashboards are perfect for data-heavy projects,
but they're just as useful for almost everything else. It's certainly better suited to high-level, high-detail projects, but smaller teams will also find a lot to love about Smartsheet. Coffee break over? Before you go, check out this quick comparison:
Features
Grid-based project planning with limited flexibility, but a fantastic built-in form builder
Flexible project planning with over 200+ integrations
Ease of Use
Keep your projects organized with fully customizable sheet summaries; might be hard to get set up
Easy to get started, but project summaries have very limited customization
Collaboration Tools
Customizable, collaborative dashboards to optimize your team's communication, plus comments for individual tasks and sheets
Built-in direct messaging and project task approval system
Support
Email and phone support, knowledge base, support forum, webinars, video tutorials, self-paced courses, training courses with certification
Email support, knowledge base, support forum, webinars, video tutorials, self-paced courses
FAQ
Is Smartsheet or Asana better?
That depends on what you want from your project management software. Asana has fantastic collaboration tools that help you to build up a single source of truth for your project. However, you'll find Smartsheet's built-in forms and spreadsheet-based project management style useful for more complex and corporate projects.
Is there a free version of Smartsheet?
Smartsheet doesn't offer a free version, but it does have a 30-day free trial that lets you try out almost all of its features. You also don't need a credit card for this trial either, so you don't have to worry about canceling the trial before you're charged.
How is Asana different from Jira?
Asana is a general project management software solution that offers some great, if basic, project management features. In comparison, Jira is more specialized and is specifically built to help software teams to implement the Agile project management methodology.
What is better than Smartsheet?
Monday.com is our top project management software solution for 2023 because it offers more flexibility than Smartsheet. While Smartsheet has fantastic functionality in its grid view, Monday.com gives users powerful tools to view and organize projects in whatever way suits them.