the right project management software can do wonders for your productivity.
The problem, unfortunately, is that project management software can get expensive.
Not everyone can afford it.
Luckily, there are free project management tools out there. Problem solved, right? You just pick one and get to work. Well, no, it still has to be, you know…
good
.
Unfortunately, many products on the market offer sub-par features on their free plans
. It can also be hard to choose between them when they all look so similar – at least on paper. That's why
I tested dozens of project management tools myself and found the 6 best free options
.
Overall,
my top pick is monday.com.
The free plan only covers up to two people, but you'll be able to manage almost any kind of project thanks to its 200+ templates. You'll also be able to create simple text documents within your project – ideal for taking notes as you work.
Short on Time? These Are the Best Free Project Management Software in 2023
monday.com – Comprehensive organization tools for individual users or pairs.
ClickUp –

Unlimited users and tasks to cover even the largest projects.

Smartsheet – Advanced project management features with a long trial period.
What We Look For in the Best Free Project Management Software
Each entry on this list is optimized for a different type of user, so they don't all share the same features. Still, they needed to have certain essential features to make the cut.
A useful free plan. It's not enough that you can use the software for free. You need to actually be able to manage a project from start to finish without reaching for your wallet.
Ease of use. Ideally, you should be able to get your project up and running as soon as you sign up. While every project management tool comes with a learning curve, it definitely helps if it's as user-friendly as possible.
Project visualizations. Seeing your project through a different lens can help you think about it in new ways. The software on this list all offer multiple ways to visualize your projects.
Dashboards and reporting. Every now and then, you're going to need a big picture view of your project. The tools on this list offer various dashboard and reporting options for displaying your project's data clearly.
Project templates. I'll say it again – you should be able to get your project started as soon as possible. Project templates can be great for taking extra work off your shoulders.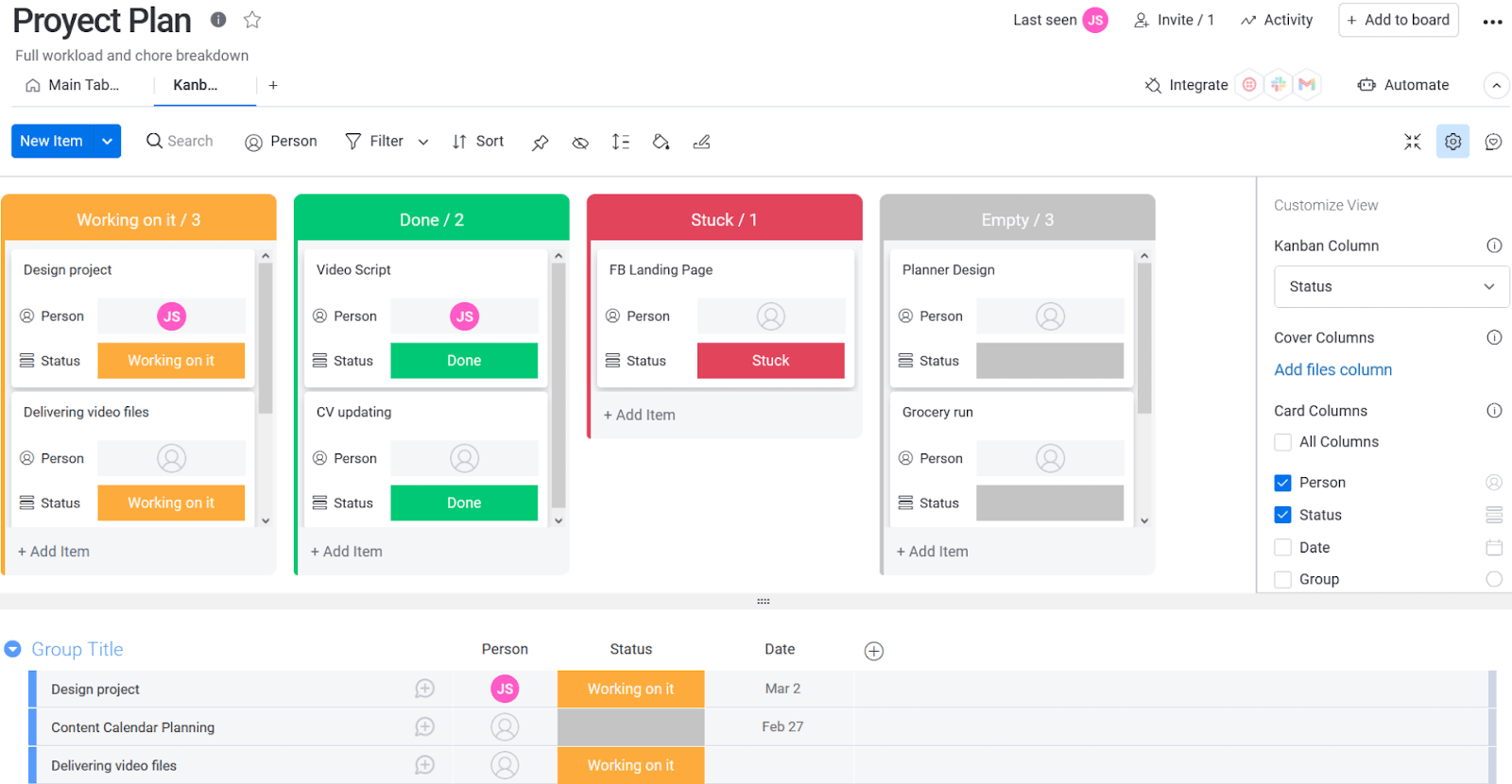 Project management software usually comes with a tradeoff: either it's easy to use but not all that versatile, or it's powerful but excessively complicated to actually use. I say "usually" because
monday.com bucks this trend by combining versatility and ease of use better than any of the alternatives.
Its pretty interface, wide selection of "getting started" guides, and intuitive design make it practically effortless to learn and use. Meanwhile, the different column types, reporting features, and simple automations it offers make it surprisingly flexible.
The free plan does come with some limitations, however.
For starters, it restricts you to a maximum of two users. It also lacks some of the best features on its paid plans, like a timeline or Gantt view. For larger undertakings,
the Standard Plan offers unlimited seats, automatic workflows, and timeline views.
Even so, I'd still say
monday.com is the best free option for individuals
. You won't be managing a business on the free plan, but
if you're just looking to manage your own workload better, monday.com is your best bet.
Features
20+ column types. On the table view, you can add columns ranging from basic text and number columns to things like progress trackers and dropdown menus.
Android and iOS apps. The mobile app allows you to update, create, or delete any task on the go. This helps you keep your workload updated wherever you are.
Custom document creation. Besides the classic file uploads, you can create simple text documents on monday.com. It might not be the most advanced word processor out there, but it's still pretty great if you need to attach a lot of information to a task quickly.
Template variety. Monday.com comes with over 200 specialized templates for you to use right away. Categories range from marketing and design to software development and education. Each template is carefully crafted to include every feature you're likely to need from the get-go.
Take a look at
our monday.com expert review
for more details.
Ease of use
Easy to use
Project views on free plan
Free project templates
200+
Cheapest paid plan

$

8.00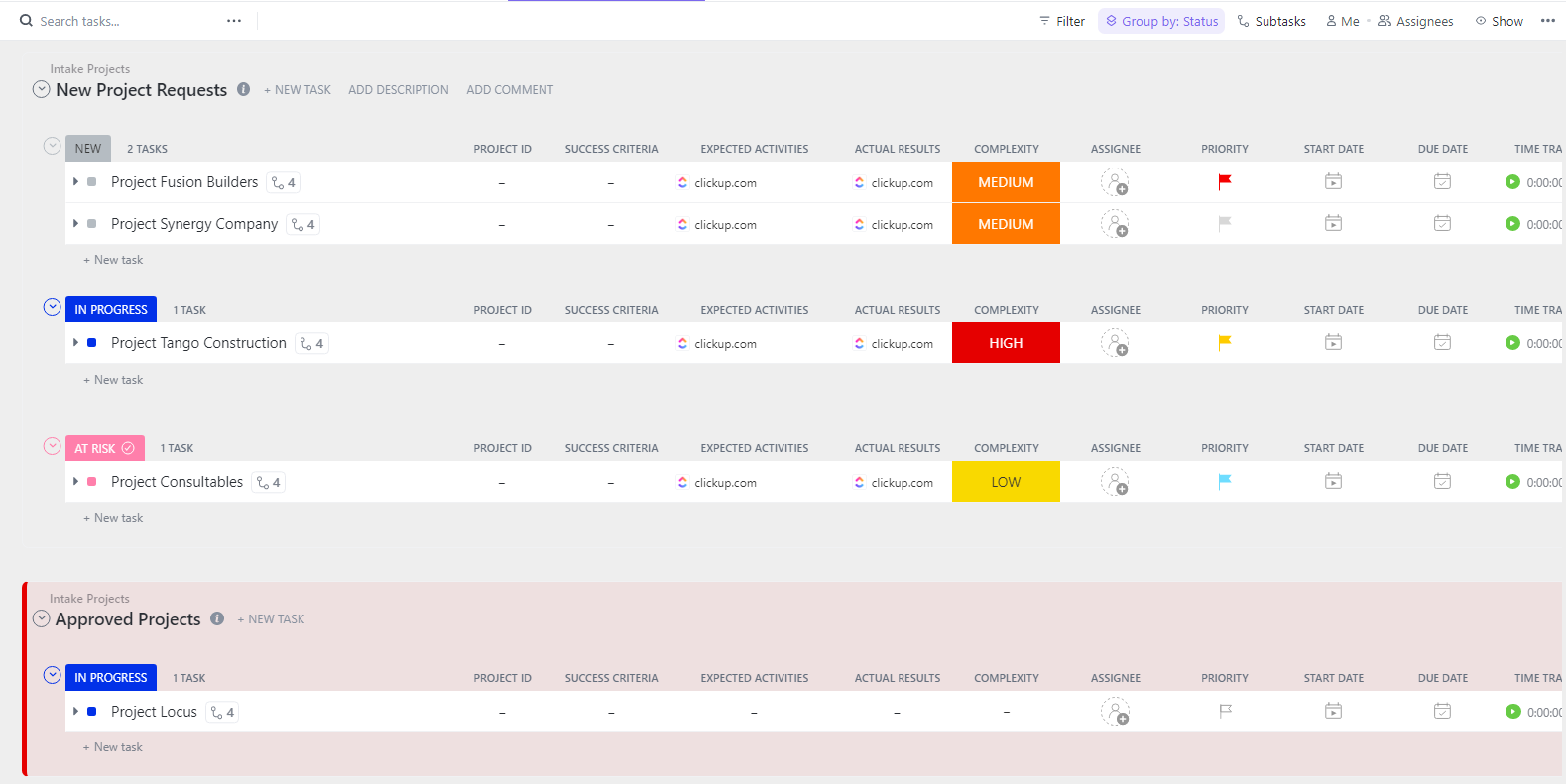 If you're familiar with any kind of software, then you know that free plans
always
limit what you can do. So, you're expecting project management software to limit you to just a few users, right? Sure, that's the case with most free plans – but not ClickUp.
With ClickUp's free plan, you can add as many users as you need.
Not only that, but
you can add an unlimited number of tasks, so your team and project sizes are limited only by your imagination (and, of course, your business)
. 
You can use simple automations on the free plan, too.
A lot of other project management tools lock automations behind their paid plans – which is fair, but not exactly ideal if you work with repeating tasks. You only get 100 actions/month, but it's better than nothing. 
As much as I stand by ClickUp's generosity, you will have to live with some limitations.
You can only have 5 Spaces (projects) at a time, and your storage space is capped at 100MB.
It's workable, sure, but larger teams with multiple projects will want to upgrade to a paid plan. Fortunately, ClickUp's paid plans are some of the most affordable on the market and offer great value for money. 
Features
500+ templates.

Creating a new project is super easy thanks to ClickUp's hundreds of templates. Not only is there one for almost every use case, each one has a user guide to help you get started. 

Real-time collaboration.

Add a chat widget to your dashboard to talk to keep project chat in a central location. You can also co-edit documents and write on the Whiteboard view in real time, making it easy to brainstorm with your team. 

Built-in time tracking.

You can start tracking how long each task takes within the task itself or next to the task on your List view, so it's easy to see where your time is going. 

Pre-built integrations.

ClickUp has 50+ pre-built integrations including Slack, GitHub, and even Figma. You can even use an unlimited number of ClickApps (pre-built extensions) to customize your workspace. 
Ease of use

Medium

Project views on free plan

List

Board

Calendar

Table

Gantt (100 uses/month)

Maps (100 uses/month)

Mind maps (100 uses/month)

Timeline (100 uses/month)

Workload (100 uses/month)

Free project templates

500+

Cheapest paid plan

$

7.00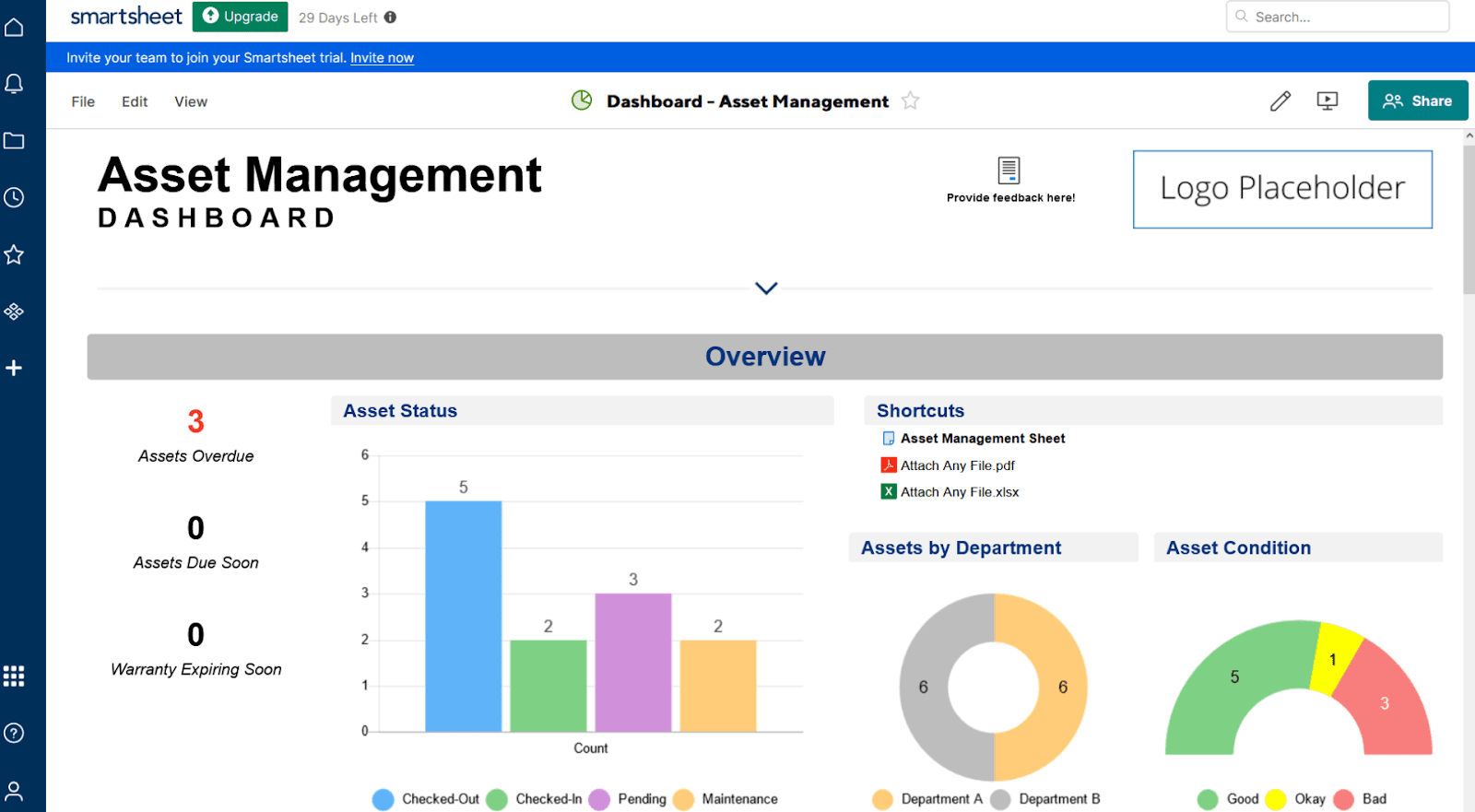 Wait, wait. Put your pitchforks down… I
know
Smartsheet doesn't technically have a free plan. What it does have, however, is a
30-day free trial with full access to every premium feature.
Thanks to Smartsheet's flexibility, that's more than enough time to manage a short-term project.
Smartsheet's strong suit is its spreadsheets, which it calls "grids."
These offer lots of flexibility for organizing and viewing your projects. Depending on the types of columns you have on a grid, you can quickly turn it into a kanban board, a Gantt chart, or a calendar view. If you're working on a large-scale project involving huge amounts of data, Smartsheet has every tool you're likely to need. That goes double if you're part of a team.
Smartsheet allows you to post comments and tag team members to any element, from specific grids to entire documents.
There are also advanced proofing tools for teams working on video projects. Smartsheet does have a bit of a learning curve, so you might struggle to get everything done within the 30-day trial window. If you're looking to manage
larger-scale, long-term projects, I'd recommend the Pro Plan
 (which is also surprisingly cheap). It might not be truly free, but Smartsheet's incredible versatility definitely makes it worth trying out.
Features
Powerful reports. Reports in Smartsheet are special grids that let you show and change specific data from other documents. These allow you to input data from any grid or even from another report. Any changes made to the report will then reflect automatically on the source, and vice versa.
Custom dashboards. Dashboards are visual representations of your project's data. You can create as many dashboards as you want and customize every aspect of them, from the information you want to show to where and how you want to show it.
Advanced proofing tools. Team members can add comments and custom notes to any file in Smartsheet. For video files, these notes can even be time-stamped.
Automatic workflows. Workflows can do everything from updating information on a grid to sending you custom reminders to changing a project's timeline. Best of all, you can make and edit workflows with an intuitive visual editor – no need to deal with burdensome formulas.
Check out
our expert Smartsheet review
for more details.
Ease of use
Accessible to all, but it has a learning curve
Project views on free plan

Grid
Gantt
Kanban
Calendar

Free project templates
Up to 350+ templates & 130+ template sets (depending on region)
Cheapest paid plan

$

7.00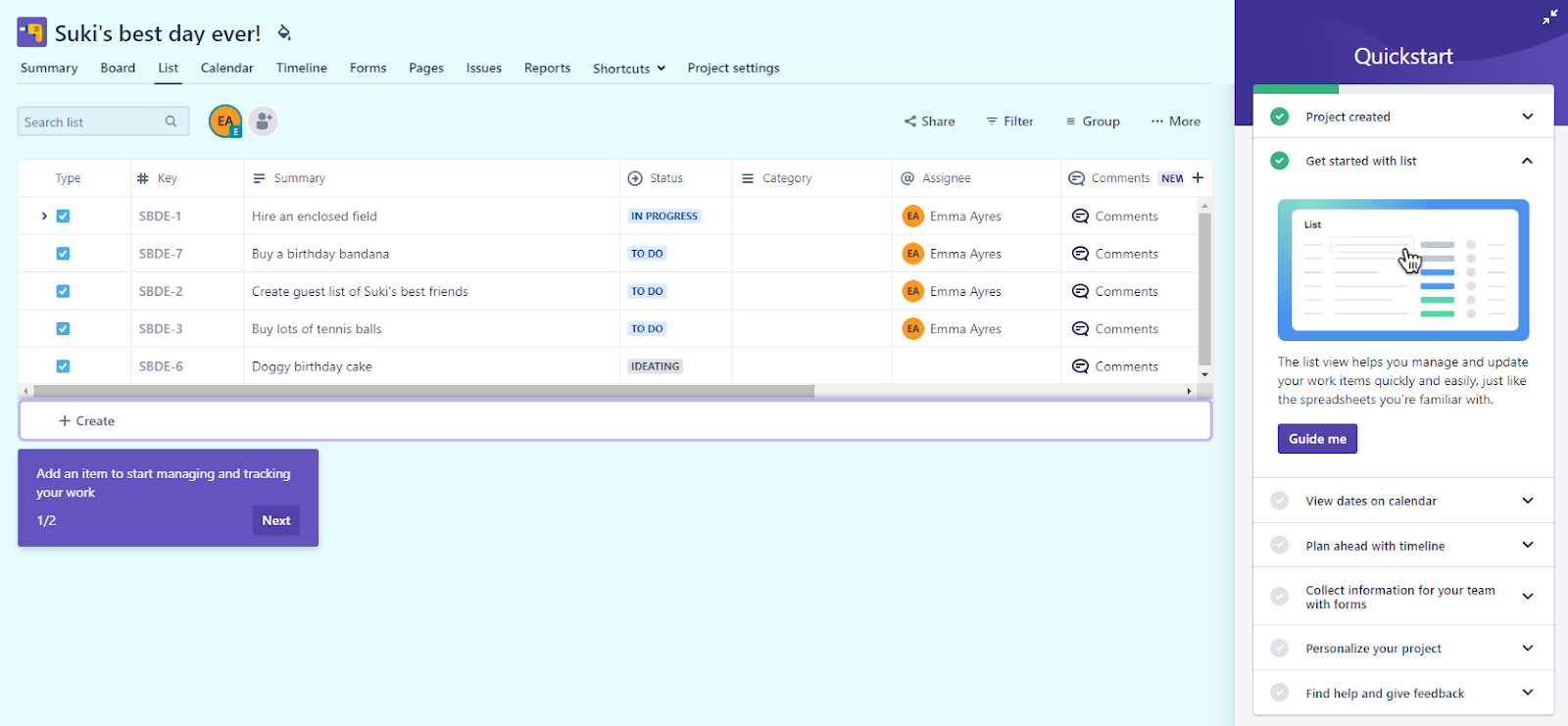 Free plans usually go one of two ways. They either offer tons of functionality for a handful of users, or limited functionality for as many users as you want. Great for most teams, sure, but not so much for agencies – so is it too much to ask for the best of both worlds? Not according to Jira.
Jira Work Management's generous free plan doesn't just have a cap of 10 users, but you'll be able to track as many projects as you need.
You can track an unlimited number of tasks within each project, too.
On top of that,
Jira Confluence's free plan covers the same amount of users for an unlimited number of spaces and pages.
So, you can extend Jira's free plan with even more free features. It's the perfect solution for agencies, as it allows you to keep all of your documentation, notes, and collaborative edits in one central place. 
That said, it's not perfect.
You'll only be able to use Jira's community and self-service support channels on the free plan.
As great as they are, they'll never be equivalent to getting help from a real person. Upgrading to a paid plan isn't cheap but, at a cost that's roughly equivalent to a mid-level plan with other tools, it won't break the bank either. 
Features
Unlimited automations.

Jira's free plan covers unlimited single-project automations, which helps you to avoid wasting time on admin. If you want to automate tasks between projects, you'll get 100 uses a month.

User homepages.

Never miss an assigned task again thanks to Jira's user homepages. Your homepage shows you the tasks that have been assigned to you, recent activity on your projects, and more. Plus, you can set up a customizable dashboard to help you keep track of specific projects. 

Real-time editing.

If you're using Jira Confluence, you can co-edit documents with your team in real time. Each document has a detailed version history, making it easy to roll back changes if needed.

2GB file storage.

You'll get plenty of storage on the free plan, or you can upgrade to a paid plan to extend this to 250GB. Need more? You can always integrate Jira with cloud storage services like Dropbox or OneDrive. 
Ease of use

Super easy

Project views on free plan

Board

List

Calendar

Timeline

Issues

Free project templates

500+

Cheapest paid plan

$

7.75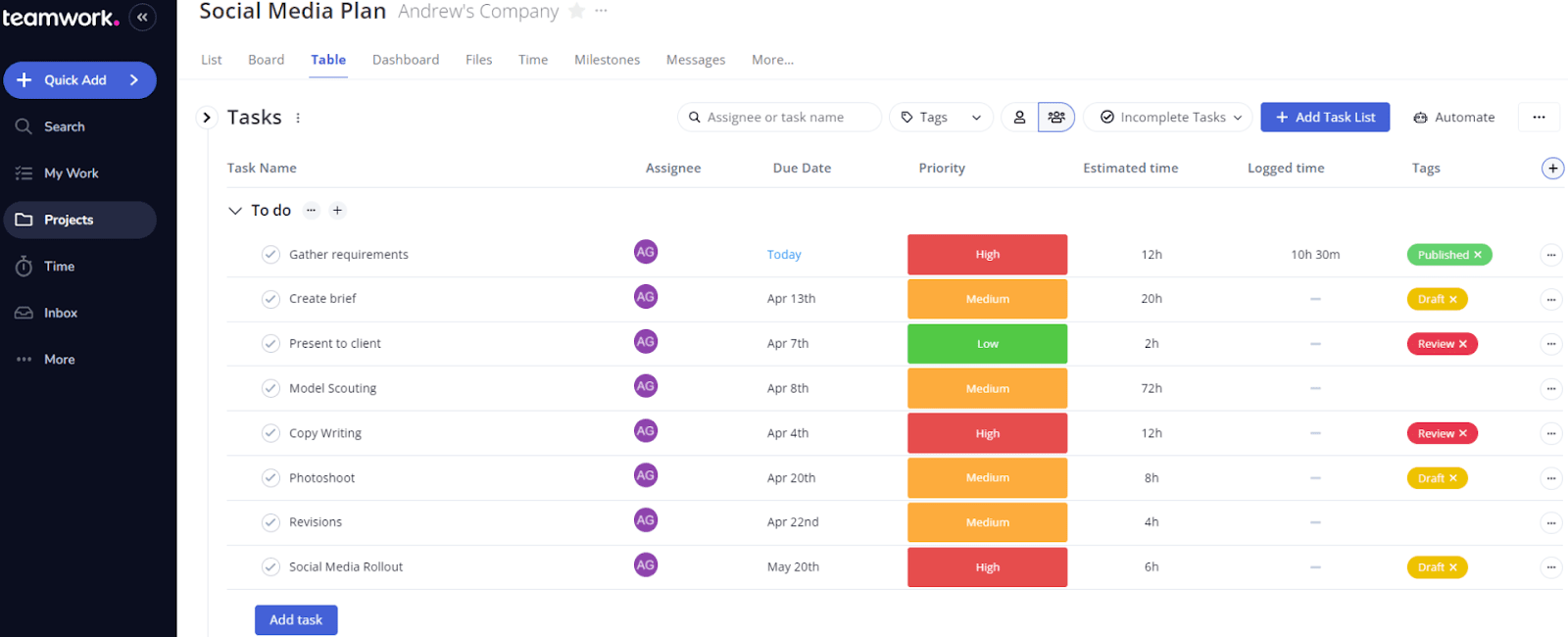 If you're a beginner, project management software can seem daunting. The highly-specialized features, unfamiliar terminology, and often overly-technical user interfaces can leave would-be project managers scratching their heads.
Teamwork tosses all of this out of the window for an intuitive, easy-to-navigate design.
This doesn't mean that it's light on features, though.
Teamwork provides everything you need to start your first project.
Besides task management, you can create basic invoices, track time, and share up to 100MB worth of files. You can also change your interface's color and themes. If you're looking to upgrade, you don't need to go straight for the most expensive plan.
 Even on its cheapest Deliver plan, you can add unlimited users and collaborators.
This means that if you don't need all the bells-and-whistles, you could
manage a medium-sized team for only

$

5.99

 a month.
Features
Built-in time-tracking. Easily track the time you and your teammates spend doing different tasks.
Basic invoice creation. Teamwork is one of the few options that lets you create basic invoices and bills on its free plan.
Subtasks and dependencies. Sometimes you need to get more specific than just assigning tasks. By adding subtasks and dependencies, you can maintain a greater degree of control over what gets done and how.
Basic dashboards. Teamwork doesn't offer the most advanced dashboards, but they still allow you to digest most relevant information at a glance.
Read
our expert Teamwork review
for more details.
Ease of use
Super easy
Project views on free plan

List
Kanban
Calendar
Gantt

Free project templates
No
Cheapest paid plan

$

5.99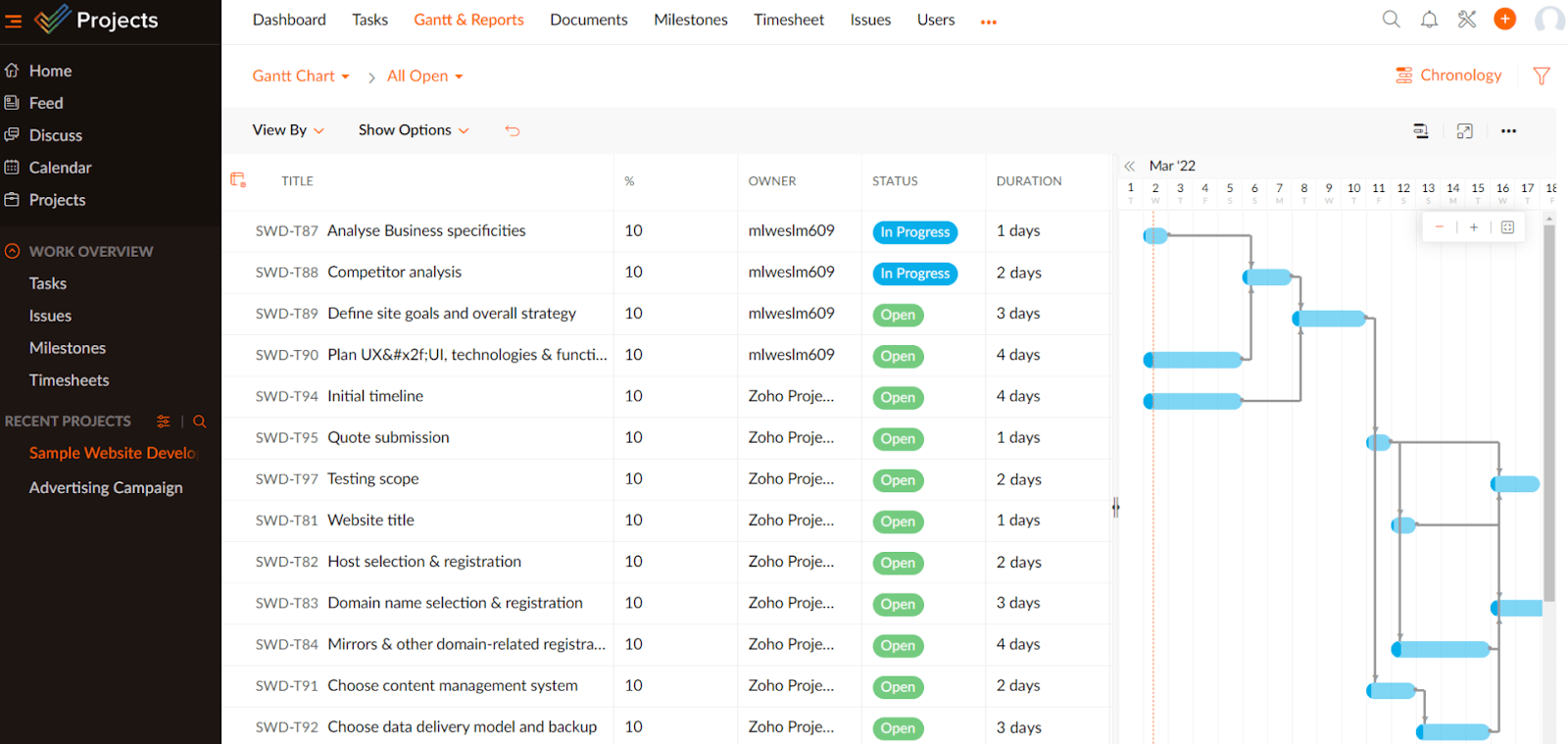 If your team already uses Zoho's services, then Projects is the next logical step. But that's not the only reason to use it.
Projects handles in-team communication incredibly well.
If you're doing anything that requires detail-oriented work,
Zoho Projects ensures that you and your team are always on the same page
thanks to its issue tracker, built-in messaging, and live feed.
The task management itself is also pretty impressive. You can add comments and upload files to any task, set priorities, and specify completion percentages. And if you need a more complete view of how your project is coming along,
the
project dashboard gives you a quick view of all the relevant information,
like overdue tasks, issue status, and a progress chart. As you might have guessed by now, there are some limits to the free plan. You can only add up to 3 users and work on 2 projects at a time, for instance. There's also a 10MB storage limit, which is quite restrictive.
If you're handling a larger team, it'd be worth your while to
invest in Zoho Project's Premium plan.
Features
Advanced task dependencies. Zoho Projects lets you choose from 4 different task dependencies. Whenever you set a dependency, it automatically moves the task on the timeline to avoid conflicts.
In-task issue tracker. You can link issues to any specific task using the project's issue tracker. You have the flexibility to set the severity level of an issue, assign users to it, and upload custom resolutions. When you attach an issue to an affected milestone, you will only be able to mark the milestone as complete once the issue is resolved.
Custom project feed. The feed feature lets you start and contribute to conversations, just like a social media feed. Thanks to this simple feature, you can keep communication within a project open and free-flowing.
Basic task reports. Projects gives you a selection of basic reports. These display simple pie charts summarizing the status, milestone progress, priority, completion, owner, and tags across all of your tasks.
Read our expert Zoho Projects review
for more details.
Ease of use
Fairly easy
Project views on free plan

List
Kanban
Gantt
Calendar

Free project templates
No
Cheapest paid plan

$

4.00
Conclusion: Quality Doesn't Have To Come at a Premium
Quality project management software can help you take your productivity to the next level.
And now you know you don't have to spend a lot – or even anything – to get it. There are plenty of great free project management solutions you can start using today to improve your organization. If you aren't trying to manage a team,
monday.com will help you manage your schedule
 like nothing else can. If you
're organizing larger projects, then ClickUp's free plan lets you create unlimited tasks
 for as many users as you need.
Finally, if you're looking to manage a big, complex project to a tight deadline,
Smartsheet offers the most powerful features
on this list – even if it does come with a bit of a learning curve.
Take a look at our comparison table to see which software is right for you.
Free Plan
Best Feature
Best For
Starting Price
monday.com

✔

Great balance of ease of use and flexibility
Individuals who need a powerful organizational tool

$

8.00

ClickUp

✔

Create unlimited tasks for unlimited users
Teams working on larger projects in a bigger team

$

7.00

Smartsheet

✘

Incredibly detailed and powerful spreadsheets
Teams working on a complex project

$

7.00

Jira

✔

Unlimited teams of up to 10 users
Agencies with multiple projects running at once

$

7.75

Teamwork

✔

Almost no learning curve
Beginners looking for a well-rounded solution

$

5.99

Zoho Projects

✔

Integrations with Zoho's ecosystem
Zoho users and small remote teams

$

4.00
FAQ
What is project management software?
In the simplest possible terms, project management software helps teams manage the timelines, workloads, and other aspects of a project. Most project management software will allow you to assign tasks, set deadlines, and communicate with team members. Depending on the tool you're using, you might also be able to set up invoices, create dependencies between tasks, and automate data entry.
What's the best free project management software?
There's no single right answer to this question. There's a lot of great free project management software out there (and plenty not-so-great), and the answer will vary depending on your needs. If you just want something to help you better manage your personal projects, I recommend monday.com. Its free plan has by far the most complete feature set, and its interface is very user friendly.
Do I need project management software?
I'd say it can go either way for individuals and small teams. For some, project management software can massively improve their productivity, time management, and communication. For others, it might just complicate their workflow. For larger and/or remote teams – and especially those working on the most complex projects – project management software is pretty much essential. If nothing else, it will help prevent important details from being overlooked and significant communication failures from occurring.
How do I choose the right project management software?
When you're choosing project management software, you really need to consider the particular needs of you or your team. Working remotely? You'll need strong communication options. On a budget? There are great free project management tools that also offer productivity-boosting and affordable premium features that might be worth the cost. For an in-depth look at your options, check out our list of the best project management software in 2023.