Proper management is key to running any kind of business. Without it, you can miss deadlines, waste time and money, or simply not reach your full potential. The right project management (PM) software can help you achieve your short- and long-term goals by, for example, helping you to communicate better with your team and keep better track of your finances.
Sounds like a lot for a single program to do, right? Well, it can be. Some project management tools don't have what it takes to handle a whole business. Others do, but they're often too complicated and expensive. Striking the right balance can be hard.
I've tested the best project management software myself to help you find a tool that your small business can actually benefit from. The options on this list will help you communicate with your teams, manage your finances, and plan for upcoming projects.
Short on Time? These Are the Best Project Management Software for Small Businesses in 2022
monday.com – Easy to use and packed with useful features, making it ideal for growing businesses.
Smartsheet – Powerful features for businesses working with a lot of information or many teams.
Asana – Friendly software that invites collaboration between team members.
What We Look For in the Best Project Management Software for Small Businesses
There are plenty of things to consider when it comes to project management. For small businesses in particular, some features are more important than others. I made sure that the options on this list included the following:
Good value for money. Small businesses need to make smart investments. These project management tools strike a good balance between cost and features.
Ease of use. Even if you have experience with project management software, you can't be sure that everyone on your team does. The software on this list offers things like an intuitive user interface (UI), clearly labeled sections and features, and plenty of learning resources.
Communication features. Good communication is extremely important for small businesses. I've chosen software that gives you tools such as built-in chat messaging, easy task assignments, and @ tagging on comments.
Financial features. Though some offer more advanced functionality than others, most of these tools come with finance management features like invoice creation, billable time tracking, and budgeting templates.
Quality templates. In PM software, templates are pre-built documents or document collections that come with the necessary structure for certain projects, such as budgeting, event planning, or social media calendars. This last one's optional, but it helps if the software helps you get a quicker start.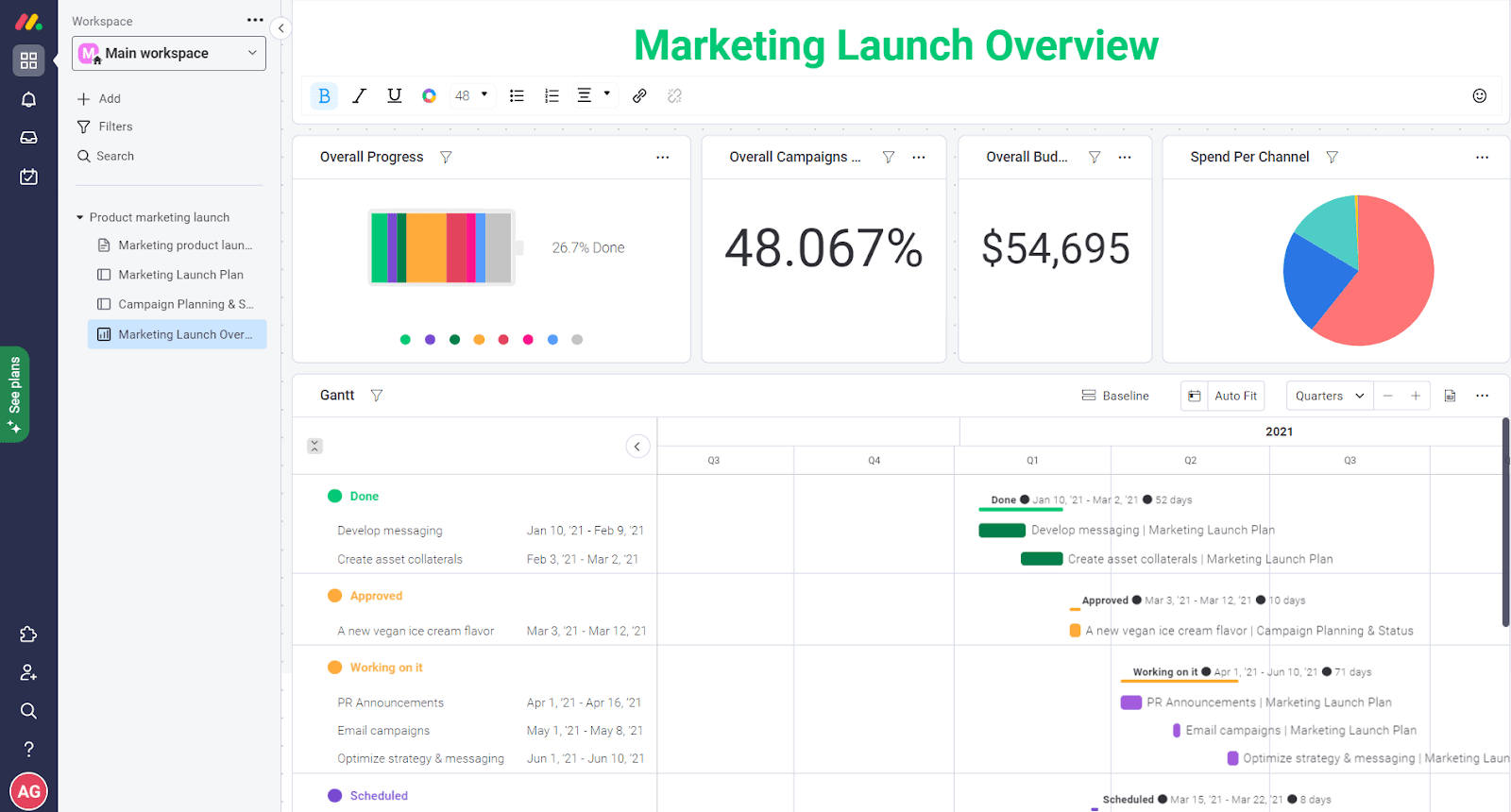 Contrary to what some TikTok gurus would have you believe, not every business needs a comprehensive five-year growth plan. Some small businesses are just looking to offer a good service to their local communities, and that's great. That being said, if you are planning to grow your business over time, you need project management software that can grow with you.
monday.com offers fantastic value for its price at all tiers. Its friendly user interface (UI) and intuitive design make it a particularly great tool if you're just starting out with project management. Each plan offers over 200 useful templates covering every kind of project, such as a marketing strategy tracker, a product release schedule, a construction roadmap, and more. Overall, monday.com offers the best balance of features and ease of use.
If you decide that monday.com is the software for you, I'd recommend the Standard plan. It includes a hefty 20GB of storage, unlimited boards, and 250 automations per month (for, say, sending an email whenever a specific kind of task is finished, or for updating a document whenever you make changes to another).
As your business grows, you might want to upgrade to the Pro plan to unlock more advanced features like unlimited guest users, time-tracking, and dependency columns.
Features
11 essential views. You can visualize your project using 11 different views, from the classic Kanban and Gantt, to file galleries and workload management.
Over 20 column types. You can add 20+ columns in table view, which helps you easily combine detailed information in a single document.
Advanced dashboard widgets. You can customize your project dashboards to a ridiculous degree. There are widgets for adding everything from data charts to custom Spotify playlists.
App marketplace. The monday.com marketplace includes hundreds of apps that can help you increase your productivity and customize the software so that it works for your business. This includes Let's Chat for instant messaging, Analytics & Reports for getting in-depth information on your business, and TaskMagic for letting your employees gamify their work progress.
Check out our in-depth monday.com review for more details.
Financial features

Quote and invoice creation

Collaboration tools

@ tagging
File proofing
Discussion threads

Team management

Time-tracking (Pro plan)
Workload view (Pro plan)

Starting Price

$

8.00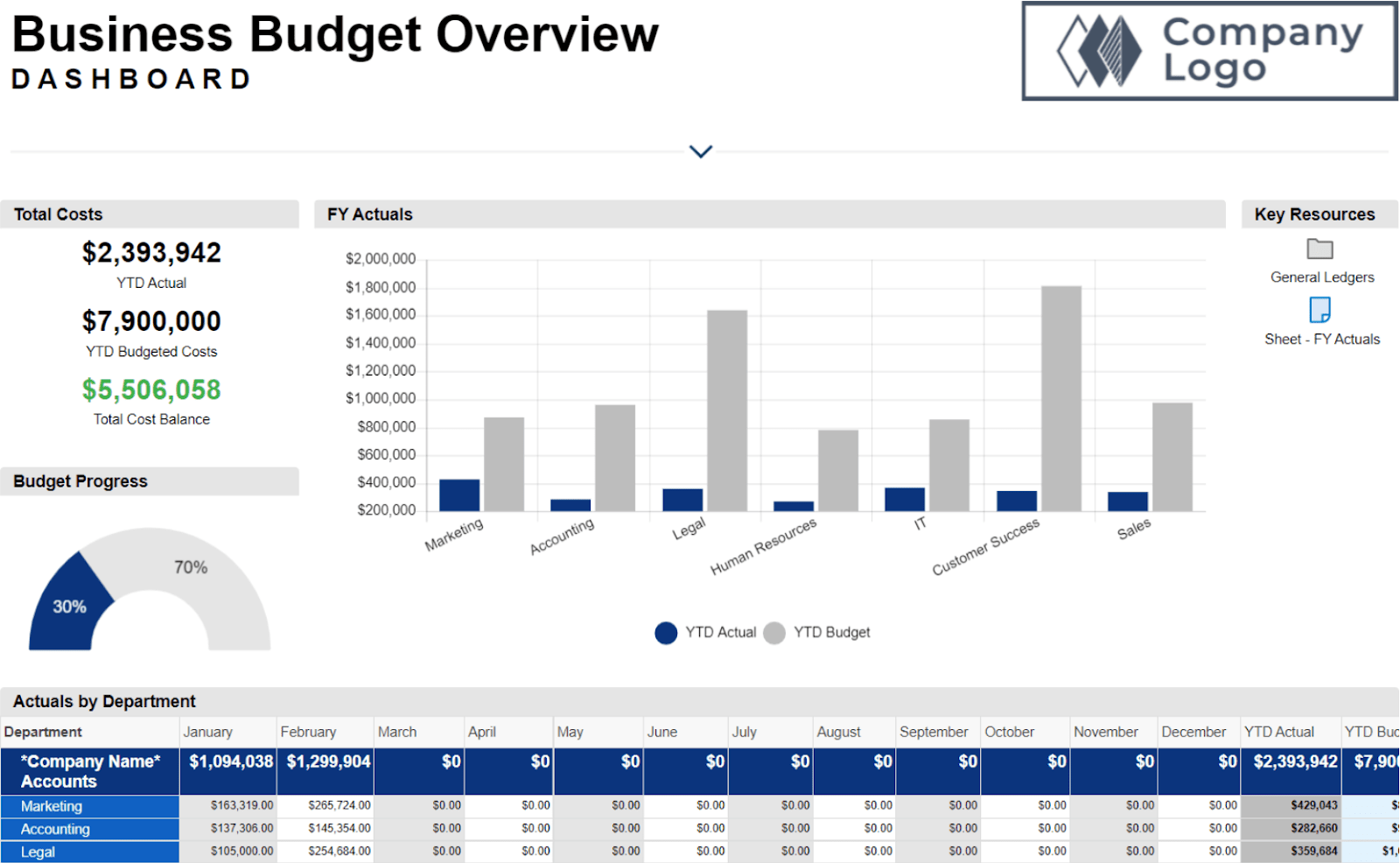 Don't be fooled by the name. Smartsheet offers more than just excellent spreadsheets (but it does offer some pretty excellent spreadsheets). In fact, Smartsheet is one of the most feature-packed options out there.
With Smartsheet, you can manage a project over time, handle invoices, collect forms, and display your business' data using custom dashboards. Think of it like the Swiss Army knife of project management software. Now imagine that Swiss Army knives are actually useful in the real world.
The gray and outdated design might alienate some users, and I must admit that there is a learning curve to Smartsheet. It's simple enough once you're used to it, but some things are a bit tricky at first, like dealing with massive template sets with dozens of interconnected documents.
For these reasons, I'd recommend Smartsheet to teams that work with huge amounts of information, such as legal and healthcare businesses. If you do work with a lot of data, however, there's no better option than Smartsheet.
Features
Reports. Reports are a great way to summarize data from several grids (which is what Smartsheet calls its spreadsheets). Each report can show specific information from grids of your choosing. When you update a report, the corresponding grid is updated automatically.
Powerful workflows. Workflows let you automate processes within grids or outside of them. This can help you streamline processes within your business and save you time. What's more, the visual editor is intuitive and simple to use.
Custom forms. You can create and send custom forms with Smartsheet. You attach forms to specific grids, so that any information you input into a form gets added automatically.
Over 480 templates and template sets. Smartsheet template sets come with hundreds of pre-made grids, reports, and dashboards. Each is made with a specific purpose in mind that can help you get to work quickly.
Read our expert Smartsheet review for more details.
Financial features

Invoice creation
Expense tracking

Collaboration tools

@ tagging
Advanced file proofing

Team management
N/A
Starting Price

$

7.00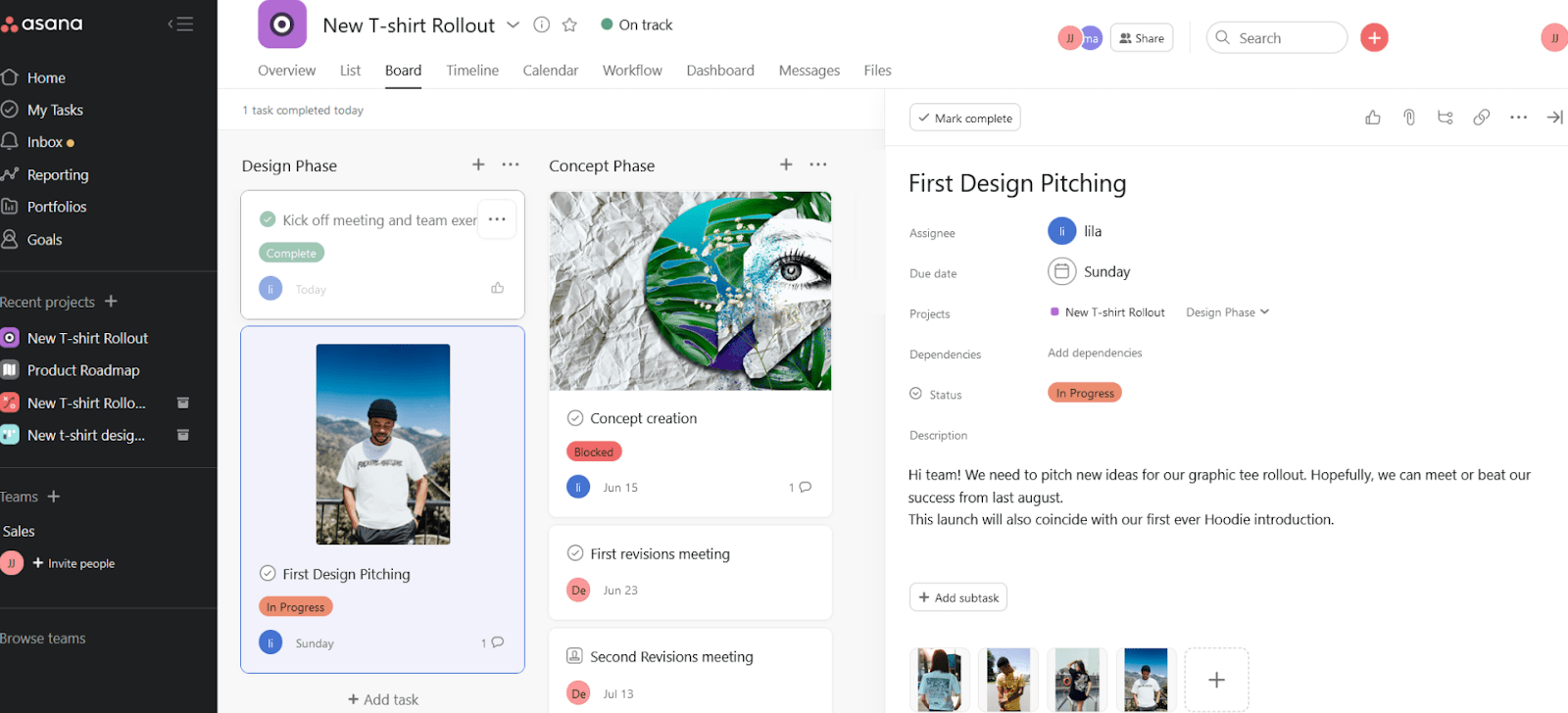 While plenty of PM software come with useful functions, drab interfaces and awkward layouts mean that many simply aren't enjoyable to use. Asana covers both bases, offering great PM features via an attractive and intuitive interface that helps foster a pleasant work environment.
Features you get to help organize your workflow include the ability to set up recurring projects, track timelines, and create automations. For each task, you can add an impressive amount of detail and set priority levels to help keep team members on track. Asana's navigation tools also make it easy to find what you need, and you get useful reporting and team management tools.
Small businesses would benefit most from Asana's Premium plan, as it offers reporting and security tools at a low price. If you're on the fence, Asana offers a 30-day free trial on all of its plans. Just be aware that Asana doesn't offer any invoicing features, so you'll probably have to manage your projects' financials elsewhere.
Features
Great template variety. If you need to get started quickly, Asana offers over 60 different project templates divided into categories such as operations, marketing, and HR. What's more, from the Premium plan onwards, you can create your own custom templates for recurring work.
Comprehensive task management. You get a range of project views to help see how all of your tasks fit together. If you want a more comprehensive look, you can just click on a task to bring up a detailed view that includes task status, priority level, due date, comment history, and much more.
Apps and integrations. If you need to expand your software's functionality, Asana offers over 270 apps and integrations. These range from things as simple as syncing your Google Calendar to your timeline, to an app that lets you create your own in-software applications.
Appreciations. If you want to boost morale, you can send "appreciations" to your team members. These are little animated stickers that signal a job well done. It might be a small thing, but no one's ever complained about getting some recognition (or about seeing a happy little narwhal, for that matter).
Read our expert Asana review for more details.
Financial features
N/A
Collaboration tools

@ tagging
File proofing
Approvals

Team management

Workload management
Time tracking (through integrations)
Progress view

Starting Price

$

11.00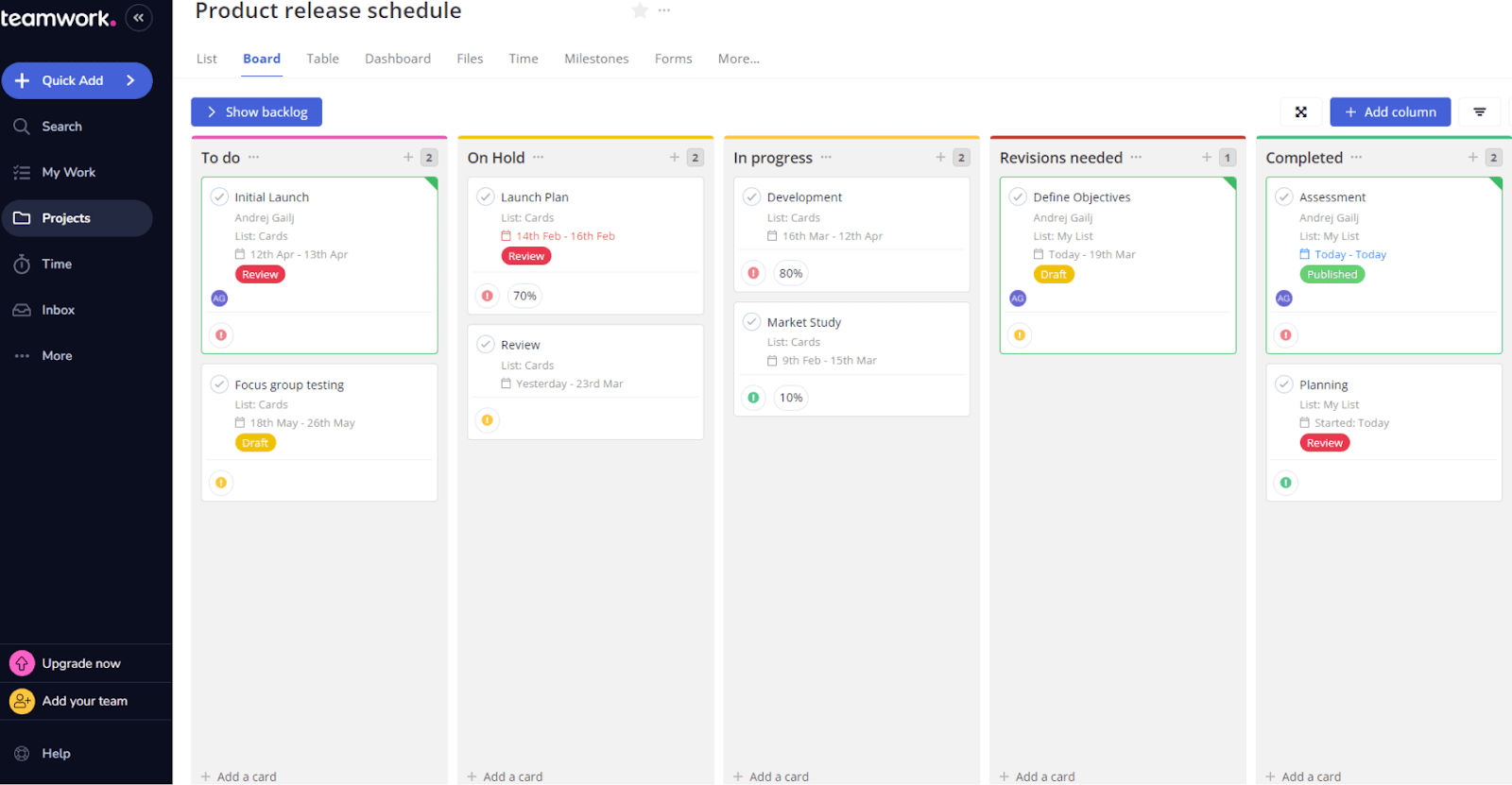 Not every business will need the same things from project management software. Brick-and-mortar stores, pet services, and more hands-on businesses might not need the most advanced functionalities, just easy-to-use software that can help them achieve their mid-term goals. That's where Teamwork comes in.
Teamwork is one of the simplest PM solutions out there, without being limited on features. Its intuitive design makes it incredibly easy to start using, and the pleasant UI doesn't hurt either. I recommend starting with the Deliver plan, which includes 20 templates, basic invoicing, and a built-in chat feature. You can also try it for free with a 30-day trial.
Just keep in mind that Teamwork's simplicity means it can't always meet the needs of larger, multi-disciplinary businesses. If you just need a simple tool to help keep your projects organized, however, Teamwork is unlikely to disappoint.
Features
Built-in time-tracking. Teamwork offers built-in time-tracking on all plans, including the free one.
Notebooks. Notebooks are text documents that let you record any relevant information for your team. You can create notebooks in different categories and update them to new versions.
Various user types. Besides the standard users, you can add clients and collaborators to your Teamwork team. Clients have limited access to your project but can make important changes, whereas only collaborators can create and complete tasks.
Bulk task editing. You can edit a group of tasks at once with bulk editing. This feature is especially useful for quickly adapting to major changes to your business plan.
Read our expert Teamwork review for more details.
Financial features

Billing and invoicing (Deliver plan)
Project time budget (Grow plan)

Collaboration tools

@ tagging
Task followers
Built-in messaging

Team management

Time Tracking
Workload management
Project health report

Starting Price

$

10.00

Zoho Projects is an extremely competent project management software. It comes with every basic project-tracking feature you could need, including task creation, dependencies, and dashboards. What really makes Zoho Projects stand out, however, is its excellent communication features.
You can attach files just about anywhere, whether in tasks, projects, comments – you name it. The built-in chat feature is great for getting in touch with team members right away, while the forums allow for more in-depth discussions. What's more, the pages feature can help you keep an up-to-date record of all the information your team might need. It's like an exclusive Wikipedia page for your business.
Zoho can get a little hard to navigate at times, as some of the most interesting features are hidden behind hard-to-find tabs and unnecessary submenus. But if you're in a business that requires constant, clear communication, Zoho is the ideal choice. I especially recommend it for software developers, web designers, and content creation teams.
Features
Issue tracking. Zoho Projects lets you assign specific issues to tasks. You can assign an issue to any task and then assign users to solve it, register it as a template, and share files within this template.
Forums and pages. Forums and pages are a great resource to keep communication flowing throughout your entire team.
Task hierarchy. In a project, you can create milestones, tasks, subtasks, and issues. Thanks to this level of detail, you can always monitor the specifics of your business and how these are affecting the bigger picture.
Zoho integrations. If you're already a Zoho user (Zoho offers a variety of software for CRM, marketing, business analytics, and more), the integrations you'll have access to will help make managing every aspect of your business as seamless as possible.
Check out our Zoho Projects review for more details.
Financial features

Integrations with Zoho's financial products

Collaboration tools

Built-in chat
Forums
Pages

Team management

Time-tracking
Resource utilization

Starting Price

$

4.00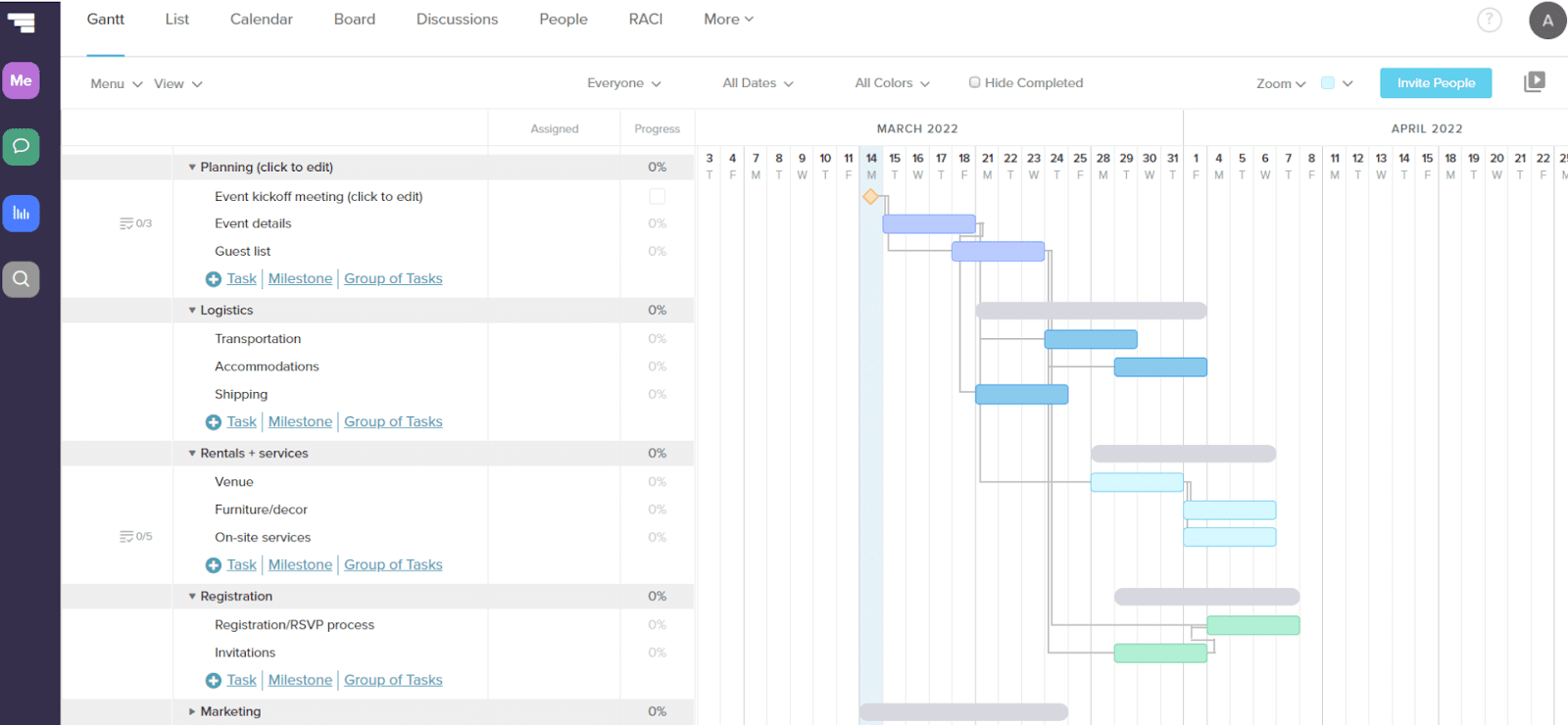 TeamGantt's specialty is right there in the name. If you need an easy-to-use tool to create useful and attractive Gantt charts, TeamGantt is your best bet. It only takes a couple of minutes to get a project up and running, and you can create baselines and dependencies to help you see when a project is getting off-track.
TeamGantt offers more than just Gantt charts, though. You can view your project via board, list, and calendar views, share files under comments, and assign RACI matrices. It's not the most advanced set of features, but it gets the job done.
If your business works on long-term projects, and schedule management is your top concern, then TeamGantt has you covered. I especially recommend TeamGantt for any kind of event-planning business, where the top priority is getting things done in order and on time.
Features
"Get started" template. TeamGantt offers an interactive "get started" template to help you understand and get used to the software.
RACI chart. The RACI chart allows you to assign responsible, accountable, consulted, and informed roles to different members of your team. This enables you to create a direct, easy-to-understand workflow of responsibility.
Project baselines. When you first create a project, you can create a baseline. As you change your timeline, this baseline shows you how much you're moving away from your original plan, helping you keep the bigger picture in view.
Automatic dependency updating. If you set task dependencies out of order, all you have to do is wiggle them with your mouse and TeamGantt will automatically update the tasks on your timeline.
Read our expert TeamGantt review for more details.
Financial features
N/A
Collaboration tools

@ tagging
Discussions
RACI chart

Team management

Workload forecasting (Standard plan)
Hourly estimating (Advanced plan)
Manual time entry (Advanced plan)

Starting Price

$

24.95
Conclusion: Your Business Is Unique. Your Project Management Software Should Be Too.
"Small business" is a broad term. The needs of software developers will differ from those of advertising studios or legal teams. There is one thing all small businesses have in common, though: they have to make the most out of their resources to succeed.
If you're looking to expand your business over time, monday.com would be my go-to PM software. It has the perfect balance of ease of use and powerful features to help you get started quickly and grow your business.
Businesses that handle loads of data might need something more robust. If you need to handle large amounts of information, Smartsheet is your best choice. Its powerful spreadsheets and useful reports are great for keeping track of every little detail.
If you want a good set of features in a package that will make everyone happy, Asana is a great choice. Its remarkably intuitive design makes it great for fostering collaboration.
Check out the comparison table below to find the best option for you.
Free Plan
Best Feature
Best For
Starting Price
monday.com

✔

Impressive app marketplace
Businesses looking to grow over time

$

8.00

Smartsheet

✘

Powerful spreadsheet functions
Businesses that deal with lots of complex information

$

7.00

Asana

✔

Intuitive design to reduce friction in the workplace
Creative businesses that rely on fluid communication

$

11.00

Teamwork

✔

Incredibly easy to use for all team members
Businesses looking for an easy-to-use project management solution

$

10.00

Zoho Projects

✔

Outstanding communication tools
Remote teams that need to stay connected

$

4.00

TeamGantt

✔

Intuitive and attractive Gantt charts
Businesses with long-term projects that need clear, simple scheduling

$

24.95
FAQ
What is the best project management software for a small business?There is no single "best" project management software for every small business. The right software for you will depend on your industry, your experience with project management, and your personal preferences. This article can help you decide what's the best project management software for your small business. If you need more information, feel free to check out our list of the best project management software for 2022.Do I need project management software for my business?Not every business needs project management software, but it can help a lot, especially if you work in a remote team or handle complex operations. As a general rule, it's a good idea to have some sort of project management system for your business. Project management software can help you streamline this process, get a better picture of all your business operations, and generally make your life a lot easier.Can I use project management software for free?Of course! There's plenty of free project management software available. monday.com offers a fantastic free plan for personal organization. Teamwork's free forever plan is a great way to get started using project management software, and there are many more options. That being said, though the free plans aren't bad by any stretch, they are often limited in terms of features. A free plan might not work for many small businesses due to user limitations. If this applies to you, a premium plan like monday.com's Standard plan will definitely be worth the investment.What are the principles of project management?Though the exact number of principles varies depending on the source, most agree on these six fundamentals: – Project mission. What are you trying to achieve, both practically and more generally? – Strategy. How are you planning to achieve your objectives? – Structure. How will your team be organized? – Systems. What resources and tactics will you use? – Values. What values is your team or business aligned with? – Accountability. Who will do what and who's responsible for making sure team members stay on track?