If you're like most WordPress website owners, you started using the platform because it allows for easy content creation. Many hosts offer automatic setup for WordPress sites, allowing you to create your website quickly.
However, what happens if you need to move to another host? The process of migrating a WordPress website can be a bit involved and tricky if you're not technically skilled. As a result, many owners stick with their current host or let their website expire.
SiteGround
now provides an alternative to complicated WordPress website migrations. They offer a
WordPress Migrator tool that allows you to migrate your WordPress website from another host to SiteGround securely and with just a few clicks
. Then you'll get the fast and feature-rich hosting that SiteGround is known for. Learn more about this tool and why you should use it to migrate your WordPress website to SiteGround.
What is the WordPress Migrator?
In the past, if you wanted to move over a website from another host, you had to either go through a process such as
Guided Transfer
that WordPress recommends, or hire someone to help you. SiteGround offers website transfers for a fee, but if you own multiple sites this can get expensive.
The developers at SiteGround have created the WordPress Migrator tool to allow you to swiftly and effortlessly transfer websites from other domains to SiteGround. With a simple series of clicks, the tool automatically moves your website to your SiteGround-hosting account.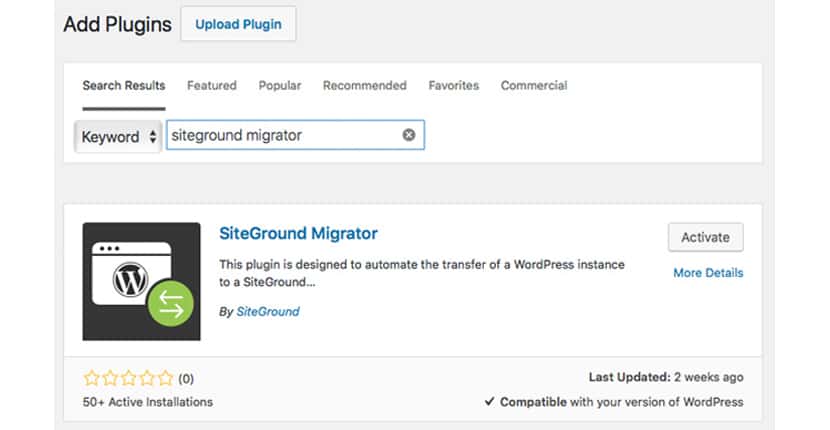 The
WordPress Migrator tool requires no special skills or tools
. The only prep work you need for your existing website is to install the
SiteGround Migrator app
. Afterward, the process can be executed through your SiteGround account.
The Migrator is located in the WordPress Tools section of your cPanel. Just click on the WordPress Migrator, and the tool walks you through a
simple four-step process
to migrate your website from its current host to SiteGround.
Why Should You Use the WordPress Migrator?
You're probably wondering why you should use the WordPress Migrator tool instead of transferring the data manually or having SiteGround do it for you. Here are several reasons you should use the Migrator tool:
Simplicity

– Most WordPress website owners never move their website to another hosting service because the process can be complicated. With the WordPress Migrator tool, you need no special skills to transfer your website, and you can move it with just a few clicks.

Free transfers

– Normally you have to pay a fee for professional website transfers, even WordPress website transfers. With the WordPress Migrator, you can transfer your websites for free.

Available to all

– This tool is a standard feature on all hosting accounts on SiteGround.

Consolidate multiple accounts

– If you have websites on other web hosts and you're using the

GrowBig

or

GoGeek

plans, you can move your websites to your SiteGround account and easily manage them all from a single account.

Secure transfers

– The WordPress Migrator encrypts all your data from your old host to SiteGround, keeping your files and data safe.

Dedicated support

– If you need help with this tool, there's a full tutorial available. Also, you can always contact support if you have questions or run into issues with the tool.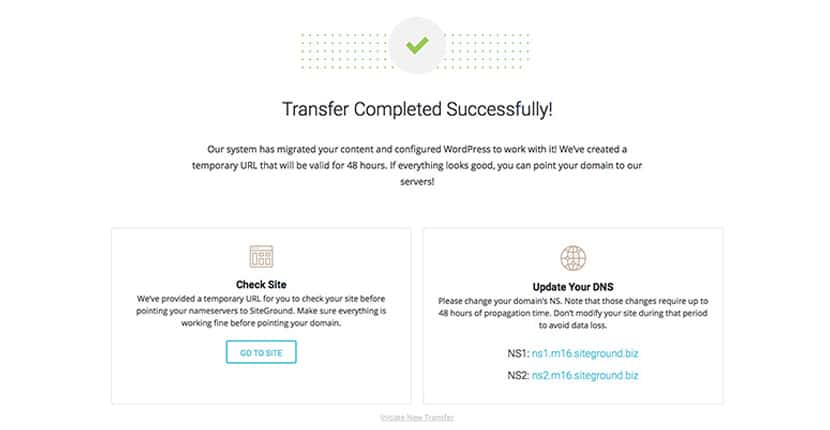 Are There Any Limitations?
While the WordPress Migrator is an excellent tool for transferring your WordPress website, there are still a few limitations that website owners should be aware of:
Applications and outside content not migrated

– The tool moves over only your WordPress content, themes, plugins, and uploads. If you have any apps or any external content on your website, it will not migrate, and you'll have to reinstall manually.

Multisite networks not supported

– If you own a multisite network and wish to migrate it all at once, this tool will not help. You must move each website individually.

Live website transfers only

– This tool is only for websites that are presently live. Any websites you have stored on your local PC or another offline source will be non-transferable.

Does not support WordPress.com

– If you plan to move a website from WordPress.com, this tool will not help. Instead, you will need to use the Guided Transfer service offered by WordPress.
Migrate Your Website the Easy Way With the WordPress Migration Tool
You have two choices when migrating your website from WordPress to SiteGround: the easy way or the hard way. The hard way involves you having to plod through a migration process that can be tricky for inexperienced webmasters. Or, you can just pay someone to migrate your website for you, but that can get expensive if you host multiple websites.
Alternatively, you can migrate your website the easy way with the WordPress Migration Tool. A simple four-step process can transfer your website quickly, securely, and for free. There's no easier way to move your website to your new SiteGround account.
To check out this impressive new feature or start migrating your WordPress website, head over to your cPanel and look for the WordPress Migrator under WordPress Tools.