tsoHost has cheaper plans than SiteGround, but did you know that SiteGround provides more freebies, SSD-based storage, and more stable uptime? I discovered these differences when I tested SiteGround and tsoHost across pricing, performance, features, security, and support. tsoHost is an excellent host, but it couldn't outperform SiteGround.
Click here to see SiteGround's latest deals
or keep reading to see what makes SiteGround the winner of this comparison.
1. Plans and Pricing
tsoHost Has More Budget-Friendly Prices Than SiteGround
With SiteGround, you can choose from shared, WordPress hosting, WooCommerce, cloud hosting, reseller, and dedicated servers. tsoHost offers shared, WordPress hosting, reseller, VPS, and dedicated servers. I'll compare the shared hosting packages from both hosts since shared hosting is the most popular choice among users.
A free domain name is included with some hosting plans from SiteGround
A free domain name is included with some hosting plans from tsoHost
SiteGround has three shared hosting plans, and tsoHost has four. With SiteGround, you can choose to be billed monthly, annually, biennially, or triennially. With tsoHost, you can only subscribe monthly or annually. tsoHost doesn't offer as many features as SiteGround (discover more in the Features section), so it makes sense that its prices are lower. With tsoHost, you'll get a free domain name (with annual subscriptions), free site migration, and a 30-day money-back guarantee. SiteGround doesn't provide a free domain name, and you won't get free website migration with the smallest shared or WordPress hosting packages. The winner? tsoHost wins the pricing round because it is more affordable than SiteGround.
2. Features
SiteGround Provides More Value-Added Features with its Shared Hosting Plans
With SiteGround, you can get from 10 GB to 40 GB SSD storage, unlimited email accounts, unlimited databases, managed WordPress, and 1 to unlimited websites. SiteGround also throws in a bunch of freebies like an SSL certificate, daily backups, the Weebly site builder, and a CDN with all its shared hosting plans. SiteGround's GrowBig and GoGeek plans include premium features (free of charge) such as speed-boosting caching, site staging, and adding collaborators to your website. Also, the GoGeek plan includes free White-Label Clients, more server resources, pre-installed Git, and priority support. In contrast, tsoHost gives you from 100 GB to unlimited HDD storage, unlimited bandwidth, 100 to unlimited mailboxes, and 1 to 200 websites. All tsoHost's packages also include cPanel and a 1-click app installer. With tsoHost's lower-value plans, you can get 50% off an SSL certificate (paid in full upon renewal), whereas the higher-value plans come with it free. Check out the following side-by-side table to further compare SiteGround and tsoHost:
| | | |
| --- | --- | --- |
| | SiteGround | tsoHost |
| Hosting Types | Shared, WordPress hosting, WooCommerce, cloud, reseller, dedicated servers | Shared, reseller, VPS (Linux and Windows), WordPress hosting, dedicated servers (Linux and Windows) |
| Free Domain | ✘ | ✔ |
| Free SSL Certificate | ✔ | Only with higher-value plans |
| Disk Space | 10 GB to 120 GB | 20 GB – Unlimited (depending on the plan) |
| Bandwidth | Unmetered | 400 GB – Unlimited (depending on the plan) |
| Automatic Backups | Daily | Daily (for VPS and dedicated servers only) |
| Control Panel | Site Tools | cPanel |
| Email Accounts | Unlimited | 100 – Unlimited (depending on the plan) |
| Free CDN | ✔ | ✘ |
| Free Site Migration | Yes, but not on the cheapest shared or WordPress plans | ✔ |
| Money-Back Guarantee | 30 days | 30 days |
3. Performance
SiteGround Has Better Uptime and Offers More Performance Features
SiteGround has servers in the U.S.A., the U.K., the Netherlands, and Singapore, but tsoHost only has servers in the U.K. In other words, SiteGround has a more global presence when it comes to server locations. SiteGround uses SSD storage in all its plans, while tsoHost only uses SSD with specific plans (mostly server plans). SSD hosting is known to perform much faster than regular HDD storage and is more stable. This reflects directly on your website's stability, loading speeds, and overall performance. SiteGround includes free Cloudflare CDN with all its plans, but tsoHost doesn't offer CDN at all. A CDN or Content Delivery Network is a feature that boosts your website's loading speeds, among other benefits, from anywhere in the world by placing your website on a global network of cloud servers. SiteGround and tsoHost offer uptime guarantees of 99.99% and 99.9%, respectively. Even though both hosts exceeded this number with actual uptime, tsoHost showed a few minor downtimes throughout the testing period. With all its performance features, I expected SiteGround to have perfect loading speeds. However, when I tested it using Sucuri, several server locations showed slow loading speeds resulting in a disappointing overall global score of C.
Check out the detailed results in this SiteGround review
.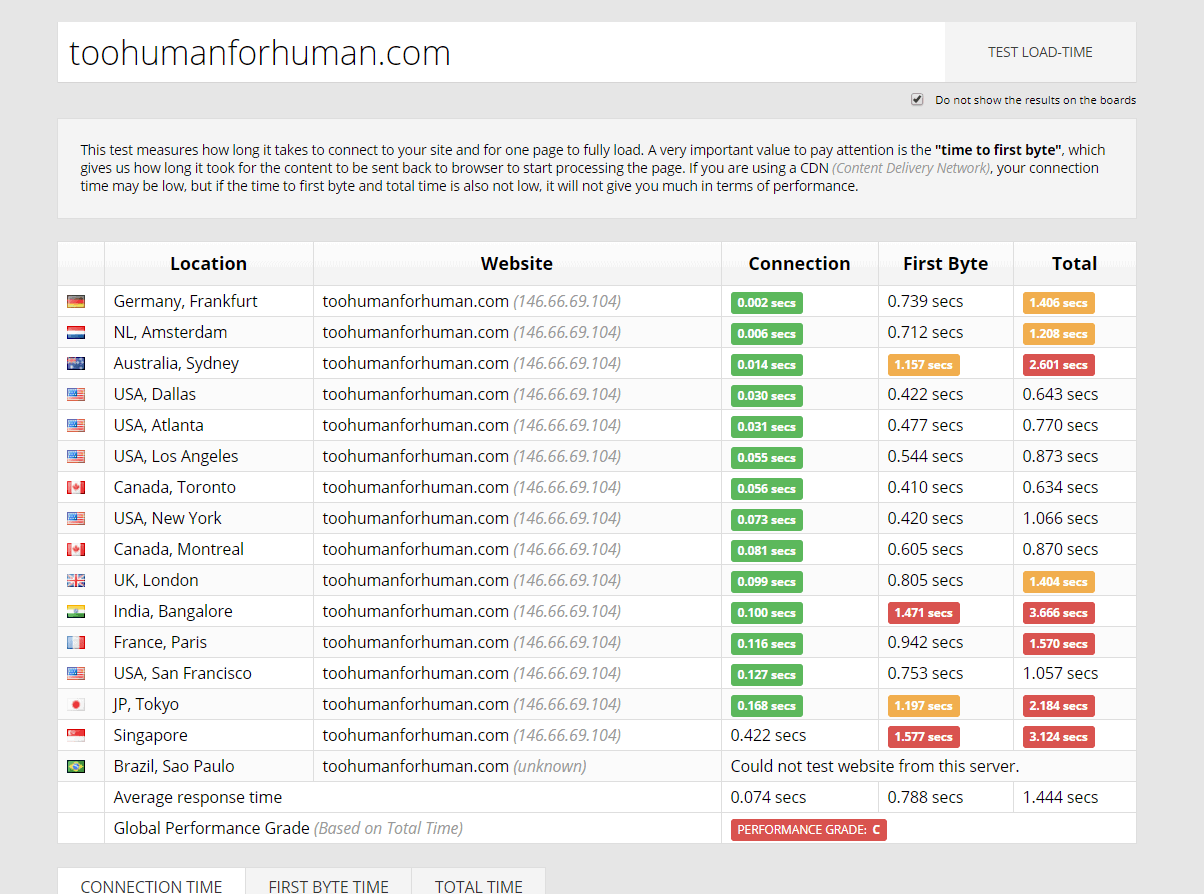 When performing the same test on tsoHost, it also showed some slow locations, but not as many as SiteGround. This resulted in a slightly better overall global score of B.
Read the in-depth review of tsoHost
.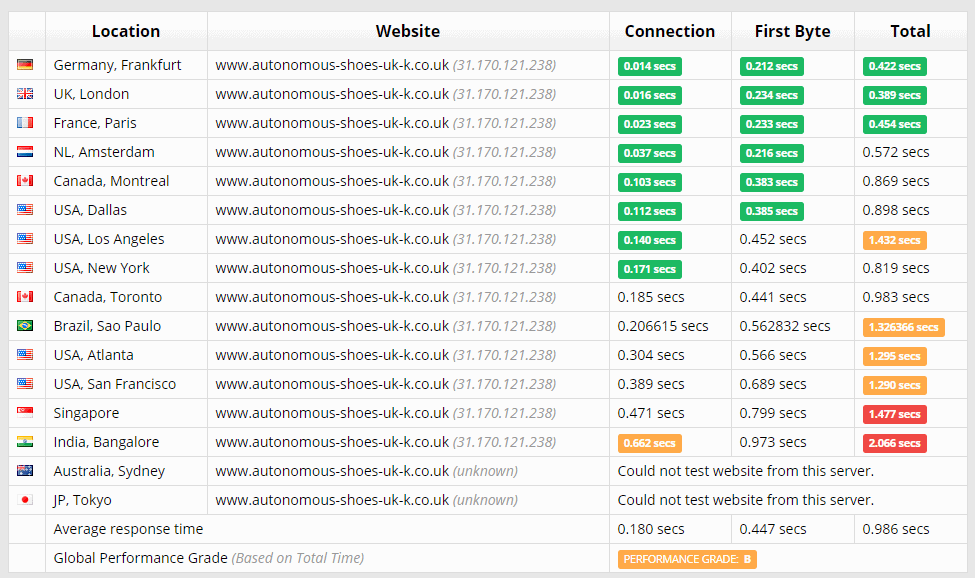 Even though SiteGround showed slightly slower loading speeds, you can fix them by activating the CDN. On the flip side, you can't fix tsoHost's performance issues with the provided features. SiteGround wins this round by a hair.
4. Security
SiteGround Offers Much More Security Features
tsoHost's security includes high-end firewalls to protect websites against external threats such as DDoS and Brute-Force attacks and antivirus/antispam to secure incoming and outgoing mail. SiteGround's standard security features include a web application firewall (WAF), an artificial intelligence (AI) anti-bot system (for protection against malicious attacks including DDoS and Brute-Force), 24/7 server monitoring, and access to the Sucuri-developed SG Scanner (antimalware). The other benefit of the free Cloudflare CDN included with all of SiteGround's plans is that it acts as an additional DDoS protection layer. The CDN protects the network (including your website) against DDoS and Brute-Force attacks. You'll get free SSL certificates with all of SiteGround's plans but not with tsoHost. tsoHost only includes free SSLs with higher value plans, but you can get them at half price with the lower plans. SiteGround uses a system similar to CloudLinux OS, called Unique Account Isolation. This system is responsible for securely isolating your account from others on the same server to protect it against unintentional threats targeting those accounts. It also ensures the fair allocation of the server resources. tsoHost doesn't use a system like this. You'll get free daily backups with SiteGround, but only with specific tsoHost plans.
SiteGround offers more inclusive security features than tsoHost, making this round an easy win.
5. Support
Getting Help is Easier with SiteGround
SiteGround's knowledgebase is far more comprehensive and organized than tsoHost's, making it easier to navigate and locate the information you need. SiteGround's support is available 24/7 through live chat, phone, and support ticket. When I had questions that required help, I went for the live chat and instantly connected. The agent answered all my questions thoroughly and was very professional and knowledgeable. Helpful indeed.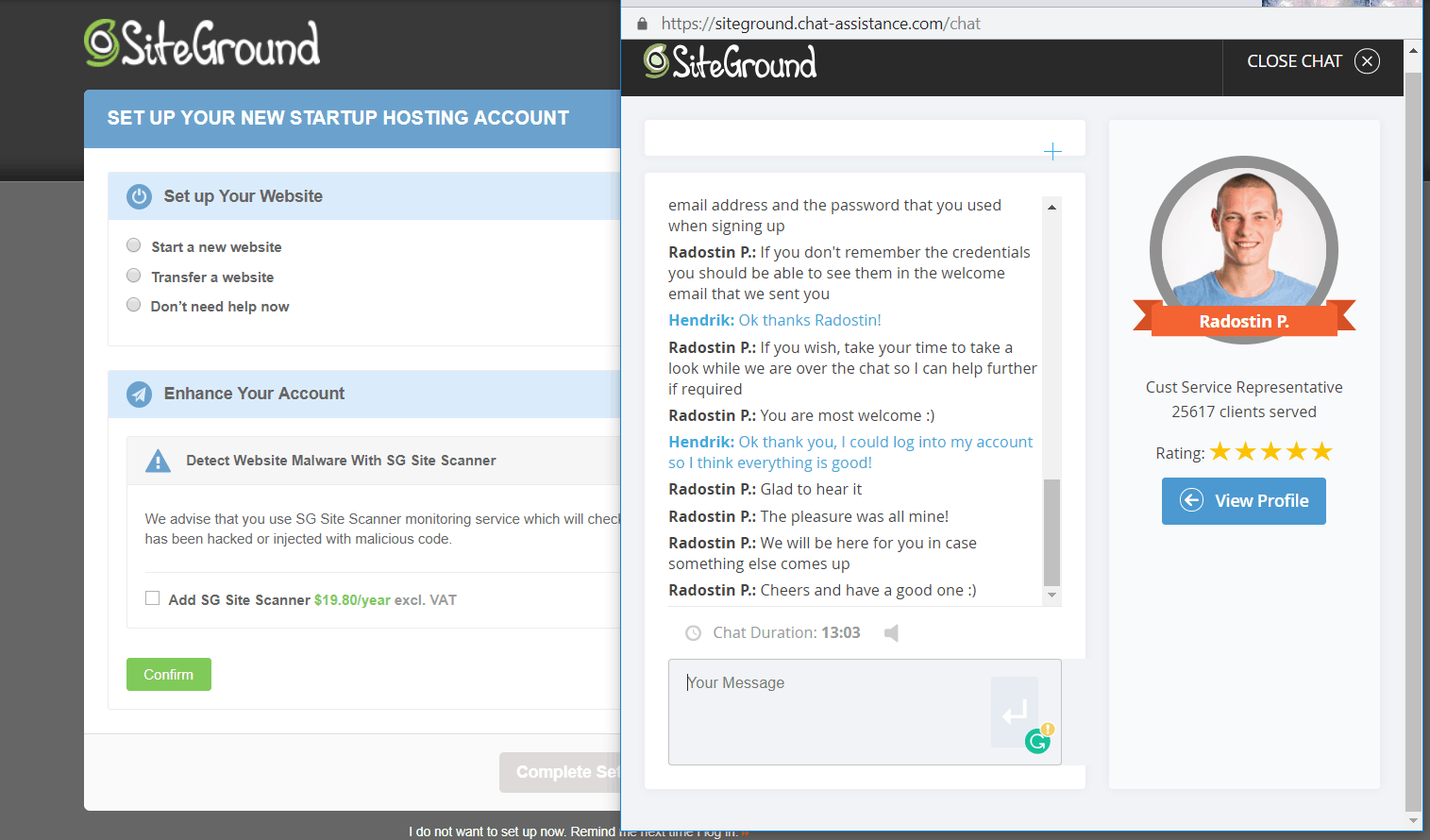 tsoHost offers various support channels such as live chat, phone, and support tickets. The support ticket channel remains accessible around the clock, 24/7. For the remaining two channels, they are operational from 7 AM to 12 AM (U.K. time) throughout the week. Despite promptly connecting with a live chat agent, the information I received proved to be misleading. Consequently, the support did not meet the level of assistance I had anticipated.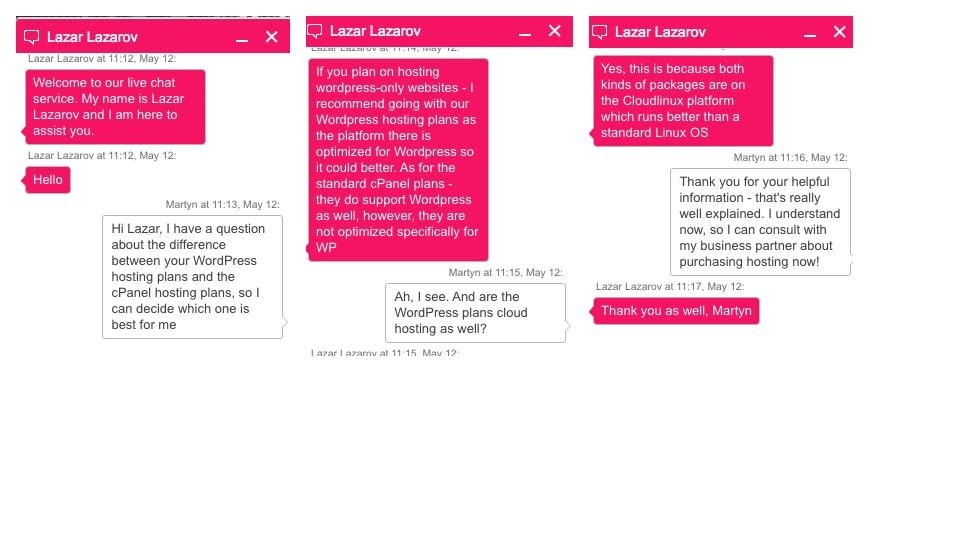 SiteGround's more comprehensive knowledgebase and better-trained support staff are what put it in the lead of the support race.
SiteGround Beat tsoHost in Almost Every Round
It's no surprise that one of
the best web hosting services
in the market today, SiteGround, defeated tsoHost in four out of five categories. In saying that, tsoHost could be a good choice for startups, thanks to its budget-friendly prices. It also offers slightly faster page loading speeds than SiteGround. However,
SiteGround has better pricing plans
, more freebies, overall better performance, more helpful customer support, and an array of security features. Also, unlike tsoHost, SiteGround offers SSD storage with its hosting packages.
Plans and Pricing
Slightly more expensive. 30-day money-back guarantee
Cheaper packages. 30-day money-back guarantee
Key Features
Free website migration, free SSL certificate, free site builder, and SSD storage
Free domain, free website migration, SSL certificate (with certain plans), and SSD storage (with certain plans)
Performance
More server locations, free Cloudflare CDN, 99.99% uptime guarantee, no downtimes, slower loading speeds
Fewer server locations, 99.9% uptime guarantee, minor downtimes, faster loading speeds
Security
WAF, AI anti-bot system, 24/7 server monitoring, SG Scanner, Unique Account Isolation, free automatic daily backups
Firewalls, DDoS/Brute-Force protection, antispam/antivirus, automatic daily backups (with specific plans)
Support
More comprehensive and organized knowledgebase, 24/7 live chat, phone, and support ticket, support staff are very helpful
Less comprehensive knowledgebase, 24/7 support ticket, live chat and phone available during working hours, support staff are not helpful
FAQ
Is SiteGround better than tsoHost?
Yes. SiteGround is generally a more capable host than tsoHost, especially for users that prefer premium hosting to budget hosting. tsoHost is more suitable for budget-conscious users or small websites. SiteGround is also featured in this expert list of the top 10 web hosting services.
Does SiteGround use cPanel?
SiteGround no longer uses the cPanel control panel. Instead, it has developed its own custom control panel, known as Site Tools. Site Tools is even more polished and easier to use than cPanel. Click here to see other cPanel alternatives.
Does tsoHost use SSD?
Not with all packages. You can only get SSD storage with tsoHost's Linux VPS plans and some of its dedicated server plans (also for Linux). Want more SSD hosting options? Check out these cheap and fast SSD hosting services.
Does tsoHost offer a free domain?
You can get a free domain name from tsoHost with any shared or WordPress hosting package as long as you sign up for an annual subscription. Having trouble choosing a domain name? Don't hesitate to check out the ultimate guide to choosing and buying a domain name.