SiteGround vs Kinsta is a textbook case of "you get what you pay for."
 There's no denying that Kinsta is expensive, but it's also the fastest, most reliable managed WordPress hosting service that we've tested so far. On the other hand, SiteGround can save you some money, but its performance was a bit disappointing. To compare SiteGround and Kinsta, I tested both services for several months. I looked at everything from pricing to features, performance, security, and customer support, and while it was a close call in some categories, Kinsta held the lead in almost all of them. This is not to say that SiteGround is a bad web host. It's cheaper than Kinsta, and its premium plans offer some exceptional ease-of-use features that could make it a good choice for beginners.
However, if you're looking for a top-class managed WordPress hosting service, and you can afford it, there's no doubt in my mind that Kinsta is the best.
Click here to see Kinsta's best plans
, or read on to find out why it's the winner.
1. Plans and Pricing
Kinsta Is Expensive but Packs More Value Than SiteGround
Both SiteGround and Kinsta offer cloud-based managed WordPress hosting services.
 With SiteGround, you can also get regular shared hosting and install different content management systems (CMSs), but for the purpose of this comparison, I'll just be looking at managed WordPress plans, since that's all Kinsta offers.
On its entry-level plan, Kinsta will cost you about four times more than SiteGround's basic plan.
I'll let that sink in. SiteGround's advertised prices are only available for the first term, and you'll eventually pay significantly more. But even after renewal,
Kinsta's Starter plan
will cost you twice as much as
SiteGround's StartUp plan
.
SiteGround WordPress Hosting
A free domain name is included with some hosting plans from SiteGround
Is the difference worth it?
Well, both plans give you just one website, 10GB of storage space, and a decent amount of bandwidth
 (10,000 monthly visits for SiteGround vs 25,000 for Kinsta). The difference is in the features and performance that you get with each host.
With Kinsta, almost every tool you need to create and host a complex WordPress website is included on all plans: Starter, Pro, Business, or Enterprise.
 The main difference between each plan is the amount of resources you get. SiteGround reserves certain important features – such as on-demand backups, site staging, and advanced security tools – for its middle- and top-tier plans. In fact, its mid-level plan has comparable features to Kinsta's Starter plan and costs a lot less for the first year. After that, it's still slightly cheaper than Kinsta.
SiteGround certainly beats Kinsta in the pricing category, even though you don't get all its best features on the StartUp plan
, and the loading speeds are nothing to write home about. You do get free email hosting, which Kinsta doesn't give you, so that's another small victory for SiteGround.
2. Features
Kinsta Has a Better Dashboard and Lots of Extra Features on the Cheapest Plan
Both SiteGround and Kinsta offer managed WordPress hosting services, which means that they take care of the hosting and server setup for you.
In addition, both have automated WordPress updates and backups, advanced caching for WordPress websites, and specialized tech support.
Neither Kinsta nor SiteGround uses cPanel, but this actually makes them much easier to work with.
 For instance, SiteGround's proprietary control panel, Site Tools, is more streamlined and far less cluttered than cPanel, while most of the essential options are still there. But here's the problem:
SiteGround disabled some of the best Site Tools features on its entry-level plan.
 For instance, if you were using cPanel, you'd be able to quickly clone your website and set up a staging environment to safely test changes before publishing them on your site. Site Tools only gives you this option if you're on the GrowBig or GoGeek plans. You'll never have this issue with Kinsta.
Its proprietary dashboard, MyKinsta, is just as easy to use as Site Tools, and you get its full functionality on every plan.
 If you want a staging environment, you can easily set one up, and the space you use for it won't count toward your total storage. Kinsta also gives you more detailed usage statistics for each of your websites, so it's easy to keep track of your resources.
The tech team takes a proactive approach to monitoring and will reach out to you if they find a script or bug that's slowing down your site.
 That's more than can be said for SiteGround.
Plus, if you ever want to add collaborators to your website, you can easily generate login details straight from the dashboard.
 You have granular control over each user's level of access, so it's easier to get your team organized.
SiteGround also has decent collaborative tools, but – you guessed it – these are only available on the more expensive plans.
To help you quickly compare SiteGround and Kinsta, I've included their basic features in the table below:
| | | |
| --- | --- | --- |
| Feature | SiteGround | Kinsta |
| Hosting Type | Shared, WordPress, managed cloud | Cloud-based managed WordPress hosting |
| Free Domain | ✘ | ✘ |
| Free SSL Certificate | ✔ | ✔ |
| Disk Space | 10GB – 40GB | 10GB – 250GB |
| Bandwidth | 10,000 – 100,000 monthly visits | 25,000 – 3,000,000 monthly visits |
| Automatic Backups | ✔ | ✔ |
| Control Panel | Site Tools (proprietary) | MyKinsta (proprietary) |
| Email Accounts | Unlimited | None |
| Free CDN | ✔ | ✔ |
| Free Site Migration | ✔ | ✔ |
| Money-Back Guarantee | 30 days | 30 days |
3. Performance
SiteGround Can't Compete with Kinsta's Lightning-Fast Speeds
Features and ease of use are important aspects of web hosting for you, the website owner, but your visitors will only care about one thing: speed. On paper, both SiteGround and Kinsta look pretty strong.
They've both built their platforms on Google Cloud, one of the fastest cloud infrastructures in the world,
 and both run well-optimized Nginx servers with advanced caching. But there are a few noteworthy differences
. For one, SiteGround lets you choose from just six data center locations.
 These cover the US, Europe, Singapore, and Australia, but pale in comparison to Kinsta's global fleet of 24 data center locations.
If your target audience is in Canada, Brazil, India, mainland China, or Japan, Kinsta can help you bring your website closer to your visitors and cut down on loading times.
 In addition, Kinsta lets you select a different data center for
each
of your websites, whereas with SiteGround, your entire account is bound to one location.
Both hosts have a content delivery network (CDN) integrated into the dashboard, and activating it can improve your website's global performance.
 The difference is that SiteGround gives you the free version of Cloudflare CDN (which, by the way, you can use with any host), while Kinsta offers the premium KeyCDN with a minimum of 50GB of bandwidth on all plans. It's no surprise, really, that Kinsta beat SiteGround by a comfortable margin in our performance tests.
What did come as a surprise, however, were SiteGround's subpar results.
During my testing
I used GTmetrix and got an average loading speed of 2.02 seconds, with 1.4 seconds as the best speed and 2.5 seconds as the worst.
SiteGround was, in fact, slower than most of the other top web hosts we've tested.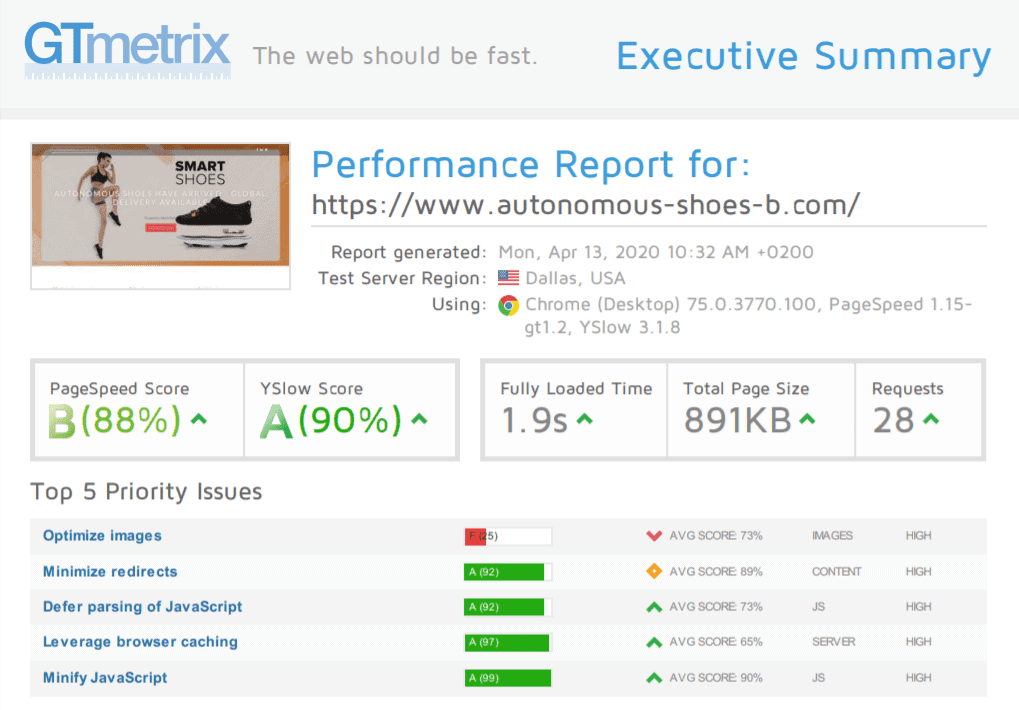 With an outstanding average loading time of 1.2 seconds, Kinsta found itself at the opposite end of the spectrum.
Of all the hosts we tested, Kinsta was, hands down, the fastest.
At its best, it loaded my website in 0.8 seconds, and even at its worst, it took no more than 1.6 seconds to load. It really doesn't get any better than this.
Get the full results in our in-depth review
.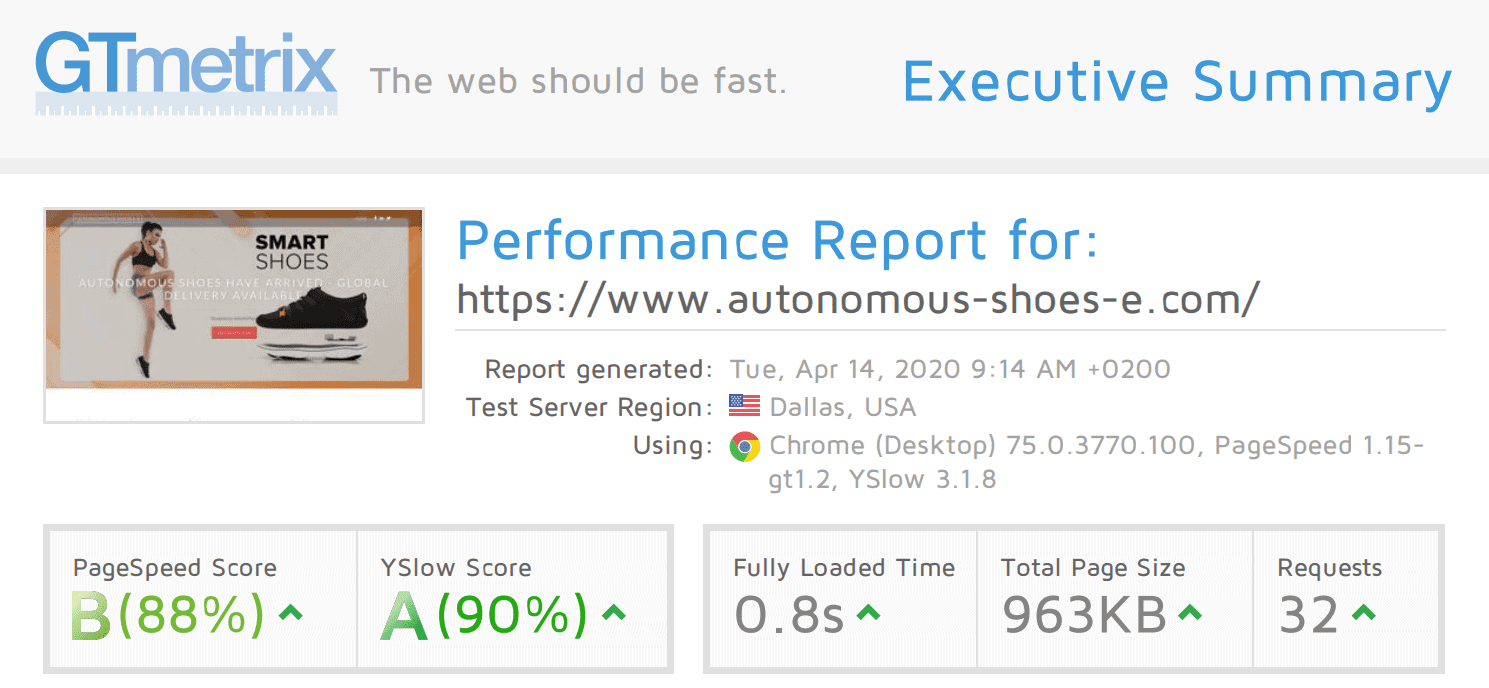 As for uptime, both Kinsta and SiteGround did well.
 I kept track of my website for several months using UptimeRobot and got an excellent 99.997% uptime with SiteGround. That's way better than the host's 99.9% uptime guarantee.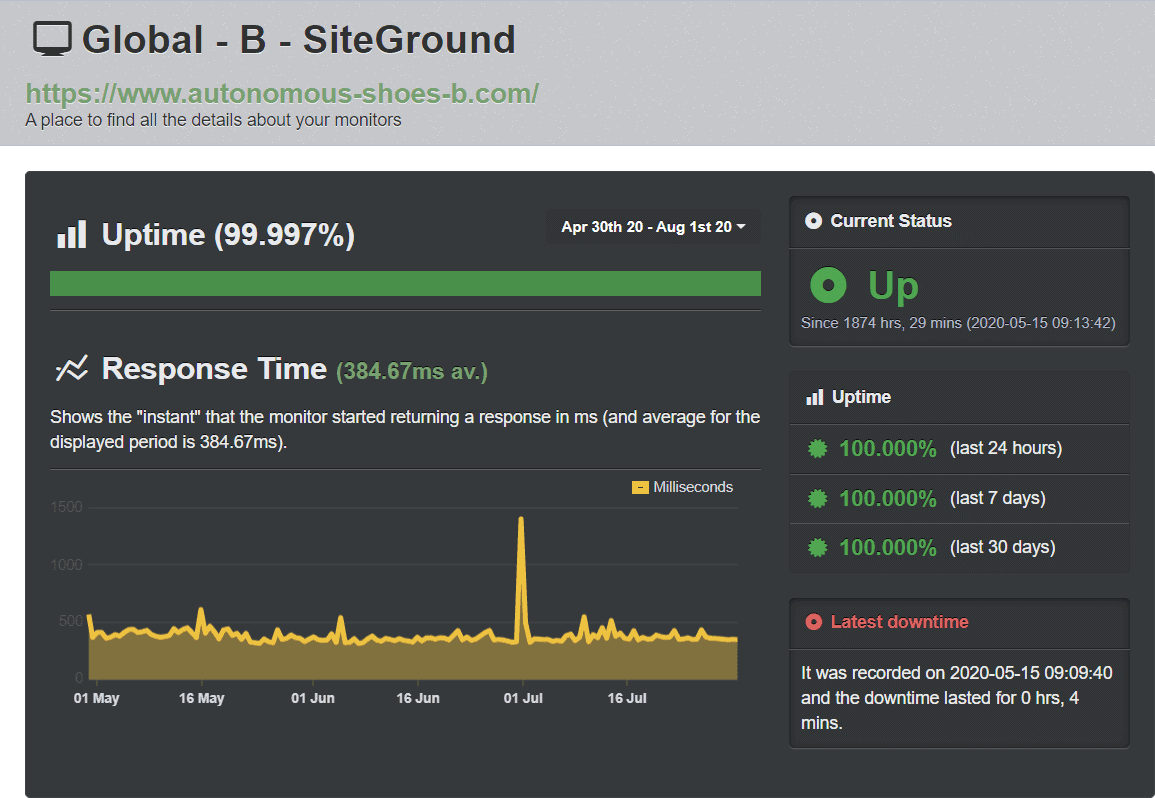 Kinsta was even more impressive, with a pristine 100% uptime for the duration of testing.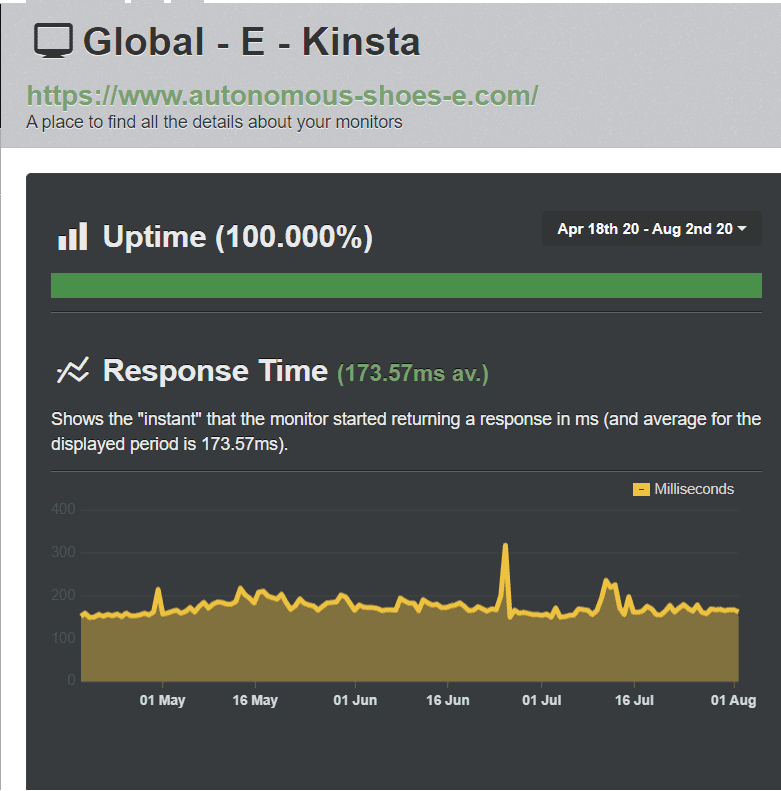 All in all, both hosts passed uptime benchmarks with flying colors, but when it came down to speed, Kinsta left SiteGround in the dust.
4. Security
Kinsta Goes the Extra Mile with a Hack Fix Guarantee
Both Kinsta and SiteGround have excellent security measures in place to protect your website.
For instance, both hosts use Linux container (LXC) technology to isolate each account and to ensure that no security breach crosses over from one website to another.
In addition, both Kinsta and SiteGround offer SSL certificates for free on all plans,
 so you can rest assured that your users' sensitive information is encrypted and safe. This will also give your website a small boost in search engine rankings.
To this, SiteGround adds DDoS protection, a web application firewall, and a proprietary monitoring system designed to block most malicious traffic to your website.
 But if you want more advanced tools – like a malware scanner, for example – you have to buy the SG Site Scanner add-on.
Kinsta, on the other hand, secures all of its accounts at the server level for free.
 It enables hardware firewalls, DDoS protection, GeoIP blocking, fully encrypted SFTP and SSH connections, as well as other measures to keep your website safe. Both SiteGround and Kinsta create account backups for you on a daily basis, but Kinsta also offers a hack fix guarantee on all plans.
If your site does get compromised, Kinsta's tech team will clean it up and restore it for you.
5. Support
Both Hosts Have Decent Support, but Kinsta Is Much Easier to Reach
Both SiteGround and Kinsta have 24/7 customer support, but Kinsta works exclusively with live chat, while SiteGround can also be contacted through phone and tickets. That said,
it was much easier for me to get in touch with Kinsta, and the agents were polite, knowledgeable, and eager to help.
Once you've logged into your dashboard, you can reach Kinsta's tech support by simply clicking the chat bubble on the bottom-right side of the screen.
In my experience, an agent will pick up your question within one minute, at most.
 I was never transferred from one agent to another during my tests, and I was always able to get the information I needed.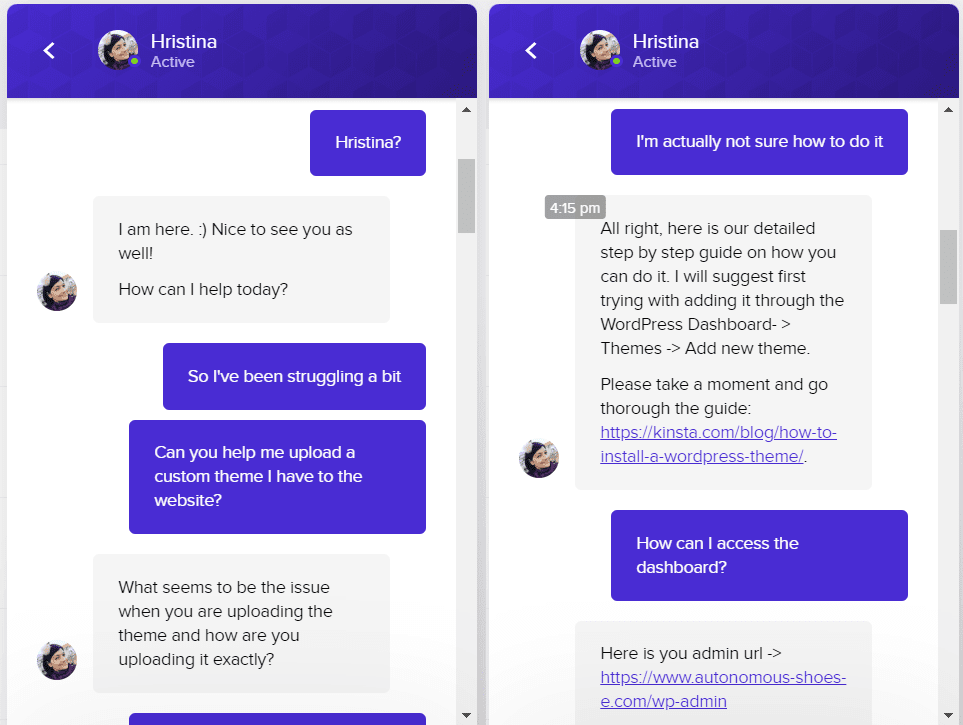 Unfortunately, SiteGround did not provide the same level of responsiveness. In fact, it appeared that SiteGround was making an effort to deter me from contacting them. I consistently had to navigate through a repetitive set of automated questions whenever I initiated a live chat, and I also experienced prolonged waiting times of 20-30 minutes before receiving a response. If you're expecting to see a live chat function integrated into the dashboard, you'll be disappointed.
Finding the chat button can be a challenge in itself with SiteGround.
Nevertheless, once an agent did get in touch, they were always courteous and very helpful.
 One agent even offered to install WordPress and an SSL certificate for me. Now that's the kind of support I want to see.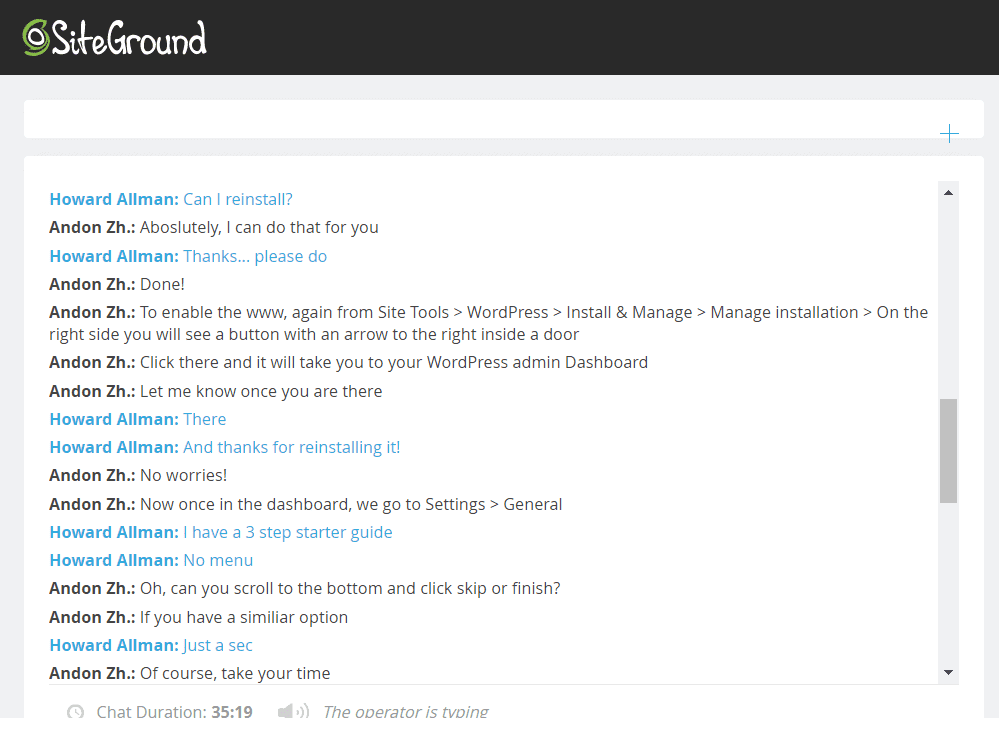 If you like to DIY, you'll be happy to know that
both Kinsta and SiteGround have well-organized, extensive knowledge bases with step-by-step guides.
 Especially if you opt for SiteGround, making your way through the knowledge base might result in a quicker solution than contacting support directly.
Kinsta Outperforms SiteGround, but It'll Cost You
With top-notch features, performance, security, and customer support, Kinsta has a lot going for it.
 It's also the fastest web host we've tested, by far. It's virtually the holy grail of managed WordPress hosting, but as I've said before, it doesn't come cheap.
If you have many small, low-traffic WordPress websites, SiteGround might be a better option.
 It's more affordable than Kinsta, and you can host an unlimited number of websites on the GrowBig and GoGeek plans. However, I wouldn't use it for complex or high-traffic sites, let alone for a large e-commerce platform. Before you make your decision, feel free to check out our list of
the best web hosting services
. Both Kinsta and SiteGround made the top ten, but it can't hurt to see how they did against other top web hosts. To help you decide, I've summarized my comparison of the two hosts in the table below:
Plans and Pricing
Decent value on the GrowBig and GoGeek plans, plus it's cheaper than Kinsta
Expensive, but you get more value than with SiteGround, especially on the entry-level plan
Features
A proprietary control panel that's easy to use, but lacks some important features on the StartUp plan
A proprietary dashboard that is both powerful and beginner-friendly, plus you get site staging and collaborative tools on all plans
Performance
Mediocre performance, but it does have SSD storage, Cloudflare CDN, Nginx web server, six data center locations, and advanced caching
Outstanding performance with SSD storage, premium KeyCDN, Nginx web server, 24 data center locations, and advanced caching
Security
DDoS protection, web application firewall, free SSL, additional security tools are available for a fee
DDoS protection, hardware firewall, free SSL, GeoIP blocking, SFTP and SSH connections only, hack fix guarantee
Support
24/7 support via live chat, phone, and tickets/email; extensive knowledge base; support can be slow
Excellent 24/7 support via live chat; extensive knowledge base
FAQ
Is Kinsta the best host?
If you're after the fastest managed WordPress hosting platform, then yes, Kinsta is the best host we've tested so far. And there's more to it than the spectacular speeds. Kinsta recorded 100% uptime for the duration of testing, and it has one of the most polished, user-friendly dashboards in the industry. The only downside with Kinsta is that it's expensive. If you can afford it, it'll be worth every penny. But if you want something cheaper, you'll find some excellent alternatives on our list of the best web hosting services.
Is SiteGround good for WordPress hosting?
Yes, SiteGround is on our list of the best managed WordPress hosting services. It's had some performance issues lately, but there are still plenty of things to like about SiteGround. For one, you get managed WordPress services and specialized support at an affordable cost. In addition, SiteGround's control panel is super easy to use, and the WordPress starter wizard can help you set up your first website quickly. It can't compete with specialized services like Kinsta and WP Engine, but it's still a good choice if you have a smaller budget.
How much does Kinsta cost?
I'll be brutally honest: Kinsta is a phenomenal host for WordPress, but even the entry-level plan will cost you twice as much as SiteGround's most expensive package. Heck, it's 30 times more expensive than Hostinger's best offer. Is Kinsta worth this small fortune? Absolutely. But if you want to host several small websites, you might be better off with a cheaper host, like Hostinger, A2 Hosting, or InterServer.
Which SiteGround plan is the best value?
Some of SiteGround's best features – such as site staging and Git – are disabled on the entry-level StartUp plan. If you decide to go with SiteGround, my recommendation is that you choose the GoGeek plan. You'll be able to host an unlimited number of websites, and you'll have access to priority tech support.