In your search for the right web host, you've already narrowed your focus down to two. How do you decide whether SiteGround or InMotion is the right host for you? 
Personally, I recommend SiteGround over InMotion. Why is that, and what makes SiteGround so much better, you ask? Keep reading to find out!
To save you from doing the research on SiteGround vs InMotion, I've scoured the internet for customer experiences and InMotion and SiteGround hosting reviews, and I tested the hosts out myself. I've focused on five areas that matter most when you're trying to choose your next web host:
Round 1: SiteGround Has Great Performance-Enhancing Features That InMotion Lacks
Even if you've never had your own website before, you know that page loading speeds matter. I know that if a page takes more than a few seconds to load, I'm not going to stick around to wait. Your visitors aren't either, especially if they're browsing on a smartphone or tablet.
SiteGround has taken a proactive approach to make sure that your website loads quickly – no matter where in the world your visitors are located or what device they're using to visit. Behind the scenes on SiteGround's servers, there's a ton of technology for lightning-fast speeds, including:
SSD drives, which are up to 200% faster than traditional HDD drives

NGINX server technology, which improves server response times

SuperCacher – SiteGround's bespoke caching tool

Cloudflare CDN (content delivery network)

PHP 7.3 and HTTP/2, which help speed up your website
All this technology means that when your website is hosted with SiteGround, pages load blazingly fast. SiteGround claims speeds to be around 1.3 to 1.6 seconds, depending on whether you're using SuperCacher. 
I created a SiteGround test site and evaluated its speed using Pingdom to confirm SiteGround's speed claims, and I found that pages loaded in an impressive 0.383 seconds. Learn more about SiteGround's speed-boosting technology in our expert review.
InMotion, however, doesn't have the same level of speed-boosting technology on its servers. It offers "Max Speed Zones," but upon digging deeper into what exactly this feature is, I was disappointed to find out that this was merely a fancy name for the option to choose your data center. When I signed up, however, I was only offered U.S.-based data centers.
The only other performance-boosting feature on InMotion's servers is PHP 7.3. PHP 7.2 is enabled by default, and you have to manually update to v7.3 in your cPanel.
I created a test site for InMotion and performed the same Pingdom test. The results were better than I hoped for but still much slower than SiteGround. My InMotion test site loaded in 1.11 seconds, despite making fewer server requests than my SiteGround test site. Usually, the more page elements (text, images, videos, etc.) your browser has to request from the server, the longer it takes the page to load – but that wasn't the case here.

Both InMotion and SiteGround come with 99.9% uptime guarantees. SiteGround's uptime history has an impressive average of around 99.98%, while InMotion's uptime average is 99.97%. That works out to an average of 8 minutes, 30 seconds of downtime for SiteGround vs 13 minutes with InMotion.
And the winner is: SiteGround takes the lead in Round 1. With a marginally better uptime record compared to InMotion and significantly better speeds, SiteGround ensures that your pages always load quickly. 
Round 2: InMotion vs SiteGround: Only One Has Industry-Leading Security Technology
Hacking attempts, malware, and brute force attacks are becoming more common, and you need to know that your data is secure – or, at least, able to be restored if the worst-case scenario happens and your data is deleted.
SiteGround, a user favorite, includes a range of security features in its plans, including anti-bot artificial intelligence (AI) technology to prevent brute force attacks. It also provides account isolation to ensure your website isn't affected if another website on the same server is infected by malware, as well as regularly updated firewalls for malware and other malicious code protection.
Additionally, SiteGround develops its own security patches rather than waiting for third-party developers to release them, so vulnerabilities are patched faster. It also provides daily backups of your data and keeps them for 30 days, with tools available in your cPanel for easy restoration if your data is corrupted.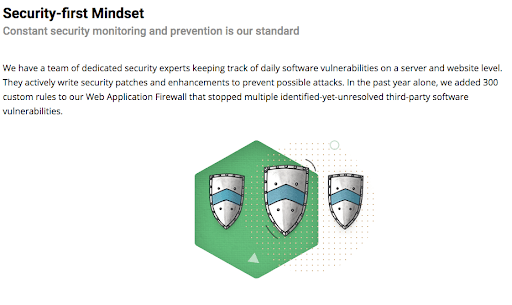 InMotion also provides a security suite, which includes hack protection, DDoS (distributed denial of service) protection, spam protection, and a regularly updated firewall system known as the Smartwall Threat Defense System. 
When it comes to backups, InMotion does make weekly backups of your web space – provided your web space doesn't exceed 10 GB. If it does, backups won't be made at all. You should also be aware that these backups are considered a courtesy, and you're only able to restore files once in each four-month period. 
If you want backup tools that you have more control of, InMotion offers a paid backup add-on package that allows you to set the backup frequency and restore your files more often. 
And the winner is: SiteGround. While InMotion has a decent set of security features, SiteGround wins this round on the basis of its superior technology and free daily backups.
Round 3: Is SiteGround Good Enough or Does InMotion Have Better Features? 
Are you looking for a host that gives you unlimited resources? Or are you more interested in helpful features you won't find everywhere else?
For example, if you need to host a lot of large files, InMotion doesn't limit your storage space like SiteGround does. On the other hand, SiteGround offers a staging tool that allows you to make changes to your website without affecting the live version. SiteGround also has the advantage of a CDN for speed and automatic daily backups.
The best way to compare the features available is in an at-a-glance table.
| | | |
| --- | --- | --- |
| Feature | SiteGround | InMotion |
| Storage Space | 10 GB to 30 GB, depending on the plan | Unlimited |
| Money-Back Guarantee | 30 days | 90 days |
| Free Domain Name | No | Yes, free for the first year |
| Automatic Backups | Yes, daily and kept for 30 days | Courtesy backups limited to 10 GB |
| Free SSL Certificate | Yes, on all plans | Yes, on all plans |
| Free CDN | Yes, Cloudflare CDN  | No |
| Bandwidth | Unmetered | Unlimited |
| Free Site Migration | Yes, completed within 24 hours | Yes |
| Email Accounts | Unlimited | Unlimited |
| One-Click Application Install | Yes | Yes |
| Staging Tool | Yes | No |
| Advertising Credits | No | Yes – the amount varies depending on your plan |
| Google Apps Integration | No | Yes |
And the winner is: It's a tie. In this round of InMotion Hosting vs SiteGround, there's no clear winner. Both have great features, and which one wins for you will depend on what you need from your web host. For the full rundown on all their features, make sure you check out our expert reviews on both SiteGround and InMotion Hosting.
Round 4: SiteGround Can't Beat InMotion's Money-Back Guarantee Period
When you pay up front for a web hosting plan, you want to know that you're getting the best value for your money – but sometimes it can be hard to judge this. There are some important questions to ask that help when you're judging value:
Do you have to pay up front for a long term to get the lowest prices?
With SiteGround, you pay the same monthly equivalent whether you sign up for one, two, or three years. With InMotion, however, you need to pay up front for two years to get the best prices.
Are there features that one provider includes for free but the other charges extra for?
With SiteGround, you get automatic daily backups that InMotion charges a fee for. InMotion offers a free domain name for the first year of your hosting plan, whereas SiteGround makes you pay for your domain name.
Is there a free trial period or money-back guarantee?
There isn't a SiteGround free trial, nor one for InMotion, but SiteGround offers a 30-day money-back guarantee. InMotion gives you an impressive 90-day money-back guarantee, which is one of the longest in the web hosting industry.
How do the hosting companies compare on price, both initially and on renewal?
For the initial term, SiteGround prices are lower than InMotion's, but when it's time to renew, you'll face price increases of up to 300%. With InMotion, the prices for the initial term are more expensive than SiteGround, but renewal prices are only around 15–20% higher than initial prices.
And the winner is: Once again, we have a tie! SiteGround is a better value initially because it's cheaper and you don't have to pay up front for a long period, plus you get backups and a CDN free. However, InMotion's renewal prices are more reasonable compared to SiteGround. 
Round 5: 24/7 Support with InMotion Hosting vs SiteGround, but Wait Times Set Them Apart
Whether you're a newbie or veteran with website hosting, you're going to need customer service sometime. Both SiteGround and InMotion offer 24/7 customer support via email, phone, and live chat.
It's in the quality of the customer support where they differ. SiteGround has a reputation for responding quickly and solving issues rapidly. For example, when I contacted SiteGround via live chat, I was connected in under a minute and my issue had been fully resolved within 15 minutes.
InMotion is not so great with its customer support, with wait times averaging around 10 minutes for live chat support. Other customers reported waiting 40 minutes to connect to a support agent. When I tested this, it took 12 minutes for a customer support agent to respond – and more than 45 minutes for my issue to be resolved.
And the winner is: It can only be SiteGround here. There's no beating the quality and speed of SiteGround's customer support, especially via live chat. InMotion's support is good, but SiteGround is simply better.
Choose SiteGround for Performance, Security, and Support
Our Recommendations
Ultimately, SiteGround is an all-around great choice for most types of website. It offers superior support, better security, and gives you some of the fastest page loading speeds in the industry. To find out more about why you should choose SiteGround, read our in-depth review.
However, there are some cases when InMotion may be a better choice for your website. For example, if you need more storage space, InMotion doesn't have limits. InMotion is better when it comes to websites that demand more resources, but you'll need to take care of your own backups or pay extra for the backup add-on.