SiteGround is one of the biggest names in WordPress hosting, but my most recent tests have given me reason to question its reputation.
 GreenGeeks hasn't been around for as long, but it might just have what it takes to challenge an industry giant like SiteGround. SiteGround is a favorite among web designers due to its streamlined control panel and agency-oriented features, but
GreenGeeks' excellent customer service and better performance make it a stronger overall candidate.
 Furthemore, GreenGeeks is an eco-conscious service, which means your website will actually be carbon-reducing when hosted on its servers. I compared SiteGround and GreenGeeks based on five different aspects of their web hosting service: pricing, features, performance, security, and support.
GreenGeeks is the overall winner because it pulls ahead in most areas, but SiteGround is a better choice in certain use cases.
Click here to see GreenGeeks' latest deals
, or read on to find out more.
1. Plans and Pricing
The Grass Is Greener on GreenGeeks' Side (Because It's Cheaper!)
No matter which type of hosting you need – shared, WordPress, cloud, or VPS – GreenGeeks' hosting plans are more affordable than SiteGround.
It's worth noting that both hosts offer managed WordPress plans for the same prices as their shared hosting plans, which is great news for WordPress users.
A free domain name is included with some hosting plans from GreenGeeks
A free domain name is included with some hosting plans from SiteGround
GreenGeeks' lowest-cost shared plan is the Lite, while SiteGround's entry-level choice is the Startup.
During the initial term, SiteGround is more than twice as expensive as GreenGeeks
. The gap closes a bit on renewals, but SiteGround will still cost you roughly 50% more. You'd think that a higher price comes with more resources and features, but this isn't actually the case.
Both services let you host just 1 website, but
GreenGeeks gives you unlimited storage space and data transfer, while SiteGround limits you to 10GB and roughly 10,000 monthly visits.
GreenGeeks is also more affordable for managed VPS plans.
Its cheapest option comes with 4vCPUs, 50GB SSD storage, 10TB transfer, and 2GB RAM. On the other hand, SiteGround's Entry cloud plan comes with just 3 vCPUs, 40GB SSD storage, 5TB transfer, and 6GB RAM – and it costs double what GreenGeeks charges. Sure, it's a cloud-based environment, but it's still not worth it.
Fortunately, both GreenGeeks and SiteGround have a 30-day money-back guarantee.
 The only exception is that you cannot get a refund on add-on services.
2. Features
You Get Plenty of Advanced Features with Both Hosts
If your priority is an eco-friendly web host, look no further than GreenGeeks.
 It offers a 300% renewable energy match, meaning it puts three times the amount of energy its servers use back into the power grid. Now, that's true commitment to the future.
Another advantage with GreenGeeks is that you get a free domain name if you purchase a year or more of hosting.
 Add this to the fact that GreenGeeks is cheaper across the board, and you can save a pretty sum. As for the control panel, GreenGeeks uses the tried-and-tested cPanel and Softaculous combo.
SiteGround's hosting plans
 include a proprietary panel (Site Tools) instead, which is more streamlined and better optimized for beginners, but it's missing some important features – such as site staging and advanced caching – if you're on the Startup plan. These are included by default with cPanel on all of GreenGeeks' plans.
One advantage for SiteGround is its developer tools.
You can create and ship sites to clients effortlessly, and even offer white-label hosting as a reseller. However, these features are locked behind the premium plans. If you need to transfer a site from another host,
both SiteGround and GreenGeeks include free managed migrations.
 This is a great feature if you're not an advanced user, since you could potentially encounter dozens of problems during the transfer. I've saved the best for last.
Both companies offer daily backups and automatic updates for WordPress free of charge.
This is technically part of managed WordPress hosting, which most other web hosts will make you pay for.
| | | |
| --- | --- | --- |
| Feature | SiteGround | GreenGeeks |
| Hosting Type | Shared, WordPress, cloud dedicated servers, reseller, custom enterprise solutions | Shared, WordPress, VPS, reseller |
| Free Domain | No | Yes, on yearly plans |
| Free SSL Certificate | Yes | Yes |
| Disk Space | 10GB to 40GB on shared plans | Unlimited on shared plans |
| Bandwidth | Unmetered | Unmetered |
| Automatic Backups | Yes (daily) | Yes (daily) |
| Control Panel | Site Tools | cPanel |
| Email Accounts | Unlimited | Unlimited |
| Free CDN | Yes | Yes |
| Free Site Migration | Yes | Yes |
| Money-Back Guarantee | 30 days | 30 days |
3. Performance
GreenGeeks Is Faster than SiteGround
I have tested both services for several months, and
I can tell you straight away that GreenGeeks will offer, on average, better performance than SiteGround.
 Let's see why. The major difference between the two hosts is in their web server infrastructure. GreenGeeks runs on LiteSpeed, while SiteGround relies on a stack that combines the classic Apache and the more versatile NGINX.
Although both are viable, GreenGeeks' solution is more efficient at handling requests.
That said, SiteGround does have more data center locations. Both hosts give customers a choice of several European and North American servers, but SiteGround also features two locations in the Asia-Pacific region. Both SiteGround and GreenGeeks offer SSD storage, which greatly improves the delivery of your website's content as compared to HDD servers.
There's also a free CDN integrated into the dashboard, which you can activate as soon as your website is live.
To compare SiteGround's and GreenGeeks' performance, I signed up for their entry-level shared hosting plans and hosted the same website on each platform. Here's what happened. On GTmetrix, SiteGround's fastest time was 1.4 seconds, while its slowest was 2.5.
The average came in at just over 2 seconds, which made SiteGround one of the slowest web hosts I've tested.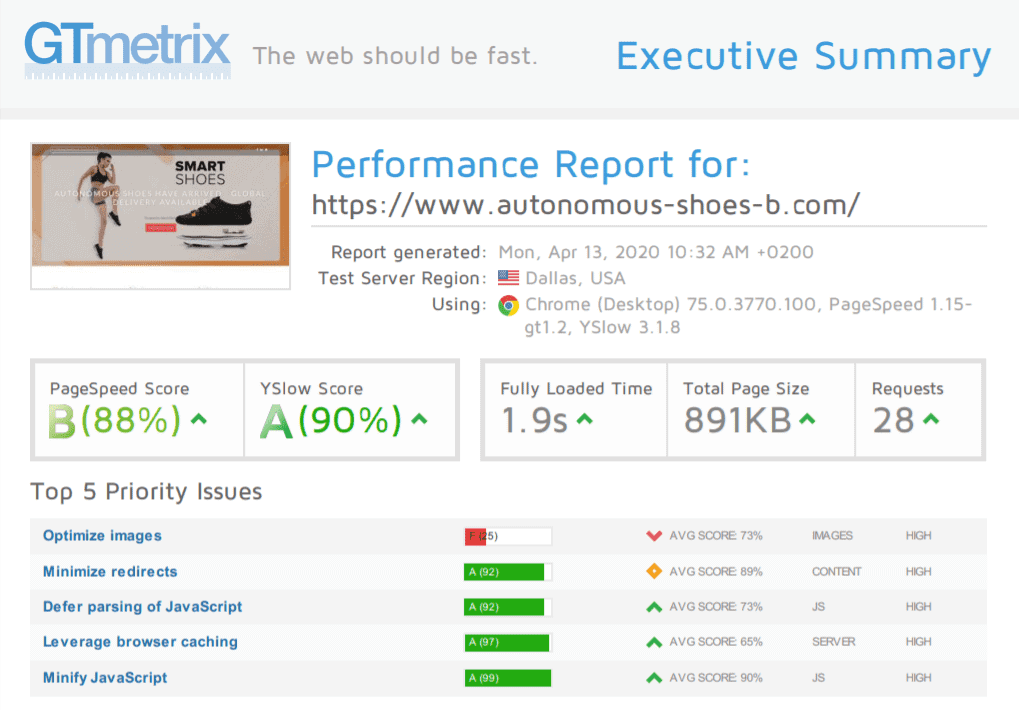 On the other hand, GreenGeeks' results were much better.
Its fastest fully loaded time was 0.8 seconds, the slowest was 2.4, and the average was 1.7. You can see the full results of our testing in
our in-depth GreenGeeks review
.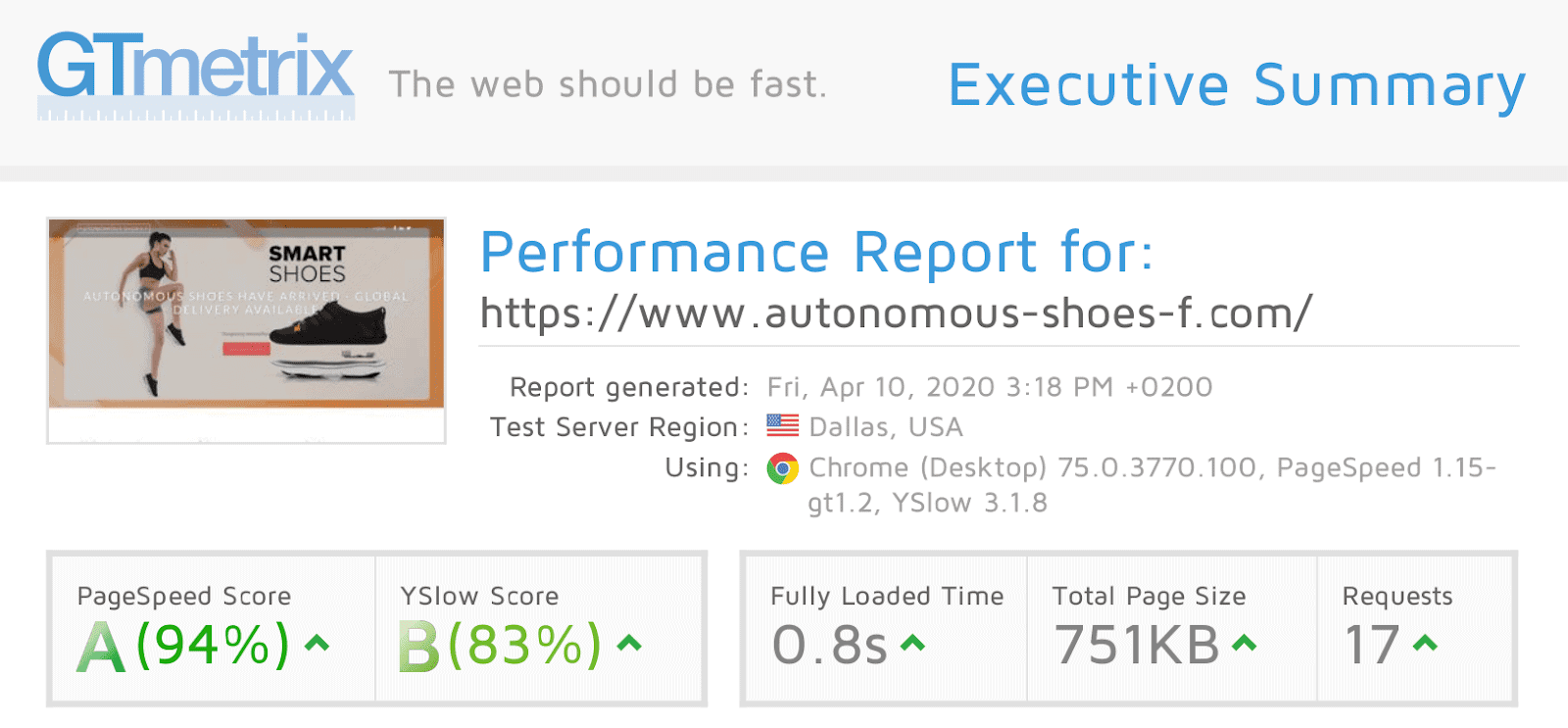 For even more perspective, I tested the two web hosts using Sucuri. In North America, GreenGeeks was as fast as GTmetrix promised. However, things took a turn for the worse in some of the more distant regions. For instance, visitors from India or Singapore would have to wait several seconds for the website to completely load.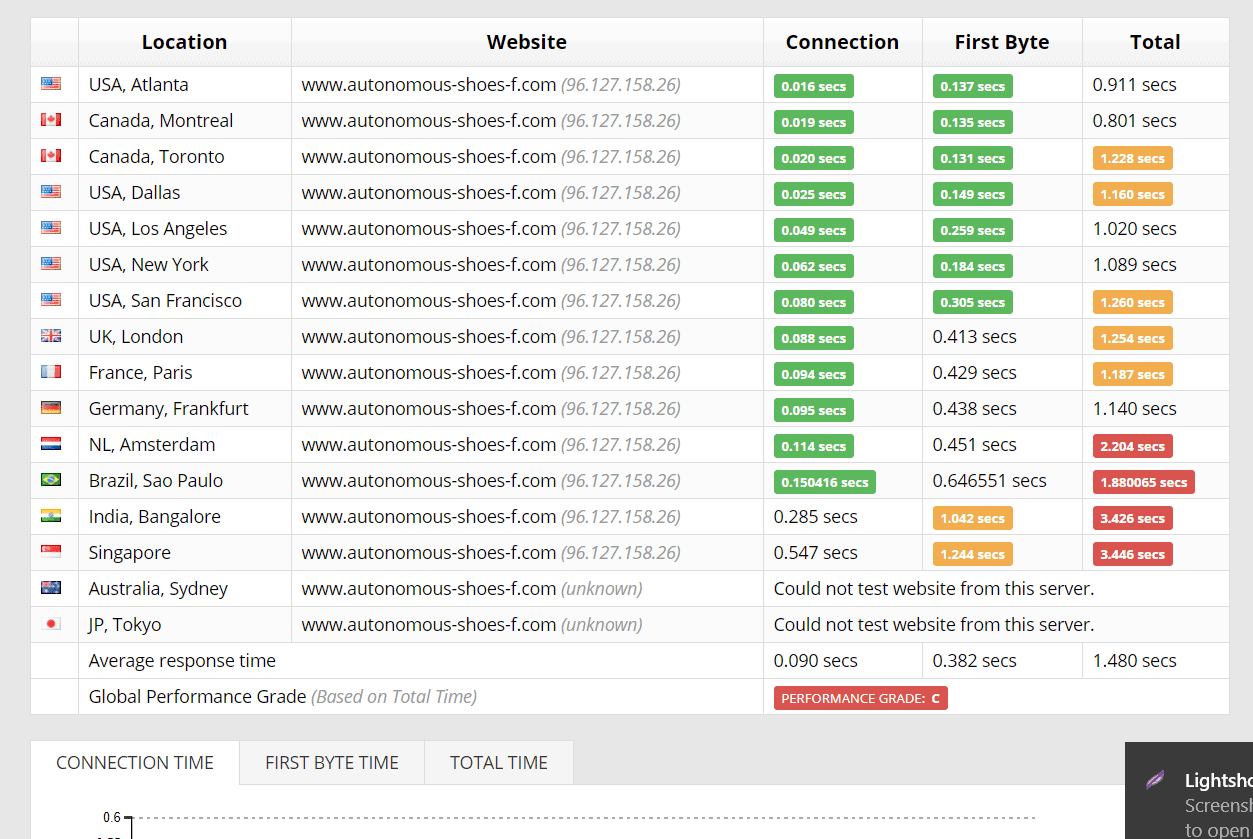 SiteGround actually overtook GreenGeeks on Sucuri.
Because of its data centers in Asia-Pacific, SiteGround would be a better choice if your main audience is in this region, while GreenGeeks performs better in the rest of the world.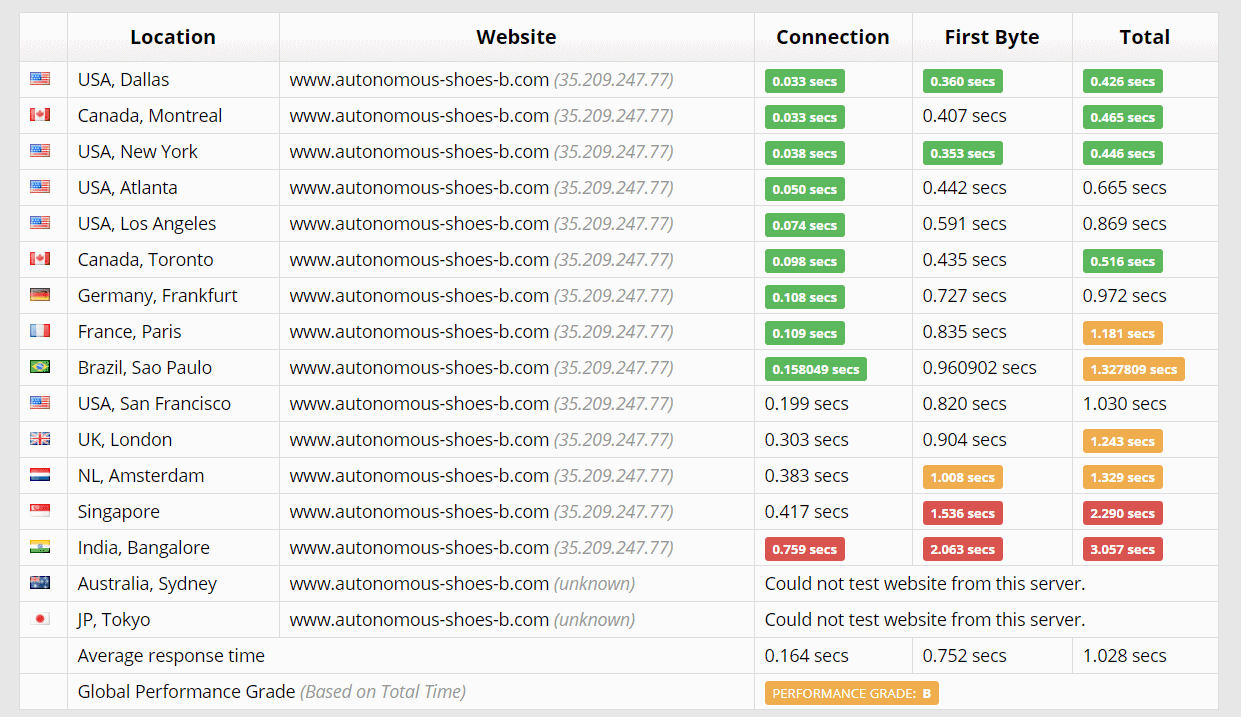 Uptime was great with GreenGeeks and SiteGround; both went beyond their 99.9% pledge.
UptimeRobot results did show some variation in GreenGeeks servers' response times, though.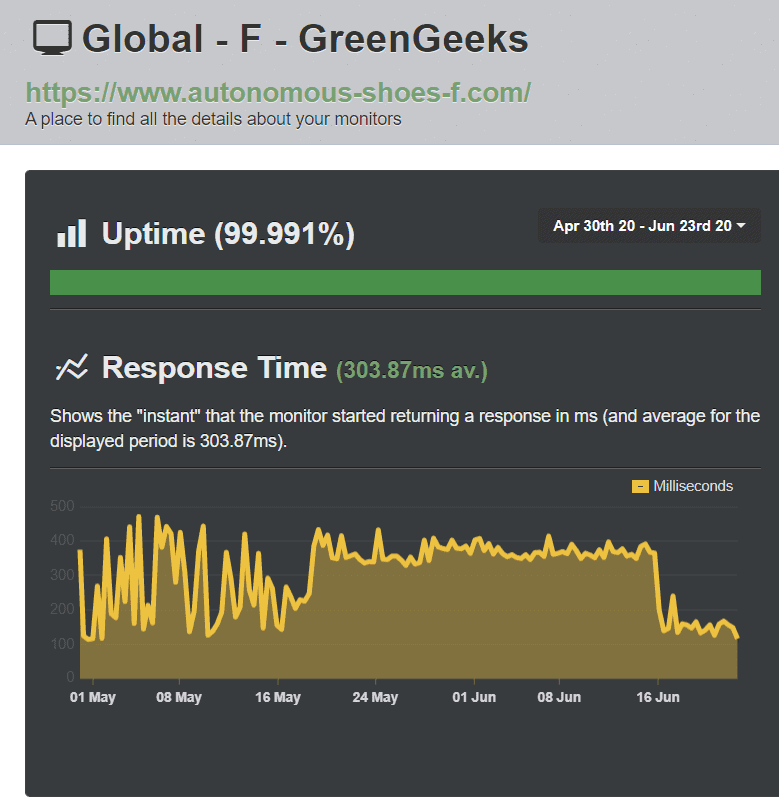 With the exception of four minutes of downtime, which was probably maintenance-related, SiteGround managed a great record of continuous service over the course of three months.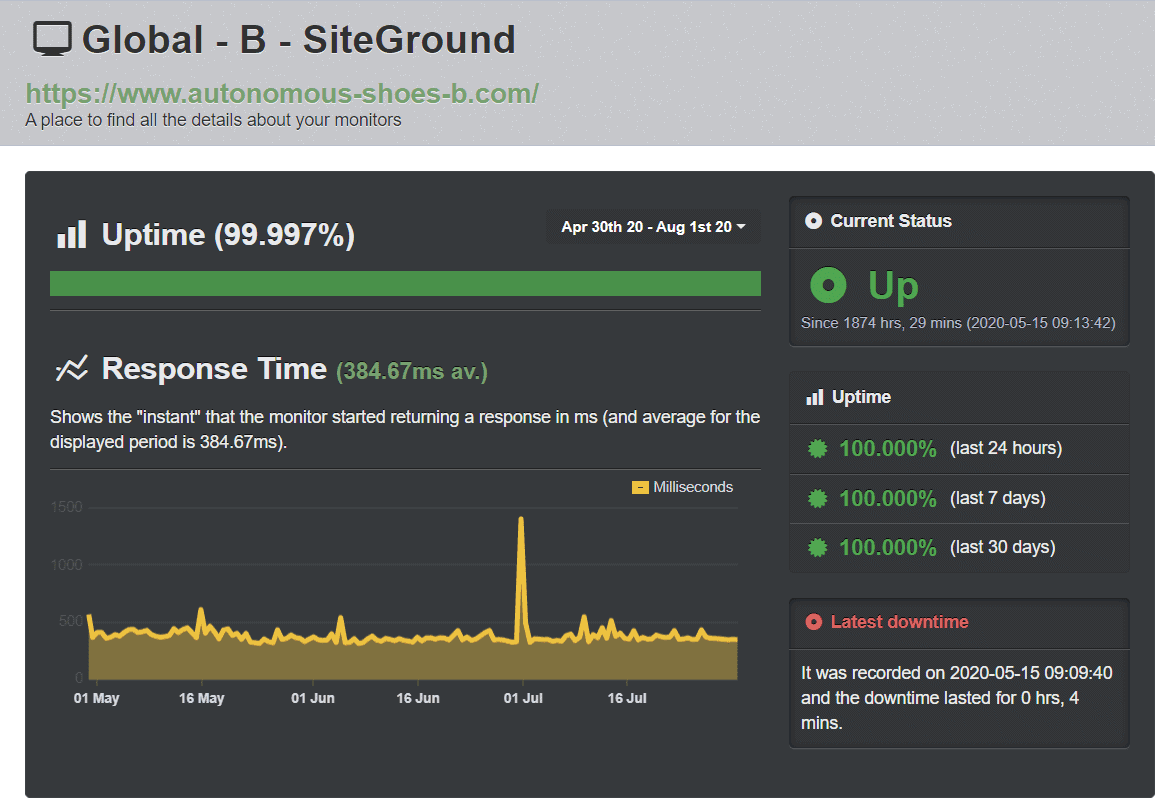 Overall, GreenGeeks was faster than SiteGround.
This is one of SiteGround's biggest drawbacks.
The in-depth tests we ran on SiteGround
(and numerous customer complaints) show its servers are slow, which is disappointing given its premium pricing. At least the provider acknowledges the problem and is working toward a solution.
4. Security
GreenGeeks Is Secure, but SiteGround Has a Slight Edge
Both SiteGround and GreenGeeks have great baseline security.
Both give you a free SSL certificate from Let's Encrypt, regardless of the plan you choose. In addition,
customer accounts are isolated from one another using container-based technology,
 which means that your website won't be affected if one of your server neighbors falls prey to malware.
GreenGeeks and SiteGround proactively monitor their infrastructure and run real-time security scans on top of that.
This is a great defense against DDoS attacks, which can render a cluster of servers unusable for many days on end. The list doesn't end there.
Both web hosts give you spam protection for your emails, as well as proactive updates and patches for critical software like WordPress.
The two hosts also run daily backups that you can rely on in case of a hardware failure. SiteGround has a slight edge with its proprietary web application firewall (WAF), which has a good reputation for protecting against known vulnerabilities in applications like Drupal, Joomla, and WordPress.
5. Support
SiteGround Has Decent Support, but GreenGeeks' Is Excellent
Support is where GreenGeeks really shines.
Let's take a closer look. Both SiteGround and GreenGeeks offer 24/7 support through live chat, phone, and tickets. That said, SiteGround's support can be difficult to reach at times. First you have to fill out an annoying contact form, and
the average waiting time (after I initiated a chat) was around 30 minutes.
However, when I finally got in touch with a SiteGround agent, they were helpful, polite, and professional.
I had trouble with an SSL certificate and the agent offered to install it for me. That kind of made the wait worthwhile.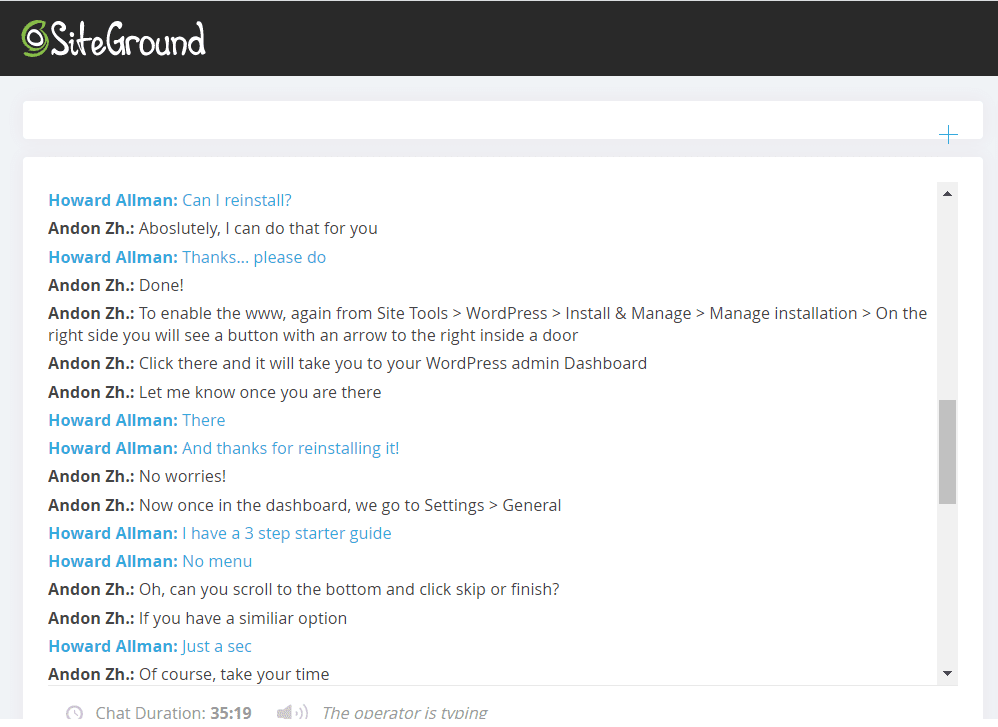 Unlike with SiteGround, there was virtually no wait time with GreenGeeks' support. I asked a range of questions that came to mind, and,
to my surprise, the agent took the time to answer each and every one of them.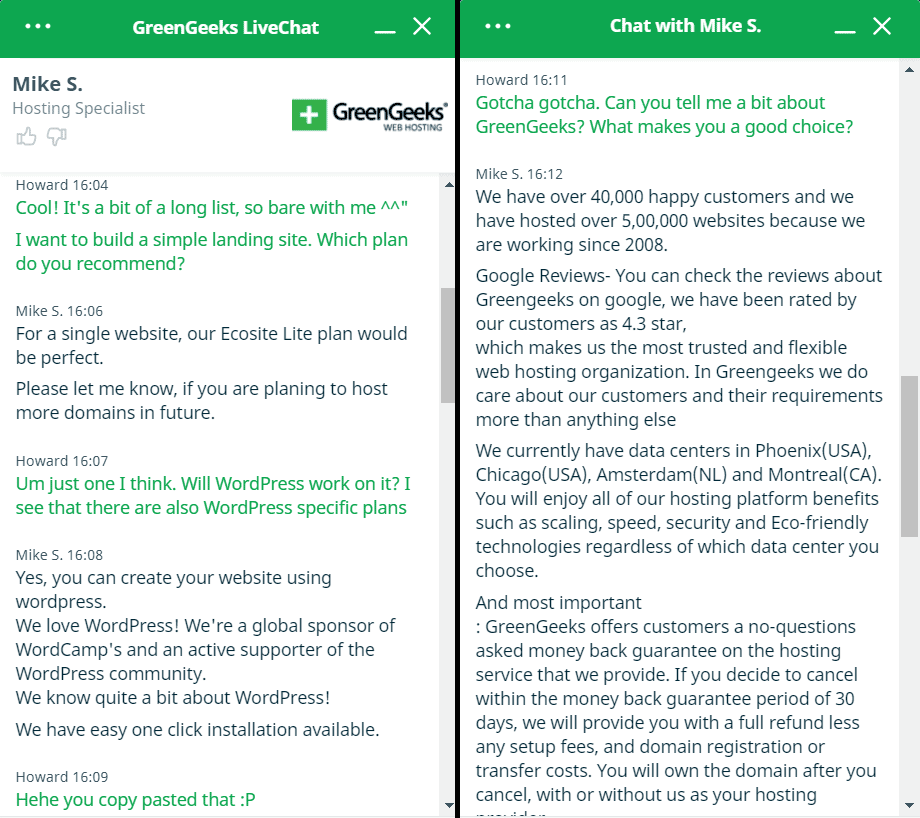 But here's the best part:
 GreenGeeks went the extra mile for me like few other web hosts would.
When I opened a ticket to ask about optimizing my WordPress website for speed, the tech person took the initiative and tweaked things on my behalf.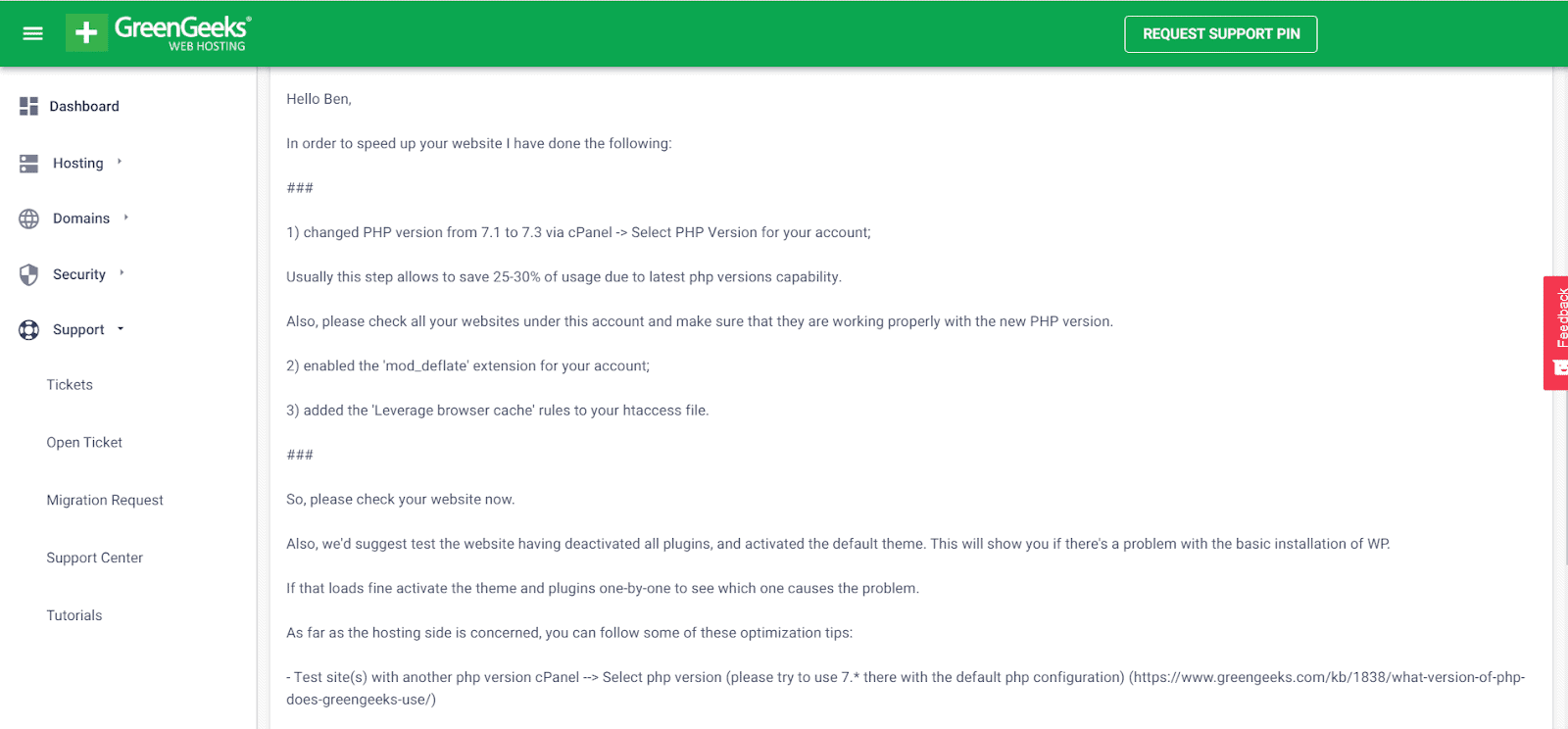 Both hosts offer dependable knowledge bases you can utilize if you prefer a DIY approach. The majority of the articles consist of step-by-step tutorials that will assist you in navigating through the most frequently encountered hosting-related tasks.
Although SiteGround's support isn't bad (just a little slow), GreenGeeks wins for its promptness and for taking the initiative.
SiteGround Is Good, but GreenGeeks Is Better
With its eco-friendly hosting, better prices, and excellent support, GreenGeeks is the clear winner of this comparison.
If you just want a simple site and you're not that tech savvy,
GreenGeeks' beginner-friendly hosting plans
 and above-and-beyond approach to support will spare you a lot of hassle. This doesn't mean that SiteGround is bad – far from it. The two hosts are fairly matched in terms of features, and
SiteGround's hosting plans
 do come with slightly better security. Although slower than GreenGeeks,
SiteGround has a lot in store for developers and those who want a solid cloud solution.
After all, both hosts made it to our list of
the best web hosting services
, so you can't go horribly wrong with either. Here are the main takeaways from my SiteGround vs GreenGeeks comparison:
Plans and Pricing
More expensive than GreenGeeks, premium plans have good value
Better prices than SiteGround, excellent value on all plans
Features
Unlimited websites and bandwidth on most plans, streamlined proprietary control panel, ship-to-client features, automatic updates for popular software, 100% green hosting
Unlimited websites, storage space, and bandwidth on most plans; free domain name with one year of hosting; cPanel; automatic WordPress updates; 300% green hosting
Performance
SSD storage, Apache web server with NGINX, Cloudflare CDN with Railgun, six data center locations, average performance, great uptime
SSD storage, LiteSpeed web server, Cloudflare CDN, four data center locations, great performance and uptime
Security
DDoS protection, free SSL, free automatic backups and app updates, real-time monitoring, custom WAF
DDoS protection, free SSL, free automatic backups and WP updates, real-time monitoring
Support
24/7 support via live chat, tickets, and phone; great knowledge base
24/7 support via live chat, tickets, and phone; extensive knowledge base
FAQ
1. Is SiteGround a good host?
Yes. Despite its hiccups in performance during our testing, SiteGround is on our best web hosting services list for good reason. Users benefit from the host's proprietary control panel, and they're hosted directly on Google's Cloud platform. Just make sure to check with support if your site is slow to load. If you think traffic to your website might scale fast, consider a premium host like Liquid Web. However, if reliable support is important to you, you might want to take a look at GreenGeeks.
2. Does GreenGeeks offer WordPress hosting?
Yes, it does. GreenGeeks has solid plans for WordPress users, but you might also want to check our list of the best managed WordPress hosting services before you make a decision. Given the popularity of the CMS, industry leaders are vying to offer the best WordPress experience. If you want to use WordPress to create an enterprise website, I wholeheartedly recommend a managed cloud company like Kinsta. Whatever your needs, it can provide.
3. Does GreenGeeks offer good performance?
GreenGeeks isn't going to win any performance awards, but during our testing, we found it was quite good. In fact, if you talk to support and properly optimize everything on your pages, you're very likely to get great speeds for your website. Testing web host performance isn't a simple task, though. If you'd like to know more about how we do it, you can read all about it here.
4. Does SiteGround offer cPanel?
Not anymore. SiteGround used to offer cPanel, but once cPanel raised its prices, the web host came up with its proprietary solution (Site Tools), which is more streamlined and more beginner-friendly. The only bad thing about Site Tools is that it doesn't have the massive one-click install library that usually comes with cPanel. This isn't a major concern for beginners, since popular CMSs, like WordPress, Drupal, Joomla, etc. are there.