Before you make that final decision, you need to be certain about the hosting features you absolutely can't do without.
For example:
Do you need a web host that provides its own security patches so that your webspace is protected against vulnerabilities faster than a host that waits for third-party patches? This is one area where FastComet and SiteGround really differ.
Are you a beginner to web hosting and need to know that you can get fast access to customer support teams who can quickly resolve your problems?
If your website is for your business, can you afford to pay extra for the best speed-boosting technology, or do you prefer a more budget-friendly option? FastComet and SiteGround have speed-boosting technology, but one of them only offers it on its most expensive plan.
I've done the research for you, comparing SiteGround vs FastComet's claims and user experiences in five important areas:
Round 1: Fastcomet Gives You More for Your Money… Including a Free Domain Name for Life
While some hosting companies vary considerably in what they include in
shared hosting plans
,
FastComet and SiteGround actually have a lot of similarities.
To make it easier to compare, I've put together this at-a-glance table to highlight what's available from each.
| | | |
| --- | --- | --- |
| Feature | FastComet | SiteGround |
| Storage Space | 15 GB to 35 GB, depending on the plan | 10 GB to 30 GB, depending on the plan |
| Money-Back Guarantee | 45 days | 30 days |
| Free Domain Name | Yes, a free domain name for life (or for as long as you remain with FastComet) | No |
| Automatic Backups | Yes, daily, kept for seven days on the basic plan and 30 days on all other plans; also has a one-click restore manager for easy restoration of your backups | Yes, daily, kept for 30 days |
| Free SSL Certificate | Yes, on all plans – includes Let's Encrypt SSL and Cloudflare CDN SSL | Yes, on all plans |
| Free CDN | Yes, Cloudflare CDN | Yes, Cloudflare CDN |
| Bandwidth | Not strictly limited, but with "recommended monthly traffic" (e.g., 10,000 monthly visitors on the StartSmart plan) | Not strictly limited, but with "recommended monthly traffic" (e.g., 10,000 monthly visitors on the StartUp plan) |
| Free Site Migration | Yes, one with the StartSmart plan, three on all other plans | Yes, completed within 24 hours |
| Email Accounts | Unlimited | Unlimited |
| One-Click Application Install | Yes | Yes |
And the winner is:
It's a close round, but FastComet slips into the lead with its free domain name for life and 45-day money-back guarantee. In other aspects, it's very similar to SiteGround, but these included features make FastComet the better choice.
Round 2: Security Fixes Now or Later… That's the Difference
You would expect your web host to keep your website free of malware and
prevent hacking
and brute force attacks – but in some cases, web hosts don't take security as seriously as you'd like them to. SiteGround has a range of security measures in place to make sure your website is protected 24/7. It uses account isolation to ensure that if another website on the same server as yours is affected by malware or some other kind of vulnerability, your website won't be at risk. It also has server-level intelligent firewalls, advanced DDoS (distributed denial of service) protection, and anti-bot artificial intelligence (AI) that protects against all kinds of brute force attacks.
Where SiteGround stands out among other shared hosting providers is in its approach to security patches.
The majority of hosts will wait for third-party developers to release patches to fix known security vulnerabilities in applications, but SiteGround takes a much more proactive approach. It develops and applies its own patches, so vulnerabilities are patched much faster and your website is protected sooner. FastComet uses the BitNinja Security system – a type of protection that uses a machine-learning algorithm to protect servers from a range of malicious attacks. There is also an intelligent web application firewall that FastComet claims can block almost 99% of aggressive attacks against websites and servers. Like SiteGround, FastComet uses account isolation and anti-bot AI to enhance the security on your website.
FastComet's website also claims to offer malware removal – however, when I checked this with a customer support agent, it turns out that this is a "mistake."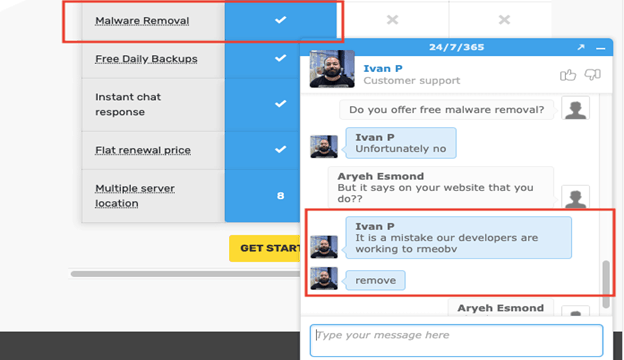 And the winner is:
In terms of security, FastComet and SiteGround are quite similar – but SiteGround offers a better level of protection through its own security patching system, which we discuss in more detail in our
in-depth review
. Had FastComet's sales page claim about malware removal been accurate, that may have put it ahead – but without that feature, its security is less impressive than SiteGround's.
Round 3: SiteGround's Speed and Performance Is Hard to Beat
How quickly your web pages load can have a big impact – especially if you use your website for business. A one-second delay in page loading time (compared to other websites) can lead to a 7% reduction in conversions and 11% fewer page views. If a page takes more than a couple of seconds to load on a mobile device, your visitors are likely to click away.
SiteGround's performance in page loading speeds is impressive.
It has a range of speed-boosting features, including NGINX, SSD drives, a bespoke SuperCacher, a CDN (content delivery network), HTTP/2 servers, and PHP 7.3. Combined, this technology leads to an average page loading speed of 1.6 seconds without the SuperCacher enabled, and 1.3 seconds with the SuperCacher. FastComet also has some
great performance-enhancing features
, including several PHP versions, as well as APC and OPcache. For the best speeds on FastComet, however, you have to opt for the SpeedUp plan (the most expensive), which includes RocketBooster, FastComet's bespoke caching system. However, FastComet's speeds are not as impressive as SiteGround's, with an average page loading speed of 2.1 seconds.
SiteGround stands out because it can cope with heavy traffic loads with ease, where FastComet struggles.
SiteGround's page loading speeds remain consistent with up to 8,000 concurrent visitors without the SuperCacher and up to a staggering 230,000 concurrent visitors with the SuperCacher enabled. FastComet began to struggle, and its page loading times increased, with just 40 concurrent visitors. Reliability, in the form of uptime, is also important. Both SiteGround and FastComet have a 99.9% uptime guarantee, but SiteGround's uptime record is slightly better than FastComet's.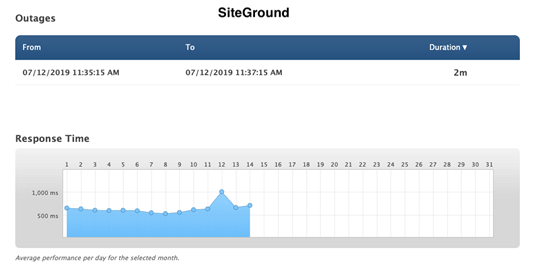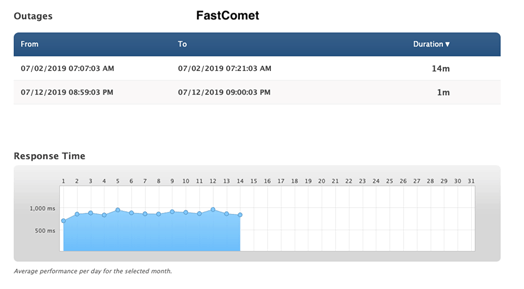 And the winner is:
It's another close round, but SiteGround offers faster page loading speeds and has a better uptime record over the past six months. FastComet still has a better page loading speed and uptime record than many other web hosts, however.
Round 4: FastComet Is More Expensive Initially – But You'll Save on Renewal Costs, Domain Names
Value for money corresponds to the quantity of features you receive relative to the price you are paying. Speaking of pricing, FastComet and SiteGround exhibit considerable similarity in this aspect – at first glance.
With SiteGround, you don't have to pay upfront for three years to get the best prices
– the monthly equivalent prices stay the same whether you sign up for one, two, or three years. With FastComet, you'll pay 33% more if you choose a 24-month plan (compared to a 36-month plan) and 66% more if you opt for a 12-month plan. It may still be worth paying the extra with FastComet, however, because where SiteGround's renewal prices are around 3x more than the introductory rate,
FastComet's renewal prices don't increase after the initial term.
In the long run, this makes FastComet better value than SiteGround.
FastComet also gives you a free domain name for life
and includes a 45-day money-back guarantee, 15 more days than you'll get with SiteGround.
And the winner is:
FastComet comes out ahead here. You won't face inflated renewal prices with FastComet, which means that even though you may have to either sign up for a longer period or just pay more over a shorter term, you're going to pay less over the life of your website. What's more, you get a free domain name not just for a year (like many hosts offer) but for the lifetime of your contract with FastComet, along with
many other great features
. This saves you at least $10 a year.
Round 5: Customer Support – It's All in the Speed
The success of a web host can often hinge on the level of its customer support. If you can't get the answers you need, and fast, you're only going to feel frustrated. The good news is that
both SiteGround and FastComet aim to put their customers first
, so you can be sure to get the help you need, whenever you need it. Both offer 24/7 support via live chat, phone, and a ticketing system. Where SiteGround edges ahead of
FastComet
, however, is in the response and resolution times.
SiteGround has the fastest response time in the web hosting industry for ticket support
, with responses (from actual humans rather than automated messages) being received on an average, in eight minutes. If you still want to know more, have a read of our
expert review of SiteGround
, where we see just how good the customer support is. FastComet's ticket support system also aims to deliver fast responses, but it can't quite match SiteGround's.
FastComet usually gives a human response to tickets within an hour
– far ahead of the industry average of eight hours but still lagging behind SiteGround.
A lot of users find this to be a strong point for them
. When contacting
SiteGround
via live chat, the support agent was immediately available and was able to completely resolve my issue within 10 minutes.
With FastComet, I waited a couple of minutes to chat with an agent
– and my issue was resolved in 25 minutes. There was more of a delay between responses with FastComet – the support agent sometimes took a minute or more to reply to my messages, and the quality of support wasn't quite as good.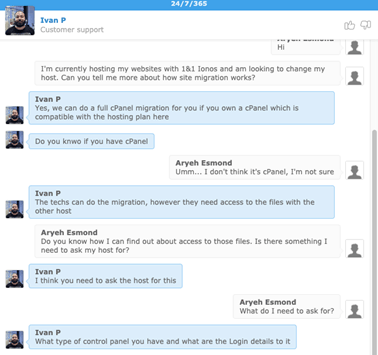 And the winner is:
With faster response times and less waiting time overall,
SiteGround's customer support is superior to FastComet's
– although it's a close round. FastComet's response and resolution times are still faster than many other hosting companies, and you can get support no matter what time of day or night it is.
In the Close Battle Between FastComet and SiteGround, Who Wins?
This has been a really close fight, but ultimately, SiteGround wins 3:2. Although FastComet wins on value for money,
SiteGround excels in security, performance, and customer service
– and since these are really important aspects of web hosting, SiteGround is (just barely) superior to FastComet.
Our Recommendations
If you're running a business website and need the fastest speeds and the reassurance of great uptime and customer support agents who really care, SiteGround is for you.
If you're on a budget and need to know your hosting costs aren't going to dramatically increase, then FastComet will work best for you.
Features
A free SSL, CDN, and fast website migration
A free domain name for life
Customer Support
24/7 support via ticket, phone, and live chat – and fast response and resolution times
24/7 support via ticket, phone, and live chat – with decent response times
Security
High levels of security and immediate vulnerability patching to keep your website secure
BitNinja Security system to keep your website protected from vulnerabilities and attacks
Performance
Page loading speeds are excellent, and uptime is around 99.99%
Good page loading speeds, but the RocketBooster is only on the most expensive plan
Value for the Money
You don't have to pay upfront for three years to get the best prices – but renewal costs are higher
Renewal prices aren't inflated, so it's a better value for money over time