Is Shopify worth it
?
You need to consider the plan you need, credit card rates, transaction fees, and more
. In order to save you some time and headaches, I've compiled all this pricing information for you. I'll walk you through how to estimate what it'll cost you, one step at a time. Have a text file or notepad ready as you read, and by the end of this article, you'll have an accurate picture of how much Shopify will cost you.
First time building a Shopify website? Don't do it yourself! We love Shopify but there is so much you might miss out on doing when you try it for the first time. Don't let your business suffer before it is even off the ground! Get help for as little as $25 and
have someone build the store for you
.
Which Shopify Plan Do You Need?
All Shopify plans come with a monthly cost that's going to be a sizeable chunk of your overall Shopify price. If you don't want a Shopify website, you can sign up for the "Shopify Lite" plan for $9 per month, which lets you sell products through other channels (e.g., social media, non-Shopify websites). But for most store owners, you're looking at one of the four main Shopify pricing plans.
They come with a full store and "unlimited" hosting
, which can handle just about any volume of visitors. There are no setup fees or any other hidden fees here. Check out this quick summary table of the four main plans and the main differences between them:
| | | | | |
| --- | --- | --- | --- | --- |
| | Basic Shopify | Shopify | Advanced Shopify | Shopify Plus |
| For… | New businesses | Small-to-medium-sized businesses | Large businesses | Enterprise |
| Price | $29/month | $79/month | $299/month | Custom |
| Staff accounts | 2 | 5 | 15 | Custom |
| Reports | Basic traffic reports | Marketing, sales, and profit reports | Custom, advanced reports | Custom |
| Shipping Discount | Up to 64% | Up to 72% | Up to 74% | Custom |
| Online credit card rates | 2.9% + 30 cents | 2.6% + 30 cents | 2.4% + 30 cents | Custom |
In terms of features, all plans have very similar functionality. You rarely need to upgrade to get access to specific features.
The main difference between the plans is that as you upgrade, you pay smaller fees on sales and get bigger discounts.
That means that you should upgrade only when you have enough sales volume to justify it, which is a simple math problem. So, if you're just opening up a store, start with the lowest plan and upgrade later. Don't get hung up on the specific fees in the table yet; we'll discuss them in more detail later.
Start With a Shopify Free Trial
All plans come with a
14-day free trial
, no credit card required. When the trial is over, you can choose whether or not to pick a plan and pay for it.
Sign Up Long-Term for Discounts
One way to save money on your plan cost is to pay for a long subscription period ahead of time. Shopify offers a 10% discount if you pay for a year in advance, 20% for two years, and 25% for three years. Here are the offers for the Basic Shopify plan: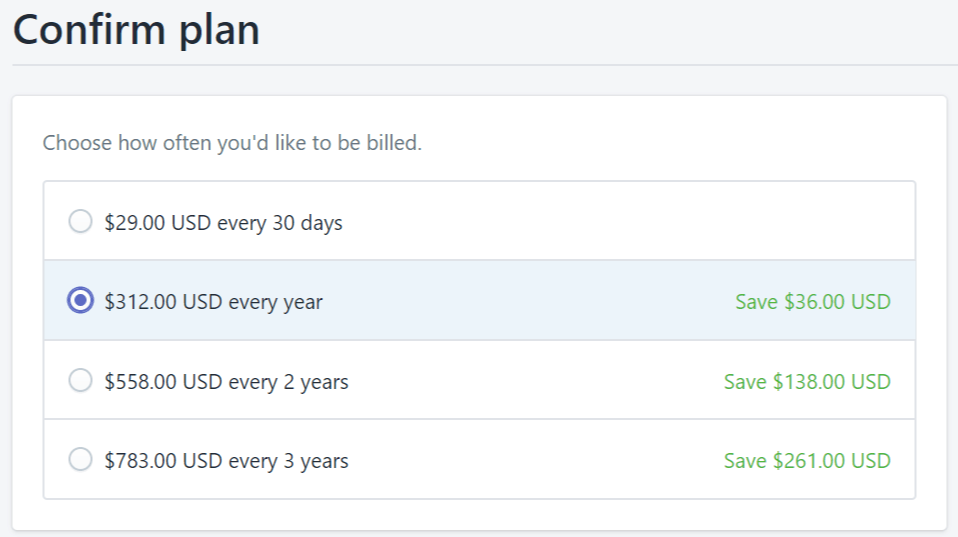 The only potential catch
is that you're locked in at that point. If you pay monthly, you can cancel during any month and you won't be charged further.
If you agree to a yearly contract (or longer), you can't get a refund if you cancel in the middle of the time period
. So, you need to be sure that you'll work on your store long-term. The free trial should help you decide before picking a plan length.
How to Calculate Shopify Selling Fees
There are two main costs associated with all Shopify stores: the plan fees (from above), and the selling fees. The Shopify fees from selling products are potentially the most confusing part, but I've broken it down into small, simple chunks here. If you make the right choices, you can minimize or eliminate some of these fees.
Credit Card Processing Fees on Shopify
In order to accept credit card payments, you need to pay a processing fee. There's no way around this. This is the reason some restaurants give you a discount if you pay cash instead of credit. But online, that's not a realistic option. You'll find these fees on the Shopify website labeled as "credit card rates."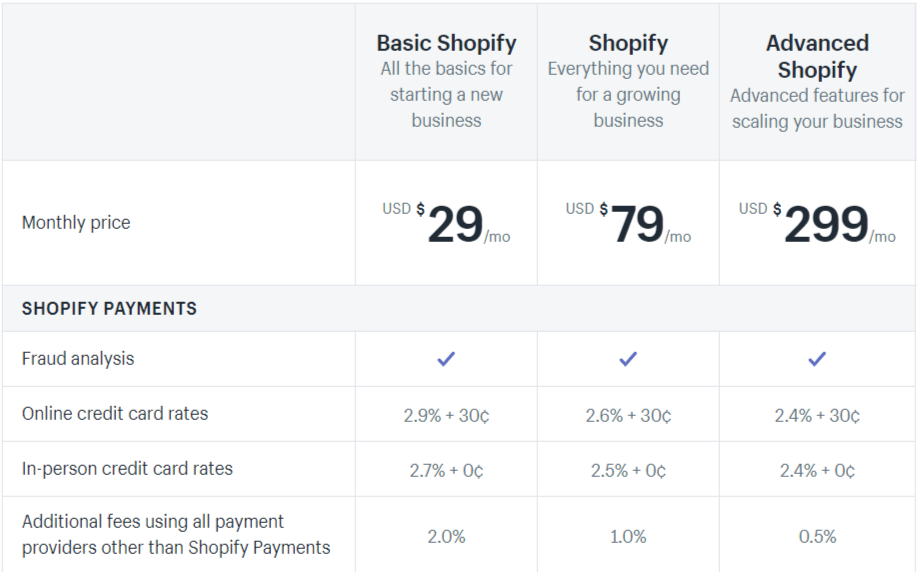 The more expensive your Shopify plan is, the smaller these processing fees are. Note that they're also different for in-person and online purchases if you have a brick-and-mortar store as well. Depending on where you're based, the fees will be different. For example, while the Basic Shopify online credit card rate for the U.S. is 2.9% + 30 cents, it's only 2.2% + 20 pence in the U.K.
What Is "Shopify Payments"?
On Shopify's pricing page, you'll see that the credit card rates are under a section called "Shopify Payments." Shopify Payments was created by Shopify. It's the default payment processor on all Shopify accounts, and is powered by Stripe. While Shopify doesn't exactly advertise this, here's an excerpt from Shopify's Terms of Service:

If you've never heard of Stripe, it's the biggest competitor to PayPal and has a great reputation. You can accept any major credit card with Shopify Payments (e.g., Visa, Mastercard, American Express), along with Shopify Pay and Apple Pay.
The only potential issue is that Shopify Payments can't be used by businesses in all countries
. Your business must operate in one of the following:
United States (except for Puerto Rico)
United Kingdom
Australia
Canada
Germany
Hong Kong SAR China
Ireland
Japan
New Zealand
Singapore
Spain
If your business isn't based in one of those, you'll need to use an alternative payment processor like PayPal.
Fees for Using PayPal or Other Payment Processors
While Shopify Payments is the default credit card processor, Shopify also supports all other major processors. You're free to use them, but you'll pay whatever their fees are. For example, let's look at how Shopify Payments compares with PayPal Express:
Shopify Payments
PayPal Express
U.S. Credit Card Fees

2.9% + 30¢ (Basic)
2.6% + 30¢ (Shopify)
2.4% + 30¢ (Advanced)

2.9% + 30¢
International Fees
Same as U.S. fees
4.4% + fixed fee per transaction based on currency
Even the highest fees on Shopify are equal to the credit card fees that you'd pay on PayPal. Add in the monthly fee, and it's clear
that Shopify Payments always costs you less
.
Transaction Fees (i.e., Additional Fees on Each Purchase)
Here's where most Shopify customers get confused, so pay close attention. On top of credit card processing fees,
Shopify may also charge a transaction fee
. A transaction is essentially Shopify saying, "
We're providing a platform for you to sell on; we want a small commission fee
." A lot of marketplaces (e.g., Kickstarter, Indiegogo) have transaction fees like this. The transaction fee you'll pay depends first on your payment processor.
If you use Shopify Payments, you don't pay any transaction fees
. Shopify makes a bit from the credit card processing, so it waives its transaction fees. That's a
huge
incentive to use Shopify Payments over PayPal or some other processor. If you don't want to use Shopify Payments, you'll be charged different transaction fees based on your plan:
| | | | |
| --- | --- | --- | --- |
| | Basic Shopify | Shopify | Advanced Shopify |
| Transaction fee | 2% | 1% | 0.5% |
Shopify Can Help You Save on Shipping
The final type of fees you need to consider is shipping costs. Shipping costs vary widely based on where your customers are, and how much your products weigh. While customers pay the shipping costs, you need to factor them in when pricing your products.
Saving on shipping lets you charge less or make more profi
t. To figure out how much it will cost you, use Shopify's own shipping calculator: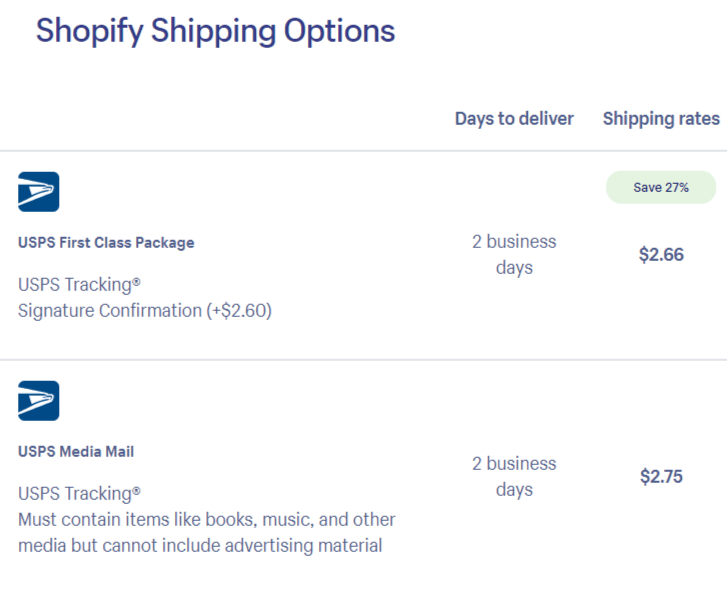 The rates vary based on what Shopify plan you're on.
| | | | |
| --- | --- | --- | --- |
| | Basic Shopify | Shopify | Advanced Shopify |
| Shipping discount | Up to 64% | Up to 72% | Up to 74% |
Potentially
, you can save more on shipping on the higher-cost plans. But in most cases, it works out to be the same or only a small difference. The shipping discounts ("up to X%") are somewhat vague. That's because Shopify has different deals with each carrier.
| | |
| --- | --- |
| Shipping carrier | Maximum possible discount |
| UPS | Up to 55% |
| USPS | Up to 27% |
| DHL Express | Up to 72% |
| Canada Post | Up to 23% |
Premium Shopify Themes Will Cost You
All Shopify stores need a theme, which determines what the website layout and design look like.
You can use a free one, or buy a paid one. Paid themes are around $140 to $180.
There are ten free themes, and they look great.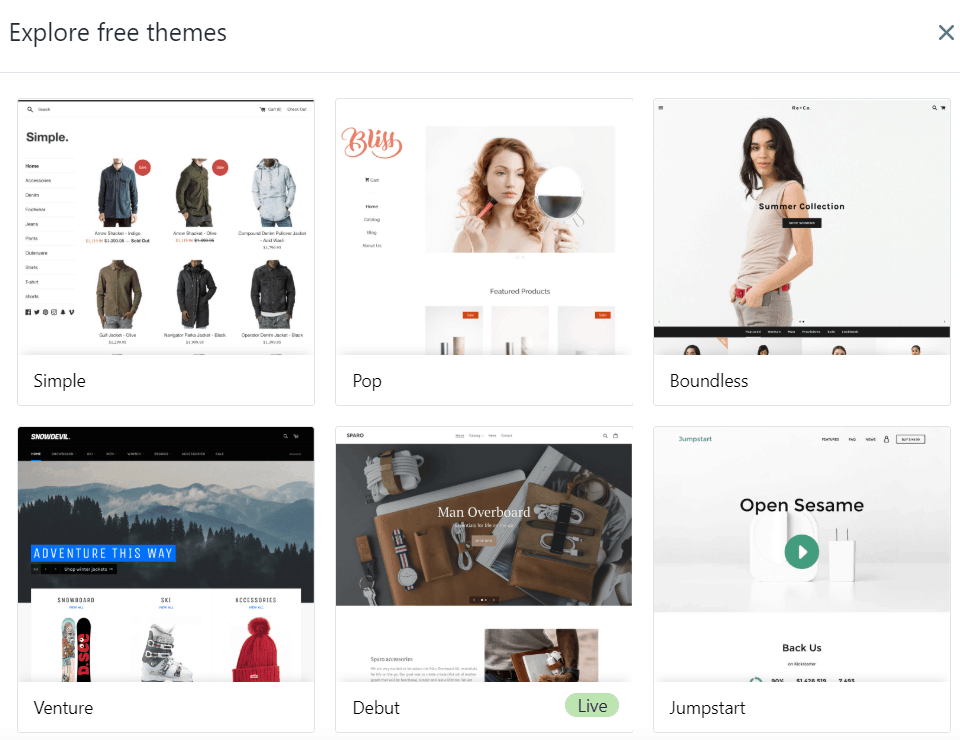 The big downside is that you're limited to only ten options, plus you end up with a store that looks
a lot
like many other Shopify stores. If you want more selection and to stand out more, there are over 60 paid themes to choose from in the Shopify theme store.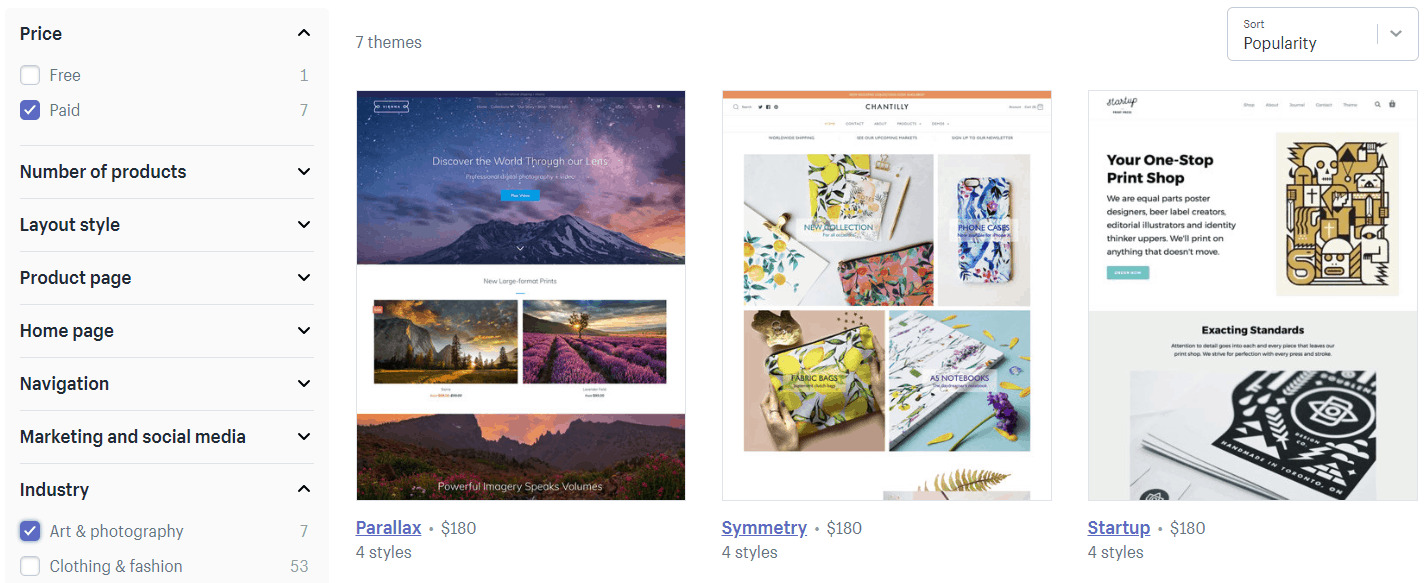 You can filter all the themes in the store by:
Price
Number of products (that you sell)
Layout style (e.g., grid, wide, row)
Navigation (i.e., menu type)
Industry (e.g., art, clothing, furniture, electronics, etc.)
If you're just starting your store, by all means, start with a free theme. Eventually, if your store grows, you may want to upgrade to a paid theme.
Will You Need Paid Shopify Apps?
Shopify comes with all the essentials you need to run an online store. But there are other features and tools that might help you optimize conversion rates to make more sales.
Things like email marketing integrations, landing page builders, or Facebook live chat come to mind
. You can find all these in the Shopify App Store.
Some
are free, but most come with a monthly fee.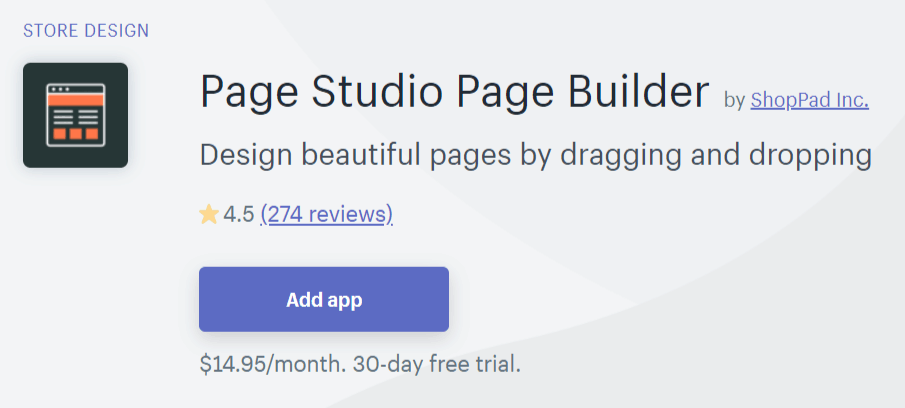 The fees vary from just a few dollars a month to up to $100 a month. Apps are often wise investments because they end up making you much more money than they cost. But you should factor in the upfront cost of any that you're interested in.
A Final Addon to Consider: Your Custom Domain Name
All stores should have their own custom domain name, rather than just a subdomain of Shopify (e.g., "storename.myshopify.com"). This is a minor cost, but it's still an expense. You can register a domain name through Shopify, which is the most convenient option, or buy one at a third-party domain registrar (slightly cheaper).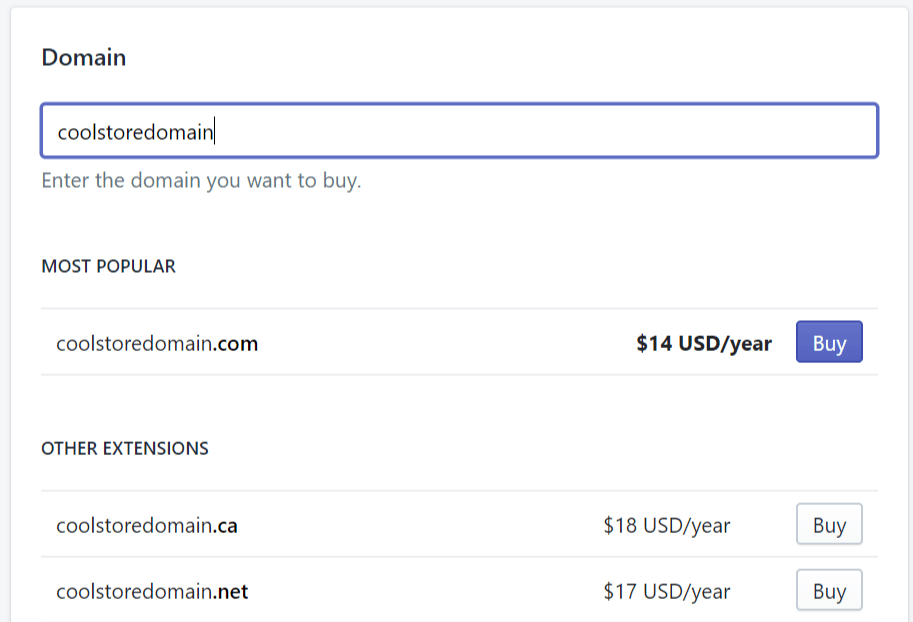 Will Shopify Make You Enough Money to Justify the Cost?
Earlier, we asked:
Is Shopify worth it
? We can now put together all these numbers to figure out your Shopify cost up front and over time, as well as whether you can afford it. If you haven't yet, go through all the sections, and write down your expected costs from each. You should end up with a list that looks like this:
Plan: Basic plan ($312 per year on annual plan)
Payment processor: Shopify payments (2.9% + 30 cents)
Transaction fees: $0
Expected shipping costs: $2.66 per product on average
Theme: Paid theme ($140)
Apps: GetResponse email marketing ($5 per month)
Domain: $14/year
Then, group those amounts together to finalize your estimate:
One-off costs: $140
Yearly costs: $386
Dynamic costs: 2.9% + 30 cents
Don't include the shipping cost, but factor it into your pricing decisions. You can then create a simple spreadsheet that will show you how much Shopify will cost you based on different numbers of sales, and whether the returns justify the cost.
FAQ
How much does Shopify cost?
Shopify has four paid plans, with prices starting from

$

29.00
per month. However, on top of your chosen subscription, you need to consider additional costs, including Shopify selling fees, shipping costs, and the price of paid apps and Shopify premium themes
. 
Read our expert Shopify review
 to learn more about the platform's features.
Does Shopify have a free trial?
Shopify offers a 14-day free trial
to let you test the platform's features before you commit. There is no free plan available, but you can use our coupons to
get discounts on annual plans
. 
What is Shopify's best plan?
The lower-tiered Shopify plans are most suitable for new businesses or smaller stores, while large stores will benefit from Shopify's more expensive plans. All plans have similar features – the difference is, as you upgrade, you pay smaller sales fees and get bigger discounts. 
Shopify's prices can be a little steep if you've just started or have no interest in scaling – in such cases, you may want to consider a more affordable e-commerce option like Zyro
.
Does Shopify offer a free domain?
Shopify doesn't provide a free custom domain. You can either register a domain name through Shopify or buy it from a third-party domain registrar, which is slightly cheaper. Shopify's hidden costs can pile up, so if you're unsure this is the right platform for you, check out our list of the
best website builders for 2023
for more options.
---
Sources:
https://www.shopify.com/toolbox/shipping/calculator
https://help.shopify.com/en/manual/shipping/shopify-shipping/rates
https://www.shopify.ca/legal/terms-payments-us