you'd be hard-pressed to find a better platform than Shopify.
Shopify gives you the tools to carve out a unique identity online, manage your business from inventory to shipping, and provides the infrastructure necessary to support your store as it grows. However, choosing the perfect plan for your business can be tricky.
You never want to pay more than you have to for a service, but you shouldn't miss out on important features
that could give you an edge over your competitors, either. To help you make the best possible decision for your online store,
I researched Shopify's plans, read hundreds of customer reviews, and tried its various features out for myself.
The result? This comprehensive Shopify pricing guide to help you find the ideal plan for you – one that ensures you'll never overpay for features you don't need, or go without important tools that you do.
Choosing the Right Shopify Plan – What Are the Key Differences?
Shopify offers three standard plans and two "alternative" ones: Starter and Plus.
Starter lets you create a simple e-commerce website and allows you to sell through social media channels for just $5 a month.
It's a viable option if you're just looking to sell one or two products on the side, but it won't be enough for a fully-fledged e-commerce business.
On the other end of the pricing scale is Shopify Plus, Shopify's solution for enterprise-level businesses
, offering bespoke features and first-priority support. It won't be the ideal plan for most merchants, but it has done wonders for larger brands in the past.
Click here for more info on Shopify Plus
.
The three standard plans are Basic, Shopify, and Advanced. Every one of these plans gives you enough features to create a wholesale online store
. Regardless of the plan you choose, you'll get access to 24/7 customer support, a free SSL security certificate, fraud analysis tools, and even advanced e-commerce features such as gift cards, discounts, and abandoned cart recovery.
Any standard Shopify plan comes with a 3-day free trial
, so you can give it a quick test before you fully commit. If you decide that the Basic plan is the one for you, you'll only have to pay $1 per month for the first 3 months.
You can create a fully-featured, high-quality e-commerce store with any of Shopify's standard plans, but there are still some key differences between each plan. For a quick overview of how the plans compare to one another, take a look at the table below:
Basic
Shopify
Advanced
Monthly price*

$

29.00

$

79.00

$

299.00

Unlimited products

✔

✔

✔

Online transaction fees
2.9% + 30¢
2.6% + 30¢
2.4% + 30¢
Shipping Discount
Up to 77%
Up to 88%
Up to 88%
E-commerce automations

✘

✔

✔

Shipping insurance

✘

✘

✔

Sales Reports
Basic
Standard
Advanced
Staff Accounts
2
5
15
*If paid annually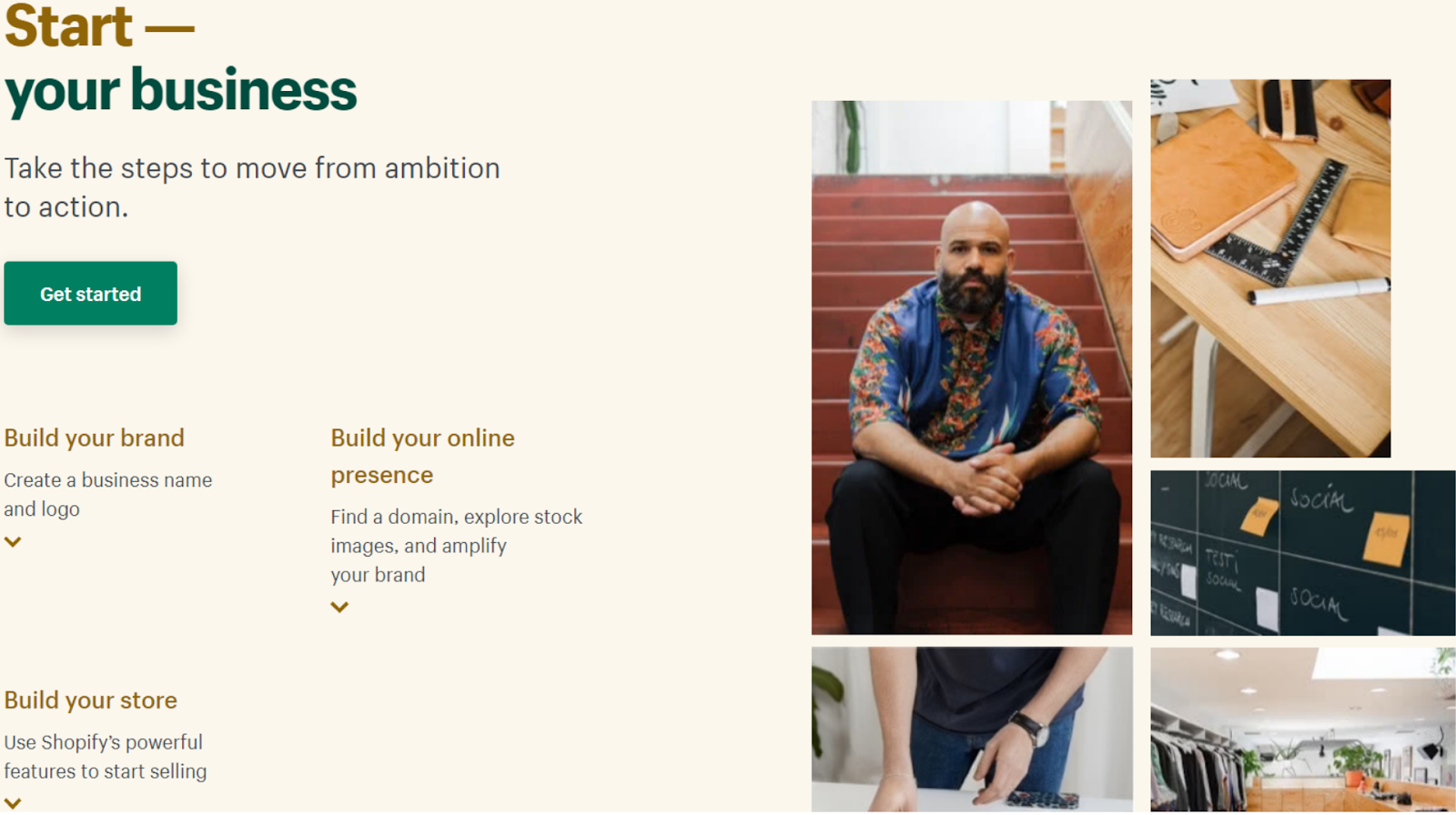 Due to its mix of affordability and features,
Shopify's Basic plan is the ideal entry point to get a functional online store up and running.
There are some e-commerce platforms that offer starting plans for less (Square and Ecwid's free plans come to mind), but in terms of value for money, Shopify Basic is one of the best options you'll find.
The basic plan offers enough resources to design and run a professional e-commerce site
, and it's my top recommendation if you run a small business or don't have previous e-commerce experience. It's also a great plan for starting a side venture. With its unlimited product capacity, four inventory locations, and basic marketing and sales reports, it gives you everything you need to sell your homemade products or run a successful dropshipping business. In fact, unless you
absolutely need
some of the extra features available on Shopify's more expensive plans, I'd even recommend this plan for medium-sized businesses.
All in all, despite being much cheaper, the basic plan offers more value than many $100+ e-commerce plans on the market.
That said, if you run a larger or more specialized shop, the Shopify and Advanced plans offer certain premium features that could take your sales to the next level.

As your business grows and demand for your products increases, you'll need to dedicate a larger portion of time to your online store. That's where Shopify's eponymous plan comes in. The Shopify plan comes with a slew of features to help you manage a busy online store and offer quality service 24/7. With the Shopify plan,
you'll get access to beginner-friendly automated e-commerce processes that take much of the work of managing your store off your shoulders.
You won't need any technical skill to auto-generate tailored customer recommendations, set up abandoned cart recovery, configure manual tasks into workflows, and more. As your store grows, you'll probably want to hire more people to help you keep it running smoothly. The Shopify plan supports a growing business by giving you
access to up to five staff accounts.
Unfortunately, the Shopify plan doesn't come with the extra staff included, but hey, no plan is perfect! As your traffic grows, many Shopify plan features will help you save more money. You'll have access to a variety of
shipping discounts, lower processing fees, and more advanced analytics.
Overall, it's a great plan to accommodate a small team – and great for keeping up with growing traffic.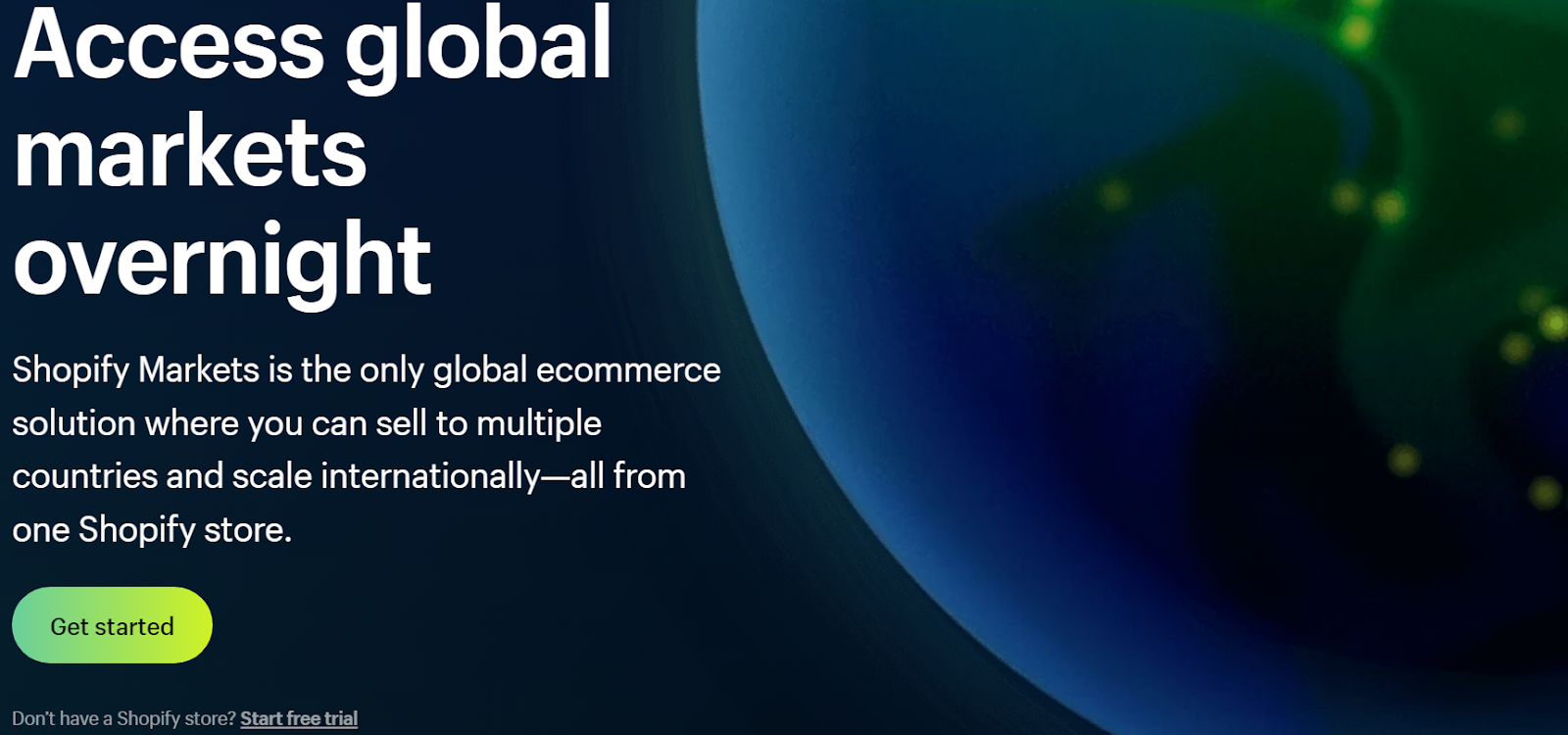 The first thing to notice about the Advanced plan is that it comes with a sharp increase in price. If you're handling a large-scale e-commerce enterprise, however, it could end up costing you far less than the alternatives.
With the Advanced plan, you get the highest possible shipping discount, and the lowest transaction fees overall
. And while the Shopify plan also offers shipping insurance, its the Advanced plan that makes better use of it. As you handle larger sales volumes, it's more likely you'll run into complications, and Shopify's shipping insurance is applied
per package
. Though most of this plan's benefits come in the form of lower fees, it also offers unique features that make it ideal for international businesses.
The Advanced plan unlocks estimated duties and import tax fees at checkout, so your international customers know exactly how much they'll be paying.
Finally, the advanced plan lets you add up to 15 staff accounts for teams working around-the-clock (and across time zones), and you'll be able to generate in-depth analytics to help optimize the shopping experience for different demographics.
What About Shopify Plus?
Shopify Plus is a fully managed alternative for enterprise-level businesses, offering
specialized features for regionalized content, B2B selling, advanced store editing, and support from dedicated marketing experts.
It's used by conglomerates like GymShark, Heinz, and Staples. The price of a Shopify Plus plan varies depending on each specific customer and their needs, but the average sits around $2000 per month. Check out our detailed
comparison of regular Shopify vs Shopify Plus
to discover if Shopify Plus is worth it for your business.
What Additional Fees Does Shopify Charge?
Besides the monthly cost of your plan,
there are some additional expenses you need to take into account.
These vary in their rate of recurrence (one time, yearly, or monthly) and overall cost. Some are completely optional, while others might be imperative for the success of your store. Either way, there are some unavoidable costs you'll need to keep in mind when calculating your budget.
Custom Domain
Your domain name is arguably the most important aspect of your digital presence. It determines where your customer will reach you, and it's tightly linked to your brand.
The right domain can make or break the success of your business
, and while not everyone's a domain name expert, you only need a half a second to tell that
hotcoffee.com
is a better domain than
verygoodtastycoffee.website.xyz.org
. Shopify offers free custom subdomains (
yoursite.shopify.com
), but to be completely honest, I don't recommend this option for
anyone
. Whether it be from Shopify or any other platform,
a subdomain makes your website hard to find, and it yells unprofessionalism.
The other (and better) option is to
buy a custom domain directly from Shopify
 or a third-party seller, which will usually require you to pay an annual fee. It's an important expense to take into account, and prices can vary greatly.
Depending on your desired name and which service you buy it from, you could pay as little as $0.99 or as much as $99 per year.
If you want more information about domain names, you can check out
our in-depth guide to choosing a domain name in 2023
.
Themes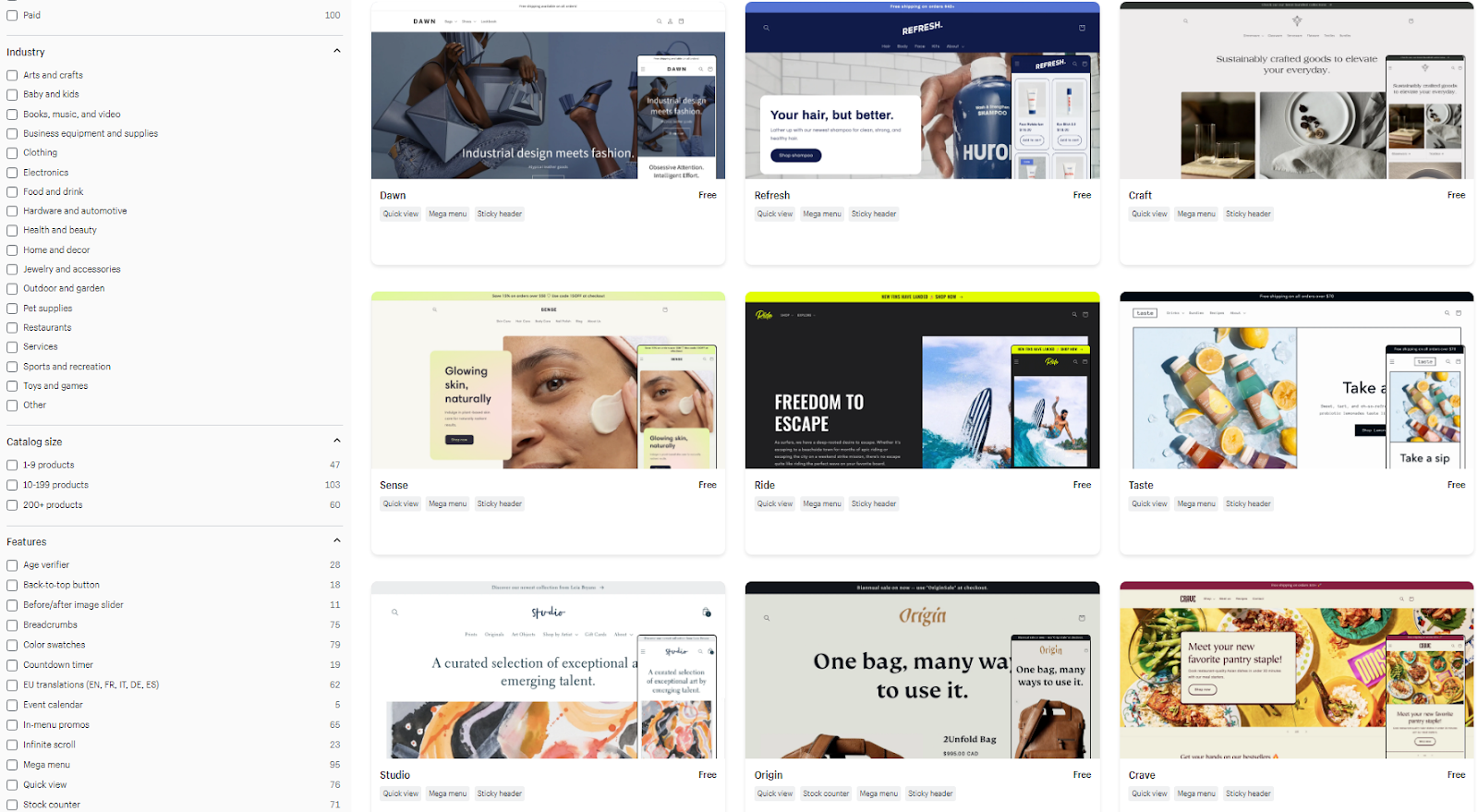 One of Shopify's best features is its wide selection of themes for every type of business
, from restaurants and entertainment to business supplies. Some of the best themes even come with built-in features that cater directly to a specific industry, such as menus for restaurants or event calendars for seasonal brands. The right theme can give you a huge leg up when it comes time to set up your ideal e-commerce site. Unfortunately,
Shopify only offers 11 free themes (at the time of writing), and the most interesting designs are locked behind a paywall.
Most of Shopify's themes incur a one-time expense of $200 to $300, though there are some outliers. Shopify is also one of the few website builders to support third-party templates, so there's a good chance you'll find something that suits your needs through digital asset services like Envato or TemplateMonster.
Payment Processing Fees
Like any other service that allows you to process credit cards,
Shopify takes a small percentage of the total value of each transaction.
The exact value of these fees varies significantly depending on which plan you choose and the type of transaction being processed. If you already have a preferred credit card processor, Shopify still keeps a percentage – albeit a considerably smaller one – of each transaction amount, which is something you'll need to consider on top of the usual fees charged by your preferred credit card processor.
Shopify does offer a proprietary payment processor called Shopify Payments.
The benefit of using Payments is that you can set it up as soon as you create your site, and you won't be charged any third-party transaction fees. It's also a requirement if you want to make use of Shipping insurance. Below, you'll find a quick breakdown of Shopify's transaction fees.
| | | | |
| --- | --- | --- | --- |
| Fees | Basic | Shopify | Advanced |
| Online transactions | 2.9% + 30¢ | 2.6% + 30¢ | 2.4% + 30¢ |
| Online international | 3.9% + 30¢ | 3.6% + 30¢ | 3.4% + 30¢ |
| In-person or debit | 2.7% | 2.5% | 2.4% |
| Third-party fees | 2% | 1% | 0.5% |
Apps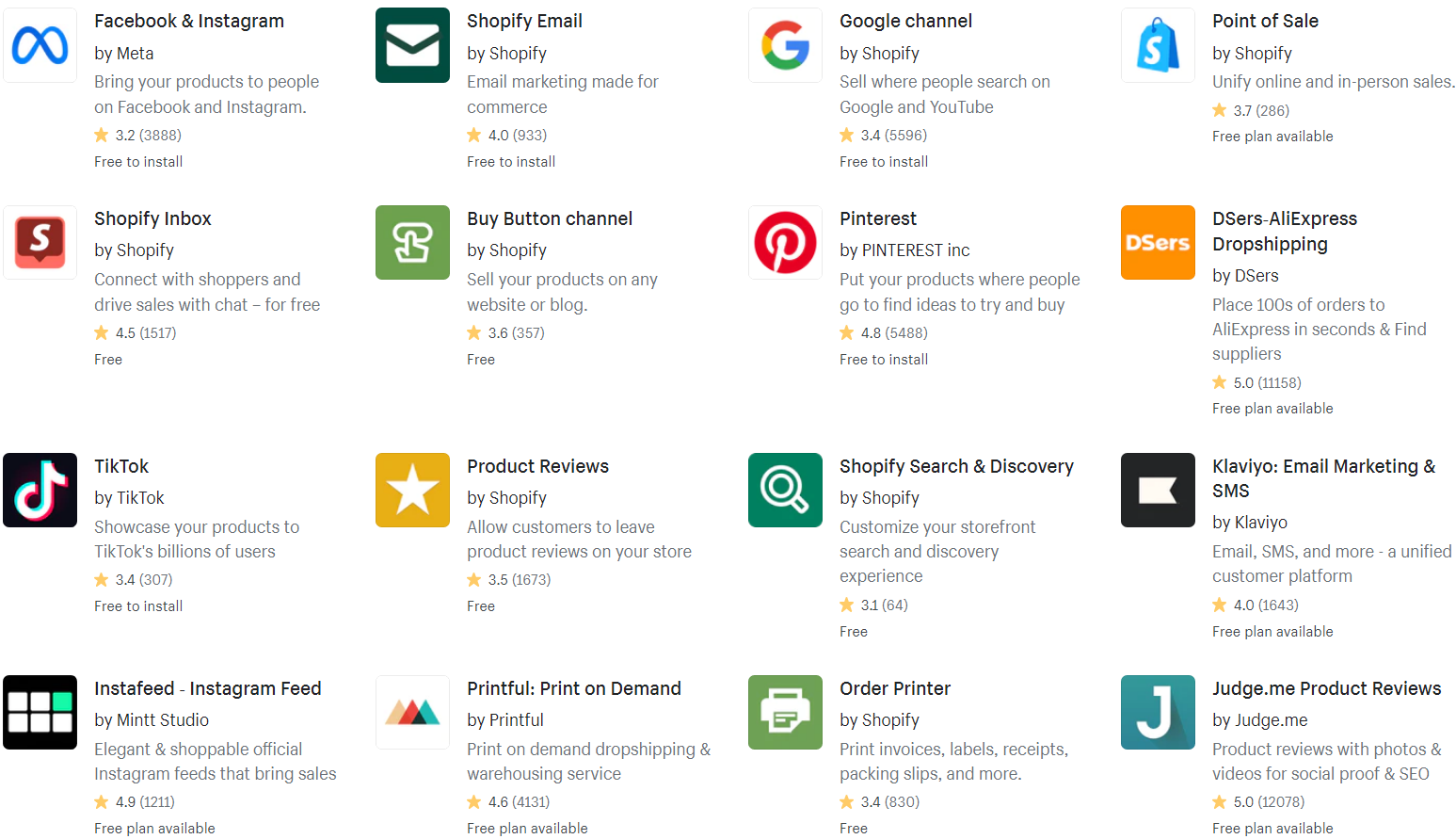 Besides its built-in functionalities,
Shopify offers an extensive store with
thousands of proprietary and third-party apps
. These apps can help you integrate your social media channels, prevent customer returns by setting up custom incentives, and more – the possibilities are virtually limitless! Providing an approximate cost of extra apps is difficult because they vary wildly in price. There are hundreds of free apps, but the paid ones can cost anywhere from a small, one-time fee, to a monthly fee that surpasses your plan's price.
You can build a perfectly functional store without using any apps, and you can also fill your dashboard to the brim with apps
– Shopify gives you the flexibility to add and subtract features from your store as your needs and budget evolve.
Not Sure Shopify is Right for Your Business? Here Are the Best Shopify Alternatives
Shopify is one of the largest, most reliable platforms for creating and handling an e-commerce website. However,
that doesn't mean that Shopify will be the right fit for everyone.
Perhaps you desire a slight increase in control – or an entirely distinct approach – when it comes to the visual aspect of your site. Alternatively, you might hold a stronger interest in crafting a hybrid website; a site that excels equally in presenting your content to the world and functioning as an online store. Maybe, instead, you lean towards a platform that offers a more hands-off method for constructing and overseeing your store. (It's worth noting that Shopify does entail a bit of a learning curve). Well, you're in luck.
There are plenty of website builders out there that allow you to launch a great e-commerce store
while also giving you easy and versatile tools to craft a unique visual identity for your site. Here are some of my favorites.
1. Wix: The Best Website Builder for Full Creative Control
Wix is by far one of the best website builders out there, and it offers a ton of customization freedom. Thanks to its intuitive drag-and-drop editor and
over 800 designer-made templates
,
Wix allows you to create a totally original site without requiring any coding knowledge
.
I especially recommend this builder if you're looking for a website that
has
a store, but
isn't
a store.
This kind of approach is perfect if you're trying to build an online presence that includes selling merchandise, or you want something like a professional portfolio where you can still sell your work online. Wix also offers a comprehensive e-commerce dashboard that allows you to customize your store. That said, you can only start selling items with the Business Basic plan or up, and Shopify offers a lot more e-commerce functionalities at a lower price point.
Still, if you're looking to create a website that is truly unique, Wix is your best bet.
2. BigCommerce: Most Scalable Solution for Growing Businesses
BigCommerce offers a truly mind-boggling selection of e-commerce tools,
making it a great platform if you want complete control over every aspect of your store. And if you're looking to run multiple storefronts, you'll get powerful tools for group-managing several sites and the freedom to make each one unique. BigCommere has a steeper learning curve than Shopify, but that's hard to avoid if you're looking for a more hands-on approach. The Standard plan offers little you can't get with Shopify for less. But
if you're running a larger e-commerce enterprise or expecting to see rapid growth, BigCommerce's Plus plan could offer better value.
Besides unlimited access to every resource larger business's need (staff accounts, storage, bandwidth, etc.), you also get tools for dealing with a larger customer base, such as customer segmentation, credit card detail storage, and abandoned cart recovery.
3. Squarespace: A Simple but Powerful Builder for Elegant, Minimalist Sites
Squarespace has long been the go-to builder
for those with a strong inclination toward tasteful, minimalistic websites. It's easy to see why.
Squarespace offers some of the most appealing e-store templates I've seen
, as well as a grid editor that gives you lots of creative freedom while ensuring that your site always remains well structured.
I also strongly recommend Squarespace if your business runs a lot of marketing campaigns, as it offers powerful and easy-to-use tools
for you to spread your brand's gospel to the world. Though it doesn't offer quite as many e-commerce features as Shopify, it does offer one of the most user-friendly e-commerce dashboards I've seen, and more than enough tools to run a successful store.
Shopify Gives You Great Value at Every Price Point
Though it's not for everyone, Shopify is an outstanding platform for any e-commerce business, and
choosing the right plan for your needs is one of the most business-savvy choices you can make.
If you're running your e-commerce business on the side,
the Basic plan is filled with tools to help you get started.
As your business expands, you will likely desire to upgrade to the Shopify plan to accommodate the increasing demand. Moreover, if your business operates on a multinational scale, the Advanced plan will provide all the necessary resources to ensure seamless operations.
FAQ
How much does Shopify cost?
Shopify offers a wide variety of plans at different price-points. You can spend anywhere from $5 to over $2000 per month on a Shopify website. The Basic plan costs

$

29.00

per month and includes enough functionality to meet the needs of most small businesses. You can check out this guide to find out exactly how much you can expect to spend on a Shopify website.
Is Shopify worth it?
Shopify is absolutely worth it if you're serious about starting an online store of any size. With that said, if you're only dipping your toes in the water, or if your focus is on creating a different kind of website with some e-commerce functionalities, then you might be better off going with a more conventional website builder. If you're still unsure about the best option for you, I recommend checking out our list of the best website builders in 2023.
Is Shopify a one-time purchase?
No. How much you can expect to spend with Shopify will depend on several factors, but whichever plan you choose, you'll have to pay either a monthly or yearly fee. Not only that, but there are other recurring costs you'll need to consider, such as the cost of domain registration, payment processing fees, and third-party apps.
How much money do you need to run a successful Shopify store?
Depending on your ambitions, you could run a successful store for as little as

$

29.00

. Even on its cheapest plan, Shopify offers plenty of tools to help you market and grow your business. That said, the success of your business will vary greatly depending on many different factors, but a poorly-designed website will never be successful regardless of how much money you spend on it. If you're new to website building, I recommend taking a look at our complete guide for creating a website in 2023.