Shopify is one of the best e-commerce platforms, so more Shopify is good…right? After all, if someone in your office brings homemade cakes, you wouldn't say no to someone else bringing donuts.
Unfortunately, e-commerce platforms aren't impromptu dessert tables, and with Shopify, more isn't necessarily better for your business.
The truth is that as good as Shopify Plus sounds,
it doesn't offer much value unless your business is
huge
.
I'm talking $80,000/month in online sales, which Shopify recommends for upgrading to its enterprise-grade service. At this point, there's no question that you'll need a dedicated high-volume merchant support team, additional bot protection, sales automation, and fully customizable checkouts. However, as good as these features sound,
most businesses will find that they're a nice-to-have, not a necessity.
With their advanced e-commerce tools, Shopify's standard plans already offer a ton of value. On top of that, you'll get one of the best e-commerce website builders on the market offering plenty of customization, even outside of Shopify Plus's additional features. So, before I get too hungry thinking about someone buying me donuts,
let's dive into why you're almost certainly better sticking with
Non
-Plus Shopify.
Pricing
Seriously – The Jump Between the Advanced Plan and Shopify Plus Is Huge
Okay, so let's first address the
price difference between Shopify and Shopify Plus.
I want you to understand the extent of the price difference, which will give you the necessary context as we move through this comparison. Shopify has three main price plans: Basic, Shopify, and Advanced. I wouldn't say any of these are cheap, per se.
The feature-packed Basic plan
 starts at

$

29.00

/month, giving new and small businesses everything they need to get started with e-commerce.
You can sell unlimited products, automate tax collection, and offer 100+ different payment options for your customers. Honestly, it offers so many features that many businesses can get away with using this plan for years (or until they need to upgrade to the mid-level Shopify plan).
As your business grows, you'll likely need the mid-level Shopify plan, which costs

$

79.00

/month.
Again, it's not cheap, but you'll unlock e-commerce automation, an even better shipping discount, and discounted fees per sale. I can't say exactly when you should upgrade, but it's worth considering once your daily sales increase significantly.
The Advanced plan costs

$

299.00

/month – yet another substantial price jump.
However, it's well worth it for large businesses. You'll get even lower per-sale rates, advanced reporting, 15 staff accounts,
and
the ability to collect duties and import taxes at checkout. It's a must-have for international businesses. It's worth noting that by the time you get to the Advanced plan,
Shopify will likely offer all the features your business needs.
But what if you need even more? That's where Shopify Plus comes in.
Starting at $2,000/month for annual subscriptions, the price jump is
enormous
. On top of that, Shopify customizes the pricing to your business needs, so you could end up paying more. This offer includes unlimited staff accounts, 9 additional storefronts, automatic store localization, bot protection, and more.
Unless your business makes at least 5 figures in sales monthly, Shopify Plus won't be worth it.
Shopify Plus's additional features might save you time and give you a little extra functionality, but they won't really change the core Shopify experience. Here's a quick look at what each plan offers in terms of core features:
Shopify Basic
Shopify
Shopify Advanced
Shopify Plus
Price per month

$

29.00

$

79.00

$

299.00

$2,000
Staff accounts
2
5
15
Unlimited
Reports

Finances
Product analytics
Acquisition
Inventory
Behavior
Marketing
Real-time activity view

Everything in the previous plan, plus:

Orders
Sales
Retail sales
Profits
Customers

Everything in the previous plan, plus:
Everything in the previous plan
Third-party calculated shipping rates

✘

✘

✔

✔

Shopify Flow (automation builder)

✘

✔

✔

✔

Tax automation

✔

✔

✔

✔

 (Avalara AvaTax for more advanced automation at an extra cost)
Support
24/7 email and live chat support, callback requests, knowledge base
24/7 email and live chat support, callback requests, knowledge base
24/7 email and live chat support, callback requests, knowledge base
24/7 priority email, live chat, and phone support, knowledge base, Shopify Plus Academy, merchant success program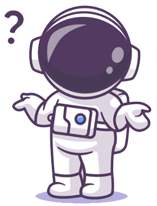 Short on time?
Take this one-minute quiz to learn which website builders are best for your project.
Advanced E-Commerce Features
Shopify Plus Doesn't Offer Enough to Be Worth the Price
Shopify Plus offers a decent suite of advanced features to help large businesses manage and scale their online stores. When your business handles thousands of transactions a minute, tools like Launchpad for managing product releases and sales and additional bot protection will be well worth it. However, the truth is that
many of the advanced tools offered with Shopify Plus are already available on cheaper plans
. Unless you have a large B2B or wholesale business, the Shopify and Advanced plans will offer more value for your money.
B2B and Wholesale E-Commerce
Shopify Plus provides extra support for B2B and wholesale businesses that you won't find on a regular Shopify plan
, such as curated catalogs. These show visitors a different range of products based on the their behavior or location. It's one of the few areas where I felt that Shopify Plus was worth the money.

In addition, you'll also be able to set custom quantity rules.
This means you won't have to worry about shipping half-empty boxes or splitting open pallets – Shopify Plus won't let customers order too much or too little.
You can also keep customers coming back by giving them an easy reorder option and cards stored on file, so they don't have to enter their payment details every time. The more I looked into this feature,
I concluded that Shopify Plus was designed for B2B and wholesale.
There's a whole wealth of features for these businesses (like invoicing, payment reminders, and quotes) that just aren't extended to other company types. Seeing large B2C companies treated as an afterthought by Shopify Plus is disappointing. So, if you have a large B2B or wholesale business, Shopify Plus is for you, and you'll find a ton of value here.
Otherwise, you're better off sticking to a standard Shopify plan
.
Multi-Currency E-Commerce
Shopify is well-known for its robust international e-commerce capabilities
,
making it a great choice for businesses looking to expand their reach beyond their home country. You'll get automatic currency conversion, localized payment options, and support for multiple languages from the Basic plan and above. While smaller businesses aren't likely to need these tools,
they won't have to pay more when they want to start expanding their business overseas
. That said, if you want to completely optimize your international business, Shopify Plus isn't a bad option. With Shopify Plus,
your e-commerce store will automatically adjust the displayed currency depending on the customer's location.
Like most people, I don't usually stick around at online stores that don't automatically show my currency as I assume they don't ship to me! So, this is a great way to capture conversions that your store would otherwise lose.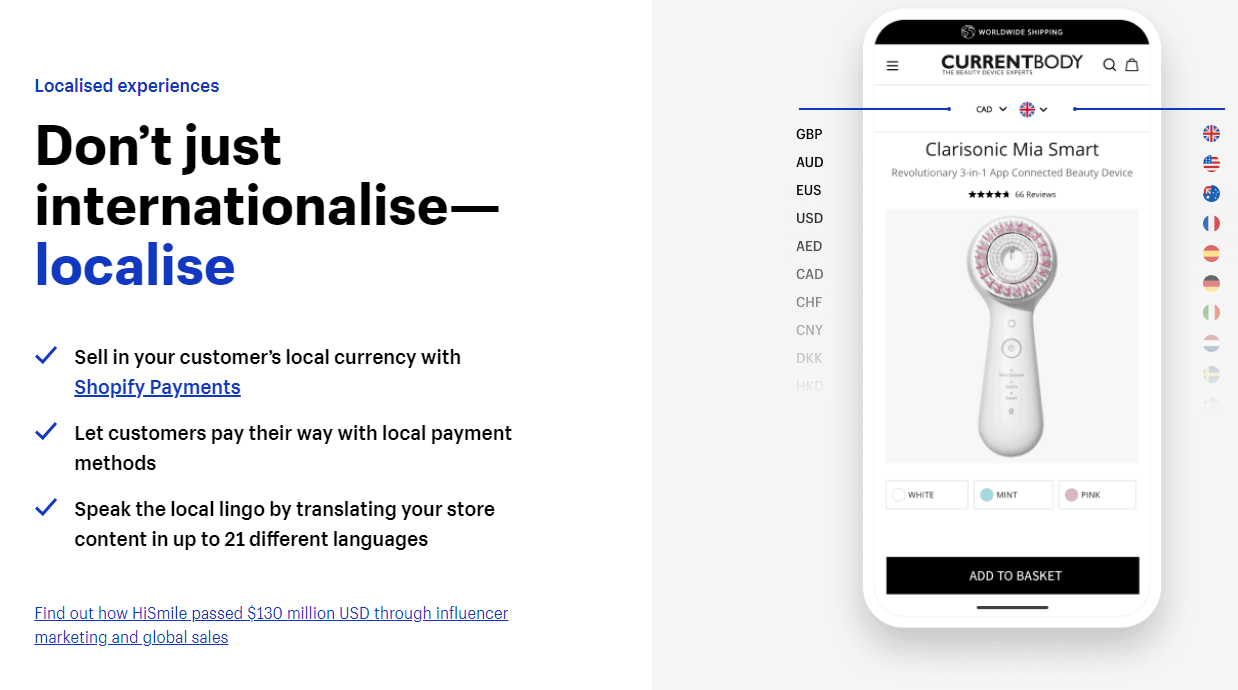 If you're planning to expand your business internationally, Shopify Plus is a good option. It offers automatic translation in 21 languages and allows you to manage 9 additional storefronts without extra charges. With regular Shopify plans, you'll have to use a translation widget or add translations manually. Plus you'll have to pay for each expansion storefront separately.
If your business is small and you don't sell internationally, Shopify's standard international e-commerce features are more than enough to meet your needs. Even if you need to purchase one or two expansion storefronts, you'll still be paying much less than Shopify Plus's advertised starting rate.
Shopify Flow
Shopify Flow is arguably one of the platform's best advanced e-commerce features.
With Shopify Flow, you can build custom automated workflows in a few clicks to take away the stress of running a high-volume business. These are simple "if-this-then-that" action chains that automatically run certain actions when a specific condition is met. You can quickly set up workflows that automatically notify you of irregularly large orders, email customers when a wishlisted item is on sale, or add tags to customers that add tips at checkout.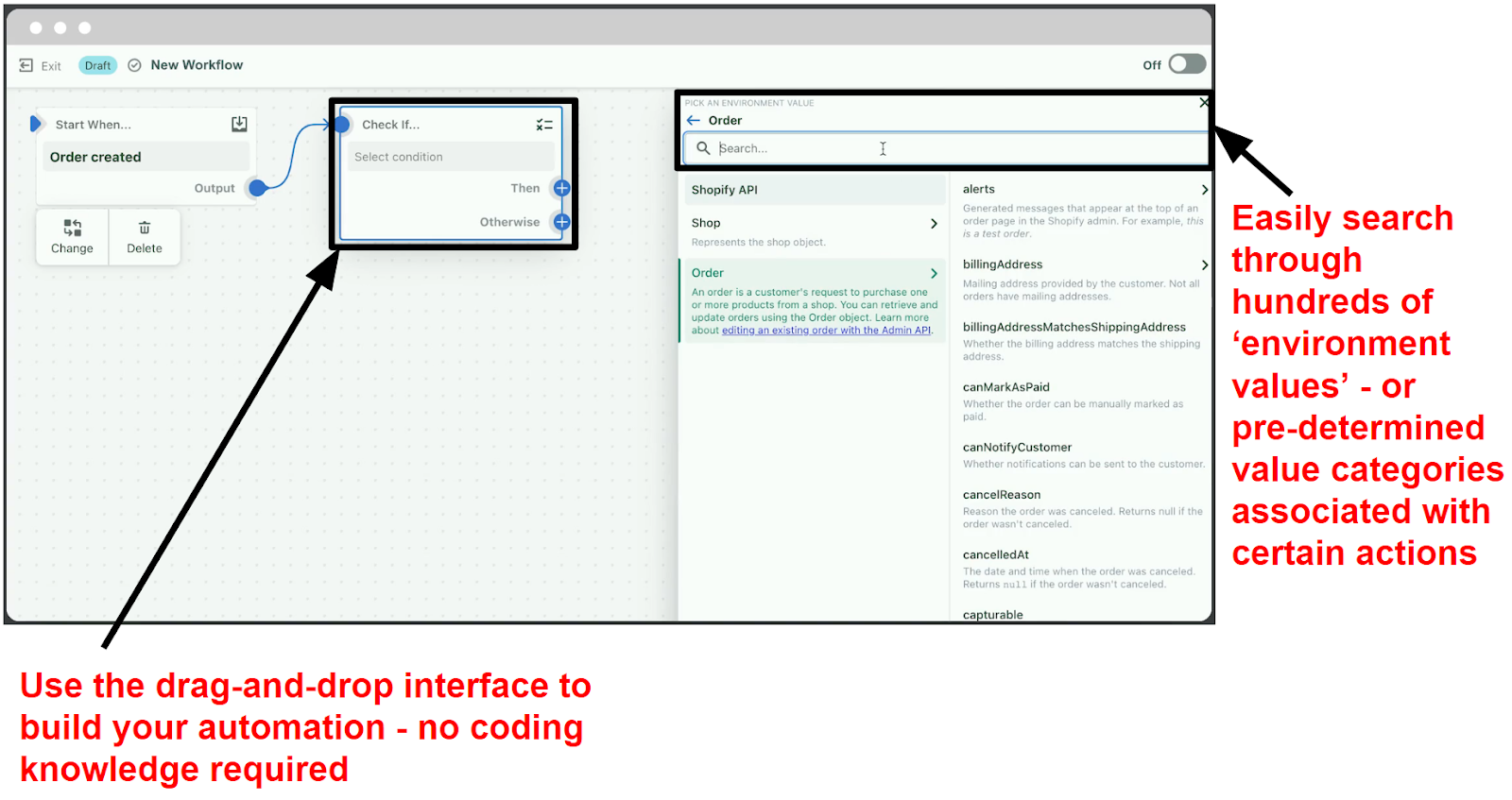 I particularly like that Shopify includes pre-built automation templates for common use cases
so you don't need to reinvent the wheel. Plus, with a simple drag-and-drop interface, you can easily visualise what each automation is doing on your store. You don't need any technical knowledge to set up custom automated workflows. But here's the thing –
Shopify Flow is no longer exclusive to Shopify Plus.
It used to be until 2022 when Shopify rolled this feature out to everyone
except for
users on the Basic plan. And, we're talking about the exact same app. So, if you need to automate your workflow, stick with the standard plans. Your wallet will thank you.
Shopify Launchpad
I have to admit, I'm excited to find a feature that's actually exclusive to Shopify Plus.
There's only a handful of these, and Shopify Launchpad is one of the best.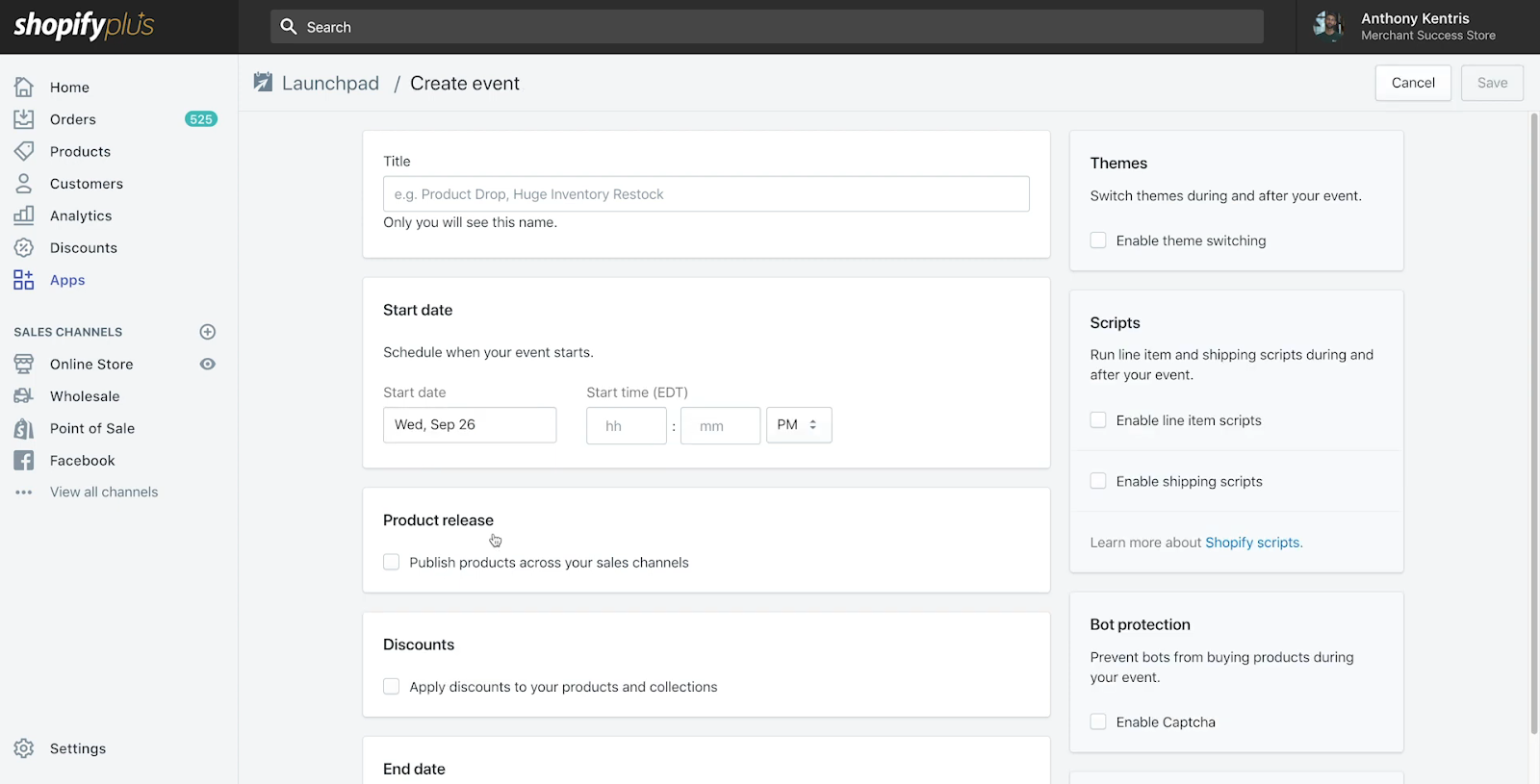 Shopify Launchpad allows you to automate your flash sales, product releases, and other campaigns.
You can set these events up ahead of time, too – no more having to wake up at the crack of dawn to manually release your exciting new product! The option to set a specific theme for the duration of your event (which is automatically switched back when your event ends) is fantastic, too. Combine this with advanced real-time reporting, and you've got a great tool that takes the stress and guesswork out of running events on your store. But, is it worth upgrading to Shopify Plus just for Launchpad? Honestly, that depends on your business.
If you run a high-revenue business and regularly release new products or run sales, you'll likely find this level of automation invaluable.
It's definitely not worth the upgrade for smaller businesses
that have a smaller product catalog and only run sales a couple of times a year. At this point, any additional revenue you make as a result of Launchpad will not make up for the extra cost of Shopify Plus.
Shopify Plus Bot Protection
If you've ever tried to get gig tickets, then you'll already know one of the biggest e-commerce scourges – bots. Bots aren't just a pain for customers, though.
Bots can harm e-commerce businesses by flooding websites during flash sales, and distorting analytics.
Not to mention customers will become increasingly frustrated they can't buy the products they want, which isn't a good look for your business if it happens often.
Shopify Plus offers bot protection for your flash sales, helping you keep your customers happy.
While most retailers will use a database of known bots to block them from purchasing their products, Shopify Plus combines this with a checkout checkpoint challenge (say that three times fast). Anyone entering your checkout flow will have to complete a unique challenge to prove they're human. Not only does this mean more human customers get their hands on your products, but it also reduces the strain on your website, helping to speed up the checkout process.
So, I definitely consider upgrading to Shopify Plus if you've noticed you have a bot problem.
I don't think it's necessary for every business, though.
Simple supply-and-demand means reseller bots aren't as likely to target smaller, less-known businesses.
But bot protection is worth the extra cost for larger businesses that regularly run flash sales.
Website Design
Shopify Plus Offers Some Nice-To-Have Customization Options
Long story short –
Shopify already offers all the core customization features that you need.
Shopify Plus offers some extra features like an expanded personal theme library and a customizable checkout that lets you edit line items, shipping pricing, and payment gateway buttons. For the most part, Shopify Plus doesn't change the core Shopify website design experience.
Personal Template Library
Shopify's theme library is decen. It doesn't offer a ton of free themes, but if you're genuinely considering Shopify Plus, there's a good chance you've already paid (or can afford to pay) a designer to create a custom theme for you.
Shopify Plus doesn't offer its own exclusive theme library, but you will be able to store up to 100 themes in your account.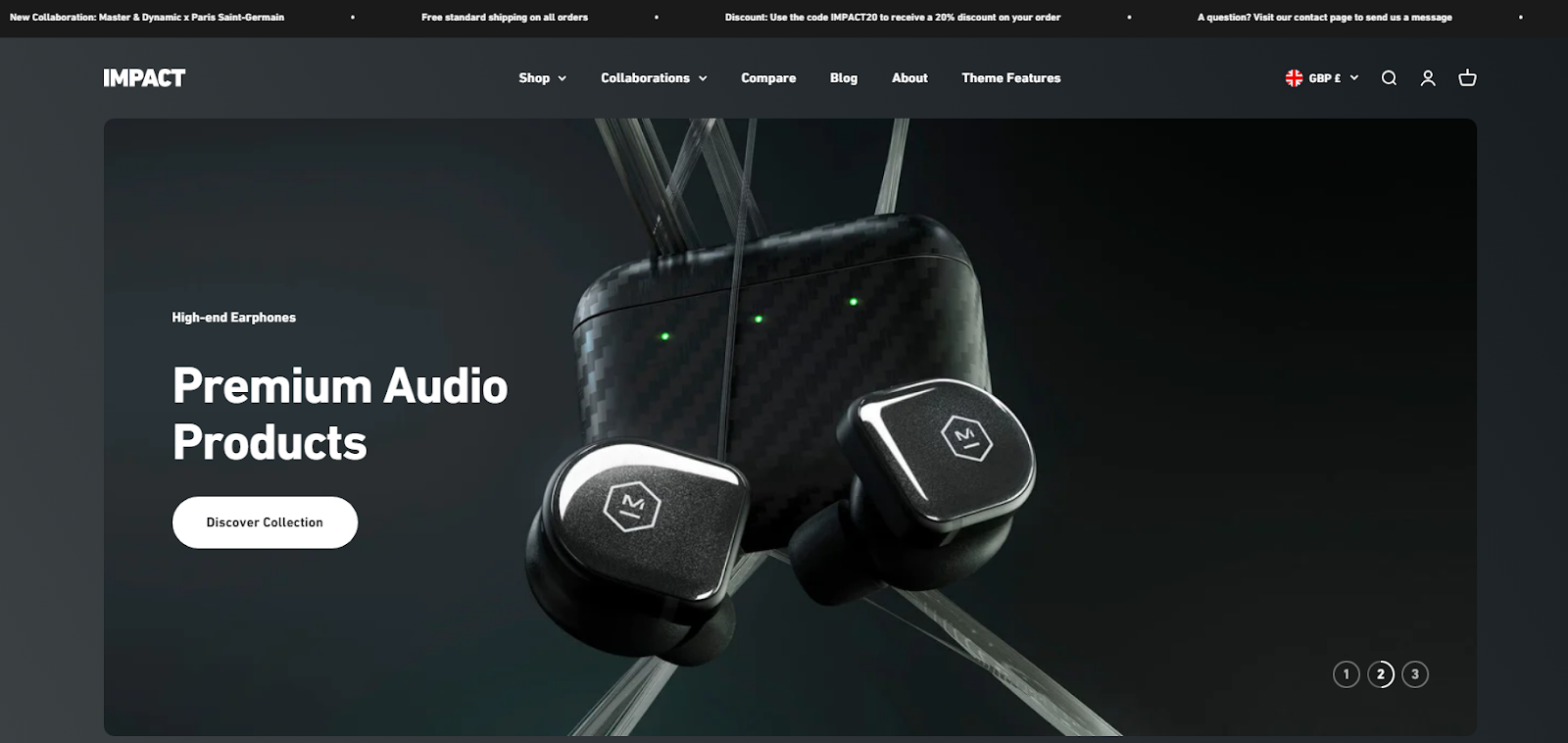 This means
you've got space in your theme library to test different layouts or try out new designs
without affecting your published site. It's certainly nice for larger businesses, but it's not worth upgrading to Shopify Plus for this feature alone.
Checkout Customization
Shopify Plus only offers a handful of additional customization options for your checkout and cart.
In addition to the standard Shopify options, you can use the Functions tool to re-order elements like shipping rates or payment gateways. You'll also be able to edit line items to support a wider range of discount codes.
You can customize your checkout page by adding your store's logo and changing fonts or colors.
That said, you won't be able to change the checkout page layout, which is disappointing. There are also extra apps that allow you to add custom fields for extra information, like dates and gift messages. Even more impressive is that
you can choose whether these customizations will run across your online store only, or on any connected mobile apps.
If your business has a mobile app, this can save you a ton of time from having to copy the changes across. It's certainly a great feature for large businesses, particularly those with a development team.
You'll appreciate this level of customization if your business often tests the order of payment gateways on your checkout page
(e.g., to see if it might affect your average sale value).. However, if your biggest issue is that your checkout page looks the same as every other Shopify checkout, then this likely won't be worth it for you. Even if you change your checkout page's fonts, colors, and add extra apps,
it will still look and feel like a Shopify checkout page
– not something that's completely unique to your business.
Marketing
You Won't Get Extra Marketing Features on Shopify Plus
I know – for a couple thousand dollars a month, you'd expect Shopify Plus to at least have
some
exclusive marketing features.
Shopify Plus's website makes a big deal out of offering omnichannel e-commerce to market to customers wherever they are. However, the truth is that you can already do this on all of Shopify's cheaper standard plans. Not only that, but
all of Shopify's plans offer a basic email marketing service
, built-in CRM tools, social media integrations, and many other third-party marketing services integrations.
You can already automate Shopify's built-in marketing with Shopify Flow,
so Shopify Plus doesn't offer any additional marketing automation capabilities that aren't available on the regular plans.
The only exclusive Shopify Plus tool that comes vaguely close to marketing is the Bulk Account Inviter.
Yes, I'm using marketing in the loosest possible sense, and it's worth mentioning even though you'll likely only need to use it once. The Bulk Account Inviter tool is fairly self-explanatory –
it sends out emails to each of your customers inviting them to set up an account on your new online store.
It's designed to make the migrating process as simple as possible.
It sure is
a nice-to-have feature but not a reason to switch to Shopify Plus.
Support
Shopify Plus Offers Large Businesses a Lot of Support
Shopify Plus does redeem itself with its range of support channels.
On top of the 24/7 email and live chat you get on the standard plans, you'll also get access to a 24/7 phone support channel. High-volume business experts staff these channels, so you'll get the specialized advice you need. You won't get a different knowledge base, though. However, Shopify Plus stands out with its range of self-help resources.
You'll be enrolled in a merchant success program that provides industry insights and support from experts.
You'll also get access to a community forum where you can learn directly from other Shopify Plus users.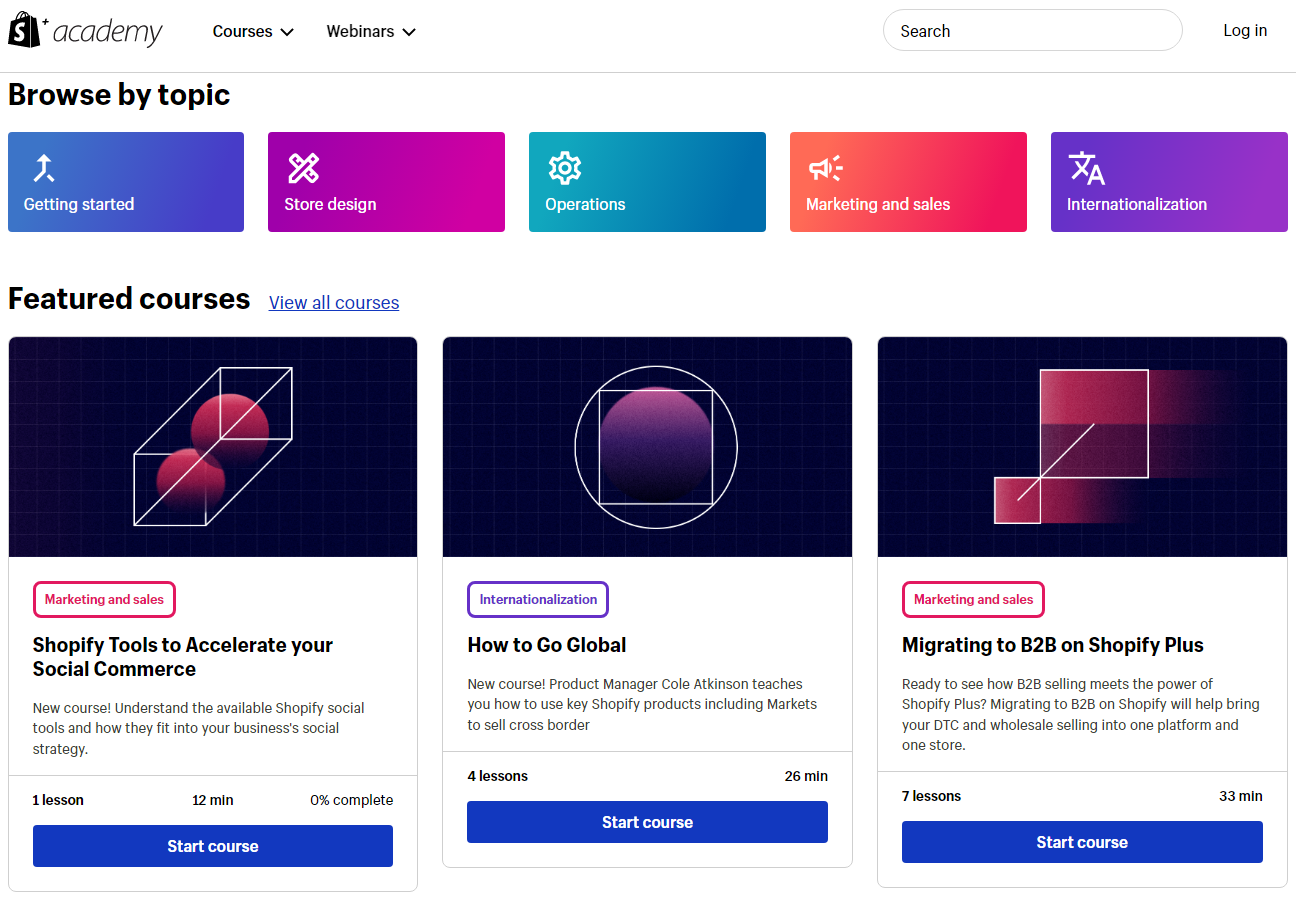 And, if these options aren't enough,
you'll also get on-demand courses and webinars through the Shopify Plus Academy
, as well as a hand-picked list of Shopify Plus Partners to support you. This is an exclusive marketplace of freelancers and agencies that you can hire to work on website design, marketing, branding, integrations, and more. Each one is vetted and recommended by Shopify, so you can be sure you're hiring a trustworthy professional.
This is a great support suite for large businesses, and I think it adds a lot of value to Shopify Plus.
While you won't receive a dedicated business coach, you'll gain invaluable support from a network of peers and industry experts. This support is specifically tailored to benefit high-volume and large organizations, making Shopify Plus's assistance most valuable to such businesses.
Shopify vs Shopify Plus: Stick With the Standard Plans
Shopify Plus offers several features that can benefit larger businesses, such as Shopify Launchpad, advanced checkout customization, and dedicated support.
In particular, large B2B and wholesale businesses will get plenty of support with features like custom quantity rules
, invoicing and payment reminders, easy customer reordering, and more. These features can help larger organizations streamline operations and enhance their overall customer experience
.
That said, it's hard to justify Shopify Plus's huge price point when it doesn't offer much more than what's already included with a standard plan.
For most businesses (and particularly B2Cs), Shopify's standard plans already offer all the e-commerce features they need.
With support for international e-commerce on all plans, and an
advanced automation builder on the Shopify plan
 and above, all but the largest businesses are already catered for – and for a significantly lower cost. Here's a quick summary of Shopify vs Shopify Plus:
Starting price (monthly)
$2000/month
Unlimited storage and bandwidth
Tax automation
✔

(Advanced tax automation via Avalara available at extra cost)
Advanced e-commerce features
Multi-currency support
Omnichannel e-commerce
Shopify Flow (Shopify plan and above)
Third-party calculated shipping rates (Advanced plan)
Automatic duty/import tax collection (Advanced plan)
Everything included on the Advanced plan, plus:
Shopify Launchpad
Bot protection
Automatic store localization
A specialized B2B/wholesale feature suite
Importer tools
Design tools
Intuitive drag-and-drop editor
70+ mobile-responsive themes
3D product displays
Everything included on the standard plans, plus:
Store up to 100 themes
Advanced checkout customization
Marketing
Built-in email marketing
Social media integrations
Marketing automation
Everything included on the standard plans, plus:
Bulk Account Importer tool
Support
24/7 email and live chat support, callback requests, knowledge base
24/7 priority email, live chat, and phone support, knowledge base, Shopify Plus Academy, merchant success program
FAQ
Why would I need Shopify Plus?
Shopify Plus is great for larger B2B and wholesale businesses that want to fully optimize their online business. B2C businesses will benefit from Shopify Plus thanks to its unlimited staff accounts, Shopify Launchpad for managing sales, and more support for international commerce. However, most businesses – including some larger enterprises – will find the Advanced plan already offers everything they need.
Can you upgrade from Shopify to Shopify Plus?
Yes, and this will save you the additional workload of moving your customer accounts and data to a non-Shopify enterprise-grade e-commerce solution. That said, there's a vast price difference between the Advanced plan and Shopify Plus. Unless you're a larger business, the few exclusive features offered by Shopify Plus aren't likely to be worth it.
How much revenue do you need for Shopify Plus?
Shopify recommends you have a revenue of $80,000/month to get the most out of Shopify Plus. This would certainly make the starting price of $2,000/month more affordable.
What is the cheapest way to start Shopify?
Shopify's Basic plan is your cheapest option. Starting at

$

29.00

, you'll get all the essential e-commerce , plus a handful of advanced tools, like multi-currency support, custom discount codes, and gift cards. If you need more advanced tools like e-commerce automation, you can get Shopify Flow on the Shopify plan and above.