Shopify doesn't just let you build a complete web store to sell your products on, neither does it just provide you with an impressive app store that will allow you to bolt on extra functionality to your site. Oh no. Shopify also provides its users with a great way to take payments, so you can forget about third party payment gateways and keep everything under one roof.
The new payments system is simply, fresh and appears in your admin interface, ready for you to begin taking payments and help your business to move onwards and upwards. So let's take a look at what Shopify Payments is all about and how you can benefit from it.
Shopify Payments – Track Your Cash
If you want to make the running of your eCommerce store easy and smooth then Shopify payments is the answer. With everything under your admin dashboard you don't have to login to third party gateways to try and pull down reports on what payments you have received etc.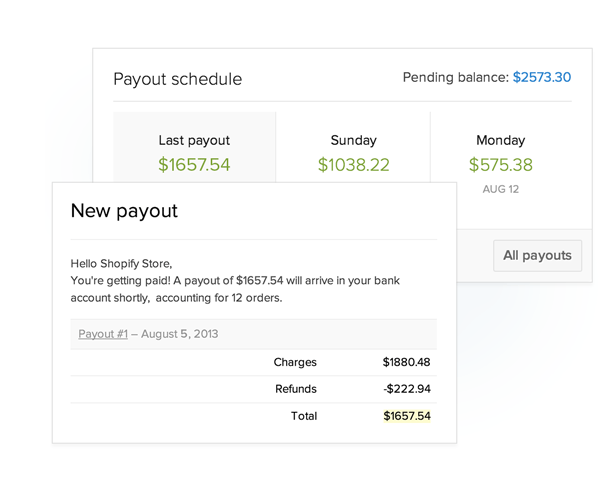 Because everything is in one place you can see all money-related data directly in the admin interface, which helps day-to-day store management much more easy, and allows you to put more time into other areas of the business.
Shopify Payments – No Hidden Fees
People these days want transparency, there is nothing worse than signing up to something only to find out there is a host of hidden fees. It kills off trust and confidence.
With Shopify payments you are safe in the knowledge that they give you everything upfront, there are no hidden charges when you sell something from your store, unlike other payment gateways that do add on numerous other charges.
You also have the fact of chargeback's to contend with, which in today's market causes a problem across most eCommerce platforms, from eBay, to Amazon to the small business owner. If a customer files a complaint that they didn't receive a service or product from you, it can be a nightmare to deal with.
Firstly you need to collate all the evidence that you did indeed sell the item and ship it, and then if you are using a third party payment gateway you will need to open a case on there.
However, as Shopify payments are all centralised to one platform they can automatically trigger off responses that detail a complete purchase cycle for you. This means you don't need to spend time tying up loose ends and fitting all the pieces of the jigsaw together.
Summary
Shopify payments is only available in the US and Canada at the time of writing this, but they are paving the way to a successful system that everyone in the World will crave for. Imagine it, a payment gateway that is integrated into your eCommerce site, all under one roof. No need to sign in to a third party gateway to check your payment schedule, and deal with boring administrative tasks.
Add to this, the fact that all Shopify transaction fees are waived and you have the ideal solution for a payment system that is becoming a force to be reckoned with. Visit Shopify.