why does there always have to be a but?
 –
Shopify Payments has some limits on what businesses can use it, based on your location and what you sell.
That's why I did a deep dive into Shopify's requirements for using its built-in payment gateway. Whether you've bumped into one of these limitations and need an alternative payment solution for your Shopify store or you're still deciding whether you even want to use Shopify at all, we'll cover everything you need to know to choose the right payment solution. And if you already have a thriving online store and Shopify Payments ready to go, we'll cover all the ins and outs of how to get the most of this convenient and cost-saving choice.
Shopify Payments is currently only available in the following countries:
Australia
Hong Kong SAR China
Singapore
Austria
Ireland
Spain

Belgium
Italy
Sweden
Canada
Japan
United Kingdom

Denmark
The Netherlands
United States
Germany
New Zealand
If you're located in a different country, try one of these alternatives:
Wix: A user-friendly and affordable website builder with strong e-commerce capabilities and no transaction fees.
Squarespace: A website builder that gives your online store a professional feel, while offering lots of payment options and no-fee transactions.
BigCommerce: Best for large online stores with tons of products. It has over 65 payment provider options and doesn't charge transaction fees.
PayPal: If you already have a Shopify store, PayPal is the best alternative payment solution. You get a PayPal Express Checkout account with your Shopify account.
Shopify Payments Is Convenient and Commission-Free
The biggest draw of Shopify Payments is that
it doesn't charge transaction fees
. You'll still have to pay credit card processing fees – that's not going to disappear any time soon – but you won't pay any additional transaction or commission fees like some other e-commerce tools do. So for any purchase made through Shopify Payments, you'll pay between 2.4% and 2.9% plus $0.30 in processing fees, depending on your subscription plan. But that's it! No extra 3% off the top going to your payment processor instead of your business savings. Some important caveats: You will run into transaction fees if you're in Austria, Belgium, or Sweden. And if you want to accept multiple currencies, you'll have to pay conversion fees and processing fees. My other favorite thing about Shopify Payments is that
you don't need any third-party accounts to accept payments in your online store.
Instead of needing one account for Shopify and a separate one for PayPal, Square, or whatever payment gateway you like best, you can manage everything from your Shopify dashboard.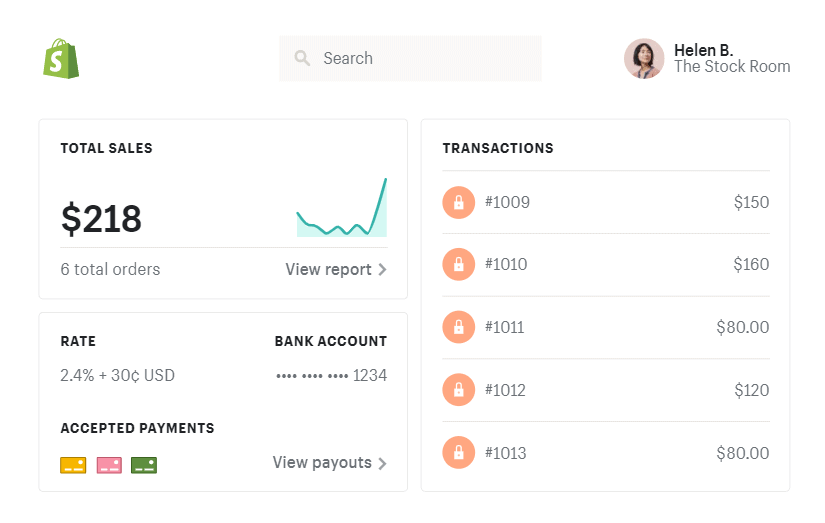 On top of this,
Shopify Payments offers a built-in fraud analysis tool that's a bit more robust than what other payment processors offer.
 The tool monitors each transaction that goes through your site for fraud indicators, like the number of payment attempts and whether all of the credit card information was entered correctly. Here's a list of the fraud indicators Shopify looks for: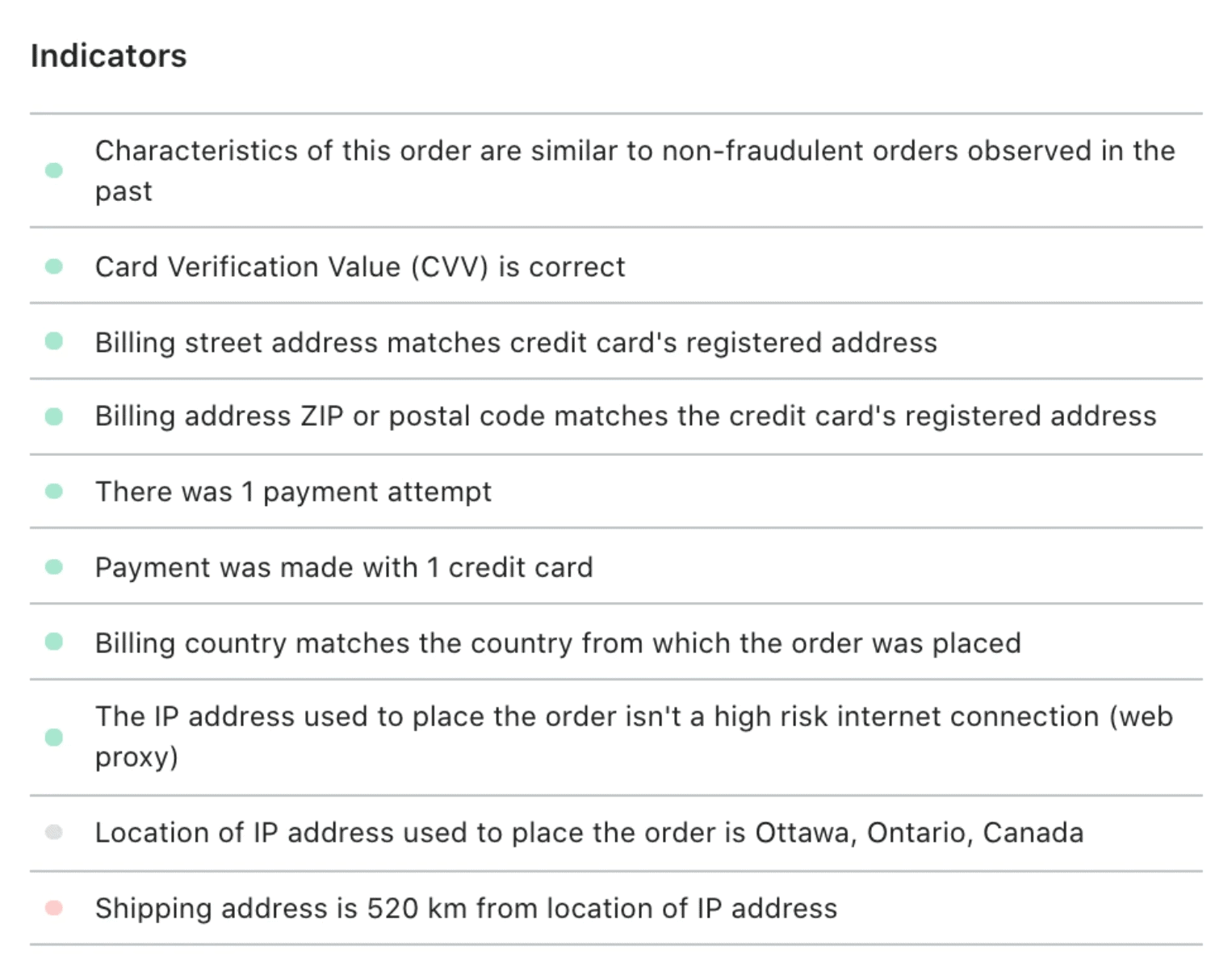 Every legitimate payment gateway should have some form of fraud protection, but Shopify's setup is very thorough. It lets you see exactly what's going on with any given transaction, and it's not full of financial jargon that's impossible to interpret. You'll prevent fraudulent orders and minimize the number of chargebacks you end up with.
Shopify Payments' chargeback fees are relatively low, at about $15 for US-based customers.
 Shopify Payments will also help you contest chargebacks by collecting and submitting evidence to the credit card company involved in the dispute. This saves you some time and hopefully a lot of headache in what can be a
very
 frustrating process. Here are a few other key benefits of using Shopify Payments:
You'll be able to use other payment gateways in addition to Shopify Payments to give your customers more options. (Keep in mind that you'll pay transaction fees on those, though.)
You can use Shopify Payments for in-person sales when you use Shopify POS – something that's hard to find with other payment gateways.
Shopify Payments is powered by Stripe, one of the most popular payment gateways for e-commerce, so you can trust that your data (and your customers') is fully secure.
Shopify Payments Has Some Limits
We already talked about Shopify Payments' limited location availability – it's highlighted
above
if you missed it – so now let's get into some of their more unusual restrictions on what you can sell.
Shopify Payments has stricter rules than most about the types of businesses that can use it.
 Most tools like this prohibit illegal or heavily regulated businesses (like drugs or firearms) from using their services – no surprises there. But Shopify Payments goes even further, prohibiting a long list of businesses in several categories I didn't expect. Because these limits are kind of surprising, here's a quick list of things you can't sell:
Financial services, including credit repair, debt reduction, cryptocurrency, and crowdfunding
Adult content and services
Lotteries and other gambling
Drug paraphernalia, including bongs, vaporizers, and any form of cannabis
Multi-level marketing products
Social media followers or likes
Anything that's heavily regulated or illegal
There are some caveats to some of these, particularly in the financial services category, so double check the terms of service if you're not sure whether your store fits the guidelines. These prohibitions are imposed by processor Stripe, not Shopify itself, so if they're causing you problems, Stripe is not the alternative you should jump to.
It's also worth noting that many Shopify Payments users have complained about holds on their funds or payouts, either due to supposed fraud or sudden changes in what businesses are prohibited.
If you run into issues, don't expect quick help from Shopify.
There's no longer a phone support option, so you're mostly directed to FAQs or other cookie-cutter assistance
. If you do need to communicate with a real person, you'll probably get directed to Stripe's customer service team, which just adds another step to the process and makes the whole thing more drawn out.
How to Set Up Shopify Payments
If you already have a Shopify account, it's quick and easy to set up Shopify Payments. Here's how:
In your Shopify dashboard, navigate to Settings > Payments.
Activate Shopify Payments. If you don't have a payment provider already set up, you'll find this option under "Complete account setup."
Enter your business and tax information. Typically, this will be your business name and address, the appropriate tax ID for your country, and your bank account information.
You'll have to wait for Shopify to review and verify all your information before you can start accepting payments. If they don't need any additional information, you'll typically get approved in about three days.
Other E-commerce Site Builders to Consider
If any of these drawbacks is a dealbreaker for you, you might want to consider using another e-commerce website builder for your online store.
Dedicated website builders
 often have better site editors, a wider variety of features, and in most cases, the same or better transaction rates than Shopify Payments. You can build a full e-commerce website with Shopify, but I'd only recommend that option if all you care about is selling products.
Other e-commerce builders can help you set up a blog, establish your brand identity, and even manage your marketing campaigns
– all important ways of growing your audience (and your bottom line). The tools below all made my list of the
best e-commerce website builders for 2023
. Shopify didn't.
Wix
Wix is one of my personal favorite website builders, because it has a lot of flexibility both in how your site looks and what it can do.
Wix Stores offers e-commerce features for online stores of all sizes,
including a huge app selection for payment gateways, shipping carriers, and even dropshipping options. Not to mention dozens of
beautiful online store templates
. To be fair, you can get these features with Shopify too, but
Wix makes it much easier
. You can add apps with just a click, and the drag-and-drop editor lets you customize your site to your heart's content. Plus,
Wix gives you a lot of features that Shopify doesn't
 – there are all kinds of tools for marketing and growing your business beyond just managing products.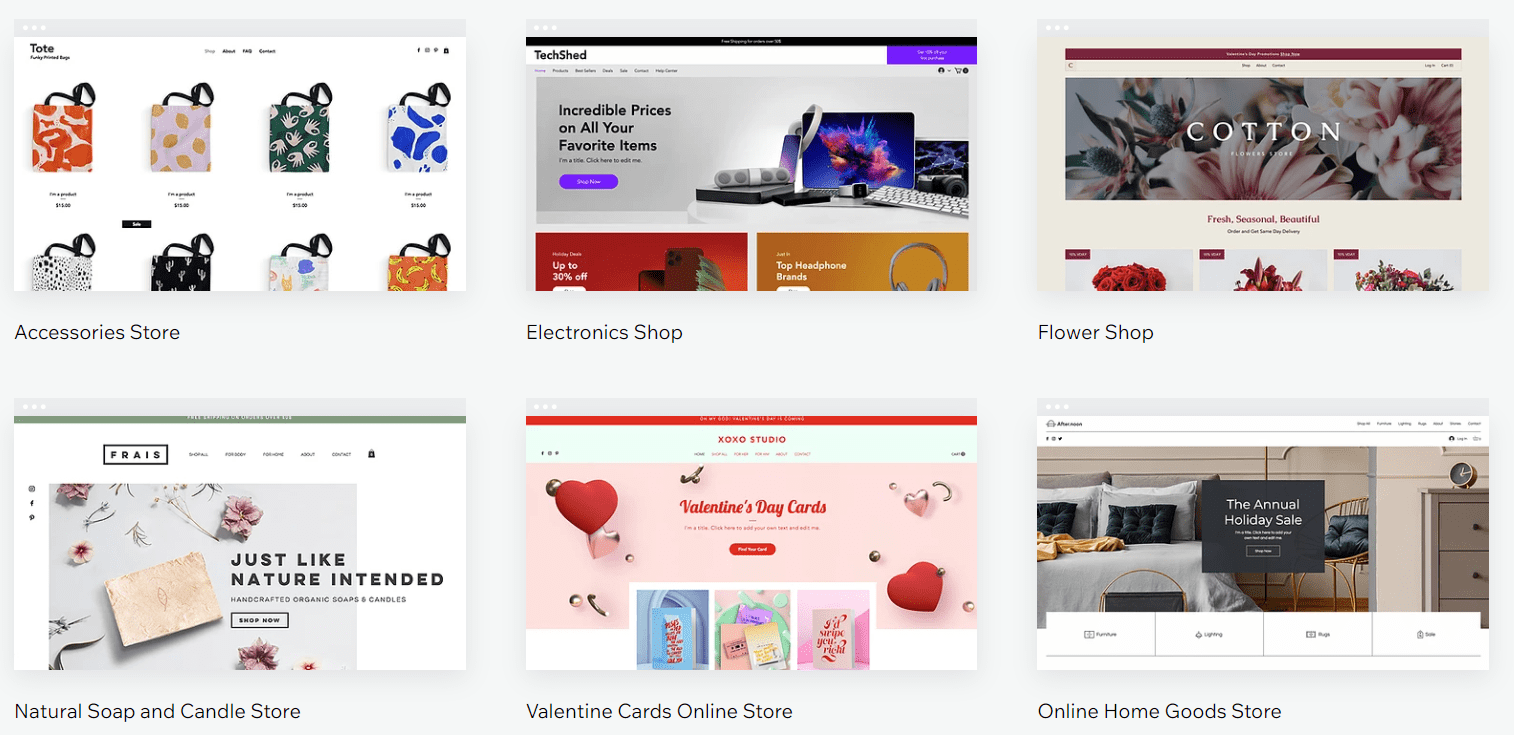 Wix also has a native payment gateway called Wix Payments. Currently, it's only available in 14 countries, but that number is likely to go up in the near future. Wix Payments has an across-the-board 2.9% transaction fee for US stores. (Other countries' rates are a little lower.) Like Shopify Payments, Wix Payments is powered by Stripe, so you're going to run into the same limits on the type of business that we already covered. But unlike Shopify,
Wix doesn't charge any transaction fees at all.
 So whether you use Square, Stripe, PayPal, or  many other payment gateways with Wix, all you'll pay is the gateway's processing fee. As a cherry on top, Wix is a lot more affordable than Shopify – besides the highest-tier plan,
all Wix plans
cost less than
Shopify's cheapest option
. That makes Wix a much more feasible option for small or growing online stores.
Squarespace
Squarespace is probably best known for
its beautiful templates
, and its e-commerce templates are some of the best on the market. Not only are they pretty to look at, but they provide a very smooth experience for online stores.

Shopify's templates (called "themes") are certainly eye-catching, but there's not a lot of variety and they're not as elegant as Squarespace's. Plus, Shopify only has a handful of free options, and most of its themes are pretty expensive.
With all Squarespace plans, you can use any of the templates for free.
Like Wix, Squarespace provides a more budget-friendly choice for small to medium online stores. Its plans are generally less expensive than even the Basic Shopify plan. Additionally, you will have access to a wider range of templates, more features, and a smoother experience while constructing your site. Plus, if you're on a commerce plan, you'll avoid any transaction fees – you'll just pay the credit card processing fees.
Squarespace lets you use Stripe or PayPal as your payment gateway, with the option of using Square if you need an in-person point-of-sale system.
 These gateways will all charge their own processing fee, but Squarespace won't charge you any transaction fees if you're on a commerce plan. If you're on a website plan (which also allows you to run an online store), you'll pay a 3% transaction fee to Squarespace.
BigCommerce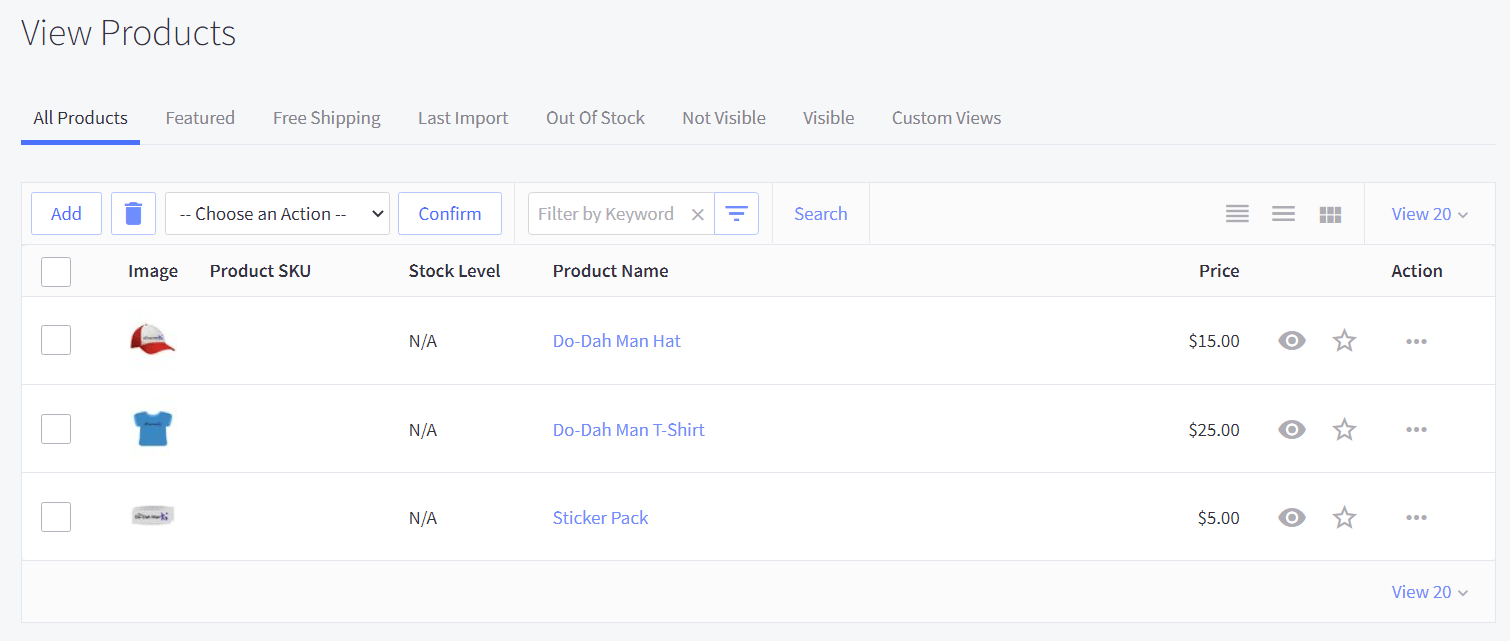 BigCommerce is hard to beat if you need to manage a large inventory for your online store. Its
product management tools
 make it really easy to keep track of everything, and there are some cool features like automatic product filters on your category pages. Shopify can handle a lot of products too, but BigCommerce's dashboard and tools are more geared toward large inventories, particularly when it comes to bulk editing and categorizing products.
BigCommerce also supports over 65 payment gateways,
 so no matter where you are in the world you'll find a solution that works for you. All the gateways have a very simple installation process, and you'll only pay processing fees to these third-party vendors – BigCommerce never charges a transaction fee.
Shopify Payments Is Good, but Don't Overlook Alternatives
If you already have a Shopify store and access to Shopify Payments, using Shopify Payments as your gateway is a no-brainer – you'll avoid transaction fees, prevent fraud, and keep all your online store tools in a single dashboard. But if you're still weighing your options for an online store builder and payment provider, don't overlook the alternatives.
Wix is easy to use thanks to its drag-and-drop editor, and tons of tools and apps for building your store's brand and online presence.
 Plus, you won't pay any transaction fees no matter what payment gateway you use. Ultimately, Shopify Payments is an excellent solution for Shopify stores, but it doesn't offer anything you can't find elsewhere – and you'll find that lots of alternatives, like
Wix
and
Squarespace
, are more affordable too.
FAQ
Does Shopify have a free plan?
Shopify doesn't have a free plan, but you can test it for free for 14 days. Many website builders do have some sort of free plan, though, so check out our list of the best website builders of 2023 to see which builders will let you create a website at no cost.
Can you have a blog on your Shopify store?
You can set up a blog on your Shopify store, but there are other website builders with far better blog management tools, like WordPress.com, Wix, and Squarespace. Check out some of the best templates designed specifically for bloggers.
How much does Shopify cost?
Shopify is pricier than most generic website builders, with plans starting at

$

29.00

per month and stretching into hundreds of dollars. Check out our website builder coupons to see how you can save on your Shopify subscription.
What are the best Shopify alternatives?
Shopify is good value for a large-scale e-commerce website builder, but there are a few alternatives worth considering. BigCommerce has a smoother editing and project management experience than Shopify, while still letting you manage a ton of products. But for most online stores, I'd recommend Wix, which is easy to use whether you're selling five products or 500. You can learn about other alternatives in our list of the best e-commerce builders for 2023.