To compare HostGator and Rackspace, I have researched and evaluated both hosts based on five major areas.
 Since Rackspace doesn't have VPS (virtual private server) or shared hosting plans, I've focused entirely on the cloud hosting solutions offered by both providers. Even though
HostGator is the clear winner of this Rackspace vs HostGator matchup
, both web hosts have their strengths and weaknesses. If I were you, I wouldn't make any final decisions before you
check out Hostinger's latest deals
. Aside from excellent support, Hostinger offers generous resources and a great set of features for prices starting as cheap as
$
1.99
.
1. Plans and Pricing
HostGator Is Cheap but Lacking Features, Rackspace Is Expensive but Customizable
HostGator's pricing is low, but that's because it charges extra for security, email, and site backups.
Even with all those add-ons, HostGator is far more affordable than its competitor.
Rackspace customizes its managed cloud hosting for each use case.
 It doesn't have specific plans available for purchase, and its prices are steep. For example, HostGator's cheapest cloud plan, Hatchling Cloud, gives you access to two CPU cores, 2 GB RAM, unlimited bandwidth, and unlimited storage for roughly ten times less than a virtual machine with 2 CPUs, 2 GB RAM, 40 GB storage and a bandwidth limit of 400Mb/s on Rackspace. With Rackspace, you'll be billed on a monthly basis, whereas HostGator gives you the option to pay every month, three months, or six months, or on yearly terms.
If you're anything but a large business, HostGator is definitely the better option in the plans/pricing category.
But still, it can't compete with Hostinger:
A free domain name is included with some hosting plans from Hostinger
2. Features
HostGator Makes You Manage Your Cloud – Rackspace Takes Care of Everything
To accurately compare HostGator and Rackspace in terms of features, you have to bear in mind that all of Rackspace's cloud hosting is managed, while HostGator only has a self-managed cloud.
On cloud plans, HostGator includes features like cPanel, integrated caching, a free domain, and a free SSL certificate,
all of which are great for small businesses and freelancers. Meanwhile Rackspace takes care of server configuration, advanced security monitoring and scanning, application management, and backups, all without you having to lift a finger.
| | | |
| --- | --- | --- |
| | Rackspace | HostGator |
| Hosting Type | Public/Private/Hybrid cloud, dedicated servers | Shared, WordPress, VPS, cloud, reseller, dedicated servers |
| Free Domain | No | Yes |
| Disk Space | 20 GB to 50,000 GB SSD | Unmetered SSD |
| Bandwidth | 1 GB to 50,000 GB | Unmetered |
| Automatic Backups | Yes, for a fee | Yes, for a fee |
| Control Panel | Proprietary control panel | cPanel |
| Free CDN (Content Delivery Network) | No | No |
| Free Site Migration | No | One free website transfer |
| Money-Back Guarantee | No | 45 days |
3. Performance
HostGator and Rackspace Offer Tools to Speed Up Loading Times
Rackspace has an impressive global infrastructure of over 14 data centers
spanning from North and South America to Europe, Asia, and Australia. And if you need more resources, you can integrate other popular infrastructures, from Amazon Web Services (AWS), Google Cloud Platform (GCP), Microsoft Azure, and more. HostGator has only two data centers, both in the US.
Both web hosts offer SSD drives, but you have to pay for additional features, such as a CDN (content delivery network).
However, HostGator does provide integrated caching, which helps speed up your website, for free.
4. Security
Both Have Security Add-ons, but HostGator Throws In Freebies
Aside from the free SSL, HostGator also includes an automatic failover in case there's a hardware issue.
To get the same feature with Rackspace, you have to purchase the load balancers add-on. On the other hand, Rackspace throws in free cloud monitoring that includes real-time alerts and always-on notifications.
HostGator gives you the option to purchase automatic backups, as well as its Website Security bundle, which features daily malware scans and more.
 With Rackspace, its team of security experts will analyze and optimize your page for you, but, of course, this is a feature you'd have to pay for. If you're a large business with security that's vital to your company, the cost of Rackspace would be worth the peace of mind. However, if your website will be personal or for a small business,
HostGator offers enough security options, at a much lower price, to get you through.
5. Support
Support Is Neither Rackspace's nor HostGator's Strong Suit
Both Rackspace and HostGator offer 24/7 customer support via live chat and phone, but Rackspace also includes ticketing and email. The two web hosts have comprehensive knowledge bases where you can find helpful tutorials and documentation.
Although HostGator's live chat agents are mostly helpful, some technical inquiries might go unanswered.
 In addition, the community forum requires posts to be administrator-approved, which greatly slows down the help process.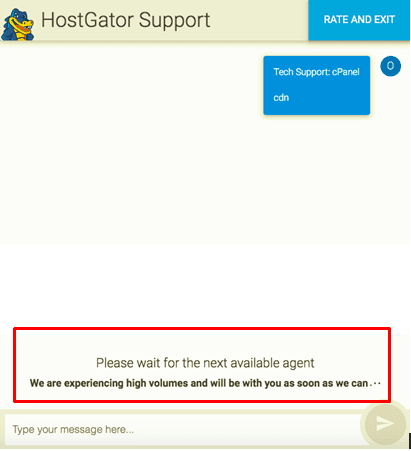 Rackspace isn't much better either, as tickets and emails can go unanswered for hours or even days at a time. Overall,
the Rackspace vs HostGator race is close in terms of support, and not in a good way.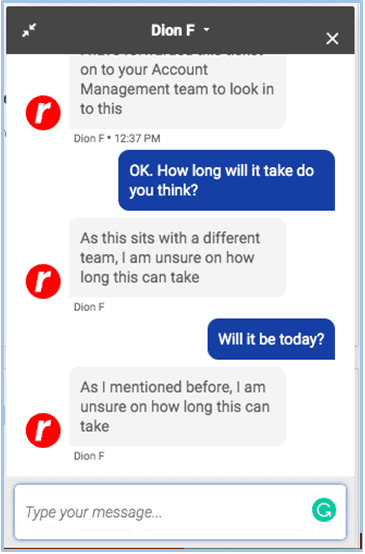 Go With HostGator for an Affordable Cloud Solution
While Rackspace's premium price guarantees access to a completely managed cloud,
HostGator's self-managed plans
 are significantly more affordable, not to mention packed with a lot of useful features.
Given Rackspace's policy of working exclusively with companies, HostGator is the only choice here for independent developers and freelancers. However, if you're looking for a high-performance cloud,
Liquid Web is a much better option than both
. If it's shared hosting you're after,
you can't do better than Hostinger
. Keep in mind that neither competitor in the Rackspace vs HostGator matchup made it to our top 10. To see which ones made the cut, read our list of
the best web hosting services
. Here are the main takeaways of each category:
Plans and Pricing
Premium-priced plans designed for large companies
Affordable plans for long-term purchases
Features
Managed updates, backups, storage, and server configurations, all fully customized
Unlimited storage, bandwidth, and subdomains, free domain
Performance
Worldwide network of servers, SSD storage, add-on performance upgrades
Integrated caching, SSD storage, CDN add-on available
Security
Cloud monitoring, advanced security experts available for a fee
Free SSL, automated failover, security add-ons available
Support
24/7 email, tickets, live chat, and phone; knowledge base
24/7 live chat and phone; knowledge base
FAQ
Which is better, Rackspace or HostGator?
It depends on your needs. Rackspace's managed solutions are suited for large companies looking to leverage the benefits of a custom cloud infrastructure. Despite being self-managed for the most part, HostGator's cloud hosting plans gives individual developers, freelancers, and small businesses a cost-effective way to use cloud hosting to their advantage. Before you decide between the two, it might be a good idea to check out what the best web hosts have to offer.
How much does HostGator cost?
All of HostGator's cloud hosting plans are affordable if you purchase them for one year or more. However, you should take note of the fact that the renewal, as well as any plan on a one-month billing cycle, tends to be more expensive than the headline price, sometimes up to 4x more.
Is HostGator owned by EIG?
Yes. In 2012, roughly a decade from its foundation, HostGator was sold to EIG (Endurance International Group), an IT services company known for acquiring and managing a multitude of hosting businesses.
Is Rackspace good for an online store?
If you have a small workshop selling handmade items, you're better off looking for a more affordable WooCommerce option. However, if you run a portal the size of Target, AliExpress, or Amazon, Rackspace will customize its premium managed solutions to fit your needs in terms of resources, responsiveness, infrastructure, and security.