Both Rackspace and GoDaddy provide scalable plans to help you move beyond shared web hosting. But when it comes to performance and value for money, you'd be shocked by the differences. I tested Rackspace vs GoDaddy by comparing plan features, uptime, speed, security, support, and more. In a battle between Rackspace's cloud hosting solution and GoDaddy's VPS (virtual private server),
Rackspace wins hands down due to its flexibility and superior security.
In the end, though, it might all come down to your budget. Which is better for what you need?
Click here to see Rackspace's best deals
, or keep reading to find out why it's my top choice.
1. Performance
Rackspace Has a 100% Uptime Guarantee That GoDaddy Just Can't Beat
While shared hosting can be unreliable, cloud and VPS hosting are much more dependable. As your business – and your website – grows, you need to know that your website will always be available.
Rackspace promises 100% network uptime
– so you get credits on your account for even 99.99% uptime (around four minutes of server downtime in a month). Compare that to GoDaddy's 99.9% uptime guarantee (almost 45 minutes of downtime in a month before you get any compensation) and you start to see what makes Rackspace stand out.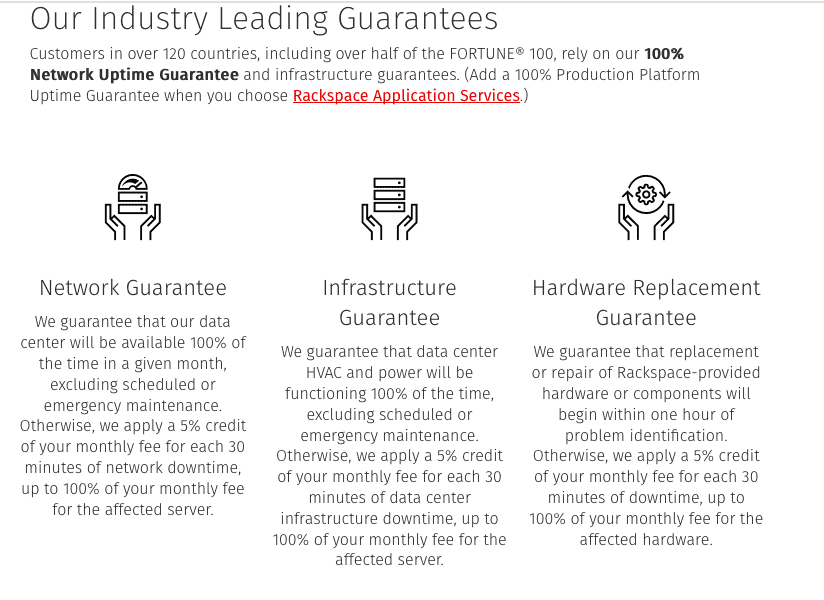 But what about speed? Cloud hosting is undeniably fast, using a network of servers rather than a single physical server to avoid slowdowns.
Rackspace takes it a step further by offering cloud load balancing and Rackspace CDN
 (content delivery network), which ensure that your website will load lightning fast, regardless of where in the world your visitors are located. GoDaddy's VPS hosting will, of course, be faster than shared hosting, and your server will be configured for speed optimization, too. With GoDaddy, you can choose Managed services at the checkout, and the additional monthly fee is worth paying unless you're experienced in the complexities of managing a VPS server.
All of GoDaddy's VPS servers have fast Intel processors.
However, GoDaddy's VPS can't compete with Rackspace's cloud hosting for speed. This is a bit of an unfair comparison, I know – VPS is hosted on a physical server with a finite amount of resources, while cloud hosting can draw resources from a range of servers.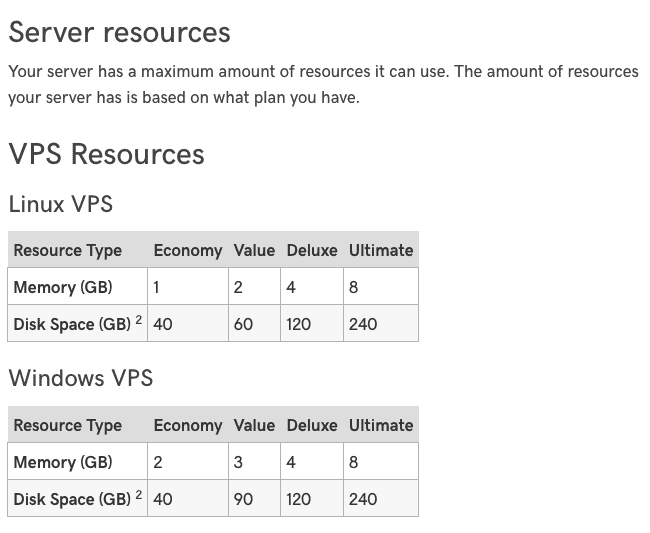 2. Features
Rackspace Has Fully Customizable Features – GoDaddy Throws in a Free SSL Certificate Too
Comparing the features of cloud and VPS hosting plans is entirely different from comparing shared hosting plans, due to the customizable and flexible nature of these kinds of plans.
GoDaddy follows a more structured format with its VPS hosting
, while Rackspace allows you to completely customize your hosting setup. There are some key differences between Rackspace and GoDaddy's features.
Rackspace Doesn't Have Set Plans
While there are
four VPS GoDaddy plans on offer
, Rackspace is more of a
pay-as-you-go cloud hosting service
. You pay for the server size, amount of resources (bandwidth), and storage that you actually use rather than choosing a plan (so you're billed at the end of the month rather than paying up front). You can choose:
Number of virtual cloud servers
Cloud server type (e.g., general purpose, memory optimized)
Operating system (Linux or Windows)
Server size (between 1 GB and 8 GB)
Cloud load balancers (to manage traffic spikes)
Cloud databases (high-performance MySQL databases)
Add-ons, including cloud files, cloud backup, cloud monitoring, and cloud block storage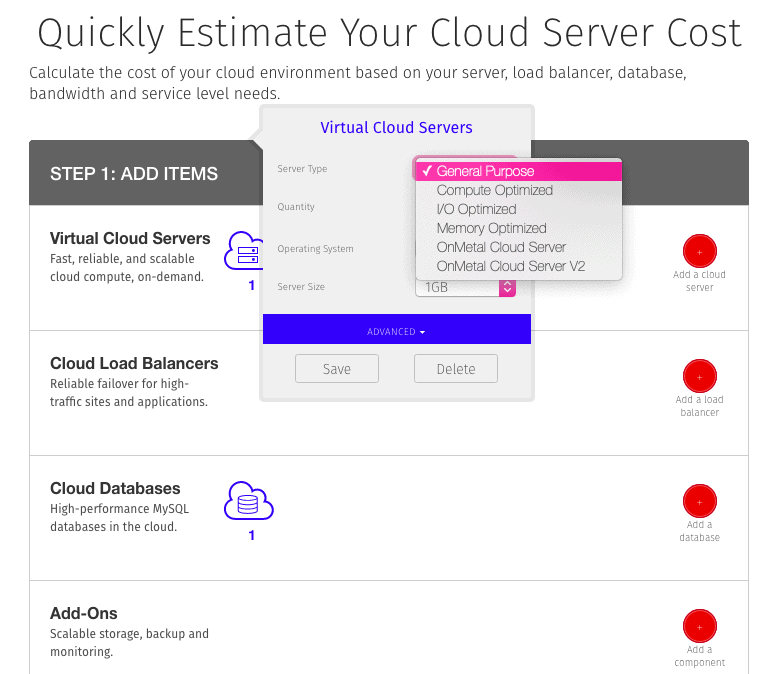 With this kind of setup, you have complete control over your cloud hosting,
rather than being given a set amount of features and needing to upgrade to new plans as your website grows. GoDaddy's plans have fixed amounts of storage (between 40 GB and 200 GB) and memory (between 2 GB and 8 GB).
Different Levels of Server Management
Both GoDaddy and Rackspace will manage your servers for you, but there are differences in how they approach this. With GoDaddy, you can choose between Managed (where GoDaddy takes care of monitoring,  patching, backups, updates, and recovery) and Fully Managed (which includes all of the Managed features as well as migration and premier-level support). The Fully Managed option is sold as an add-on at checkout.
You can opt for Self-Managed, but you'll be responsible for everything except monitoring and disaster recovery.
Rackspace doesn't offer self-managed cloud hosting
; instead, you get a choice between Managed Infrastructure and Managed Operations: SysOps. The former means Rackspace will set up your cloud servers and other services for you and give you expert help whenever you need it. The Managed Operations service is a complete management solution, where every aspect of your cloud hosting is managed for you.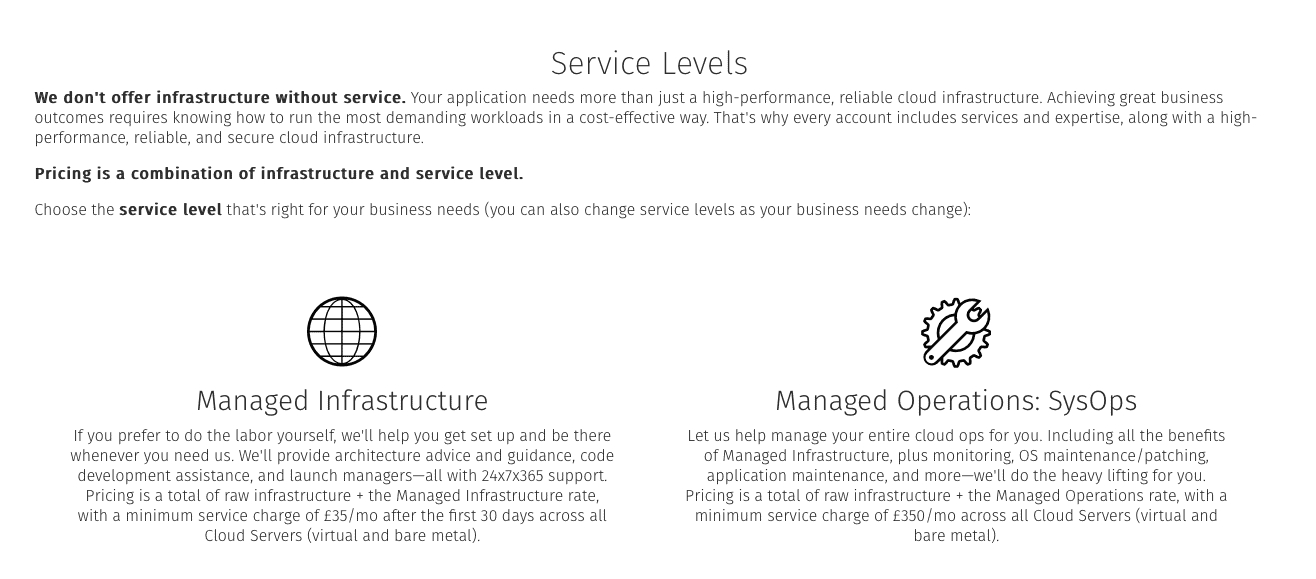 Here's a quick overview of the differences between Rackspace and GoDaddy's features:
| | | |
| --- | --- | --- |
| | Rackspace | GoDaddy |
| Hosting Type | Cloud | VPS |
| Bandwidth | Priced by the amount you use | Unmetered (but subject to GoDaddy's service agreement) |
| Storage | Add storage blocks to your cloud setup according to your needs | Between 40 GB and 200 GB, depending on your plan |
| Control Panel | Cloud Control Panel | cPanel or Plesk, depending on whether you opt for Linux or Windows |
| Backups | Add cloud backups in your configuration | Snapshot backups with restore tools |
| Management Levels | Managed Infrastructure or Managed Operations: SysOps | Self-Managed, Managed, or Fully Managed |
| SSL Certificate | SSL certificates must be purchased from a third party | Free for the first year |
3. Pricing
Rackspace Is More Expensive Than GoDaddy but the Extra Features Make It Worthwhile
"You get what you pay for" is a phrase often used to justify paying higher prices when you're getting better value for your money. This is certainly the case when looking at the value offered by Rackspace. Despite its high(er) pricing compared to GoDaddy, the value of being able to fully customize your cloud hosting and get 100% uptime guarantee justifies the monthly fees.
 Plus, you pay monthly, unlike with GoDaddy, which requires you to pay up front for two years to get the lower price.
However, there is one aspect of Rackspace's fees that might make you question its value: service-level fees.
The fees are in addition to the cost of your infrastructure and features
. The service-level fee for Rackspace's Managed Infrastructure is 5x what GoDaddy adds for its Managed service, and the fee for the Managed Operations service is almost 4x what GoDaddy charges for its Fully Managed service. Customers have mixed opinions about whether the service fee affects the value, but
a lot of Rackspace users agree that Rackspace's service fee is justified. 
It ensures your website and other cloud operations will run smoothly and effectively, leaving you to run your business without worrying about configuring your cloud servers. One thing to note about Rackspace, however, is that it doesn't publish its pricing details online. You have to contact one of its sales agents in order to get a quote.
GoDaddy's fixed plans don't offer any exceptional features
, but you may find GoDaddy is better value if you're on a budget. You only pay once and don't have to worry about additional costs for the bandwidth you use.
GoDaddy Hosting Web Hosting
A free domain name is included with some hosting plans from GoDaddy Hosting
Our
full-length GoDaddy review
delves into the detail when it comes to pricing so make sure you check that out too.
4. Security
Rackspace Offers Superior Security Protection for Your Webspace
GoDaddy includes an SSL certificate with its yearly VPS plans
– but you're only covered for the first year, and it's only a standard-level Domain Validated SSL. That's fine if you're running a basic website, but it's not going to give you the "green bar" you get with EV (extended validation) SSL certificates.

Rackspace doesn't offer SSL certificates for cloud hosting
, but you can purchase an SSL from any CA (certificate authority) and install it (or have Rackspace install it for you) on your server. You can choose the right kind of SSL certificate for your needs and shop around for a great deal. In terms of protection against threats, including malware, DDoS (distributed denial of service) and script injection,
GoDaddy doesn't provide these features in its plans, but instead recommends you buy the Deluxe Website Security add-on.
This includes malware scanning, a WAF (web application firewall) and DDoS protection. They're so sure you'll want it, it's already checked off when you go to check out. By contrast,
Rackspace has a whole host of security features, including data protection, WAF, DDoS mitigation, intrusion detection, and compliance management.
Compliance management and data protection are two highly valuable services, especially if you work with health or personal data that requires HIPAA or PCI DSS compliance.
5. Support
Rackspace's Support Puts GoDaddy to Shame
When your web hosting setup becomes more complex, there's an increased likelihood that you'll need to contact customer support. Rackspace claims to have Fanatical Support®. In its own words, this means:

Support with Rackspace is 24/7, and you can contact support via live chat, email, and phone.
You'll be connected to experts trained to resolve issues quickly and efficiently. I tested out Rackspace's live chat and was impressed with how quickly I was connected – in seconds – and how knowledgeable and helpful the support agent was. I was impressed with the support, but another expert had a slightly different experience, so make sure you read our
in-depth Rackspace review
for their opinion.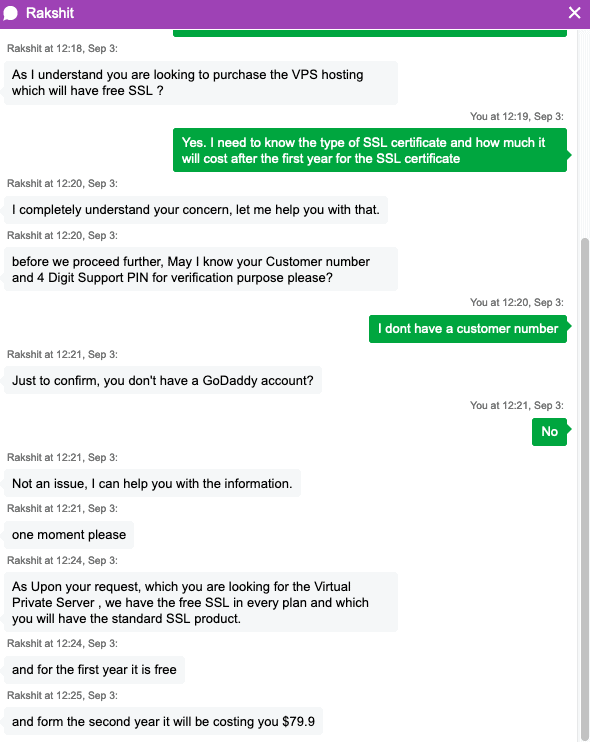 GoDaddy is at the opposite end of the scale, however.
It claims to have 24/7 support, but that really depends on where in the world you're located.
 For example, phone support is 24/7 in the US, but only available from 8 a.m. to 8 p.m. Monday through Friday in Germany. Live chat is only available from 5 a.m. to 6 p.m. Arizona time (GMT-7) Monday through Friday – so if you prefer to use live chat rather than calling, GoDaddy really isn't for you! Even during live chat hours, I had a long wait (around 15 minutes) to be connected with GoDaddy's support team, and the experience was frustrating: I had to keep repeating my question to get an answer.
Rackspace's Cloud Hosting Is Hard to Beat
Moving on from
shared hosting
 can be a complicated experience, with new technical skills to learn and jargon to understand. GoDaddy's VPS plans and Rackspace's cloud hosting give you the scalability you need to take your website to the next level. It's clear that Rackspace offers much more flexibility than GoDaddy, but at a higher price.
My Recommendations
If you're on a budget and need a predictable monthly or yearly fee structure, then GoDaddy is the obvious choice. You'll know exactly what you're getting and what you're paying – but be prepared for the need to upgrade as your website grows.
If you're looking for a truly customizable hosting experience, then Rackspace is for you. The prices may be higher, but you get what you pay for with Rackspace in terms of reliability, support, and flexibility. You can grow your website almost without limits, and can depend on 100% uptime, too.
Keep in mind that neither of these hosts made our list of
the top 10 web hosting services in 2023
.
Performance
100% uptime guarantee for reliability and built in CDN for speed, so performance is excellent
VPS servers are optimized for speed, and you don't have to worry about the effects of other websites sharing your server
Features
No set plans, so you can fully customize your cloud setup
Four plans to choose from, and you get a free SSL (for the first year)
Value
Flexibility means excellent value for the money, though the service fee may feel like a bit too much
Plans lack any outstanding value-added features
Security
Fully customize your security options – with added support for data protection and compliance
You'll need to choose the Deluxe Website Security add-on to keep your website secure
Support
24/7 support worldwide, via live chat, phone, and email, giving you high-quality support around the clock
24/7 support via phone in select countries, and live chat hours are limited