GoDaddy offers budget hosting for beginners to web hosting. On the other hand, Nexcess is a more expensive solution that focuses on providing premium WordPress management and features.
Is it really worth paying extra for Nexcess, or would you get better value with GoDaddy?
To make a proper comparison between Nexcess and GoDaddy, I tested both services across different parameters, including (but not limited to) pricing, features, and performance. Nexcess defeated GoDaddy in four out of five categories, making it the winner of this battle.
Click here to see Nexcess's latest deals
or keep reading to find out what makes Nexcess the winner of this comparison.
1. Plans and Pricing
Nexcess Has More WordPress Hosting Plans, but GoDaddy Is Cheaper
Nexcess provides comprehensive managed WordPress hosting with a range of plans aimed at small to medium-sized businesses. GoDaddy also offers a managed WordPress tier, so I compared these plans to Nexcess'. Nexcess offers seven fully managed WordPress hosting plans, whereas GoDaddy has just three. Also,
Nexcess offers more extensive WordPress features
, tools, and plugins (details in the features section)
,  explaining why they're so expensive.
GoDaddy Hosting Web Hosting
A free domain name is included with some hosting plans from GoDaddy Hosting
With Nexcess, you can choose monthly or annual billing cycles. GoDaddy, on the other hand, has monthly, annual, biennial, or triennial subscriptions. GoDaddy also provides a free domain with annual terms, but Nexcess doesn't.
Both hosts offer free site migrations for WordPress-based sites.
Nexcess promises a 30-day money-back guarantee, regardless of your choice of plan and billing cycle. GoDaddy also has a 30-day money-back guarantee, but only if you purchase an annual or longer-term plan – if you're on a monthly plan, the guarantee is shortened to just 48 hours.
GoDaddy's plans are cheaper than Nexcess', and this includes the cost of domain name registration, making it the winner of this section.
That said, Nexcess offers good value for money, and is very competitively priced when compared to other premium managed WordPress hosting providers. The winner? GoDaddy. It has more budget-friendly prices for small to medium websites and a free domain. In saying that, Nexcess is relatively affordable compared to other enterprise-level hosting services.
2. Features
Nexcess Has More Resources and Value-Added Features for WordPress
With Nexcess's seven plans, you get from 15 GB to 800 GB SSD storage, 2 TB to 10 TB bandwidth, and unlimited email accounts. You can also host from 1 to 250 websites. All plans come with a free CDN, free SSL certificate, unlimited page views, daily backups (up to 30 days), a staging environment, developer tools (SSH, Git, and WP-CLI), iThemes Security Pro and iThemes Sync, and Beaver Lite website builder. All plans come with daily automatic backups (each of which are retained for 30 days), a single-click staging environment, and a suite of developer tools including GIT integration, SSH access, and WP-CLI.
Nexcess also offers AI-driven plugin updates
. Whenever a new update is released for one of your installed plugins, it is tested on a clone of your site to check its compatibility. If no issues are detected, the update is then applied to your live site. GoDaddy's three managed WordPress plans include 20GB to 60GB SSD storage, 25k to unlimited monthly visitors, and free Microsoft 365 business email for a year. All plans offer daily automatic backups (retained for 90 days), but the cheapest plan lacks site staging, WP-CLI, and SSH access. You're also limited to a single website on every plan.
GoDaddy also lacks the same level of WordPress management as Nexcess
– for example, the automatic updates for your WordPress software and plugins are just the standard built-in WordPress feature. These updates are applied without testing, which means there's always a chance one of them could break your site.
| | | |
| --- | --- | --- |
| | Nexcess | GoDaddy |
| Hosting Types | Managed WordPress, WooCommerce, Magento, cloud, and enterprise hosting | Shared hosting (Linux & Windows), managed WordPress and WooCommerce, managed & unmanaged VPS, reseller hosting, and dedicated servers |
| Free Domain | ✘ | ✔ |
| Free SSL Certificate | ✔ | With certain plans |
| Disk Space | 15GB – 800GB SSD | 20GB – 60GB SSD |
| Bandwidth | 2 TB – 10 TB | Unlimited |
| Automatic Backups | ✔ | ✔ |
| Control Panel | Nexcess Client Portal | cPanel, Plesk |
| Email Accounts | Unlimited | 2 – 5 free Microsoft 365 mailboxes, unlimited cPanel webmail mailboxes |
| Free CDN | ✔ | ✔ |
| Free Site Migration | ✔ | ✔ |
| Money-Back Guarantee | 30 days | 30 days with annual plans or longer, 48 hours for monthly plans |
The winner? Nexcess. As you can see, Nexcess offers superior WordPress management and more value-added features than GoDaddy.
3. Performance
Nexcess Offers Better and More Consistent Performance
Nexcess offers ten data centers to choose from – six in the US, three in Europe, and one in Australia.
On the other hand, GoDaddy is frustratingly secretive about its number of data centers and their locations – it gives you a general choice between North America, Europe, and Asia. As part of their WordPress management packages, both hosts have attempted to optimize their servers for good WordPress performance.
But Nexcess goes a step further – offering premium caching solutions such as Redis
, which eases the burden on storage hardware and databases to deliver better performance for e-commerce sites. Nexcess also goes on to offer image optimization, server-level caching courtesy of an NGINX reverse proxy, and its proprietary Nexcess content delivery network (CDN) with every plan.
It also gives you a very unique plugin performance monitor
, which lets you track the impact your WordPress plugins are having on overall performance. GoDaddy doesn't manage to live up to Nexcess' devotion to WordPress optimization. It does offer free CDN access, but not much more than that.
Nexcess states that it offers a 100% uptime guarantee.
However, you have to accrue a cumulative 15 minutes of downtime in a given month to be due any compensation. That said, this is still better than GoDaddy's 99.9% uptime guarantee. When our expert tested Nexcess, they got an average page loading speed of 1.65 seconds. It also achieved a perfect 100% uptime during the testing period. See all the details in
our Nexcess review
. GoDaddy's performance tests showed a slower average page load speed of 1.9 seconds. Sadly, it was also wildly inconsistent – sometimes it took 3.4 seconds to load the same page. That said, GoDaddy managed perfect uptime. Check out the results for yourself in
our GoDaddy WordPress hosting review
.
Nexcess' servers are both faster and more reliable
, making it the easy winner of this round.
4. Security
Nexcess Offers More Advanced Security Features
Both Nexcess and GoDaddy monitor your sites 24/7
for any threats and offer free SSL certificates with every plan. Also, each uses its respective CDN network to mitigate DDoS attacks, ensuring your site remains functional even if it is somehow targeted.
Nexcess offers the premium iThemes Security Pro security suite with all plans.
This is a plugin that regularly scans your WordPress site for vulnerabilities, automatically patching any it finds. It also bans bots and IP addresses associated with malicious activity.
GoDaddy performs a daily malware scan of your site.
If any threats are detected, steps will be taken to restore your site, but you must have a backup in place for this to happen. While this can catch any malware that has already taken root in your site, it doesn't actually fix the vulnerabilities that made your site susceptible in the first place. While GoDaddy claims to be committed to cleaning up malware,
Nexcess takes the extra steps to prevent such security breaches from occurring
. It's another victory for Nexcess.
5. Support
Nexcess Has More Support Channels and Responsive Staff
Nexcess offers 24/7 support via live chat, ticket/email, and phone support.
In order to test support quality, I used live chat to ask if I could transfer my site to another data center. I got a response after just a couple of minutes of waiting.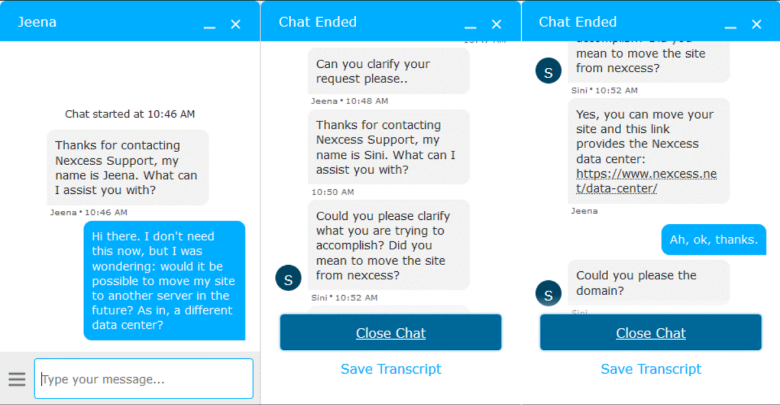 You can access GoDaddy's support through live chat and phone. GoDaddy offers phone support through multiple call centers worldwide. Although GoDaddy assures 24/7 availability for live chat, my initial attempt found it offline. When it was online, connecting to a representative took some time, and there were several pauses during our conversation.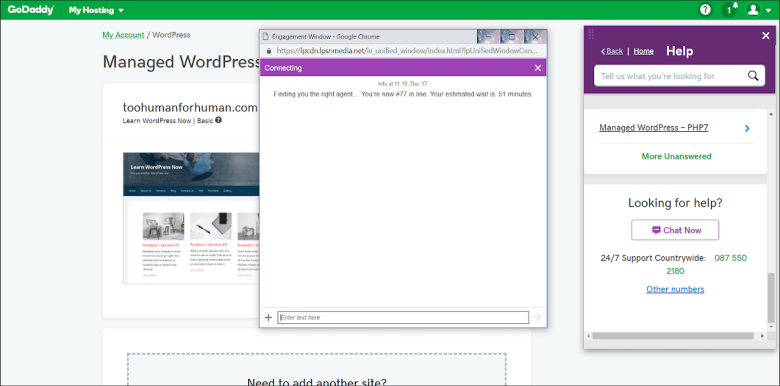 Nexcess wins in the support round due to its higher responsiveness and more support options. I could've made myself a bit clearer – the agent was confused by my request at first. Once I offered some clarification, they quickly linked me to relevant documentation on the matter. Like Nexcess,
GoDaddy also offers 24/7 support, but only through live chat and phone
. I asked a few simple questions regarding WordPress through the live chat (
check our full GoDaddy review
). Unfortunately, live chat wasn't available when I first tried to use it. After trying again later, it was back online. That said,
I endured a wait time of 51 minutes to connect to a live chat agent
. After waiting nearly an hour to just get a response,
the conversation was repeatedly interrupted by long pauses
– it felt like the GoDaddy agent was juggling multiple chats at once. I eventually did get the help I was looking for, but it didn't feel worth waiting for.
Nexcess and GoDaddy also offer knowledge bases
filled with guides, tutorials, and general documentation regarding their hosting services. They're both fairly comprehensive, and particularly in GoDaddy's case, a compelling alternative to speaking with support. All in all,
I got the help I was looking for with Nexcess in a fraction of the time it took with GoDaddy
. Nexcess wins again. While GoDaddy has lower prices,
Nexcess offers more useful and extensive WordPress features
, better performance, and more responsive support
. For these reasons, Nexcess easily takes the crown in this comparison. Nexcess is also listed among
our top web hosting services in 2023
, while GoDaddy didn't make the cut. Be sure to take a look at our other top picks if you'd like to continue comparing options.
Plans and Pricing
More expensive, but relatively cheap compared to similar premium WordPress solutions
Significantly cheaper, ideal for those on a budget
Key Features
AI-driven automatic plugin updates, one-click staging with every plan, more resources on average
Lacks advanced WordPress features, cheapest plan doesn't have site staging or development tools, not as many resources on average
Performance
Highly-optimized platform, plugin performance monitor, consistently faster page loading speeds
Low level of optimization, slower and less consistent page loading speeds
Security
Free iThemes Security Pro plugin offers extensive WordPress security, 24/7 server monitoring
Daily malware scans and 24/7 server monitoring, but no specialized WordPress protection
Support
Relatively fast response times for helpful support
Support isn't always available, and waiting times can exceed an hour
FAQ
Is Nexcess a good host?
Nexcess is definitely a good option if you're looking for a managed WordPress solution. Its premium WordPress features are among the best on the market, and it offers consistently good performance. In addition, Nexcess is relatively affordable compared to other high-end WordPress solutions.
Is Nexcess easy to use?
Yes. Nexcess gives you extensive managed WordPress features, making it friendly to beginners. It takes care of technical and time-consuming tasks for you so you can simply focus on your site. Nexcess also offers the StoreBuilder feature, which helps you launch an online store even if you have no prior experience.
Does GoDaddy use SSD?
Yes, all GoDaddy plans offer SSD storage as standard. That said, this wasn't enough to prevent GoDaddy's servers from performing poorly.
Does GoDaddy offer a free domain?
Only with certain plans. GoDaddy provides a free domain name with annual, biennial, and triennial web hosting and managed WordPress plans.