Sometimes all you want, or need, is to just buy a domain name and point it at your server.
There are some great services for just that sort of thing, and NameSilo is one of them
(hope you don't mind a spoiler), but it offers so much more. NameSilo is one of those ambitious services that wants to do a little bit of… not precisely everything, but it comes awfully close.
In addition to those all important domain names, it offers hosting, email, and a number of organizational tools.
Plus, it's targeted at small businesses. And big businesses. And individu… you know what? It's trying to get everybody signed up. Aiming for every kind of customer is a tall order, and not often achieved with great success. Naturally, we had to try the service out for ourselves to see just how good it can be.
Features
NameSilo Offers a Lot for the Price of a Domain Name
Most of the services I review try to upsell you on some extra service or other, but the best ones usually avoid charging you these sorts of surprise fees.
NameSilo impressed me right off the bat by offering the vast majority of its services at no extra charge.
When you register even a single domain name, all domain name-related services and features are unlocked instantly.
Hosting and email cost extra, of course,
but when all you want is a domain name, NameSilo isn't shy about throwing in some bells and whistles. That sort of competitively generous setup is always appreciated, and exactly what I like to see in a service provider. The web hosting service doesn't do much to stand out, but it's a decent option too.
Free Whois Privacy and Domain Defender
For the newbies out there, Whois Privacy (or Whois Protection) is a service that most domain name registrars provide, and they charge extra for it. It prevents people from being able to find your identity by looking up your domain name in a Whois search engine.
NameSilo provides Whois Privacy for free
,
and until this becomes the standard, it deserves praise. You can also enable the Domain Defender feature for free. This is basically a fancy name for two-factor authentication and some security questions, but it's still a useful option. As a stolen password usually results in a stolen domain name, I'm pleased this feature is included.
Domain Organization Tools
Once you've registered your domain name(s),
it's time to dig into some of those organizational tools. The Portfolio Manager allows you to group domain names in any way you like, and perform actions on entire groups of domains at a time.
You can also add sub-accounts to allow other people limited access
to the domain names on your account, and organize
every domain name you have
(even the ones bought elsewhere) with the Domain Name Link Manager.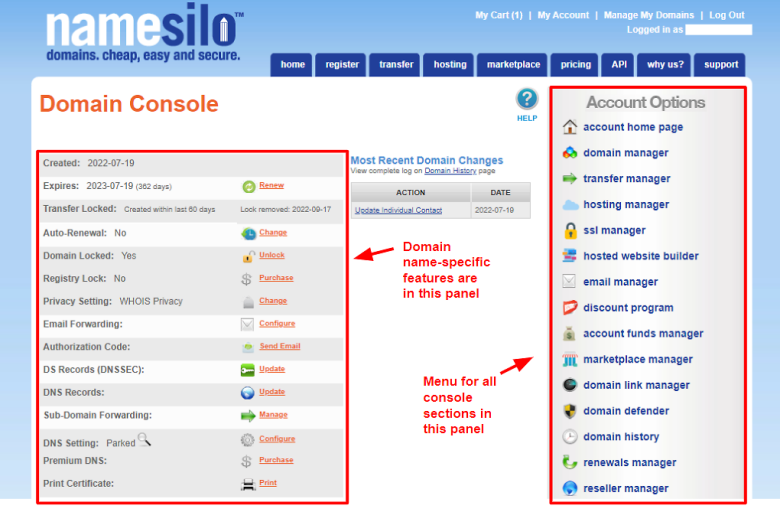 The Contact Manager allows you to add client information (for example) and assign those clients to domain names,
while the Profile Manager allows you to group and organize your contacts.
Resell Domain Names, or Buy Aftermarket Domain Names
Are you done with a domain name, and don't want to lose money on it? Does someone else have the domain name you want? Have you anticipated the next big trend in business (hint: it's probably something "synergistic" – we'll call it The Circlechain) and want to be the one who buys and resells all the big domain names related to that trend? Whatever the situation,
you should check out NameSilo's marketplace
. It's an easy way to resell domain names you've registered,
as well as to buy domain names that other people got to first. Heck, if you find a domain name you like that is registered by someone else but isn't set to renew, you can put it on backorder so you get first crack at it once it's free.
Hosting and Email
The hosting features are a bit basic, but straightforward, being cPanel-based.
Every plan comes with free SSL, access to
a website builder
, the Installatron app installer (which supports tons of CMSs), a specialized WordPress installer, and everything you'd expect in cPanel including the manual backup features.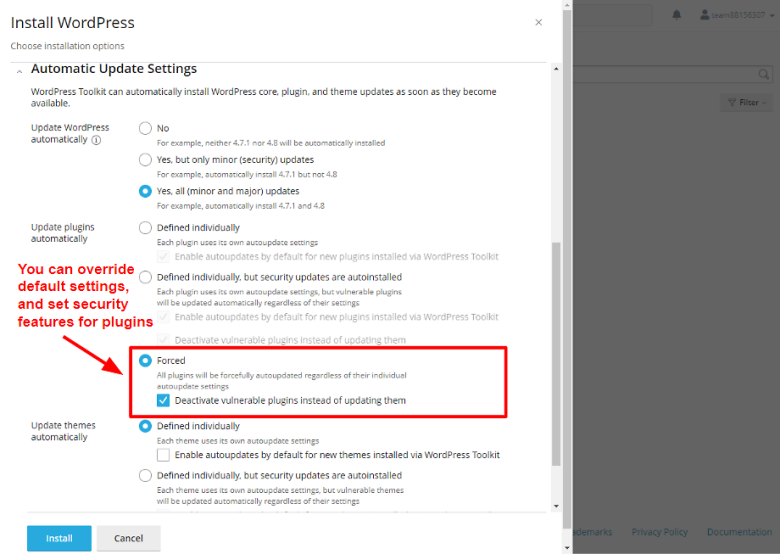 The email options come in two flavors: Google Workspace and Titan Mail.
Titan Mail is the one that comes free with the hosting plans, and it offers anti-spam measures, integrated calendar and contacts, advanced search and filtering, and video calling (!), as well as native desktop and mobile apps to go along with the usual webmail.
| | |
| --- | --- |
| Free domain name? | ✔ |
| Free SSL? | ✔ |
| Money-back guarantee | Varies |
| Uptime guarantee | 99.9% |
| Managed hosting features? | ✘ |
| Data centers | 1 in Arizona |
Ease of Use
Buying a Domain Name Is Simplicity Itself
It's the same process you've come to expect from any registrar: search for a domain name, cross your fingers, add your domain name to the cart if it's available, then add your payment info.
NameSilo will attempt to upsell you on hosting and/or email if you didn't select those already, but there are no hidden fees whatsoever.
Everything extra is opt-in. That's reasonably good behavior and… is it weird that I want to give a company a treat? Well, they're getting a generally good review. That should really be enough.
Quick Domain Name Configuration
Speaking of the sign-up process, there is one bit I wanted to point out specifically: the quick configuration options.
You will have the option to just enter some nameservers, or automatically connect to one of over a dozen services.
Those services include your existing WordPress sites, your site builder accounts, Google Workspace, ecommerce services, and more. There are also bulk domain name configuration options if you buy a lot of domain names at once.
Simple Yet Full-Featured Dashboard
I found the domain name and hosting management features to be simple and well-organized.
Even when I was working with the older bits of the user interface, I never got lost. As for the hosting, cPanel does have the advantage of familiarity.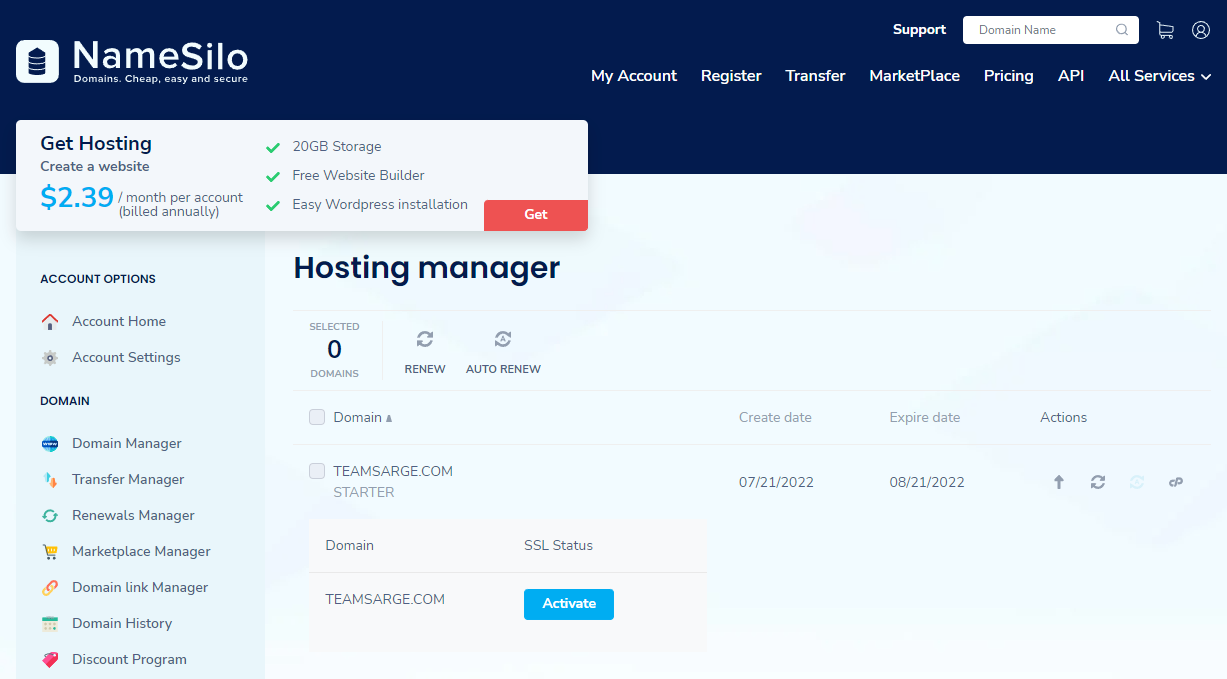 Extensive Knowledge Base
To avoid overwhelming you with the myriad features, NameSilo has provided a fairly detailed knowledge base.
It outlines both the features of the service and a number of the basic concepts you'll need to know
in order to get started. If you're wondering how to perform basic setup tasks for your domain name or web hosting plan, start there.
Performance
Will Perform Well in North America
Well, this took some digging, talking to support, and light testing, but here you go: NameSilo's hosting performance features are not fancy… but they
are
good enough to get you started.
Of note is the use of LiteSpeed server software
, which I can personally attest is crazy fast. Caching and gzip compression are available, and it's all backed up by a 99.9% uptime guarantee. International readers take note: The big caveat here is that
there's only one data center, and it's located in Arizona.
That's fine for serving a site to North America, but that's about it unless you use a CDN (not included). Also, all the hosting is on shared servers. No VPS or dedicated servers here.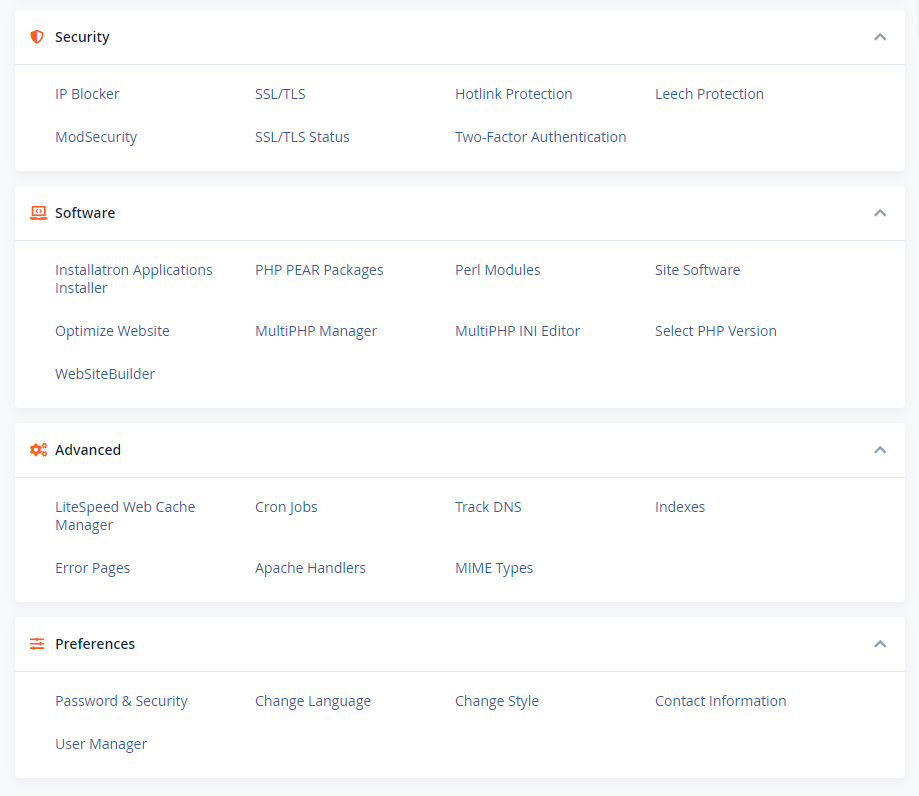 I'd normally score a performance feature list like this a bit lower, given the industry standards in play, but
this hosting service isn't designed to compete with juggernauts like Hostinger.
It's designed to be a cheap and reliable way to put up a small website in North America. At that, it succeeds.
Support
Helpful, Polite, and Reasonably Quick
I didn't have any major problems with the service, so
all of my questions to the support staff were easily handled
. Mostly I ended up asking them about things that weren't all made clear on the website, and a couple of extra "softball" questions to maintain my cover. Cue the James Bond theme of your choice here.
The team usually responded quickly, with concise answers that got the job done.
Said team is available 24/7 via email (through a form on the website) and live chat.
Email
I basically just asked, "What is the refund policy for hosting?" because that was not made specifically clear on the website. The team took about 2.5 hours to respond:

2.5 hours for an email response is
not
fantastic, but I've had much worse.
Live Chat
In an emergency, the live chat option could be your best friend.
The little note in the chat window says the usual response time is under a minute, and I can tell you this is true. In my first interaction, I asked for a complete list of supported TLDs (.com, .org, .net, etc.)… and I found out that the main page where you buy domain names actually lists all the TLDs on offer. To be fair to me, that was not specified on said page. The following day, I inquired about the performance technology utilized in the servers and requested information regarding the location of the data center. While a more detailed response would have been appreciated, the provided answer was certainly a positive beginning.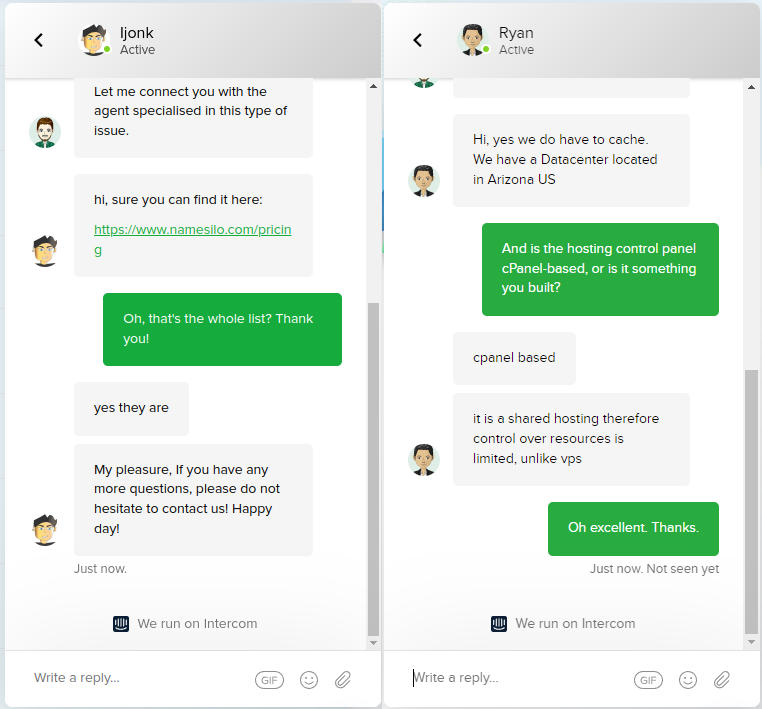 Pricing
Some of the Fairest Prices I've Seen
NameSilo has some pretty decent deals
on domain name registration. Where I've seen some registrars drastically overcharge, especially for renewals, I saw no evidence of that here. Just reasonable prices – though they vary based on whether you get a .com, .org, .link, .monster (that's a real thing), or what-have-you. I was reminded of
Namecheap
and
Porkbun
in that respect, which is a very good thing.
New domain names can be refunded within the first three days
, which is normal enough for domain names. Domain name transfers can be refunded within the first 59 days, which is great. There are, as you might expect, no refunds available for marketplace domain name purchases. Also note: domain name auto-renewal is switched off by default. I'm impressed. The hosting plans offer incredible affordability (with domain names sold separately) and become even more budget-friendly when paid annually. These plans all share the same features, with the only notable distinction being the varying storage capacity and the number of websites each can host. Best of all,
the prices do not go up when you renew.
In terms of pricing, the only real competitor would be Hostinger
, and that's only cheaper for the first year. On the other hand, it offers a lot more in terms of features and, most importantly,
Hostinger promises a 30-day money-back guarantee
.
NameSilo's money-back guarantee for hosting only lasts three days,
which is way below the industry standard. It's the single most disappointing thing I encountered in this entire review, and the main reason NameSilo didn't score higher on pricing. But here's a positive: if that short refund window hasn't deterred you, you can pay in almost any way you want. There are way too many payment methods to actually list, many of which are country-specific. Some of the big ones include:
Major credit and debit cards
PayPal
Apple Pay
Alipay
Bitcoin
SafetyPay
Mint…
… and many more. You can even pay via local stores like CVS in the US or OXXO in Mexico. Personally, I went with PayPal, and encountered no problems.
Bottom Line
NameSilo is a good domain name registrar with great prices.
On top of that, it's designed to help you manage lots of domain names with relative ease. It's a good option for anyone, but great for those who want to buy in bulk, and will only improve over time. The hosting is decent, but only for people running small-to-medium-sized sites for audiences in the USA.
FAQ
Does it matter where you buy your domain name?
Oh boy… yes. There are registrars out there which will positively gouge you over the price of domain name renewals in particular. Also, some registrars run deals more often than others. NameSilo sticks to competitive domain name registration rates and offers discounts now and then, so it's one of the better options.
Will the cost of my domain name go up when I renew?
For some domain names, yes. This is normal, as every registrar occasionally has discounts. NameSilo makes it clear enough on the website which domain names are on sale, and what the price will be at renewal time. There are no hidden surprises.
Should I get my hosting with NameSilo as well?
Maybe. The hosting is crazy cheap, but it's designed for people running small-ish sites that don't get huge volumes of traffic. Besides, there are good reasons to choose a provider that specializes in hosting or site builders, not the least of which is that web hosting specialists usually give you a lot more features. See our list of the top web hosts in 2023 to learn more.
Can you cancel NameSilo and get a refund?
Yes you can. However, you can only get a refund (on both domain names and hosting) in the first 3 days. That's normal for domain names, but well below the industry standard for hosting. Money-back guarantees are only one of the things you should consider when buying hosting for your website, but it's a big one.