Do you really get your money's worth with Namecheap? I was bummed to find that the free domain policy doesn't apply to premium domain names and, unlike SiteGround, not all plans are cloud-based. But to make a fair decision about which web hosting service is better, I tested both Namecheap and SiteGround across several categories.
Personally, I'm all for quality over quantity, so SiteGround wins this comparison, hands down.
Click here to see SiteGround's latest deals
, or read on to see why Namecheap didn't quite measure up.
Plans and Pricing
Namecheap Is More Budget-Friendly, but SiteGround Is Better for WordPress
Both Namecheap and SiteGround offer three shared hosting packages. Namecheap's basic plan (Stellar) comes with 20 GB SSD disk space, unlimited bandwidth, and the option to host three websites. SiteGround's basic plan (StartUp) gives you 10 GB SSD web space, unlimited bandwidth, and one website.
Even though Namecheap charges extra if you choose a shared hosting package on a UK datacenter over the US, it's still cheaper than SiteGround.
Namecheap also provides more storage space than SiteGround with its WordPress hosting plans. However,
SiteGround is known for its WordPress hosting and all its plans are optimized for WordPress and include automatic WordPress installation and updates.
Namecheap's managed WordPress hosting plans will install WordPress for you, but you're on your own for updates.
Both hosts offer 30-day money-back guarantees.
However, SiteGround charges setup fees for its monthly subscriptions as well as renewal fees for all other subscription periods – Namecheap doesn't. Namecheap unsurprisingly wins the pricing round. Even though SiteGround offers more options, it simply can't beat Namecheap's competitive prices.
Features
SiteGround Has More Value-Added Features Than Namecheap
SiteGround has ditched cPanel, improved its Client Area, and developed a user-friendly and highly intuitive control panel called Site Tools that makes it even easier to manage your website. SiteGround plans include a free CDN (content delivery network) on all shared hosting and WordPress plans.
You'll have to upgrade to one of the two highest-level WordPress plans with Namecheap to get a free CDN.
See the main differences in features between Namecheap and SiteGround in this side-by-side comparison table:
| | | |
| --- | --- | --- |
| | Namecheap | SiteGround |
| Hosting Types | Shared, WordPress hosting, VPS (virtual private server), reseller, dedicated servers | Shared, WordPress hosting, WooCommerce, cloud, reseller, enterprise |
| Free Domain | Yes, for one year, but only .website domain names (.com, .net, etc., are paid) | No |
| Free SSL Certificate | Yes | Yes |
| Disk Space | 20 GB to unlimited | 10 GB to 120 GB |
| Bandwidth | 1000 GB to unmetered | Unmetered |
| Automatic Backups | Twice a week (for all shared hosting plans) | Daily |
| Control Panel | cPanel | Site Tools |
| Email Accounts | 30 to unlimited | Unlimited |
| Free Site Migration | Yes | Yes, but not on the cheapest shared or WordPress plans |
| Money-Back Guarantee | 30 days | 30 days |
SiteGround is the winner here for offering more useful features to run a highly functional website.
Performance
Namecheap Delivers Decent Performance, but SiteGround Is More Reliable
When it comes to performance, there are two main points to look for in a good host – network uptime and website loading speed.
Both Namecheap and SiteGround offer SSD drives, which perform much faster than the standard HDD storage.
While all of SiteGround's plans are based on Google Cloud, only some of Namecheap's plans are cloud-based. This should enhance your website's overall performance since Google is known for maintaining one of the fastest and most powerful networks.
SiteGround has servers in the UK, the US, the Netherlands, and Singapore, while Namecheap has servers in the UK and the US
. As for network uptime guarantee, Namecheap promises 99.9%, while SiteGround promises a higher uptime of 99.99%.
Namecheap doesn't list its performance-enhancing features like SiteGround does, but it has improved its technology to ensure that its network delivers high performance and low latency. Thanks to that boost, Namecheap got an almost perfect score in our performance tests. Read our
expert Namecheap review
 for more details. SiteGround got a decent score in our performance tests, but didn't do as well in terms of loading speeds. See what went wrong in our
in-depth SiteGround review
.
Security
SiteGround Is Ahead of the Curve on Security
This is where the competition gets tough. Both SiteGround and Namecheap take your website's security very seriously. They both offer free SSL certificates and secure emails with anti-spam and antivirus. Unfortunately,
Namecheap's free Positive SSL certificate is only free for the first year, then it's 50% off the second year, and full price after that
. Namecheap tries to keep up by supporting DDoS (distributed denial of service) protection and two-factor authentication. However, SiteGround races ahead by adding a web application firewall (WAF) and its own artificial intelligence anti-bot system (equivalent to DDoS protection) to protect you from external threats.
SiteGround solidifies its security win by giving its customers access to its Sucuri-developed application, SG Scanner, to be able to detect malware or any other cyber threats.
With Hive technology, all of SiteGround's shared hosting servers are also isolated from each other.
Support
It's Faster to Get Help with SiteGround
Both Namecheap and SiteGround maintain informative and resourceful websites. On both sites, you will find a user-friendly experience while navigating through a comprehensive knowledge base and a helpful FAQ section.
SiteGround offers detailed video tutorials on both the website and YouTube.
It's also faster to get help from SiteGround's 24/7 live chat support or you can contact support by phone and ticket, but you need to log into the user area first to submit a ticket.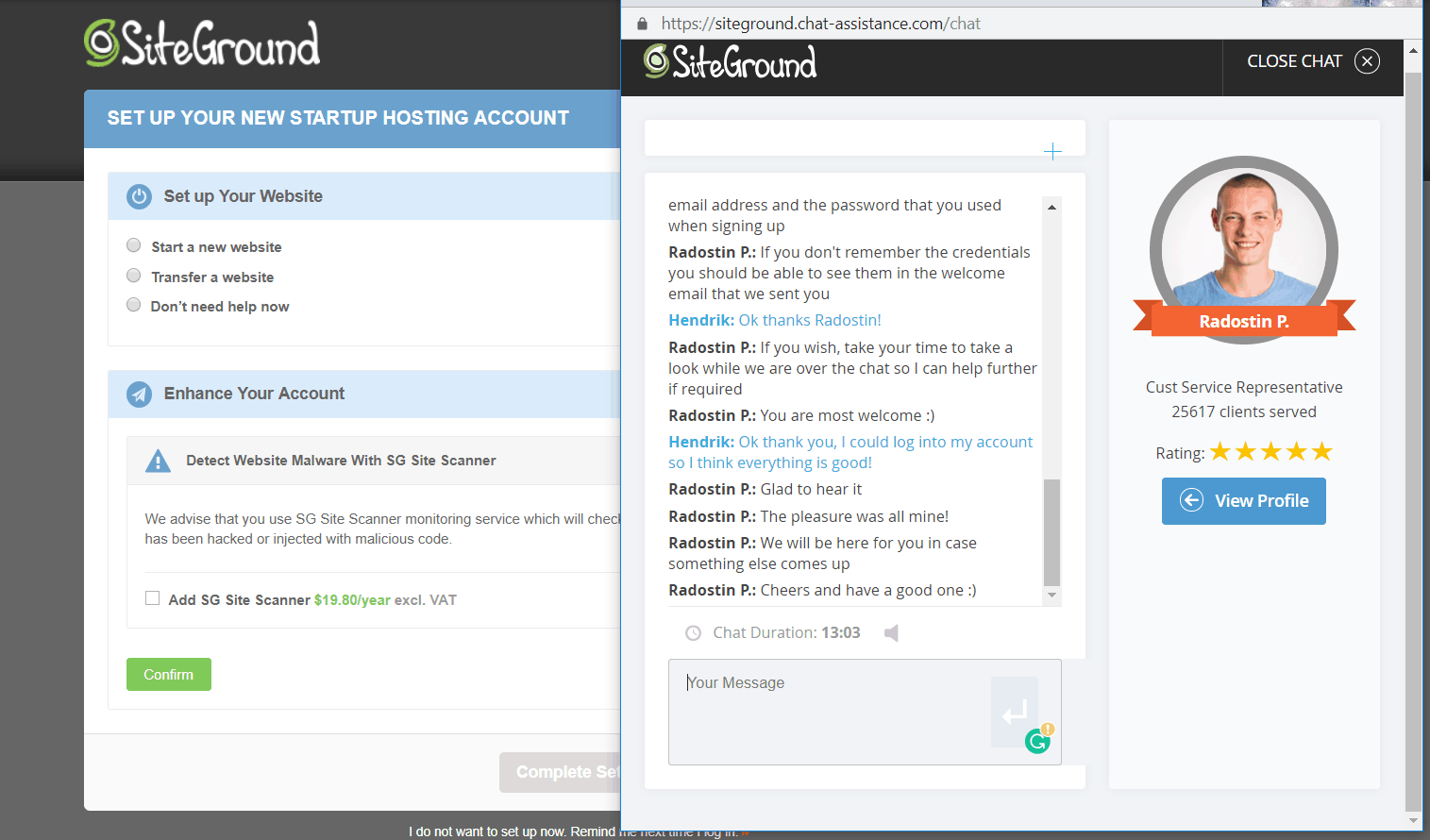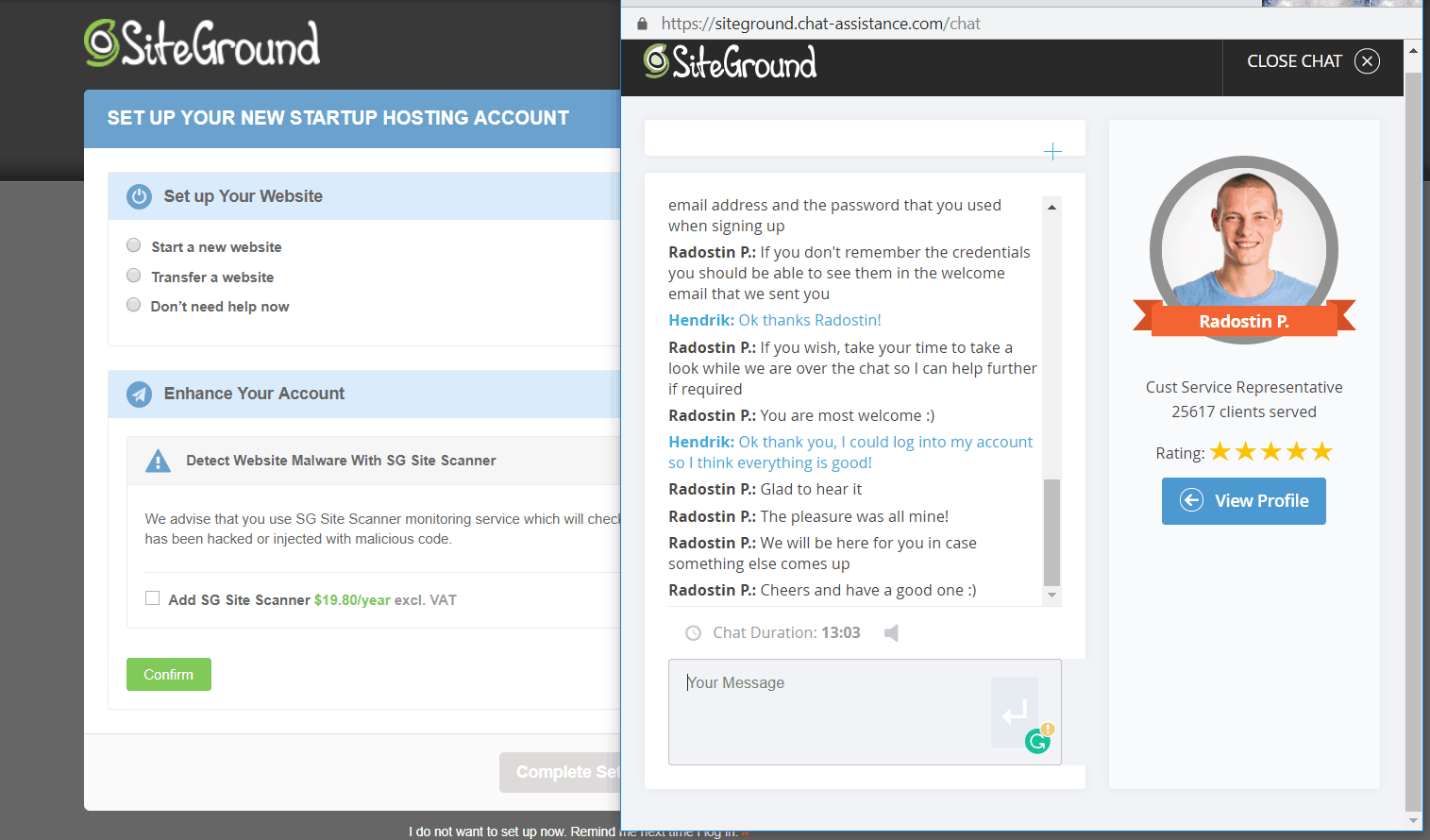 In comparison,
Namecheap offers 24/7 live chat and a ticket system, as well as video tutorials, but those are only available on YouTube
. SiteGround takes this round thanks to its more efficient support channels.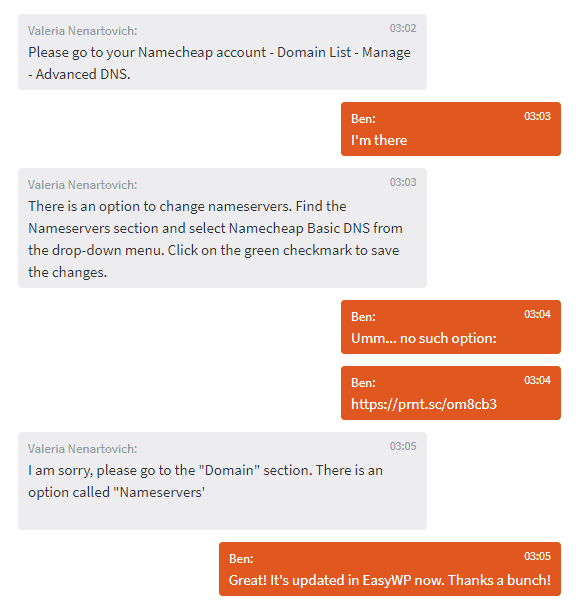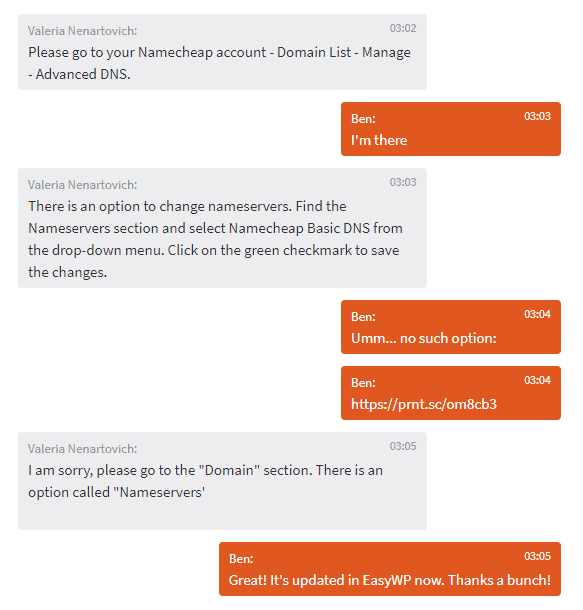 SiteGround Is the Winner
Namecheap or SiteGround? Let's be honest, cheap prices are always appealing, but if you're serious about top-quality web hosting, then the cheapest option may not be the best idea.
SiteGround wins this contest overall thanks to its abundant features, reliability, excellent support, and robust security
, which is also why it made it into our
list of the best web hosting services.
However, if SiteGround's prices are too high for your budget,
Namecheap
is still a good option. Alternatively, you could take a look at our #1 rated web host,
Hostinger
, which performed fantastically in our tests and is the cheapest host around!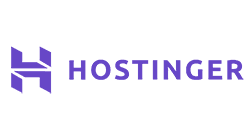 Save up to 75 % on your Hostinger plan!
Limited-time offer - Don't miss it!
7002 users used this coupon!
Plans and Pricing
Budget-friendly prices even after renewal
More expensive than Namecheap, but offers more features
Key Features
Free domain, free website migration, more storage
SuperCacher, free CDN with all plans, daily backups
Performance
Faster website loading speeds from anywhere in the world
99.99% uptime guarantee
Security
DDoS protection, SSL certificates, two-factor authentication
SSL certificates, automatic daily backups, Hive technology, malware detection
Support
24/7 live chat and support ticket, but slow responsiveness; comprehensive knowledge base
24/7 live chat, phone, and ticket support with high responsiveness; comprehensive knowledge base with video tutorials
FAQ
Is Namecheap cheaper than SiteGround?
Yes. Namecheap offers significantly cheaper hosting plans than SiteGround. SiteGround charges high renewal rates for all plans and has setup fees for monthly shared hosting subscriptions.
Why is SiteGround so expensive?
SiteGround has more data centers than Namecheap, and it isn't cheap to maintain them. Plus SiteGround constantly monitors its servers. It also offers a free CDN, free daily backups, and additional advanced features for free. With all SiteGround's hosting plans, you get excellent value for your money – which is why it made it into our list of the best web hosting wervices.
Does SiteGround use SSD?
Yes. All files and databases are stored on SSD disk drives rather than traditional HDD drives. SSD drives are preferable for increasing your website's performance and speed. If SiteGround isn't quite right for you, don't miss our list of the best and cheapest SSD hosting services.
Does Namecheap offer VPS hosting?
Yes. Namecheap sells two reasonably priced VPS hosting packages – Pulsar and Quasar – with 40 GB SSD to 120 GB SSD storage, 1000 GB to 3000 GB bandwidth, 2 GB to 6 GB RAM, and 2 to 4 CPU cores. However, I recommend these services that sell more reliable VPS solutions