Having previously specialized in domain name registration, Namecheap presents itself as an affordable all-purpose web hosting company. But can it still compete with all the other budget hosting providers out there? Still offering standard shared and WordPress hosting for beginners, it now offers reseller plans, VPS hosting, dedicated servers, and email-only services.
You might wonder if Namecheap might be trying to offer too many services.
I've tested and compared every single one of Namecheap's plans.
Overall, the plans are competitively priced – but some are light on features.
The shared and WordPress plans are clearly aimed at beginners in the world of web development, so this is a niche that Namecheap continues to fill – for the most part. Read on for more details.
Short on time? These are Namecheap's best plans for 2023:
Stellar Plus – Budget shared hosting with free backups and unmetered SSD
EasyWP Turbo – Great performance for WordPress thanks to extensive optimization
Pulsar – Affordable, self-managed VPS with generous resources
Features & Pricing Overview
Cheap Hosting, but Be Prepared to Pay Extra for the Essentials
Shared, WordPress, reseller, VPS, and dedicated server hosting are all available through Namecheap.
There are three tiers of pricing in each category,
giving you plenty of options if you want to start small and expand later on. Available on a monthly, yearly, or biennial subscription basis, I was given a choice of all major credit cards, PayPal, and (a bit surprisingly) cryptocurrencies as a method of payment. It's not often you find a hosting provider that accepts the likes of Bitcoin or Ethereum, so that's a big thumbs-up from me. For the most part, Namecheap is a good fit for those on a budget. However, many of the free features come with caveats – for example,
SSL certificates are only free for a year, after which they renew for ongoing fees
. As hosting plans also renew at higher prices, overall costs can rise significantly in your second payment term.
Shared Hosting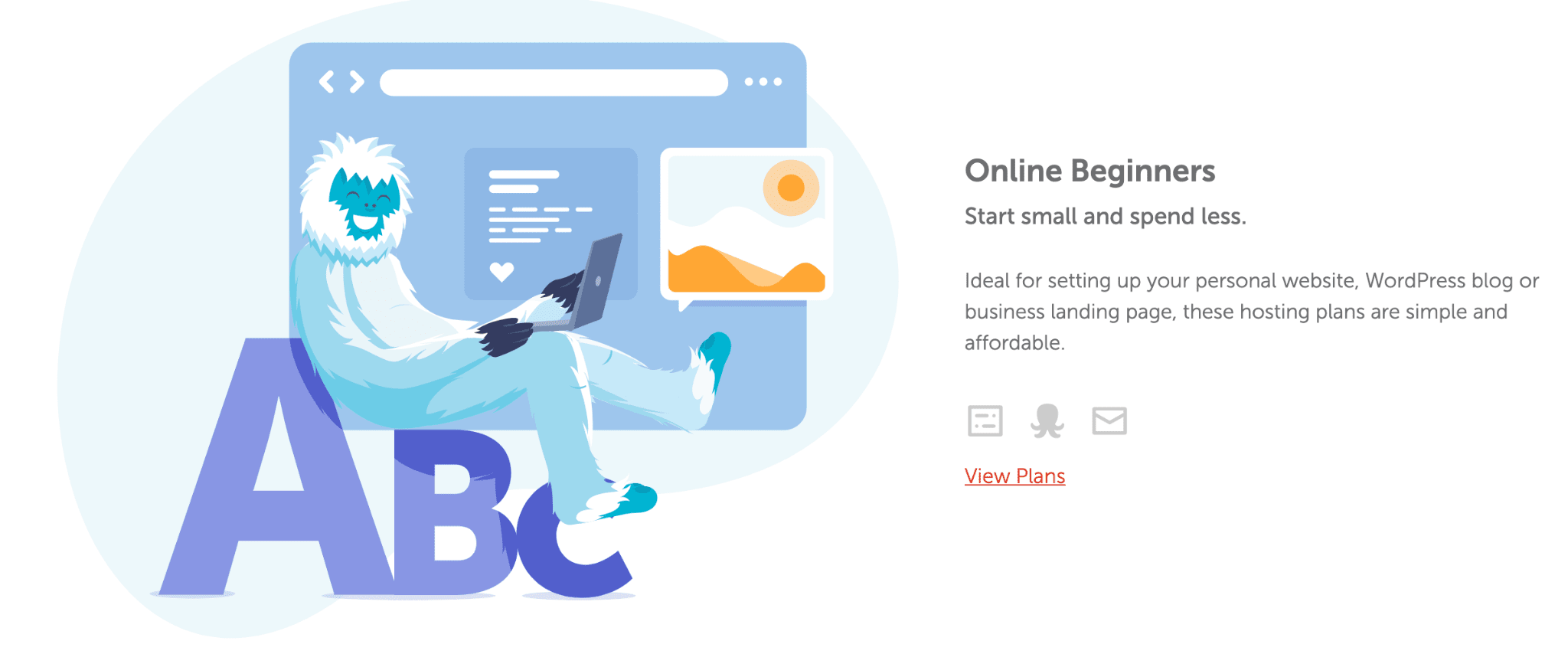 If you are taking your first steps into the world of web hosting, or just want to set up a simple blog or portfolio, Namecheap's shared hosting plans are an excellent choice (as are its WordPress hosting plans, which we'll get to in a minute). All plans come with:
Namecheap's proprietary website builder
A subscription to the free tier of the Supersonic CDN, also proprietary to Namecheap
Up to 50 free SSL certificates, but for one year only
cPanel, with Softaculous to install WordPress and over 200 other apps
A 30-day money-back guarantee
24/7 live chat support
Unmetered bandwidth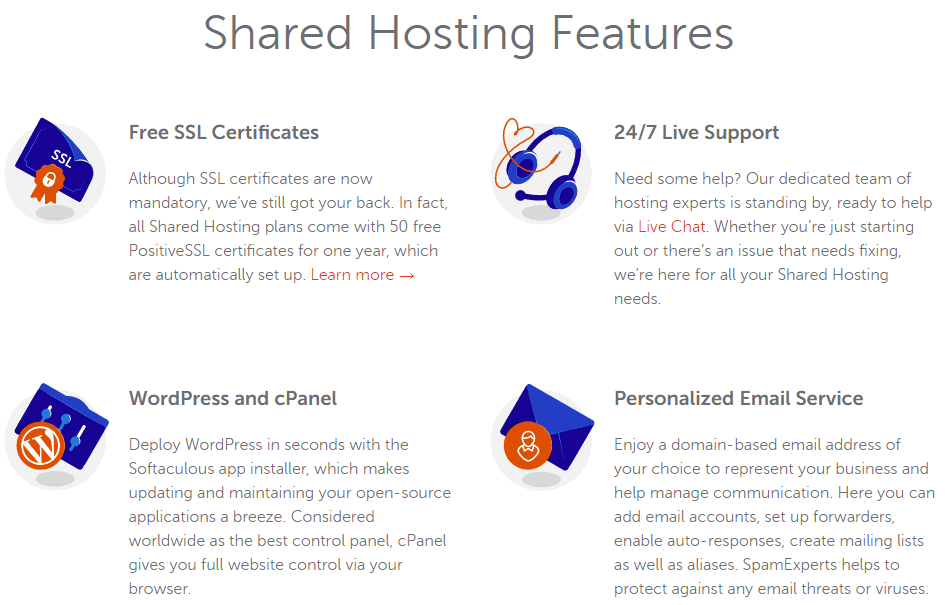 It's not a mind-blowing list of features, but it does the job. That said, I was disappointed with the SSL offering.
As the free SSL offer only lasts a year, you'll end up having to pay an ongoing fee for each and every certificate you use,
which can quickly add up if you have multiple sites. Many other hosts offer forever-free SSL certificates. Still,
Namecheap does offer some form of automatic backup solution with every plan.
It's heavily limited in the basic plan – Namecheap aims to take two backups per week, but this isn't guaranteed. And to restore them, you need to contact support. But many competing hosts offer no automatic backups at all.
Stellar
Did I mention that most of Namecheap's plans have space-themed names? The Stellar plan is the entry-level shared hosting plan.
It includes 20GB of SSD storage, and it allows for up to 3 websites.
Not bad, compared to many other starter plans which restrict you to a single site. You can bring the price down by committing to a longer term, with the biennial plan offering the best savings.
You also get a free domain name, but this does not include the most popular .com extension.
This is fine if you can work with the likes of .online, .store, .website, or .digital, but you wouldn't want your customers to type in the .com by accident and end up at another site. You'll have to judge whether your target audience is tech-savvy enough, but in any event, domain name registration is not an onerous expense. Aside from that, there's not much else to speak of.
The Stellar plan
 is very much for absolute beginners
– it's a cheap starting point that's primarily for getting your first few websites online. Once you start getting heavier traffic, you can upgrade accordingly.
Stellar Plus
At just over a dollar more,
Stellar Plus
 allows for unlimited websites, unmetered SSD storage, and the AutoBackup solution.
The unmetered SSD is subject to some conditions. You're limited to 300,000 inodes which, without getting too technical, means
there's still a hard limit to the number of files you can store.
The Acceptable Use Policy may also limit the total size of your multimedia files and databases. In any case, you'll still have plenty of space for most sites. The AutoBackup solution is a useful addition.
Your site will enjoy guaranteed automatic backups taken on a daily, weekly, and monthly basis.
You can easily download and restore these backups through cPanel. If you want the peace of mind a good backup solution provides, this plan is certainly worth the small increase in price.
Stellar Business
Stellar Business is Namecheap's highest-tier shared hosting plan, yet the price is still relatively affordable. Unlike the previous plan, storage space is limited to 50GB,
but the storage is cloud-based, which offers improved performance and reliability.
This plan also includes optimizations to PHP, such as xCache and eAccelerator, which should offer a boost to your page loading speeds.
This is also the only shared hosting plan that is PCI compliant.
If you're looking to sell products directly through your site without sending clients through to PayPal, this is a legal requirement.
Is Shared Hosting Right for You?
While Namecheap's shared hosting plans certainly aren't loaded with features, they offer a few impressive perks. The Stellar Plus plan is affordable for those on a tight budget and features plenty of space to grow with a helpful backup solution. You could move to Stellar Business as your traffic grows. However, even the best shared hosting can be prone to inconsistent performance. If you're in need of dedicated resources, a VPS is likely your better option.
Stellar
Stellar Plus
Stellar Business
Initial term starting price
$1.44
$2.44
$4.44
Price on renewal

$2.88

$4.88

$8.88

Number of websites
3

Unlimited

Unlimited

Storage

20GB SSD

Unmetered SSD

50GB SSD

Bandwidth

Unmetered

Unmetered

Unmetered

Free domain

✔

 (not including .com)

✔

 (not including .com)

✔

 (not including .com)
Free SSL

✔

(for one year)

✔

(for one year)

✔

(for one year)

Backups

✘

✔

✔

Server type

LiteSpeed (some plans may still be hosted on regular Apache servers)

LiteSpeed (some plans may still be hosted on regular Apache servers)

LiteSpeed (some plans may still be hosted on regular Apache servers)

Security tools

DDoS protection, ClamAV virus scanner

DDoS protection, ClamAV virus scanner, IP Deny manager

DDoS protection, ClamAV virus scanner, IP Deny manager

Number of data centers
3
3
3
Data center locations

Phoenix, US;

Nottingham, UK; 

Amsterdam, NL

Phoenix, US;

Nottingham, UK; 

Amsterdam, NL

Phoenix, US;

Nottingham, UK; 

Amsterdam, NL

Support availability

24/7 live chat and tickets

24/7 live chat and tickets

24/7 live chat and tickets
WordPress Hosting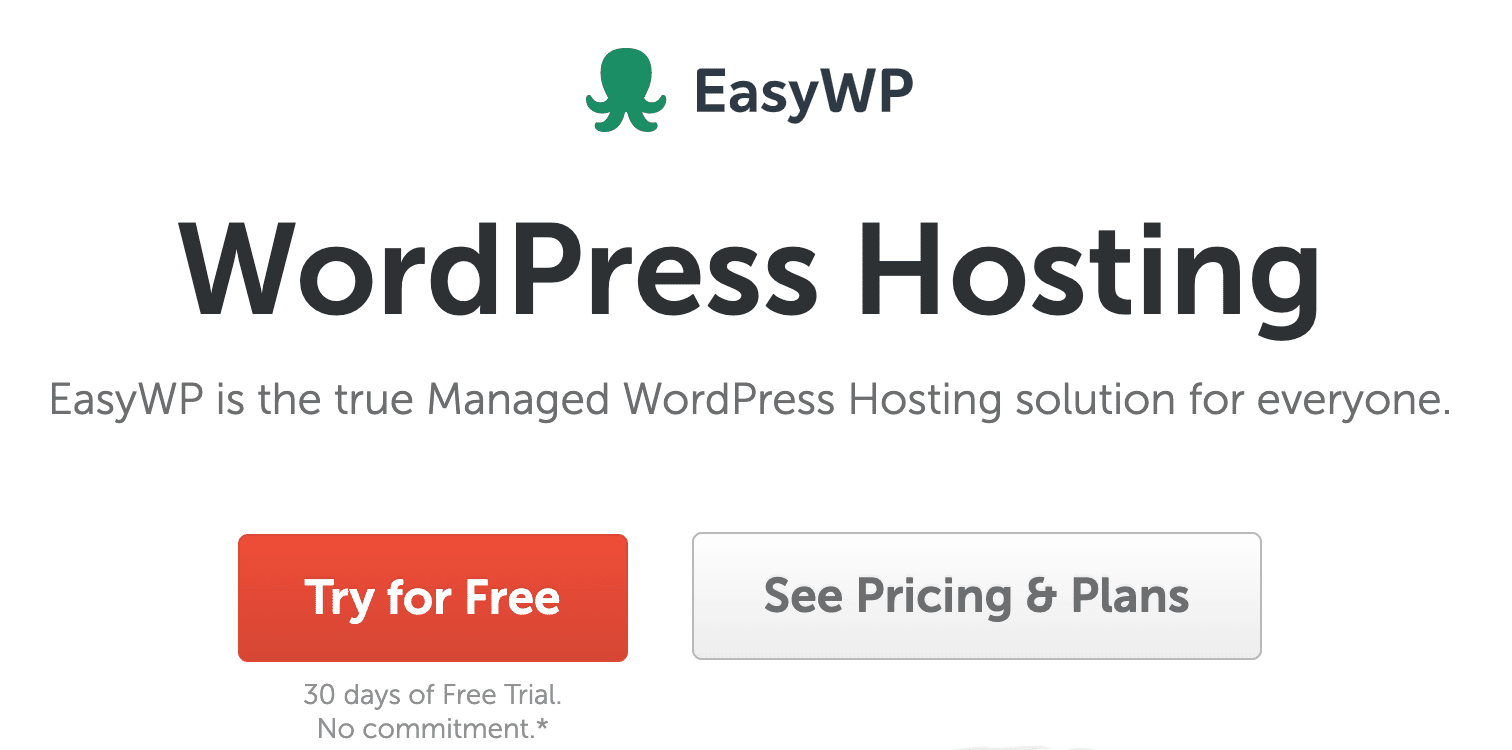 Under the EasyWP name, Namecheap's managed WordPress plans are designed to be affordable and easy to use. Why pay more for these plans rather than simply installing WordPress on shared hosting, you ask? Well,
the EasyWP plans are billed as "managed WordPress hosting." But there is no indication that any aspect of the service is actually managed for you
– in fact, there is a custom dashboard (not cPanel) that you are expected to use to manage every aspect of the hosting yourself. If you ignore the "managed" portion of the sales pitch, you can probably justify the extra cost as
EasyWP plans are hosted on cloud servers, giving you scalable performance,
which Namecheap claims is three times faster than traditional hosting. You also get three layers of caching built in, making third-party caching plugins unnecessary.
Your hosting account resides in a fully "containerized" environment
as well, protecting you from some of the pitfalls of regular shared hosting. But in spite of the fact that Namecheap encourages you to host and manage "all your WordPress sites in one place,"
each EasyWP plan only allows for a single website,
whereas all of the shared plans allow for multiple sites. These WordPress plans are available on a monthly or yearly basis. Like the shared plans, you get a month for free if you sign up for a monthly plan, but you get 50% knocked off the overall price if you sign up for an annual plan. This actually makes the first year of the EasyWP Starter plan less expensive than the first year of the Stellar shared plan.
EasyWP Starter
Namecheap's basic WordPress package offers 10GB of SSD storage and enough bandwidth for 50,000 visitors a month,
making this package ideal for a starter WordPress site. You don't get CDN access by default, but as this is an entry-level plan, you probably won't get enough traffic in the beginning to need it.
The main downside is that there is no free SSL certificate included.
This shouldn't be a dealbreaker as you can still install Let's Encrypt or other third-party SSL certificates manually, but it feels like an unnecessary forced downgrade when WordPress all but requires SSL these days. Issues with SSL aside,
this plan offers fantastic performance for the price.
Our performance tests
showed some of the highest speeds we've seen from a budget hosting plan, comparable even with our top-rated host
Hostinger
. Uptime also proved to be reliable. Still, this entry-level WordPress plan is slightly more expensive than many other budget WordPress hosts (including Hostinger).
EasyWP Turbo
EasyWP Turbo offers you a significant boost to bandwidth and SSD storage, along with an SSL certificate and a CDN service.
However, as is often the case with Namecheap's freebies, there is some small print.
The SSL and CDN services are primarily for domains registered with Namecheap.
You can alternatively use Namecheap's FreeDNS service to get these benefits if you're using a third-party domain, but this may not be possible depending on your registrar. In other words, if your domain name isn't already registered with Namecheap, and isn't locked in with another registrar for multiple years, you should probably just transfer it over.
This plan comes with 1.5x more allocated RAM and processing power than EasyWP Starter
. While it is also twice as expensive than the entry-level WordPress plan, it does offer very good value if you're looking to host one busy website.
EasyWP Supersonic
There's not much on offer with the Supersonic plan that you don't get with the Turbo plan.
It's basically just a resources upgrade, including:
100GB SSD
500,000 visitors per month
Double the CPU and RAM of the EasyWP Starter plan
A 99.99% uptime guarantee (higher than the default 99.9%)
The jump in resources corresponds to the slightly higher price, and should be a good option once your visitor numbers begin to outgrow EasyWP Turbo. The higher uptime guarantee made me suspicious, so I looked at the fine print in the EasyWP Terms of Service. As it turns out,
you only get reimbursement for downtime with the Supersonic plan
– this guarantee "does not apply" to the Starter and Turbo plans.
My tests
recorded 99.92% uptime, albeit only over a two-week period.
Is WordPress Hosting Right for You?
While there were no managed WordPress services to speak of, Namecheap offers truly impressive performance. If you have a Namecheap domain, or one that works with FreeDNS, or are willing to transfer it to Namecheap (if you haven't paid another company multiple years in advance), the EasyWP Turbo is a sensible choice. Remember, all of these plans are limited to a single site – if you're looking to run multiple busy sites that require dedicated performance, a VPS might be a better option.
EasyWP Starter
EasyWP Turbo
EasyWP Supersonic
Initial term starting price
$1.90
$3.74
$4.15
Price on renewal

$2.49

$5.74

$8.24

Number of websites
1
1
1
Storage

10GB SSD

50GB SSD

100GB SSD

Bandwidth

50,000 monthly visits

200,000 monthly visits

500,000 monthly visits

Free domain?

✘

✘

✘

Free SSL?

✘

✔

✔

Automatic or manual backups

Manual

Manual

Manual

Performance optimizations

Cloud infrastructure, caching built in

Cloud infrastructure, caching built in, CDN

Cloud infrastructure, caching built in, CDN

Security tools

DDoS protection, two-factor authentication, custom security alerts

DDoS protection, two-factor authentication, custom security alerts

DDoS protection, two-factor authentication, custom security alerts

Number of data centers
3
3
3
Data center locations

Phoenix, US;

Nottingham, UK; 

Amsterdam, NL

Phoenix, US;

Nottingham, UK; 

Amsterdam, NL

Phoenix, US;

Nottingham, UK; 

Amsterdam, NL

Support availability

24/7 live chat and tickets

24/7 live chat and tickets

24/7 live chat and tickets
Reseller Hosting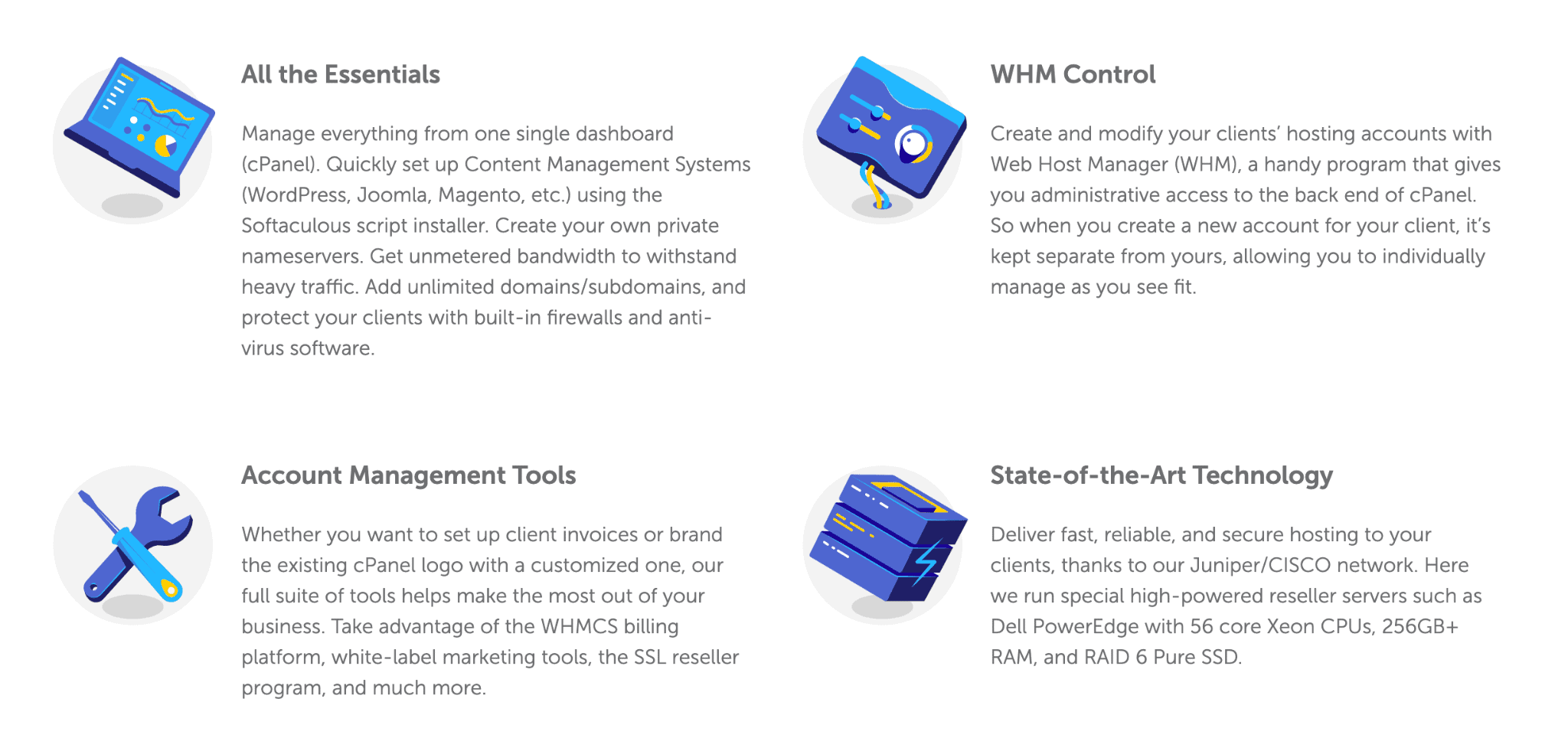 Thinking of starting your own web hosting service? Namecheap's Reseller plans offer unmetered bandwidth and from 25 to 150 cPanel licenses with unlimited domains. With the included WHM (Web Hosting Manager),
you can replace cPanel's branding with your own logo and business name.
This means your clients will see your branding when they log into cPanel. The Reseller plans are available on a monthly, quarterly, and annual basis. Longer payment terms get you only very slight savings – the best possible discount is just 10% for an annual Nebula plan. That said, these savings continue upon renewal, unlike with Namecheap's other hosting services. All plans also feature a 30-day money-back guarantee.
Nebula
Starting with 25 cPanel licenses, 30GB of SSD storage, and a maximum of 30 email accounts,
Nebula is ideal for you if you're taking your first steps in the world of reseller hosting.
For example, you might be a web developer who wants to offer hosting to a handful of your existing clients.
You can offer your clients a firewall and antivirus software
– I found this to be a pleasant surprise, as the shared and WordPress plans don't appear to offer much in the way of notable security features. Namecheap's reseller plan pricing competes well with other top providers, coming in cheaper than the entry-level reseller packages from
GreenGeeks
,
A2 Hosting
, and
InterServer
. That being said, all of the aforementioned competitors explicitly give you SSL certificates for free, whereas Namecheap only offers access to an SSL reseller program. Namecheap does have an advantage, though, and it's not a small one:
it provides unlimited bandwidth, even on this entry-level plan.
The competing providers above limit traffic on all their plans.
Galaxy Expert
Upgrading to Galaxy Expert quadruples the number of cPanel accounts you get,
making this a plan that could legitimately allow you to make a profit from web hosting. It also includes three times the amount of SSD storage (90GB). Of course, that comes with an additional cost – the Galaxy Expert package is almost double the price of Nebula – but I think that's a fair trade-off considering the increase in resources. While this is apparently Namecheap's most popular reseller plan,
you don't save much when you sign up for a year.
If you're providing ongoing web hosting services to an expanding client base, you could probably afford to go with a monthly plan. This gives you the option to upgrade to the highest tier should the size of your operations increase.
You'll probably want to factor in an extra monthly fee at some point for a WHMCS license, as it isn't included with this plan.
While this is a bit puzzling, you may find that you don't need billing software until you hit a certain number of clients.
Universe Pro
Unlike the other two packages,
Universe Pro has a WHMCS Starter subscription thrown in for free.
And as with the other plans, the WHMCS Plus, Professional, and Business Licenses are also available for an extra fee, the primary difference between them being the number of customers each can handle. As you might expect, more resources are allocated to you: 150 cPanel accounts and 150GB of SSD storage, to be exact. At over $50 a month, even with the paltry 5% discount on an annual plan, this is only a good idea for a small hosting company wanting to expand its clientele before moving up to VPS or dedicated servers.
Is Reseller Hosting Right for You?
Do you want to set up a simple web hosting service without the technical hassle involved with a VPS? If so, then reseller hosting is right for you. If you're just looking to host a bunch of busy sites for yourself or on behalf of your company, you should consider VPS or dedicated hosting. The scale of your web hosting service is the only metric that matters here, and as such, there really should be a second tier after the entry-level plan with 50 cPanel accounts. If you only expect to provide a service to 40 people, the Nebula plan won't be adequate, but Galaxy Expert is going to make you feel like you're paying too much. In that case, you might want to explore some alternatives.
Nebula
Galaxy Expert
Universe Pro
Initial term starting price
$17.88
$33.88
$51.88
Price on renewal

$19.88

$36.88

$53.88

Number of websites

25 cPanel accounts

100 cPanel accounts

150 cPanel accounts

Storage

30GB SSD

90GB SSD

150GB SSD

Bandwidth

Unmetered

Unmetered

Unmetered

Email accounts
30

Unlimited

Unlimited

Server type

Apache

Apache

Apache

Security tools

DDoS protection, ClamAV virus scanner, IP Deny manager

DDoS protection, ClamAV virus scanner, IP Deny manager

DDoS protection, ClamAV virus scanner, IP Deny manager

Number of datacenters
3
3
3
Datacenter locations

Phoenix, US;

Nottingham, UK; 

Amsterdam, NL

Phoenix, US;

Nottingham, UK; 

Amsterdam, NL

Phoenix, US;

Nottingham, UK; 

Amsterdam, NL

Support availability

24/7 live chat and tickets

24/7 live chat and tickets

24/7 live chat and tickets
VPS Hosting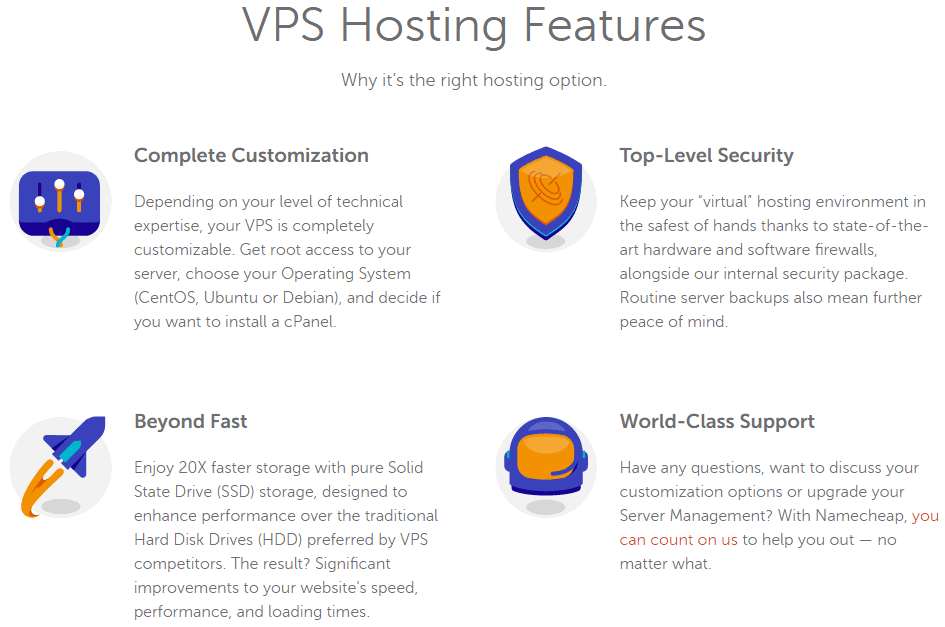 Namecheap's VPS is pretty affordable – it's definitely among the cheaper VPS hosts out there. And
despite the relatively low prices, these plans contain a decent amount of resources
that further add to the value. Various optional extras can bump up the price. These include cPanel or InterWorx accounts, additional RAM, and extra disk space. The prices of these add-ons are far from outrageous, but you'll want to factor them in before committing to one of these two plans. While a basic level of customization is possible, overall scalability is limited. The top-end server includes 4 vCPU cores and 9GB RAM, which is fine, but larger companies searching for something bigger and more powerful may need to look elsewhere.
Pulsar
The Pulsar plan comes with 2 CPU cores, 2GB RAM, 40GB SSD on a RAID 10 array, a single dedicated IP, and 1TB of bandwidth for your site.
That's enough to comfortably run your own server, and is more than you'll usually get with an entry-level VPS. During the checkout process, you can choose to have CentOS, Debian, or Ubuntu preinstalled.
All VPS plans offer root access by default
, so you can manually install any OS you want to. Every VPS plan provides access to SolusVM, a management interface that allows you to subdivide your VPS into containers if you want to host sites for multiple clients or just want to divide up dedicated resources. It's a handy piece of kit that's much more convenient than working with the command line if you're not a seasoned developer.
Quasar
With double the CPU cores and triple the RAM, storage, and bandwidth, the Quasar plan gives you a big bump in your VPS's capabilities. You also get an additional dedicated IP. Compared to other top-level VPS plans from other providers, this won't amaze anybody, but again, the starting price is very reasonable. As of this writing,
Managed services are currently only available with the Quasar plan.
You can choose between Basic and Complete management tiers. Basic management offers a somewhat hands-off approach. For a monthly fee, you'll get automatic updates for your OS and control panel, along with beefed-up security enhancements.
You also get free server restorations in the event of failure, which you don't get otherwise.
With Complete management,
you give away root access and the Solus VM manager to the support department in return for a higher level of service,
as well as the security benefits of having anything that requires this level of access taken care of by in-house experts. You also get additional malware protection and 100GB of weekly offsite backup storage.
Is VPS Hosting Right for You?
For most people capable of making the most of a VPS, Namecheap's top-level plan might seem a little lackluster. There aren't many resources rolled into the package compared to other providers and the upper limit of four CPUs might not accommodate large-scale applications. Saying that, if you only have a small project and want to test it out without spending too much money, the Pulsar is not a bad budget VPS option.
Pulsar
Quasar
Initial term starting price
$6.88
$12.88
Price on renewal

$11.88

$19.88

CPUs
2
4
Storage

40GB SSD – RAID 10

120GB SSD – RAID 10

Bandwidth
1TB
3TB
Security enhancements

DDoS protection

DDoS protection, basic management includes ModSecurity WAF and server monitoring, complete management also includes a CXS anti-malware license

Free website/VPS transfer?

✔

 (from cPanel only)

✔

 (from cPanel only)
Number of datacenters
3
3
Datacenter locations

Phoenix, US;

Nottingham, UK; 

Amsterdam, NL

Phoenix, US;

Nottingham, UK; 

Amsterdam, NL

Support availability

24/7 live chat and tickets

24/7 live chat and tickets
Dedicated Server Hosting

Namecheap's dedicated servers are categorized rather than offered as tiered plans.
Do you want to run a single website, a small application, or a self-managed, compact hosting reseller operation? Choose the Entry-Level server. Large databases, software-as-a-service, or virtualization? Go for the Advanced Level. And the Medium Level will handle anything in between.
There is also a category for older servers at budget prices,
which will undoubtedly appeal to experienced users looking to save money. Or,
you can simply view the entire list of dedicated servers available and refine it
by price range, CPU cores, RAM amount, and storage amount and type (HDD, SSD, NVMe). These servers are non-customizable and none appear to be permanent offerings. For that reason, any server listed may run out of stock, and the overall selection is subject to change at any time. Additionally,
discounts may be available on the first payment term of some servers.
It's a good idea to keep an eye out for these deals. Every server also comes with at least one dedicated IP, and in most cases, 100TB bandwidth per month. Some offer unmetered bandwidth. Like with Namecheap's VPS, you can purchase cPanel or InterWorx accounts as part of the checkout process. The InterWorx license offers unlimited accounts for a fixed price, but if you're running a reseller operation, paying for bulk cPanel licenses may be a better option simply because your customers may expect it. You can choose to preinstall CentOS, Linux, and Debian for free, and CloudLinux is available for an extra monthly fee. Finally, you can also choose to purchase various levels of the WHMCS billing platform if you plan to use this server as a reseller. Managed service is a paid add-on, but it's twice as expensive as with the VPS plans, and the features offered are near-identical. Some servers may not be available with both management plans, and legacy servers may not have access to either.
Is Dedicated Server Hosting Right for You?
Making the jump to a dedicated server always comes with a significant price increase.
As Namecheap's dedicated servers lack customizability, it may be worth looking elsewhere if you require a more agile solution
. Some competing hosts like
InterServer
offer more resources for lower prices, along with customizable RAM that can be scaled as necessary.
Recommended Namecheap Alternatives
Although Namecheap is generally wallet-friendly and offers competitive plans, it's not one of our favorites. The lack of extra features and optimizations on the shared plans and the lack of diversity in the VPS and dedicated server plans hold Namecheap back from becoming one of the big players. Here's a list of seven of our favorite hosting providers that are affordable, full of features, and backed by better-value resource packages.
Hostinger
In spite of Namecheap's name,
Hostinger
is the current leader of the discount hosting market. Hostinger's pricing starts from as little as just over a dollar a month, making it an ideal platform for budget-friendly starter sites. These low prices don't come at the expense of quality, though – with the user-friendly hPanel control panel, SSL and email services on all plans, and web servers optimized for WordPress, Hostinger is both friendly to your bank account and to your site visitors.
FastComet
FastComet is a budget host that offers a total of 11 data centers, including locations in Asia and Oceania
. Even better, every FastComet feature is available in all data centers – unlike Namecheap, where some features and even entire hosting services are unavailable in certain locations. FastComet also has a prompt and helpful support team that will handle a wider range of technical issues than the average host. However, FastComet doesn't quite live up to Namecheap's higher performance.
InMotion Hosting
If you were a little disappointed with Namecheap's overall feature set,
InMotion Hosting
 might be a good alternative. First of all, InMotion Hosting's free domain offer actually includes the .com extension. It also gives you $150 in advertising credits with every plan, alongside a free no-nonsense Sectigo SSL certificate.
What truly stands out about InMotion Hosting is the 90-day money-back guarantee
. That said, InMotion Hosting's shared plans are significantly more expensive than Namecheap.
InterServer
InterServer
is a good choice if you need to run multiple small sites.
Its Standard web hosting plan includes unlimited domains, SSD storage, and bandwidth
. The deeply discounted rate on the first payment term just barely overtakes Namecheap's price for new customers on its Stellar Plus shared plan. There's also some great security features straight out of the box: free cleanups for hacked sites, an in-house malware database, and a machine-learning firewall, to name a few. Unfortunately, InterServer only has data centers in the US, making it a poor choice for audiences elsewhere.
A2 Hosting
A2 Hosting is one of the few budget hosts to feature full optimization and support for content management systems (CMSs) other than WordPress
, such as Drupal or Joomla. Namecheap's EasyWP plans only support WordPress, and although you can install other CMSs on the shared plans, they aren't necessarily fine-tuned for this purpose. There's also A2 Hosting's Turbo Servers. These combine the simplicity of shared hosting with the power of AMD EPYC processors and NVMe SSD for great performance. However, the shared hosting plans require a three-year commitment just to reach a price comparable to Namecheap.
Kinsta
Kinsta
is far more expensive than Namecheap, sure, but
it's a fully-managed service with premium features.
All plans enjoy daily automatic backups that are a breeze to restore, access to a robust CDN, and 24/7 uptime monitoring.
Kinsta also features a whopping 28 data centers across the globe, hosted on Google Cloud Platform
. With a fully-scalable infrastructure and NGINX web server software, your site should always run reliably through traffic surges. And Kinsta's expert team will help you fine-tune your setup to overcome any performance issues.
GreenGeeks
Concerned about your carbon footprint?
GreenGeeks
 offers eco-friendly web hosting. There are automatic daily backups, a free domain even for popular extensions, and LiteSpeed web server software for top-of-the-line WordPress performance.
GreenGeeks absolutely excels when it comes to support
. The support team is committed to helping you with even the most complex technical issues, making it a good choice for beginners.
Namecheap
Hostinger
FastComet
InMotion Hosting
InterServer
A2 Hosting
Kinsta
GreenGeeks
Starting price

$

1.88

$

1.99

$

2.74

$

3.29

$

2.50

$

2.99

$

35.00

$

2.95

Storage

10GB – unmetered

30GB – 200GB

15GB – 35GB

10GB – 200GB

Unlimited

100GB – unlimited

10GB – 250GB

50GB – unlimited

Bandwidth

Unmetered

100GB – Unlimited

Unmetered

Unlimited

Unlimited

Unlimited

25K – 3M monthly visits

Unmetered

Free domain?

✔

(one year, no ".com")

✘

✔

 (one year)

✔

 (one year)

✘

✘

✘

✔

 (one year)
Free SSL?

✔

(one year)

✔

✔

✔

✔

✔

✔

✔

WordPress optimized?

Available

✔

✘

Available

✘

✔

✔

✔

Backups

Two per week

Weekly

Daily

✘

Weekly

✘

Daily

Daily

Customer support

24/7 live chat and tickets

24/7 live chat and tickets

24/7 live chat, email, and tickets

24/7 live chat, email, community forum

24/7 live chat, phone, email, and tickets

24/7 live chat, phone, email, and tickets

24/7 live chat and tickets

24/7 live chat, and email; phone during office hours
FAQ
Why is Namecheap so cheap?
Although Namecheap offers lower prices than most of its competitors, you'll find that domain and SSL certificate renewal fees will cost you extra at check-out. Also, entry-level plans in each category tend to lack many of the features available with the next tier. In the end, the cost of running a website on Namecheap's servers might not be as affordable as it seems. If saving money is at the top of your agenda, check out the latest deals for 2023 on our coupon page.
Is Namecheap cheaper than Hostinger?
Although the prices are very competitive at face value, Namecheap's entry-level plans offer somewhat less value than Hostinger's due to offering fewer features. And even then, Namecheap's prices are not lower than Hostinger's overall. Take a look at Hostinger's latest deals to see how much you could save on a plan today.
Which of Namecheap's shared hosting plans is best for a blog?
If you're just starting out, Namecheap's Stellar shared hosting plan offers a decent price for up to three websites. You'll have to pay extra for domain names, however, and your SSL certificates will only be free for the first year. If you're shopping for a good-value, entry-level web hosting deal for your personal blog or a basic business website, you should have a look at our list of the 10 best web hosting services for 2023 before you commit to a purchase.
Can you cancel with Namecheap and get a refund?
Every Namecheap package comes with a 30-day money-back guarantee, or you can try out a monthly WordPress plan for free for 30 days – just keep in mind that the latter option makes you ineligible for discounts on annual plans. I signed up for the EasyWP package and I was able to get my money back, no questions asked, after only a three-day wait.