It's wonderful – and rare – to find a budget-friendly email marketing service (EMS) that works without any fuss or upsells.
Unfortunately, after testing MailerLite and Mailchimp, I wouldn't say either is one of these internet unicorns.
Now, I'm not saying MailerLite and Mailchimp are terrible email marketing services.
Some of the features they offer are pretty good
and, if you're working with a limited budget, the free plans are a good way to get started with email marketing. But, the bottom line is, there are better free plans out there…
TL;DR

: Let's cut to the chase. I would not personally recommend MailerLite or Mailchimp.
Sure, they have their good points and no email marketing service is perfect, but you can get
much
closer to it with a service like ActiveCampaign.
In my opinion, its automation tools are unbeatable and it's an all-rounder when it comes to the quality of its email templates and the complexity of its drag-and-drop editor, its support, pricing, and ease of use.
ActiveCampaign also offers a 14-day free trial
 so you can test it all out completely risk-free.
Read on for a more in-depth comparison to see which EMS will better suit your individual needs.
Features
Mailchimp's Creative Assistant Is the Jewel in This EMS's Crown
I won't lie to you –
Mailchimp and MailerLite are both pretty basic EMS platforms. I'll dive into pricing later on
, but it's worth noting here that
I wasn't particularly impressed with either of these platforms' features
given how much both companies charge.
Both have very basic templates, functional drag-and-drop editors, and easy-to-read analytics dashboards.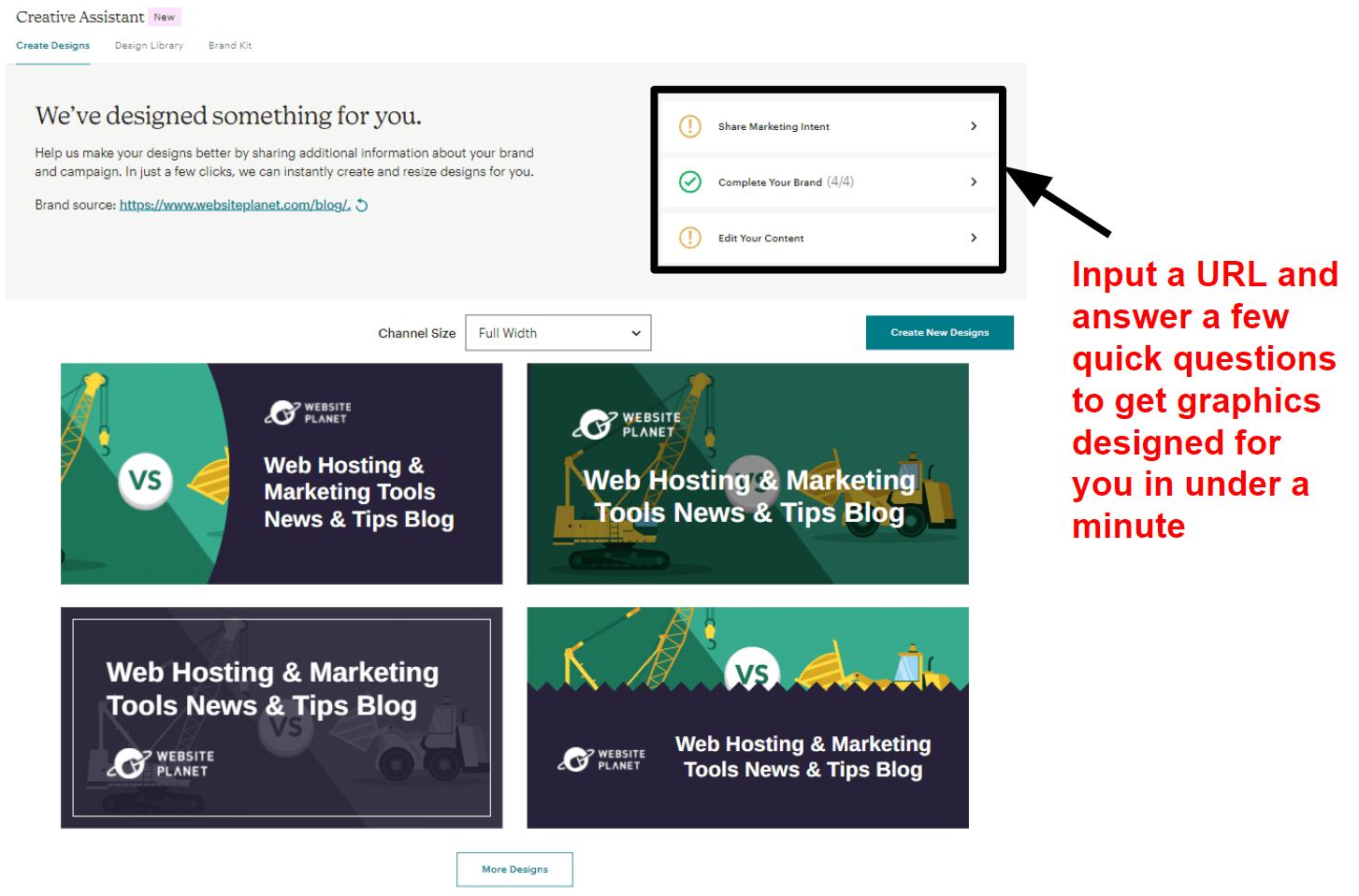 However, MailerLite only has 76 templates, while Mailchimp offers more than 100 templates – but only on the paid tiers.
There are no email templates on the MailerLite free plan,
which makes the 11 on Mailchimp's free plan look like a cornucopia of design options.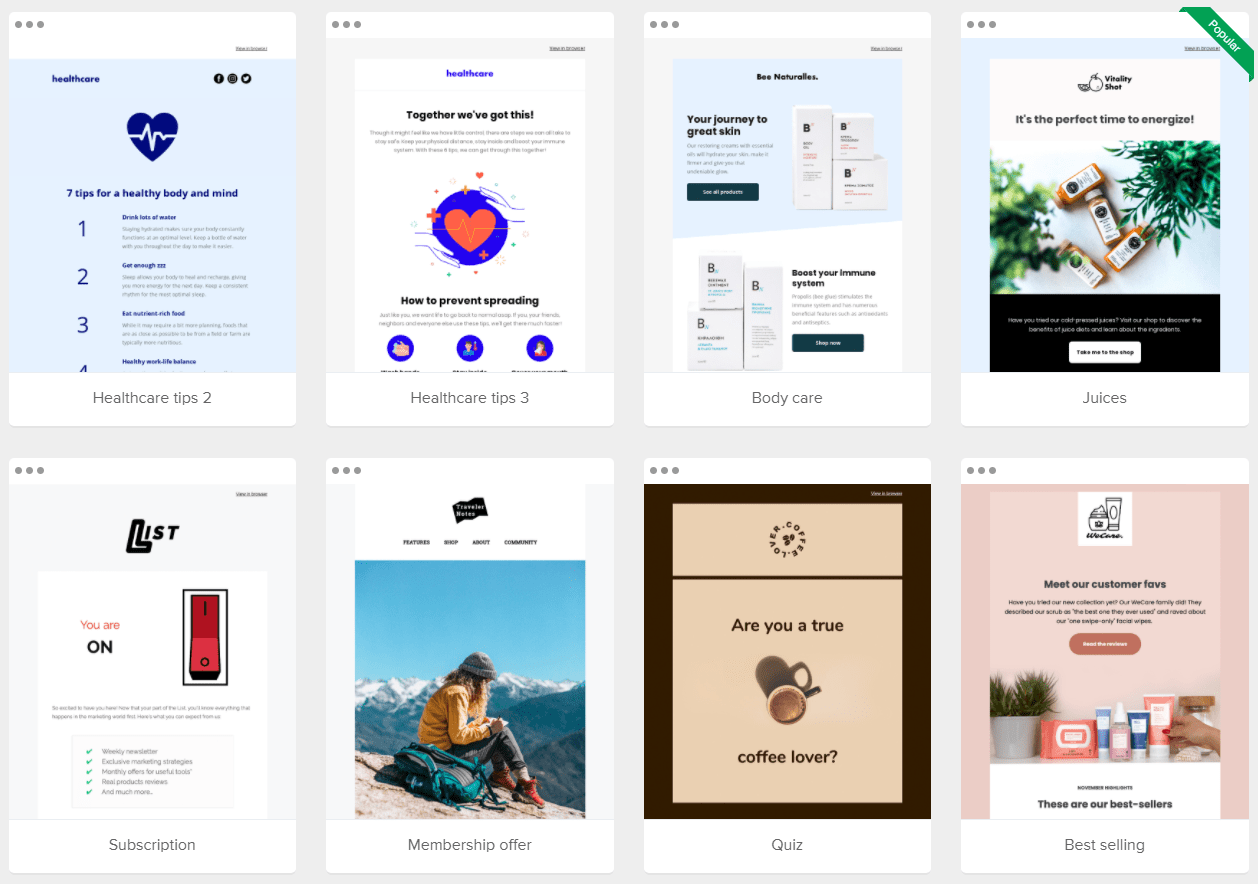 One feature I do really like is Mailchimp's Creative Assistant
. This AI-powered tool automatically creates graphics for your emails based on your website and your brand profile.
It's for this reason that Mailchimp sneaks ahead and steals the win for this section.
But honestly, if you need an EMS with a ton of really great email templates, then
ActiveCampaign is a great alternative
.
It offers 125+ templates – and sure, that's not a lot more than Mailchimp but I can honestly say that I'd be happy to use any of them.
Ease of Use
Mailchimp's Great for Beginners…but Only Just Steals the Win
I have to admit,
both of these EMS platforms are pretty frustrating to use.
However, Mailchimp is
slightly
less frustrating than MailerLite.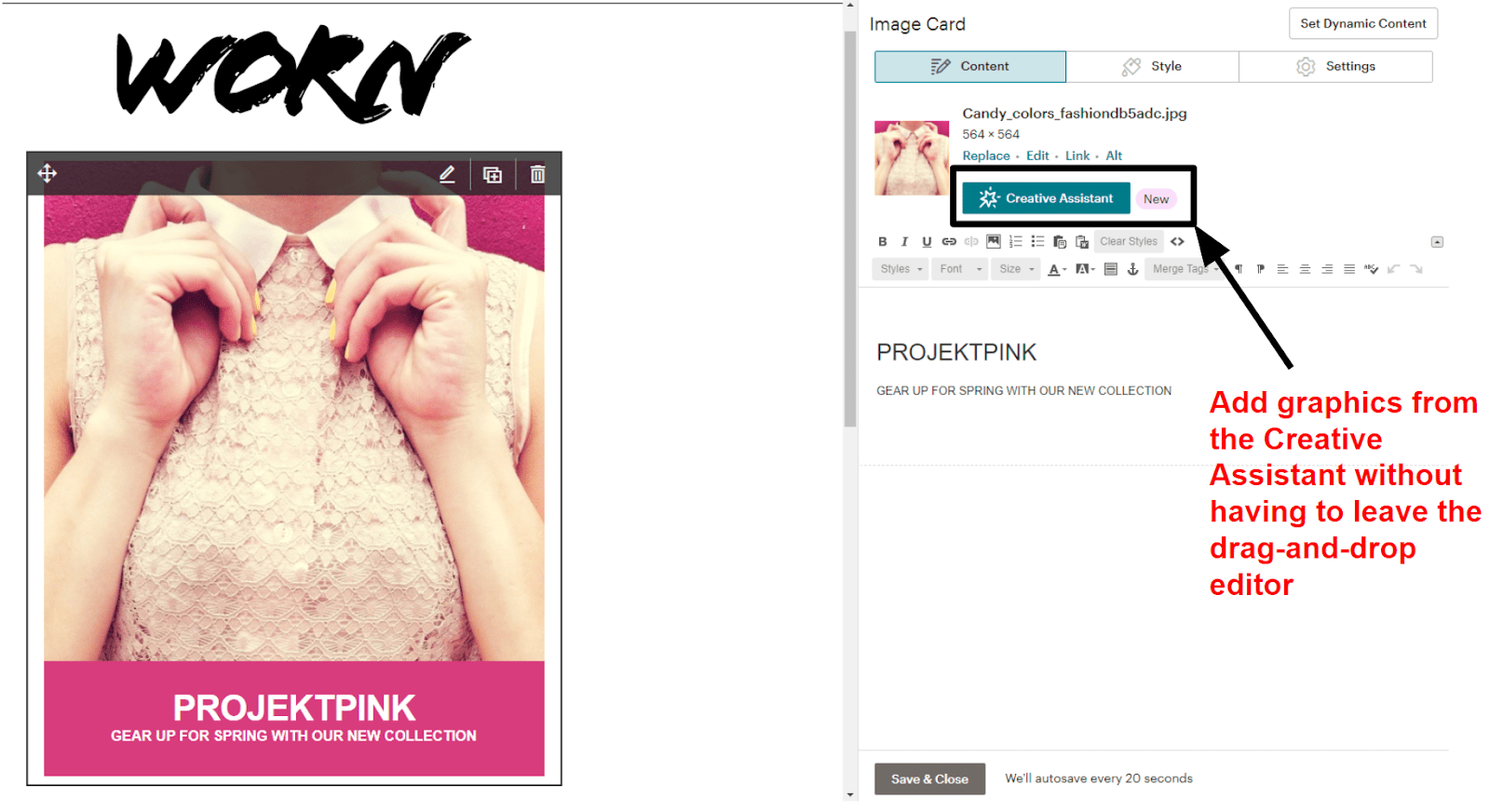 Even though Mailchimp's menu uses icons that might seem confusing at first, you can quickly figure out what each icon means by hovering over it
. Once you click into a sub-menu, hovering over the options brings up a tooltip explaining what each one does. Plus walkthrough videos and articles are embedded into your dashboards.
MailerLite is, by comparison, very basic.
That's fine if you already have an idea of where to get started, but it doesn't explain what each feature does in the same way as Mailchimp. Overall,
Mailchimp is easier to set up and use.
The interface just feels a lot more modern and thought out compared to MailerLite. That said, other EMS providers are
much
easier to use. I've said it before, and I'll no doubt say it again, but personally, my favorite EMS for usability is ActiveCampaign. Whether it's setting up potentially complex automations or editing email templates,
ActiveCampaign is so beginner-friendly
. Automation recipes and a super easy-to-use drag and drop editor make those basic email marketing processes so much simpler.
Deliverability
MailerLite Checks You Are Who You Say You Are
So, here's the tricky thing about deliverability.
It's nowhere near as easy to determine as lots of other reviews make it out to be.
That's because a lot of these 'tests' don't take into account the hundreds of different factors that make up deliverability in the real world.
We've put together a detailed guide on what you can personally do to boost your deliverability
.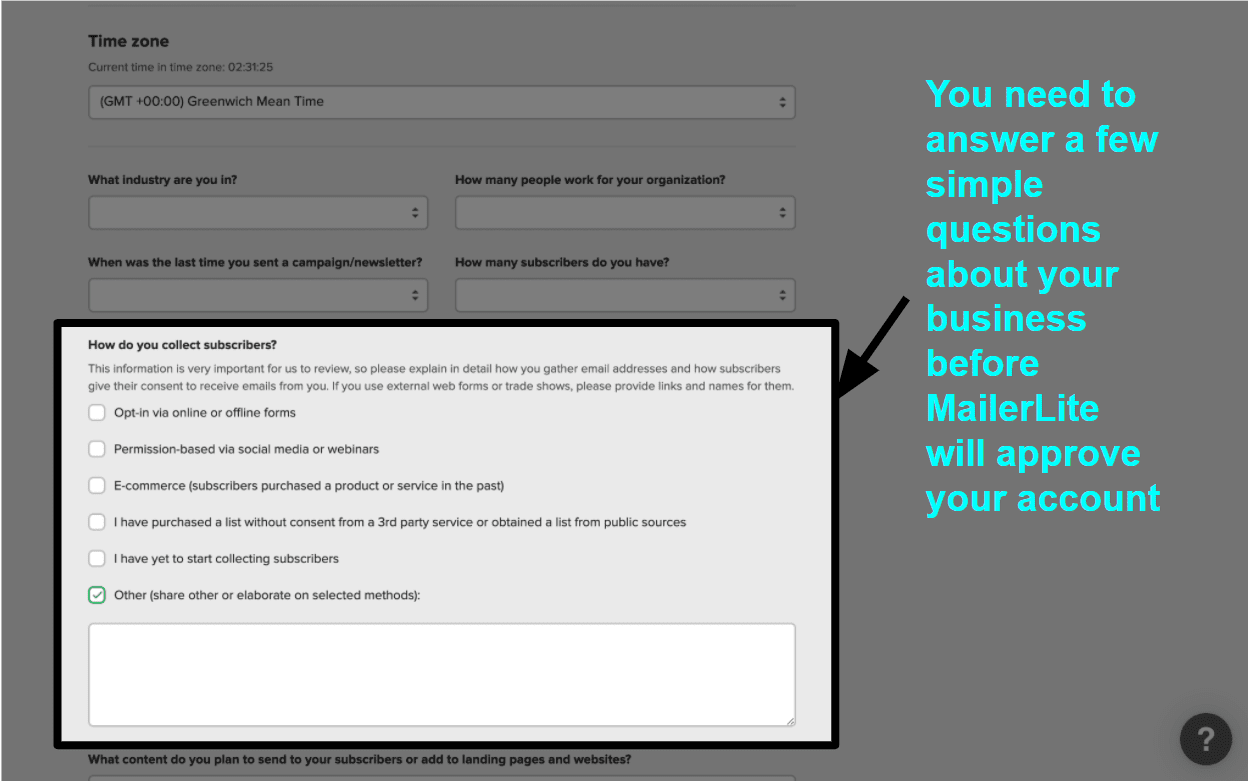 Mailchimp and MailerLite both take deliverability seriously.
Both put a heavy emphasis on consent, and any account that uses emails fraudulently or without proper consent is liable for termination. They also both explicitly prohibit affiliate marketing, multi-level marketing, work-from-home opportunities, and a wide range of other industries that tend to receive more spam report complaints.
For me, this is a pretty good sign they're working hard to keep their email servers on the email gatekeepers' nice lists.
MailerLite and Mailchimp also both have knowledge base articles to help you set up DKIM authentication.
This sounds complicated, but it's effectively a bit of code email providers can drop in your email headers that tell email hosts (like Outlook or Gmail) you are who you say you are. The main difference between the two is that
Mailchimp doesn't offer a private IP address whereas MailerLite does
. It's a paid add-on, even if you're paying for a Premium plan, but at least the option's there. I'll also say that
to get a MailerLite account in the first place, you'll have to have your account authorized
. In order to test it out, I had to provide information about where I got my contacts from, how I obtained consent, what my product was, and where the business was based. On the other hand, when I tested this out by providing conflicting information – a random address in London in their sign up process, while the website I used for authentication clearly stated another location –
I was still approved within 24 hours.
Take that as you will. All in all,
MailerLite wins on deliverability
 from this approval process.
It's a really good sign they're working to keep their servers clean.
Reporting and Analytics
Mailchimp's Reporting Is Basic, but It's Decent for Beginners
Mailchimp and MailerLite both offer the basic open, click, unsubscribe, bounce, and complaint tracking that you'd expect from any email service
. You can also open a click map to see how the layout of your email affects link clicks
.
There's plenty of information to get you started with optimizing your email campaigns, if not enough for more advanced marketers.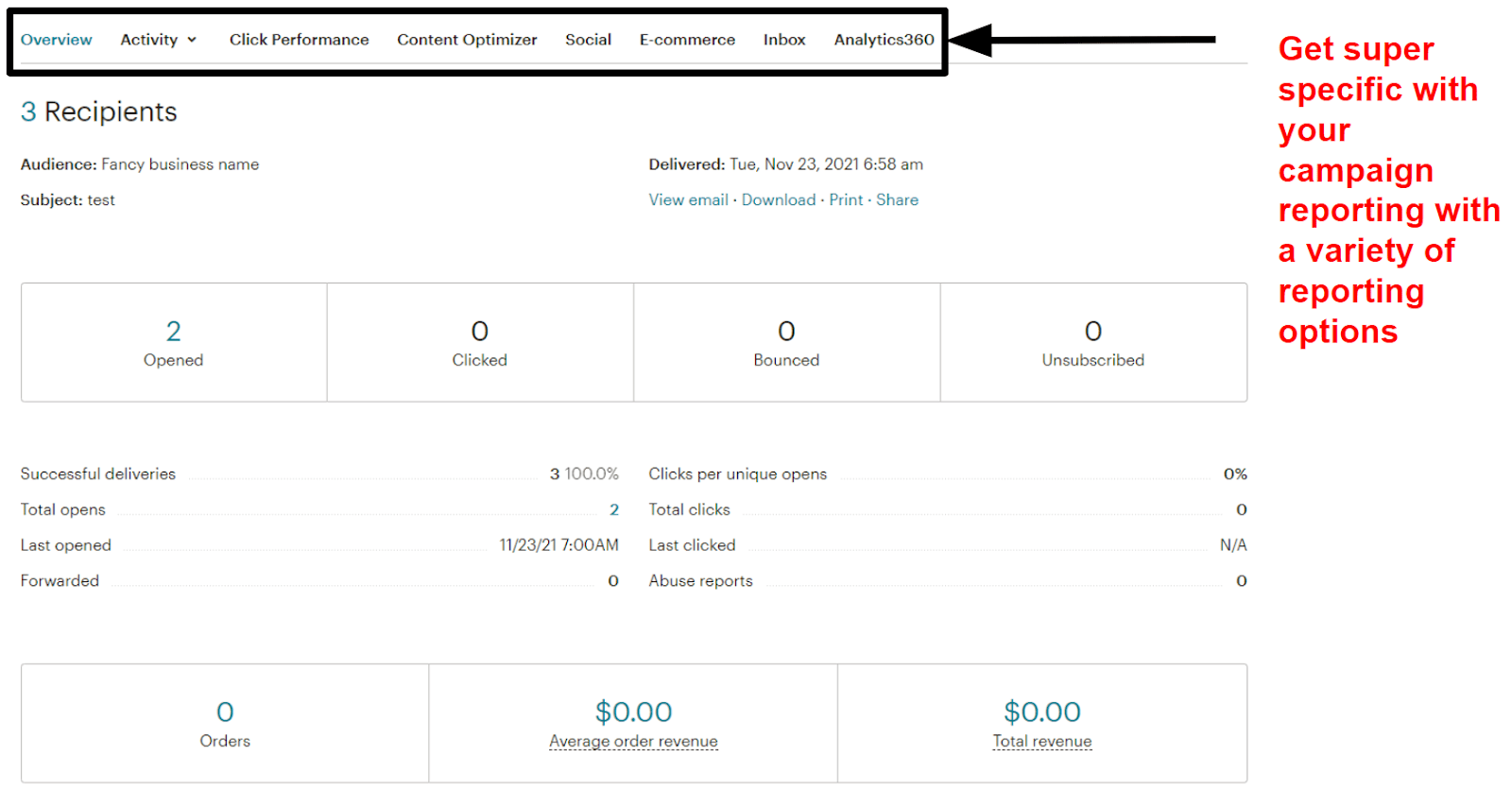 Mailchimp takes this further, however, with its Content Optimizer feature.
As you can probably guess, this feature helps you to optimize your email campaigns for readability, click rates, and more. You can get a basic overview on the Free or Essentials plan, but the full thing unlocks on the Standard plan and above.
For this reason, Mailchimp wins this round.
Pricing
Your Money Goes Further with MailerLite
While everyone loves Mailchimp for its free plan, things start to get a little confusing when you're ready to upgrade to a paid plan. On the other hand, MailerLite only has two plans – Free and Premium. It's that simple.
Here's What You Get for Free
Both MailerLite and Mailchimp's free plans are pretty limited.
And that's understandable – they want you to upgrade to a paid plan, so they're going to hide the best stuff behind a paywall. Saying that, Mailchimp's free plan
 is one of the most generous in terms of email volume.
You can send up to 10,000 emails a month to a maximum of 2,000 contacts. Sure, you might not get super advanced features like multi-step automation, but if your business is still pretty small, this is plenty to get you started. While MailerLite offers more emails a month – 12,000, to be exact – you're limited to 1,000 contacts.
You also can't use email templates on the free plan.
You should also be aware that
when you sign up for MailerLite Free, you automatically get a 14-day free trial of MailerLite Premium.
It's easy to grow accustomed to using a premium feature only for it to be locked behind a paywall after two weeks.
Here's What You Get If You Pay
Overall, Mailchimp is significantly more expensive,
even on the Essentials plan.
Every Mailchimp plan limits how many emails you can send a month, and if you go over your limit, you'll be charged overage fees. There's no information about how much these are on the website, either. It's also worth noting that these providers count contacts differently. Mailchimp counts each contact on a list as a unique contact, even if they've been duplicated between lists. MailerLite only counts unique contacts once, regardless of if they appear on multiple lists.
So, your total contact count is likely to be smaller with MailerLite than MailChimp.
MailerLite Premium
MailChimp Essentials
Starting Price

$

10.00

$

17.00

Contact limit*

600,000

50,000

Email limit

Unlimited

10x your contact cap per month

Number of users

Unlimited

3
Email templates
75+
100+
Integrations
130+
300+
Landing pages

5 free, additional

$10

/month for unlimited landing pages

Unlimited
*
This is how many contacts you can have before you need to move up to the next pricing tier or move on to a custom plan.
In short,
MailerLite definitely offers better value than Mailchimp.
It's certainly one of the cheapest EMS platforms on the market. Saying that,
ActiveCampaign's Lite plan
 is a similar price
and offers 125+ email templates, over 250 automation templates, 850+ integrations, and a smart designer to save you time designing custom email templates.
Support
Don't Count on Support If You're Not Paying
One of the biggest problems I have with Mailchimp is its customer support
. If you have a free Mailchimp account,
you only get email support for 30 days.
After that, you better hope the answers you need are in the knowledge base, because you're on your own.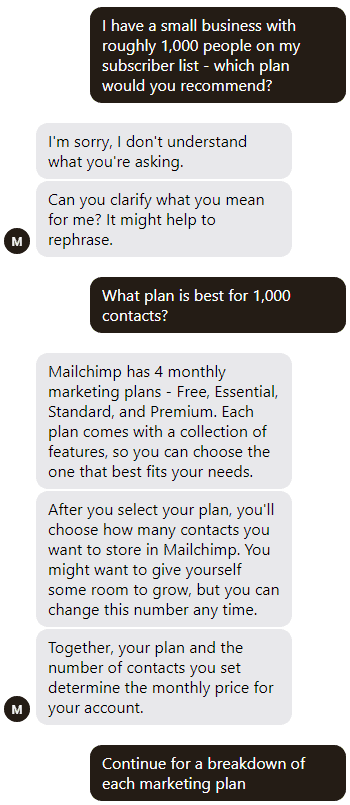 On an Essentials plan or above, you can access 24/7 email and live chat.
If you want phone support, you'll need to sign up for the Premium plan. Which starts at

$

0

/month… Ouch.
It's a shame, because in my experience, Mailchimp's email support is pretty quick. I got an answer to my question within a few hours. That said, my colleague had a very different experience when he put together his
Mailchimp review
.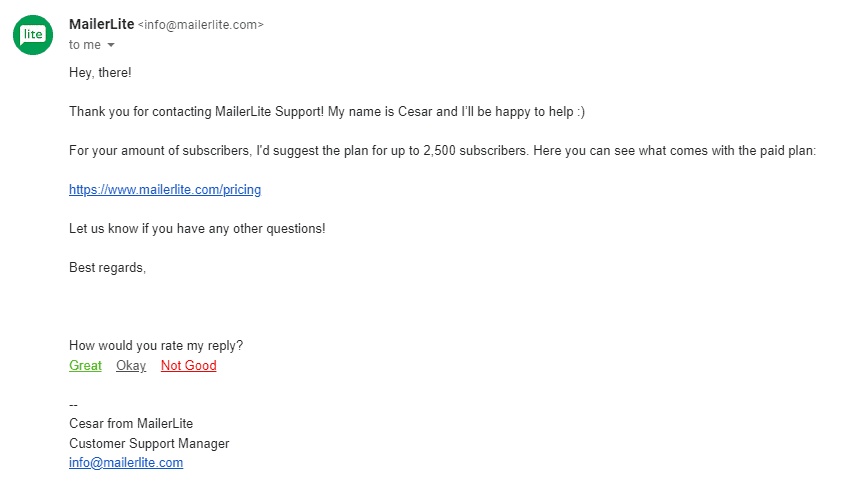 By comparison, MailerLite offers 24/7 email support, even on its free plan
. MailerLite Premium comes with 24/7 live chat support, too.
Both live chat and email support were pretty speedy when I tested them, and if you need more support, then you can pay for MailerPro.
MailerPro is a custom plan that gets you priority email and chat support plus an account manager to advise you on your email marketing.
Note this doesn't include phone support, which seems odd for an enterprise-grade plan. Still, this round goes to MailerLite.
MailerLite vs. Mailchimp

: It's Hard to Choose a Winner

In this comparison,

Mailchimp steals the win – just.

Still, I have to admit, it was difficult to choose because I don't really recommend either Mailchimp or MailerLite. Sure,

both have their strengths, but there are other EMS platforms that offer far more for your money

. If you're looking at Mailchimp vs. MailerLite because you've got a limited budget and you need a free plan, then check out Sendinblue instead.

Sendinblue's free plan lets you send 300 emails a day

, and even includes chatbots, SMS marketing, and transactional emails. Alternatively, if you've got some budget to play with and you're looking for a beginner-friendly EMS, then

I definitely recommend ActiveCampaign.

It's super easy to navigate and offers a ton of downloadable resources and webinars to help you learn the ins and outs of email marketing. And just to help you out, here's why I'd pick ActiveCampaign…

MailerLite

Mailchimp

ActiveCampaign

Automation

Basic multi-step automations

One-step automations on the free plan, or complex multi-step automations on Essentials and above

Advanced automation across all plans, and over 200 automation templates

Native SMS Automation

Requires Zapier

Yes

Yes

Apps and Integrations

130+

300+

300+ (850+ including third-party add-ons)

Landing Page Builder

Yes

Yes

Yes

A/B Testing

Yes

Yes (Essentials plan and above)

Yes

Ease of Use

Basic, but fairly easy to navigate

Modern interface with helpful tooltips and embedded tutorials

Intuitive interface and very easy to navigate

Deliverability

Strong anti-spam policy and requires account authentication before you can start sending emails

Strong anti-spam policy and helpful DKIM authentication tutorial

Strong anti-spam policy and easy to follow DKIM authentication guide

Reporting and Analytics

Extremely basic analytics

Basic analytics, click map, opens by location

Advanced and helpful analytics

Support

24/7 email and live chat. Free plans are limited to email only

24/7 email and live chat, priority phone support ONLY on Premium plan. Free plans are limited to 30 days of email support

24/7 email support, live chat and phone support during working hours

Pricing

One of the cheapest EMS providers, but features are extremely limited

Extremely expensive for the number and quality of features offered

Excellent value for money
FAQ
What are the differences between Mailerlite and Mailchimp?
The biggest difference between MailerLite and Mailchimp is the level of customer support. MailerLite offers 24/7 email support, even on its free plan, while Mailchimp's free plan limits customer support to 30 days. However, Mailchimp's campaign reporting goes into far more detail than the analytics offered by MailerLite.
What is the best alternative to Mailchimp?
It depends on why you're considering Mailchimp. If you're looking for a good, free email marketing service, then Sendinblue is a great Mailchimp alternative. Alternatively, if you want a beginner-friendly EMS, then Benchmark is super easy to use and provides a ton of learning resources, plus it also has a generous free plan.
Which is better: MailerLite vs Mailchimp?
Overall, Mailchimp is slightly better than MailerLite because it's easier to use and offers more features on the free plan. However, I wouldn't recommend either of these services. My top pick for email marketing is ActiveCampaign because it offers far more value for your money.
What is the best email marketing service?
This depends on what you're looking for. ActiveCampaign provides fantastic advanced features like complex, multi-step automation, while AWeber offers an AI-driven smart designer tool. Check out our roundup of the best email marketing services in 2023 to see all of the providers we recommend.