Liquid Web is a premium web host with premium prices. So it's no wonder people think they can get a better deal with SiteGround. However, you may be surprised to hear that
once you consider SiteGround's renewal prices, it's honestly not that much cheaper
. When a host is high-priced, it has a lot to prove, especially with so many powerful budget options readily available.
Is either of these two hosts worth the asking price?
I tested them thoroughly to find out, looking at performance, features, support, and more. After all my work, I can say that
Liquid Web is the stronger host
 – though SiteGround isn't too far behind. It was a much closer contest than I first imagined. Find out why, along with all the information you need to choose between these two hosts.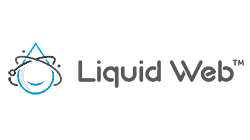 Save up to 75 % on your Liquid Web plan!
Limited-time offer - Don't miss it!
42 users used this coupon!
1. Plans and Pricing
Liquid Web Saves You More Money in the Long Run
While both hosts have some absurdly expensive cloud hosting plans,
I decided to focus on their managed WordPress plans for this comparison
. They're the cheapest option, but they're still powerful enough for most websites.
SiteGround WordPress Hosting
A free domain name is included with some hosting plans from SiteGround
If you pay up front for a year of hosting, both hosts offer significant savings.
For the first year, SiteGround is
$
2.99
/month and much cheaper than Liquid Web's cloud-based offerings through its subsidiary provider, Nexcess. But after that, it's a whole different story. After the first year with SiteGround, you'll have to pay very high renewal prices, which are more than
triple
the discounted price. It's easy for this to catch you completely off-guard. On the other hand,
Liquid Web continues to offer a discount when you renew your annual plan
. So after the first year, Liquid Web actually becomes the cheaper option.
SiteGround's entry-level StartUp plan is decent
, but it does lack some nice-to-have features – especially if you're a developer.
If you'd like staging sites or Git integration, you'll have to pay for the higher-tier GrowBig or GoGeek plans.
At renewal, these plans far exceed the cost of Liquid Web's entry-level Spark plan, which already includes these features. With all this in mind,
Liquid Web plans definitely hold more value
, making it the winner of this section.
2. Features
SiteGround Restricts Your Backups, While Liquid Web Gives You Full Freedom
Both hosts manage to cram a lot of impressive features in their plans. Most notably, SiteGround and Liquid Web use proprietary control panels. SiteGround's offering is called Site Tools, while Liquid Web uses the Nexcess control panel.
Both control panels are fantastic – they're simple to navigate, beginner-friendly, and responsive.
However,
Liquid Web gets the upper hand because of backups
. Both hosts offer automatic daily backups that are kept for up to 30 days. This is great – but
SiteGround doesn't let you make manual backups
unless you upgrade to the GrowBig plan
. Liquid Web lets you make all the manual backups you want, regardless of your plan. Also, Liquid Web's migration system is much more convenient. Both hosts have a migrator plugin for WordPress sites, which works well for small sites. But if your site is more complex, you may run into issues. For these situations,
you can request a hands-on migration service. It's free with Liquid Web but there's a fee with SiteGround
. If you're a beginner, you might like that
Liquid Web features Beaver Builder Lite
, a simple website builder with drag-and-drop functionality
. While it's only the Lite version, it's still an easy and fast way to get started. SiteGround does offer Weebly, but it isn't compatible with WordPress. Overall, each host has a robust set of features, but Liquid Web just manages to pull ahead. Take a look at our comparison table for a summary.
Liquid Web
SiteGround
Hosting types

Managed WordPress, managed WooCommerce, managed cloud VPS, managed cloud hosting, managed dedicated servers

Shared hosting, managed WordPress, managed WooCommerce, managed cloud hosting

Free domain name

✘

✘

Free SSL

✔

✔

Number of websites

1

–

250

1

–

unlimited

Storage

15GB – 800GB SSD

10GB – 40GB SSD

Bandwidth

2TB – 10TB

Unmetered

Control panel

Nexcess

Site Tools

Free CDN

✔

✔

Managed WordPress

WordPress installation, automatic daily backups, updates for core installation and plugins, developer tools (SSH, Git, and WP-CLI), plugin performance monitor, image compression, staging site, expert WordPress support, Beaver Builder Lite, iThemes Security Pro and iThemes Sync

WordPress installation, WP Starter wizard, updates for core installation and plugins, expert WordPress support, caching solutions automatically enabled

Money-back guarantee

14-day free trial for the Spark managed WordPress plan

30 days
3. Performance
Liquid Web's Fantastic Global Performance Speeds Surpass SiteGround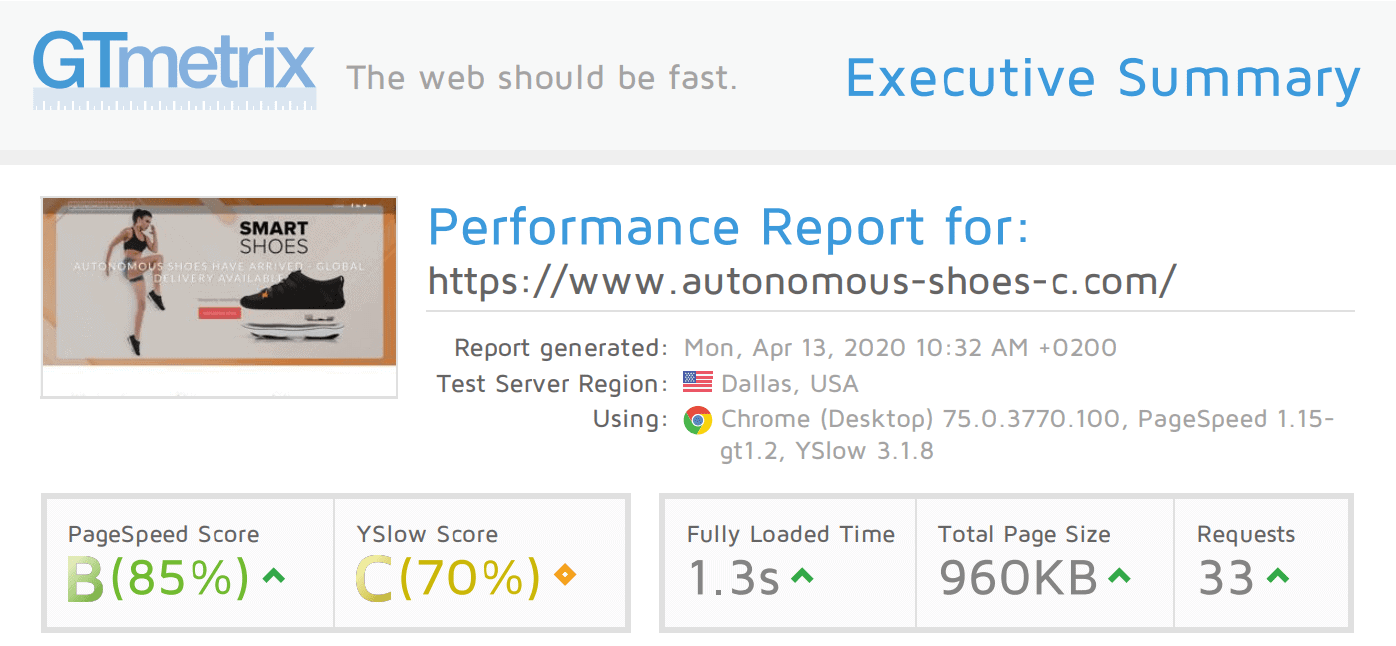 It doesn't matter how many cool features your web host is packing if your site loads at a snail's pace. That's why I decided to test the performance of these hosts myself.
I expected to see some great speeds with Liquid Web as there's a lot of powerful tech behind the servers
, such as NGINX and PHP 7. There's also a free CDN and a nifty image optimization plugin. First, I used GTmetrix.
After many tests, it reported an average loading speed of 1.8s
, with the fastest speed being 1.3s and the slowest around 2s. This isn't bad at all – while it certainly isn't the fastest I've seen, it's definitely speedy enough for most sites.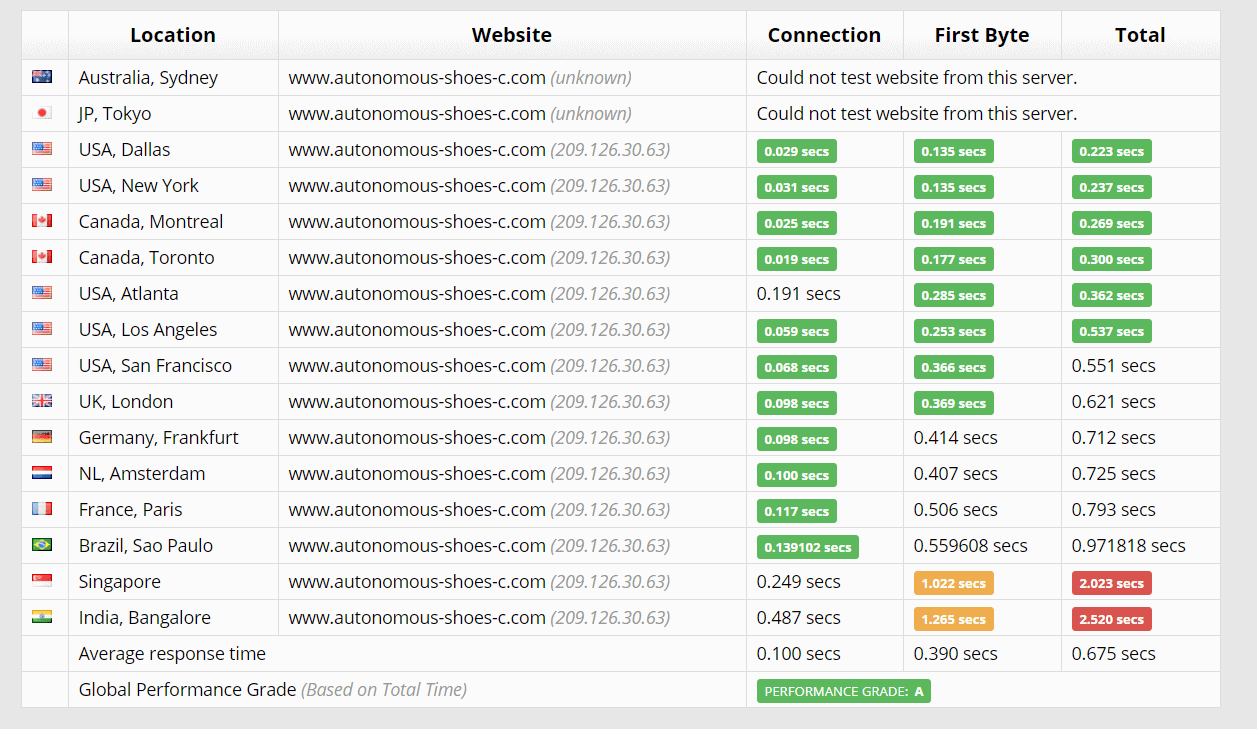 However, it wasn't until my tests with Sucuri that I was truly blown away.
My tests showed that Liquid Web had fantastic performance worldwide
, with an average loading speed of 0.67s. Now it's SiteGround's turn. Again, I figured I would see some great speeds – after all,
the SiteGround platform is hosted through the impressive infrastructure of the Google Cloud
. It also has speed-enhancing features, like NGINX Direct Delivery, a free CDN, and a free optimization plugin.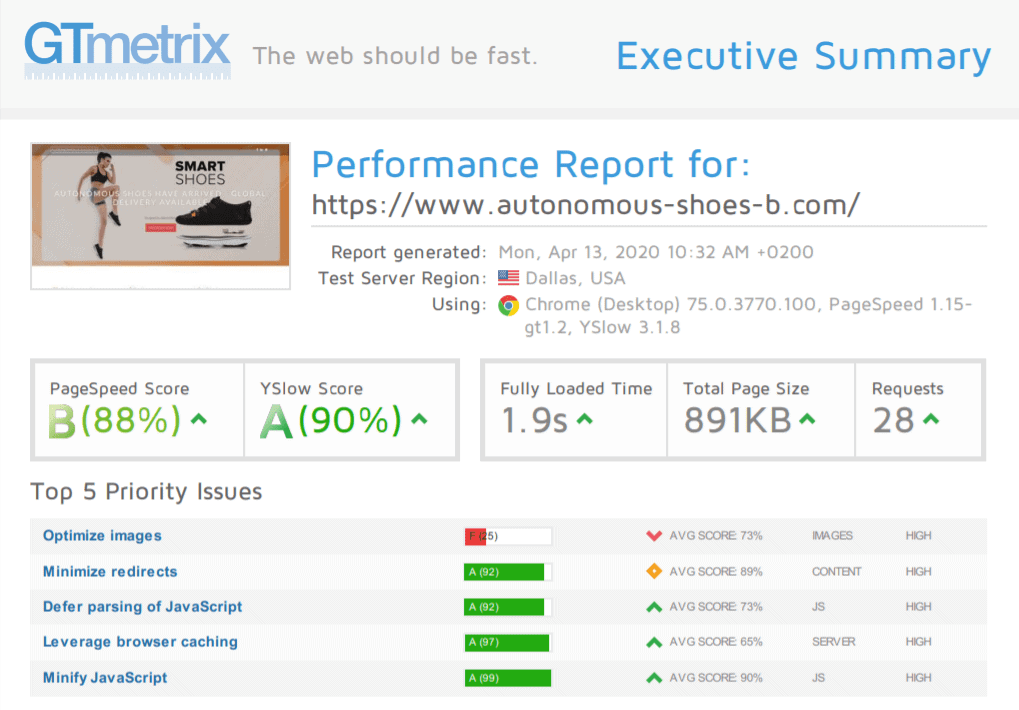 Sadly, it didn't quite live up to my high hopes.
GTmetrix showed an average speed of around 2.02s for SiteGround
, with the fastest speed hitting 1.4s and the slowest reaching a dreadful 2.5s. This is pretty disappointing. It's slower than Liquid Web, and there's plenty of cheaper hosts that manage to be faster than this.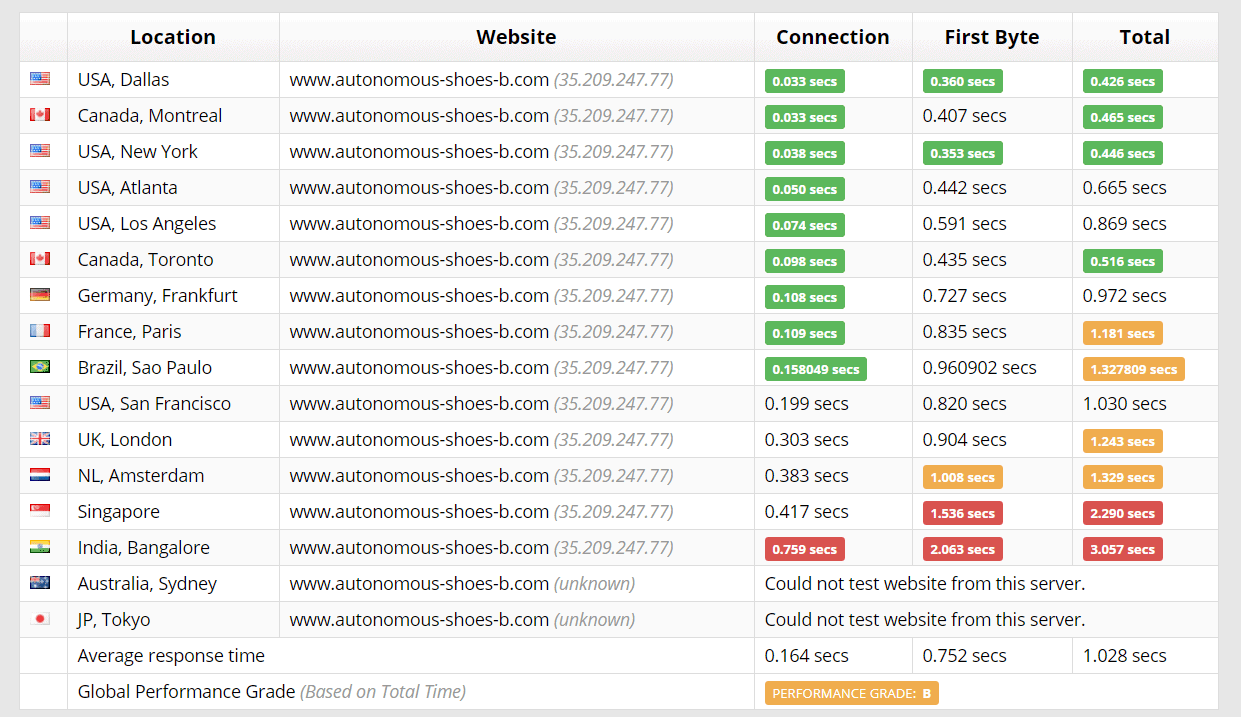 My Sucuri tests placed SiteGround in a better light.
The average global speed over multiple tests was 1.46s, which really isn't bad at all.
However, it's still falling far behind Liquid Web. All in all, Liquid Web is much stronger when it comes to loading speeds. It's important to note that Liquid Web has a much stronger uptime guarantee too –
SiteGround only guarantees 99.9% uptime, while Liquid Web guarantees 100%
. Read our full expert
SiteGround review
and
Liquid Web review
to see their uptime results.
4. Security
Liquid Web Tests Plugin Updates, SiteGround Leaves You with the Work
SiteGround and Liquid Web take the security of your site seriously. Both hosts include a free SSL certificate that's automatically installed for you, and on their managed WordPress plans,
they'll keep your WordPress core and plugins automatically updated, which is essential in keeping your site secure
. However, untested updates may break elements of your site or expose a vulnerability for hackers to take advantage of.
Liquid Web avoids this by backing up your site and testing the update for issues
before applying it.
SiteGround doesn't do this – all you can do is delay an update, giving you time to keep an eye out for potential problems. But your site needs more than just automatic WordPress updates to stay safe.
Liquid Web offers the iThemes Security plugin for free
, which provides brute force attack protection, automatic IP bans for bots, and constant monitoring of your WordPress files, alerting you to unauthorized changes. There's also a basic firewall and DDoS mitigation. For advanced protection, you can add on premium security options.
SiteGround also features a robust security solution.
There's a custom firewall that's continuously updated to protect against new threats, DDoS protection, and an AI anti-bot system.
While both hosts include comprehensive security for free, Liquid Web wins this section
thanks to its superior automatic plugin updates protocol and the option for more advanced security features.
5. Support
SiteGround Goes the Extra Mile and Liquid Web Sticks to Simple Advice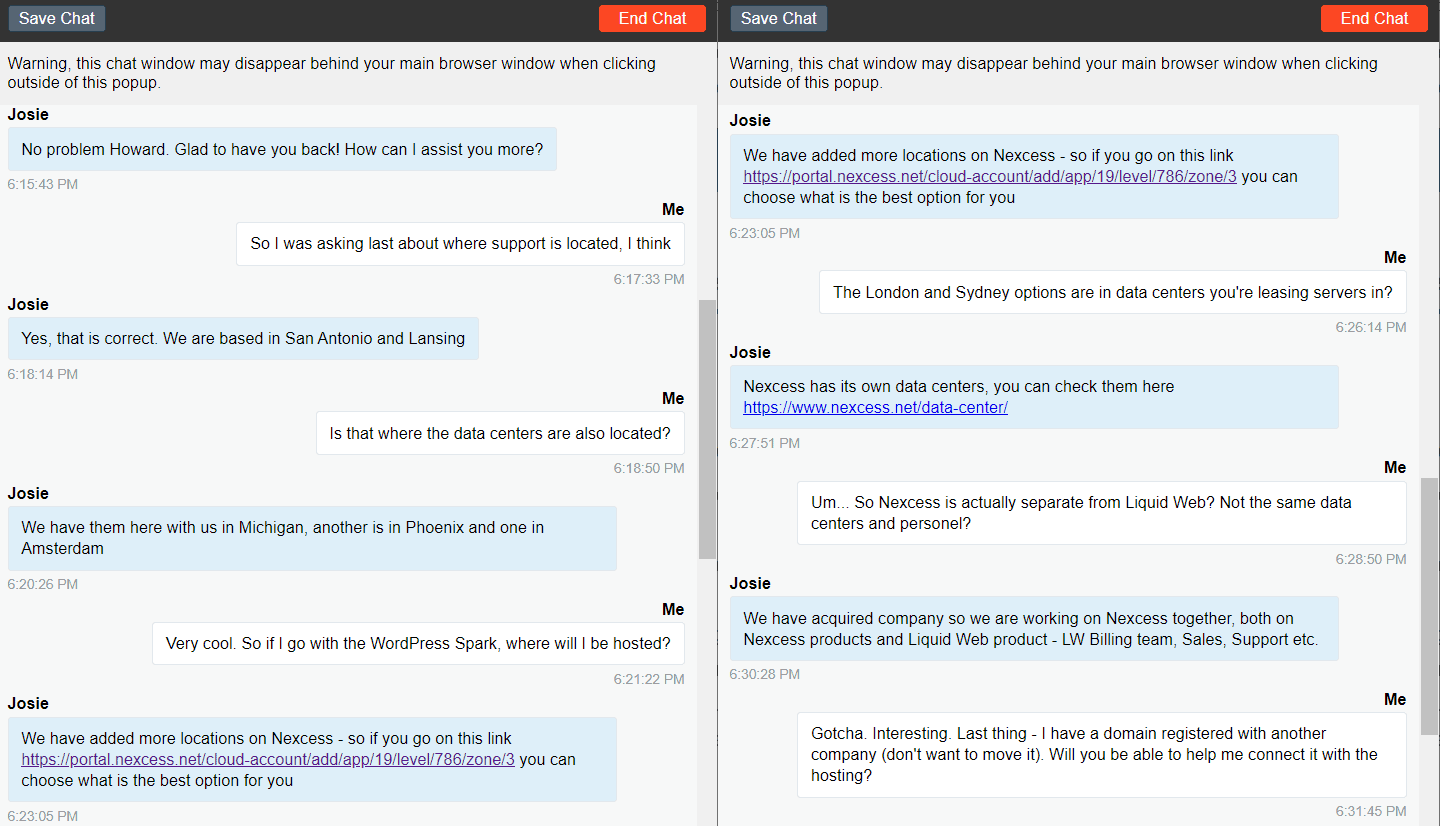 Both hosts offer 24/7 support via live chat, phone, and ticketing. I decided to evaluate their support services to find out how far they're willing to go for their customers. Using live chat, I asked the Liquid Web support agent some simple questions. The support agent was professional, fast to respond, and helpful – but she wasn't willing to go that extra step.
I was mainly given advice (and a series of knowledge base links), rather than hands-on help.
Liquid Web guarantees fast initial response times for its support services – 59 seconds for live chat and phone, and 59 minutes for ticket support.
If it doesn't live up to its promises, you can request compensation in the form of service credits. I encountered responsiveness issues, particularly concerning tickets. Some tickets took several hours to receive a proper response, and some issues persisted for multiple days. SiteGround's live chat service didn't fare much better in terms of response time. It usually took a long time just to get in touch – sometimes I had to wait almost 30 minutes for a response.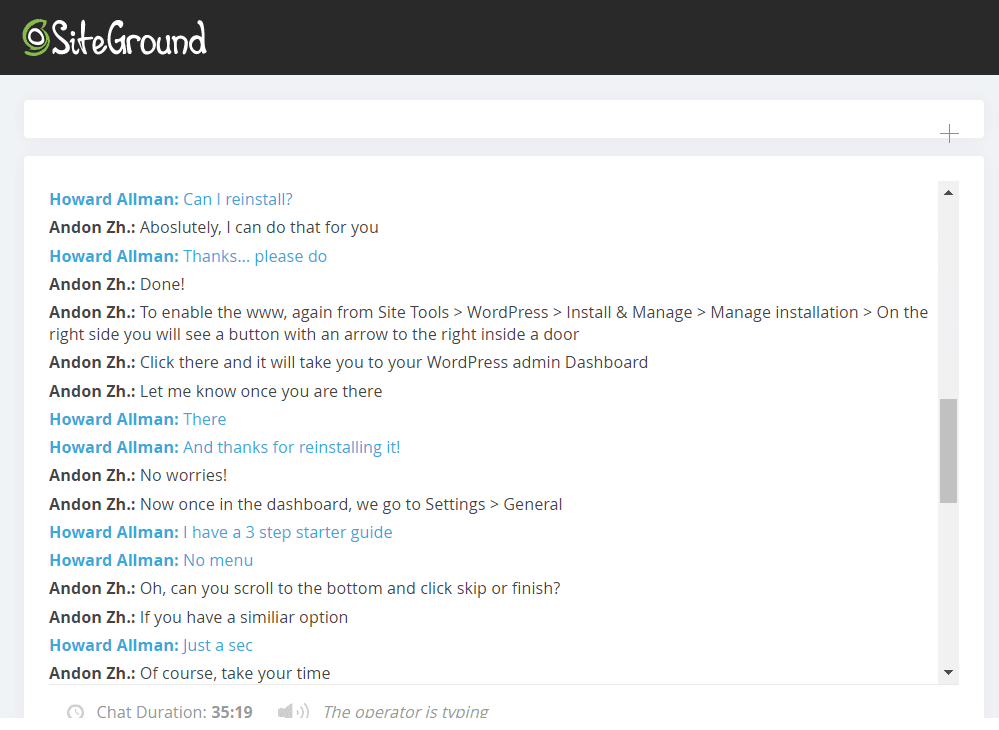 However, once I did get in touch,
I was pleasantly surprised by just how helpful SiteGround's agents were
. After I installed the wrong SSL certificate (on purpose), the agent went ahead and installed the right one for me. You don't get this level of service from most hosts.
While Liquid Web's live chat had faster response times, the quality of SiteGround's support was worth the wait.
Liquid Web Edges Past SiteGround
While these hosts are filled with powerful features and have a lot of similarities, I had to choose Liquid Web as my winner. It manages to outdo SiteGround on several key features, including backup solutions, automatic plugin updates, and more.
Liquid Web also has much faster performance
, especially worldwide.
SiteGround has superior support, but that wasn't enough to win this battle. However,
SiteGround can still be a good choice if you're looking to benefit from its significant savings in the first year
. Just keep in mind that once the year is up, you'll be faced with high renewal fees.
Both hosts made it onto our list of the best web hosting services in 2023.
It may be worth checking out the other hosts on the list to see if one of them could be a better fit for your particular needs.
Plans and Pricing
Managed WordPress plans that are more expensive in the first year but have no steep renewal fees
Managed WordPress plans that are cheaper in the first year but have high renewal fees
Key Features
Proprietary Nexcess control panel, superior backup solution with automatic and manual backups included for all plans, free hands-on migration service
Proprietary Site Tools control panel, no manual backups included in the cheapest plan, hands-on migration service costs extra
Performance
Faster speeds with amazing global loading speeds and 100% uptime guarantee
Slower loading speeds worldwide with a 99.9% uptime guarantee
Security
Amazing automatic plugin updates that are tested beforehand, optional advanced security add-ons
Automatic plugin updates without testing functionality, no advanced security options
Support
Fast live chat response times but slow ticket responses, and support agents don't go the extra mile
Slow live chat response times, but fantastic support agents that are willing to help with technical issues
FAQ
How do I install WordPress on Liquid Web?
As part of Liquid Web's managed WordPress plans, WordPress comes automatically installed and optimized. This means you can instantly get started by creating a new site or migrating an existing one. If you're fairly new to WordPress, take a look at our comprehensive guide to building your first website for some helpful tips and advice.
How good is SiteGround?
While SiteGround didn't win this comparison, it's still a powerful host that made our list of the best web hosting services in 2023. It has a lot of powerful features, including automatic daily backups, a comprehensive security solution, and an abundance of resources for WordPress sites. If you purchase an annual plan, SiteGround is also cheaper than Liquid Web for the first year.
Is Liquid Web reliable?
Not only does Liquid Web deliver fast page loading speeds globally, but it also boasts a near-perfect uptime when monitored over the course of several months. This host includes a 100% uptime guarantee, with eligibility for hosting credits if it falls below this guarantee.
Is Liquid Web good for small businesses?
Liquid Web's Spark plan features plenty of resources for a small business site with a growing audience. It comes with the fantastic performance and reliability that Liquid Web is known for, along with good security features and an impressive backup solution. While it's not exactly cheap, you can find some great deals for Liquid Web in our deals and coupons page.