You may have seen GoDaddy ads recently as part of its marketing campaign to stay in the spotlight. Meanwhile, Kinsta is gaining more popularity due to its unmatched performance and page loading speeds, even though it only offers high-end managed WordPress hosting. In this Kinsta vs GoDaddy contest, I compared the WordPress hosting offers by evaluating them across multiple categories, including pricing, performance, and features. GoDaddy still holds its reputation as a budget-friendly host, whereas Kinsta won in every other category.
Click here to see Kinsta's best plans
or keep reading to see what makes Kinsta the winner of this comparison.
1. Plans and Pricing
Kinsta Can't Beat GoDaddy's Budget-Friendly Prices
GoDaddy isn't only a leading domain registrar; it also offers an array of hosting solutions such as shared hosting, WordPress hosting, VPS, reseller, and dedicated servers. On the other hand, Kinsta provides premium WordPress hosting and WooCommerce hosting. Kinsta has ten managed WordPress hosting plans, one for beginners, one for professional individuals, and eight for businesses of all sizes. GoDaddy offers eight WordPress hosting plans, four managed, and four unmanaged.
GoDaddy Hosting Web Hosting
A free domain name is included with some hosting plans from GoDaddy Hosting
GoDaddy for WordPress hosting is cheaper than Kinsta, but it also comes with its limitations (more details in the Features section).
With GoDaddy, you get a free domain name with annual terms, and it only initiates a charge at the end of your subscription period. Kinsta doesn't provide free domain name registration.
Both Kinsta and GoDaddy offer a 
30-day money-back guarantee and free website migration
 with WordPress hosting plans.
The winner? GoDaddy. Given the large price gap between GoDaddy and Kinsta, GoDaddy is cheaper, despite its slight limitations.
2. Features
Kinsta Is More Geared Towards WordPress – GoDaddy Has Some Limitations
In this section, I'll compare Kinsta and GoDaddy's managed WordPress hosting plans. With Kinsta, you get from 1 to 150 hosted websites, 10 GB to 250 GB SSD storage, and 20,000 to 3 million monthly visits. All plans come with free SSL, free KeyCDN, automatic daily backups, a staging area, a multi-user environment, site cloning, and a white-labeled cache plugin. With GoDaddy, you can only host one website and get from 30 GB to unlimited disk space. All managed WordPress hosting plans also come with daily backups (up to 90 days), free CDN, free business email (for one year), SEO optimizer (not included with the basic plan), and thousands of pre-built themes. Unlike Kinsta, GoDaddy only provides a free SSL certificate with its higher-priced plans. Explore more differences between Kinsta and GoDaddy using the table below:
| | | |
| --- | --- | --- |
| | Kinsta | GoDaddy |
| Hosting Types | Managed WordPress hosting, WooCommerce hosting | Shared (Linux and Windows), business hosting, reseller, WordPress hosting (managed and unmanaged), VPS, dedicated servers |
| Free Domain | ✘ | ✔ |
| Free SSL Certificate | ✔ | With certain plans |
| Disk Space | 10 GB – 250 GB | 30 GB – Unlimited |
| Bandwidth | | Unlimited |
| Automatic Backups | ✔ | ✔ |
| Control Panel | MyKinsta admin | cPanel, Plesk |
| Email Accounts | | 1 Free |
| Free CDN | ✔ | With WordPress hosting only |
| Free Site Migration | ✔ | Only with the fully managed WordPress hosting plans |
| Money-Back Guarantee | 30 days | 30 days for annual plans and 48 hours for monthly plans |
When it comes to WordPress hosting, Kinsta is the winner.
3. Performance
Kinsta Has Better Uptime and Slightly Faster Loading Speeds
Kinsta delivers its services via a global network of servers in more than 20 locations, including the U.S.A., Canada, Brazil, the U.K., Belgium, the Netherlands, Germany, Finland, India, Singapore, Hong Kong, Japan, Australia, Taiwan, and Switzerland. GoDaddy only has servers in the U.S.A. and India.
Kinsta uses SSD storage with all its plans, while GoDaddy only uses it with specific plans. SSD storage reflects directly on the loading speed, stability, and overall performance of your website. It performs much faster than regular HDD storage in terms of website data processing.
All of Kinsta's plans come with free CDN
 – a feature that GoDaddy only includes with its WordPress hosting plans. A CDN, or Content Delivery Network, boosts your website's loading speed, among other benefits, by placing it on a global network of cloud servers.
Kinsta and GoDaddy both promise a 99.9% uptime guarantee
. During testing, Kinsta achieved a perfect uptime of 100%, while GoDaddy's users reported some downtimes. Nothing major, just an occasional hiccup.
When testing the loading speeds, both hosts scored perfectly. While Kinsta had no slow locations, GoDaddy showed slower speeds from its India server.
You can check out the detailed performance test in this full
Kinsta review
. When comparing these results with
GoDaddy
, you'll see a very slight variance, but not enough to create a difference in the global score. Kinsta has more performance-related features, more global server locations, better uptime, and slightly faster loading speeds, which is why it wins the performance round.
4. Security
Kinsta Provides More Security Features
Both Kinsta and GoDaddy use 24/7 server monitoring, strong firewalls, DDoS protection, and free SSL certificates to secure your website. GoDaddy uses CloudLinux OS with all its plans, while Kinsta uses a similar system known as LXC containers. Both systems securely isolate your website from other accounts on the same server, protecting it from external threats to different accounts. At the same time, it ensures the fair allocation of server resources among all accounts. As previously mentioned, Kinsta provides free CDN with all its plans, and GoDaddy only offers it with WordPress hosting plans. Other than its performance-boosting purpose, a CDN acts as an additional layer of DDoS/Brute-Force protection.
You'll get automatic daily backups with all of Kinsta's plans, but only with some of GoDaddy's.
Security is a tough round, as both hosts offer a limited range of security features compared to other hosting providers. However, Kinsta wins with its inclusive CDN and automatic backups.
5. Support
Kinsta's Support is More Responsive
Both Kinsta and GoDaddy have comprehensive and organized knowledgebases
with countless articles and tutorials. You can contact Kinsta's customer support 24/7 via live chat, email, or support ticket. However, the live chat is only available for subscribed customers. If you are a customer, then you can access the live chat from anywhere in the dashboard. I got instantly connected to an agent who was very professional and helpful.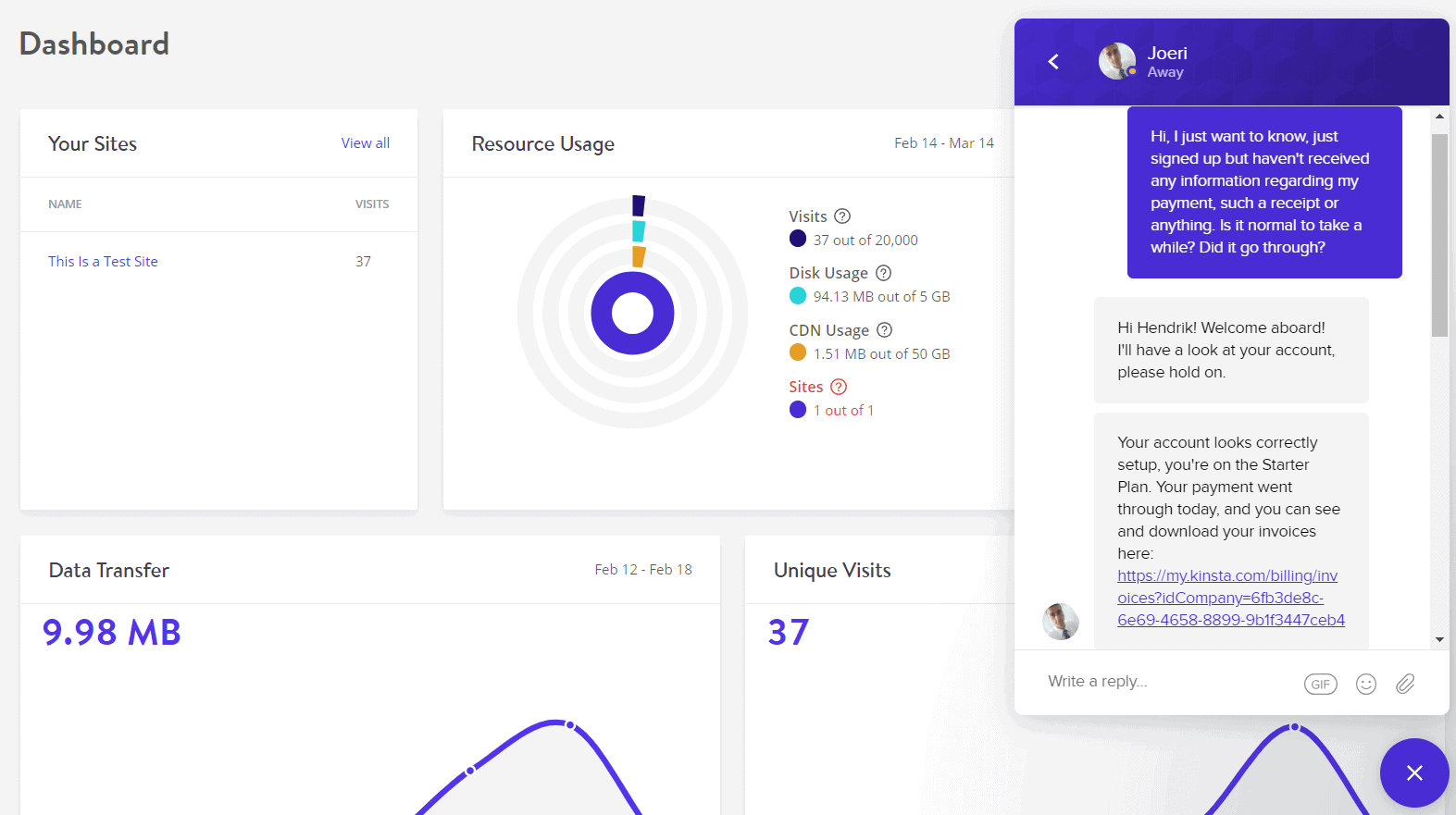 In contrast, GoDaddy provides 24/7 support exclusively through phone and live chat. Regrettably, the live chat does not meet the reliability I anticipated, as it took me over 50 minutes to establish a connection with an agent. Nevertheless, upon connecting, the agent addressed all of my inquiries adeptly and successfully resolved all the issues I had encountered.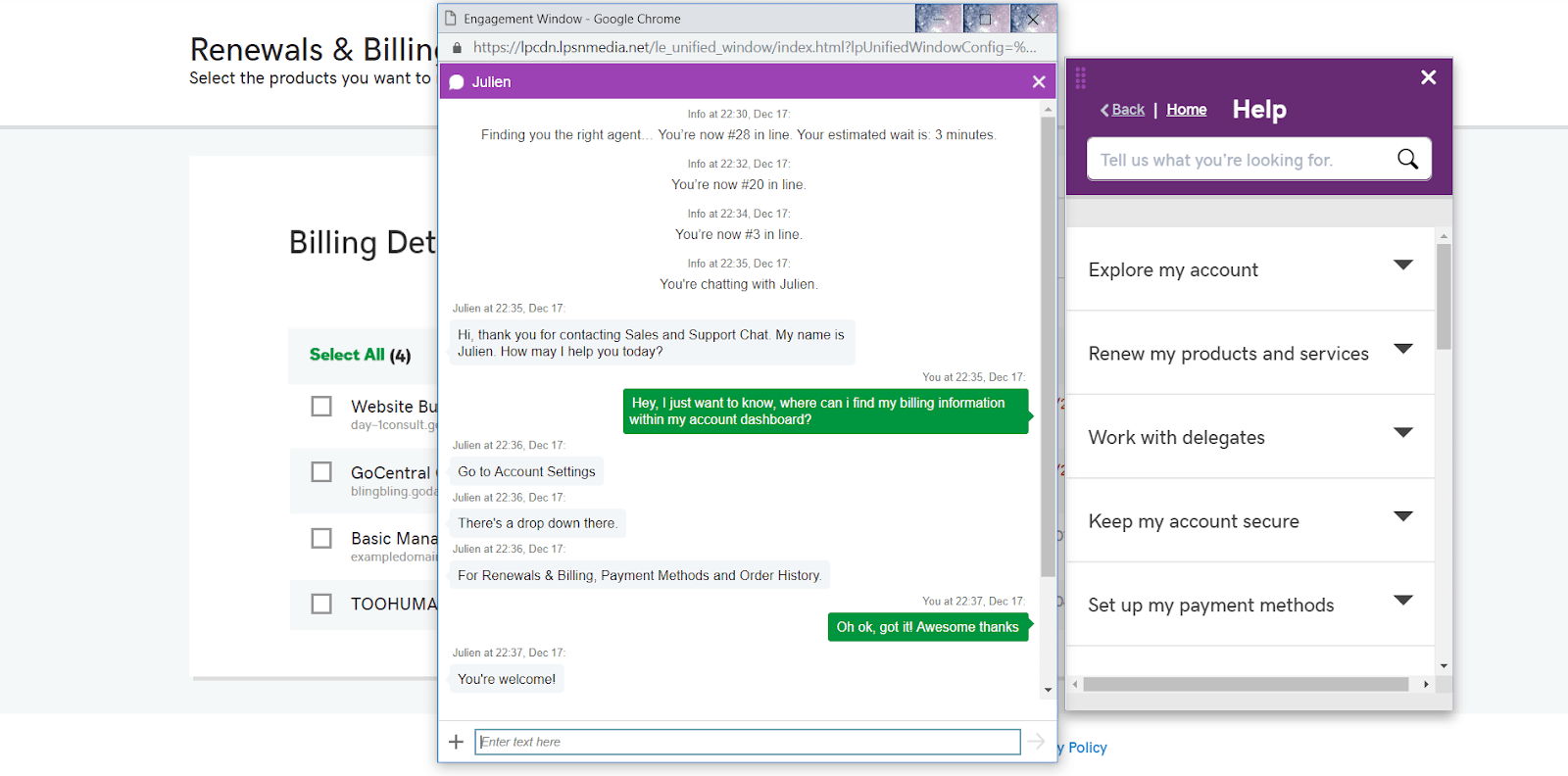 Both hosts have limited communication channels, but Kinsta's higher responsiveness makes it the easy winner of the support race.
Kinsta Is the Champion
GoDaddy has a better pricing structure since it targets budget-conscious consumers, whereas
Kinsta offers premium managed WordPress hosting
for demanding businesses. Nevertheless, Kinsta outperformed GoDaddy in almost every battle. Kinsta is also featured in
this exhaustive list of the best web hosting services
.
Plans and Pricing
Limited hosting solutions. More expensive managed WordPress hosting plans. 30-day money-back guarantee.
Variety of hosting solutions. Cheaper prices. 30-day money-back guarantee.
Key Features
Free site migration, free SSL, SSD storage
Free site migration, free SSL, SSD storage with certain plans
Performance
More server locations, free CDN with all plans, 99.9% uptime guarantee, no downtimes, faster loading speeds
Fewer server locations, free CDN with specific plans, 99.9% uptime guarantee, minor downtimes, slower loading speeds
Security
24/7 server monitoring, strong firewalls, DDoS protection, LXC containers, automatic daily backups with all plans
24/7 server monitoring, strong firewalls, DDoS protection, CloudLinux OS, automatic daily backups with specific plans
Support
Comprehensive knowledgebase, 24/7 live chat, and email, highly responsive
Comprehensive knowledgebase, 24/7 live chat, and phone, low responsiveness
FAQ
Does GoDaddy use SSD?
Not with all hosting plans. You can get SSD storage from GoDaddy if you sign up for VPS or dedicated server plans. Want to explore more SSD hosting options, check out the best cheap and fast SSD hosting services.
Does Kinsta offer shared hosting?
No. Kinsta doesn't offer web (shared) hosting solutions. It only sells managed WordPress hosting packages and WooCommerce solutions for medium to large websites. If you're looking for budget shared hosting, don't miss our list of the best shared hosting services.
Does GoDaddy offer VPS hosting?
Yes, GoDaddy has VPS plans, four Standard RAM plans and four High RAM. The RAM across all packages ranges between 1 GB and 32 GB. Need an alternative to GoDaddy for VPS? Take a look at these cheap and reliable VPS hosting services.
Does Kinsta offer a free domain?
No. Kinsta doesn't offer a free domain name with any of its packages. If you're undecided about which domain name to choose, see our ultimate guide to choosing and buying a domain name.