Kamatera offers cloud hosting, using the resources of a cluster of servers rather than just a single instance to ensure peak reliability and performance for your website(s). UpCloud provides a similar form of cloud hosting. But while UpCloud is intended for small-to-medium-sized businesses, Kamatera is scalable for large enterprises too, and offers more flexibility overall. My colleagues and I tested and reviewed the top cloud hosting providers on the market. I've compared our results for Kamatera and UpCloud, and done some additional digging to determine which is better. Some aspects of UpCloud
are
 superior, but
Kamatera gives you more options and resources, and is a better overall value.
Click here to see Kamatera's latest deals,
 or read on to find out why I crowned Kamatera king in this matchup, and to see if it's right for you.
Plans and Pricing
Kamatera Gives You More for Your Money
Kamatera doesn't offer set plans. Instead,
it lets you adjust each individual resource so you can get exactly what you need.
 With over 1,100 server configurations, its flexibility is unmatched, even by UpCloud, which offers both set plans and customizable configurations. UpCloud's set "Simple" plans deliver good value and
its top-tier plans give you more resources than similar plans from other cloud hosts, like Vultr.
But it can't match the resource scalability or overall bang for your buck of Kamatera. (See
Features
for more.)
Another thing that sets Kamatera apart is that it offers both unmanaged and fully-managed services.
 You have to manage everything yourself with UpCloud. Pricing from both hosts is transparent, with no hidden costs.
With Kamatera, you only pay for what you use, down to the minute.
UpCloud charges by the hour, which is better than some providers that charge by the month no matter what amount of resources you use, but Kamatera's precision pricing definitely gives it a leg up. Both hosts offer free trials, but Kamatera's is much more generous.
Kamatera gives you a 30-day free trial – along with a dedicated account manager – while UpCloud's free trial is just 3 days
and is more limited
.
 That's 3 days more than many cloud hosting companies, though. With more flexible server configurations and per-minute pricing,
 Kamatera wins when it comes to plans and pricing
.
Support
UpCloud's Basic Support Leaves Kamatera in the Dust
When it comes to the standard support you get for signing up, I can attest that
UpCloud's service is superior to Kamatera's.
Kamatera's standard support service will help you if your servers go down, but that's about it.
Besides that, it tries to upsell you on the managed support service – which has better response times and will actually help you configure and maintain your servers. Without managed support, you're pretty much on your own.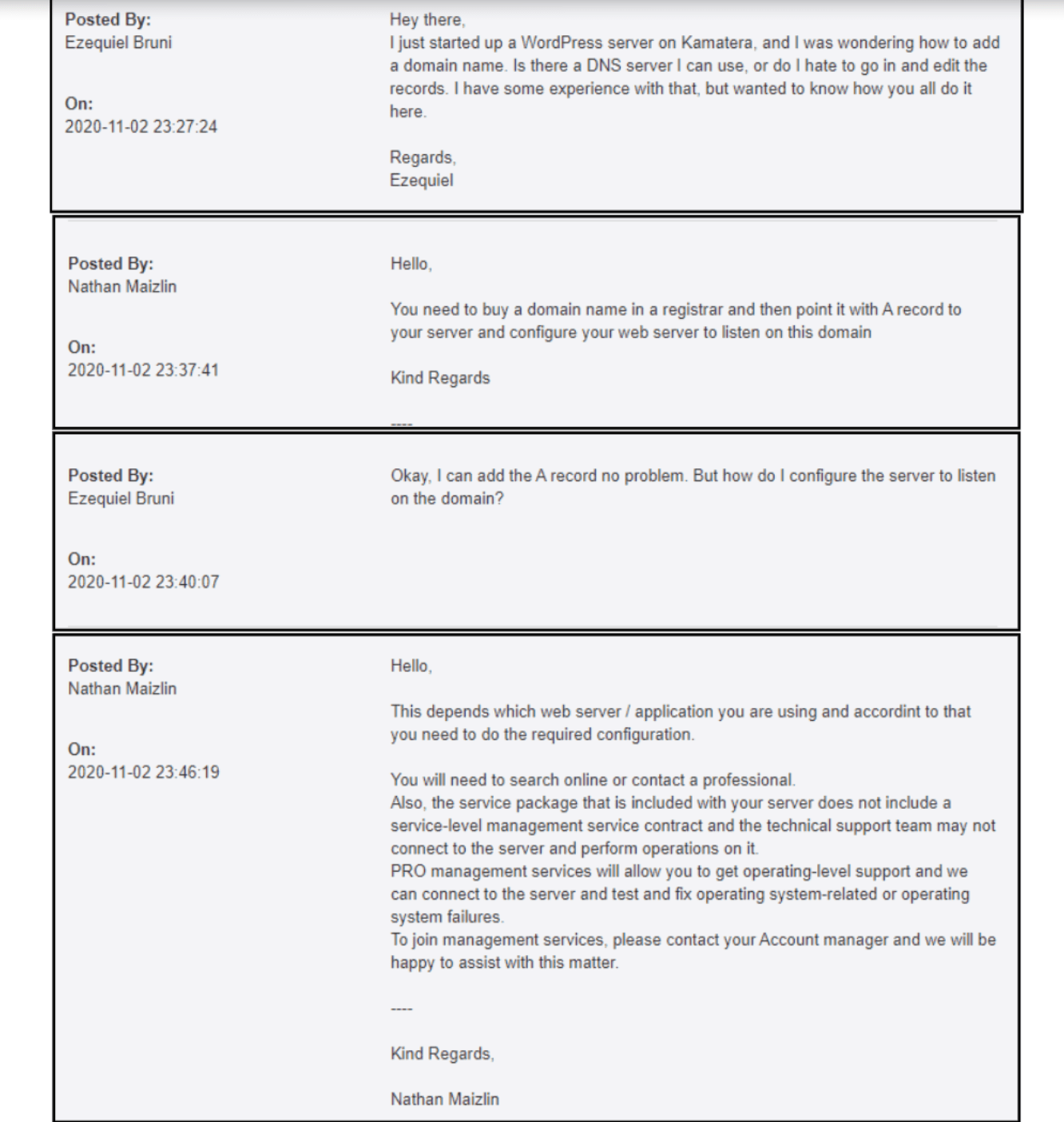 I was able to get through to both hosts fairly quickly, but it took nearly 10 minutes with Kamatera – even on chat and the phone – while
I was chatting live with an UpCloud support agent almost instantly. And I waited less than two minutes on UpCloud's phone line.
UpCloud has 24/7 live chat, email, and phone support.
And one unique thing about it: if you contribute to UpCloud's community resources, you can earn account credits.
Kamatera offers 24/7 email, phone, and tickets for technical support.
 It also has live sales support available during business hours, Sunday to Thursday from 8:00 a.m. – 6:00 p.m. IST for the Middle East, Monday to Friday 8:00 a.m. – 6:00 p.m. EST or CEST for everyone else. Unless you upgrade to Kamatera's managed support, which is top-notch,
UpCloud takes the support category.
Features
Kamatera Doesn't Come with Much, but UpCloud Is Bare Bones
The set plans from UpCloud come with proprietary MaxIOPS block storage, but it also gives you the option of using redundant object storage, or slower HDD storage if you're on a budget. Kamatera offers SSD storage and block storage.
Both providers max out at 16TB of storage per server, but you can add as much separate block storage as you wish.
Kamatera's block storage is less expensive than either UpCloud's MaxIOPS or HDD storage, and it is a similar high-IOPS block storage technology.
Kamatera also offers more virtual CPUs (104 to UpCloud's 20) and RAM (512GB to UpCloud's 128GB) per server. But UpCloud gives you more included bandwidth on high-end plans (24TB to Kamatera's across-the-board 5TB).
The same nominal $0.01/GB overage fee for outgoing traffic applies to all plans from either host.
Both these providers boast that they can get you set up on the cloud quickly.
UpCloud says you can create and boot up new cloud servers in just 45 seconds, and Kamatera claims it will have you up and running in 60 seconds
 with Kamatera Express. Both companies offer account management consoles, private cloud networking and the ability to copy/clone servers. But
Kamatera offers remote desktop servers, allowing you to run a single instance of software that can be accessed by multiple users remotely.
UpCloud only offers this as part of its Windows server hosting, as it is a default feature of Windows servers. Because it gives you slightly more flexibility and more features (even if you have to pay for them),
Kamatera takes the features category.
Kamatera
UpCloud
Hosting types

VPS, cloud

cloud

Fully-managed service

✔

 (optional)

✘

Automatic SSL certificates

✔

✘

Disk space

5GB SSD – 40TB block storage

25GB – 16TB MaxIOPS storage

vCPU

1 – 104

1 – 20

RAM

256MB – 512GB

1GB – 128GB

Bandwidth

5TB, with $0.01/GB overage fee

1TB – 24TB, with $0.01/GB overage fee

Automatic backups

Daily (costs extra)

Daily, weekly, monthly (costs extra)

Control panel

✔

✔

Uptime guarantee

99.95%

100%

Free trial

30 days

3 days
Performance
Too Close To Call
When it comes to reliability, Kamatera and UpCloud are two of the best around.
UpCloud has a 100% uptime guarantee
 and offers compensation for instances of downtime longer than five minutes.
Kamatera's guarantee is for 99.95% uptime, but my colleague recorded 100% uptime during his tests.
Page loading speeds shouldn't be an issue for either host.
UpCloud claims that its MaxIOPS storage is twice as fast as SSD storage.
 And
Kamatera delivered loading speeds of around 1 second
, which, while not the fastest we've seen, is still pretty fast. Both these hosts have data centers around the world, so you can pick a location to maximize performance for your target audience.
Kamatera's 13 data centers are in North America, Europe, the Middle East, and Asia. UpCloud has 11 data centers across the US, Europe, Asia-Pacific, and Australia.
So UpCloud may be a better choice if your market is Down Under. UpCloud also utilizes AMD EPYC processors at all its new data centers, and most of its data centers run on renewable energy.
This one's almost a tie, as you'll get solid performance from both Kamatera and UpCloud, but Kamatera gets the edge – for now.
For in-depth insight on Kamatera's performance, take a look at our
in-depth Kamatera review
. And for more on UpCloud's technology, check out our
expert UpCloud review
.
Security
Kamatera Includes Some Security, UpCloud Doesn't
Unlike standard web hosting companies, custom cloud hosting providers rarely include significant free security features, as users are typically looking to configure their own security solutions, and to pay only for what they use. As such, you'll generally have to buy and add things like backups and security features yourself.
However, you do get automatically-added free SSL with every Kamatera server, and UpCloud offers support for two-factor authentication.
Both vendors offer configurable firewalls, but you have to pay extra for this. And when it comes to paying for advanced security features, because Kamatera offers managed service, it flat-out gives you more security options.
If you pay for Kamatera's managed service, it will configure your security settings and monitor your servers.
 If you don't pay for Kamatera's managed service, you'll have to manage any advanced security features you purchase on your own.
Of course, both hosts keep all their data centers guarded 24/7, and both have provisions in place to keep your servers running in the event of a major power outage.
Kamatera gets a slight edge here
 for the time-saving automatic SSL installations as well as for the availability of a paid managed service.
Kamatera Edges Out UpCloud in This Matchup
Kamatera's flexibility, scalability, and per-minute pricing give it the leg up on UpCloud.
 And while UpCloud lets you customize your configuration as well, it simply can't match Kamatera's 1,174 various server combos.
UpCloud is a great choice for small-to-midsize businesses
, given the amount of resources it offers. It gives you better standard support than Kamatera, and its performance is arguably as good. But you have to be willing to manage all aspects of your server yourself.
The option to purchase managed services from Kamatera is a plus
 if you want someone else to deal with the technical admin so you can focus on your website(s) and business. In the end, Kamatera is the winner in this competition, but if you're just looking to get a simple website up and running, have a look at our list of
the best web hosting services for 2023.
Here's one more look to see whether Kamatera or UpCloud is the host for you:
Plans and pricing
30-day free trial, 1,174 server configurations, pay-per-minute pricing
3-day free trial, set plans and customizable configurations, pay-per-hour pricing
Key features
High resource scalability including 104 vCPU, fully-managed service available, proprietary account dashboard
Proprietary MaxIOPS storage technology, proprietary account dashboard
Performance
13 global data centers, fast page loading speeds around 1 second, 100% uptime in tests
11 global data centers, faster page loading speeds than standard SSD, 100% uptime guarantee
Security
Automatic SSL installations, but additional security costs extra; managed service available
Free two-factor authentication, but additional security costs extra
Support
24/7 email, phone, and tickets, and live chat during business hours, response times under 10 minutes, but most helpful if you pay for managed support
24/7 live chat, email, and phone, quick response times (under two minutes)
FAQ
Is Kamatera better than UpCloud?
They're equally reliable. Kamatera is the better host overall though, as it gives you more resources, more flexibility, and more features. And, Kamatera's per-minute pricing means you'll only ever pay for exactly what you use.
Does Kamatera offer WordPress Hosting?
Kamatera doesn't offer WordPress-specific hosting, but you can easily deploy WordPress in a matter of minutes or pick an image that comes with it pre-installed. You'll then have to fine-tune and manage every aspect of the server yourself unless you want to pay for managed services. If you're just looking to set up a WordPress site without configuring a server, have a look at our list of the 10 best web hosting companies for 2023 to find a more straightforward WordPress hosting plan.
Is Kamatera good for VPS hosting?
We've tested all the most popular VPS hosts on the planet and Kamatera is one of our absolute favorites. In fact, it tops our list of the best-value SSD-based VPS hosting providers.
Is Kamatera fast?
When my colleague tested Kamatera he recorded page loading speeds of 1.1 seconds. It's not the fastest provider out there, but anything under 2 seconds is good, so 1.1 is solid. Kamatera has 13 global data centers, so you'll get the best speeds if you pick the one closest to your target market. See more on Kamatera's performance in our expert Kamatera review.