Microsoft Azure offers an impressively large cloud infrastructure, complete with a long list of data centers around the globe. On the other hand, Kamatera isn't nearly as well-known, possessing a cloud network that is impressive in itself, but several times smaller than that of tech giant Microsoft. Can Kamatera really put up a fight? Surprisingly, my testing revealed Kamatera's loading speeds to be faster than Microsoft Azure's. Not by an insignificant amount either –
Kamatera proved to be twice as fast in some instances
. That said, there were some areas where Microsoft Azure proved to be superior, primarily (and perhaps unsurprisingly) in its diverse selection of services and platforms on offer. To definitively compare these two hosts, I tested both of them thoroughly on features, performance, support, and more. It turned out to be closer than anyone might have expected, and incredibly, Kamatera came out on top.
Click here to see Kamatera's latest cloud hosting plan offerings,
 or keep on reading for all the details.
1. Plans and Pricing
Kamatera Offers Better Resources for Lower Prices
While Kamatera only offers cloud VPS hosting, Microsoft Azure offers a long list of cloud hosting and computing services. For web hosting, Microsoft Azure's
virtual machines
 are your best bet – these are basic cloud instances that start at affordable prices.
Kamatera allows you to custom-build your server,
 setting RAM, CPU, and SSD space to your exact specifications. While Microsoft Azure lacks this level of customization, there's a
huge
list of virtual machines to choose from, all with different sets of resources.
Microsoft Azure Cloud Hosting
The absolute cheapest server configuration with Kamatera includes 1GB RAM, 1 burstable vCPU, 20GB SSD, and 5TB bandwidth. A similar server with Microsoft Azure will cost a significant chunk extra – unless you reserve it for three years, which nets you a big discount. You can purchase the entire three-year period in advance, or pay monthly.
Microsoft Azure's servers only include temporary storage for free
, on drives which are wiped if your server is resized or restarted. For persistent storage, you'll have to pay additional ongoing fees for a managed disk. Adding a 20GB SSD disk causes Microsoft Azure to again be the more expensive option, even with discounts. All in all, Kamatera offers better value for money.
2. Support
Kamatera Offers More Technical Help for Free
Kamatera offers 24/7 support through email, tickets, and phone. Microsoft Azure offers ticket support for free, while other avenues of support are only available within premium support plans. While this is a bit disappointing, Microsoft Azure does offer an extensive knowledge base and a community forum. It's also worth mentioning that Azure offers support on Twitter, if social media is your thing.
Free support is heavily limited with both hosts.
 With Microsoft Azure, you'll only really get billing and account support. Anything technical will require purchasing a support plan.
Kamatera's free support does extend to basic issues with the cloud platform
, such as hardware failures. For anything more involved, you'll need to pay extra. Unfortunately,
premium support with both hosts is expensive.
 Kamatera's additional technical support is locked into managed service plans, though these are quite comprehensive, including the activation of premium security features, performance add-ons like load balancers, and extensive help with server configuration. Microsoft Azure features multiple levels of premium support. Microsoft Azure's Developer and Standard support plans are priced similarly to Kamatera's, but both offer only general guidance with server infrastructure. With all this in mind, I tested each host's available free support by asking some simple questions. To start, I opened a ticket with Kamatera, asking for help connecting a domain to my server.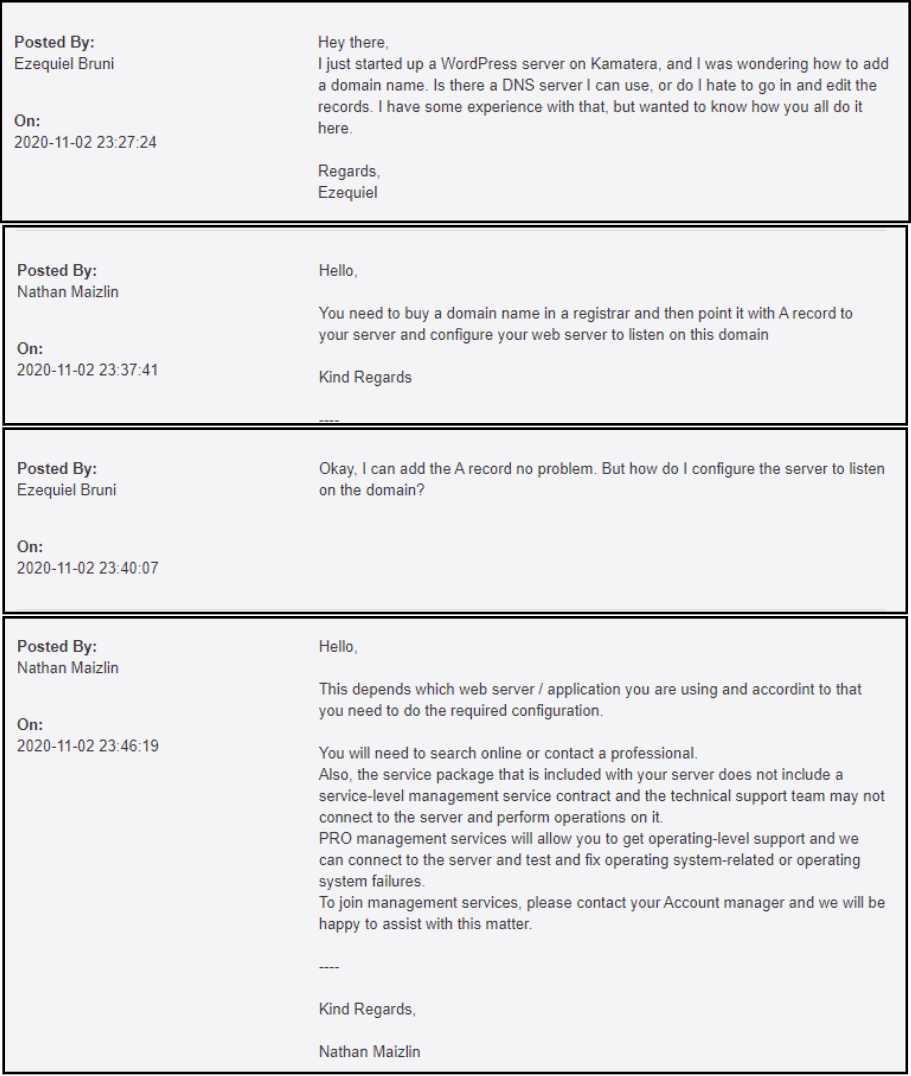 Sadly,
even simple domain management proved to be out of the scope of the Kamatera support team
. I was told to either look elsewhere, or take advantage of the higher level of support offered in the managed service add-on. At least responses were fast – I only waited around ten minutes for each reply. Next up was Microsoft Azure. I asked a simple question through ticket support about whether I could use a CDN for free with a paid server plan.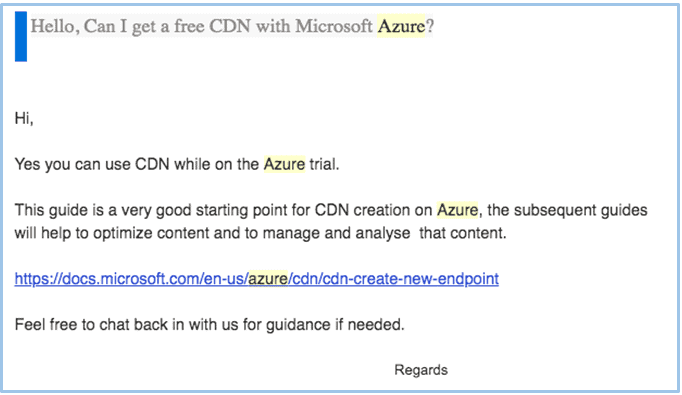 Like Kamatera, Microsoft Azure responded within mere minutes. A support agent answered my question politely, and even sent me a link to a guide in the knowledge base. Microsoft Azure made no attempt to upsell me to a premium support plan, which was refreshing. Despite lacking a knowledge base, I'd still say Kamatera offers better free technical support. You'll get some free support for basic issues, unlike with Azure. And the paid support gives you a lot more for your money overall.
3. Features
Microsoft Azure Provides Faster Setup Times for Many Different Server Configurations
Many of the features included with both hosts look to speed up and simplify server deployment. Both of these hosts allow you to automate much of this process with the use of server images. These images act as templates containing an OS, a development stack, web servers, applications such as WordPress, or some combination of the above.
Microsoft Azure offers the widest variety of server images through the Azure marketplace,
 with images covering a huge number of potential server setups. In addition, Microsoft Azure offers a free AI tool known as the Azure Advisor. It analyzes your server's overall performance and security, offering suggestions on how to optimize and secure it further, as well as how you might be able to save money. That being said, this only works for existing servers – it won't help you deploy a new instance.
While Kamatera lacks an advisor tool, it does offer cheaper backups
. Your server's data will be automatically backed up daily to an external storage array, with the cost based on the size of your SSD drive. Microsoft Azure's backup solution is more expensive, but comes with the ability to create snapshots for an additional fee. The bottom line here, though, is that
Kamatera's server deployment tool allows for total customization of a server instance,
 and you can adjust and duplicate images instantly using Kamatera's account dashboard. While Microsoft Azure offers a similar interface, it isn't as straightforward as Kamatera's, and customization is not as easy after launch. As such, Kamatera wins this section.
| | | |
| --- | --- | --- |
| | Kamatera | Microsoft Azure |
| Hosting types | Cloud VPS | Cloud VPS |
| Automatic free SSL installation? | ✔ | ✘ |
| Disk space | 20GB – 16TB | 4GB – 32TB |
| Bandwidth | 5TB (1TB in Hong Kong), $0.01/GB overage fee | 5GB, $0.05/GB overage fee |
| Automatic backups | Premium add-on | Premium add-on |
| Control panel | Proprietary account dashboard, optional support for any hosting control panel | Proprietary account dashboard, optional support for any hosting control panel |
| Free CDN? | ✘ | ✘ |
| Free site migration? | ✘ | ✘ |
| Money-back guarantee | 30-day free trial | 30-day free trial, some services are available free for 12 months, including a basic VM |
4. Performance
Kamatera Leaves Microsoft Azure in the Dust
Kamatera's global infrastructure isn't bad, with 13 data centers across the globe. However,
Kamatera can't compare with Microsoft Azure, which offers nine data centers in the US alone, with many more spread throughout every major continent
. However, infrastructure means nothing if the hardware is dated or poor.
All of Kamatera's cloud instances use Intel Xeon Platinum processors
 to achieve high-end performance. With Microsoft Azure, the processor you get heavily depends on the type of virtual machine you choose. A compute-optimized server uses processors with similar specifications to Kamatera's, but a cheaper burstable virtual machine would use something slower. Despite expectations of a Microsoft Azure victory, my performance tests revealed
Kamatera to be over twice as fast in some locations,
 and besides Japan and a few locations in the US, Microsoft Azure was slower every time. Microsoft Azure does offer a better uptime guarantee, promising 99.99% uptime on a monthly basis. If this isn't met, you may be compensated in service credits. Kamatera only offers a 99.9% uptime guarantee on an annual basis, but it does offer compensation via cash refunds, as well as service credits. Still, a better uptime guarantee is no substitute for good performance. Kamatera wins this section thanks to its much faster loading speeds across the board. Kamatera scored well in our performance tests. Take a look at our
detailed Kamatera review
 to see the results for yourself. Sadly, Microsoft Azure performed poorly. Find out what went wrong in our
honest Microsoft Azure review
.
5. Security
Kamatera Offers A Single Security Solution – Microsoft Azure Provides Many More
Microsoft Azure can afford to take security seriously – in fact, it's one of its biggest marketing points.
Azure employs over 3500 employees wholly dedicated to security,
and also invests over a billion dollars annually into cybersecurity research. Of course, this means nothing without the features to back it up, so I took a closer look.
The Azure Security Center is available for free.
 On its own, it analyzes your cloud resources and servers for security flaws, offering recommendations on how to resolve them. However, it works best with Azure Defender enabled.
Azure Defender automatically protects against threats such as brute force attacks and SQL injections.
 It's an all-in-one solution that can protect your server, storage, containers, and more. Unfortunately, outside of a 30-day free trial, Azure Defender costs money based on overall use. As for Kamatera, you can purchase a fully customizable cloud firewall as an add-on. There are a few options, managed and unmanaged, the least expensive being the one offered via Kamatera Express.
A nice little security bonus from Kamatera is the automatic installation of a free SSL certificate with every hosting instance.
 This is certainly a timesaver, as most cloud hosts require you to enable even free SSL manually. While Kamatera's default server configuration is adequately secure for most web hosting projects, it simply can't compete with the sophistication of Microsoft Azure's full range of security options, which is why most enterprise-level clients choose Azure.
Kamatera Wins This Battle
My comparison revealed that Kamatera is the superior option for typical web hosting deployments. While Microsoft Azure certainly boasts a significantly larger infrastructure,
Kamatera delivered better loading speeds for a basic website in most regions
.
Kamatera also offers far better pricing for its fully-customizable servers,
 which include persistent SSD storage at no extra cost. Microsoft Azure is the more expensive option, and while it does have some nice features, especially in regards to security, it simply isn't enough to be able to recommend it. Remember that these hosts' unmanaged plans are not suitable for beginners or developers with significant time constraints. Managing a cloud server instance demands substantial effort and necessitates adequate expertise. If you're just looking to host a regular website, check out
our list of the best web hosting services for 2023
.
Plans and pricing
Fully customizable cloud VPS with SSD space included in the price, cheaper overall
Long list of cloud VPS configurations to choose from, persistent storage is a premium extra, up-front payment can earn a discount
Support
Slightly more technical support for free, 24/7 phone, ticketing, and email support, optional managed service
No free technical support, and only ticketed customer support, but premium support is less expensive than Kamatera's
Features
Fewer server images, no free advisory tools, but cheaper backups and more flexible service overall
Plenty of available server images, free AI advisor for existing customers, backups are more expensive
Performance
Fewer data centers, but much faster loading speeds in nearly every region; 99.9% uptime guarantee
Larger infrastructure, but slower performance on average; 99.99% uptime guarantee
Security
Offers a cloud firewall, with managed and unmanaged options; automatic SSL installations; instances adequately protected for most hosting projects
Offers a cloud firewall, a WAF, Azure Defender to automatically block threats, and the free Azure Security Center to analyze and resolve vulnerabilities
FAQ
Is Kamatera the best host?
Kamatera can work well if you're looking for a heavily customizable and scalable cloud server, and is certainly one of the best available for this purpose. However, this may be overkill for a basic site. The hosts in our list of the best web hosting services for 2023 would be more appropriate for a standard web hosting plan.
Does Microsoft Azure use SSD?
Every Microsoft Azure virtual machine comes with SSD-based temporary storage. However, this drive is wiped if your server restarts, resizes, or is shut down. Persistent storage can be added for a fee, and you have the option of using cheaper HDD drives, regular SSD drives, or Premium SSD drives. You can also get a high-IOPS Ultra Disk as add-on storage, but this can be quite expensive.
How do I install WordPress on Kamatera?
Kamatera provides server images that include the WordPress software and all the necessary infrastructure required to run it. It will be automatically installed for you when you deploy your server. Keep in mind, WordPress will still need to be manually optimized and maintained once you have it up and running. If you're looking to have this process managed for you, check out our list of the best managed WordPress hosts.
Is Microsoft Azure hosting worth it?
Microsoft Azure offers plenty of features and add-ons, but prices can quickly add up if you're not careful. And it's hard to recommend paying for Microsoft Azure when our performance tests on a simple website recorded worse results than most other cloud hosting companies. To get the most out of Azure, you'll likely benefit from a managed service like Cloudways, which will use Microsoft's servers but will optimize your deployment to ensure you're getting your money's worth. You'll find great discounts on Cloudways' services on our coupons page.