Kamatera and Linode are both cloud-based providers, but the only service they have in common is VPS hosting. And when it comes to VPS, Linode's offerings are a bit confusing.
You won't find a hosting plan with "VPS" in the title on Linode's website, even though an online search – and Linode support – tells you it has VPS plans.
 Instead, it provides Shared CPU and Dedicated CPU plans, both of which Linode considers VPS hosting. But I have a hard time calling its Shared CPU plan a VPS. Sure, it is a virtual server, but it isn't private: you share a CPU with other customers.

Linode answered my questions about VPS hosting, but I question its answers Linode's Dedicated CPU plan is a true VPS: it's a virtual server with dedicated CPU and resources, just like Kamatera's VPS. As such,
I've compared Kamatera's Cloud VPS plans with Linode's Dedicated CPU plans in this article.
And when it comes to VPS hosting, although Linode beats Kamatera in a couple of key categories,
Kamatera is the better host due to its superior performance, flexibility, and value.
Take a look at
Kamatera's latest deals
,
 or check out my full comparison for an in-depth look at why Kamatera wins this matchup.
Plans and Pricing
Kamatera Offers More Customizability and Has Better Pricing
Linode has nine base resource configurations for its
Dedicated CPU hosting
,
 although you can add SSD-based block storage volumes of up to 10TB each, and additional monthly data transfer in $10-per-terabyte increments. While Kamatera also offers nine set configurations as part of
its Express service
,
 its default approach is to let you adjust each individual resource to design a server configuration that suits you. Overall,
Kamatera gives you nearly 1,200 different configuration options.
And no matter how much you increase individual resources, Kamatera provides better bang for your buck
 when you compare the two head-to-head. And, Kamatera's block storage volumes cost half of what Linode will charge you. In any case, both hosts offer transparent pricing and price calculators so you can know how much you'll be paying each month. And both offer precision pricing, although
Linode's pricing is based on hourly usage, while Kamatera lets you pay for what you use down to the second.
Kamatera offers a 30-day free trial, and there's no commitment or long-term contract required due to its pricing structure. Linode gives you a $100 credit toward a 60-day free trial. It also has a 7-day money back guarantee.
Kamatera runs away with the plans and pricing battle
because it has more configuration options, more precise billing, and provides better value overall.
Support
Linode's Basic Support Is Solid, Kamatera's Is Weak
My colleagues tested both Kamatera and Linode, and when they – and I – reached out for standard support,
both providers replied with helpful answers.
Kamatera's support service is built on a paid tier structure, and because of this, the basic customer support you get isn't very comprehensive.
 You'll get answers to very basic questions and help if your servers go down, but if there's any complexity to your inquiry or issue, you're on your own… unless you pay for a managed service upgrade.
Linode doesn't have support tiers. For the most part, every customer gets the same level of support with any plan.
 However, there is a managed service upgrade which offers faster response times and a few bonus features.
 If you're an
 existing customer, Linode gives you 24/7 phone support and a ticketing system.
It also has email support and a community chat area.
Kamatera has 24/7 phone and email support, a technical support ticketing system, and live chat during business hours
: Sunday to Thursday 8:00 a.m. – 6:00 p.m. IST for the Middle East, Monday to Friday 8:00 a.m. – 6:00 p.m. EST or CEST for the rest of the world.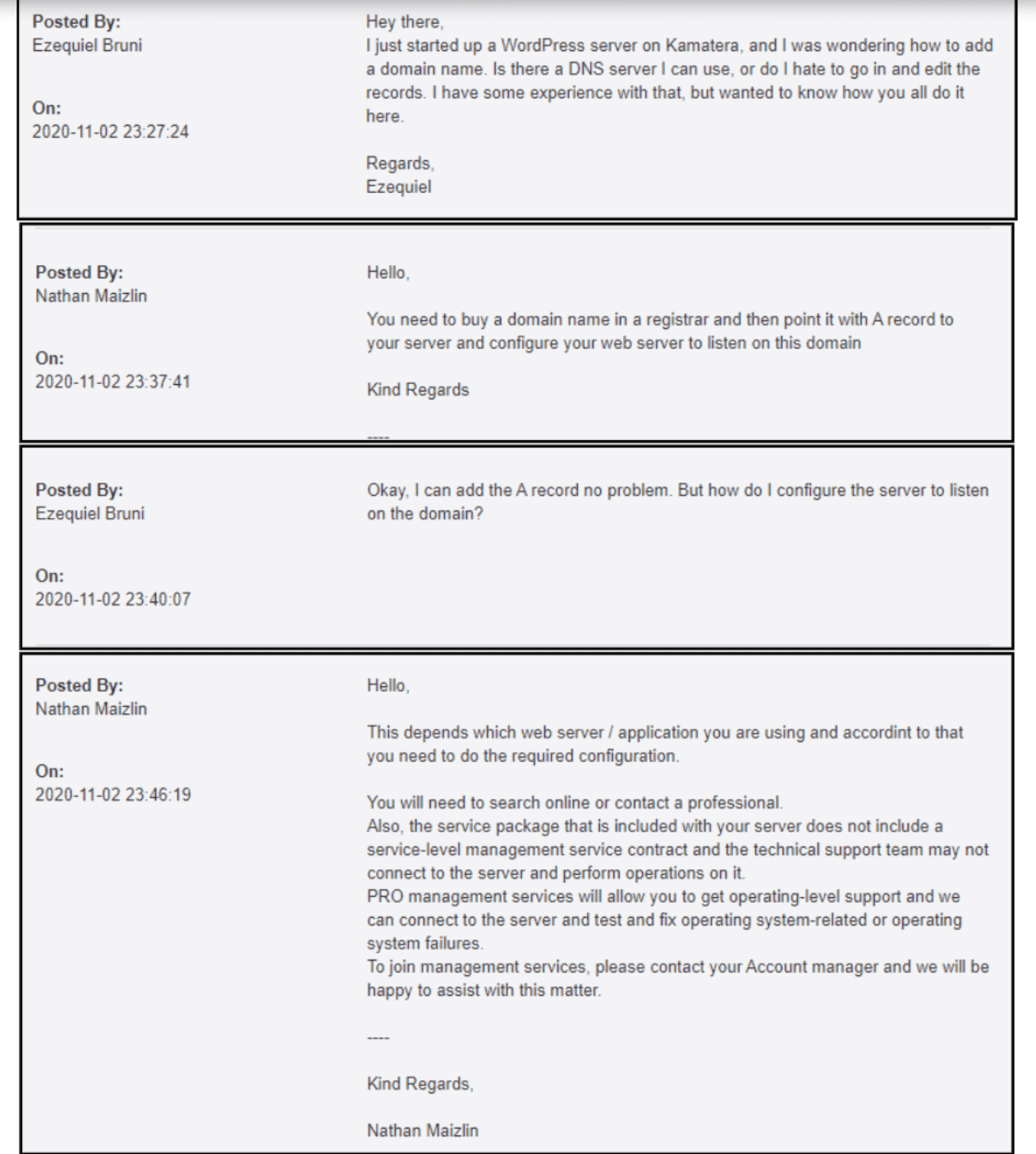 I reached out to both providers' support teams to test their basic, free level of customer support, and neither experience was outstanding. It was easier to get through to Kamatera via live chat – I connected within 10 minutes – but I felt like I was dealing with a used car salesperson. (No offense, used car salespeople.) My only option to reach Linode was email, and it took 48 hours to get a response. The response was more direct and more helpful than Kamatera's. If you upgrade to Kamatera's managed support, it offers a lot more than Linode.
But if you stick with what you get out of the box, Linode provides better support.
Features
Neither Gives You Much for Free, but Kamatera Offers More Choices
Kamatera and Linode are pretty bare bones when it comes to features, so let's look at a couple of fundamental things first: operating systems and resources.
Linode is Linux-only, but Kamatera offers both Linux and Windows.
 Kamatera also has far greater scalability with all resources than Linode, aside from bandwidth – Kamatera's included bandwidth is always 5TB, while you can get up to 20TB with Linode. But, as mentioned in the Plans and Pricing section, Kamatera's overage fee is a nominal $0.01/GB. Both providers offer preconfigured apps (including single-click WordPress deployment), technology stacks, and Linux versions that can be installed easily. And they both support any hosting control panel you want to purchase and use, including cPanel and Plesk. Backups cost extra with both. Kamatera offers daily backups, but you can do daily, weekly, or bi-weekly backups with Linode.
Linode also stores backups off site, while Kamatera doesn't.
At the time of this writing, Linode is offering free cloud migration. Kamatera offers a variety of cost-effective cloud migration services, including free migration in some cases.
Both offer managed service add-ons.
 Kamatera's managed service is tied in with its paid support and also includes firewall and load balancing services. This can be very comprehensive at the top tier, with the capacity to manage your entire infrastructure. Linode's "managed" service is really just advanced support, but it includes free cPanel/WHM licenses, its aforementioned backup service, and two complimentary site migrations. Additional services are provided at a discounted rate. This category is close because neither gives you any extras for free, but since
Kamatera supports Windows, offers more paid add-ons, and has a deeper managed service offering, it has a slight edge
in this category.
Kamatera
Linode
Hosting types
Cloud VPS
Shared CPU, dedicated CPU, GPU, bare metal server, Kubernetes
Operating system(s)
Linux, Windows
Linux
Fully-managed service

✔

(paid)

✘

(no fully-managed option)
Disk space
20GB – 16TB SSD per server; block storage for $0.05/GB per month
80GB – 7.2TB SSD storage per server; block storage for $0.10/GB per month; object storage for $0.02/GB per month
vCPU
1 – 104
2 – 64
RAM
1GB – 512GB
4GB – 512GB
Bandwidth
5TB per server; $0.01/GB monthly overage fee
4 – 12TB; $10/TB monthly overage fee
Automatic backups
Daily (costs extra)
Daily, weekly, bi-weekly (costs extra)
Uptime guarantee
99.95%
99.99%
Free trial
30 days
60 days, with $100 credit
Money-back guarantee

✘

7 days
Performance
Kamatera Aced Our Tests, but Some Users Struggle with Linode
In my colleague's
tests
,
Kamatera delivered page loading speeds of around 1 second, and perfect 100% uptime
 exceeding its 99.95% uptime guarantee. We didn't find Linode's performance to be bad, but
in some online reviews and comments I've read on the Linode community forum, users have struggled
with reliability and have seen loading speeds far slower than what we got with Kamatera
. That said, Linode does have a 99.99% uptime guarantee, and as with all VPS services, you can tweak your configuration to boost performance. Linode's global reach is slightly wider than Kamatera's, as it has 11 data centers on four continents (North America, Europe, Asia, Australia), while Kamatera has 13 on three continents (North America, Europe, Asia). This one's close, but
from what we've seen firsthand, Kamatera has a leg up on Linode in the performance category.
Check out our
expert Kamatera review
for more insight on its nearly-perfect performance scores. And for more on Linode, give our
in-depth Linode review
a read.
Security
Both Providers Offer Basic Free Protection
Linode provides intelligent, fully-automated free DDoS protection
, so your infrastructure is safe from potentially-harmful attacks. It also gives you free monitoring and alerts. But advanced security is up to you, including firewalls, unless you pay for a managed plan. With Kamatera, while the default configuration of any server offers adequate security for most purposes, you're in charge of all aspects of advanced security unless you pay extra for the managed service.
Kamatera does give you automatically-installed SSL certificates
, but there's no free advanced protection.
Both have redundancies in place to combat power failures and natural disasters
 at data centers, but that's par for the course with any reputable hosting provider. At the end of the day, if you can configure your own security features, either one of these hosts will give you a good foundation to work with; if not, it might be worth paying more for a managed service so you can let someone else deal with your infrastructure protection. Final call
on the security matchup: it's almost a tie, but Kamatera's auto-installed SSL is a useful timesaver.
Kamatera Is Superior to Linode
Kamatera gives you more flexibility and scalability than Linode, with more precise pricing and better performance.
 Linode offers better default support, and its security infrastructure appears to be equally as strong, but that's not enough to beat Kamatera, which offers better value and more choices overall. If solid basic support is more important to you, go with Linode – but you'll pay a higher price. You could also pay for Kamatera's managed support and get a better overall experience.
Linode
is also worth checking out if you want shared cloud-based hosting, object storage, bare metal servers, or Kubernetes clusters. But if you're after VPS,
Kamatera
 is the way to go, with lower starting prices than Linode. If you're still not sure which is right for you, take a look at the side-by-side comparison below.
Plans and Pricing
1,174 configurations, per-second pricing, 30-day free trial
9 set plan configurations, more expensive than Kamatera on entry-level plan, per-hour pricing, 60-day trial with $100 credit
Key Features
Up to 104 vCPU and 16TB of storage per server; fully-managed service available for a fee
Less flexible resource configurations than Kamatera;, managed service available for a fee, but does not offer full server management
Performance
100% uptime and 1.1-second page loading speeds in tests, 13 global data centers
Theoretically good performance, but users have experienced reliability and loading speed problems, 11 global data centers
Security
Automatic free SSL, advanced security included with managed service
Free DDoS protection, advanced security included with managed service
Support
Tiered support levels with below-average basic support; 24/7 phone, ticketing, email, live chat during business hours
Good basic support, with upgrade available as part of managed service; 24/7 phone and ticketing, email, community forum chat
FAQ
Is Kamatera better than Linode?
Linode tops Kamatera when it comes to default customer support, but that's where its advantages end. Kamatera provides better performance, more scalability and flexibility, more precise pricing, and better overall value than Linode. And Kamatera's managed service offers a better range of support options.
Is Kamatera easy to use?
Kamatera isn't designed for rookie users. If you're not someone with the tech savvy to run your own instance, subscribing to Kamatera's managed service is a near must. If you're just looking for straightforward website hosting, you may want to consider one of the hosts on our list of the 10 best web hosting providers for 2023.
Does Kamatera offer VPS hosting?
Kamatera is one of our favorite VPS hosts on the market for both reliability and value. In fact, we like it so much it tops our list of the best VPS hosting services in 2023.
How much does Kamatera cost?
Kamatera allows you to configure your server's resources to suit your needs exactly. And you only pay for what you use down to the second. Its entry-level configurations cost about the same as shared hosting, but they won't give you much computing power, so you'll likely have to scale up your resources at some point. You do get 5TB of outbound traffic allowance, even on the least expensive setup – and if you do somehow go over this limit, you'll pay a nominal flat fee of $0.01/GB, per month. If you want to shop around for a better deal, you'll find loads of VPS hosting options for 2023 on our coupon page.