iPage prices may seem attractive at a glance, but did you know that its renewal rates can be four times higher than the initial cost?
InMotion Hosting, on the other hand, has affordable prices on high-value packages and discounts for long-term contracts.
But pricing isn't everything, so I've methodically tested and researched both providers based on five important aspects of web hosting.
InMotion Hosting emerged as the clear winner on almost every count, including performance, pricing, and features.
Click here to see InMotion Hosting 's best deals
, or read on for more details.
1. Plans and Pricing
iPage Is Cheaper, but Only for the Initial Term
For shared hosting, iPage has a single one-size-fits-all plan, while
InMotion Hosting has four different plans to choose from
. iPage gives you unlimited domain names and databases, but bandwidth is capped at 100,000 visitors. InMotion Hosting 's Power plan has a limit of 50 databases, 50 websites, and 200 subdomains, but if you need more you can easily upgrade to the Pro plan.
A free domain name is included with some hosting plans from iPage
InMotion Hosting Web Hosting
For WordPress hosting plans, iPage gives you two options while InMotion Hosting gives you four. iPage's WP Starter comes with unlimited storage and bandwidth, a custom control panel, and several preinstalled themes.
InMotion Hosting's lowest-tier WordPress plan is not only cheaper but also includes a lot of extra features
.
A free domain name is included with some hosting plans from iPage
InMotion Hosting WordPress Hosting
Although both hosts attempt upsells, iPage is the worst offender, automatically adding a bunch of different paid upgrades to your cart at checkout.
These options effectively double your costs.
InMotion Hosting is not only cheaper than iPage in the long run, but it also gives you more tools,
which I'll expand on in the features section.
2. Support
Both Hosts Have Good Support, but InMotion Hosting Is More Knowledgeable
InMotion Hosting and iPage offer 24/7 support through live chat and phone.
 InMotion Hosting also offers support via email and ticket, as well as two different customer service phone numbers, one for US clients and another for international callers. You can even contact them through Skype. To compare the two hosts, I contacted both through live chat. Let's see how they did. With iPage, I got in touch with an agent within several minutes.
The agent recommended the Go plan, but there was no mention of such a plan on the host's website.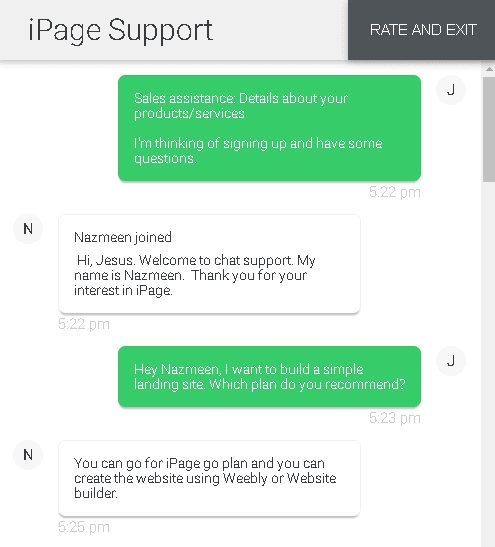 Later on, I figured out from their renewal page that iPage's one-size-fits-all shared hosting option is called the Go plan –
I found this confusing, and it should be clarified. When I asked about my website's performance, the agent didn't go into much detail. They just assured me that my non-US visitors would have good speeds.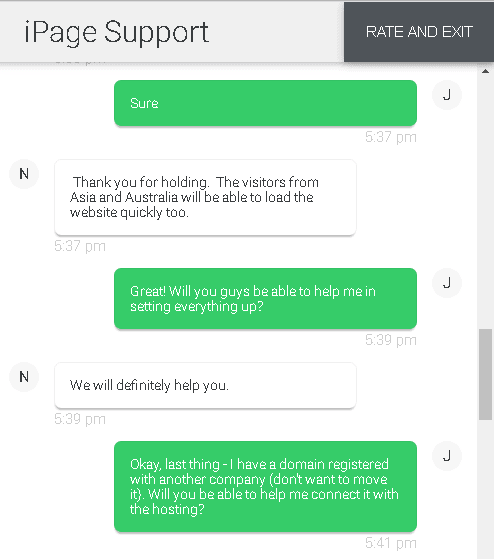 InMotion Hosting 's representative gave more thorough answers.
 He offered to build a custom plan for me that had the latest WordPress version. He also offered to set up my nameservers for me, while iPage said I had to talk to my current domain registrar.
The custom purchase order with InMotion Hosting also included a small discount,
which the rep offered to email me to ensure I would benefit from it.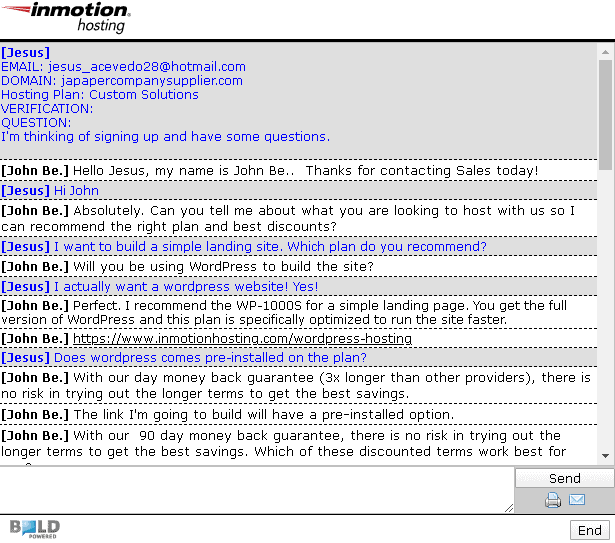 The only thing that I didn't like about my interaction with InMotion Hosting 's support agent was the push for a purchase. I understand that closing deals is an important part of his job, but I preferred the neutral tone on iPage.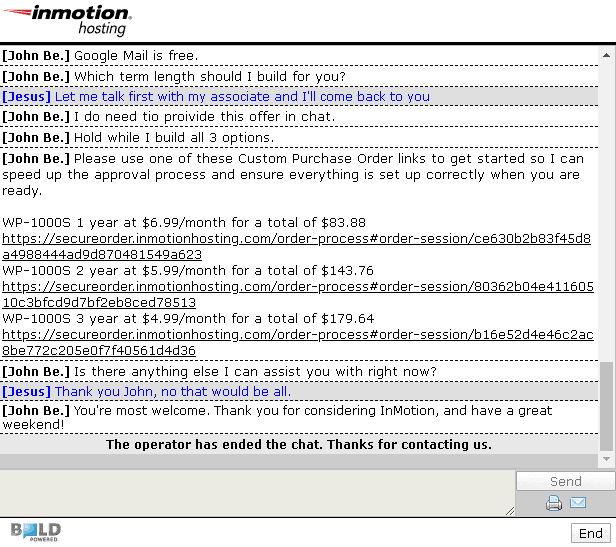 Both hosts' knowledge bases have a good number of tutorials and basic documentation, including step-by-step guides on topics ranging from Gmail integration to backend troubleshooting. But
InMotion Hosting 's resource center is more comprehensive and easier to navigate.
 In addition, you can post your own questions on the help forum and have tech support agents and experienced InMotion Hosting clients give you feedback, which you cannot do on iPage.
3. Features
InMotion Hosting Has More Features Than iPage. Lots More.
When it comes to features, iPage simply can't compete with InMotion Hosting .
 Let's take a closer look at what you get with each provider's plans. For WordPress plans, InMotion Hosting not only gives you a WordPress-optimized stack, you also get advertising credits, SSD storage, and advanced server caching. The WP1000-S plan only includes 50GB storage and roughly 20,000 visitors per month, but you can upgrade to one of the three higher-tier plans if needed. InMotion Hosting's WP2000-S, its best value managed WordPress plan, gives you double the storage, bandwidth to handle 50,000 visitors, and a Jetpack Personal license.
For shared hosting, the differences are even bigger between iPage's shared plan and the comparatively priced InMotion Hosting Power plan.
 For example, InMotion Hosting includes three no-downtime website transfers (which they will do for you), malware protection, and a better website builder. iPage has no managed transfer or malware security service, while the builder lets you design just six pages free of charge. If any themes or plugins end up messing up your website,
the safe application rollback feature on InMotion Hosting lets you easily restore it to a previous working version.
 US-based customers also get a hefty amount of search engine advertising credits. Although iPage offers unlimited email accounts, each mailbox has a 500MB storage limit. InMotion Hosting 's email accounts don't have a cap. For an overview of iPage and InMotion Hosting , I've included the main features of their entry-level shared hosting plans in the table below:
iPage
InMotion Hosting
Hosting Type
Shared, WordPress, VPS, dedicated servers
Shared, WordPress, VPS, cloud VPS, managed hosting, reseller, dedicated servers

, bare metal

Free Domain
Yes, on yearly plans
Yes, on yearly plans

(except most basic plans)

Free SSL Certificate
Yes
Yes
Disk Space
Unlimited on the shared plan

10 GB – 200 GB

Bandwidth
Capped at 100,000 monthly visitors
Unmetered
Automatic Backups
Only as paid upgrade
Free on higher-tier WordPress plans, paid on shared plans
Control Panel
vDesk
cPanel
Email Accounts
Unlimited
1 – Unlimited
Free CDN
No
On WordPress plans
Free Site Migration
No
Yes, up to 3 websites
Money-Back Guarantee
30 days
90 days
4. Performance
iPage Isn't Bad, but InMotion Hosting Is Blazing Fast
InMotion Hosting 's optimized infrastructure delivers excellent loading times even for complex websites, while iPage only performs well for simple websites. Let's look at why that's the case.
For starters, iPage does not offer SSD storage at all, while 
InMotion Hosting 's infrastructure is fully upgraded to SSD
 – which makes a big difference in performance, especially for  e-commerce sites or sites with a lot of media.
InMotion Hosting 's WordPress hosting plans include a proprietary CDN
 (on shared plans, you have to install one yourself). iPage doesn't offer a free CDN at all – the only way to get one is to purchase a premium SiteLock plan. If your target audience is outside the US, this might be necessary to boost loading speeds. InMotion Hosting also wins when it comes to server performance. The company owns and manages its two data centers, in Washington, D.C., and Los Angeles
(both sit directly on internet exchange points)
.
iPage's two Boston-based data centers are shared with other EIG companies.
The more companies share the same data center, the more likely it is that each server will be overcrowded with users, which leads to worse hosting performance overall. iPage isn't too transparent with this information, but the customer support agent I talked to reluctantly admitted that this was the case.
InMotion Hosting 's servers run on Nginx, which guarantees 2.5 times the performance of Apache stacks.
 What does iPage use? You guessed it: Apache. InMotion Hosting 's web service stack also includes advanced caching, data compression to decrease page load times, and several WordPress optimizations. What about uptime? Well,
InMotion Hosting guarantees 99.999% uptime for your website
. If you get any less than this in a 30-day period, you're eligible for a refund equal to one month's worth of hosting.
iPage has no uptime guarantee,
 which is standard policy for many EIG-owned brands.
5. Security
iPage Skimps on Security, While InMotion Hosting Gives You Peace of Mind
I hate it when web hosts make you pay for decent security. Basic security measures are as much to the company's benefit as they are to yours as a client.
Unfortunately, iPage does not offer much in the way of website security
. On shared and WordPress plans, you get a SiteLock malware scan once in a while and you cannot choose when this is done. For more advanced protection, you have to pay extra. Alternatively
, InMotion Hosting guarantees safe application rollback, malware and DDoS protection, and spam protection for your email, free of charge
 on shared plans. On WordPress plans, you can add web application firewalls to the list, as well as the Jetpack suite.
Both InMotion Hosting and iPage provide free SSL certificates.
Automatic backups are not included in either host's basic offers.
With InMotion Hosting, you can safely execute application rollbacks free of charge. This functionality proves valuable for novice webmasters and individuals, such as myself, who enjoy experimenting with new concepts despite their apparent inadvisability.
iPage Consistently Trails Behind InMotion Hosting
InMotion Hosting has a clear advantage over iPage in terms of performance, features, security, and support.
 Even in pricing, where iPage has more attractive entry-level deals, InMotion Hosting will come out on top in the long run because it offers more affordable renewals. Even though both hosts are U.S.-based, iPage shares the resources of its servers with other providers. On the other hand,
InMotion Hosting goes the extra mile to ensure that its infrastructure offers peak performance for clients.
I would gladly give up a few extra dollars on the initial term to benefit from
InMotion Hosting 's high-quality web hosting plans
. This is especially true if you want to run a business website. If your host can't guarantee that your website will be up and running when you need it, why work with it in the first place? InMotion Hosting also made it into our list of
the best web hosting services
, while iPage didn't come close.
Plans and Pricing
Slightly more expensive than iPage initially, better long-term prices, high-value purchase
Cheaper than InMotion Hosting only on initial terms, low-value purchase due to scarcity of features
Key Features
Free domain name, SSL and unlimited
; premium website builder included; free transfers
Unlimited storage, websites, and emails; capped bandwidth; website builder trial
Performance
SSD storage throughout, high-speed Nginx servers, cache manager and CDN available on WordPress plans, 99.99% uptime guarantee
HDD storage, Apache web servers, shared data centers, CDN available for purchase, no uptime guarantee
Security
Free SSL, DDoS protection, hack and malware protection, spam protection for emails, site backup and restore; automatic backups available for purchase
Free SSL, occasional malware scan, add-on security upgrade available
Support
24/7
/365 U.S.-based customer
support via email, tickets, live chat, phone, and Skype; extensive knowledge base
24/7 support via phone and live chat; good knowledge base
FAQ
Is InMotion Hosting better than iPage?
Yes. I haven't found a single aspect where iPage is better than InMotion Hosting . iPage might have a more attractive price for the initial term, but the renewals are steep and will ensure that you pay dearly for those initial discounts. iPage doesn't even offer preinstalled and optimized WordPress for its special WordPress plans. There are few features to speak of and performance is likely to be good only if your visitors are from the US and if your website is small and simple. On the other hand, InMotion Hosting offers speed-optimized servers, SSD storage, free security, and more. These are some of the reasons why InMotion Hosting made it to our list of the best web hosting services.
Is iPage owned by EIG?
iPage was acquired by EIG in 2010. The parent company makes it a point to not disclose mergers beforehand, as they know it will have a negative impact on the client base. Unfortunately, this was not a good thing for iPage. Its data centers are now shared with dozens of other EIG hosts, and its hosting packages offer poor value overall. If you're looking for a hosting bargain, don't miss our frequently updated web hosting coupon page.
Does iPage offer good performance?
Not really. iPage might offer good loading speeds for small webpages and US visitors but not for more serious websites. Its web server stack runs solely on Apache, and there is no caching or proprietary CDN to speak of. If page loading speed is a top priority for you, I'd recommend you check out Hostinger, which achieved impressive results in our performance tests.
Does InMotion Hosting use SSD?
InMotion Hosting offers full SSD infrastructure, from shared to VPS, and even dedicated plans. Unlike many web hosts out there, InMotion Hosting owns and manages its own data centers. The tech crews make it a point to optimize the infrastructure to offer optimal performance, both in terms of software and hardware. If you want to compare InMotion Hosting to some other options before you make your final decision, see our list of the best SSD hosting providers.