While both InterServer and Hostwinds provide a wide range of feature-packed hosting plans for individuals and businesses, only one of them offers excellent value for your money.
InterServer is cheaper than Hostwinds, yet it has better features, more consistent performance, and a more robust security suite.
It offers the better deal of the two hosts by a wide margin.
To make a comprehensive comparison between InterServer and Hostwinds, I tested them for pricing, features, performance, support, and security. It was Hostwinds' unstable performance and high prices that made it lose this battle.
Click here to see InterServer's latest deals
, or continue reading to see how each service performed in this comparison.
1. Plans and Pricing
InterServer Offers Cheaper VPS Plans
Both InterServer and Hostwinds offer lots of hosting plans including shared, reseller, VPS, and dedicated servers.
All of InterServer's VPS packages are fully managed and configurable
, whereas Hostwinds offers both managed and unmanaged VPS packages.
Not only are Hostwinds' VPS plans more expensive than InterServer's (even with promotional discounts), but they also renew at a higher price. On the other hand,
you don't get overcharged with InterServer, as its VPS plans have fixed prices and do not feature renewal fees
.
free domain (with annual billing) and money-back guarantee
 (ranging from 48 hours to 30 days), depending on your subscription. InterServer doesn't offer a free domain, but it offers a
30-day money-back guarantee with its web hosting packages.
Even though both services offer affordable hosting,
InterServer outshines Hostwinds by offering cheaper hosting in both the short term and long term
.
2. Features
More VPS Storage with Hostwinds – More Options with InterServer
This is a tough round since both InterServer and Hostwinds offer feature-loaded, SSD-powered VPS packages for Linux and Windows. Additionally, InterServer offers VPS packages for WordPress as well. With Hostwinds managed VPS for Linux, you can get up to
750 GB SSD storage, 9 TB bandwidth, 96 GB RAM, and 16 CPUs
. With InterServer, you can get up to
480 GB SSD storage, 32768 MB RAM, 16 TB bandwidth, and 16 CPUs
. Using InterServer's Webuzo control panel, you'll be able to deploy hundreds of popular CMS applications instantly, such as
WordPress, Drupal, and PrestaShop for free
. You also have the option to choose from cPanel or DirectAdmin control panels. Use the comparison table below to compare InterServer and Hostwinds:
| | | |
| --- | --- | --- |
| | InterServer | Hostwinds |
| Hosting Types | Shared (Linux & Windows), reseller, email hosting, e-commerce hosting, VPS (Linux, Windows, WordPress), dedicated servers | Shared, business, reseller, White Label hosting, managed VPS (Linux and Windows), unmanaged VPS (Linux and Windows), cloud, dedicated servers |
| Free Domain | ✘ | ✔ |
| Free SSL Certificate | ✔ | ✔ |
| Disk Space | 30 GB – Unlimited | 30 GB – Unlimited |
| Bandwidth | 1 TB – Unlimited | 1 TB – Unmetered |
| Automatic Backups | Daily, Weekly | Daily |
| Control Panel | cPanel, DirectAdmin, Plesk | cPanel |
| Email Accounts | Unlimited | Unlimited |
| Free CDN | ✔ | ✔ |
| Free Site Migration | ✔ | ✔ |
| Money-Back Guarantee | 30 days | 48-hour, 14-day, or 30-day (depending on contract length and if it is at first billing cycle or renewal) |
Both hosts offer feature-rich VPS hosting packages to meet different needs. If you prefer more storage, Hostwinds will be a good option. However, if you'd rather have fully managed servers and more options, InterServer is the best option.
3. Performance
InterServer Has Better Uptime
Both InterServer and Hostwinds have two server locations in the US, but Hostwinds recently added a third data center in the Netherlands. This definitely made up for some of its slow loading speeds from Europe and Asia.
Both hosts use SSD storage with their plans
. SSD storage performs much faster than the regular HDD storage, in terms of website data retrieval and processing. This reflects directly on the websites loading speed and overall performance.
Free CloudFlare CDN (Content Delivery Network) is also included with all the plans
 offered by both hosts. This feature boosts your website's loading speeds from different locations around the world by placing it on a global network of cloud servers. Hostwinds promises a 99.9999% uptime guarantee and InterServer promises a 99.9% uptime guarantee, but several downtimes have been reported with Hostwinds, while Interserver proved on several occasions to have
exceeded its own uptime.
When we tested the loading speeds of the two hosts, they both showed
good speeds from the US and slower speeds from the rest of the world
. However, Hostwinds showed slightly better results in our tests than InterServer. In this
detailed Hostwinds review
, you'll see how it got a good score. You can also compare it with
InterServer's test results
.
Although Hostwinds showed slightly better loading speeds than InterServer, that can be fixed by activating CloudFlare. Hostwinds' downtimes, however, are a real deal breaker. This is why InterServer wins the performance round.
4. Security
InterServer Includes More Free Security Features with Its Plans
Both hosts have their own home-developed security packages.
InterServer includes InterShield with all its plans
 while Hostwinds' WindSheild package is offered as an optional paid add-on. InterSheild
 blocks web attacks (including DDoS/Brute-Force attacks), scans for viruses, applies Machine Learning Firewall
, and has its own inhouse malware database, which is obtained from thousands of servers and websites around the world. InterServer also includes its own Inter-Insurance which cleans out any compromised, hacked or exploited accounts. Hostwinds' security is pretty much all included with its WindSheild paid package, which includes three services –
firewall setup, security audit, and server hardening
. This also includes
DDoS/Brute-Force protection
. Both hosts rely on CloudLinux OS for their servers, which securely isolates each account on the server from other accounts on the same server, to protect it against any unwanted threats targeting the other accounts. At the same time
 it ensures the fair allocation of server resources among all accounts on the server.
InterServer includes
 free automatic weekly backups
 with all its plans while Hostwinds undertakes daily backups with their plans. While Hostwinds makes you pay extra to secure your website, InterServer
offers advanced security features for free
 with its packages, making it the winner of this section.
5. Support
Hostwinds Has a More Organized Knowledge Base
Even though both InterServer and Hostwinds have an extensive knowledge base, it's easier to navigate the website and find what you're looking for with Hostwinds. InterServer's customer support is available
24/7 through live chat, ticket support, email, and phone
. It even operates native speaking phone support centers in the
US, UK, Israel, Brazil, and India
. Even though the live chat is highly responsive, they're not very knowledgeable.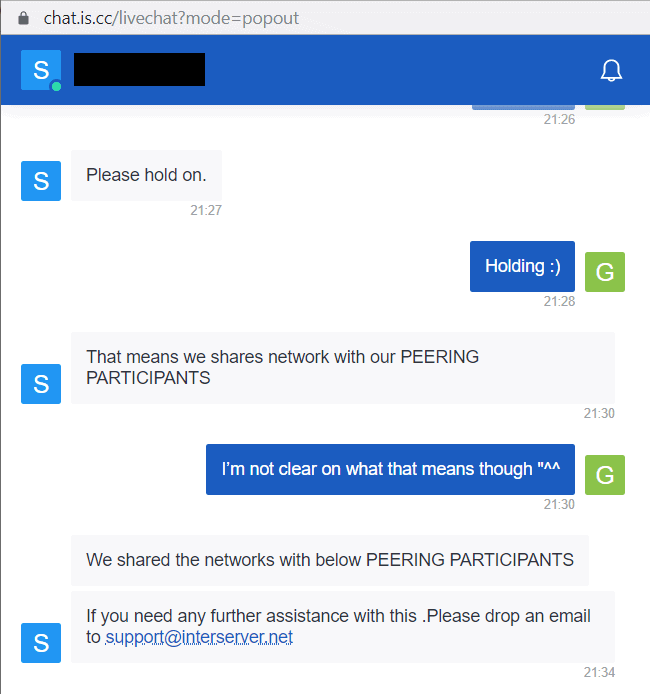 Hostwinds also offers
24/7 customer support via live chat, phone, email, and ticket support
. The live chat was responsive, but like InterServer, the representative wasn't very knowledgeable either.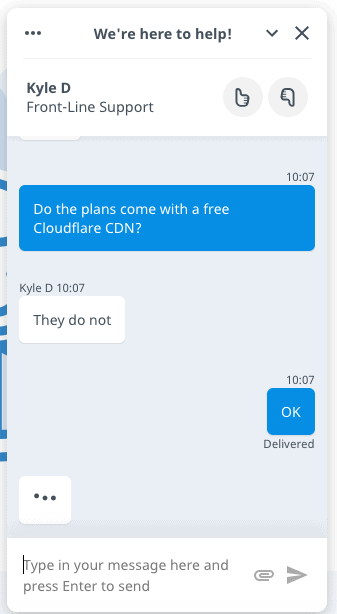 Both hosts aren't very reliable when it comes to customer support, but at least Hostwinds has a more organized knowledge base that can compensate, slightly, for this issue. Hostwinds wins the support round by a slim margin.
Hostwinds Loses Out to InterServer
Hostwinds put up a fight against InterServer. However, InterServer managed to beat Hostwinds in three out of five sections, especially in the pricing round. InterServer offers better value for your money
, even after renewal.
It also provides more reliable performance and more security features – something that Hostwinds actually charges you for.
It's no surprise that InterServer has made it as one of the top hosts in
our list of the best web hosting services
.
Plans and Pricing
Cheaper plans in the short and long term. 30-day money-back guarantee with shared hosting. 
More expensive than InterServer. High package renewal rates. Offers anywhere between 48 hours to 30 day money-back guarantees.
Key Features
Free site migration, free site builder, and free SSL.
Free domain, free site builder, free site migration, free SSL.
Performance
Servers in US only, SSD storage, CloudFlare CDN, 99.9% uptime guarantee, fewer downtimes, slower loading speeds
Servers in US and Europe, SSD storage, CloudFlare CDN, 99.9999% uptime guarantee, more downtimes, faster loading speeds
Security
Free InterSheild, free Inter-Insurance, CloudLinux OS, weekly backups
WindSheild only available as a paid add-on, CloudLinux OS, daily backups
Support
Unorganized knowledge base, 24/7, live chat, phone center in 5 countries, email, ticket support,  team was not helpful
Organized knowledge base, 24/7, live chat, phone, email, ticket support, team was not helpful
FAQ
Which host is better, InterServer or Hostwinds?
InterServer is definitely an overall better choice than Hostwinds, and is one of the most recommended web hosts by our experts. You have a lot of high-quality plans that are suitable for almost all types of hosting. You also pay much less with InterServer compared to Hostwinds. See where InterServer is ranked in our expert list of the best web hosting services.
Does Hostwinds offer WordPress hosting?
No. Hostwinds doesn't offer WordPress hosting packages. However, it allows you to install WordPress through Softaculous from your cPanel with any shared hosting plan. Need reliable managed WordPress hosting? Don't miss our detailed list of the best managed WordPress hosting services.
Does InterServer use SSD?
Yes. InterServer offers ultra SSD storage with most of its hosting packages including shared, VPS, and WordPress hosting. InterServer is also featured in our list of the best recommended SSD hosting services.
Does Hostwinds offer a free domain?
Yes. Hostwinds offers a free domain name registration with its annual subscriptions. It also offers free website transfer. If you don't know which name to choose, you can take a look at this ultimate guide to choosing a domain name.