InMotion Hosting
and
iPage
to the test to see how they compare.
Read on to find out which host is perfect for your needs
. We put InMotion and iPage head to head in these areas:
Value for money. Cheapest doesn't always mean best, so we made sure to check what exactly you get for the price you pay.
Performance and reliability. Excessive downtime can have dire consequences for your website. Instead of just looking at uptime guarantees, we checked the actual amount of downtime for each host and tested their actual speed and performance.
Security features. In today's online world, you really can't be too safe. We examined the level of security each host offers.
Apps and website building options. We're not all web gurus, and some of us need a little help with building our website. We checked what InMotion and iPage offer when it comes to site builders and one-click installers.
Customer support. No matter how good your host is, things can go wrong. We tested both hosts' support teams to see how quickly they'd respond and if they were able to solve technical problems.
Now, let's see how they did.
Round 1: Which Host Offers the Best Value for Your Money?
When it comes to web hosting, cheap doesn't have to mean basic. InMotion Hosting,
a user favorite
, has put together a generous hosting package. There's a range of shared hosting plans available – Launch, Power and Pro – as well as VPS and dedicated hosting options.
Even the most basic plan (Launch) comes packed with valuable features
:
Unlimited SSD disk space
Unlimited bandwidth
Unlimited email
Free SSL certificate
Excellent website builder
Two websites
Free domain name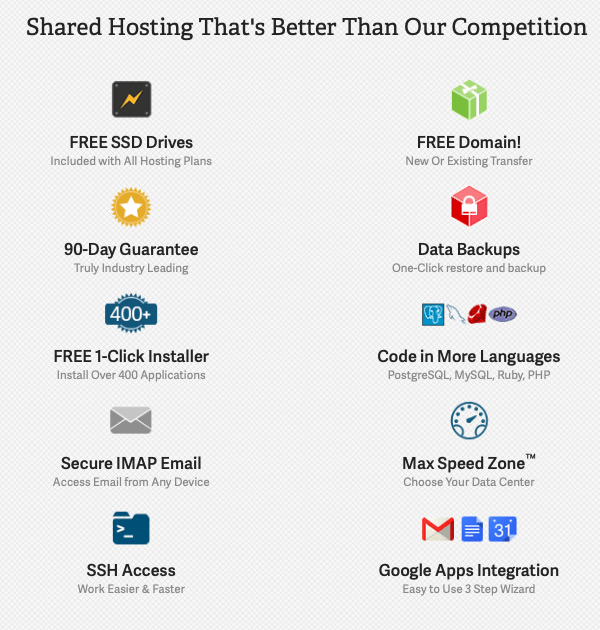 iPage, which also gets
great reviews
, has a really impressive offer for new customers – and although the 'regular' price is higher than InMotion Hosting's Launch plan, the introductory price is much lower. Because iPage only offers one shared hosting plan (described as "one-size-fits-all"),
this single price point offers much more value for money than InMotion Hosting
. With iPage you get:
Unlimited disk space
Unlimited bandwidth
Unlimited websites
Unlimited MySQL databases
Free SSL certificate
Free domain name
iPage website builder (for up to six pages)
eCommerce features, such as PayPal integration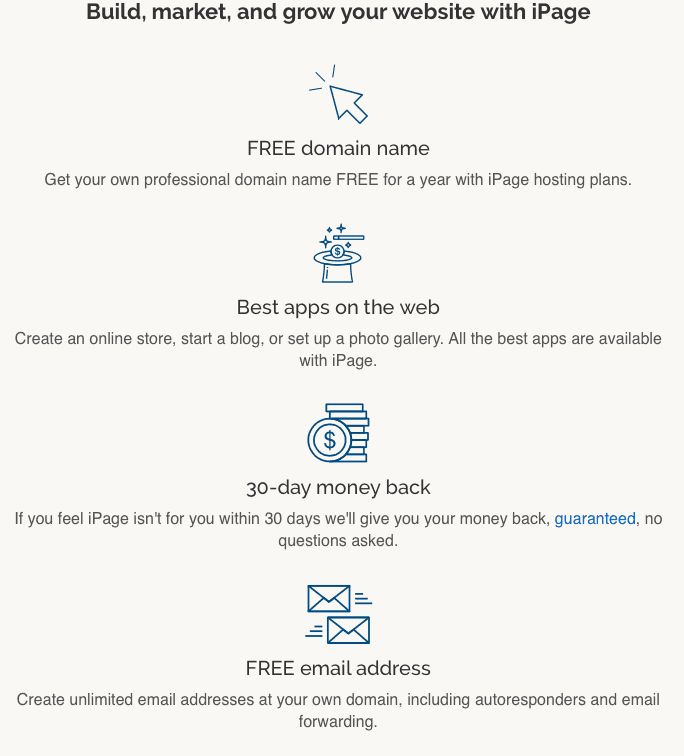 The biggest downside with iPage is that
its disk space isn't SSD
, which ultimately affects your website's speed (see Round 2 for our views on that). Also, if you want to use the website builder, you're limited to six pages. If you're just getting started, that limit may not seem like a big problem, but as your business or website grows, six pages may be way too restrictive.
And the Winner Is…
iPage wins in the value-for-money category simply because it offers so much in its shared hosting plan
. With just the single plan, there are almost no restrictions – which gives it the edge over InMotion Hosting. To get extra features with InMotion Hosting, such as e-commerce features, you have to sign up for one of the more expensive plans. That being said, if you're planning on building a multi-page website and you'd rather use a website builder, then InMotion Hosting's Launch plan gives you the space you need to create your website. InMotion Hosting is also a good option if you're looking for a big speed boost for your website.
Round 2: Which Host Is More Reliable?
InMotion Hosting's focus on performance and reliability is a huge makes it a great choice. Even on shared hosting plans, which tend to have more performance-related issues than other types of hosting, InMotion Hosting's results are better than some other hosts. There's a couple of reasons for this. First,
InMotion uses SSD disk storage, which can boost speeds by up to 20%
. Second, InMotion tries not to overcrowd its shared servers. This is how it prevents some of the problems that shared servers can have when one website on them gets a big traffic spike. This doesn't mean you'll never experience any shared-server-related problems, but it does reduce the frequency of these. InMotion offers a 99.99% uptime guarantee. While some downtime issues were reported in the past, it looks like that was a one-off. No matter which host you choose, there's always going to be the possibility of downtime, but
InMotion Hosting is definitely more reliable than many others
. iPage struggles to match InMotion Hosting's performance. If speed is your biggest priority, iPage probably isn't the best host for you. We looked at the difference between iPage and InMotion in terms of Time to First Byte (TTFB).
TTFB
tests how long it takes for the server to respond to a request from a website visitor. This means it's a speed test that isn't affected by other factors on your website, such as your content, PHP version, and so on.
iPage's TTFB score was 0.764 seconds. InMotion Hosting scored a much more respectable 0.528 seconds. That might not seem like a big difference – but it matters.
As far as reliability goes, iPage is pretty much level with InMotion, albeit with a slightly lower uptime average of 99.98%. It offers a 99.9% uptime guarantee, and although in the past it had an uptime average of 99.93%, its uptime has been steadily improving over the last year.
And the Winner Is…
While InMotion Hosting and iPage are similar in their reliability (uptime),
it's the performance that makes InMotion the winner of this round
. With SSD storage providing up to 20% faster server speeds, and shared servers that are deliberately not overcrowded, InMotion Hosting is simply faster. Better performance means a better experience for your website visitors. If you have a small website and don't have a lot of rich media like video and images, then iPage's cheaper price point may still be attractive despite its less-than-perfect performance.
Round 3: Which Host Takes Your Security Seriously?
Security is a hot topic in web hosting, and web browsers now warn visitors that your website is 'not secure' if you don't have an SSL certificate.
Both iPage and InMotion give you a free SSL certificate – but there's more to secure web hosting than just SSL certificates
. The recent rise in DDoS (Distributed Denial of Service) attacks and other malicious threats to websites means that web hosts now have to offer more assurances that their servers are protected.
InMotion Hosting, for instance, offers a secure threat defense system
known as Smartwall Threat Defense System (TDS). The Smartwall Threat Defense System is provided in conjunction with Corero Network Security, offering powerful protection from DDoS attacks in real time. Soon after it was implemented, the TDS was put to the test with a massive DDoS attack – and
InMotion Hosting's servers remained online, with no impact on websites hosted on its servers
. If you use WordPress, InMotion also gives you a security plugin called Sucuri, which monitors your website for any vulnerabilities. Since WordPress is slightly more vulnerable to malicious attacks, this premium plugin increases your website's security. InMotion offers
free automatic daily backups
, so in case something does go wrong and your website is hacked, you can easily restore it using a backup copy. This extra security measure is a huge bonus. iPage's security comes in the form of a SiteLock security suite, with a reported value of $100. SiteLock scans your website for malware and offers a firewall to protect against hacking attempts. However, when investigating exactly what is included with the SiteLock security suite, we discovered that the $100 value is quite an exaggeration. In fact,
what you get for free is the SiteLock Free Scan service
. This is a simple 'alarm system' that sends you an alert if any malicious actions are detected on your website. iPage's knowledge base tells you that this alert gives you "time to backup and clean infected files to prevent being blacklisted by search engines." The free scan lasts 20 seconds and can scan between 5-10 pages. More advanced SiteLock plans are available (Find, Fix, and Prevent), but these are all at an additional cost (ranging from a couple of dollars to almost $40 a month). We were disappointed to see that iPage doesn't make it clear on its website that you have to pay extra if you want decent security. It was only when spoke to a live chat agent that the truth emerged.
And the Winner Is…
InMotion takes security far more seriously than iPage, with a TDS that is proven to protect against DDoS attacks. Add in free daily backups and the Sucuri security plugin that scans and monitors your website for vulnerabilities, and it's clear that
your website will be very secure with InMotion
. iPage makes bold claims about its security but doesn't tell you that you'll have to pay extra to get the security your website needs. If you're happy to pay for your security, or only have a very small website and are happy to respond to malware alerts quickly, then iPage could still be an option for you.
Round 4: Which Host Makes Your Life Easier?
Both InMotion and iPage offer
one-click installations for WordPress
and other popular apps like Joomla and Drupal. InMotion also offers a WordPress-based website builder called BoldGrid. If you're a beginner, you'll be happy to know it's much easier to learn than WordPress itself, but it still gives you the same power and flexibility. With BoldGrid, you can:
Have unlimited pages
Install a ready-made demo website to help build your own content
Access thousands of different templates (although only 20 of these are free) – all mobile-responsive
Use WooCommerce if you want to sell online
Quickly edit your pages with the drag-and-drop editor
Use 'staging' environments to test out changes to your website before it goes live
iPage offers its own website builder, but it will only allow you to have six pages. Even if that weren't the case,
it's just not as good as InMotion's BoldGrid
. With the iPage Website Builder, you can:
Create six pages
Use the drag-and-drop editor to create and edit your content
Choose from over a hundred different 'mobile-friendly' templates
Sell items using PayPal integration
You have the option to upgrade to an iPage Website Builder plan, which will restrict you to using only the Website Builder tool, preventing the utilization of other applications like WordPress. Although these plans come at a higher cost, they provide the benefit of unlimited pages.
And the Winner Is…
There's simply no doubt that InMotion Hosting wins this round with its impressive set of options for building your website. Not only can you install a range of different apps, but you get
free access to the BoldGrid website builder
, a beginner-friendly way of building your website with a simplified version of WordPress. iPage allows you to install apps and gives you a website builder, but its website builder is basic and way too limited (unless you want to upgrade to a builder plan).
Round 5: Which Host Takes Tech Support to the Next Level?
InMotion Hosting puts a lot of focus on customer service, with
24/7 technical support available via phone, live chat, and email
. It also provides piles of articles and tutorials, so you can solve most minor issues yourself. What takes InMotion Hosting's knowledge base to the next level is the addition of community support, where other customers can post their solutions to common problems. iPage's customer support is pretty average for a cheap hosting provider. It's not terrible, but it's not world-class, either. There's
24/7 support through email, phone, and chat – but be prepared for a long wait
to get connected via Live Chat. In our tests, we waited 20 minutes on average to get connected to the support team. (But of course, the sales team is very quick to respond!)
And the Winner Is…
InMotion Hosting wants to give its customers the best kind of support, and
the support agents are knowledgeable, available 24/7, and answer questions and resolve issues quickly
. InMotion Hosting also has faster response times than iPage, meaning it wins this round, too. iPage's customer support team seems knowledgeable. We can only hope they manage to shorten those excessive wait times.
InMotion Hosting Leaves iPage Trailing Behind
We have a clear winner in this battle.
While iPage does seem to offer better value for money, in other areas, InMotion Hosting simply blazes ahead
. Both of these hosts give you the unlimited storage and bandwidth that you need to create your website – but
in terms of performance, reliability and security, InMotion gives you much more
. That doesn't necessarily mean that iPage isn't right for you. It comes in as the cheapest option, and you get a free domain name.
If you're only building a basic website, iPage could be a good choice
. However, if you're planning on building a website that you can grow over time, that will give your customers a better experience, or if you just want to use a WordPress-based website builder without the big learning curve, InMotion Hosting is for you.
Whether you're a business owner or a blogger, you can certainly benefit from all that InMotion Hosting has to offer
. If you're having trouble making up your mind, here's a summary of how InMotion Hosting and iPage performed in each round.
Value for Money
InMotion Hosting gives you unlimited SSD storage, unlimited bandwidth and unlimited email. The SSD storage is a bonus, but it's overall more expensive than iPage.
As well as unlimited storage, bandwidth and email, iPage also give you a free domain name –  and offer all this at a lower price.
Reliability and Performance
InMotion Hosting is faster than iPage due to SSD storage and is one of the more reliable web hosts around, maintaining a 99.99% uptime.
Performance is an issue with iPage, with longer time-to-first-byte (TTFB) (0.764 seconds for iPage, compared to 0.528 seconds for InMotion)
Security
InMotion Hosting takes security really seriously, with advanced protection from DDOS attacks, daily backups and a free WordPress plugin that protects against malware.
iPage is disappointing in its security, with only the SiteLock Free Scan service included. To get better security you have to add a SiteLock plan to your hosting.
Apps and Website Builders
The BoldGrid website builder that InMotion Hosting offer is a great feature that makes building your website simple and intuitive. You also get plenty of 1-click installation apps if you've more experience in website building.
iPage allows you to install the popular apps with 1-click installations, but its website builder is quite basic and very limited unless you pay for a specific website builder plan.
Customer Service
There's a heavy focus on customer support, with guides and tutorials in addition to great 24/7 customer support via phone, email and Live Chat. Response times are quick, too.
The 20-minute wait time for support from iPage is quite a let down; in all other aspects, it's pretty similar to InMotion Hosting's customer support.