you
choose? I'm not going to leave you waiting till the end to find out which one I recommend.
I'd choose InMotion vs HostGator
 – but if you want to know what makes InMotion better, you'll have to keep reading! For this expert review, I've put InMotion Hosting vs HostGator head to head in five important areas:
Round 1: InMotion Hosting Is Faster – But HostGator Is More Reliable
Google recommends that you aim for your website pages to be fully loaded within two seconds – or you risk losing over 53% of potential visitors who will click away and look elsewhere. In my opinion, how well your web host performs should be the first thing you look at – but don't just believe what the web hosts claim, it's often more hype than truth! For example, InMotion Hosting advertises its service as being "Secure, Fast, & Reliable" – and while it is relatively fast, its reliability isn't as great as HostGator.

InMotion uses SSD drives for its speed and offers "Max Speed Zones" (which is merely a fancy way of saying that you can choose the server that's closest to your target audience). As a result,
when you host with InMotion, you can expect your pages to load well within two seconds
. If you need even faster speeds, InMotion's cloud hosting has lots of
speed-boosting features
.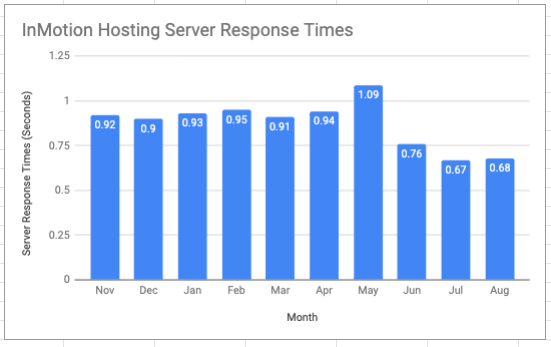 In terms of reliability, however, InMotion has had some issues. Reliability is measured in terms of uptime – and
while InMotion does have a 99.9% uptime guarantee, there have been occasions when it's fallen incredibly short.
In one recent month, uptime fell to just 99.6% – which is almost three hours of downtime in a month, and 1 hour 40 minutes of that was in a single day. Sure, you'll get small credits on your account if uptime falls below 99.9%, but that isn't going to compensate for the loss of business if your website is down for over 90 minutes.
HostGator's page loading speeds are under Google's recommendation of two seconds – but in some cases, just barely.
Like InMotion, HostGator uses HDD drives on its
shared hosting plans
, with SSD storage only being available through its more expensive cloud hosting plans. It doesn't offer any other speed-boosting features – and when you compare HostGator's page loading speeds with InMotion, you'll see that HostGator is considerably slower.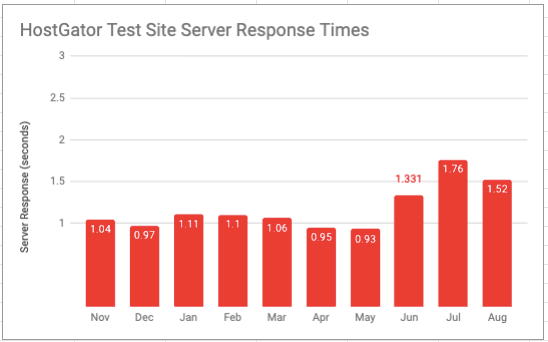 In terms of reliability, however, HostGator consistently maintains a monthly uptime average of 99.95% and above, with the majority of months out of the past year hitting between 99.98% and 100% uptime.
Even its worst month (at 99.95% uptime) only equates to 21 minutes of downtime.
And the winner is:
In this round, there's no clear winner. InMotion Hosting beats HostGator for speed, but its poor reliability is disappointing. HostGator's servers won't load your website's pages as quickly, but at least you won't have to worry about excessive downtime.
Round 2: InMotion Gives You a Domain Name and More – HostGator Features Are Limited
The exact features you need your web host to provide will depend on the type of website you want to build
– but there are some common features you're likely to be looking for, such as the amount of storage available, how many websites you can host on a single account, and whether a domain name is included. To make it easier to compare, I've put all the details you need in an at-a-glance table, but there are a couple things I want to point out first.
Number of Websites
On InMotion's most basic plan, Launch, you get two domains. If you want unlimited websites, you have to upgrade to its most expensive plan, Pro. With HostGator's basic Hatchling plan, you can only host a single website – all other HostGator plans give you unlimited domains. With HostGator, however, there's something you should be aware of – even if you're allowed unlimited websites,
you can't build websites for other people and charge them for hosting on your webspace.
To do that, you'd need to check out
HostGator's reseller packages
.
Backups
InMotion offers "courtesy backups" that are limited to a maximum of 10 GB – and you're advised not to rely on this feature, as backups aren't guaranteed. Instead, InMotion recommends you purchase the Backup Manager package as an add-on to your plan.
With HostGator, you need to have the CodeGuard Basic add-on for automatic backups of your webspace.
You can, of course, make manual backups from your cPanel, but this doesn't allow for easy restore options.
"Unlimited" Storage
Both InMotion and HostGator claim to offer unlimited storage, but I've seen other hosts who actually put limits on their unlimited hosting. So I contacted the sales teams via live chat, telling them I had a 60 GB website that I was looking to transfer. InMotion Hosting immediately admitted that 60 GB was too much, and I would need to choose a VPS (virtual private server) instead. Later, they clarified that websites exceeding 50 GB are not permitted on InMotion's shared hosting packages.

It was more difficult to get a straight answer from HostGator's support, who initially directed me to their Acceptable Use Policy. I was eventually able to clarify that as long as I wasn't storing media that wasn't used on my website, there are no limits. HostGator does have the right to remove your content without warning if it feels that you're using an excessive amount of space, however.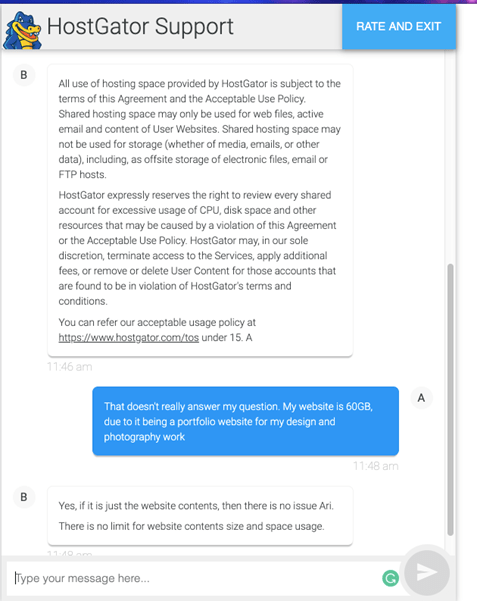 | | | |
| --- | --- | --- |
| Feature | InMotion Hosting | HostGator |
| Storage Space | Unlimited (but in reality, limited to 50 GB) | Unlimited (subject to the Acceptable Use Policy) |
| Money-Back Guarantee | 90 days | 45 days |
| Free Domain Name | Yes, free for the first year | No |
| Number of Websites | Two on the Launch plan, six on Power, unlimited on Pro | One on the Hatchling plan, Unlimited on all others, but to host websites for other people, you need to have a HostGator reseller plan |
| Automatic Backups | Courtesy backups limited to 10 GB | Only available via an add-on (CodeGuard Basic) |
| Free SSL Certificate | Yes, on all plans | Yes, on all plans |
| Bandwidth | Unlimited | Unlimited |
| Free Site Migration | Yes | Yes, within the first 30 days |
| Email Accounts | Unlimited | Unlimited |
| One-Click Application Install | Yes | Yes |
| Website Builder | Yes, the advanced BoldGrid website builder is included | Yes, a basic website builder |
And the winner is:
InMotion Hosting. Its plans include a free domain name and a more advanced website builder, which makes it the winner when it comes to features. Plus, with InMotion, there's no specific prohibition of hosting websites for other people on your account.
Round 3: HostGator Charges Extra for Security – InMotion Includes It for Free
Security matters, and with the increasing amount of malicious traffic and brute force attacks, HostGator is one of the growing number of hosting companies that see the importance of security as a means of increasing their revenue.
HostGator's included security features are the absolute bare minimum
– limited to weekly malware scans that only scan up to five web pages. For protection against malicious traffic, DDoS (distributed denial of service) and hacking attempts, you'll need to purchase a SiteLock plan as an add-on, increasing the cost of your hosting.
InMotion Hosting includes security features in all of its plans.
It has a built-in security suite that offers protection against hacking and DDoS attacks. It also includes the SmartWall Threat Defense Solution, which is a web application firewall (WAF) designed to protect your website from all kinds of malicious traffic and script injection.
And the winner is:
InMotion Hosting. As it doesn't expect you to pay extra for your security, it's the clear winner in this round. For even more information, our
expert review
gives you the rundown on InMotion's security suite. HostGator forces you to pay for the security features that all web hosts should provide.
Round 4: HostGator Seems Cheaper – But Is InMotion a Better Value?
If you're on a tight budget, then choosing the
cheapest hosting deal
may seem like the best approach, but
often the cheapest hosts don't offer the best value for the money.
You have to take into consideration the additional costs of features – like security – that InMotion Hosting includes but HostGator charges extra for. It may surprise you to discover that although InMotion's prices are almost double what HostGator advertises for the initial term,
InMotion still works out to be better value.
Here's why:
On the most basic plan, InMotion allows you to have two websites, whereas HostGator's comparable plan is limited to one.
With InMotion, you only have to pay up front for two years to get the best prices – with HostGator, you need to pay for three years.
InMotion includes a free domain name for the first year.
InMotion's security features are included for free – with HostGator, add-on security features increase your monthly rate by at least 50%.
When it comes to renewals, InMotion's prices only increase by around 20% – HostGator's prices increase by up to 60%.
InMotion has a 90-day money-back guarantee, twice as long as HostGator's.
And the winner is:
InMotion. Proving that the cheapest isn't always the best value overall, InMotion gives you more for your money.
Round 5: HostGator Has Lots of Tutorials – InMotion Has More Personal Support
Web hosting is rarely (if ever) without problems, so it's important that you know you can get help from customer support when you need it – no matter what time of day or night it is.
HostGator and InMotion Hosting both offer 24/7 support, via phone, email, and live chat.
In terms of the quality of support, my experience with InMotion was better than my experience with HostGator.
The InMotion support team appears to be more knowledgeable
, answering my questions directly rather than simply directing me to articles in the knowledge base – which HostGator did repeatedly. However,
HostGator has a more user-friendly knowledge base and offers over 500 video tutorials
to help you get the most out of your web hosting. InMotion's support center is clunky, difficult to navigate, and I couldn't find the information I was looking for even when I performed a keyword search.
And the winner is:
The competition results in a tie between HostGator and InMotion. HostGator excels due to its comprehensive knowledge base, offering a valuable resource for those seeking to resolve issues independently. On the other hand, InMotion takes the lead with its superior live chat support, providing excellent assistance across the board.
Choose InMotion for Secure Hosting with Lots of Extras
Ultimately,
InMotion
beats HostGator in three of these five rounds, making it the clear winner. InMotion is a great choice if you're looking for fast, secure hosting that is a great value for the money.
To discover more about what makes InMotion great, check out our expert review.
However,
HostGator
could still be a good choice for you in certain situations. For example, if you have a website that exceeds 50 GB, InMotion won't let you transfer it, while HostGator (in principle) will. Plus, HostGator's knowledge base will help you out if you're starting out with web hosting. Our
in-depth review
 can help you decide if HostGator is more suited to your needs.
Performance
Great page loading speeds, but reliability is a bit of an issue
Pages won't load as fast as with InMotion, but it's more reliable
Features
Free domain name with all plans, plus a more advanced website builder
A single website on the Hatchling plan, unlimited on all other plans
Security
SmartWall Defense System (firewall), DDoS protection, malware scanner, and malicious script injection protection
Malware scanning limited to five pages, so you're forced to pay extra for security
Value
Shorter commitment periods, you can have two websites on the most basic plan, and 90-day money-back guarantee
Must pay for three years up front for best prices, and price increases significantly on renewal
Customer Support
Live chat support is knowledgeable and personal, but knowledge base is lacking
Huge library of tutorials, but live chat struggles with basic requests