These platforms will only get you so far because they lack the features and tools that can help you build a profitable business.
What you really need to succeed is your own website. That's where a no-code e-commerce builder like Shopify comes in. With tons of pre-designed store templates and a beginner-friendly drag-and-drop editor, this platform makes it easy to create a unique yet professional online store, even if you lack technical or design skills. Not only will you get everything you need to design an attractive store that turns visitors into customers,
you'll also get essential marketing and business tools for attracting new shoppers and growing your business.
If cost is a concern, Shopify has a budget-friendly starter plan that lets you build your online store, test the market, and upgrade when you're ready. Until then, you'll still get full access to all its free business tools. Keep reading to learn how easy it is to create your own e-commerce website and start promoting and selling your products online.
New to E-Commerce? Here's How to Get Started
The first step to launching a successful e-commerce business is deciding what type of product you want to sell. Perhaps you already have an item you craft yourself or have a particular product niche you're passionate about. If so, consider how you can transform your passion or craft into a successful business. On the other hand, if you're not sure what you want to sell,
you can research trending or popular products that have the potential for long-term growth or have already demonstrated genuine staying power.
Start with free tools like Google Trends and check out social media websites and "best-selling" and "most wished for" items on marketplaces like Amazon. Once you have a clear idea of what you want to sell, you can move onto the next step:
define your target customer and what sets your brand apart.
Does your product solve an existing customer need? Have you identified a sub-niche and unique selling proposition that will give you an edge over your competitors?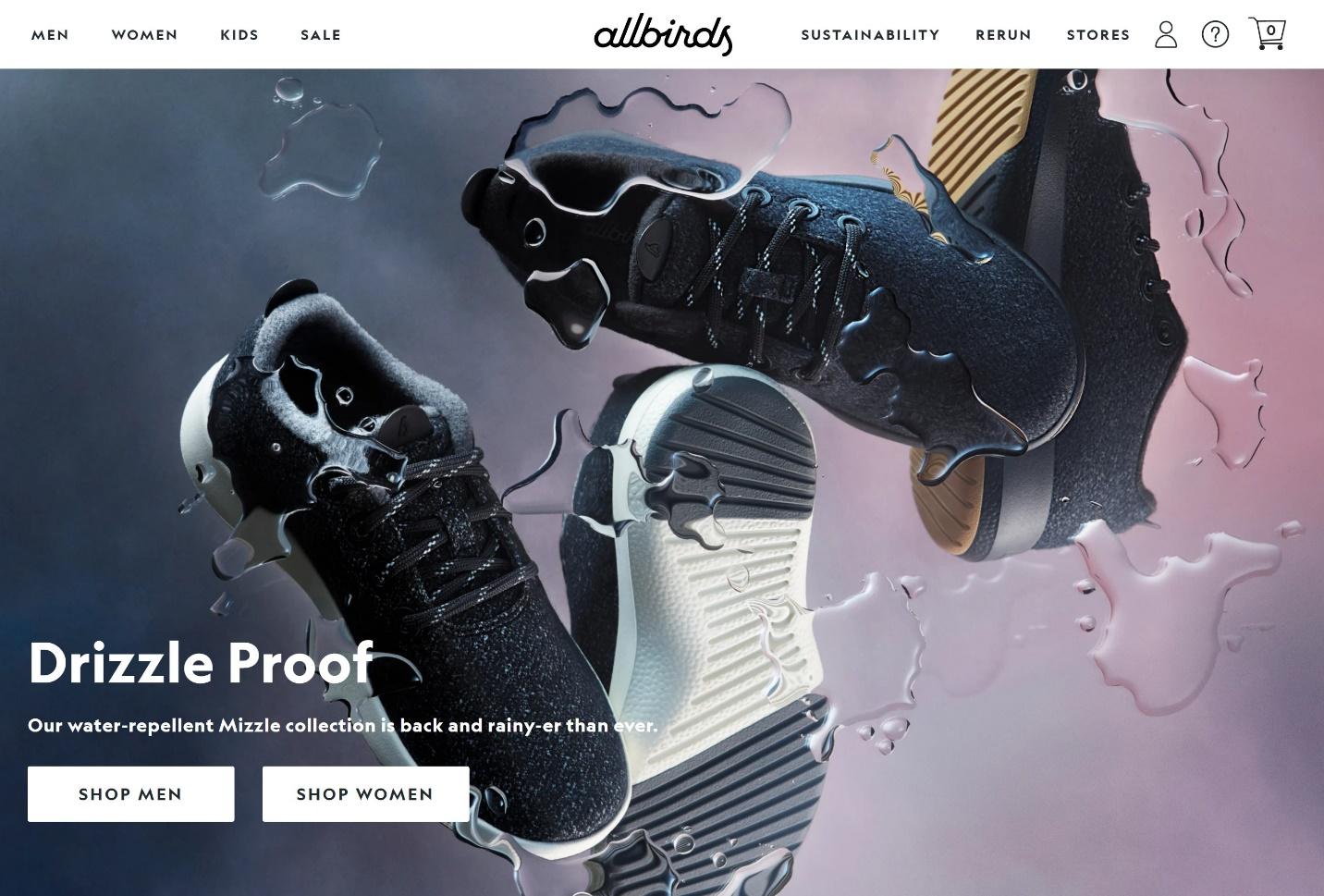 That's exactly what the founders of the popular
Allbirds
brand did when they launched their Shopify store with a single product – a sneaker crafted from sustainably sourced New Zealand wool. It's also how
Juicy Chemistry
built its beauty business. They developed a product line to address a specific skincare concern and capitalized on the demand for organic beauty products. Shopify gave them the versatility to start small by only selling online in India and then launch globally as their business grew. Once you've settled on a niche and defined your target audience, all that's left is putting together a business plan.
Your business plan should include a competitor analysis, mission statement, budget, and marketing strategy.
Keep in mind that a business plan is a living document you'll want to revisit and update as your business grows.
Choose the Right Platform to Sell Your Products
Still wondering if you should simply sell on social media or a third-party marketplace like Amazon? Here's something to consider: When you choose a builder like Shopify, you'll get a fully functional store that serves as the face of your brand and all the tools you need to run your business. It doesn't have to be hard or too costly. Even if you've never built a website before,
Shopify's designer-made store templates, user-friendly editor, and helpful setup guide
will help you launch a mobile-friendly online store with little-to-no fuss. We tested and compared Shopify with
other website builders
and found it to be one of the best tools for creating an online store.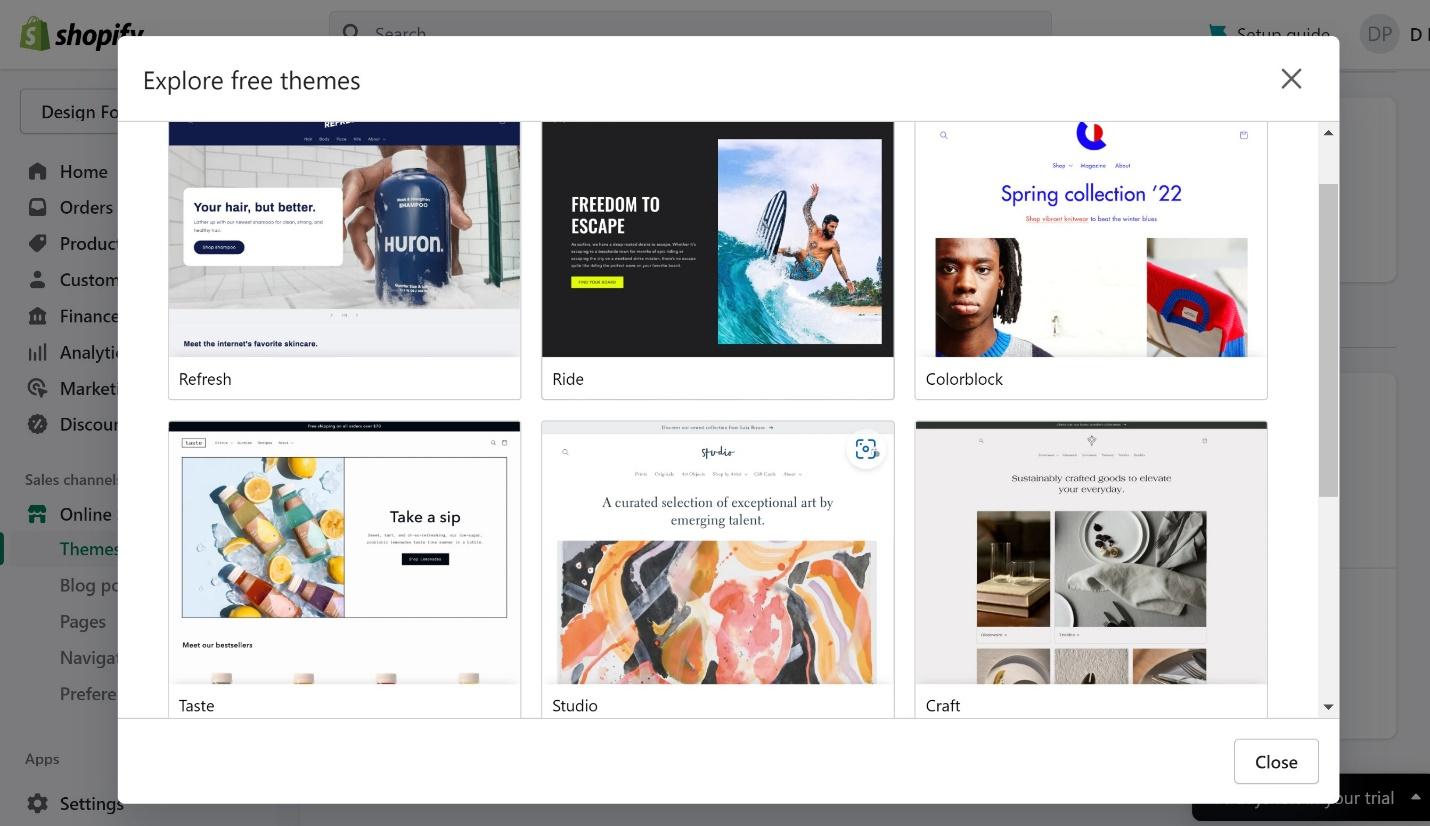 And you don't have to give up social and marketplace selling.
Shopify consolidates and syncs all your sales channels
, streamlining management and ensuring consistent messaging, while freeing you up to focus on what's most important – attracting and retaining customers. Even better,
Shopify creates a dashboard for each sales channel you add
so you can view reports of sales and traffic right from your Shopify admin dashboard.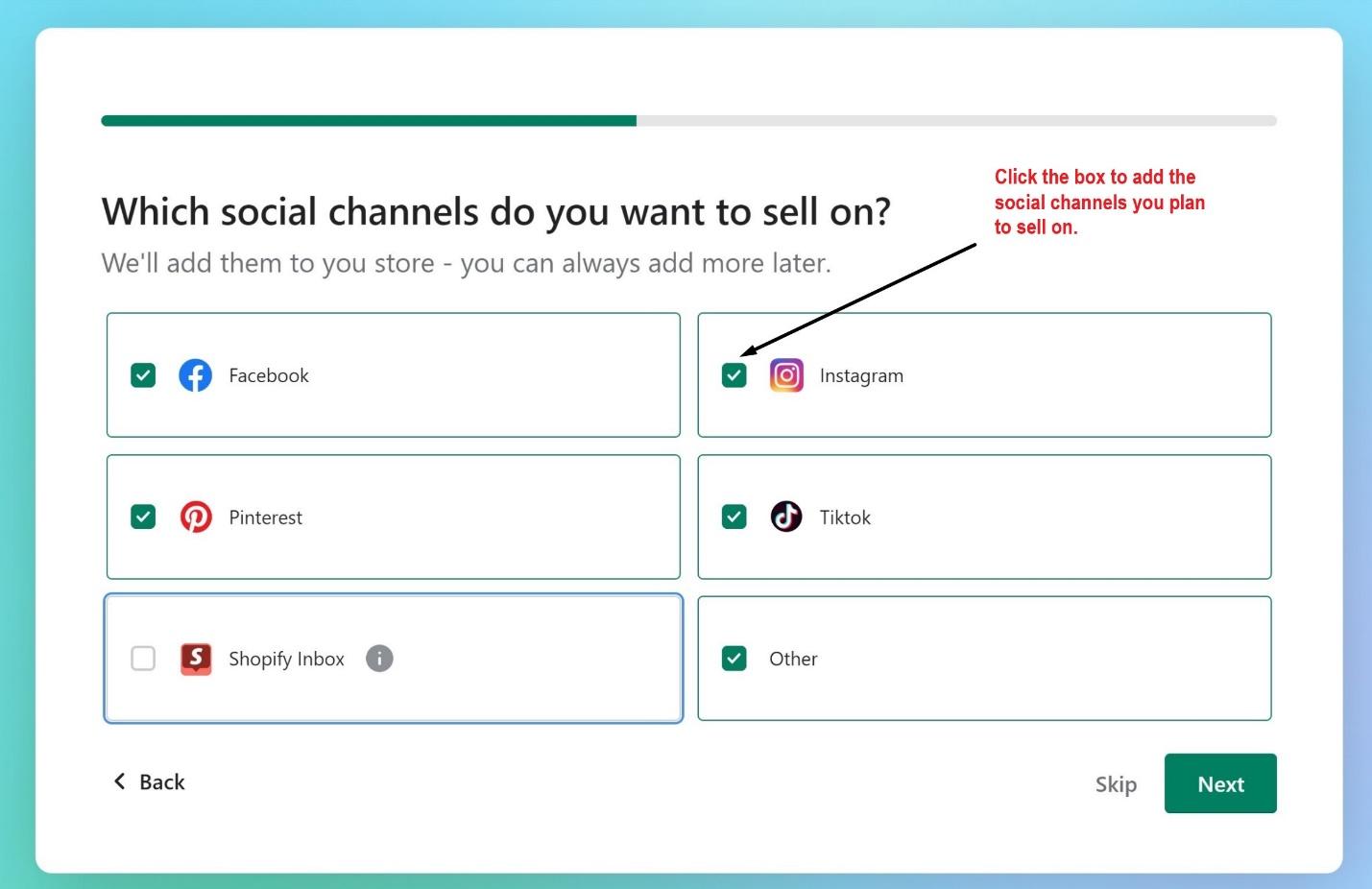 What's more,
Shopify offers advanced features and tools that let you manage every aspect of your business
: automated customer notifications, email marketing, advanced analytics reports, and inventory tracking across all sales channels. Notable savings include transaction-free payments and shipping discounts that range from 77% to 88%. If you're just starting out and want to keep your costs down, Shopify offers plenty of ways to source products without investing in inventory. Simply add a print-on-demand or wholesale dropshipping service from the app store and you're good to go. It's also good to know that
Shopify offers a 3-day free trial so you can try the platform to see if it's right for you.
If it seems like a good fit, you can start small with the Starter Plan at
$
29.00
per month and upgrade when your business takes off. To show you just how easy it is to start selling with Shopify, I'm going to walk you through the process of designing an amazing store.
Choose a Good Name for Your Online Store
When it comes to choosing a winning name for your store, think clear, catchy, and easy to remember. Ideally,
the name you pick for your online store should tell people – and search engines – something meaningful about your brand
. Case in point, the "juicy" in popular Juicy Chemistry's name evokes its beauty products' healthy and organic ingredients. If you're stumped on how to pick a name that fits your product, Shopify has your back –
the free Business Name Generator is a nifty tool that can help.
Equally important is selecting the right domain name for your website. This is the URL or web address that a customer types into their browser to access your store. A good domain name should match your store name exactly. If that's not available, you can use your store name plus a relevant keyword. Again,
Shopify gives you a useful free tool to simplify the task – a Domain Name Generator.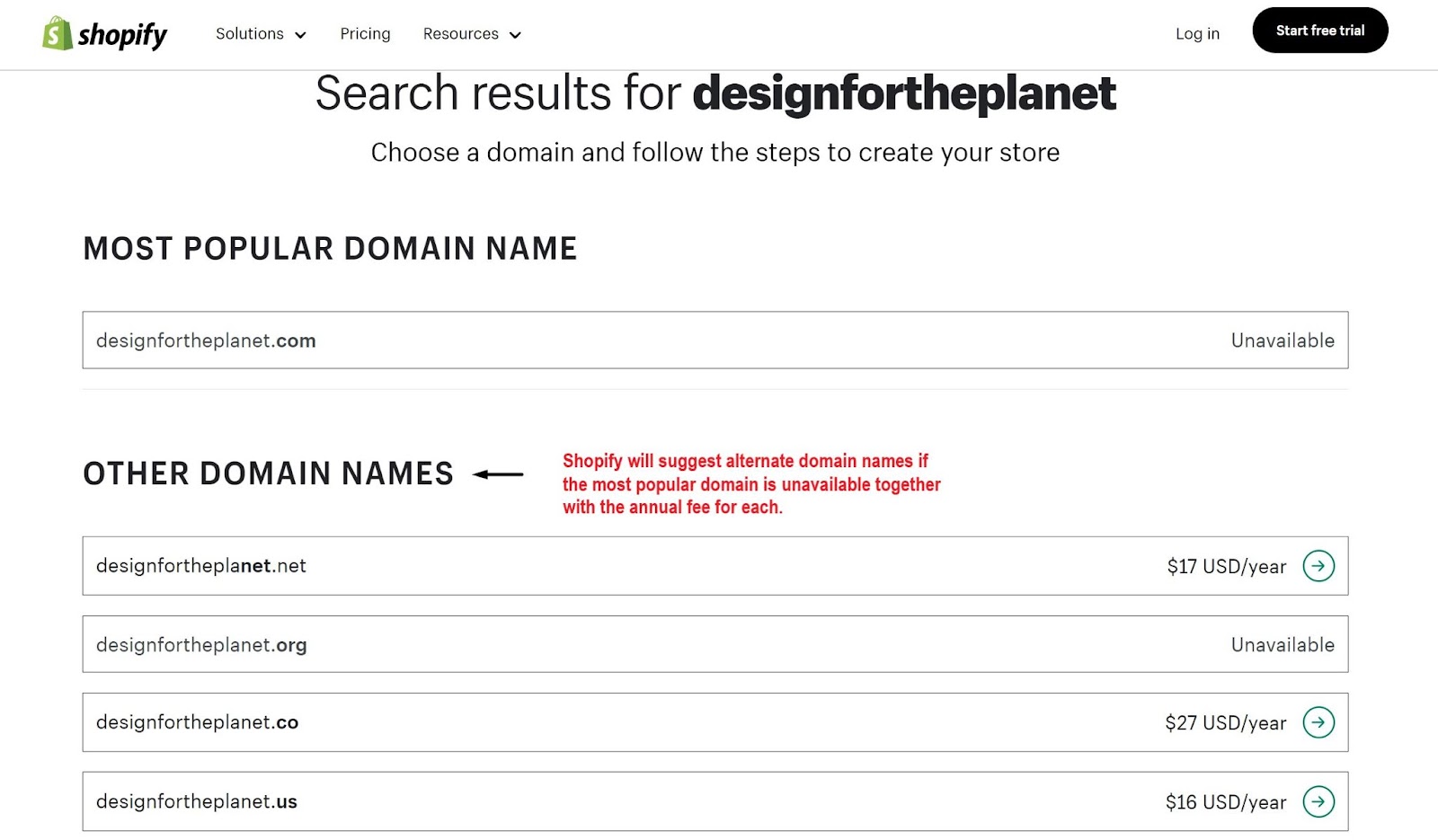 Shopify automatically creates a free sub-domain when you sign up, like the one I was offered – "designfortheplanet.myshopify.com."
However, purchasing a custom domain from Shopify or another provider is well worth the expense
. Having a good domain makes it easier for shoppers to find your site, builds your brand, and can even improve your search engine ranking.
Customize Your Shopify Store
If you don't pick a theme when you create your account, Shopify automatically loads
Dawn
(its free default 2.0 theme) on your dashboard. Want something different? There are plenty of attractive theme options.
Shopify offers 95+ store themes,
including 10+ free themes. You can filter themes in multiple ways: by industry, catalog size, and feature (menu styles, sticky header, quick view, etc.). You can also sort by price.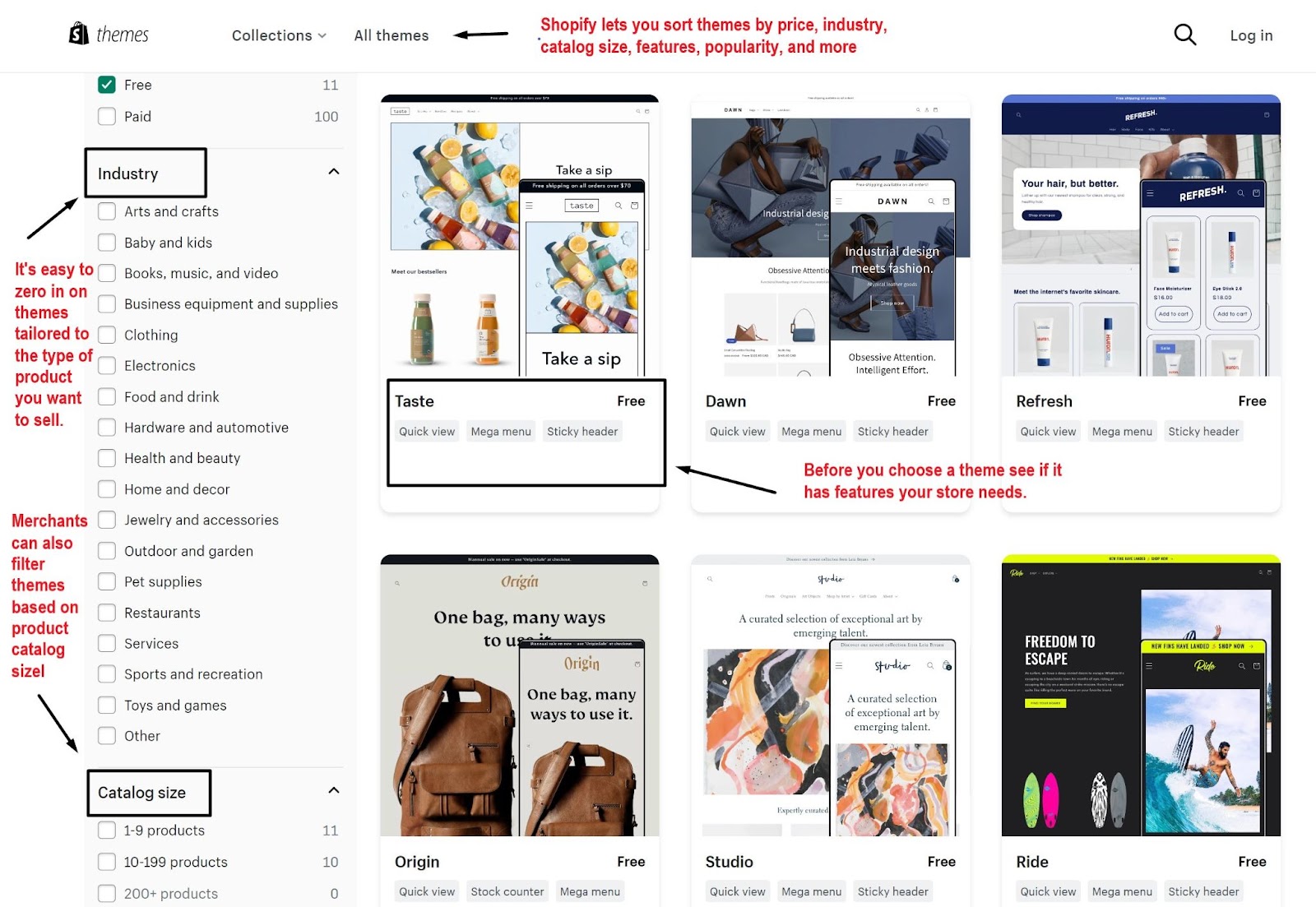 One of the great things about Shopify is that
you're not locked into a single theme during your 3-day free trial period
. You can play around with multiple themes until you find the one that suits your brand. I'd recommend checking out
our in-depth review of Shopify
to see how we got on when we tested it. Once you've chosen a theme that fits your aesthetic and has the right features, you can start personalizing the images, background, colors, and text to match your business branding. Shopify doesn't give you unlimited drag-and-drop functionality when it comes to editing your theme, so you can't just drag and drop elements wherever you want. But you can still move things around and customize quite a bit to create a unique-looking store.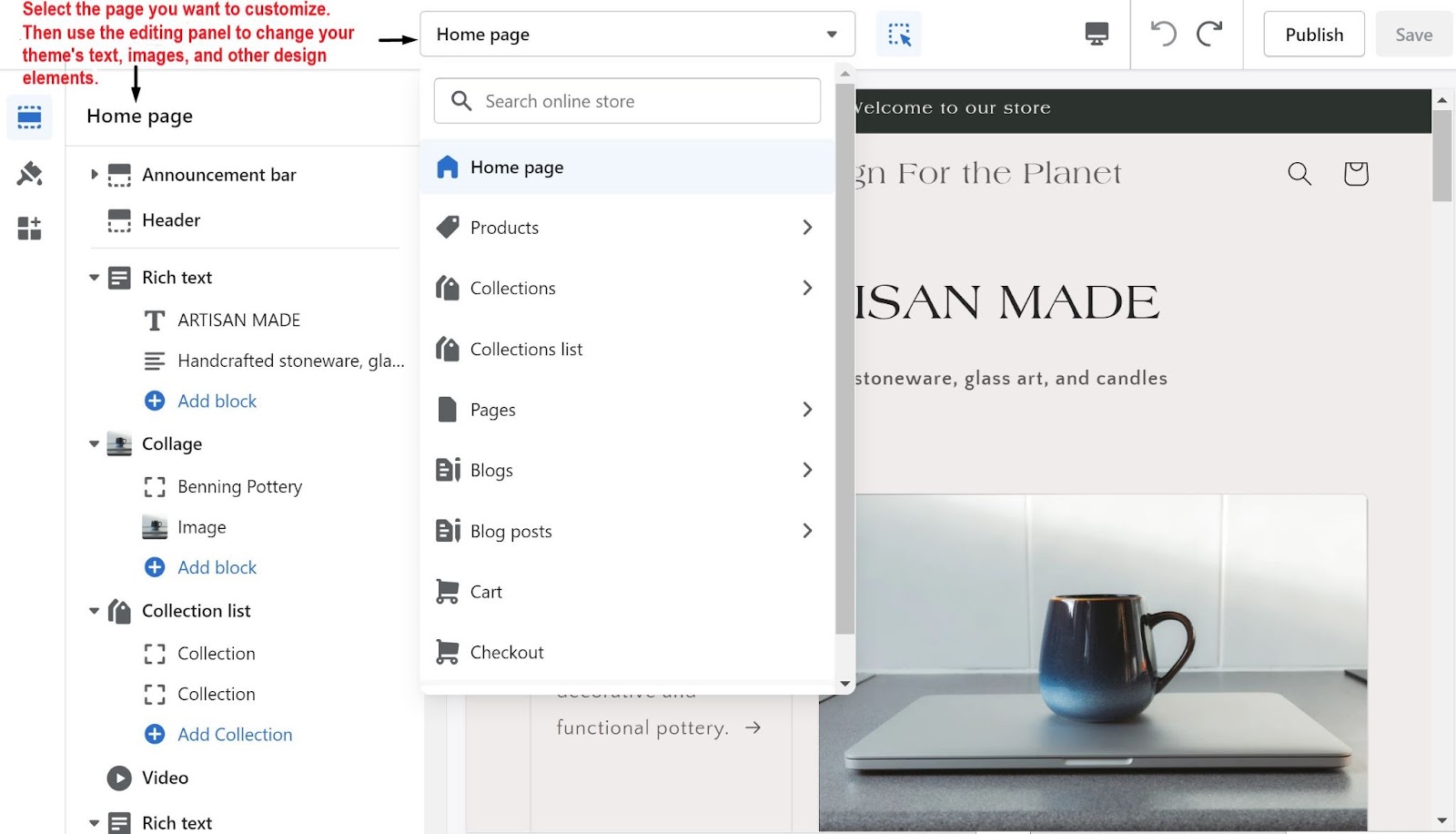 Shopify themes don't all share the same features. Fortunately,
if your theme doesn't come with a Blog, About, or Contact page, you can easily add one by clicking on "Add Page" in your dashboard
. You can then use a pre-built page template, such as one for a Contact or FAQ page. If you're using an Online Store 2.0 Shopify theme, you can also design a new template page, such as one for testimonials. Once you've added a page, it's easy to add your own content. You can insert links, images, and video on any page. One of my favorite things about Shopify is the app store, which is stocked with thousands of apps for expanding your store's functionality. What's more, many of these apps are free, allowing you to
add social media feeds, design email campaigns, source products, post product reviews/photos, and more.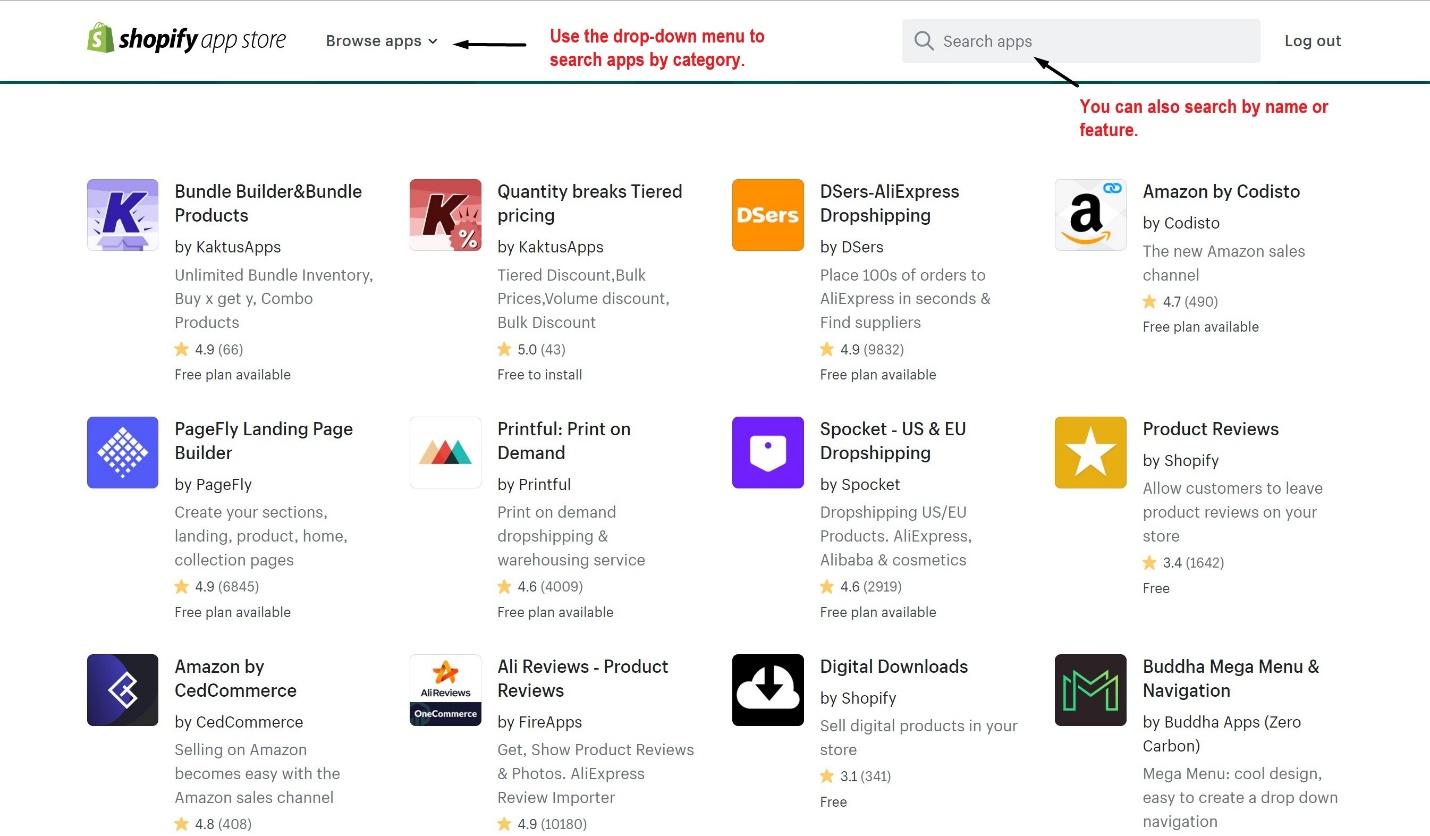 To add an app to your Shopify store, simply navigate to the "Apps and Sales Channels" in your store settings.
From here, click on the "Customize your store" button to access the app store, where you can browse apps by category or search for a specific kind. You can also review apps that Shopify recommends.
How to Add Your Products
One of the advantages of using Shopify is that the platform guides you through the store setup process – and that includes finding products and adding them to your store. To add your first product, just click on the "Add product" button in the upper right corner of your Shopify Admin dashboard and upload a product image and description.

You can then
add your product's title, image, price, variants, and availability
. The quality of your images and product descriptions can make or break a potential sale. To write killer descriptions, I suggest going beyond just describing a product's features. You should also showcase the unique benefits it offers to your customers. Depending on the type of product you're selling, you may want to add care instructions and upload product manuals. This is essential, for example, if you are selling tech products or small appliances.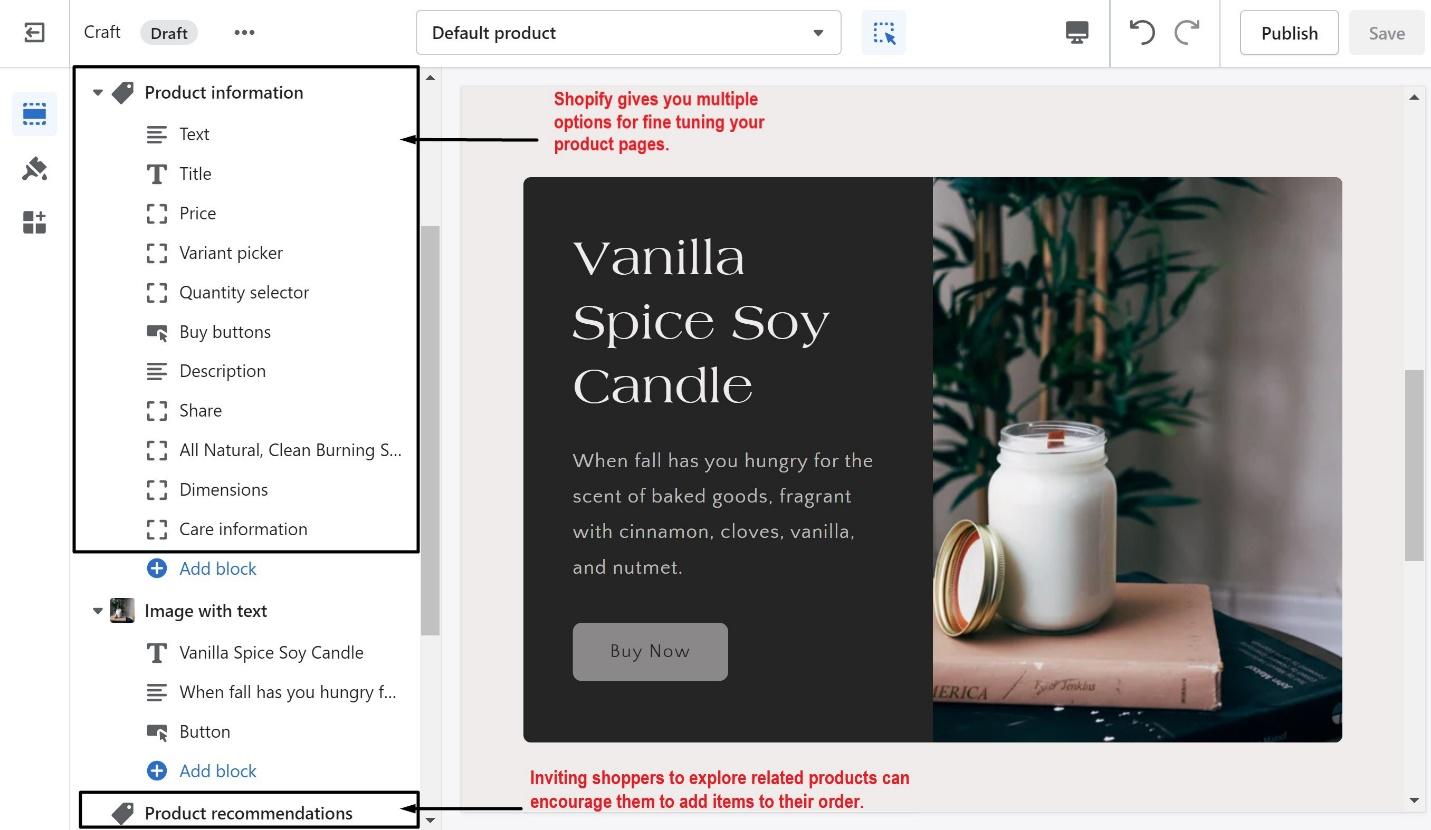 Shopify also offers helpful settings you can use to upsell shoppers by showing them related products.
Limited availability tags can entice customers to purchase your product before it's gone.
Update Your Store Settings and Payment Information
Your Shopify dashboard is where you access all your store's default settings, including sales channels, payment options, shipping and delivery, taxes, duties, and much more. Like so much else about Shopify, the interface makes this task simple – even for beginners. Simply go item by item down the list. You can always make changes later.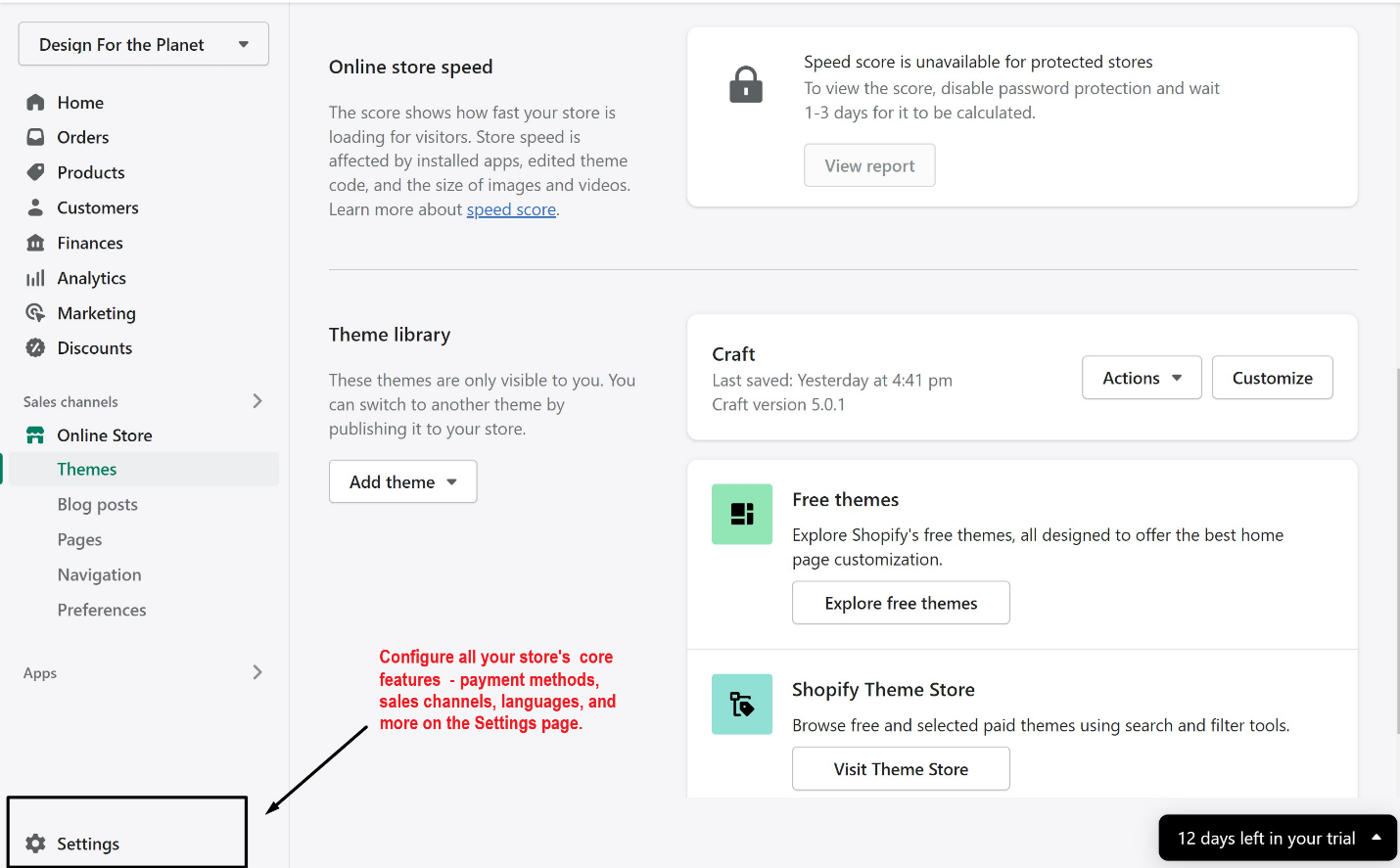 Shopify offers 100+ payment gateways
(both US-based and international providers) so your customers can pay in their preferred currency. They can also choose from 60+ payment methods, including major credit/debit cards, digital wallets (Apple Pay, Google Pay, and Samsung Pay), PayPal, Amazon Pay, Meta Pay, bank transfer – even cryptocurrency!
If you use Shopify Payments, you won't be charged a transaction fee on top of the standard credit card processing fee.
Other transaction-free options include PayPal, Amazon Pay, and Apple Pay.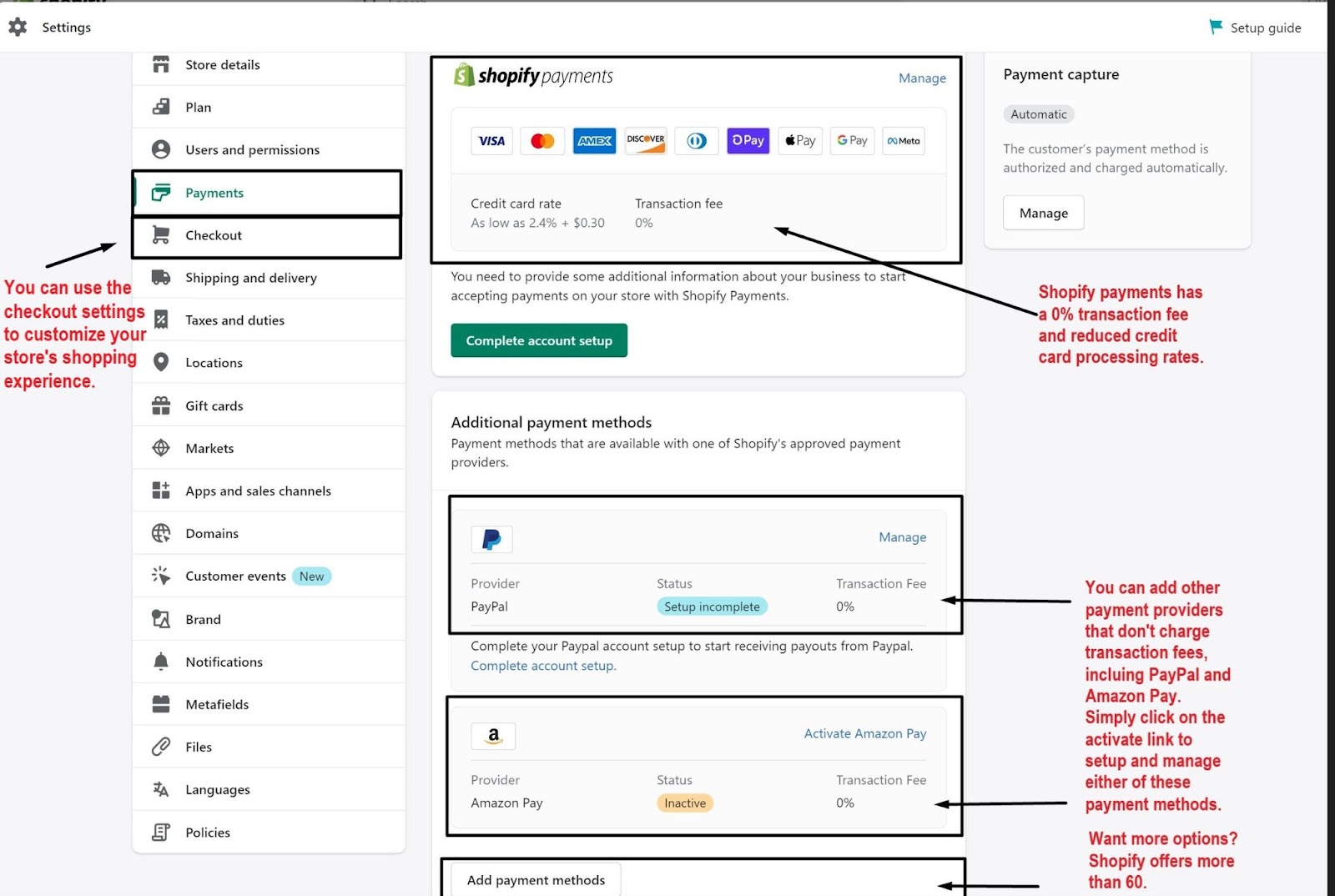 Adding Afterpay gives your customers up to 6 months to pay for a purchase, which can increase sales. You can also give shoppers the option to pay by bank transfer, personal check, money order, or cash on delivery. To keep your transactions secure, Shopify monitors and flags those it deems potentially fraudulent to protect your business and reduce costly chargebacks.
Click on "Checkout" to customize the shopping experience and make your store more user-friendly.
Allowing customers to set up accounts and securely store their personal information and preferred payment method with a digital wallet like "Shop Pay" can streamline checkout and increase sales.
"Notifications" is where you can access productivity tools that help you manage and improve customer relationships
. From here, you can customize the design and automate delivery of 16 different types of email notifications, including new customer "welcome" notices, order confirmations, abandoned checkout discount offers, shipments, and refunds.
If you want to reach an international clientele,
the Languages setting gives you the option to add a translation app to allow visitors to view your website in their native language
. Incredibly, this allows you to choose from 135+ languages. Other settings let you personalize your store's policies for refunds, privacy, shipping, and delivery. Shopify will automatically add your updated store policies and contact information to your theme's footer. If you also provide comprehensive information and a detailed FAQ page, your store will look more trustworthy.
Preview and Launch Your Shopify Store
Before publishing your store, you'll want to preview its content and check your navigation, links, checkout, and other functions. When doing this, try to see your website through the eyes of your future customers.
One of the best ways to test your store is to shop, choose a product, and place an order.
This will give you a feel for how well your store's navigation and checkout process work. Consider the following: is it easy to find an item? Do all your payment methods work? Are taxes correctly applied and shipping options clearly displayed? If you haven't already done so, you'll also want to
make sure all clickable links and buttons work properly.
For example, if you have a featured collection or product on your homepage, click to see if the link brings up the appropriate product category or item.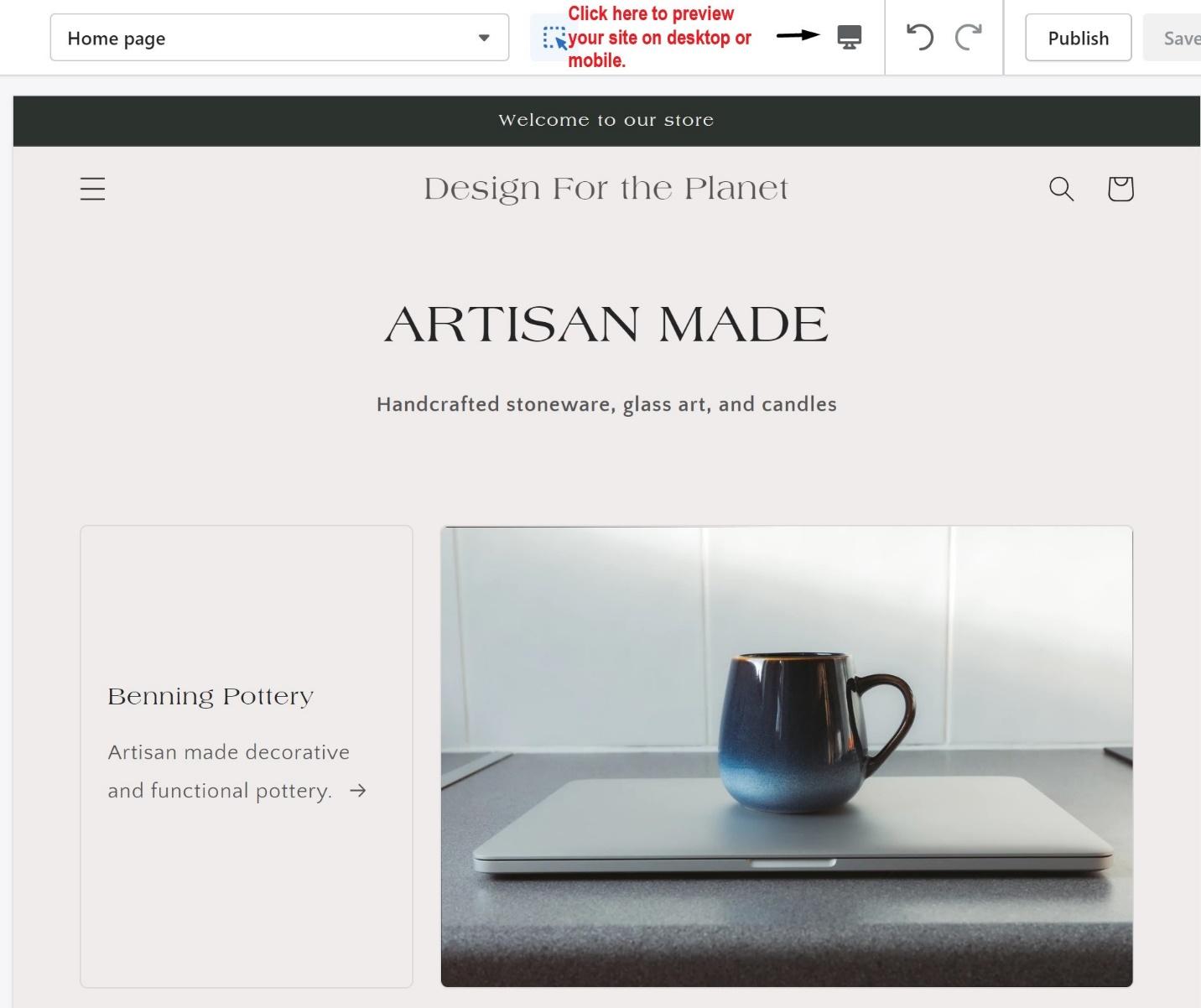 While Shopify themes are mobile responsive, it's important to check that your store functions properly and looks great on mobile devices
– that's likely how most of your visitors will see and shop your site. Once your store passes this final test, you're ready to publish and promote your store – and start taking orders!
Sell Products On Your Own Online Store to Take Your Sales to the Next Level
An online store can be a profitable venture, but only if you choose a platform that offers what you need to launch and grow a retail business. Unfortunately, too many come up short. There's a reason Shopify powers more than a million online stores.
The platform gives budding entrepreneurs the built-in design features, marketing, and other essential tools to attract and build a solid customer base
– no easy feat in this competitive space. To succeed, you'll want to take advantage of everything Shopify offers, especially its robust SEO tools, detailed analytics data, and comprehensive performance reports, all of which help it stand out from the competition.
FAQ
Is Shopify good for selling products online?
Shopify is one of the best e-commerce platforms for selling any type of product. It offers fantastic e-commerce, management, marketing, and analytics tools to help you launch, promote, and grow your business. Plus, you'll get access to thousands of apps that add extra features to help you source products, fulfill orders, and attract customers.
Can you sell products for free on Shopify?
No, but Shopify's Starter Plan costs just a few dollars a month and includes all the platform's free business and secure payment processing tools. It's a good option if you're launching a new business or want to evaluate a product's performance before you create an online store. You can always upgrade your plan as demand for your products grows.
Is designing a Shopify store easy for beginners?
Shopify makes setting up an online store easy – even if you've never built a website before. The setup guide and user-friendly editor make customizing your store theme, adding products, setting up payment methods, and managing sales channels and inventory simple. If you need help, you can always access free video tutorials, online courses, and a comprehensive knowledge base. Customer support is also available 24/7 via email or live chat.
Can you sell on Shopify without investing in inventory?
You can partner with a dropshipping service and launch a Shopify store without having to buy inventory. The Shopify app store has hundreds of apps for dropshipping, from print-on-demand services like Printful and Printify to marketplaces like Oberlo and AliExpress. With this e-commerce model, you as the store owner simply forward these orders to dropshipping services that handle fulfillment, shipping, and delivery on your behalf.