Hostwinds vs HostGator is a tough matchup, given that both hosts offer similar features and options for small to medium-sized websites and businesses. Despite the similarities, one big difference changes the whole competition: value for money. To compare Hostwinds and HostGator, I tested these two web hosting services for pricing, features, performance, support, and security. Unlike Hostwinds, HostGator will charge more when it's time to renew your plan. Even though HostGator offers faster loading speeds,
Hostwinds' ease of use and value for money make it the winner.
Click here to see Hostwinds' latest deals
, or see how the two hosts competed against each other in this extensive comparison.
1. Plans and Pricing
Hostwinds Offers More Plans at a Cheaper Renewal Rate
In this section, I'll compare Hostwinds and HostGator's shared hosting options. Right off the bat, you'll notice that HostGator has three shared hosting plans for Linux – Hatchling, Baby, and Business. Hostwinds offers personal and business Linux-based shared hosting with three plans under each category: Basic, Advanced, and Ultimate.
HostGator's value plan, the Baby plan
, comes with unlimited storage, bandwidth, domains, subdomains, MySQL databases, FTP accounts, and email accounts. Hostwinds recommends its highest-tier plan (Ultimate) for personal hosting, which also includes unlimited resources: SSD storage, bandwidth, domains, databases, email accounts, FTP accounts, and subdomains. Although HostGator offers better promotional discounts when you first purchase a plan, most of
Hostwinds' shared hosting plans
 renew at a cheaper monthly cost than HostGator's. Even Hostwinds' most expensive business hosting plan only costs a little more than HostGator's Business plan upon renewal. Now, let's talk about freebies.
Both vendors throw in a free SSL certificate and a free domain with annual subscriptions.
Hostwinds also offers a free dedicated IP address and free CDN with all plans,
but HostGator doesn't. However, HostGator does offer $100 of free credit for Google Adwords, and $100 of free credit for Bing. What about refunds? HostGator is popular for its 45-day money-back guarantee. In contrast, Hostwinds offers a less generous, more complicated refund policy of 48 hours, 14 days, or 30 days, depending on the contract period and whether it's a first-time purchase or a renewal. The winner? Compared to HostGator, Hostwinds offers better value for your money.
2. Features
Hostwinds Offers Just a Little More Than HostGator
It's a very close contest when it comes to comparing the features between these two similar hosts. Do you want fast web hosting for your growing business?
Hostwinds' Business hosting plan comes with additional features such as LiteSpeed Web Server
(a fast lightweight server that boosts your website's speed) and performance-optimized MySQL databases. If you prefer Windows hosting or WordPress hosting,
HostGator offers two hosting packages for Windows, and three WordPress hosting packages.
Hostwinds offers feature-loaded Windows VPS plans, but doesn't offer WordPress hosting. In case you need help building your website, HostGator has a custom site builder, whereas Hostwinds offers the popular
Weebly
 site builder. Take a look at this side-by-side comparison of features:
| | | |
| --- | --- | --- |
| | Hostwinds | HostGator |
| Hosting Types | Shared, business, reseller, White Label hosting, managed VPS (Linux and Windows), unmanaged VPS (Linux and Windows), cloud, dedicated servers | Shared (Linux and Windows), cloud, WordPress hosting, reseller, VPS, application hosting, dedicated servers |
| Free Domain | ✔ | ✔ |
| Free SSL Certificate | ✔ | ✔ |
| Disk Space | 30 GB – Unlimited | 120 GB – Unlimited |
| Bandwidth | 1 TB – Unmetered | 1.5 TB – Unmetered |
| Automatic Backups | Daily | Weekly |
| Control Panel | cPanel | cPanel, Plesk |
| Email Accounts | Unlimited | Unlimited |
| Free CDN | ✔ | x |
| Free Site Migration | ✔ | ✔ |
| Money-Back Guarantee | 48-hour, 14-day, or 30-day (depending on contract length and if it is at first billing cycle or renewal) | 45-day (none for dedicated servers) |
3. Performance
HostGator Delivers Faster Loading Speeds
To enhance its performance,
Hostwinds offers SSD storage with all plans, while HostGator has SSD only for its dedicated servers.
SSD storage performs much faster than traditional disk drives. Hostwinds also provides CloudFlare CDN with its shared and business hosting plans. A CDN acts as a global network and increases the loading speed of web pages no matter which continent they're accessed from. While Hostwinds has a 99.9999% uptime guarantee and a 100% satisfaction guarantee, HostGator only has a 99.9% uptime guarantee. All this made me expect Hostwinds to smash HostGator in this performance challenge. Strange to say, our performance tests proved otherwise.
Even though both providers scored the same in the Sucuri page loading test, HostGator showed faster speeds. Even in the uptime tests, HostGator kept its uptime promise slightly better than Hostwinds did.
4. Security
Hostwinds Offers More Security Options
HostGator and Hostwinds both offer a free SSL certificate with all plans, and HostGator offers SiteLock as a paid add-on. Hostwinds provides a variety of security add-ons, with the most captivating option being Windshield. You have the opportunity to include Windshield in your package for a simple, one-time fee. This powerful tool enhances your server's security by conducting a comprehensive security audit, establishing a robust firewall, and performing other essential server-hardening tasks, thereby providing an additional layer of protection against potential threats. Hostwinds offers automatic daily backups with all its services as an add-on, while HostGator performs weekly backups by default.
5. Support
HostGator's Customer Support Is More Responsive
Both Hostwinds and HostGator offer multiple support options.
HostGator has a more comprehensive knowledge base that covers more topics than Hostwinds' knowledge base.
 HostGator also has video tutorials for different topics. It's worth noting that I had to switch browsers to access Hostgator's Knowledge Base and video tutorials.
HostGator also offers live chat and phone support.
However, you usually wait for up to 10 minutes before you're connected with an agent.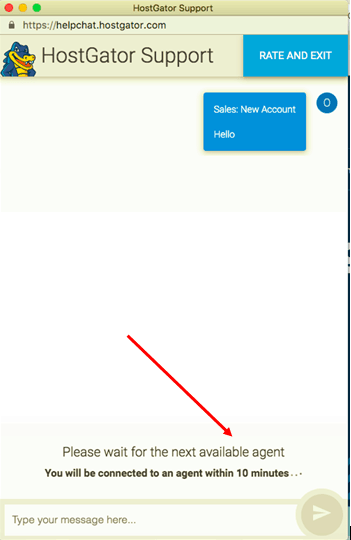 Hostwinds offers live chat, phone support, a ticket system, and email support.
However, the live chat support isn't very knowledgeable. I had to contact them twice to get the correct information about the CloudFlare CDN feature.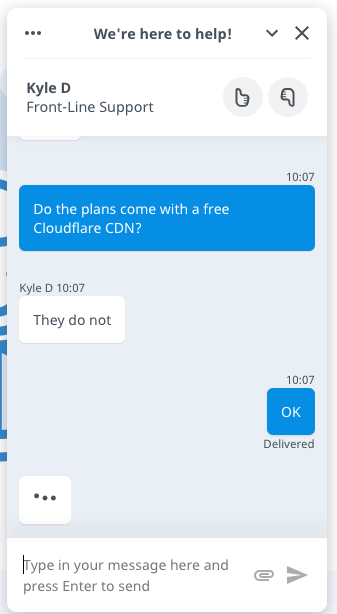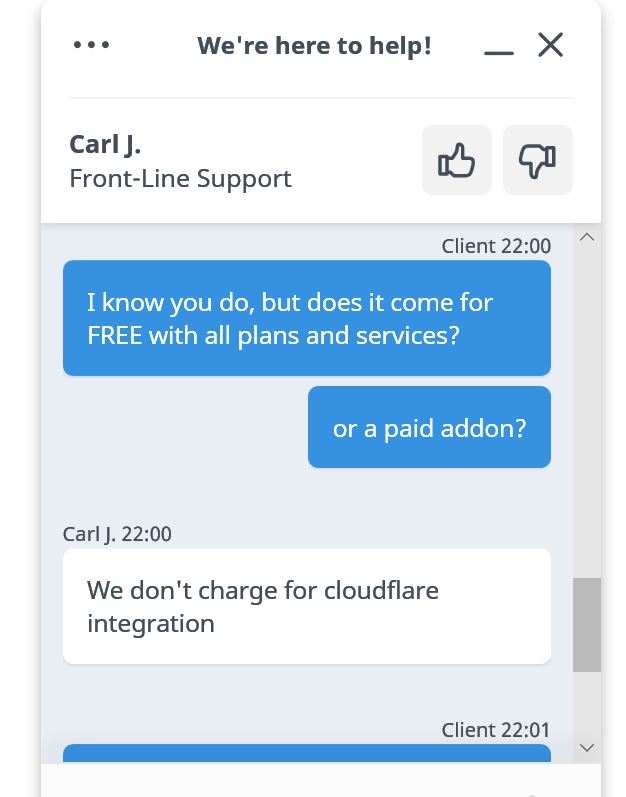 The winner? HostGator, for offering more self-help resources and more knowledgeable live chat support.
It's a Win for Hostwinds
It was definitely challenging to choose between
Hostwinds
 and
HostGator
. They're both reliable, feature-packed web hosting services. Despite better performance and more helpful customer support, HostGator lost to Hostwinds because of better value for money, more features, and more robust security options. Want to explore more web hosting options? Check out our list of
the best web hosting services
.
Comparison Table
Plans and Pricing
Cheaper renewal rates, and a 30-day refund policy.
More attractive discount rates and $100 each of Google Adwords and Bing credit. 45-day money-back guarantee
Key Features
Free domain, free Weebly site builder, free site migration, unlimited resources, and free dedicated IP
Free domain, free site migration, unlimited resources
Performance
SSD storage, free CDN, good loading speeds
Faster loading speeds, better tested uptime
Security
Free SSL, Windshield (one-off cost add-on), DDoS protection (for servers)
Free SSL, SiteLock (add-on)
Support
Limited Knowledge Base, live chat, phone, ticket support, email
Comprehensive Knowledge Base, video tutorials, more responsive live chat, phone
FAQ
Does Hostwinds offer WordPress hosting?
Unfortunately, no. It offers shared hosting, reseller hosting, cloud hosting, managed and unmanaged VPS (Linux and Windows), and dedicated servers. If you want reliable managed WordPress hosting, I recommend these managed WordPress hosting providers.
Who owns Hostwinds and HostGator?
Hostwinds is a US-based company owned by CEO Peter Holden who founded it in 2010. HostGator is owned by Endurance International Group (EIG), which is in charge of HostGator's billing and transaction information.
Does Hostwinds offer fast loading speeds? 
According to our Hostwinds performance test, Hostwinds does deliver fast loading speeds across the U.S. and in Australia. However, it doesn't provide the same impressive performance in other parts of the world.
Which host is better, Hostwinds or HostGator?
While both are very good choices for small and medium websites, Hostwinds is better than HostGator in terms of affordability, ease-of-use, and variety of web hosting plans. HostGator, on the other hand, outperforms Hostwinds when it comes to performance and customer support. You should check our list of the best web hosting companies before making any final decisions.