HostPapa may not be as popular as Hostinger, but it's still a go-to web hosting service for small businesses. To make a fair comparison of Hostinger and HostPapa, I tested both services across several parameters. I found that HostPapa has lower prices, but Hostinger offers more value-added features and better performance.
Click here to see Hostinger's latest deals
or keep reading to find out what makes Hostinger the winner of this comparison.
1. Plans and Pricing
Hostinger Has More Plans, but HostPapa Offers Cheaper Renewal Rates
Hostinger provides a broad range of hosting solutions, including; shared, VPS, WordPress, cloud, CMS (application), e-commerce, and Minecraft (gaming) hosting. In contrast, HostPapa's hosting solutions are limited to shared, VPS, reseller, and WordPress hosting. I'll focus on the shared hosting plans since it's the most popular solution among users. The punchline? Hostinger has more attractive discounts, but HostPapa has less expensive package renewal rates.
A free domain name is included with some hosting plans from Hostinger
A free domain name is included with some hosting plans from HostPapa
With Hostinger, you can subscribe monthly, annually, biennially, triennially, or quadrennially (48 months). With HostPapa, you can choose to be billed annually, biennially, or triennially. You pay less when you sign up for the longest terms. HostPapa provides a free domain name with all its shared hosting plans, a perk you'll only get on Hostinger's higher-value plans (Premium and Business). Both hosts offer a 30-day money-back guarantee. The winner? HostPapa. Even though Hostinger has budget-friendly prices, HostPapa is even cheaper and has more cost-effective package renewal rates. You also get a free domain with any plan from HostPapa.
2. Features
Hostinger Has More Developer Tools and Backup Options
Hostinger and HostPapa offer a ton of similar shared hosting features, including; free SSL certificates, SSD storage, CloudLinux OS, Cloudflare integration, and unlimited bandwidth. HostPapa is more generous when it comes to storage. You can get from 100 GB to unlimited SSD disk space, whereas Hostinger provides 30 GB to 200 GB (SSD). You can host 2 to unlimited websites with HostPapa and 1 to unlimited websites with Hostinger. Hostinger provides a custom control panel (highly user-friendly) and application installer (100+ CMS apps) with its packages. While HostPapa offers cPanel and Softaculous 1-click installer, which achieve the same outcomes. Hostinger also has weekly/daily backups (depending on your plan), but HostPapa only includes automatic backups with its highest shared hosting package. However, it does provide Git (for tracking changes made to files) and Hotlink protection for free with all plans. Use the following side-by-side table to compare Hostinger and HostPapa further:
Hostinger
HostPapa
Hosting Types
Shared, VPS (Linux and Windows), Minecraft server hosting, cloud hosting, WordPress hosting, email hosting, CMS hosting, e-commerce hosting
Shared (managed and unmanaged), WordPress hosting, VPS, reseller
Free Domain

✔

(Depending on the plan)

✔

Free SSL Certificate

✔

✔

Disk Space
20 GB SSD – 300 GB SSD
50 GB – Unlimited (depending on the plan)
Bandwidth
100 – unlimited
500 GB – Unlimited (depending on the plan)
Automatic Backups

✔

Daily with certain plans
Control Panel
hPanel
cPanel
Email Accounts
1 – unlimited
100 – Unlimited (depending on the plan
Free CDN

✔

(Depending on the plan)

✔

Free Site Migration

✔

✔

Money-Back Guarantee
30 days
30 days
Both Hostinger and HostPapa provide high-quality shared hosting features. Nevertheless, Hostinger wins this round by offering more developer tools and backup options free of charge.
3. Performance
Hostinger Has Faster Global Website Loading Speeds
Hostinger's server locations include the U.S.A., Brazil, the U.K., the Netherlands, Lithuania, Singapore, and Indonesia. HostPapa, on the other hand, only has servers in the U.S.A. and Canada. In short, Hostinger has a much broader global presence than HostPapa. Both hosts use SSD storage with all plans. SSD processes website data faster than traditional HDD storage and improves your website's stability, loading speed, and overall performance. You'll also get free Cloudflare CDN with both hosts. Among other benefits, a CDN or Content Delivery Network boosts your website's loading speeds from different locations around the world by placing it on a network of cloud servers. Both hosts exceeded an uptime guarantee of 99.9% when tested, with minimum to no downtimes reported. When testing each host's loading speeds, using Sucuri, Hostinger showed promising numbers in almost all locations, leading to a perfect global score of A+.
You can see the detailed results in this Hostinger review
.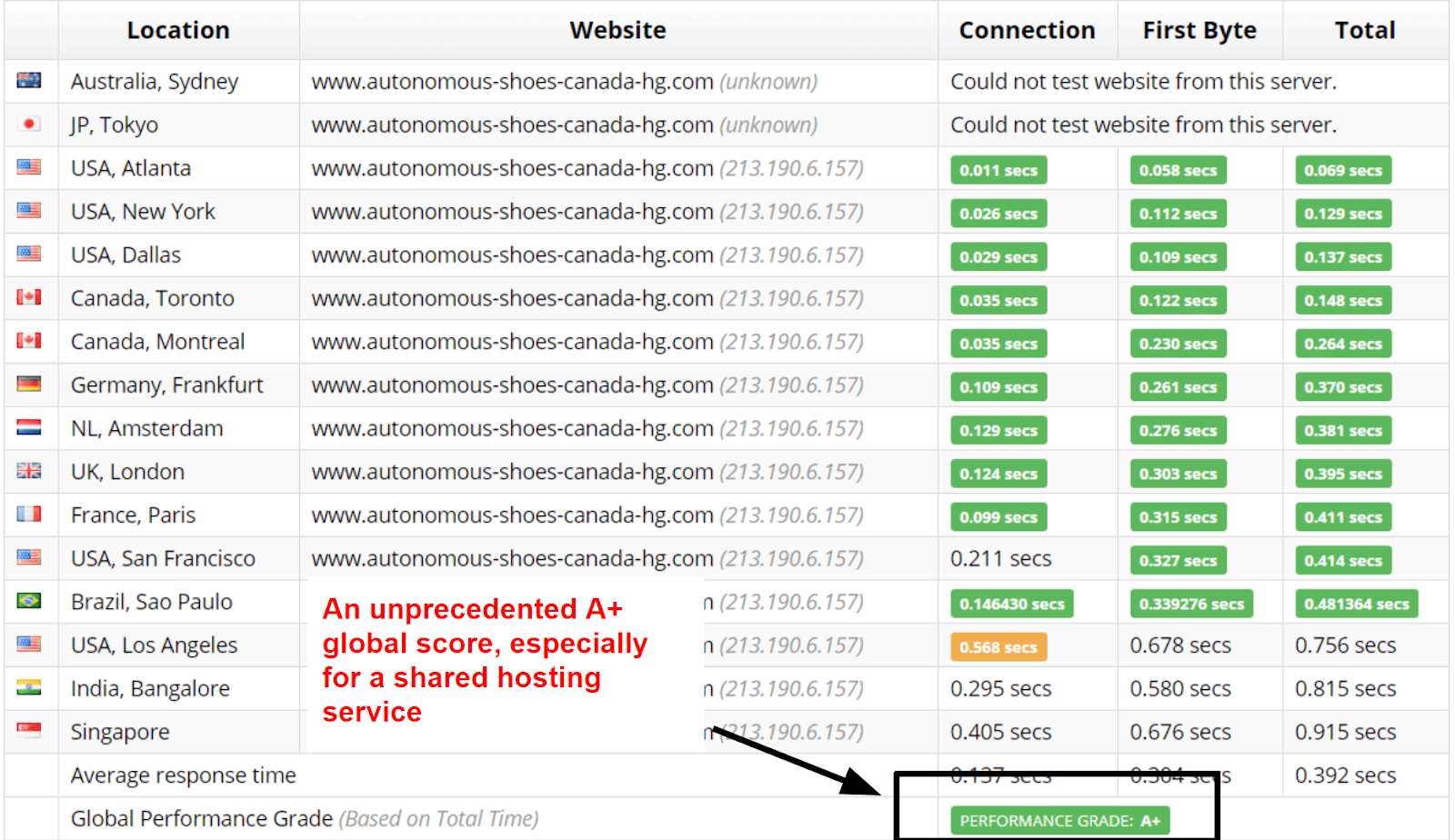 On the other hand, HostPapa showed impressive numbers in most locations with a few slow loading speeds resulting in a good (not perfect) global score of A.
See the full HostPapa review for more information
.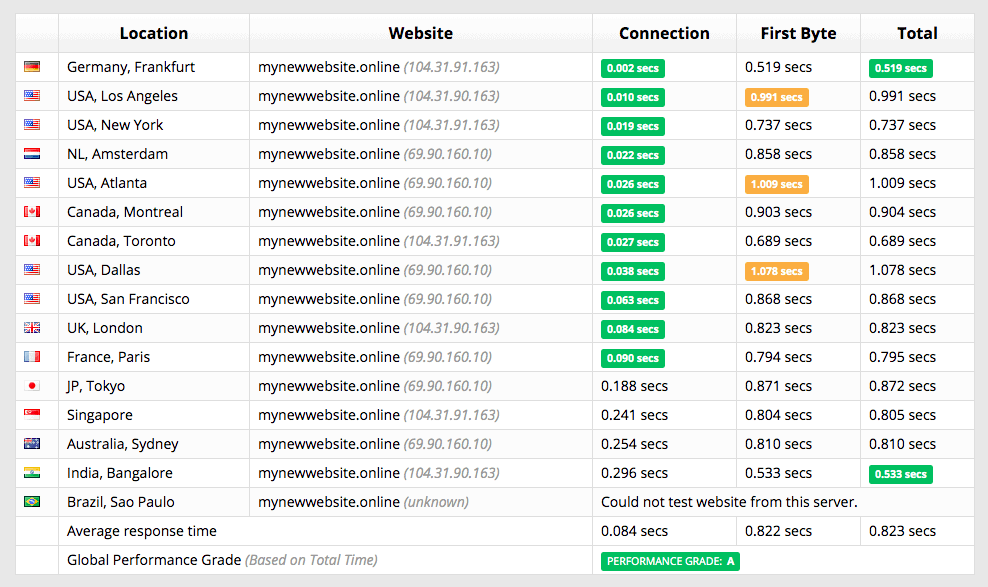 Even though both hosts performed admirably, Hostinger wins the performance challenge with its faster global loading speeds.
4. Security
Hostinger's Automatic Backups Policy is Better Than HostPapa
Hostinger applies DDoS protection on more than one level. You get Wanguard anti-DDoS traffic analyzer and intelligent firewall rules on the switch level, and BitNinja or Immunity360 (Web Application Firewall) on each server. There are also custom web server rules to protect against unwanted attacks (DDoS/Brute-Force). Hostinger also has 24/7 server and network monitoring. HostPapa's security features include server firewall, monitoring, intrusion detection, DDoS/Brute-Force protection, secured entrance/exit, network monitoring, and ModSecurity. Both hosts use CloudLinux OS to securely isolate your website from other accounts on the same server and protect it against unwanted external threats. You also get free SSL certificates with all plans from both hosts. When considering backups, Hostinger includes weekly backups by default in all shared hosting plans and provides daily backups with its higher-tier plans (Premium and Business). In contrast, HostPapa offers automated backups solely within its most premium shared hosting package. While both hosts have a range of advanced security features, Hostinger takes the lead for having a better automated backup policy.
5. Support
HostPapa's Support is More Responsive and Has More Channels
Both Hostinger and HostPapa have comprehensive knowledgebases with more than 1000 articles and tutorials. Hostinger's knowledgebase is more organized in my experience, making it easier to find the information you need. Hostinger's support is available 24/7 through live chat and support tickets. Unfortunately, there's no phone channel. Even though it states that live chat is open 24/7, it was offline when I tried to connect, and it redirected me to the ticketing system. Once I was connected, however, the agent was helpful, professional, and knowledgeable.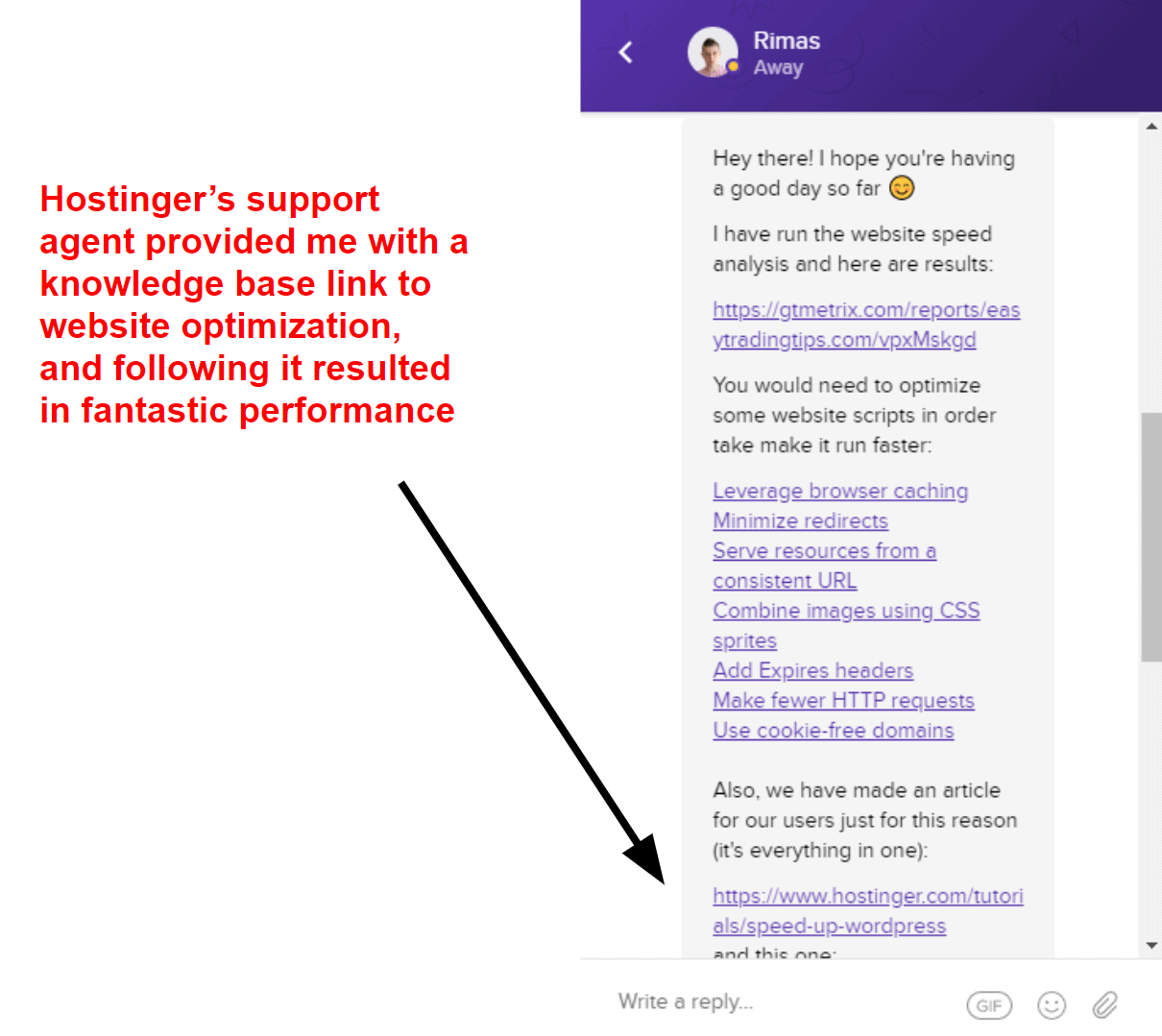 HostPapa also offers support around the clock, but through more options. Besides live chat and support tickets, they provide assistance over the phone, through email, and by fax. Contrary to Hostinger, I got connected to HostPapa's live chat right away. The agent was very helpful, and there was no delay between asking questions and getting answers.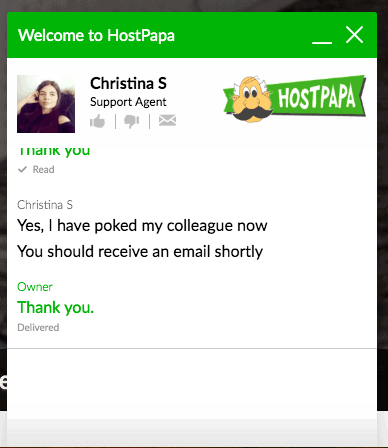 Even though Hostinger is good, HostPapa's support is more responsive, making it the winner of this challenge.
Hostinger Wins by a Slim Margin
This Hostinger vs HostPapa comparison was a tough matchup. Both hosts provide top-quality hosting.
While HostPapa has the edge over Hostinger when it comes to pricing and customer support,
Hostinger reigned supreme in three out of five categories
. Hostinger is also recommended by our experts among the
top 10 best web hosting services
 in the market today.
Plans and Pricing
More hosting plans. Better discounts. More expensive package renewal rates. 30-day money-back guarantee
Fewer hosting solutions. Cheaper package renewal rates. 30-day money-back guarantee
Key Features
Free domain (with certain plans), free site migration, free SSL for life, SSD storage, and custom control panel
Free domain, free site migration, free SSL certificate, SSD storage, and cPanel
Performance
More server locations, free Cloudflare CDN, 99.9% uptime guarantee, no downtimes, faster loading speeds
Fewer server locations, free Cloudflare CDN, 99.9% uptime guarantee, no downtimes, slower loading speeds
Security
Wanguard anti-DDoS traffic analyzer, intelligent firewall rules, BitNinja, Immunity360 (WAF), custom web server rules, 24/7 server/network monitoring, CloudLinux OS, automatic weekly/daily backups (depending on the plan)
Server firewall, monitoring, and intrusion detection, DDoS/Brute-Force protection, secured entrance/exit, network monitoring, ModSecurity, CloudLinux OS, automated backups (on the highest plan)
Support
More organized and comprehensive knowledgebase, 24/7 live chat and support tickets, low responsiveness, very helpful
Comprehensive knowledgebase, 24/7 live chat, phone, support ticket, email, and fax, highly responsive, very helpful
FAQ
Does Hostinger offer WordPress hosting?
Yes. Hostinger provides three WordPress-optimized hosting packages. You can get up to 300 hosted websites, up to 250 GB SSD storage, free SSL, free domain, and free/premium JetPack (depending on your plan). Need more options? Don't miss our list of the best managed WordPress hosting services.
Does HostPapa offer cloud hosting?
HostPapa doesn't sell cloud hosting packages. However, it offers several VPS hosting plans. You can pay an extra charge to get a managed VPS service. HostPapa not quite right for you? Explore my top recommendations for cloud hosting and VPS services.
Is Hostinger good for e-commerce?
Yes. Hostinger is featured on our expert list of the best e-commerce hosting services. It offers super-fast loading speeds, budget-friendly prices, SEO tools (for Magento, PrestaShop, and WooCommerce), a free website builder, and servers worldwide.
Is HostPapa fast?
HostPapa isn't the fastest web host in the market, but it's fast enough if you own a small business or website that doesn't get heavy traffic. It did score pretty well in our performance tests, but not in all locations. Learn how you can do a proper web hosting server performance test.