However, its performance is not as consistent as Hostinger's,
 an international host with equally affordable plans and similar loading speeds for India. To properly compare Hostinger and Hosting Raja, I tested both services for several months and rated them based on pricing, features, performance, security, and support.
Not only was Hostinger more reliable than Hosting Raja, it also had better features and customer support.
 As far as I'm concerned, Hostinger was the clear winner.
I also came across a few concerning policies from Hosting Raja, such as the fact that its money-back guarantee is not actually guaranteed.
Before you sign up with them for several years, you'll want to read the full story below – or just
click here to see Hostinger's latest deals
.
1. Plans and Pricing
Hostinger Is as Affordable as Hosting Raja, but It Gives You More Value
Both Hostinger and Hosting Raja offer a complete range of web hosting services, from shared hosting to managed WordPress services and VPS/cloud solutions.
Price-wise, the matchup is tight, since both hosts focus on incredibly cheap hosting.
 Once you take a closer look, though, there are a few important differences. Take, for example,
Hostinger's entry-level Single shared hosting plan
and
Hosting Raja's Silver
. Hostinger gives you 1 website, 30GB of storage, 100GB of bandwidth, and 1 email address. Meanwhile, Hosting Raja gives you 3 websites, 100GB of storage, and 50 email addresses, but only 20GB of bandwidth.
A free domain name is included with some hosting plans from Hostinger
Now, Hosting Raja might look like it's ahead, but the bandwidth cap is a major downside.
 20GB could be enough for a single-page website with up to 100 visitors per day, but it probably couldn't handle multiple websites with decent traffic.
Hostinger does give you less storage, but 30GB is more than enough for a single website.
 Even if you had hundreds of HD images on your site, you'd still struggle to use more than 5GB of storage.
The fact that you get 100GB of bandwidth with Hostinger is a big advantage,
 because it allows your website to grow before you have to switch to a more expensive plan. If you want more resources, Hostinger's Premium shared hosting plan gives you unlimited websites, 100GB of storage, unmetered bandwidth, and unlimited email. For roughly the same price, Hosting Raja's Gold plan includes 6 times more storage, but just 5 websites, 100GB of bandwidth, and 250 email addresses.
Hostinger has a standard 30-day money-back guarantee,
 which makes it easier to sign up for a long-term plan. Hosting Raja claims to offer a 30-day money-back guarantee, but I dug a little deeper and found out this isn't really a guarantee.
You can apply for a refund during the first month of service, but you'll only get one if you can demonstrate that you had "technical difficulties."
2. Features
Hostinger Is Easier to Use
Hosting Raja offers the cPanel control panel plus Softaculous content management system (CMS) installer on all plans.
 Once you get used to it, cPanel can be a powerful tool, but it's not the most user-friendly and has a lot of options that you'll probably never use.
Hostinger's proprietary hPanel is far less cluttered and better organized.
 If you're a beginner, you'll find it easier to navigate, and if you're an expert, you'll appreciate the amount of time it saves you. One advantage with Hosting Raja is that you get two free website builders on the Gold shared hosting plan and higher. SitePad's drag-and-drop interface is especially easy to use, and it comes with a decent selection of themes. Hostinger also has a website builder called
Zyro
, but it's not included in the shared hosting plans. That said, you can download any free WordPress website builder – such as Elementor or BoldGrid – to get a similar drag-and-drop interface.
Hostinger gives you a one-click installer for WordPress, automated updates, and the free version of Jetpack preinstalled.
Hosting Raja claims that you don't need to "worry about installing any plugins nor making any changes in the website," but I've tested its customer support, and you will most certainly need to worry about these things. Apart from the one-click installation of WordPress, you won't get much else in terms of managed services.
| | | |
| --- | --- | --- |
| Feature | Hostinger | Hosting Raja |
| Hosting Type | Shared, WordPress, cloud, VPS | Shared, WordPress, VPS, dedicated servers |
| Free Domain | Yes, on Premium and Business plans | No |
| Free SSL Certificate | Yes | Yes |
| Disk Space | 30GB SSD to 300GB SSD | 40GB to unlimited |
| Bandwidth | 100GB to unmetered | 20GB to unmetered |
| Automatic Backups | Yes (weekly) | Yes (monthly) |
| Control Panel | hPanel | cPanel |
| Email Accounts | 1 to unlimited | 10 to unlimited |
| Free CDN | Yes | No |
| Free Site Migration | Yes | Yes |
| Money-Back Guarantee | 30 days | 30-day refund policy, but no real guarantee |
3. Performance
Hostinger Is More Reliable than Hosting Raja, Even in India
One advantage that Hosting Raja theoretically has in this matchup is that its servers are located in India. It
should
perform better than Hostinger in this region, especially since
both hosts use SSD storage and the LiteSpeed web server.
 However, I got mixed results during my tests.
I signed up for the entry-level plan with both hosts and tested them using GTmetrix, Sucuri, and UptimeRobot.
 Using GTmetrix, my site hosted by Hosting Raja got an average loading speed of 1.4 seconds – an excellent result.

However, the speeds were not at all consistent.
When I moved on to the Sucuri test, I got wildly different results for different attempts.
 At its best, Hosting Raja loaded my website in 0.75 seconds, but at its worst, it took a whopping 6.7 seconds to load in Bangalore, India.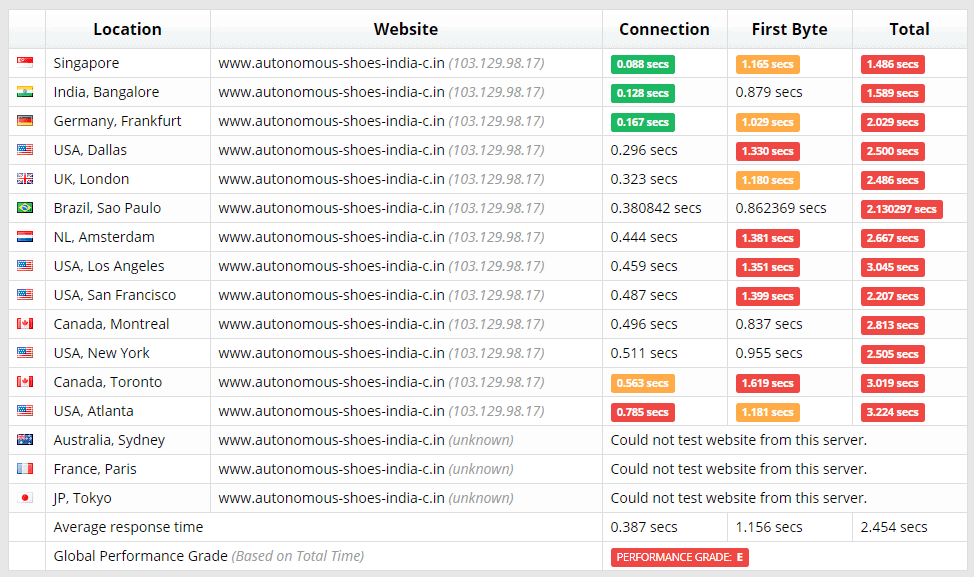 Meanwhile, Hostinger's average on GTmetrix was 1.56 seconds, just slightly slower than Hosting Raja, but still really good.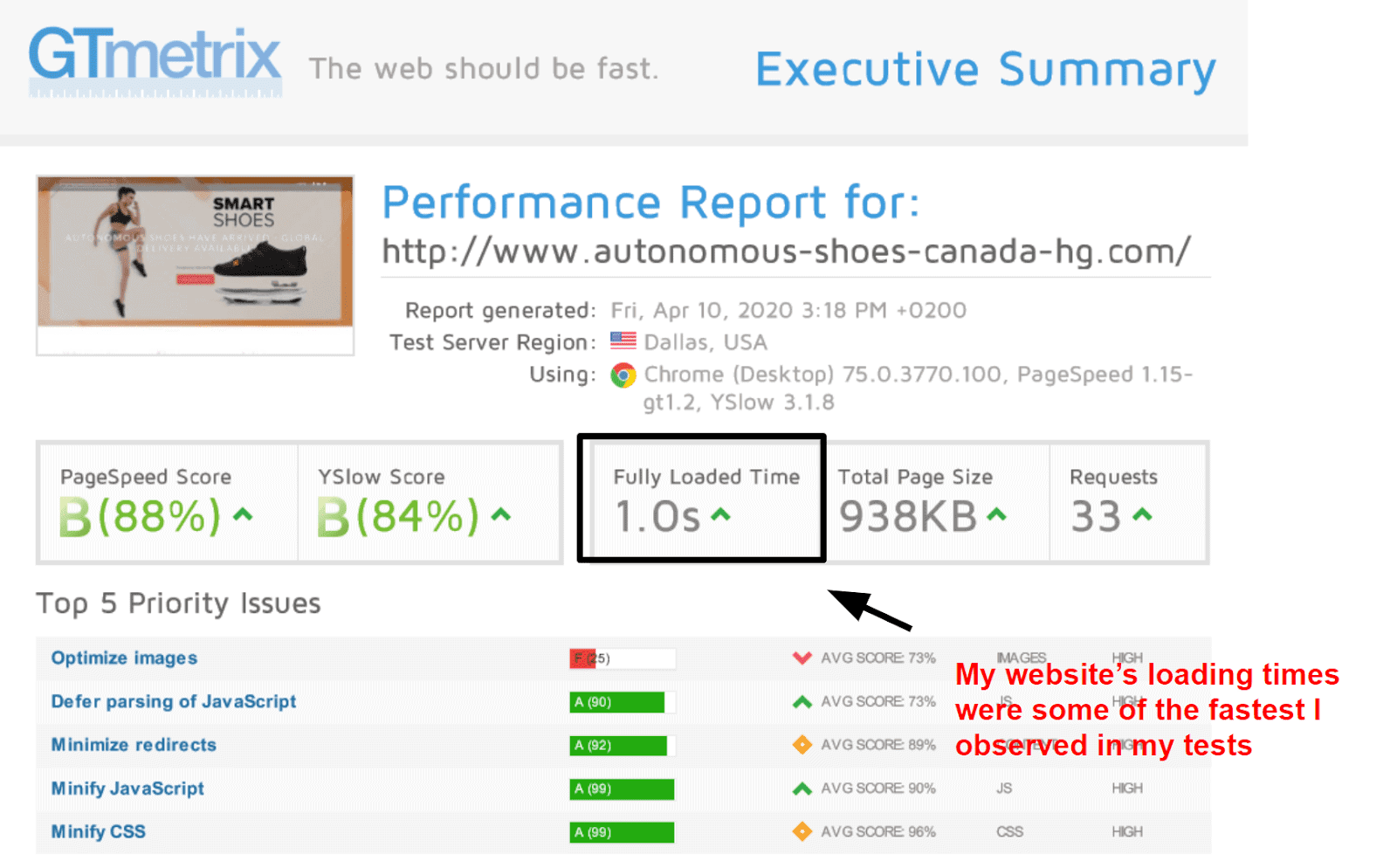 Keep in mind that I was using a US data center at the time, and that Hostinger lets you choose from seven locations, including the US, Brazil, the UK, the Netherlands, Lithuania, Indonesia, and Singapore.
If your audience is primarily in India you could opt for a server in Indonesia or Singapore.
The surprising thing about Hostinger was that it did phenomenally well on the Sucuri test, which measures a host's global performance. Even though my data center was in the US,
I got better loading speeds for Bangalore, India, than I did with Hosting Raja, a local Indian host.
Check our expert Hostinger review for the full (and impressive!) test results
.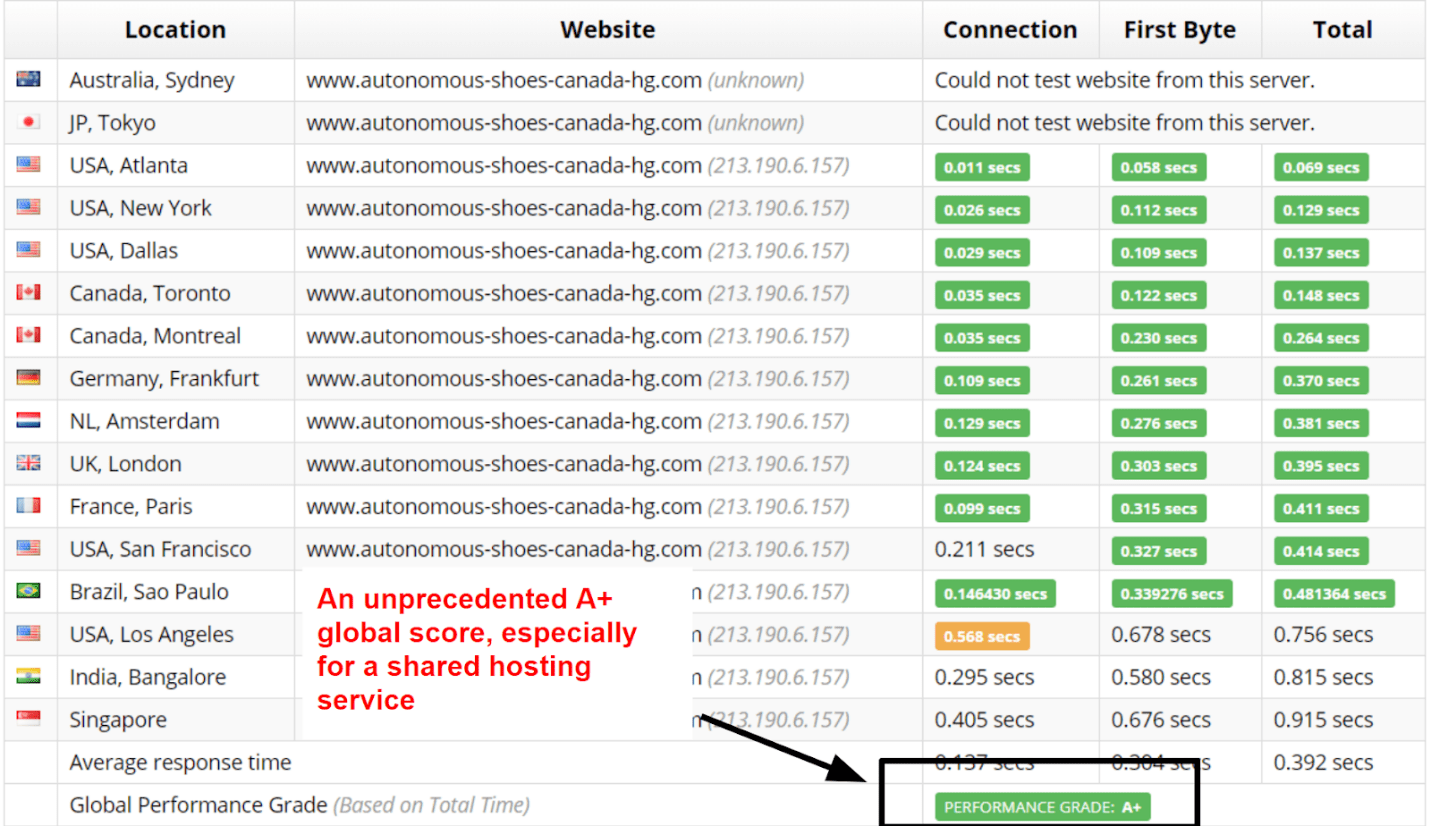 Then there's the issue of uptime. While testing Hostinger for several months, I recorded a 99.997% uptime, far better than the standard 99.9% guarantee.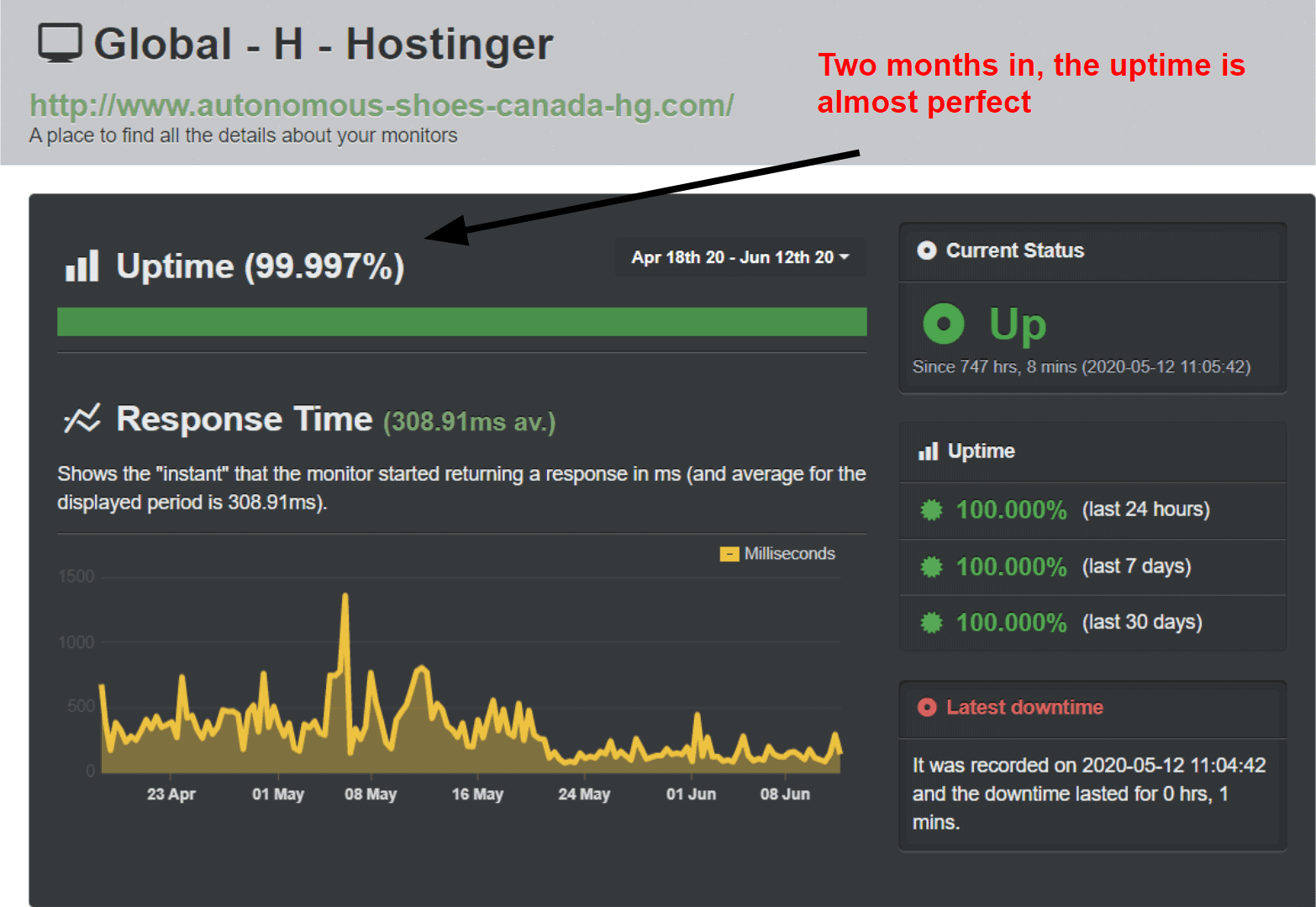 Things didn't go so well with Hosting Raja. The host advertises 99.9% uptime on its website, but I checked the Terms of Service, and the guarantee is actually for 99% uptime, which is much lower compared to the industry standard. During my tests, I recorded 99.4% uptime over the course of 30 days, which means my website was down for about an hour
every week
. That's pretty terrible compared to most other hosts I've tested. You can
see the full test results in our in-depth Hosting Raja review
.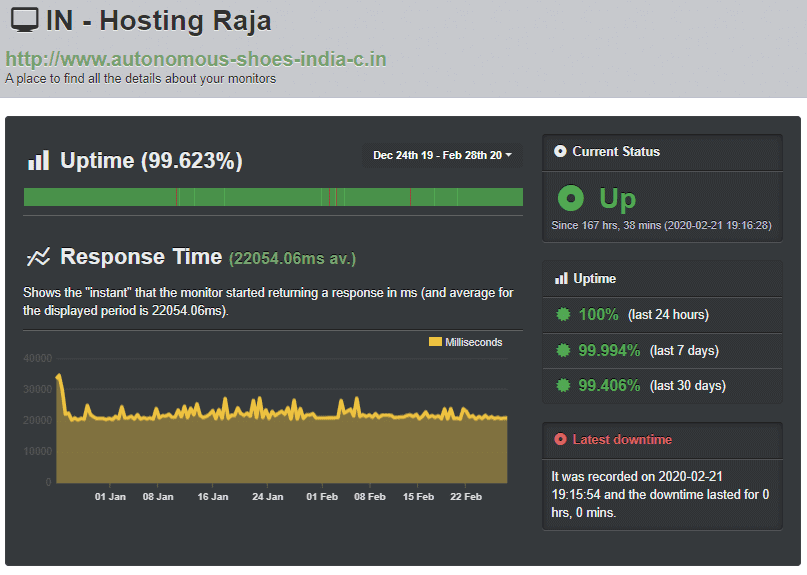 Overall, if you care about speed and reliability (and who doesn't?), you're better off with Hostinger.
 It had more consistent performance and a better uptime record, which is particularly important if you want to host a business website or an online store.
4. Security
Hostinger Has Better Security Tools on Entry-Level Plans
Let's start with the good news
. Both Hostinger and Hosting Raja offer free SSL certificates on all plans.
 This means that your users' data and connections are encrypted, and a small padlock icon is displayed next to your website's address to let your visitors know that their information is safe. Search engines will also "notice" it and rank your website higher.
In addition, Hostinger uses Cloudflare protection and BitNinja security to keep your website safe from malware, DDoS attacks, and brute force attacks.
 Security is taken care of at the server level, so you don't have to worry about it or install any plugins yourself.
Hosting Raja, on the other hand, offers no details regarding its server security.
The host claims to have excellent security, but no tools are included in its Silver or Gold plans. You do get a malware scanning and removal tool if you buy one of the Unlimited plans, but that's it. The fact that Hosting Raja provides only monthly backups doesn't help, either.
Hostinger creates backups automatically every week (or daily, if you're on the Business plan).
 All in all, I have more confidence that Hostinger will keep my website safe, especially on the entry-level plans.
5. Support
Neither Host Has Outstanding Customer Support, but Hosting Raja Was Terrible
Both Hostinger and Hosting Raja have 24/7 customer support through live chat, and Hosting Raja can also be contacted by phone and through tickets. I  tested both customer support services, and I wasn't too impressed with either.
With Hostinger, live chat wasn't always available.
 Since there's no other way to get help (apart from the extensive knowledge base), I had to wait an average of 40 minutes for an agent to get in touch. That's unacceptable, by any standard. The good news is that once Hostinger did reply, I was able to get the information I needed.
The agents were knowledgeable and helpful, and they even recommended several improvements I could make to increase my website's performance.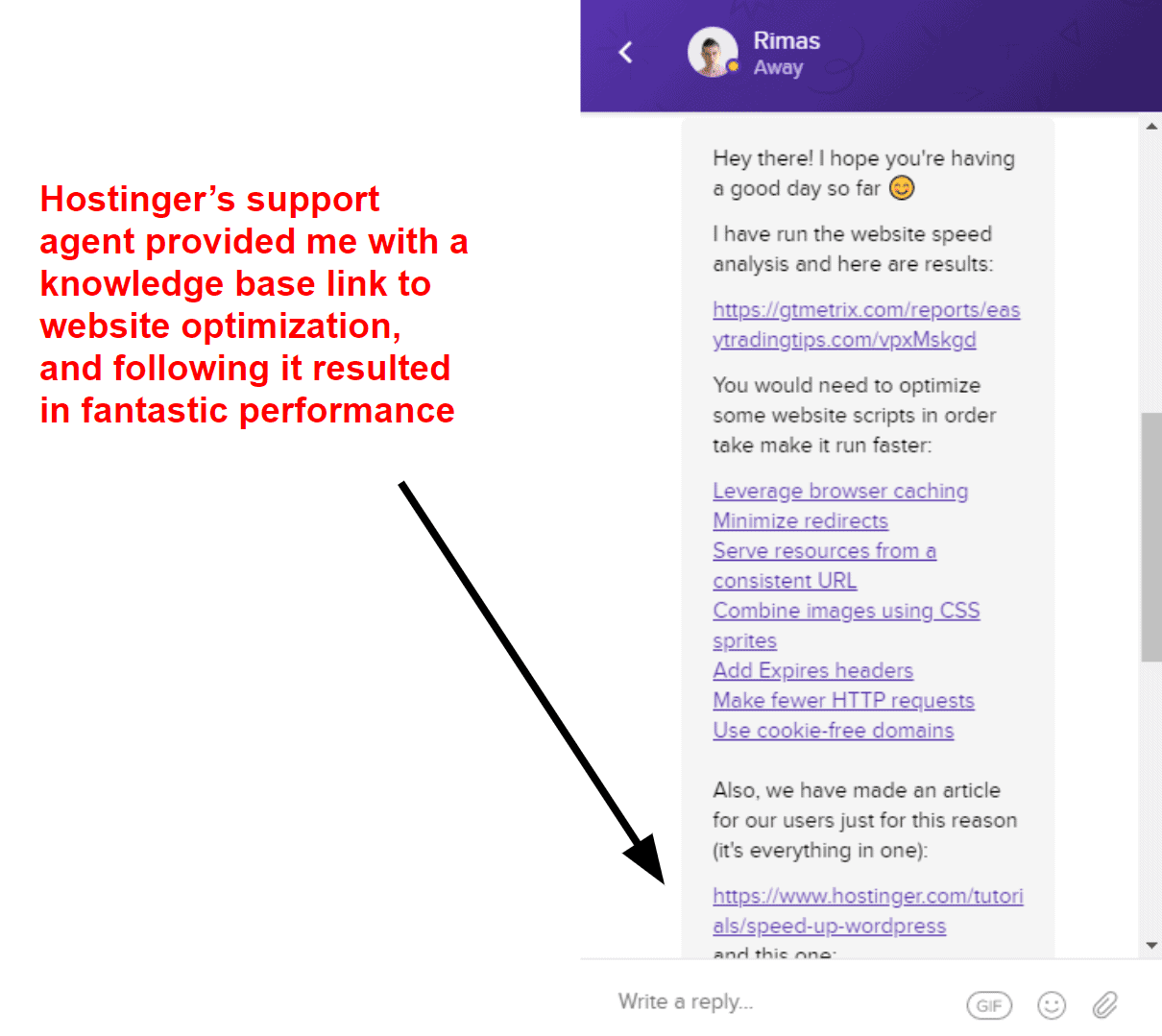 Hosting Raja's live chat was worse.
Not only was I unable to get a hold of an agent most of the time, but when someone did pick up my request, they couldn't provide any help whatsoever.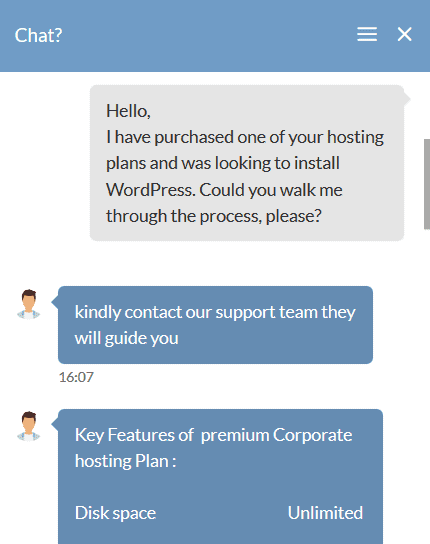 I had slightly better results when I wrote a ticket.
 I did get an actual reply, but it was just a link to a knowledge base article.
If you like to DIY, you're better off with either Hostinger's or Hosting Raja's knowledge base.
 Both hosts have a good deal of tutorials and guides, although I have to say that Hostinger's help center is better organized overall.
Go with Hostinger for Fast and Reliable Hosting in India
Even though Hosting Raja has decent loading speeds in India, its performance is not consistent enough, especially when it comes to uptime.
Hostinger has similar prices and is far more reliable
.
 From features to performance, security, and customer support, Hostinger has the upper hand. Hostinger doesn't have a data center in India, but there are servers in Singapore and Indonesia. Plus,
Hostinger's global performance is exceptional, so you're very likely to get outstanding speeds for your Indian audience no matter which data center you choose.
As for customer support, Hostinger might be slow, but at least you can expect some help once the agents do get in touch. Hostinger even managed to grab a spot on our list of
the best web hosting services
. Need a recap? I've summarized my comparison of Hostinger vs Hosting Raja in the table below:
Plans and Pricing
Affordable prices, better value
Slightly cheaper than Hostinger, but not as much value for your money
Features
Generous storage space and bandwidth, free domain for the first year on most plans, user-friendly hPanel, free email, 30-day money-back guarantee
Less bandwidth but more storage on entry-level plans, traditional cPanel, free email, SitePad website builder, no proper money-back guarantee
Performance
SSD storage, support for Cloudflare CDN, LiteSpeed web server and caching, seven data center locations, outstanding performance for shared hosting
SSD storage, no CDN, no caching, data center in India, LiteSpeed web server, fast performance in India but disappointing uptime
Security
DDoS protection, firewall, BitNinja defense, automated weekly backups, free SSL
Malware scanning and removal on the Unlimited plans, free SSL certificate
Support
24/7 support via live chat; extensive knowledge base
24/7 support via live chat, tickets, and phone; extensive knowledge base
FAQ
Is Hostinger better than Hosting Raja for India?
In theory, Hosting Raja should have better performance for Indian audiences, but I was unable to confirm this in my tests. Hosting Raja was fast, but the speeds weren't consistent during my testing. On Sucuri, load times for India ranged from a fantastic 0.75 seconds to a horrible 6.7 seconds. Uptime was also disappointing, with an average of one hour of downtime recorded per week. Hostinger, on the other hand, has a far more reliable uptime record. And even though my data center was in the US, I got better loading speeds in India than I got with Hosting Raja. Plus, Hostinger has better features, security, and customer support. There's also a data center in Singapore, which you could use if your audience is in India. To see how Hostinger did against other top hosts, head over to our list of the best web hosting services.
Does Hostinger offer WordPress hosting?
Yes, Hostinger has four managed WordPress plans, all of which run on the LiteSpeed web server and come with LiteSpeed caching. Most of these plans are preconfigured with either a free or Personal Jetpack license, which includes several security tools for WordPress, site statistics, automated updates, backups, premium themes, and more. That said, Hostinger is best-known for its affordable, feature-rich shared hosting plans. If you're looking for a premium platform for WordPress, check out this list of the best managed WordPress hosting services.
Does Hosting Raja offer good speeds?
On GTmetrix, Hosting Raja recorded an average website loading speed of 1.4 seconds, which makes it the fastest Indian web host we've tested. However, the results were not consistent. In one Sucuri test, Hosting Raja took 6.7 seconds to load my website to a test center in Bangalore, India. Uptime was also pretty low compared to the industry average, at 99.4% over the course of 30 days. You can read more about how we perform these tests here, but if I were you, I'd go with a more reliable host like Hostinger.
Is Hosting Raja cheaper than Hostinger?
Only marginally. Both hosts have very competitive prices during the first term and after renewal. However, you have to pay for five years of hosting up-front to get the best deals with Hosting Raja. Similarly, Hostinger's best offers are only available for four-year plans. Even so, Hostinger's shared hosting plans have the upper hand, not only because Hostinger has better features, performance, and support, but also because it offers a proper 30-day money-back guarantee. You can test the service and, if it's not a fit, you can apply for a refund. With Hosting Raja, you can only get a refund if you demonstrate that you had "technical difficulties." Unfortunately, the host doesn't go into detail regarding what these difficulties might be, so its "guarantee" is meaningless. If you're looking for a cheap hosting service, don't miss our web hosting coupon page, where you can find all the latest deals.