HostGator and Hostinger both started out as independent hosts, but HostGator was bought out by Endurance International Group (EIG) almost a decade ago. Does this big-brand backing and the infrastructure that goes with it give HostGator the edge? Well, not necessarily.
To find out which of these two web hosts is better, I ran some extensive tests on both of them.
 I checked their performance, features, and security, compared their pricing, and even contacted customer support to see which host provides better service. There's no doubt about it – in this comparison,
Hostinger is the clear winner.
It provides excellent performance at prices that just can't be beat.
Click here to see Hostinger's latest deals
, or read on for all the details.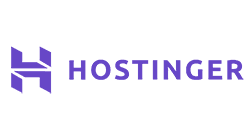 Save up to 75 % on your Hostinger plan!
Limited-time offer - Don't miss it!
7002 users used this coupon!
1. Plans & Pricing
Hostinger's Cheap Plans Are Tough for HostGator to Beat
For shared hosting,
Hostinger has three low-priced plans
. Monthly, you'll pay pocket change for hosting a site here. The Single plan lets you host one website, while Premium and Business provide additional features and functionality. The top plan, Business, includes 200 GB of SSD storage, unlimited bandwidth allowance, and unlimited databases. You'll also get a free domain, free SSL, and free daily backups.
Unless you are on an extremely tight budget, this plan is my recommended pick for a good balance of features and pricing.
HostGator is also known for low pricing, but its plans are slightly more expensive than Hostinger's. HostGator has three shared hosting plans
 – Hatchling, Baby, and Business – and each offers unmetered bandwidth and storage. That said, HostGator only provides HDD storage. These drives run more slowly than the SSD drives provided with Hostinger.
A free domain name is included with some hosting plans from Hostinger
It's also worth noting that
HostGator offers a free domain name for a year with every plan.
Hostinger offers one with every plan besides Single Shared Hosting. If you're looking for a more advanced hosting solution, both hosts also offer VPS for reasonable prices.
While HostGator's unlimited resources are certainly a nice bonus, you need to ask yourself: would you really need them? Hostinger's shared hosting plans already offer plenty of space and bandwidth to work with for a lower price, along with a much faster SSD storage solution. It's a tight contest, but
I'd say Hostinger would be the better value option for most.
2. Features
Hostinger Offers a More User-Friendly Control Panel
If you're new to hosting, you might be looking for one-click WordPress installers and website builders. Both HostGator and Hostinger will meet your requirements there. But here's a big difference.
HostGator uses cPanel, and Hostinger doesn't.
 This might matter if you want something more advanced from your hosting plan. cPanel is a web hosting control panel that lets you look after the technical side of your hosting account yourself. Through cPanel,
HostGator has support for practically every programming language and feature you could dream of.
 CGI, Ruby, and Python right down to instant installers for forums and guestbooks. If you're used to cPanel, the learning curve after you move hosts will be non-existent, and its Business plan is ready for e-commerce out of the box.
Hostinger has a custom panel called hPanel
, which always requires a little more getting used to when you move from another host. However,
when my colleague tested Hostinger's control panel
, he found it very easy to use. cPanel does offer access to more features, but most of us won't be using most of them, so it can feel a little cluttered.
Here's a side-by-side comparison of the features offered by both hosts:
| | | |
| --- | --- | --- |
| | Hostinger | HostGator |
| Hosting types | Shared hosting, WordPress hosting, VPS, cloud hosting, reseller hosting | Shared hosting, WordPress hosting, VPS, reseller hosting, dedicated servers |
| Free domain name | Only in the Premium plan and up | ✔ |
| Free SSL | ✔ | ✔ |
| Number of websites | 1 – 100 | 1 – unlimited |
| Storage | 30GB SSD – 200GB SSD | Unmetered HDD |
| Bandwidth | 100GB – unlimited | Unmetered |
| Control panel | hPanel | cPanel |
| Free CDN | Only in the Business plan | Only in the Business plan |
| Email accounts | 1 – 100 | Unlimited |
| Money-back guarantee | 30 days | 45 days |
In general, Hostinger's features are great for beginners
 – the plans provide everything you need. There are also a few extra perks, such as the WP Starter wizard, an AI which helps you build the framework for your site. After asking you a few questions, it will help you select an appropriate theme and install necessary plugins, giving you a nice head start on site development.
3. Performance
Hostinger is Faster and More Reliable
Shared hosting slices a server into individual accounts; they're separate, but share the same underlying server resources between them.
There are sometimes performance problems on shared hosting when one site starts to consume resources that its neighbors need.
There's no way of guarding against this, but HostGator does refer to "low-density servers" on WordPress plans. I'm inferring that it means it limits the number of customers per server, and if so, that should help with your site's speed and performance. Unfortunately, there's no real detail to go on.
HostGator says it loads pages "up to 2x faster" thanks to "premium hardware" and caching.
 In truth, the plugins you run on your own website are likely to impact performance more dramatically than the server hardware, but again — let's go with the positives here.
Hostinger also offers plenty of tools to help boost performance, such as LiteSpeed web servers and the associated LSCache optimization plugin
. Both give Hostinger a definite edge, and that's not even mentioning its SSD storage, which outperforms HostGator's older HDD drives.
Both hosts' uptime guarantees are very similar, with cloud hosting providing marginally better uptime promises than other types of hosting.
All in all,
Hostinger offers better hardware and software – and it goes to great lengths to ensure its servers are optimized.
That's why it's the clear winner of this section.
Hostinger is the fastest shared hosting service we've tested, and its uptime score was almost perfect. For the full test results,
see our in-depth Hostinger review
. HostGator's performance isn't bad, although some users have complained about slow speeds and a bit of downtime.
Read our full HostGator review
to find out what went wrong.
4. Security
HostGator Has a Better Track Record
Both Hostinger and HostGator offer a free security suite to keep your sites and data safe.
Each host includes a custom firewall, DDoS protection, and SSL certificates with every plan. 
These security measures are average for the shared hosting industry – it'd work fine for a basic low-traffic site, but for mission-critical projects you may wish to tighten up security further with third-party solutions.
HostGator offers SiteLock for an ongoing fee, which provides automatic malware scans and protection against bot attacks.
It's worth noting that
Hostinger experienced a data breach in the past that exposed hashed passwords and the personal data of over 14 million customers
. HostGator, despite being in the industry for a similar amount of time, has never experienced a major breach. 
While Hostinger has since improved security significantly, HostGator has proven to be reliable and secure throughout all its years doing business. For that reason, HostGator is the winner of this section.
5. Support
HostGator Provides Great Support in Minutes – Hostinger Leaves You Waiting for Hours
Hostinger and HostGator both offer 24/7 support via live chat, email, and tickets
. However, HostGator also offers 24/7 phone support if you prefer. Both hosts also offer extensive knowledge bases filled with tutorials and guides on the basics of web hosting.
I assessed the quality of support provided by each host by personally posing some basic questions. To initiate this process, I contacted HostGator's live chat support.
However, HostGator left me waiting for over ten minutes.
That isn't a horrendous waiting time, but it wouldn't be very good if I'd had a critical issue that needed immediate attention.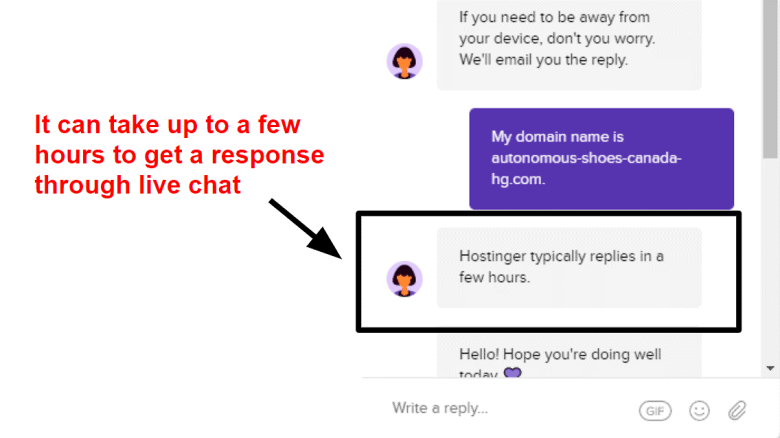 That said, HostGator replied
much
more promptly than Hostinger.
Upon trying to get in touch via live chat, Hostinger informed me that the average response time is "a few hours."
Feel free to close the chat window whenever you'd like, and you'll still get answers to your questions through email. However, please note that this wouldn't be considered live chat anymore. To directly engage in a conversation with one of our agents, it appears that reaching out during non-peak hours is necessary. Even in such cases, a bit of luck might be required for a successful connection. Fortunately, both hosts provided great support – the agents politely addressed my questions and provided me with all the information I needed.
All in all,
HostGator gives you access to quality support in a fraction of the time it takes with Hostinger
– even though it isn't particularly quick either.
Hostinger vs HostGator: There's a Clear Winner
Even though HostGator boasts a stronger safety history and quicker support response times, it still couldn't outperform Hostinger's top-notch performance and total worth.
Hostinger made
our list of the top ten hosting providers in 2023
for a reason – it's one of your best options.
Unfortunately, it's more difficult to recommend HostGator. 
Here's a side-by-side comparison of Hostinger and HostGator to make the differences clear.
Feature
Hostinger
Hostgator
Plans and Pricing
Low prices with generous resources and fast SSD
Low prices with unlimited resources, but outdated & slow HDD
Features
Beginner-friendly proprietary control panel; WP Starter wizard helps you create your first site
I
ncludes the popular cPanel, with plenty of tools for developers
Performance
Superior performance and great uptime in our tests
Slow performance and some downtime in our tests
Security
Satisfactory security suite
Decent security included & additional premium options
Support
Two hour wait time for live chat support
10-minute wait time for live chat support
FAQ
Which is better – Hostinger or Hostgator?
I'd have to choose Hostinger. Despite offering similarly low prices to HostGator, Hostinger offers far faster and more modern technology. Its SSD drives and LiteSpeed web servers vastly outperform HostGator's outdated HDD and Apache web servers.
Is Hostinger good for web hosting?
Yes – in fact, Hostinger is one of the best budget hosts in the industry
.
Furthermore, it's a great starting place for beginners looking to create a website.
To learn more about how to build your first website, have a look at our detailed guide
.
Why is Hostinger so cheap?
Hostinger offers great value for money, but such a huge number of customers means you may have to wait a few hours for a response from support during peak periods. In addition, Hostinger offers a proprietary control panel that non-techies might find easier to use, but more experienced users may prefer to pay more for the more familiar cPanel. Web hosting companies are charged licensing fees to offer cPanel to their customers, and this can drive up the price of hosting plans.
Is Hostinger better than Bluehost?
Yes. Hostinger delivers better performance at a lower price, so there's little reason to choose Bluehost. Hostinger also made
our list of the top web hosts in 2023
, while Bluehost didn't even come close.