Unlike Hostinger, which is a big name in the web host landscape, Freehostia is a small hosting provider. However, the thing that helps Freehostia to become popular is its free hosting. But the question is does this free hosting make it good enough to make a long-term commitment? Probably not, because a web host's ability depends on various factors and not on the pricing only. To find out which of these web hosts would help you get better value for your money, I performed a detailed
Hostinger vs Freehostia
comparison based on critical factors including pricing, features, support, etc. I focused mainly on cloud hosting solutions due to the dissimilarities between their offerings. After reviewing the results, it's clear that Hostinger would be your best bet to go with. Keep on reading if you want to learn more about the comparison, or if you've already made up your mind,
click here to see Hostinger's latest deals
 and choose a plan.
1. Plans and Pricing
Hostinger offers more solutions – Freehostia offers free hosting
Hostinger offers an array of hosting solutions including
shared hosting, VPS hosting, WordPress hosting, fully-managed cloud hosting, Minecraft server hosting,
and
email hosting
to choose from. Freehostia plans come with relatively limited options that include
cloud hosting, VPS hosting, semi-dedicated servers, and dedicated servers
. Also, with
Freehostia, WordPress
hosting solution isn't available. In terms of the lowest pricing, Hostinger lets you enjoy its initial shared hosting package at an unbelievable monthly price by having you signed up for forty-eight months. However, Freehostia offers a completely
free web hosting with cPanel
. And even if you upgrade to their highest cloud hosting package, the monthly price remains around one-fourth of what you'd get with Hostinger's fully-managed cloud hosting's discounted pricing.
A free domain name is included with some hosting plans from Hostinger
2. Features
Both come with powerful features
There're lots of features available with both Hostinger and Freehostia. These include 1-click app installer, free SSL certificates, automated backups, powerful control panel, etc. However, their offerings come with some notable differences as well. For example, you get a
free domain
with every cloud hosting plan of Hostinger whereas it's plan-dependent with Freehostia. Freehostia offers a
free website builder
, whereas you need to pay with Hostinger. But I think what keeps Hostinger much ahead of Freehostia is its
flexibility of choosing the OS
between Linux and Windows when it comes to VPS hosting. Check out this comparison table to quickly understand the major features of both web hosts.
| | | |
| --- | --- | --- |
| | Hostinger | Freehostia |
| Hosting Types | Shared hosting, VPS hosting, WordPress hosting, cloud hosting, Minecraft server hosting | Cloud hosting, VPS hosting, dedicated servers, semi-dedicated servers |
| Free Domain | ✓ | Plan-dependent |
| Free SSL Certificate | ✓ | ✓ |
| Disk Space | 20GB SSD-300GB SSD | 0.25GB-unlimited |
| Bandwidth | Unlimited | 6GB-unlimited |
| Automatic Backups | ✓ | ✓ |
| Control Panel | hPanel | cPanel, Hepsia |
| Email accounts | Unlimited | 3-unlimited |
| Free CDN | ✓ | ✕ |
| Free Site Migration | ✕ | ✕ |
| Money-Back Guarantee | 30 days | 30 days |
3. Performance
Hostinger offers seven datacenters – Freehostia offers only one
Hostinger provides a custom-built solution named
Cache Manager
to improve speed and site load times. However, I think it's the number and strategic locations of datacenters that make Hostinger a much better choice than Freehostia. With Hostinger, you get to choose from
seven datacenters
spread across four continents whereas Freehostia, as you can see in our
Freehostia review
, comes with only
U.S. server location
.
Both Hostinger and Freehostia have a 99.99% uptime guarantee, but Hostinger's is SLA-backed.
In my performance test, Hostinger had outstanding uptime and loading speeds. I've not tested Freehostia yet but it's likely to perform well mainly due to its cluster hosting platform.
To know how Hostinger performed region-wise in the test, see our comprehensive
Hostinger review
.
Our in-depth
Freehostia review
 would be a good place to learn your hosting options if you sign up with this web host.
4. Security
Hostinger is more serious about security
You get standard security features like
free SSL certificates and automated daily backups
from both these web hosts. But Hostinger comes with
Cloudflare integration
that offers a host of security features to provide protection from malware, DDoS attacks, among others. Also, it uses the
BitNinja server security tool
to protect all its servers. This tool is popular for providing solid defense mechanisms that offer protection from various cyber-attacks. Another advantage of using Hostinger is that it lets you
buy additional SSL certificates
to strengthen your site's security. However, one notable thing about Freehostia is that it offers
5GB VPN traffic
with each of its paid cloud hosting plans. You can use this traffic to access content that might not be available to you due to various reasons including geo-restrictions.
5. Support
Hostinger offers much better support than Freehostia
Both Hostinger and Freehostia offer
24/7 support
through different channels. Hostinger offers you the choice of engaging through live chat, support ticket, and contact us form/email. In comparison, Freehostia enables connection via contact us form and ticket submission. Although phone support isn't provided by either of these services, Hostinger stands out for its exceptional support. I reached out to their support team 24/7 and consistently received rapid and effective responses on each occasion.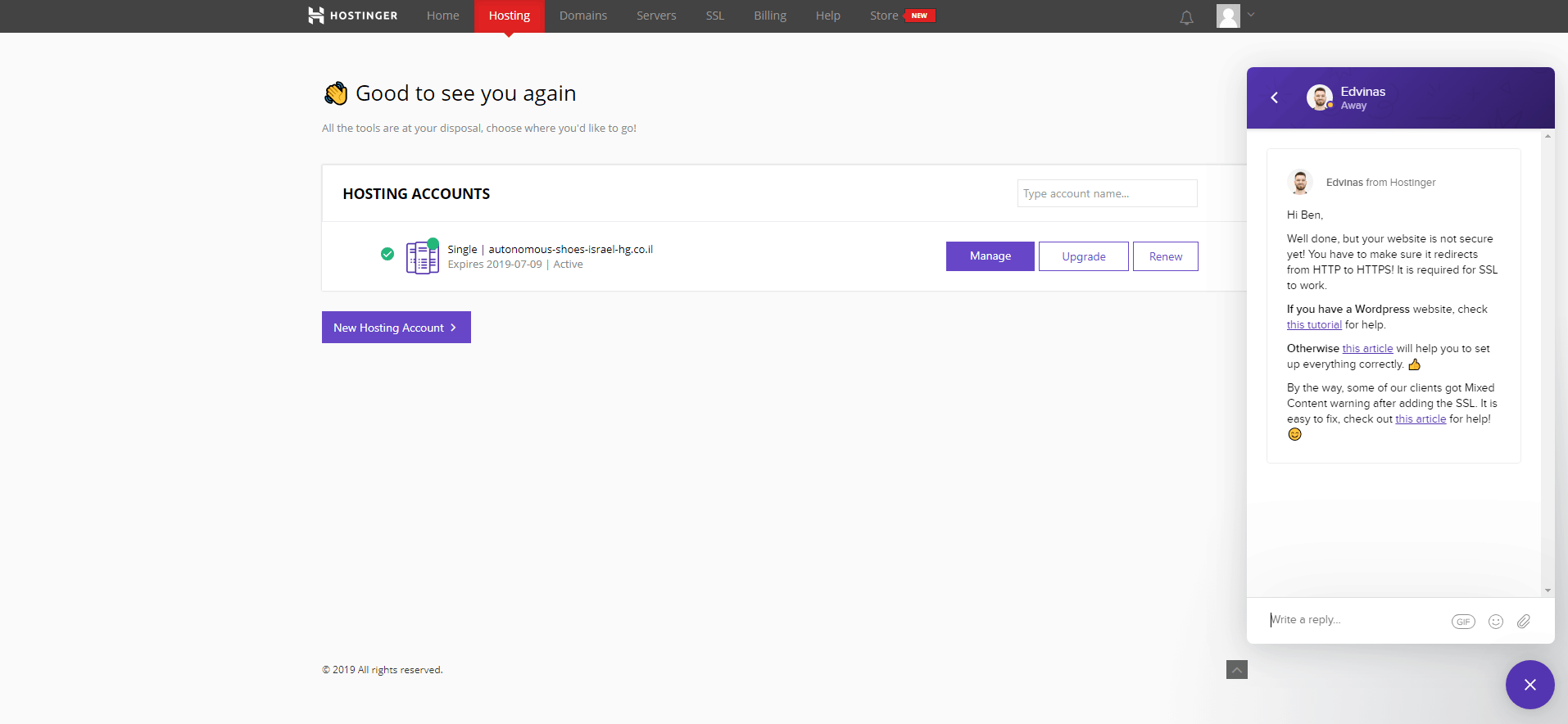 On the contrary, I failed to receive any reply to my queries submitted through Freehostia's contact us form, even after waiting for seven hours.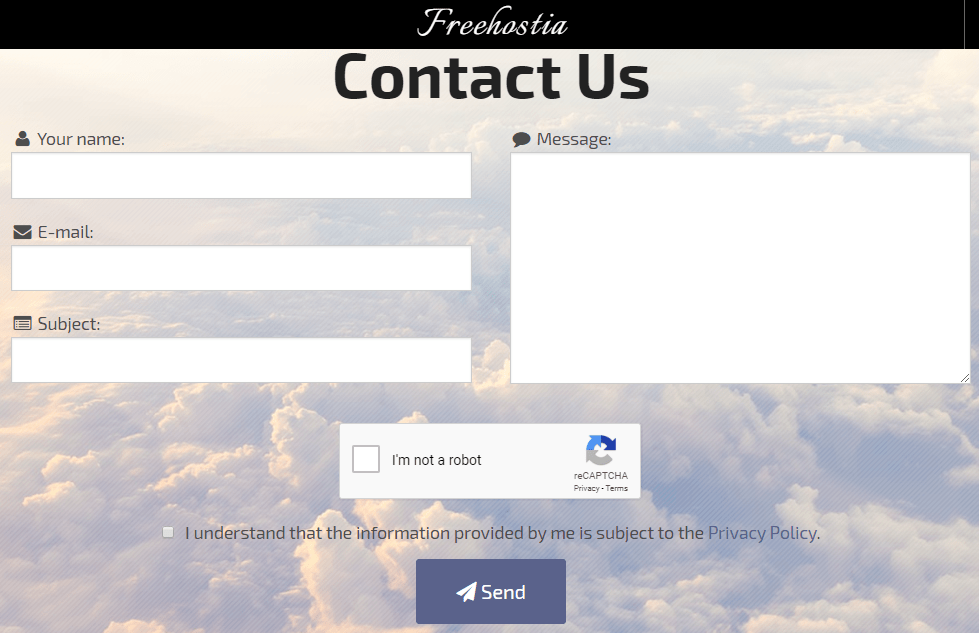 Also, in terms of self-help resources, Hostinger with its
outstanding knowledgebase
and
lots of tutorials
seems to be a better option than Freehostia that offers an FAQ section, forum, and Context Help page.
Hostinger Easily Outshines Freehostia
As you can see in the above comparison,
Hostinger offers much better value for your money
 than Freehostia. From a wide range of feature-rich solutions and better performance to advanced security features and exceptional support – Hostinger truly stays much ahead of Freehostia. However, there're two situations where you may consider
signing up with Freehostia
– if you're looking for a completely free hosting solution and have got minimal requirements, or if you've got the knowledge to manage the technical aspects. But even in those circumstances, you should consider the performance, security, and support parameters I mentioned above because these are the most important things that you'll require down the line. You can also take a look at our list of
top 10 web hosting providers
where you can review some top-performing web hosts along with Hostinger.
Comparison Table
Plans and Pricing
A wide range of unbelievably cheap packages
Different types of solutions, free hosting
Features
20GB-300 GB disk space, 100GB-unlimited bandwidth, industry-standard features, selection of OS  for VPS,  money-back guarantee
0.25GB-unlimited disk space, 6GB-unlimited bandwidth, standard features, money-back guarantee
Performance
99.9% uptime guarantee, seven server locations
99.9% uptime guarantee, one server location
Security
Cloudflare integration, Free and paid SSL certificates, BitNinja server security tool
Industry-standard features, VPN traffic
Support
24/7 speedy support via contact us form/email, live chat, support ticket together with excellent knowledgebase, lots of tutorials
24/7 support via ticket submission and contact us form, along with FAQ section, forum, and Context Help page
FAQ
Is Hostinger better than Freehostia?
Yes, Hostinger is the better choice between the two. It offers more features than Freehostia and strong performance, which means you get better value for your money. If you're not sure which host is right for you, don't miss our list of ​the best web hosting services​.
Does Freehostia offer WordPress hosting?
Freehostia doesn't offer any special hosting plans for WordPress, but you can still install WordPress and host your site on its servers. If you don't want to go to all the trouble and you'd rather have a web host that takes care of the technical side of things for you, I recommend you go with one of the best managed WordPress hosting providers​.
Does Freehostia offer VPS hosting?
Freehostia does offer VPS hosting, but its plans are a bit pricey. I recommend you read our list of the best cheap VPS hosting services​​ to find a web host that is both reliable and affordable.