In this Hostinger vs Cloudways comparison, it mainly comes down to your own needs. If you're building a complex website or e-commerce store, Cloudways could be the right solution for you.
But if your hosting needs are simple, you can't go wrong with Hostinger
. Hostinger manages and operates its hosting servers, but Cloudways doesn't. Instead, it provides managed hosting services for different cloud infrastructures.
In order to effectively evaluate Hostinger and Cloudways, I tested them across different important categories.
 It was a slightly difficult challenge, since these two providers both offer excellent service, but they are very different. At the end of the day, it's Hostinger's cheap and diverse plans, excellent performance, and tight security features that earned it the winning title.
Click here to see Hostinger's latest deals,
 or continue reading to see which host is the right choice for you.
1. Plans and Pricing
Both Hosts Offer Good Value for Your Money
Hostinger offers an impressive range of hosting solutions that meet different users' needs, from the casual blogger to small to medium business owners. You'll find shared hosting, WordPress hosting, e-commerce hosting, cloud hosting, VPS, and even MineCraft hosting.
A free domain name is included with some hosting plans from Hostinger
A free domain name is included with some hosting plans from Hostinger
On the other hand, Cloudways only offers managed cloud hosting packages. You get to choose from five cloud providers – DigitalOcean, Vultr, Amazon Web Services, Linode, and Google Cloud Platform.
3-day free trial
 (not available with Google Cloud plans). With a large variety of hosting options at budget-friendly prices and a 30-day money-back guarantee, Hostinger wins the pricing round.
2. Features
Both Hosts Offer Tons of Useful Cloud Features, but Cloudways Is More Advanced
Even though Hostinger mainly specializes in shared, VPS, and WordPress hosting, its fully managed cloud hosting packages come with a boatload of features, such as unlimited hosted websites, from 200 GB to 300 GB  of SSD storage, 3GB to 16 GB RAM, 2 GB to 8 GB CPU cores, CloudLinux, daily backups, the proprietary hPanel control panel, and a 1-click app installer.
Hostinger also offers freebies with all cloud hosting packages,
 like a free Cloudflare CDN, free SSL certificate, free domain name, and free dedicated IP. Similarly, Cloudways offers a free SSL certificate, a free CloudwaysCDN, and automatic backups. However,
you get more resource allocations like storage, RAM, and CPU cores with Cloudways than Hostinger.
In addition,
Cloudways offers more advanced features
 such as 1-click server cloning (clones entire servers and makes copies of databases on new staging URLs), auto-healing servers (fixes and resolves most server issues to protect your website from crashing, and CloudwaysBot (an AI smart assistant that sends real-time performance reports to help you optimize apps and servers). See more differences between Hostinger and Cloudways in this side-by-side comparison table:
Hostinger
Cloudways
Hosting Types
Shared, VPS (Linux & Windows), MineCraft server hosting, cloud hosting, WordPress hosting, email hosting, CMS hosting, Ecommerce hosting
Managed cloud hosting
Free Domain

✔

(Depending on the plan)

✘

Free SSL Certificate

✔

✔

Disk Space
20 GB SSD – 300 GB SSD
20 GB – 3840 GB
Bandwidth
100 – unlimited
2 GB – 20 TB
Automatic Backups

✔

✔

Control Panel
hPanel
Custom control panel
Email Accounts
1 – unlimited
Available as an add-on
Free CDN

✔

(Depending on the plan)

✔

Free Site Migration

✔

✔

Money-Back Guarantee
30 days
No, but there's a 3-day  free trial (except for Google Cloud packages)
The winner? With its advanced cloud hosting features and more resource allocations, Cloudways beats Hostinger in this round.
3. Performance
Hostinger Offers a Better Performance
There are many factors that can affect the overall performance of any host, including location of data centers, type of storage used (SSD or HDD), performance-boosting features (e.g. CDN), and many more. Nevertheless, sometimes the overall performance of a web host can be unpredictable. Both Hostinger and Cloudways have a global network of servers.
Hostinger has servers in U.K., Brazil, U.S.A., Indonesia, Singapore, the Netherlands, and Lithuania.
Cloudways, on the other hand, has servers in U.K., U.S.A., Singapore, the Netherlands, Germany, and Canada. However, these data centers are not operated by Cloudways, but are managed and operated by third-party web hosting companies that Cloudways is partnered with. Both hosts rely on SSD storage with their services. SSD storage performs much faster than the regular HDD storage which, in return, affects the overall performance of the website in terms of accessibility. In terms of performance boosting,
Hostinger offers Cloudflare CDN with all its plans, while Cloudways has its own CloudwaysCDN that it includes with all its plans.
 A CDN, or Content Delivery Network, creates cached versions of your website on a global cloud network in order to enhance its performance and protect it from external threats. Up until this point, it seems like a neck-and-neck race, but like I said, even with all these factors, the performance can be unpredictable. In this case, I expected either a tie, or Cloudways winning by a slim margin.
When we tested Cloudways
, even though it performed admirably, it still wasn't as good as Hostinger. That said, if you sign up with Cloudways, your performance is going to depend on the cloud infrastructure you choose. If you
take a look at Hostinger's test results
, you'll see that it performed extremely well for a shared hosting service.
4. Security
Hostinger Uses More Advanced Security Technology
Cloudways provides OS-level firewalls that filter out malicious traffic and intruders. This includes protection against DDoS attacks.
 In addition, Cloudways offers IP Whitelisting, regular security patching, and Two-Factor Authentication.
Hostinger also has DDoS protection,
 but implements it on multiple layers – Wanguard anti-DDoS traffic analyzer and intelligent firewall rules on switch level, BitNinja or Immunity360 (Web Application Firewall) on each server, and custom web server rules to protect your website against any type of attacks. Hostinger also runs all its servers on CloudLinux OS which securely isolates your account from other accounts on the same server to protect it from external threats targeting these accounts, and ensures the fair allocation of server resources among all accounts.
Both hosts secure your website data with regular automatic backups
 and both offer free SSL certificates with all their plans to secure your clients' sensitive information. Hostinger and Cloudways take serious security measures to protect your website, but Hostinger offers both customized and advanced security features on every level. That's why it wins the security round.
5. Support
Cloudways' Customer Support Is More Responsive
Navigating the websites of Hostinger and Cloudways is neither difficult nor confusing. Both websites offer a wealth of information, including comprehensive knowledge base and FAQ sections, along with blogs that cover a wide range of major topics.
Hostinger offers 24/7 customer support via live chat and support ticket.
 However, the live chat takes some time to connect you with an agent, and even then the replies aren't always instant. Nevertheless, the representatives are highly knowledgeable and helpful.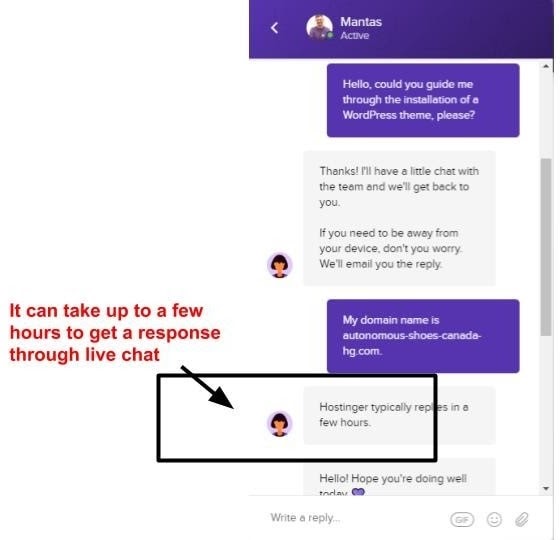 Cloudways also offers 24/7 customer support, including live chat (for paying customers only). There are paid packages for different levels of support. If you're not a customer, you can contact support through phone, email, and ticket support.
When I sent an email, I received a detailed response within half an hour, which is really good.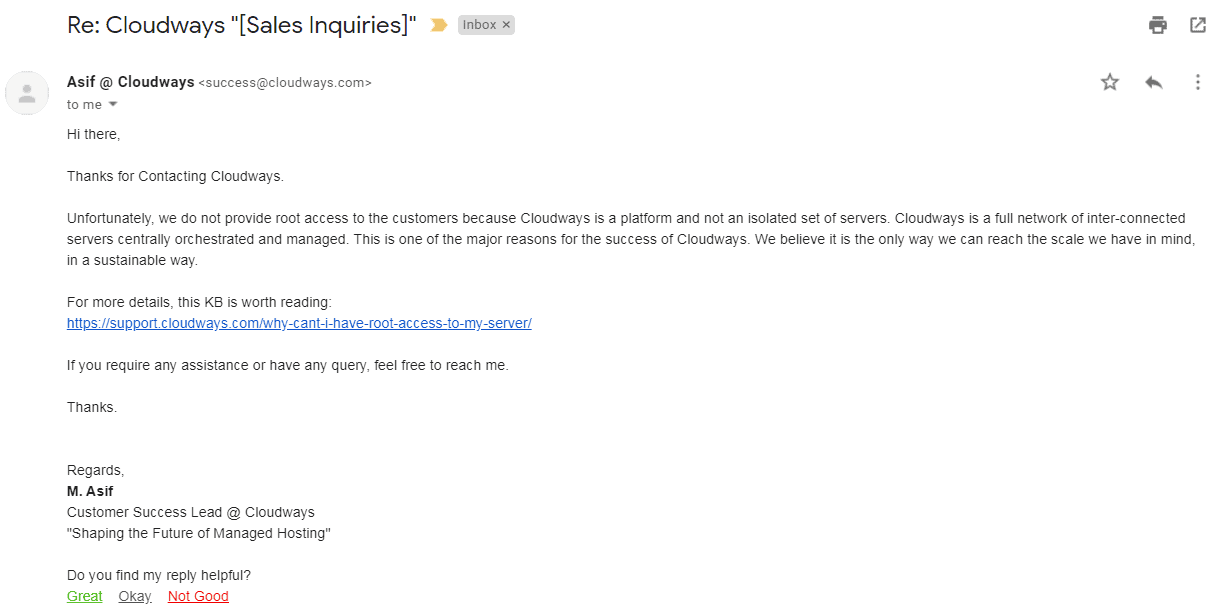 Both hosts are helpful when it comes to customer support, but Cloudways is more responsive, making it more reliable and easier to get help from than Hostinger.
Which Hosting Service Should You Choose?
As you can see, both Hostinger and Cloudways provide powerful and reliable hosting services.
Cloudways' managed cloud hosting services
 are is more suitable for high-end users and developers, so I wouldn't recommend it for beginners or budget-concerned users. On the other hand,
Hostinger offers very affordable, versatile plans
 that provide excellent features and outstanding performance. Not only did Hostinger dominate three out of five categories in this Hostinger vs Cloudways battle, but it also tops our
expert list of the best web hosting services
.
Plans and Pricing
Offers more hosting plans, cheaper prices, and a 30-day money-back guarantee.
Offers managed cloud hosting plans only. More expensive than Hostinger. Offers a three-day free trial.
Key Features
Free domain (with certain plans), free site migration, SSD storage, custom control panel
Free site migration, SSD storage, custom control panel
Performance
Global network of servers, SSD storage, Cloudflare CDN, Excellent performance
Global network of servers (third-party), SSD storage, Cloudways CDN, Good performance
Security
Wanguard anti-DDoS traffic analyzer, intelligent firewall rules, BitNinja or Immunity360, CloudLinux OS, custom server rules, free SSL certificates, regular automatic backups
OS-level firewalls (DDoS protection), IP Whitelisting, regular security patching, Two-Factor Authentication, free SSL certificates, regular automatic backups
Support
Knowledge base, 24/7, live chat, support ticket, slow responsiveness
Knowledge base, 24/7, email, support ticket, live chat (customers only), optional paid priority support packages, higher responsiveness
FAQ
Is Hostinger better than Cloudways?
If you're an advanced webmaster or a developer who has plenty of room in your budget, then you'll find Cloudways' managed hosting services more suitable for your needs. On the other hand, if you prefer cheaper prices, user-friendly hosting, and premium quality shared hosting, then Hostinger is definitely the better option.
Does Cloudways use SSD storage?
Yes. All managed cloud hosting plans offered by Cloudways are based on SSD servers for a 3x faster performance and reduced page loading times for your websites. If Cloudways isn't quite right for you, explore these fast and cheap SSD hosting services.
Does Hostinger offer VPS hosting?
Yes. Hostinger offers a good range of VPS packages for Linux and Windows. All plans come with SSD storage, full root access, dedicated IP address, and IPv6 support. If you're looking for more options, take a look at these cheap and trusted VPS services. For extra savings, don't miss our frequently updated web hosting coupon page.
Does Cloudways offer shared hosting?
No. Cloudways only offers managed cloud hosting. On the other hand, Hostinger specializes mainly in shared hosting. It's also recommended by our experts in our list of the best hosting services.