and it's not always easy to find a single person who is experienced in all the areas you need.
Plus, if you're running a small business, you don't want to risk hiring the wrong person. That could really hurt your online presence. And, if your budget is tight,
it could be a wasted investment.
Ideally, your digital marketer will have the right combination of technical skills, creative ideas, and marketing know-how to put your business on the map. If you want
access to the widest range of skills at an affordable price,
use a freelance hiring platform or job site to find a freelance digital marketing consultant or specialist in the area of digital marketing you need most. There are lots of platforms to choose from. Lucky for you, we've done the hard work by exploring the best places to hire freelance digital marketers right now.
Short on Time? These Are the Best Freelance Websites to Hire Digital Marketers in 2023:
Fiverr – Best for small business owners who need to find quick and affordable, one-time digital marketing gigs.
Contently – Best for finding professional digital marketers who were vetted by the platform for their extensive skills.
ClearVoice – Best all-in-one digital marketing platform; includes marketing strategists, designers, videographers, and more.
What We Look For in the Best Digital Marketer Marketplaces
Talent pool: A wide selection of digital marketing specialists with a range of skills to choose from
Freelance portfolios: Examples of previous work so you can get a feel for who you want to work with
Ratings and reviews: Feedback from previous clients that can help you pick the most reliable and experienced digital marketing freelancers
Communication: Easy ways to get in touch with prospects to learn more about them
Financial security: An escrow system or a way to revise or reject work you're not happy with
Fiverr has thousands of digital marketers available, covering almost every marketing specialty. Whether you're looking for someone to handle your email marketing campaigns, design your Instagram graphics, or outline your content marketing strategy, you'll be able to find a service provider here.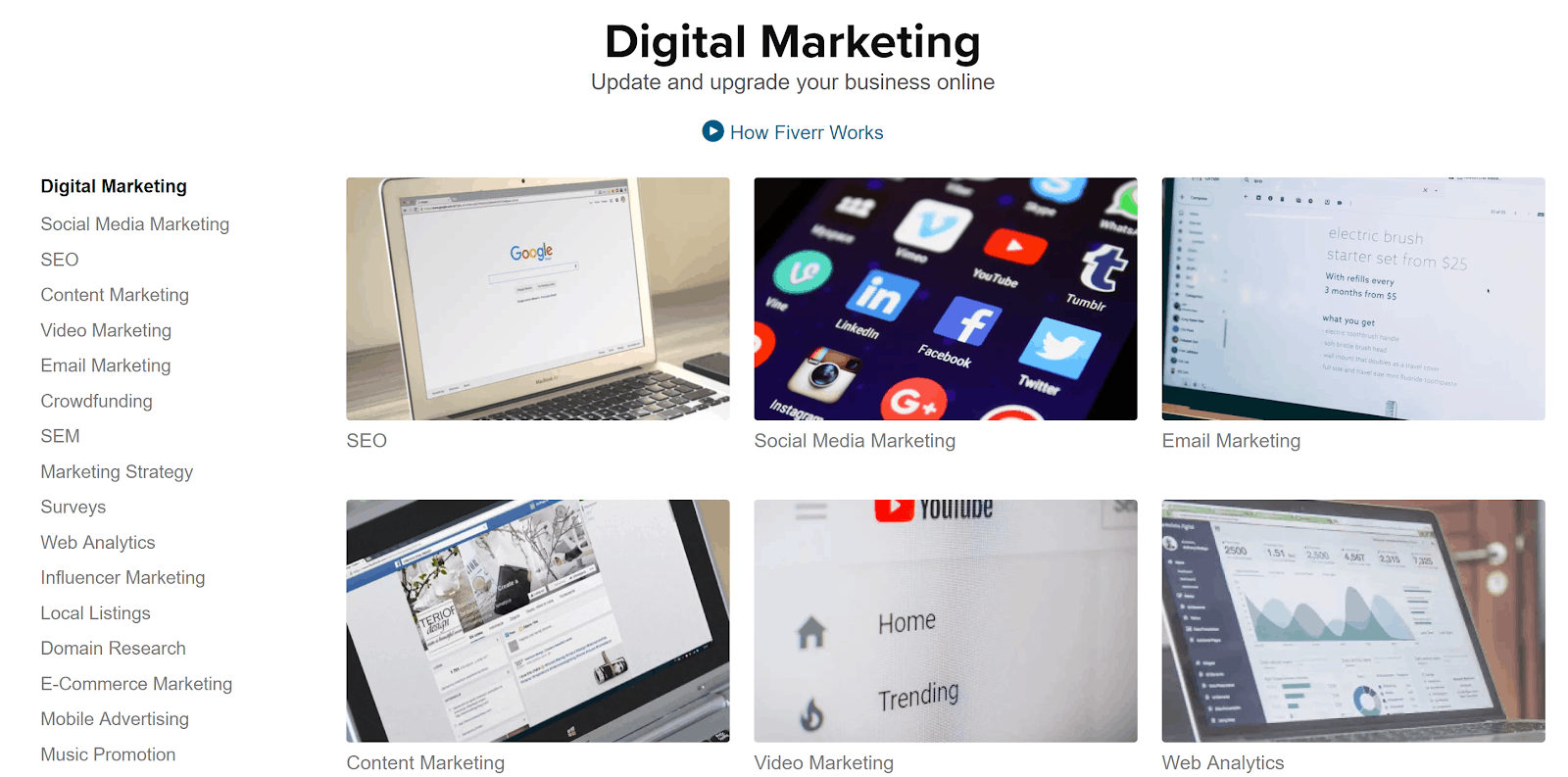 This platform was built on $5 gigs as a starting point. While you're unlikely to get an entire marketing campaign for that price, you'll find the freelance marketing consultant rates pretty affordable. For example, in email marketing, gigs started at $5-10, with most in the $20-40 range. To find the best freelancers,
go to the Fiverr homepage
,
run a search, and use the on-site filtering tools to find sellers who offer the specialties and services you need. Once you've identified a few, you can see their profile, portfolio, and gig pages to learn more about what they offer. And you can even get in touch with people you're interested in working with via the on-site or in-app messaging system. When you book a job, your payment goes into the system. You have three days after submission to vet the work before payment goes through. That's your chance to ask for revisions or reject a job if it doesn't meet your requirements.
Features
On-site filtering tools make it easy for you to refine your options by factors like seller level, location, job parameters, and even who's currently online.
Verified professionals are marked with a Pro badge on their profile. Pro services are more costly, but still affordable. This is a good place to start if you want some quality assurance.
An on-site wizard can help you narrow down your choices when you're looking for particular types of digital marketing freelancers.
Seller ratings are important. Though some professionals who are new to the platform won't have a high rating, going with a top-rated seller can give you peace of mind when securing your digital marketing needs.
Want to learn more about Fiverr?
Read our in-depth review
.
| | |
| --- | --- |
| Size of talent pool | Thousands (across many industries |
| Freelance marketer portfolios | Yes, usually in seller profiles and gig descriptions |
| Online ratings or reviews | Yes |
| Internal communication system | Yes |
Contently – Best for Finding Brand Content Marketers
Contently is a great choice for brands looking to produce a wide range of content with the security of knowing they're working with professional digital marketers. You can get any type of digital marketing content via the platform, including short-form or long-form blog posts, infographics, video scripts, animations, and more.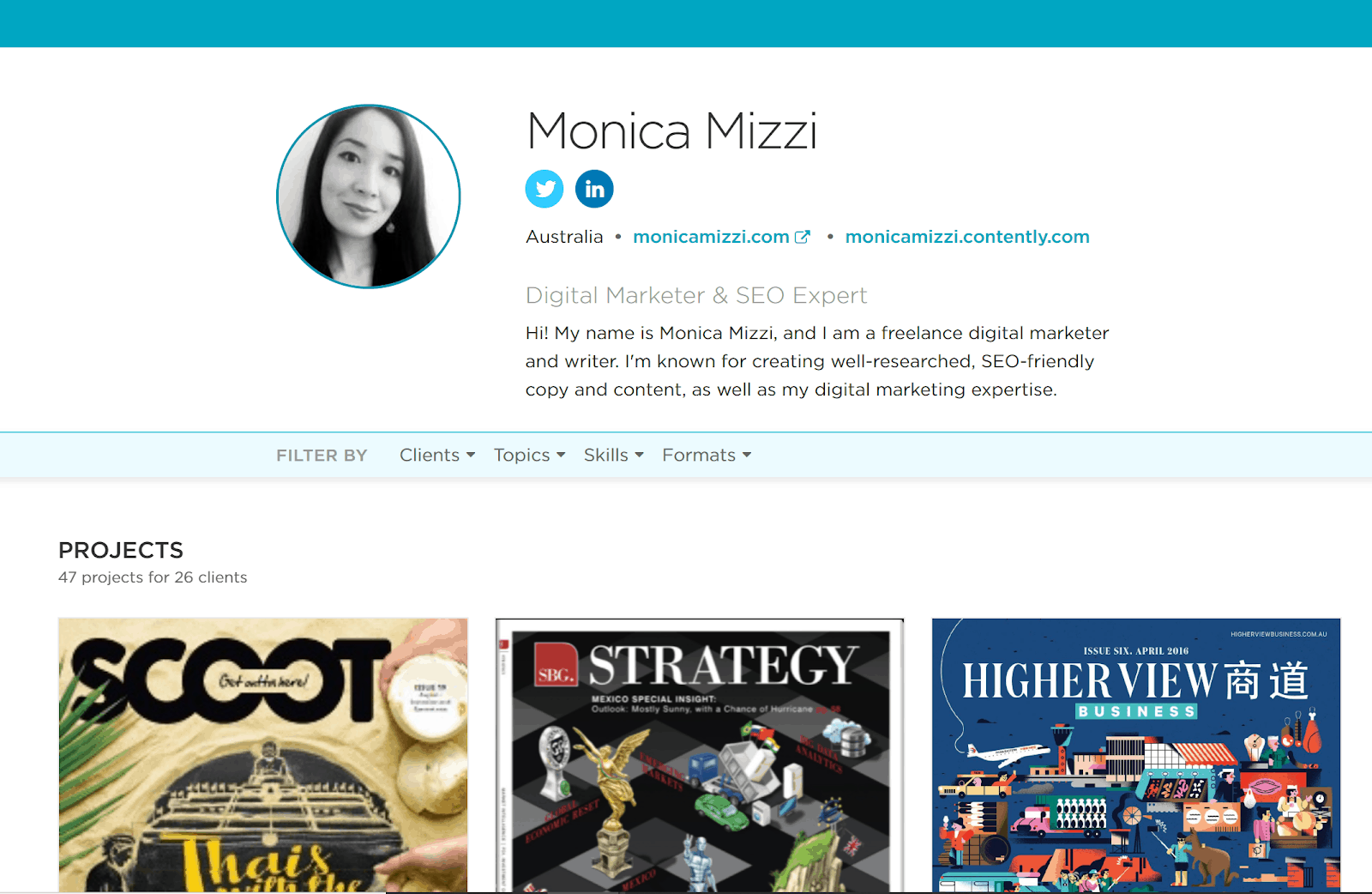 Contently freelancers join the platform by creating a free Contently portfolio. After that, they can apply to become part of Contently's talent network, where they are vetted before being accepted. Contently works with some of the biggest brands, with names like Walmart, Marriott, IBM, and Google on their client list. As well as the public portfolio, those hiring freelance digital marketers can see information about delivery times and editor ratings. This helps you figure out what it will be like to work with a particular freelancer.
Contently works by setting up a content team, and adding selected freelancers to it.
Once you've done that, you can assign work or invite freelance marketers to submit a pitch. Contently prides itself on paying freelancers well, and recommends minimum payment levels for different types of content. Freelance marketing consultant rates can be pretty high, but since you're working with professionals, the digital marketing work is also high quality. You'll need to set up a consultation to get started.
Features
Personalized recommendations from Contently help you find the right freelance marketers to meet your content needs, saving valuable time.
An easy communication system means that everything is handled within the platform via an internal messaging system, though people can also reply to those messages by email.
A global talent network is one of the things that Contently prides itself on. Wherever you are, you can find the right digital marketer for your project.
A dedicated support team is available throughout the process. This includes an editor who liaises directly with your chosen freelancers.
| | |
| --- | --- |
| Size of talent pool | 100,000+ |
| Freelance marketer portfolios | Yes |
| Online ratings or reviews | Yes; visible to buyers only |
| Internal communication system | Yes |
ClearVoice – Best for a Unified Digital Marketing Service
Like Contently, ClearVoice asks freelancers to set up portfolios showcasing their best work. Once that's done, they can apply to be part of the ClearVoice community. ClearVoice has a much smaller talent pool than
Fiverr
or Contently, but its 4,000 freelance marketers have all been thoroughly vetted. As well as writing and editing roles, ClearVoice can help your brand or agency hire content strategists, designers, and videographers.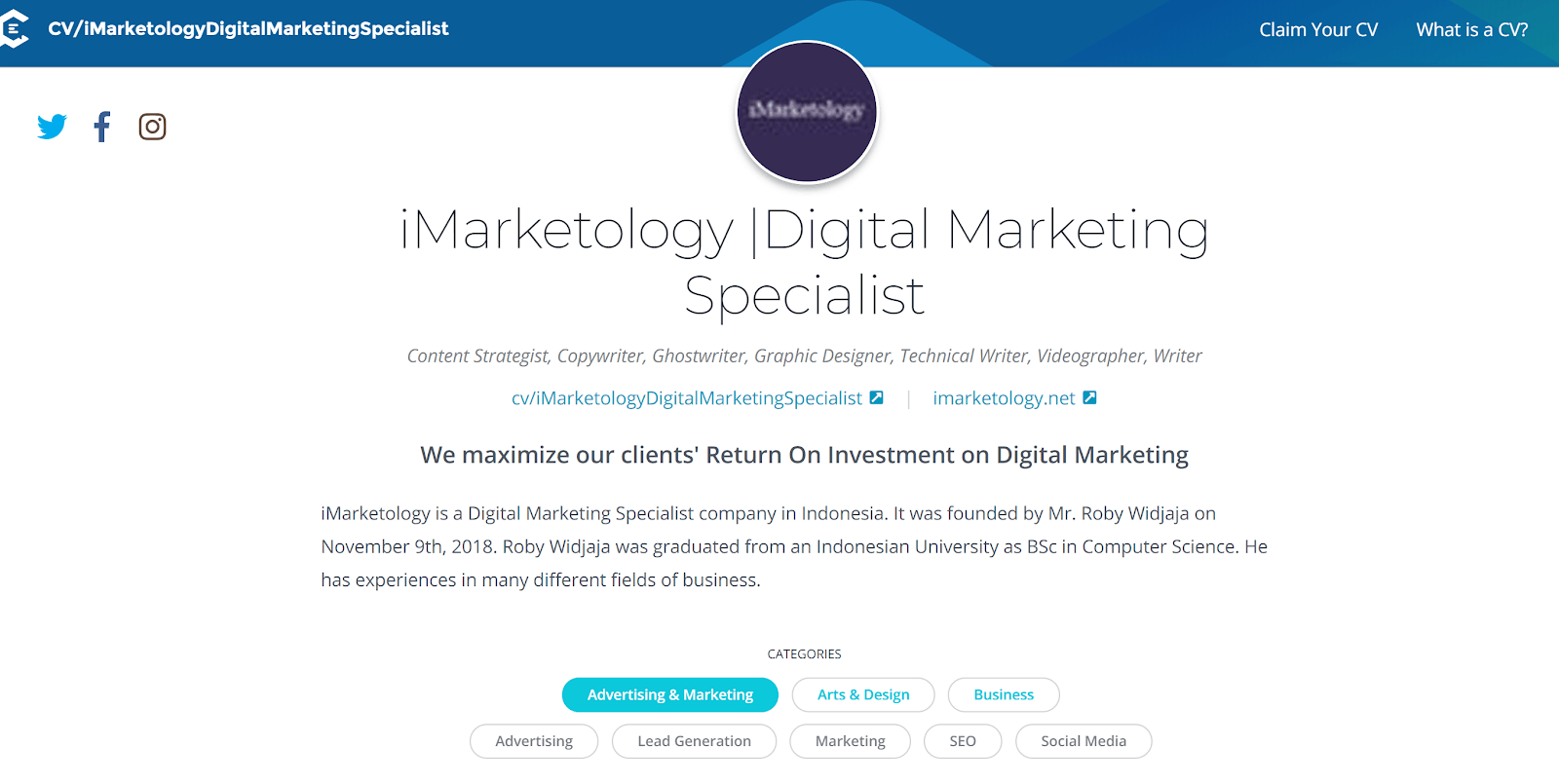 Hiring digital marketers on ClearVoice starts with setting your budget and guidelines. ClearVoice provides guidance on paying writers and digital marketers, and requires an annual commitment from anyone using the platform. The system then matches you with potential freelancers for review. Once you've found the marketing professionals you want to work with, you can add them to your team or simply offer them an opportunity. Communication and payment are all handled via the platform, and you have the option to ask for revisions on work before accepting it.
Features
Invite your favorite outside freelancers to join the platform. This will help you have your entire team in one place to streamline project management.
Directly publish your digital marketing content as soon as it is created. ClearVoice integrates with WordPress, HubSpot, Medium, as well as other platforms.
Get recommendations for freelancers after indicating project guidelines and requirements. This saves you the time and hassle of reviewing countless profiles.
Managed digital marketing services means that the entire project – from start to finish – can be managed by ClearVoice on your behalf.
| | |
| --- | --- |
| Size of talent pool | 4,000+ |
| Freelance marketer portfolios | Yes |
| Online ratings or reviews | No; vetted professional marketers |
| Internal communication system | Yes |
Torchlite – Best for Digital Marketing Project Management
Torchlite is a newer platform for finding freelance digital marketers, with one major selling point: it specializes solely in digital marketing. So, unlike
Fiverr
, where you can hire service providers in hundreds of categories, or Contently and ClearVoice, which started as content marketing platforms, you'll only find digital marketers here.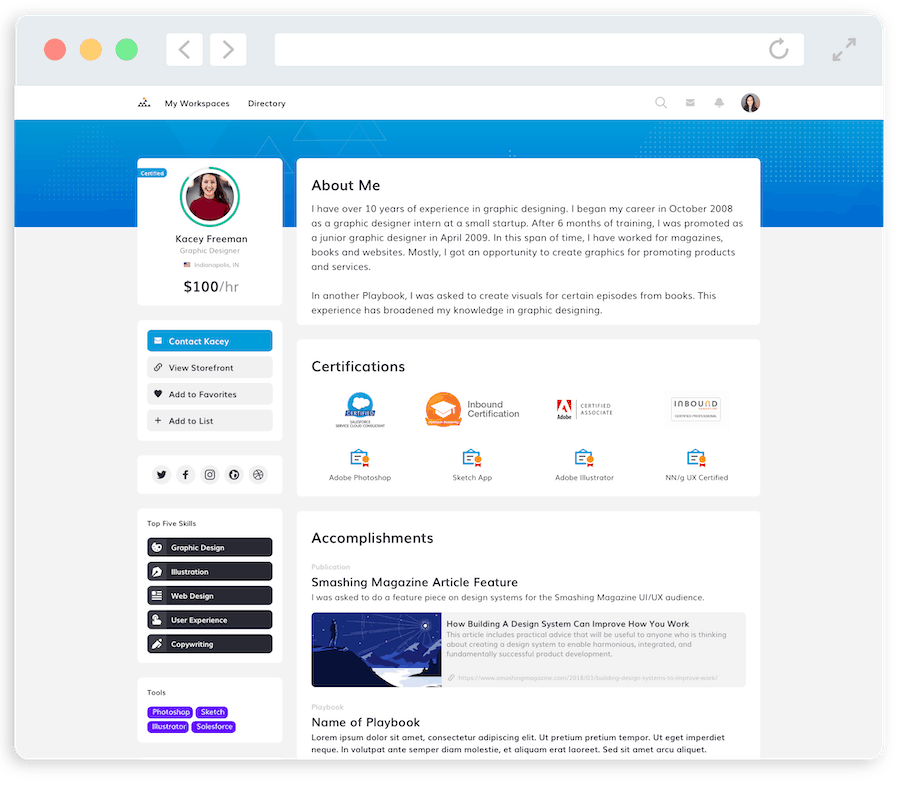 Torchlite's freelance digital marketers are experts in their fields, and you won't just find examples of past work, but information about their skills, the tools they work with, and their certifications. While you won't find onsite ratings, Torchlite freelancers go through a rigorous vetting process before they can offer services to brands and agencies on the platform. With Torchlite, it's easy to manage digital marketing projects. The platform has a built-in timeline, time tracking tools, and an internal communication system you can use when working on a project. The tool also integrates with Asana, Trello, and Slack to make project management even smoother. If you're unhappy with a particular piece of work, you can communicate with the marketer to get it fixed before your payment goes through. This gives some peace of mind when hiring.
Features
Set a budget and timeline up front, which can help you keep your digital marketing project on track.
Certified professionals and an in-depth vetting system means that you should always be working with top talent working.
Tons of integrations (e.g. Asana, Trello, Slack, etc.) make project management super easy.
Embed Torchlite on your site and create your own customized marketplace. This is really helpful if you offer digital marketing services to your clients.
| | |
| --- | --- |
| Size of talent pool | Not stated |
| Freelance marketer portfolios | Yes |
| Online ratings or reviews | No; vetted marketers |
| Internal communication system | Yes |
LinkedIn – Best for B2B Digital Marketers
Most people don't think of LinkedIn as a freelance talent marketplace, but when you think about it, that's exactly what it is. LinkedIn has millions of users covering every business niche, so you can be sure that every digital marketing speciality is available. One of the best ways to find them is to use LinkedIn's search features. Depending on your LinkedIn membership, you can use keywords, seniority, role, location, and more to identify people you want to work with. Then you can check out their profiles to see qualifications, skills, project work, and more.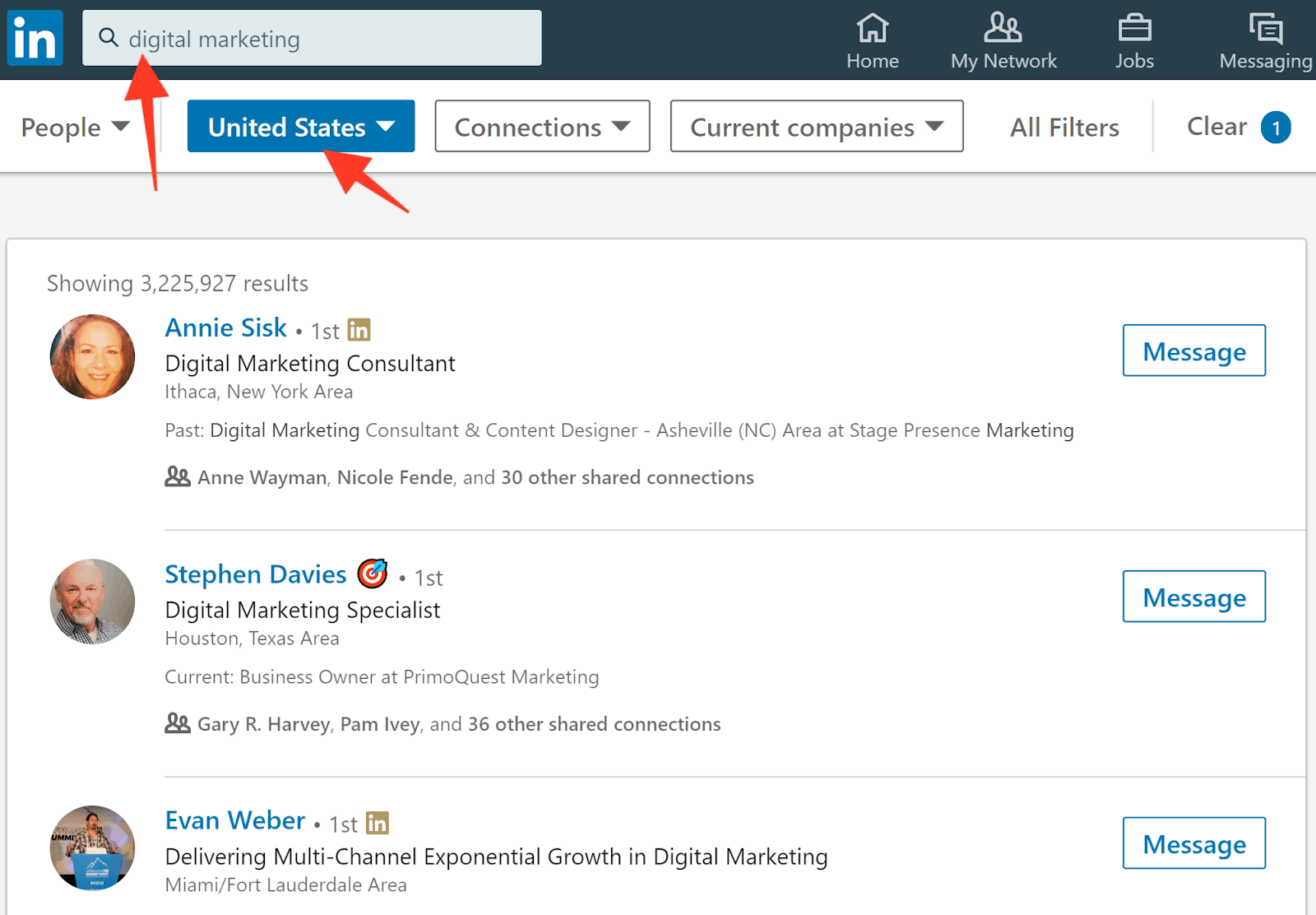 While LinkedIn doesn't have a rating system as such, it does have recommendations and endorsements so you can see what others have said about a particular freelancer. You can contact any freelancers you're interested in via the InMail system (limited depending on your membership level) or their provided contact details. One advantage and disadvantage is that you're working with people directly. That means you're not paying additional fees to use the platform, but you also don't have the financial security of an escrow system (and neither do they). Keep in mind that LinkedIn isn't solely used as a hiring platform, so you may need to cast a wider net until you find someone who is available to take on additional work.
Features
See any shared connections with potential freelancers. Knowing that someone used to work for your old company, or shares the same alma mater can be a big selling point.
Set up a company page and post available jobs. Make sure to include your anticipated salary/compensation to increase qualified interest.
Work with a LinkedIn Recruiter to help automate your talent search. This is especially helpful for businesses with ongoing freelance needs.
Promote your company and available jobs through ads on the LinkedIn platform.
| | |
| --- | --- |
| Size of talent pool | Millions |
| Freelance marketer portfolios | No |
| Online ratings or reviews | No; but endorsements and recommendations |
| Internal communication system | Yes, but limited |
Upwork – Best for a Wide Talent Pool
Upwork has more freelancers than any of the marketplaces on our list, so you've got a wide choice when hiring digital marketing freelancers (and anyone else you might need on your team). Start your search by browsing popular categories on the home page, then use the on-screen guide to set initial project requirements.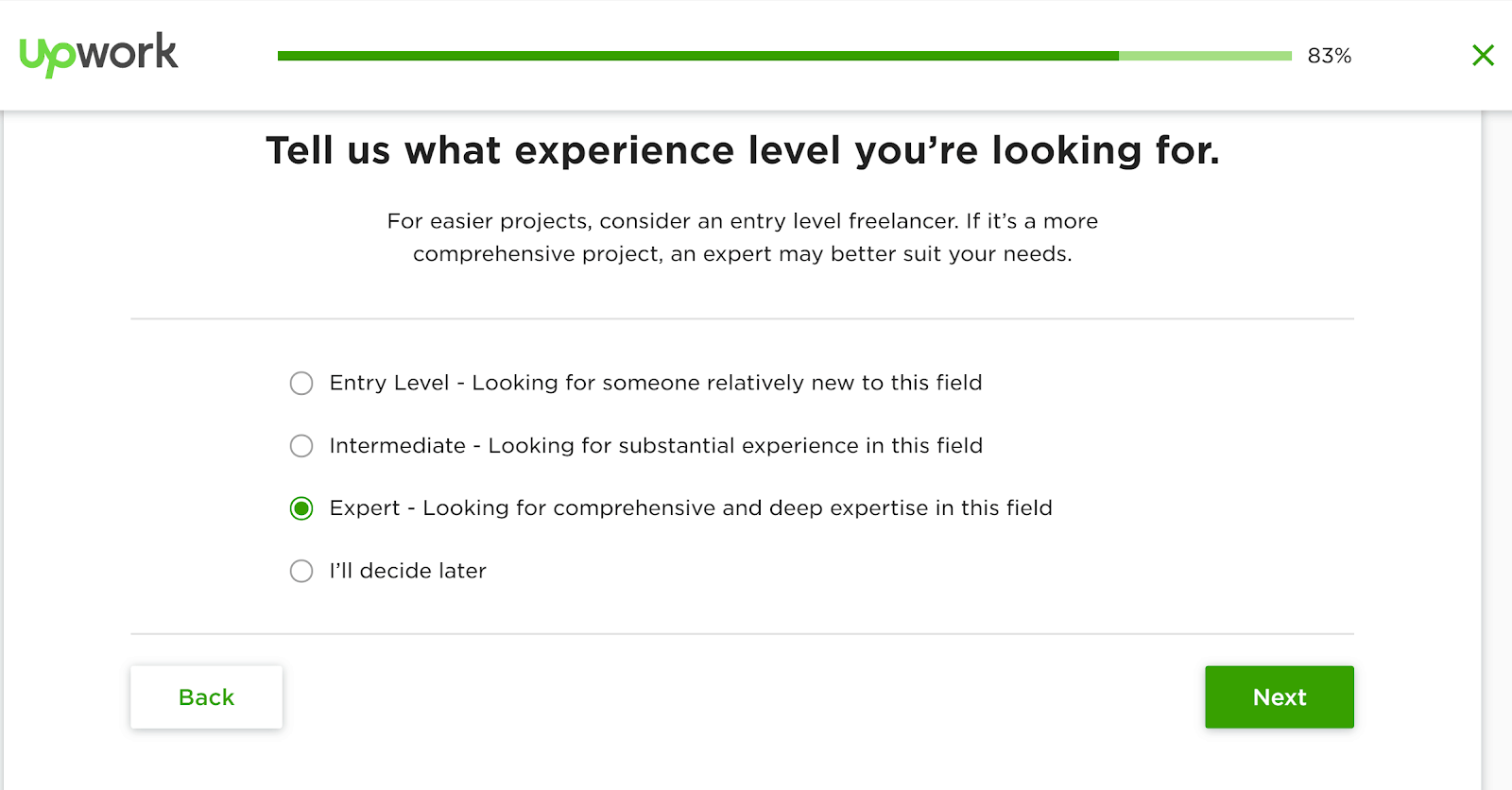 Then, check out the individuals that interest you. Each
Upwork
 freelancer has a profile where you can get information about their services and expected hourly payment. There are also ratings and reviews for the work they have done on the platform before. Upwork has an internal messaging system so you can communicate with your chosen digital marketers before, during, and after a job. Funds are generally held in escrow so no final payment is made until you are absolutely happy with the work. With Upwork, you can choose to allocate short term or recurring projects, or to set up a team of digital marketers you'll work with regularly. Upwork has a system for tracking project milestones so you can ensure you're always making progress.
Features
Quick and easy to get started. Just post your digital marketing opportunity, and you will be sifting through applications within 24 hours. Although, sometimes the sheer number of responses can be overwhelming!
There are multiple payment options to choose from, including hourly or fixed-price work.
Excellent internal communication system that includes the ability to video call or chat with the freelancers that you're working with. Also, the time tracking system helps ensure that time on the clock is well spent.
You can use this platform absolutely free, but you will have to upgrade for help identifying the most qualified freelancers, and for improved account management options.
Curious to learn more about Upwork?
Read our in-depth review
.
| | |
| --- | --- |
| Size of talent pool | 16 million+ (across many industries) |
| Freelance marketer portfolios | Yes |
| Online ratings or reviews | Yes |
| Internal communication system | Yes |
Where's the Best Place to Hire a Freelance Digital Marketer?
So, which digital marketing marketplace is the right choice for you? Before you decide, have a look at the feature comparison below.
| | | | |
| --- | --- | --- | --- |
| Freelance Marketplace | Greatest Strength | Greatest Weakness | Best For |
| Fiverr | Wide range of talent at affordable prices | Quality can be hit or miss | Budget digital marketing |
| Contently | Vetted network of marketing professionals | Can be more expensive than other options | Brand content marketing |
| ClearVoice | Platform can manage the entire process for you | Smaller network of available freelancers | Unified digital marketing |
| Torchlite | Most streamlined project management system | Newer platform, so level of talent is less certain | Digital marketing project management |
| LinkedIn | See if you have any shared connections | Less used as a hiring platform and no financial security | B2B digital marketing |
| Upwork | Great filtering system to ensure you find exactly who you need | The number of applicants can be overwhelming | Wide digital marketing talent pool |
Here are our recommendations:
If your focus is on broader content marketing, go with Contently or ClearVoice.
And if you're looking to find experienced professionals for freelance digital marketing jobs, go with LinkedIn or Torchlite.
Working with a freelance team comes with its own special set of challenges.
Managing a remote team
, for example, can be tough – especially if they are spread out across the globe. It can also be more difficult to
keep freelancers happy and motivated
, so that you foster healthy, long-term relationships. And finally, there's always the question of figuring out
how much to pay
your freelancers. Don't let the unknown scare you from building a qualified and efficient freelance team. After all, hiring remote workers can save a ton of time and money. Plus, it opens up the available talent pool like never before.