GreenGeeks, a relatively small company with an eco-friendly angle, offers web hosting that is priced to compete directly with industry giant Bluehost. Skimming both hosts' websites may give you the impression that their offerings are more or less the same. However, I ran exhaustive tests comparing GreenGeeks and Bluehost on pricing, features, performance, security, and support. I must admit, I expected the more established Bluehost to come out ahead in most of these comparisons, but in many cases, the results surprised me.
GreenGeeks not only delivers better performance, but it also provides better features and excellent support.
Click here to see GreenGeeks' latest deals
, or read on for more details on how it managed to beat Bluehost.
Plans and Pricing
GreenGeeks and Bluehost Offer Similar Pricing – Until You Look More Closely
Bluehost offers shared hosting, managed and unmanaged WordPress hosting, VPS, and dedicated servers. There are a few different pricing levels available with each hosting type, so you can pay only for the resources you expect to use.
A free domain name is included with some hosting plans from Bluehost
GreenGeeks also offers shared hosting and WordPress hosting, but when I compared the details of these two hosting types I found that both include the same resources and features. The pricing is also the same, so there is no reason to choose one over the other.
A free domain name is included with some hosting plans from GreenGeeks
GreenGeeks' prices are similar to Bluehost, but
GreenGeeks' budget Lite plan
 offers significantly more features than Bluehost's comparable Basic package.
 While the promotional price is the same for both of these packages, the renewal rate is a bit higher for GreenGeeks' offering. Even so, as you'll see in the Features section below, it is by far the better value. Overall, GreenGeeks' VPS hosting plans are more expensive than Bluehost's, especially when you factor in Bluehost's promotional pricing. But each GreenGeeks VPS plan offers slightly more CPU cores and storage than the equivalent Bluehost plan, as well as additional features like a free website transfer and the Softaculous web app installer.
A free domain name is included with some hosting plans from Bluehost
A free domain name is included with some hosting plans from GreenGeeks
Even so, the most important consideration is that GreenGeeks' VPS hosting service is managed, whereas Bluehost's is not. Considering all of these factors,
I feel that GreenGeeks offers better value
– but if you are determined to spend less money and you don't need a managed service, you might opt for Bluehost. If you are on a tight budget, however, keep in mind that
Bluehost engages in aggressive upselling
, including many pre-checked add-ons during the initial purchase process. Watch out for this. GreenGeeks, on the other hand, only has one pre-checked box during the checkout process: WHOIS privacy, which is advisable if you're operating out of your home. It offers so many features with its plans, there isn't much left to upsell. At first glance, both hosts have reasonable pricing and plans.
They both also offer 30-day money-back guarantees
, so you can always change your mind. But if you look a little more closely, you'll see that GreenGeeks offers much better value for your money – so it's definitely the host I'd start out with.
Features
GreenGeeks Gives You More Free Features
Both Bluehost and GreenGeeks offer basic features you would expect from a budget hosting company: a free domain name for the first year, basic Cloudflare integration, automated WordPress installations and updates, and free SSL certificates. However, in addition to the above,
 GreenGeeks offers unlimited email addresses, nightly backups, and LSCache integration with its LiteSpeed web servers
, even with its budget Lite plan. Bluehost's comparable Basic package offers none of the above. Email is provided by Microsoft 365, and although you get 30 days free with most packages, it always costs extra, even on the high-end Pro plan. Bluehost performs backups, but only when it wants to. In other words, it does not promise a regular backup schedule.
Keep in mind that neither host guarantees their complimentary backups, and both recommend that you perform regular backups yourself via cPanel.
Whether you're moving an existing site or building a new one, you'll have access to helpful free web migration and site-building tools on the GreenGeeks platform. If you're a developer, you'll likely be pleased to have access to SSH and secure FTP transfer capability, tools like Git, WP-Cli, and Drush, and support for scripting languages like Perl and Python. Of all the above features, Bluehost advertises only SSH access.
In addition, as GreenGeeks is a green energy-focused hosting provider, it pledges to return three times the power it consumes in renewable energy credits.
Simply put,
 GreenGeeks comes out ahead in my feature evaluation,
 as it offers more features for users of all levels.
| | | |
| --- | --- | --- |
| | GreenGeeks | Bluehost |
| Hosting Types | Shared/WordPress, VPS | Shared, WordPress, managed WordPress, VPS, dedicated hosting |
| Free Domain | Yes, for the first year | Yes, for the first year |
| Free SSL Certificate | Yes | Yes |
| Disk Space | Unlimited | 50 GB on Basic plan, unlimited on all other plans |
| Bandwidth | Unlimited | Unmetered, but can be limited at Bluehost's discretion |
| Automatic Backups | Nightly backups with all plans | Courtesy site backups; CodeGuard Basic included on Choice Plus and Pro plans |
| Control Panel | cPanel | cPanel |
| Email Accounts | Unlimited for all accounts | Paid Microsoft 365 email for all accounts |
| Free Site Migration | Yes | No |
| Money-Back Guarantee | 30 days | 30 days |
| Eco-Friendly Hosting | Yes | No |
Performance
GreenGeeks Outshines Bluehost
With server locations in the USA, Canada, and Europe,
GreenGeeks offers better overall performance for global users, with loading speed numbers to back this up.
 Bluehost site visitors see the fastest loading times in parts of Canada and Western Europe, while East Asia and most of the US present disappointing results. How does GreenGeeks achieve better results? It uses a set of technologies (called a "speed stack") that helps websites perform at their best, including LiteSpeed web servers with LSCache support, SSD hard drives, and optimized MariaDB databases.
GreenGeeks offers clients a 99.9% network uptime guarantee, while Bluehost doesn't
even have an uptime guarantee.
 Bluehost does achieve reliable uptime, but performance speeds are not as fast or as consistent as GreenGeeks'.
To learn more about GreenGeeks' performance standards, take a look at our
in-depth performance tests
, where it scored highly. In contrast, Bluehost did not perform so well. See our
Bluehost review
for more details.
Security
GreenGeeks Offers More Advanced Security Options
Bluehost provides a free Let's Encrypt SSL certificate with all plans. GreenGeeks also offers free Let's Encrypt SSL certificates, as well as a paid subscription alternative:
 AlphaSSL Wildcard certificate, which is also included in its Premium package. The difference? AlphaSSL includes an SSL site seal and warranty, while Let's Encrypt doesn't. And Let's Encrypt is not compatible with some older devices and browser versions.
If you want advanced security features with Bluehost, you'll need to pay for SiteLock
as an add-on service.
 Bluehost's SiteLock Essential Security add-on is a suite of tools that scans for malware, protects against XSS scripting and SQL injection attacks, and monitors Google's blacklist (which you could also do for free with Google Search Console). With no extra fees, GreenGeeks offers real-time security scanning, Spam Assassin protection, clustered threat analysis, Secure vFS, automatic brute force detection, and more. And like Bluehost, GreenGeeks offers Cloudflare integration to help protect you from DDoS attacks in addition to speeding up loading times around the world.
GreenGeeks and Bluehost both offer a range of security features, but if you don't intend to pay extra for add-ons, you'll feel safer going with GreenGeeks.
Support
GreenGeeks' Support Goes the Extra Mile
Bluehost provides round-the-clock chat and phone support, in addition to offering a knowledge base containing video tutorials and guides. For those seeking more comprehensive assistance with site building and design, the option of adding paid third-party support from Blue Sky is also available. GreenGeeks also offers plenty of online resources and  24/7 support via live chat and email. Phone support is available Monday to Sunday from 9 AM to 12 AM EST. Chat is available instantly, and email has a predicted 15-20 minute wait time.
Bluehost may be slightly ahead of GreenGeeks in terms of availability,
 but how does support quality compare between these two hosts? I contacted both hosts' support teams to find out.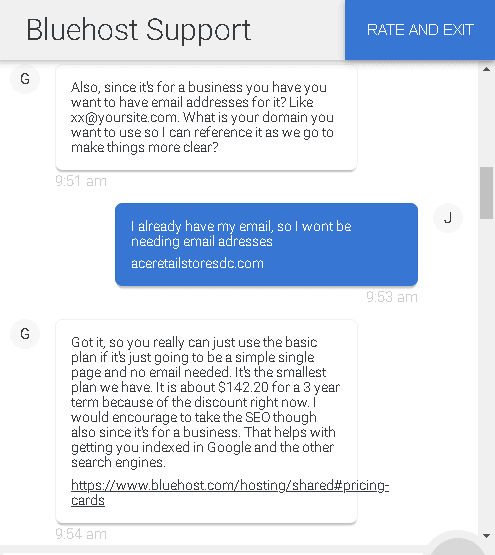 The Bluehost support agent appeared to lack fluency in English, which likely would have made more complex questions difficult to answer.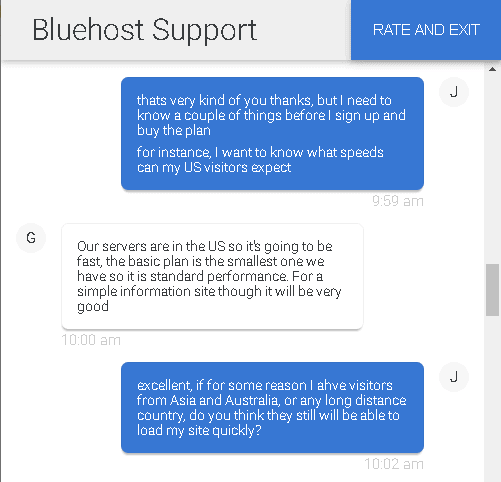 In addition,
the Bluehost representative did not demonstrate detailed knowledge of the company's services
, describing a hosting plan as "very good" without being specific about features and benefits. A lot of the detail in these sparse responses was to describe upsell offers, which I didn't find very helpful. I'm not the only one who had trouble with Bluehost's support. One of our writers got very frustrated trying to get a straight answer out of the support team. You can read more about his experience in his
full Bluehost review
.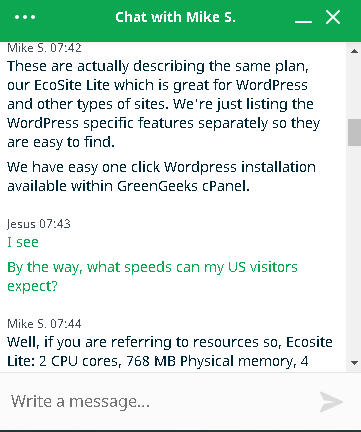 On the other hand,
GreenGeeks' support agent immediately gave detailed information in response to specific questions,
 with a response time so quick, it seemed like he had these facts and statistics memorized. This was much more helpful than Bluehost's upsell attempts.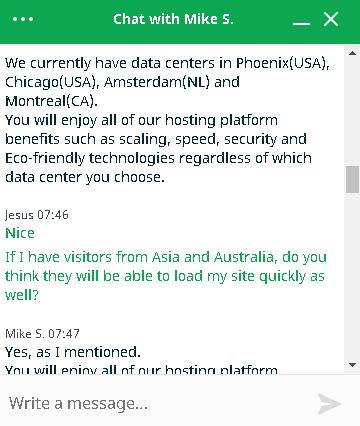 The agent not only provided the exact statistics (number of CPU cores, megabytes of physical memory, etc.) for the plan he was recommending, but also the locations of the company's data centers and their tech specifications. While Bluehost's support is friendly and responsive but not very professional, GreenGeeks' support agents are quick, knowledgeable and less inclined to add upsell offers to their responses.
It's not hard to see why GreenGeeks can boast of so many happy customer reviews, backing up its promise of "complete customer satisfaction."
GreenGeeks Beats Bluehost by a Landslide
If I was judging purely by price, these two hosts would be very close, and Bluehost might even have a slight edge over GreenGeeks due to its lower-priced VPS plans. But
if you want more features and better value, go with GreenGeeks
.
Not only does GreenGeeks offer timely, knowledgeable support, it also offers a great wealth of additional features on all its plans.
 This includes LiteSpeed servers and MariaDB databases. Another nice perk is that the carbon footprint of its servers is offset with a purchase of three times as many renewable energy credits. It's also important to remember that
GreenGeeks offers a 99.9% uptime guarantee, while Bluehost has no uptime guarantee at all.
For all these reasons, GreenGeeks made our
list of recommended web hosting services
 along with some other great picks, while Bluehost did not.
Comparison Table
Plans and Pricing
Low prices for shared/WordPress hosting, slightly higher VPS prices, more features included with the plans
Low prices for shared/WordPress hosting, competitive VPS prices, more paid add-ons
Key Features
Unlimited bandwidth, free domain for first year, WordPress auto-install, free SSL, unlimited email addresses, nightly backups, LSCache integration, environmental focus
Unmetered bandwidth (subject to restriction), free domain for first year, WordPress auto-install, free SSL, courtesy backups
Performance
SSD drives, optimized MariaDB, LiteSpeed web servers). Very good performance in North America, the UK, and Western Europe. 99.9% uptime guarantee.
SSD drives. Does not perform as well in the US, but is strong in Montreal and parts of Western Europe. No uptime guarantee
Security
Real-time security scanning, Spam Assassin protection, clustered threat analysis, Secure vFS, automatic brute force detection.
24/7 network monitoring. SiteLock security tools cost extra.
Support
24/7 live chat and email support, limited phone support. Knowledgeable and fast replies.
24/7 live chat and phone support. Fast initial response. Not always knowledgeable, with regular upsell attempts.
FAQ
Is GreenGeeks good for WordPress hosting?
Yes. GreenGeeks offers some great WordPress hosting features, such as one-click WordPress installation, automatic WordPress updates, free WordPress migration, and expert WordPress support around the clock. If you're not sure if GreenGeeks is the right choice for your website, check our list of the top managed WordPress hosting providers.
Is GreenGeeks fast?
GreenGeeks excels in speed, using its "speed stack," a combination of technologies such as SSD hard drives, optimized MariaDB databases, and LiteSpeed servers with LSCache integration. This is why it achieved a great score in our performance tests. Curious about how we conduct our loading speed tests? Find out more.
Does GreenGeeks offer shared hosting?
Yes. GreenGeeks offers shared hosting plans with unlimited bandwidth and disk space. If you need a web presence on a small budget, it's a great solution. To make sure you're getting the best deal, be sure to check our frequently updated web hosting coupon page.
Does GreenGeeks use cPanel?
GreenGeeks offers cPanel-based admin for all of its hosting tiers, including one-click installers and all the other usual cPanel features.