If security, convenience, and affordability are your top priority, I wouldn't recommend GoDaddy or VentraIP. GoDaddy's shared hosting plans don't include essentials like free SSL certificates, and VentraIP is slow with several technical issues. After evaluating GoDaddy and VentraIP across five essential categories that define a good host (pricing, features, performance, security, and customer support), I arrived at this conclusion. I was pleased with was VentraIP's 45-day money-back guarantee and helpful support, but that's not enough to change my mind about it! GoDaddy's WordPress hosting plans are better – but cost more. You can get more premium features (inclusive with your chosen package), faster page loading speeds, reliable performance, and low prices with
Hostinger
.
Click here to see GoDaddy's WordPress hosting plans,
or keep reading to find out what I didn't like about GoDaddy and VentraIP.
1. Plans and Pricing
Both Are Affordable, but Neither Is Good Value for Money
While VentraIP only offers shared, reseller, and VPS hosting packages, GoDaddy has more solutions such as WordPress hosting and dedicated servers. With GoDaddy, you can be billed monthly, annually, biennially, or triennially, whereas VentraIP only allows you to sign up monthly or annually.
GoDaddy Hosting Web Hosting
A free domain name is included with some hosting plans from GoDaddy Hosting
A free domain name is included with some hosting plans from VentraIP
GoDaddy and VentraIP offer similar prices for shared hosting plans, although VentraIP is slightly cheaper. Unfortunately, both companies have high package renewal rates despite feature limitations (more discussed below). You'll get a free domain with GoDaddy's annual subscriptions, but website migration only comes with WordPress hosting. It also offers a 30-day money-back guarantee with long term plans and a 48-hour money-back guarantee with monthly subscriptions. On the other hand, VentraIP doesn't provide a free domain. It does, however, offer free website migration and a 45-day money-back guarantee. What do I think? I wouldn't invest my money in either GoDaddy or VentraIP. The plans renew at a high cost without providing a range of inclusive premium features, like other hosts such as Hostinger.
2. Features
Both Hosts Are Too Basic, Although VentraIP Has a Bit More to Offer
GoDaddy has four shared hosting plans for Linux and three for Windows. With GoDaddy for Linux, the disk space ranges between 100 GB and unlimited (HDD), and all plans include unlimited bandwidth. You can host 1 to unlimited websites, get 10 to unlimited MySQL databases, and one free Office 365 Email for the first year. Other key features you get with all plans include cPanel and a single-click application installer (for CMS apps and scripts). Also, GoDaddy's higher-value plans come with a free SSL certificate for the first year. On the other hand, VentraIP has three shared (cPanel) hosting plans. The disk space ranges between 5 GB to 25 GB SSD cloud storage, and you get unlimited bandwidth, unlimited databases, and unlimited email accounts. Some VentraIP freebies include a Comodo SSL certificate and Acronis Cloud hourly backups with all cPanel hosting packages. See more differences between GoDaddy and VentraIP using the following table:
| | | |
| --- | --- | --- |
| | GoDaddy | VentraIP |
| Hosting Types | Shared (Linux and Windows), reseller, WordPress hosting (managed and unmanaged), VPS, dedicated servers | Shared, reseller, VPS |
| Free Domain | ✔ | ✘ |
| Free SSL Certificate | With certain plans | ✔ |
| Disk Space | 20 GB – Unlimited | 5 GB – 200 GB (depending on the plan) |
| Bandwidth | Unlimited | 2 TB – Unlimited |
| Automatic Backups | ✔ | Hourly |
| Control Panel | cPanel, Plesk | cPanel |
| Email Accounts | 1 Free | Unlimited |
| Free CDN | ✔ | ✘ |
| Free Site Migration | Only with the fully managed WordPress hosting plans | ✔ |
| Money-Back Guarantee | 30 days | 45 days |
If you're looking for a host with more advanced features at a reasonable price, check out Hostinger.
3. Performance
Both Hosts Showed Poor Site Performance
GoDaddy has three server locations – the USA, Europe, and Asia. VentraIP also has two server locations, but both are in Australia, where its customers are predominantly based. With GoDaddy, only specific plans come with SSD storage, but VentraIP uses SSD with all its hosting plans. SSD performs much faster than traditional disk drives, which should boost your website's performance. However, that isn't the case with VentraIP (keep reading to find out more). GoDaddy for WordPress hosting includes a free CDN (Content Delivery Network); however, VentraIP doesn't offer a CDN with any plans. A CDN boosts your website's loading speeds and reduces the physical distance between you and your client (from different locations) by placing your site on a network of cloud servers. Both companies promise a 99.9% uptime guarantee. GoDaddy is notorious for its frequent downtimes. In contrast, VentraIP has a better actual uptime with very little to no downtimes. GoDaddy's page loading speeds are disappointing in almost every location around the world.
See detailed performance tests and results in this extensive GoDaddy review
.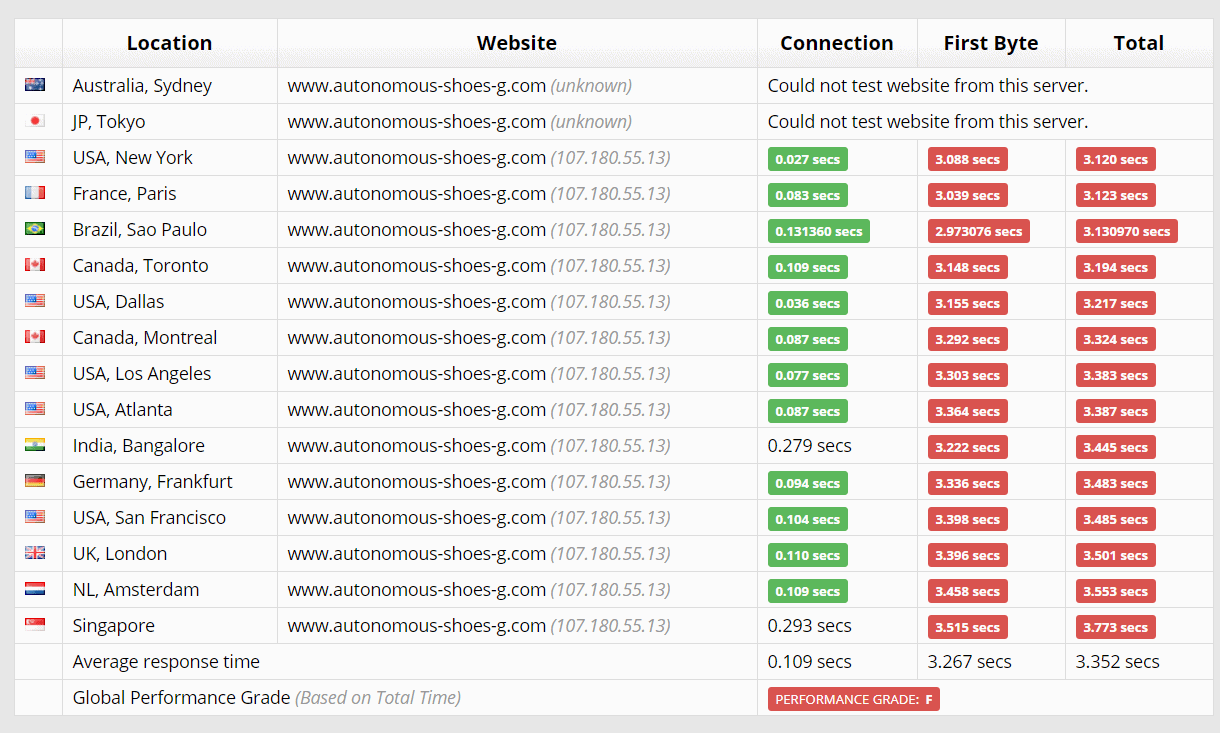 VentraIP's page loading speeds aren't any better, even in the heart of its primary audience (Australia).
Find out what went wrong in this detailed VentraIP review
.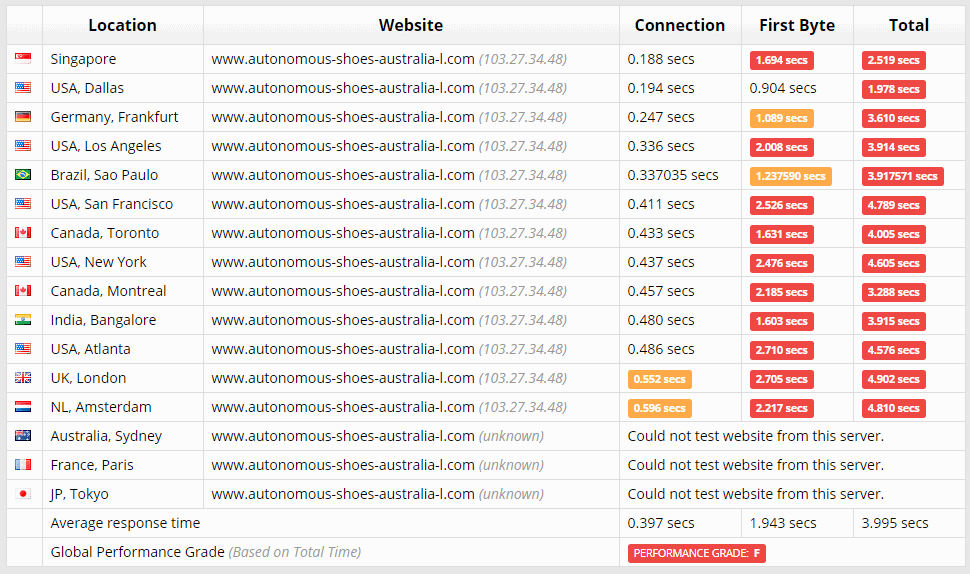 If you're looking for a high-performance host, I don't recommend either of these two options. Both showed poor performance at one point or another in comparison with excellent performers like Hostinger.
4. Security
VentraIP Has More Security Features
GoDaddy and VentraIP implement DDoS protection with strong firewalls and 24/7 server monitoring, and secure account emails with antivirus and anti-spam. Both hosts use CloudLinux OS with all Linux-based shared hosting plans. CloudLinux OS securely isolates each account on a shared server from others to protect it against unwanted threats. It also ensures the fair allocation of the server resources. GoDaddy provides a free SSL certificate with specific plans (mostly the higher value plans), while VentraIP includes free Comodo SSL certificates with all its services. GoDaddy only provides free automatic daily backups with some plans, while VentraIP includes Acronis Hourly Backups with all its plans. Even though both hosts have a limited range of security features, VentraIP is the winner here as it comes with slightly more. For more inclusive security features, I'd recommend checking out Hostinger.
5. Support
VentraIP's Support Staff are Slightly More Helpful
Both GoDaddy and VentraIP have comprehensive knowledgebases with numerous categorized articles and tutorials covering major topics. GoDaddy's customer support is available 24/7 through global call centers serving different locations and live chat. I went for the live chat, and even though I was instantly connected, the agent wasn't very helpful. There was a clear gap in the agent's knowledge, which left me unsatisfied with the service.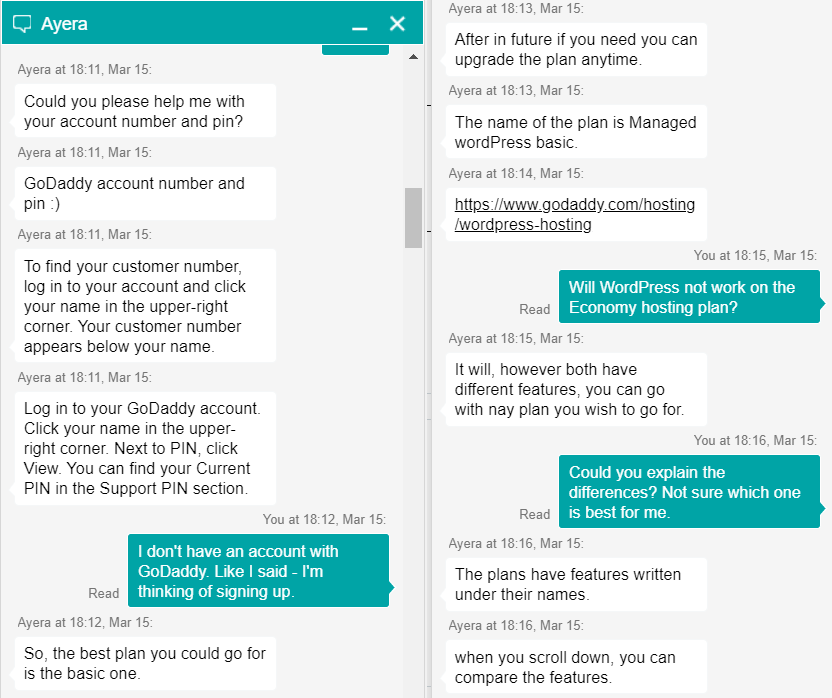 Even though VentraIP's customer support is also available 24/7 (live chat, phone, and support ticket), you have to pay if you want priority support and an immediate answer for technical questions. The live chat, however, is available for pre-sales questions. I was connected to an agent instantly who was very professional, polite, and helpful.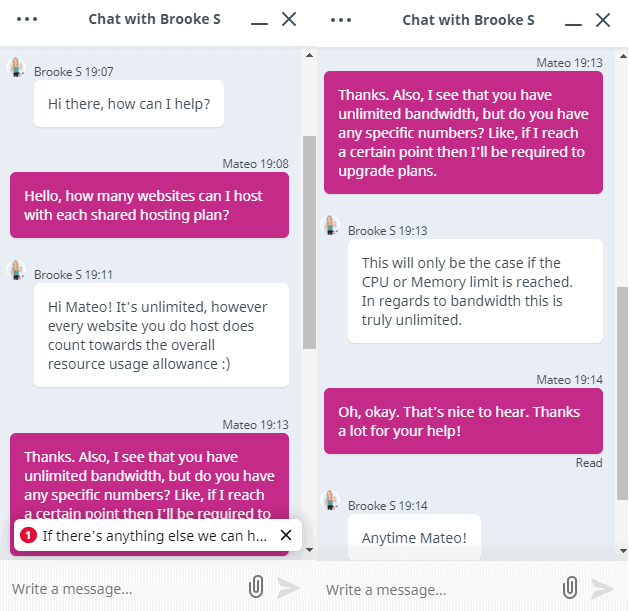 Even though both hosts could benefit from some improvements in customer support, VentraIP was better.
Both GoDaddy and VentraIP Lose This Contest
GoDaddy is a good option as a domain registrar or website builder, but I don't recommend it as a web host. Its high price rates, generic feature set, poor performance, and vulnerable security infrastructure make it inferior. VentraIP, an Australian host, might offer slightly more generous cPanel hosting packages than GoDaddy, but this doesn't establish it as the preferred choice for web hosting. If you are seeking a dependable web hosting provider, it is recommended to explore other options due to the recurring technical problems and elevated rates for package renewals associated with VentraIP. On a brighter note, you can still invest your money in a hosting service that lives up to its popularity, such as
Hostinger. It's blazing fast, one of the cheapest around
, feature-packed, and works well with different user needs from casual hosting to demanding small-to-medium websites. Hostinger is also recommended by our experts as
one of the best web hosting services in 2021
.
Plans and Pricing
More expensive than VentraIP. 48-hour and a 30-day money-back guarantee (depending on your subscription period)
Slightly cheaper prices. Limited hosting plans. 45-day money-back guarantee.
Key Features
Free domain, free site migration (with certain plans), HDD storage with most plans, and free SSL (with higher-value plans)
Free website migration, free Comodo SSL, and SSD cloud storage
Performance
Free CDN with WordPress hosting plans, 99.9% uptime guarantee, some downtimes, slow loading speeds
99.9% uptime guarantee, no downtimes, slow loading speeds
Security
DDoS protection, strong firewalls, 24/7 server monitoring, CloudLinux OS, daily backups with specific plans
DDoS protection, strong firewalls, 24/7 server monitoring, CloudLinux OS, free hourly backups with all plans
Support
Comprehensive knowledgebase, 24/7 live chat, global call center, responsive, the support staff is not helpful
Comprehensive knowledgebase, 24/7 live chat, phone, and support ticket, optional paid priority support, the support staff is responsive and helpful
FAQ
Which is better, GoDaddy or VentraIP?
Neither, in my opinion. With these two hosts, the cons outweigh the pros. GoDaddy isn't secure enough, only has basic features, and reports bad uptime. VentraIP has good customer support, but it's one of the slowest hosting services and has limited hosting options. If you want to get your money's worth, see my top recommended web hosting services.
Does VentraIP offer a free domain?
No, it doesn't. Even though VentraIP doesn't offer a free domain, if you purchase a domain name from them, you'll get free DNS hosting, free email and web forwarding, and free WHOIS ID protection. Having trouble choosing the right domain name? Take a look at this ultimate guide to choosing and buying a domain.
Does GoDaddy use SSD?
It depends on the plan. For example, you won't get SSD storage with shared hosting, but you can get SSD with GoDaddy for VPS or dedicated servers. GoDaddy isn't quite right for you? Don't miss our expert list of the fastest and cheapest SSD hosting services.