Since there's far fewer hosts offering Windows hosting, it would make sense to look for a host that specializes in that kind of hosting, right? Enter SmarterASP.NET, a web hosting company that exclusively offers Windows hosting. It's an obvious choice – and it offers the latest version of Windows Servers. GoDaddy also offers Windows hosting,
but I was dubious about whether a host that offers pretty much everything to do with hosting (yet doesn't specialize in anything) can really compete with the likes of SmarterASP.NET.
To find out how SmarterASP.NET and GoDaddy hosting really compare, I've researched and tested them based on five crucial areas of hosting services. To my surprise, GoDaddy came out ahead,
because it offers more tools, better security, and comparative performance.
However, if you want a complete Windows hosting experience that offers better value than either GoDaddy or SmarterASP.NET, I'd go with Hostinger's Windows VPS.
Click here to see GoDaddy's Windows hosting plans
, or keep reading to find out why SmarterASP.NET failed to impress.
1. Plans and Pricing
SmarterASP.NET Has a 60-Day Money-Back Guarantee, But GoDaddy is Better Value
Unlike GoDaddy, SmarterASP.NET is not known for its variety of hosting services. However, both offer shared hosting plans, VPS, and reseller options.
GoDaddy and SmarterASP.NET are roughly on par in terms of prices, but you usually get more features with GoDaddy's plans.
 Let's take a closer look. SmarterASP.NET's premium plan is similar in terms of features and cost to GoDaddy's Windows Deluxe offer.
Both options include unlimited websites, storage, bandwidth, and domains.
 Even if SmarterASP.NET is more affordable overall, GoDaddy offers a significant discount for your initial term.
If you're committed to your Windows website project and sign up for a three-year term, GoDaddy's offer is actually 20% cheaper.
 With GoDaddy, you also get a free domain name for one year.
SmarterASP.NET Web Hosting
GoDaddy Hosting Web Hosting
A free domain name is included with some hosting plans from GoDaddy Hosting
SmarterASP.NET plans have a generous 60-day trial and 60-day money-back guarantee, but these offers have some strings attached.
 The 60-day trial is not technically available for Linux plans, while the money-back guarantee only applies for annual payment terms. In addition, if you purchase less than a year of hosting with SmarterASP.NET and you want a refund, you may be surprised to find out you won't get all your money back. On the other hand, the fact that GoDaddy is one of the biggest hosting companies in the industry doesn't automatically make it the best.
GoDaddy's rates for initial terms may be attractive, but renewals tend to be expensive.
Unfortunately, none of the SmarterASP.NET plans come with a free domain name, which you can get with GoDaddy for any annual plan of your choice. Even if its renewals are a bit steep, GoDaddy does include trial access to the premium GoDaddy website builder and easy 1-click resource upgrades if you need more RAM or CPU.
Unlike SmarterASP.NET, which mainly focuses on the basics, GoDaddy has constantly expanded its hosting services to include additional useful features for webmasters.
Aside from the website builder, GoDaddy has a Digital Marketing Suite to help you market your business online, as well as SEO tools to render your website more SEO friendly. This is just the beginning. You can also get social media management, logo design, website care, and more.
On VPS plans, GoDaddy vs SmarterASP.NET is still in favor of GoDaddy.
 For example, the most expensive Standard VPS on GoDaddy is 30% cheaper than SmarterASP's entry-level VPS plan. In addition, GoDaddy includes over ten times more storage, eight times more RAM, and four times more CPU cores. The discrepancy is due to the fact that GoDaddy's infrastructure mainly runs on Linux, while SmarterASP.NET only offers Windows Server VPS. If you can help it, plans that run on Linux will help you save a lot of money.
For a managed WordPress experience, GoDaddy is the only choice because SmarterASP.NET has no such plan.
 This doesn't mean you can't install WordPress on SmarterASP.NET's Linux or Windows plans. You can. But you can't upgrade to a managed service if you want to focus more on expanding your website(s), rather than taking care of maintenance tasks and upgrades.
2. Support
Neither Offers Great Customer Support, but GoDaddy's Tries Harder
GoDaddy and SmarterASP.NET offer 24/7 live chat support.
 On the one hand, SmarterASP.NET has a ticketing system, but no phone options. On the other, GoDaddy offers phone support, but does not include an email or ticketing system. Honestly, whether one channel is better than the other comes down to what type of communication you prefer.
Despite all their claims, neither GoDaddy, nor SmarterASP.NET offer great customer service.
 To test out the support platforms, I reached out to both SmarterASP.NET and GoDaddy for some clarifications. SmarterASP.NET's agent didn't seem to care much about my questions and kept prompting me to try out their free trial, while GoDaddy's rep had trouble understanding what I wanted. My interaction with SmarterASP.NET's support was far from what I expected.
The response times may have been quick, but the answers were very short and, at times, lackluster.
 Having done this over a dozen of times, I'm used to agents asking for more information on what kind of hosting I need, at the very least, before making a recommendation. This wasn't the case with SmarterASP.NET.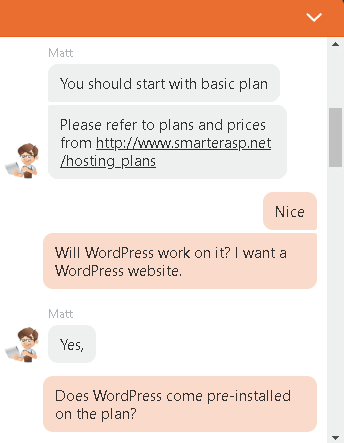 In fact, the representative did little more than copy/paste a link to the host's plans and prices page, which I had already found on my own. Links actually comprised the bulk of our interaction.
When I asked about page loading speeds, I got another link (to the free trial) instead of a sensible answer.
 This also happened when I wanted to know whether visitors from remote areas would benefit from the same performance.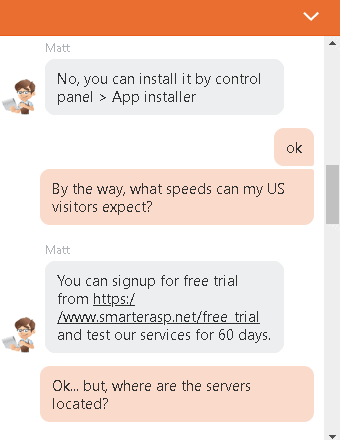 GoDaddy's support was friendlier, not to mention more committed to helping me than SmarterASP.NET's.
That said, there were some communication difficulties along the way. For starters, GoDaddy's agent asked if I was looking to code my personal website or not. They then recommended a website builder, rather than shared hosting plan. When they found out that I wanted to work with WordPress, they recommended another plan as the ideal choice.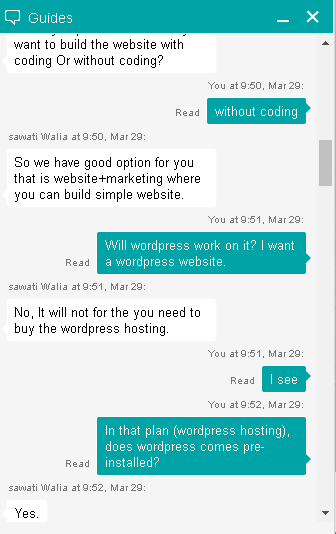 The communication difficulties began when I asked about GoDaddy's data center locations. It took a follow-up question, but the representative eventually understood that I wanted to know in which countries my website will be hosted. This was also the case when I asked about website performance.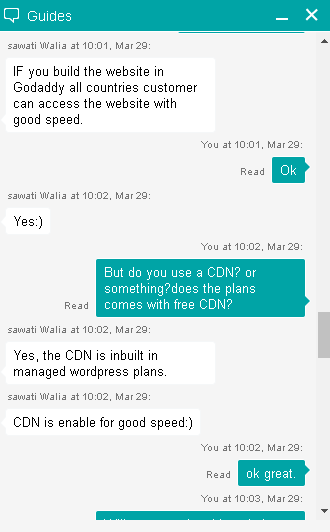 Although I'm not satisfied with the customer support of either host, GoDaddy's representative was more welcoming and thorough. This was in significant contrast to SmarterASP.NET's agent, who seemed like they couldn't wait to get rid of me. The good news is that
both GoDaddy and SmarterASP.NET have solid knowledge bases that include a variety of documentation, tutorials, and how-to guides.
 Odds are that, if you have a problem and you don't mind fixing it yourself, you'll find the answer to it in there.
3. Features
GoDaddy Has More Features Than SmarterASP.NET With Shared Windows Plans
Since SmarterASP.NET specializes in Windows servers, I've mainly compared SmarterASP.NET and GoDaddy based on what you can get for each of their shared Windows plans. For their premium plans, SmarterASP.NET limits you to 20 MySQL databases that can take up no more than 10GB of space overall, while GoDaddy gives you access to 25 MySQL clusters of no more than 1GB each.
That's two-and-a-half times more database storage with GoDaddy.
 On the other hand, SmarterASP.NET is better in terms of MSSQL databases.
GoDaddy truly excels in the additional features department.
 For example, you can get its premium DNS, automated backups, a Website Security bundle, and more, although they all come for an added fee. SmarterASP has no such options. In fact, as you'll see later on, its security could use a bit of improvement. Another thing worth mentioning is that SmarterASP.NET does not have Python or Perl on its shared Windows servers, while GoDaddy does. If parts of your website are developed in Catalyst or Django, they will not run on SmarterAPS.
Even though SmarterASP.NET claims that it offers a 60-day free trial for both Windows and Linux hosting, this is only the case for Windows plans.
 In addition, its 60-day money-back guarantee comes with certain strings attached. If you purchased a plan for less than a year, you won't get all your money back.
Money-back guarantees are not GoDaddy's forte either.
 For plans shorter than 1 year you get a 48-hour refund timeframe, whereas annual plans give you 30 days to change your mind. To give you an overview of SmarterASP.NET and GoDaddy shared Windows plans, you can take a look at the table below:
| | | |
| --- | --- | --- |
| | GoDaddy | SmarterASP.NET |
| Hosting Type | Shared, managed/unmanaged WordPress, VPS, dedicated servers, reseller | Shared, VPS, semi-dedicated servers, cloud, and reseller |
| Free Domain | Yes | No |
| Free SSL Certificate | Free for initial purchase term on higher-tier plans | Only on higher tier plans |
| Disk Space | 100GB on the Economy plan, unlimited on all others | 1GB on the 60-day trial, unlimited on all other plans |
| Bandwidth | Unmetered | 10GB on trial plan, unmetered on all others |
| Automatic Backups | Available as upgrade | Yes |
| Control Panel | Onyx Plesk | Proprietary control panel |
| Email Accounts | Unlimited | No email on the trial plan, unlimited otherwise |
| Free CDN | For managed WordPress plans | Yes |
| Free Site Migration | No | No |
| Money-Back Guarantee | 48-hours for contracts less than one year, 30 days otherwise | 60 days |
4. Performance
Both GoDaddy and SmarterASP.NET Offer Reliable Performance
Overall, you can rely on SmarterASP.NET and GoDaddy to deliver top-notch performance for your website.
SmarterASP.NET has SSD storage throughout, while GoDaddy includes it in managed WordPress and VPS plans.
 If you're storing a lot of information in your databases, it's likely that SmarterASP.NET's infrastructure will help your website perform better.
Both hosts have a relatively small number of data centers, which can be problematic if your audience mainly comes from Australia or Asia.
 GoDaddy has three leased data centers in the US, while SmarterASP.NET has two in the US and a third in Europe. SmarterASP.NET runs on a newer version of Windows Server by comparison to GoDaddy's 2012 R2. I wouldn't worry too much about not getting a CDN in your dashboard with GoDaddy, since you can easily install the same free version of Cloudflare that you get with SmarterASP.NET.
GoDaddy and SmarterASP.NET have a 99.9% uptime guarantee backed by a service-level agreement (SLA).
 If your GoDaddy uptime is even 0.1% less than the specified amount, you may be eligible for a 5% refund of your monthly costs. Note that maintenance downtimes do not count towards the policy. On the other hand, SmarterASP.NET promises to reimburse clients' accounts with 1 full month of hosting credit for every hour of downtime. That said, the offer stands only if you make a billing ticket request within 5 days of the incident.
Hostinger's Windows VPS offers offer better performance and value for money than either of these two hosts
. If you need something to run your .NET or Visual Basic web applications, I'd recommend it over both GoDaddy and SmarterASP. SmarterASP.NET managed a great score in our performance test.
Find out more in our expert SmarterASP.NET review
. GoDaddy achieved some impressive results in our performance benchmarks. For more details on its tests, you can read our
in-depth GoDaddy review
.
5. Security
GoDaddy's Security Is Better than SmarterASP.NET's
Aside from features, security is the second category where SmarterASP.NET falls behind GoDaddy.
But for starters, both hosts include spam and virus protection in all their shared Windows plans.
In terms of SSL certificates, higher-tier plans from SmarterASP.NET benefit from the free Let's Encrypt solution, while GoDaddy's Ultimate plan offers an SSL free for one year. You can set up Let's Encrypt on any of GoDaddy's plans, but you have to renew it manually once every several months.
GoDaddy has a 24/7 security team that monitors and protects the infrastructure against DDoS attacks. SmarterASP.NET has no such protection in place.
In fact, SmarterASP.NET's SLA states that the company is not responsible if you are the target of DDoS, DoS, or other malicious attacks. In addition, if your website is hosted on a shared IP that experiences downtime due to malicious activity, you will not be eligible for a refund. This is a major concern for SmarterASP.NET, a company that has been the target of several ransomware attacks in the past years.
In one recent SmarterASP.NET outage, all of its infrastructure was compromised, including databases.
 This meant that customers could not use backups to move their websites or application elsewhere and everyone had to wait at least 72 hours until service was restored. What's even more worrisome is that SmarterASP.NET does not offer a lot of additional security.
With GoDaddy, you can acquire the Website Security bundle that includes automatic daily scans and malware removal.
 If you want even more protection, there's also a premium DNS with a fixed monthly cost.
GoDaddy Is Better and Safer Than SmarterASP.NET
Considering SmarterASP.NET's reputation regarding ransomware, I strongly recommend that you avoid its services entirely, particularly if your website or application processes sensitive client information.
GoDaddy is the clear winner in this SmarterASP.NET vs GoDaddy comparison because it offers better security, more features and comparative (if not better) performance.
In addition, GoDaddy gives you access to a lot of upgrades that are not available with
SmarterASP.NET
.
 From premium DNS to website security, digital marketing, and more, you can make your choice of improvements. They're not free, but at least they're there. To avoid the limitations of shared Windows hosting plans, I recommend you go the VPS route.
Kamatera is a flexible option that works with Windows Server (and there's a 30-day free trial)
.
Although much less beginner-friendly, it beats both GoDaddy and SmarterASP.NET in affordability and resources. Neither GoDaddy, nor SmarterASP made into our list
the best web hosting services
. But if you still want to compare them further, the table below should help:
Plans and Pricing
Affordable prices with significant discounts for long-term contracts and good value
Low-cost plans with good value, but few upgrades are available
Key Features
Unlimited storage, websites, and bandwidth on most plans, free domain name for yearly plans, trial website builder, paid upgrades, premium DNS on Ultimate plan
Unlimited storage, bandwidth, and domain names on all plans, unlimited websites only on the premium plan, 60-day free trial for Windows plans, 60-day money back guarantee
Performance
SSD storage on managed WordPress and VPS plans, Windows Server 2012 R2, 99.9% uptime, three US-based servers, CDN available on managed WordPress plans
SSD storage on all plans, Windows Server 2019, three US-based servers, 99.9% uptime guarantee, integrated CDN
Security
Free premium SSL on higher tier plans; DDoS protection, virus and malware scan, anti-spam, and automatic backups available as upgrade
Free SSL certificates on higher-tier plan, firewall, anti-virus and anti-spam, automatic data backup
Support
24/7 support via live chat and phone; extensive knowledge base
24/7 support via email, tickets, and live chat; good knowledge base
FAQ
Is SmarterASP.NET better than GoDaddy?
Overall, I would say that SmarterASP.NET isn't better than GoDaddy. While the host does offer low-cost shared Windows hosting plans, you're missing out on a lot of features and security tools. For example, GoDaddy includes DDoS protection free of charge. You can also get premium DNS and the Website Security bundle for a fee. In addition, if you want some help with SEO or Digital Marketing, GoDaddy has out-of-the-box software you can easily purchase and work with. That said, if you're looking for affordable, good value hosting, you'll have better luck with some of the more competitive services on our list of the best web hosts.
Does SmarterASP.NET offer WordPress hosting?
You can 1-click install the WordPress CMS on SmarterASP.NET's shared plans. However, I wouldn't necessarily say that its servers are the best for WordPress hosting. In addition, you won't get any help with WordPress from SmarterASP.NET, since there is no managed option. If you want specialized WordPress hosting, I recommend you take a look at our list of the best WordPress hosts. Aside from specialized support and managed options, you'll find that these hosts include premium plugins, website builders, and many more useful tools for free. One of the cheapest options is Hostinger, but Kinsta is the very best choice for managed WordPress hosting.
Is SmarterASP.NET reliable?
Short answer: not really. SmarterASP.NET has been the target of several mass-scale ransomware attacks. The most recent such event left their entire infrastructure crippled and clients could not even access their backups to move to a different host. For small scale projects, SmarterASP.NET offers some reliable low-cost plans. However, I wouldn't put my eggs in their basket, at least not until the service takes some visible steps to guard against DoS and DDoS attacks.
Is SmarterASP.NET good for cloud hosting?
Although SmarterASP.NET does have a series of cloud server plans, I was not impressed with the resources, support, and tools that they offer. For these prices, customers should have access to a phone line and an account manager, but no such features are included. To see what an industry-leading cloud host looks like, check out our VPS vs cloud comparison and see why we recommend Kamatera for cloud hosting.