GoDaddy is a massive name within the web hosting industry. It's easy to be fooled into thinking that it must provide a quality service if it's that popular. However, the truth is that
GoDaddy did not do well in our performance tests,
 which is particularly disappointing considering its high prices. On the other hand, OVHcloud is one of the biggest hosting providers in Europe, with offices all over the world. I was interested to see how these two big names stacked up against one another. After testing both hosts thoroughly, I can safely say that OVHcloud provides a much better service. But at the end of the day, it's not the best host out there.
Personally, I prefer Hostinger, which is both cheaper and faster
 than OVHcloud.
Click here to see Hostinger's latest deals
, or keep reading to find out how GoDaddy and OVHcloud compare.
1. Plans and Pricing
GoDaddy Is More Expensive, but OVHcloud Has No Money-Back Guarantee
GoDaddy offers four different shared hosting plans, as well as WordPress hosting, VPS, dedicated servers, and reseller hosting. Its cheapest shared hosting plan, which includes 100GB storage and unlimited bandwidth, costs
$
5.99
a month if you commit to a three-year contract. This price will increase upon renewal.
GoDaddy Hosting Web Hosting
A free domain name is included with some hosting plans from GoDaddy Hosting
It's also worth noting that there's only a
30-day money-back guarantee with GoDaddy's annual payment plans
. With monthly plans, you are only eligible for a refund for 48 hours. Regardless of the high prices,
a free SSL certificate is only included within the Ultimate and Maximum plans
. Security features such as malware and hack protection cost an extra monthly fee. While you do get a free domain and a free Office 365 email account, these are only free for the first year. Once your year is up, these will automatically renew at a high price. OVHcloud has two different shared hosting plans, along with VPS, cloud hosting, and dedicated servers. Its basic shared hosting plan costs
$
4.39
a month and includes 100GB storage and unmetered bandwidth, for a much cheaper price than GoDaddy. OVHcloud also offers a free SSL certificate and a free domain for one year with all of its plans. However,
 there's no money-back guarantee and refunds take a long time
.
A free domain name is included with some hosting plans from OVHcloud
While OVHcloud is much cheaper than GoDaddy, some hosts provide better value for your money.
Hostinger's Single Shared Hosting plan only costs

$

1.99

 a month
 while still offering a generous amount of features and resources.
2. Features
GoDaddy Is Much More Beginner-Friendly
While GoDaddy's shared hosting is very basic, its
WordPress hosting plans
 offer a lot of features that can help make running a website a much simpler task. The plans include a one-click migration tool, automatic backups, automatic software and security updates, and access to thousands of quality themes which can be easily customized with a drag-and-drop editor. These plans also include a free CDN, which can provide a significant performance boost.
OVHcloud, on the other hand, doesn't have specialized WordPress hosting, and its shared hosting plans lack a few useful features
. There's no migration service available, meaning you'd have to manually transfer your site. The shared plans don't come with a free CDN. OVHcloud also uses a proprietary control panel, which I found to be much more unintuitive and harder to use than the popular cPanel solution GoDaddy uses. There's also no website builder available. GoDaddy does offer a solid website builder which you can use to build a site for free, but it's not included with the hosting plans – you have to sign up for a
website builder plan
.
However, OVHcloud does use the significantly faster SSD storage
 with its shared hosting plans, while GoDaddy only has SSD for VPS and dedicated servers. Additionally, OVHcloud's cloud hosting offers some unique services, such as the ability to purchase extra storage or processing power on-demand. Despite this, I'd say
GoDaddy provides the better set of features, especially with its WordPress hosting.
 Take a look at the table below for a side-by-side comparison of these two hosts.
GoDaddy
OVHcloud
Hosting Types
Shared hosting, WordPress hosting, VPS (Windows & Linux), reseller hosting, VPS, dedicated servers
Shared hosting, cloud hosting, VPS, dedicated servers
Free Domain (for the first year)

✔

✔

Free SSL Certificate

✔

(depending on the plan)

✔

Disk Space
100GB-unlimited HDD
100GB-250GB SSD
Bandwidth
Unlimited
Unmetered
Automatic Backups

✔

(with WordPress hosting)
Daily
Control Panel
cPanel
OVHcloud Control Panel
Email Accounts
1 free Office365 email for a year, up to 400 at a premium monthly fee
10-50 email accounts with 1GB storage each
Free CDN

✔

(only with WordPress hosting)

✔

(only with performance cloud hosting)
Free Site Migration

✔

✘

Money-Back Guarantee
30 days with annual plan, 48 hours with monthly plan

✘
3. Performance
OVHcloud Blazes Past GoDaddy
GoDaddy has servers in North America, Europe, and Asia, but for some reason, it remains secretive as to the exact locations. To see if these servers could still provide good loading speeds, I began testing with GTmetrix, which resulted in a
 slow page loading speed of 2.2 seconds.
 And this was my
best
 result. The average speed was 2.94 seconds.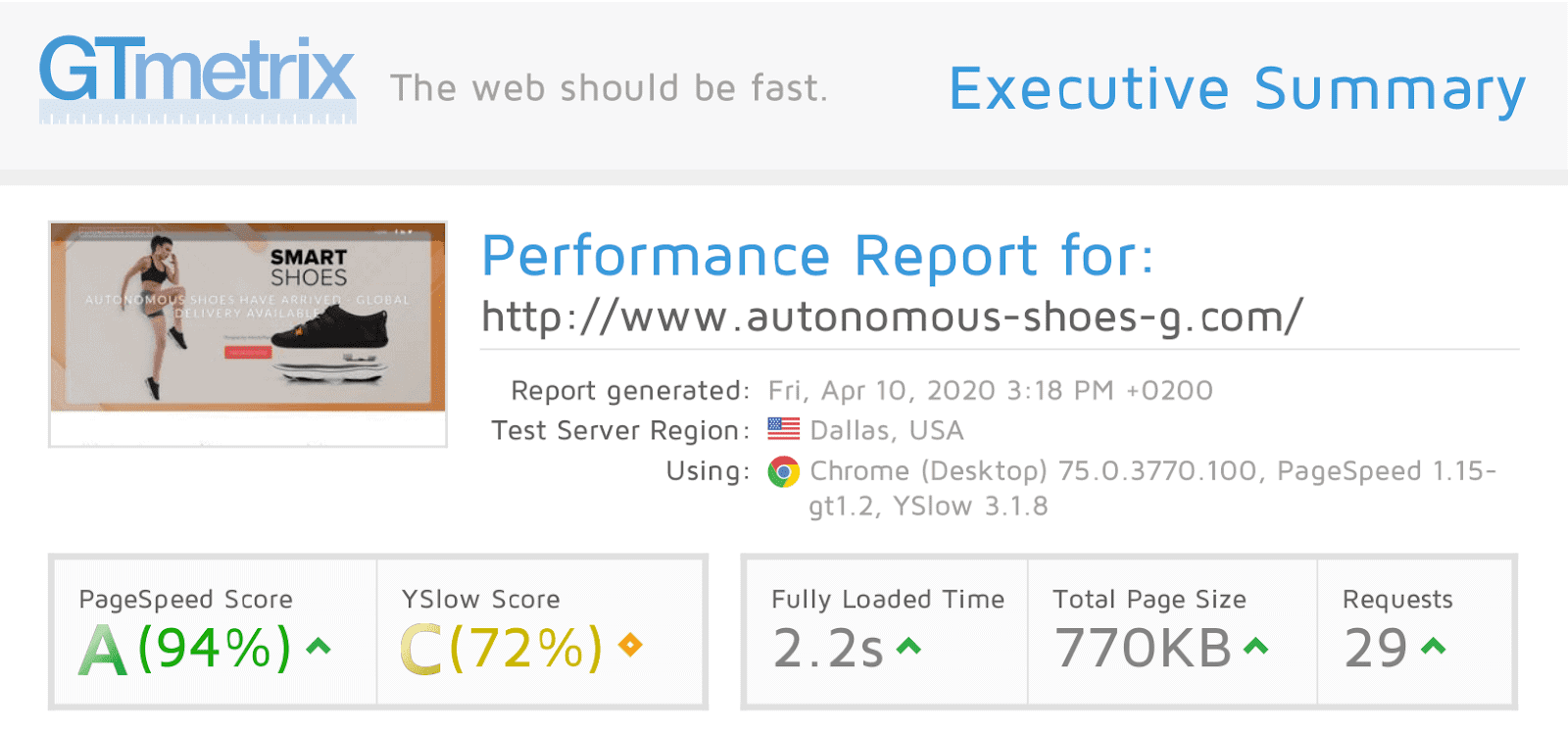 My Sucuri test results proved to be even worse. With an
average global loading speed of 3.3 seconds,
GoDaddy is well above the recommended 2-second loading time. Visitors throughout the world may lose interest before your site even has a chance to load.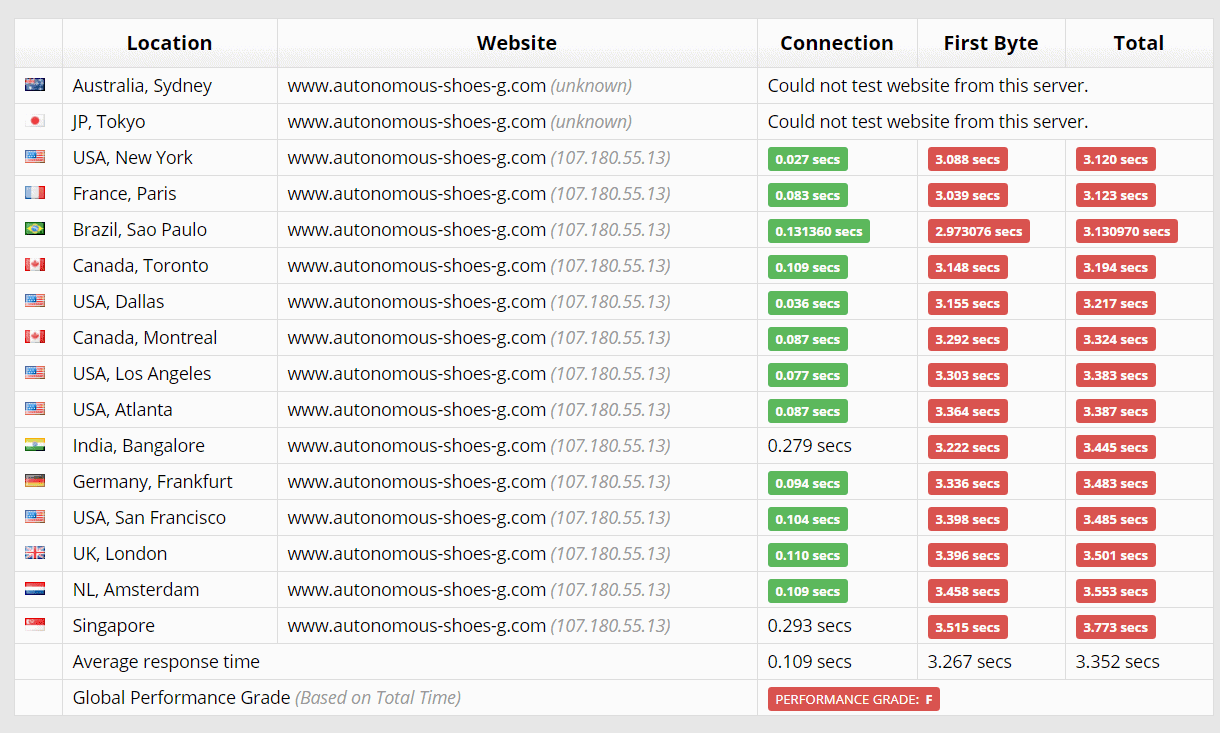 GoDaddy's performance is bad, but at least it has a good uptime rate. My tests with UptimeRobot  found it to have 99.974% uptime over four months. However, keep in mind that
GoDaddy does not offer an uptime guarantee.
See the full test results in our in-depth GoDaddy review
.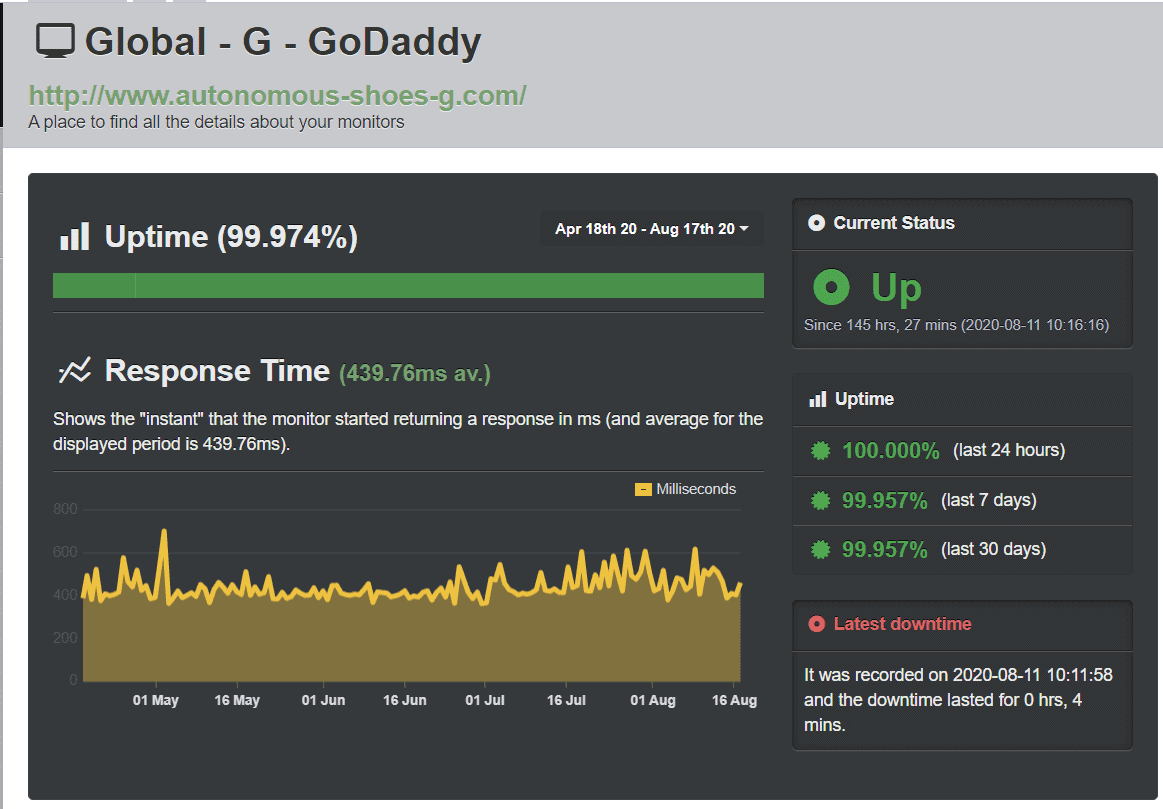 OVHcloud has data centers in France, Germany, Poland, the United States, Canada, Australia, and Singapore. My Sucuri tests showed that OVHcloud can provide good performance worldwide. The
average response time is around half a second
, four times faster than what GoDaddy can offer.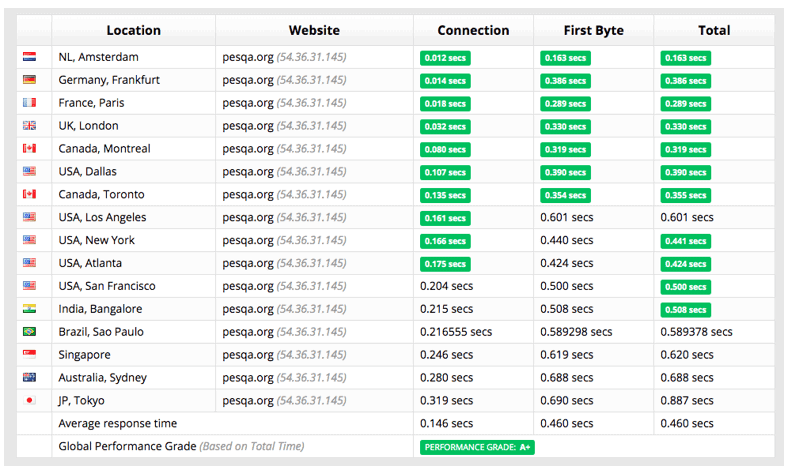 In my testing, I found that OVHcloud had poor uptime. During the three-month period, it only reached 99.37% uptime. While it has shown signs of improvement by reaching 99.6% in further testing, it's still below the industry standard of 99.9%. However,
OVHcloud will compensate for downtime
 with service credits for its cloud hosting, VPS, and dedicated servers.
Learn more about OVHcloud's performance in our expert review
. OVHcloud is the better performer of the two, but it's not the fastest out there.
In our performance tests,
Hostinger scored an average response time of 0.392 seconds
, making it faster than OVHcloud while remaining cheaper.
4. Security
OVHcloud Provides Basic Security for Free, while GoDaddy Charges Extra
If you're expecting security features with GoDaddy, you'd better be ready to take out your wallet. All that is included with its shared hosting plans is DDoS protection and the promise that its security team is monitoring server activity 24/7.
There's no free SSL certificate
 with the basic plan. Instead, you'd need to upgrade to either the Ultimate or Maximum shared hosting plans for a free SSL certificate, or purchase a separate security plan.
GoDaddy's most basic security plan will almost double the cost of your hosting.
It gives you access to advanced security monitoring, unlimited malware removal, hack repair, and Google blacklist monitoring & removal. The higher-tier plans include further DDoS protection, performance optimizations, automated backups with one-click restore, and a free SSL certificate.
OVHcloud includes some basic security features with all of its plans, including DDoS protection and the ModSecurity web application firewall.
 This firewall allows for real-time security monitoring, full traffic logging, and web application hardening. Every plan also comes with
a free Let's Encrypt SSL certificate, although you can optionally purchase the more advanced Sectigo SSL. Interestingly,
OVHcloud includes automated daily backups
 with its plans. This is incredibly convenient, and it's usually a premium feature with other hosts. Instead, OVHcloud charges extra for manual backups, which I found very strange. But all in all, OVHcloud offers a decent amount of security for free, while many of GoDaddy's security features cost extra. In terms of security, OVHcloud is definitely the better option of the two.
5. Support
OVHcloud's Support Is Slower
GoDaddy offers live chat and phone support. After testing its support thoroughly, I can safely say that it has some major issues. To begin with, just getting in touch was difficult.
The live chat doesn't seem to always be available
, and even when it is, getting a response takes much longer than reasonable. It also seems like the agents have been outsourced, as there's a lot of broken English. When you're dealing with a website issue, the last thing you want to be doing is acting as a translator.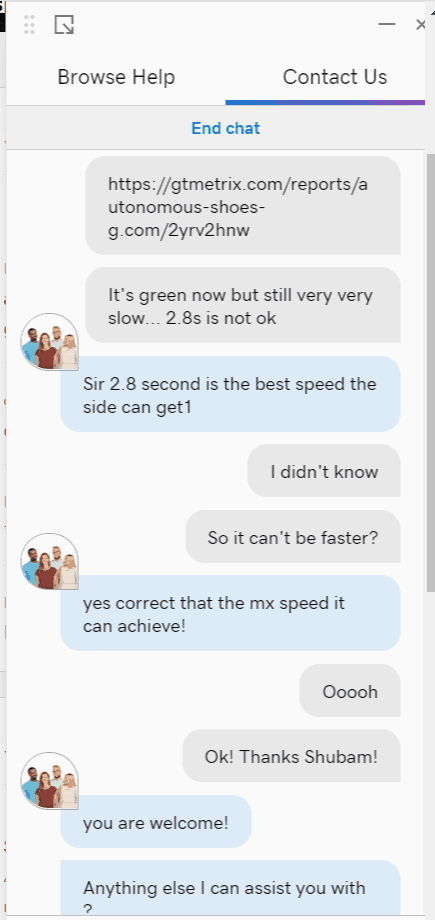 GoDaddy's support agents don't seem to have a good grasp of their own services. When I asked about the differences between GoDaddy's plans, the agent just talked in circles before eventually redirecting me to simply look at the features page.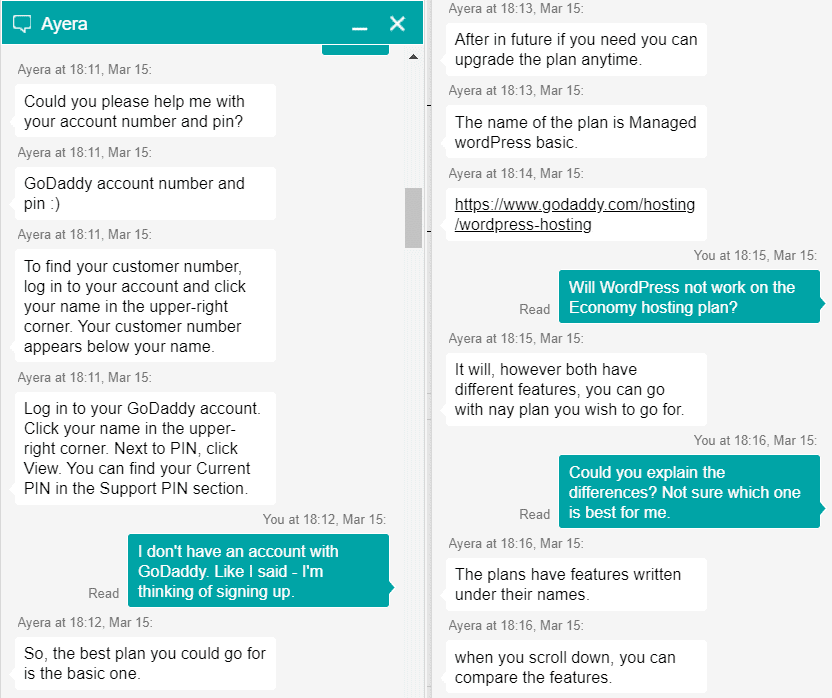 As for OVHcloud, it has its own issues.
There's no live chat available
. Instead, it only offers support through email, tickets, the community forum, and social media. Support is only available on weekdays, from 9 am to 6 pm GMT. With this raising some worries about response times, I decided to try out its ticketing system by asking a very simple question.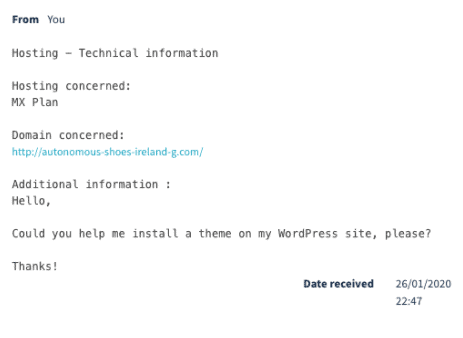 It took an astonishing eight days just to hear a response,
and they didn't even answer my question.
However, it's worth noting that there are four different support plans available, including Standard, Premium, Business, and Enterprise. Standard is free across all plans, but as we just found out, it's painfully slow. Upgrading to the higher-tier plans is supposed to give you quicker responses and more expertise.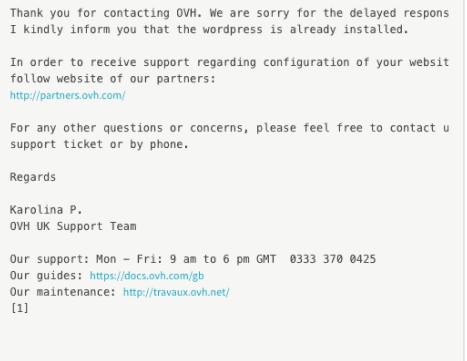 While my experience with ticket support was bad, I did find that
OVHcloud's help center provides many detailed tutorials
. There were also some video guides, which proved to be a big help. Both hosts have major support issues, but OVHcloud's extensive knowledge base makes it the better option.
OVHcloud Wins the Comparison, but There's a Better Solution
In the battle of GoDaddy vs OVHcloud, there's a clear winner.
OVHcloud is the superior option of the two
, thanks to its better value, stronger set of features, and much faster speeds. Is OVHcloud a reliable hosting provider overall? Although it offers impressive global speeds, its features and pricing lack uniqueness. Moreover, it falls short in terms of user-friendliness due to its unintuitive control panel and absence of a website migration service. If you seek budget-friendly shared hosting with user-friendly attributes, you'll find more superior alternatives. For example,
Hostinger provides better performance for better prices, and a much more user-friendly experience
overall
.
 Hostinger also made it on the top of our list of the
best web hosting services
, while GoDaddy and OVHcloud did not.
Plans and Pricing
Expensive plans, high renewal fees, 30-day money-back guarantee with annual plans only
Cheaper shared hosting plans, no money-back guarantee, slow refunds
Key Features
Free domain and free Office 365 email for a year, unlimited bandwidth, 100GB-unlimited HDD. WordPress hosting includes automatic backups, automatic updates, one-click migration tool, free CDN.
Free domain for the first year, unintuitive control panel, no migration service, 100GB-250GB SSD. Cloud hosting includes unique specialized services.
Performance
Slow loading speeds, decent uptime
Good loading speeds, issues with uptime
Security
DDoS protection and 24/7 server monitoring, other security features are paid extras
DDoS protection, ModSecurity firewall, automated daily backups, free Let's Encrypt SSL certificate
Support
Live chat isn't always available, slow responses, agents lack knowledge, poor English
No live chat, only support tickets, email, community forum, and social media. Better support costs extra. Good knowledge base.
FAQ
Does GoDaddy offer WordPress hosting?
GoDaddy has a few managed WordPress plans, ranging from its basic plan at

$

8.99

a month to its eCommerce plan which costs more than double. However, there are better WordPress hosting providers available – check out our list of the best six managed WordPress hosting providers to learn more.
Is GoDaddy's hosting reliable?
GoDaddy provides good uptime levels, with our tests showing an uptime of 99.974% over 4 months. However, its loading speeds are quite slow. If your host's performance is important to you, you'd be better off with Hostinger, which provides much faster loading speeds while remaining just as reliable. Check out our Hostinger review to see our performance tests for yourself.
Is OVHcloud a good host?
OVHcloud offers good worldwide performance and has some unique specialized services delivered through its powerful cloud instances. However, if you're simply looking for shared hosting, there are much better options available. Take a look at our list of the best web hosting services to find out more.
Does OVHcloud offer a free domain?
OVHcloud offers a free domain with all of its web hosting plans. However, it's only free for the first year. After the first year has passed, you will need to renew it at an annual price which is based on the extension you chose for the domain.