GoDaddy or iFastNet? If I have to choose, I'd say GoDaddy, but to be honest, neither really impressed me. To make a fair comparison between GoDaddy and UK-based iFastNet, I tested both web hosts across five different categories. Although both hosts are fairly popular, I wasn't impressed with iFastNet's meagre 7-day money-back guarantee and limited number of plans. I was also surprised by GoDaddy's history of having hackable infrastructure, sub-par performance, and habit of automatically selecting upsells at checkout.
Hostinger
is better value for money by offering top-notch performance, fast loading speeds, a wide range of feature-rich hosting plans, and competitive prices.
Click here to see GoDaddy's best deals
, or read on to find out how GoDaddy and iFastNet performed in this in-depth comparison.
1. Plans and Pricing
iFastNet Is Slightly Cheaper but More Limited than GoDaddy
GoDaddy offers shared hosting (for Linux and Windows), WordPress hosting, reseller hosting, VPS, and dedicated servers. iFastNet has fewer plans for shared, reseller, VPS, and dedicated servers. You can choose from four shared hosting plans for Linux and three for Windows with GoDaddy. iFastNet, on the other hand, has three Premium and two Business shared hosting packages for Linux
A free domain name is included with some hosting plans from iFastNet
GoDaddy Hosting Web Hosting
A free domain name is included with some hosting plans from GoDaddy Hosting
With GoDaddy, you have the option to subscribe monthly, annually, biennially, or triennially. With iFastNet, you can choose to be billed monthly, quarterly, semi-annually, or annually. GoDaddy provides a free domain and a 30-day money-back guarantee with annual plans. It also offers a 48-hour money-back guarantee with monthly subscriptions and free website migration with WordPress hosting packages. iFastNet offers a free domain with all subscription terms, but it comes with a slight increase in prices. It also has a 7-day money-back guarantee. You won't get free website migration, but you can migrate for free from Premium hosting to VPS. While GoDaddy for Linux shared hosting is slightly more expensive, iFastNet is more limited. Neither host is good value for money.
My advice? Go for Hostinger.
It has more valuable web hosting packages, better-discounted rates, and cheaper renewal fees.
2. Features
GoDaddy's WordPress Plans Have Better Features Than iFastNet
With GoDaddy's four shared hosting plans for Linux, you can host 1 to unlimited websites, get 100 GB to unlimited HDD storage, unlimited bandwidth, 10 to unlimited MySQL databases, and one free Office 365 Email (for the first year). All packages also include a single-click app installer (over 150 applications), cPanel, SSH access, site statistics, and CloudLinux. However, you'll only get a free SSL certificate with GoDaddy's higher-tier plans for the first year. I took a look at GoDaddy's WordPress plans, too, and for a slightly higher cost,
you can benefit from managed WordPress features, a free SSL (for the life of  your hosting plan!), GoDaddy's own CDN, and malware scanning.
In contrast, iFastNet's three Premium packages provide you with 5 GB to unlimited SSD disk space, 250 GB to unlimited bandwidth, and 1 to unlimited MySQL databases. The Business plans come with 1 TB to unlimited bandwidth, unlimited SSD storage, 1,000 emails per hour, and 21 free domains. All iFastNet's packages come with cPanel, Softaculous, free e-commerce shopping carts, and a free website builder – but no managed WordPRess features. Use the following side-by-side table to compare GoDaddy and iFastNet further:
| | | |
| --- | --- | --- |
| | GoDaddy | iFastNet |
| Hosting Types | Shared (Linux and Windows), reseller, WordPress hosting (managed and unmanaged), VPS, dedicated servers | Shared, business hosting, reseller, VPS, dedicated servers |
| Free Domain | ✔ | ✔ |
| Free SSL Certificate | With certain plans | With certain plans |
| Disk Space | 20 GB – Unlimited | 5 GB – Unlimited |
| Bandwidth | Unlimited | 125 GB – Unlimited |
| Automatic Backups | ✔ | With certain plans |
| Control Panel | cPanel, Plesk | cPanel |
| Email Accounts | 1 Free | Unlimited |
| Free CDN | Only with WordPress hosting | ✘ |
| Free Site Migration | Only with the fully managed WordPress hosting plans | ✘ |
| Money-Back Guarantee |  30 days | 7 days |
While GoDaddy's shared web hosting plans are similar to iFastNet's offerings, if you opt for WordPress hosting from GoDaddy, the feature set is far superior, making GoDaddy the winner in this round!
3. Performance
iFastNet Outperforms GoDaddy
GoDaddy operates its services from 2 server locations – the U.S.A. and India. On the other hand, iFastNet only has one data center in the U.K. However, seeing iFastNet targets U.K. users, it doesn't need other locations. GoDaddy only uses SSD storage with specific plans, while iFastNet relies on it with all plans. SSD storage performs faster than regular HDD storage, reflecting on your website's loading speed and overall performance. You'll get a free CDN with GoDaddy's WordPress hosting plans, but not with iFastNet. A CDN, or Content Delivery Network, is a feature that boosts your website's loading speed from anywhere in the world by placing it on a global network of cloud servers. Both hosts promise a 99.9% uptime guarantee. Although both exceeded that number, iFastNet showed fewer downtimes than GoDaddy and almost achieved perfect actual uptime. Despite GoDaddy's performance-boosting features, its performance is quite disappointing in terms of page loading speed. Almost every location around the world showed slow loading times.
Check out the test details in GoDaddy's full review
.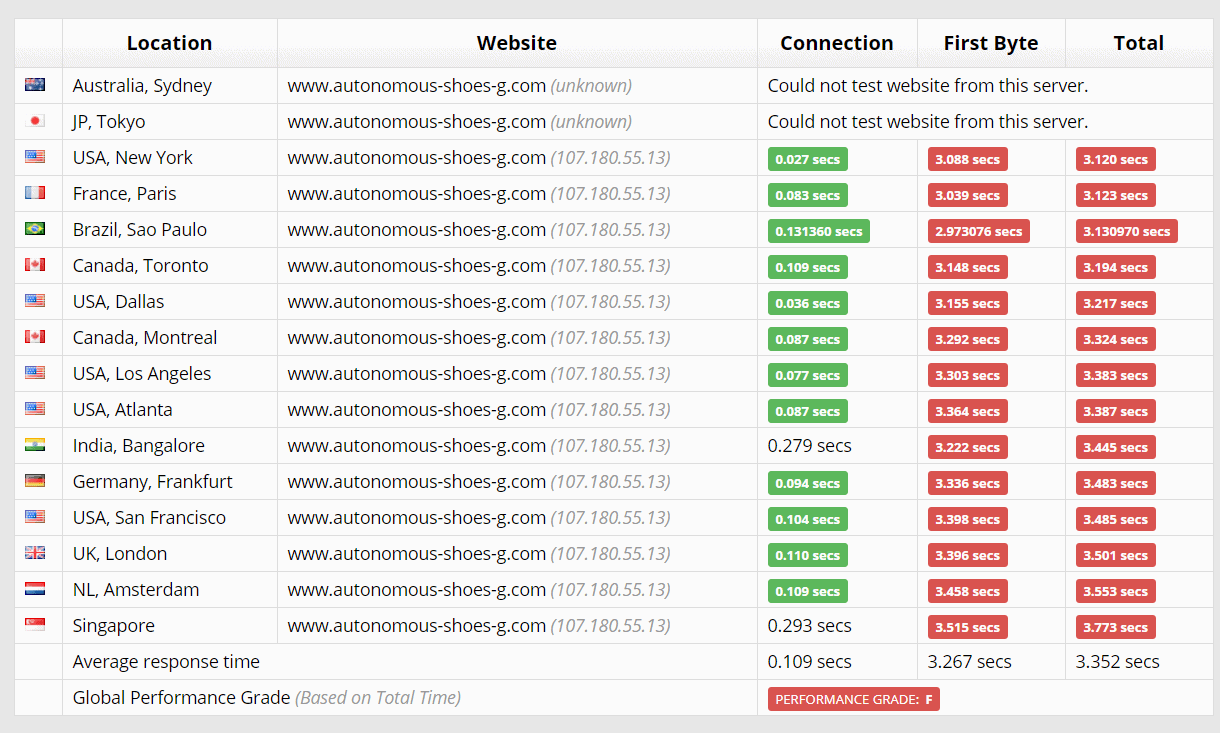 On the other hand, iFastNet's page loading speeds were slightly better than GoDaddy's, especially in the U.K. and other European countries. But overall, it wasn't good enough to be labeled as a top performer. See what went wrong in
iFastNet's detailed review
.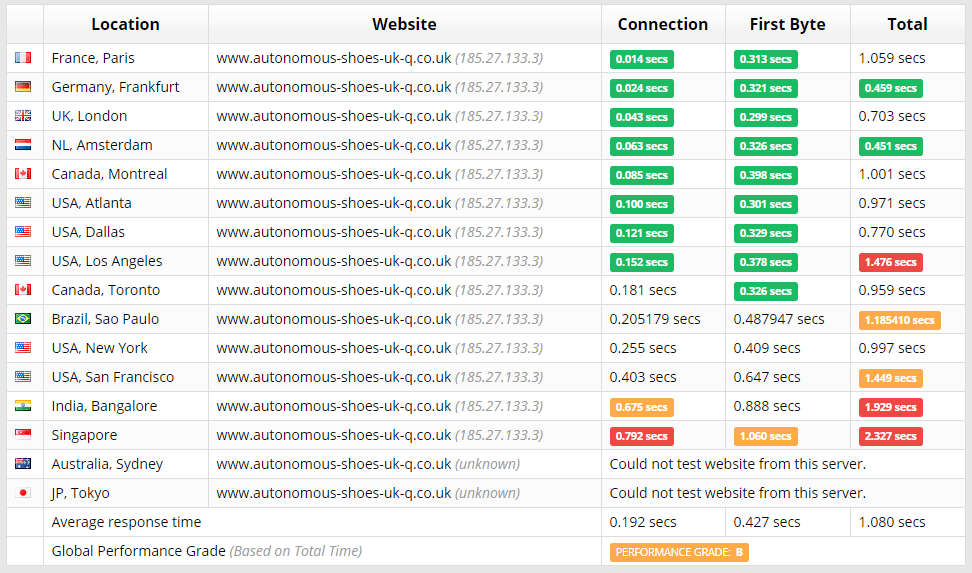 iFastNet performed better in my tests, but I can't praise either host for its performance. If you're looking for a host with top-notch performance,
I would recommend Hostinger.
4. Security
iFastNet Has More Security Features
GoDaddy uses robust and advanced firewalls to secure all its accounts against external threats, such as DDoS and Brute-Force. It also implements 24/7 network monitoring to instantly track and fix any problems and secures email accounts with antivirus/antispam. iFastNet includes a set of security features, as standard, with all its plans. These include 24/7 monitoring, firewall protection, web firewall, SiteLock, Spam Filter Spamassassin, Hotlink Protection, and Leech Protect. Also, iFastNet secures your account against power failures in data centers using UPS Power Backup and generators. Both hosts use CloudLinux OS for shared hosting servers. CloudLinux OS securely isolates your account on a shared server to protect it against unwanted threats targeting other accounts. It also ensures the fair allocation of the server's resources. Neither host includes free SSL certificates with all plans. GoDaddy has them with its higher value plans and iFastNet with its shared and business hosting plans. The winner here, by a thin margin, is iFastNet. It provides slightly more security features than GoDaddy.
However, if you're looking for a host that takes your site's security seriously, check out Hostinger.
5. Support
Both Hosts Have Unreliable Support
Both GoDaddy and iFastNet have comprehensive knowledgebases with numerous articles and tutorials. However, GoDaddy's knowledgebase is better organized, making it easier to find the information you need. GoDaddy offers support through live chat and phone [ ]. Although they claim that all channels are available 24/7, the live chat is seldom accessible. Moreover, when I did manage to connect, I encountered agents with knowledge gaps and experienced a slight language barrier.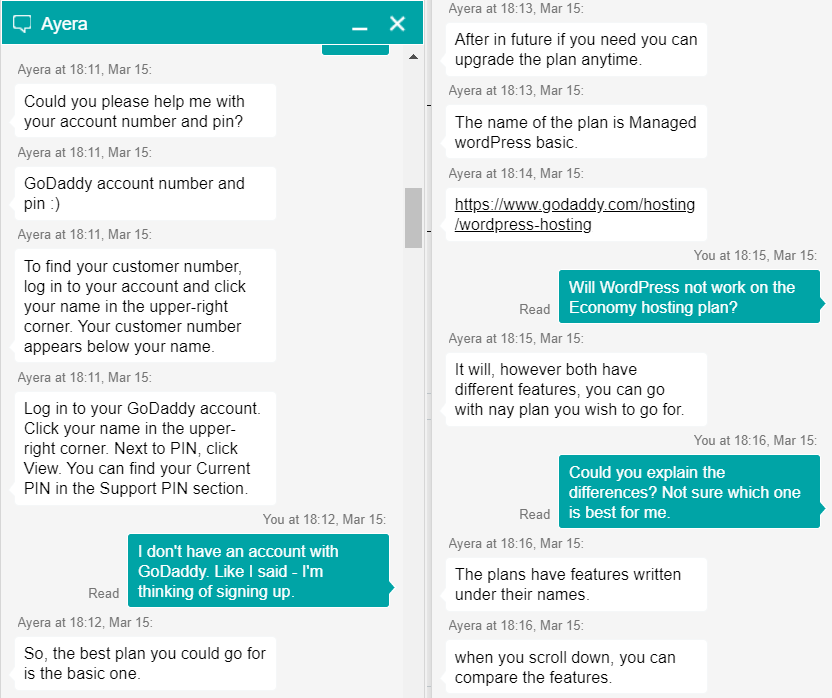 Unfortunately, iFastNet's support isn't any better. Even though it's also available 24/7, you can only contact them via email and support ticket. The support ticket is only available to current users who already have an account. When I sent my questions in a ticket, it took them more than half a day to get back to me. Even then, the reply was limited and not very helpful.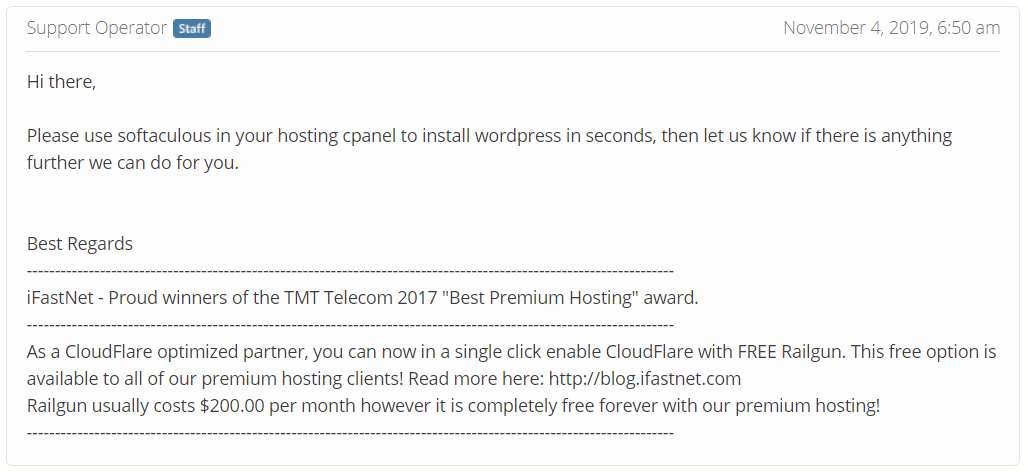 I can't say that either host has reliable support; hence this round is a tie. In comparison,
Hostinger provides more responsive and dependable support.
GoDaddy and iFastNet Both Lose This Contest
GoDaddy has gained a reputation for its security concerns, subpar performance, generic features, and high renewal fees, all of which contribute to it being an unsatisfactory option for web hosting. While iFastNet might provide somewhat improved features and more competitive prices, it still falls short of offering compelling value for your money. It's no surprise that neither made it to our
list of the top 10 web hosting services
 in the market today, unlike Hostinger. You can't go wrong with a powerful host like Hostinger.
It's highly affordable
, offers a wide range of cutting-edge hosting solutions, has solid infrastructure, and delivers super-fast performance.
Plans and Pricing
More expensive. 48-hour and a 30-day money-back guarantee (depending on your subscription period)
Fewer plans. Cheaper than GoDaddy. 7-day money-back guarantee
Key Features
Free domain, free site migration (with certain plans), HDD storage with most plans, and free SSL (with higher-value plans)
Free domain, SSD storage, free SSL certificate, free website builder
Performance
More server locations, Free CDN with specific plans, 99.9% uptime guarantee, few downtimes, slower loading speeds
Fewer server locations, 99.9% uptime guarantee, fewer downtimes, slightly faster loading speeds
Security
Strong firewalls, DDoS/Brute-Force protection, 24/7 network monitoring, antivirus/antispam, CloudLinux OS
24/7 monitoring, firewall protection, web firewall, SiteLock, Spam Filter Spamassassin, Hotlink Protection, Leech Protect, UPS Power Backups, generators, CloudLinux OS
Support
Comprehensive and organized knowledgebase, 24/7 live chat and phone support, the staff isn't helpful
Comprehensive knowledgebase, 24/7 email and support ticket, the staff isn't helpful
FAQ
Does iFastNet offer VPS hosting?
Yes, it does. iFastNet has six VPS packages with disk space ranging between 30 GB to 250 GB, RAM from 512 MB to 2048 MB, and 24 dedicated CPU core servers. iFastNet isn't quite right for you? Check out this list of the best cheap and trusted VPS services.
Does iFastNet use SSD?
Yes, but not with all plans. iFastNet only offers SSD storage with its shared hosting packages (Premium and Business). Need better alternatives to iFastNet? Take a look at my top recommended SSD hosting services.
Does GoDaddy offer a free domain?
Yes, but only with certain plans. GoDaddy provides a free domain with annual packages (12 months, 24 months, or 36 months) for web hosting or managed WordPress hosting. Struggling to find the right domain name? Don't miss this ultimate guide to choosing and buying a domain name.