If you're looking to build your new website on an established, tried-and-true platform, GoDaddy and Hostgator are two obvious choices. They're both popular hosts, each boasting millions of customers, but which one is best for you?
I'll be honest here, monster companies are not my cup of tea. While the two companies can be described as "industry titans," I feel that "sleepy dinosaurs" would be a better term. They've grown too big and too fast, and just can't compete with more innovative companies like InMotion Hosting.
And still, I can understand why you narrowed your list down to these two. They're both incredibly well known, and any company that's been around for more than 15 years must be doing something right. Their services may be basic, but they're still decent.
Tech start-ups and complex e-commerce projects would be wise to consider the alternatives, but if you own a brick-and-mortar business, are working in the services sector, or your needs just aren't that advanced, one of these old-fashioned hosting experiences might be exactly what you're looking for.
If that's indeed the case, the choice really depends on which of the two can meet your specific needs. As their plans, features, prices, and support channels vary, there's no one-size-fits-all solution. Luckily, I crunched the numbers and did the math for you.
Don't let a pretty ad fool you into making a long commitment you're going to regret, and don't fall for expensive upsell attempts. Read the results of my Hostgator vs GoDaddy comparison and make an informed decision. Let's begin.
While They're Similar in Terms of Resources, Hostgator Hides a Dark Secret
I took Hostgator's basic shared hosting plan, Hatchling, and pitted it against GoDaddy's cheapest – the Economy plan. At first, it seemed like there wasn't much of a difference, as both hosts offer a standard one-website hosting package.
The one website you can host is entitled to unmetered bandwidth with both companies. You probably noticed "unmetered" sounds a lot like "unlimited"… and yet it's not as binding. You should try using it yourself. It's a lovely word to use when you don't really mean what you say.
No hosting service will actually let you use terabytes of data, as in the end, you're always bound to "fair use" in the terms of service. The thing is, users all over the web report a sketchy experience with Hostgator.
These users' story goes like this. First, traffic to their site spiked due to a well-placed advertisement or a mention from a bigger website. Then, Hostgator immediately shut down the site due to "irregular usage." So basically, if you make it… you don't make it. Nice.
Regarding disk space, the two are slightly different on paper, but in reality, not so much. GoDaddy provides 100GB of storage while Hostgator promises an "unmetered" amount. Those 100GB might look like less than "unmetered," but because you can't use this as your personal drive, it's really quite similar.
Very few beginner websites will come close to 100GB (few will come close to 2GB), so just know that with both plans, you'll be able to comfortably host a small website with low traffic.
Just remember, basic plans are for basic sites, and more demanding sites require advanced solutions, like Hostgator's Business plan or GoDaddy's Ultimate plan.
Our winner here is… GoDaddy, thanks to Hostgator's trigger-happy reputation.
If you're seriously considering GoDaddy, don't miss our in-depth review.
GoDaddy Has Worldwide Reach, While Hostgator Provides an Honest Guarantee
A website that's fast and readily available, that's really all I can ask for. So, I collected data from my sites, and from many uptime trackers and page loading tests, to answer the big question: Which of the two will give you better performance?
Let's start with page speed. When checking loading times in the U.S. with a basic WordPress installation, the results are pretty similar. Hostgator performs a bit better on the west coast, GoDaddy edges out a win in the east coast, but both are great.
The plot thickens when we zoom out and hop across the pond. GoDaddy is significantly faster when loading from London, and the same is true for mainland Europe and Asian countries like India and Singapore.
This is easily explained. Hostgator has two data centers, both in the U.S., while GoDaddy operates no less than nine: seven in the U.S., one in Amsterdam, and one in Singapore. The physical distance between the visitor and the server matters, and GoDaddy is simply closer to international crowds.
When signing up to the service, GoDaddy will let you choose your data center. With Hostgator, on the other hand, you'll have no control over which of the two you'll get.
On to uptime. Both companies successfully provide uptime that's around 99.9%. A few years back, Hostgator suffered a dip that took it into 99.8% territory, but all in all, they both do a great job.
What about guarantees? Both hosts guarantee 99.9% uptime, which is pretty good news for you. What happens when that guarantee isn't met? With Hostgator, you can get that month's credit back, and with GoDaddy, you can get 5% of that month's credit back.
"That can't be right," you must be thinking to yourself. GoDaddy promises to reimburse you with a measly 5% after failing to meet the guarantee they gave you in the first place? Yep. I don't like the sound of it one bit, but that's how it is.
Despite its disappointing uptime guarantee, our winner here still is GoDaddy, thanks to better international coverage. I would say that if your site is aimed at American visitors, a case can also be made for Hostgator.
GoDaddy Manages to Upsell You with More Features You Never Asked For
I really don't like upsells. It's a morally ambiguous sales tactic that takes advantage of how after you've decided to buy one product, you're more susceptible to make additional purchases. What really drives me nuts is when something I never asked for is automatically added to my shopping cart.
Remember how I mentioned that big companies are not my thing? This is one of the main reasons. Small companies want to earn your trust, and usually do a pretty good job at it. Huge corporations can use their established reputation against you.
Hostgator and GoDaddy are both at fault here. No matter what plan you'll pick, they'll add extras you never asked for. Sure, you can remove them, but they should never have been there in the first place.
GoDaddy automatically adds website backups the moment you want to check out. When you proceed to payment, you'll see "Office 365 Starter Email" has also been added, but that it's free for 12 months. What happens after? It becomes far from free.
Hostgator works similarly, adding CodeGuard backups right off the bat. Additionally, you'll find anti-hacking features waiting in your cart.
Are some of those features helpful? Yes, yes they are.
Do many hosts provide them free of charge, as basic services? Yes, yes they do.
In my opinion, GoDaddy comes out as the main offender here. It adds an "email" feature, making it seem like without it you won't have emails (you will), and it doesn't even provide a free SSL certificate on all plans – which Hostgator does.
I thought I was only buying hosting, but GoDaddy knows better. That's where they get you.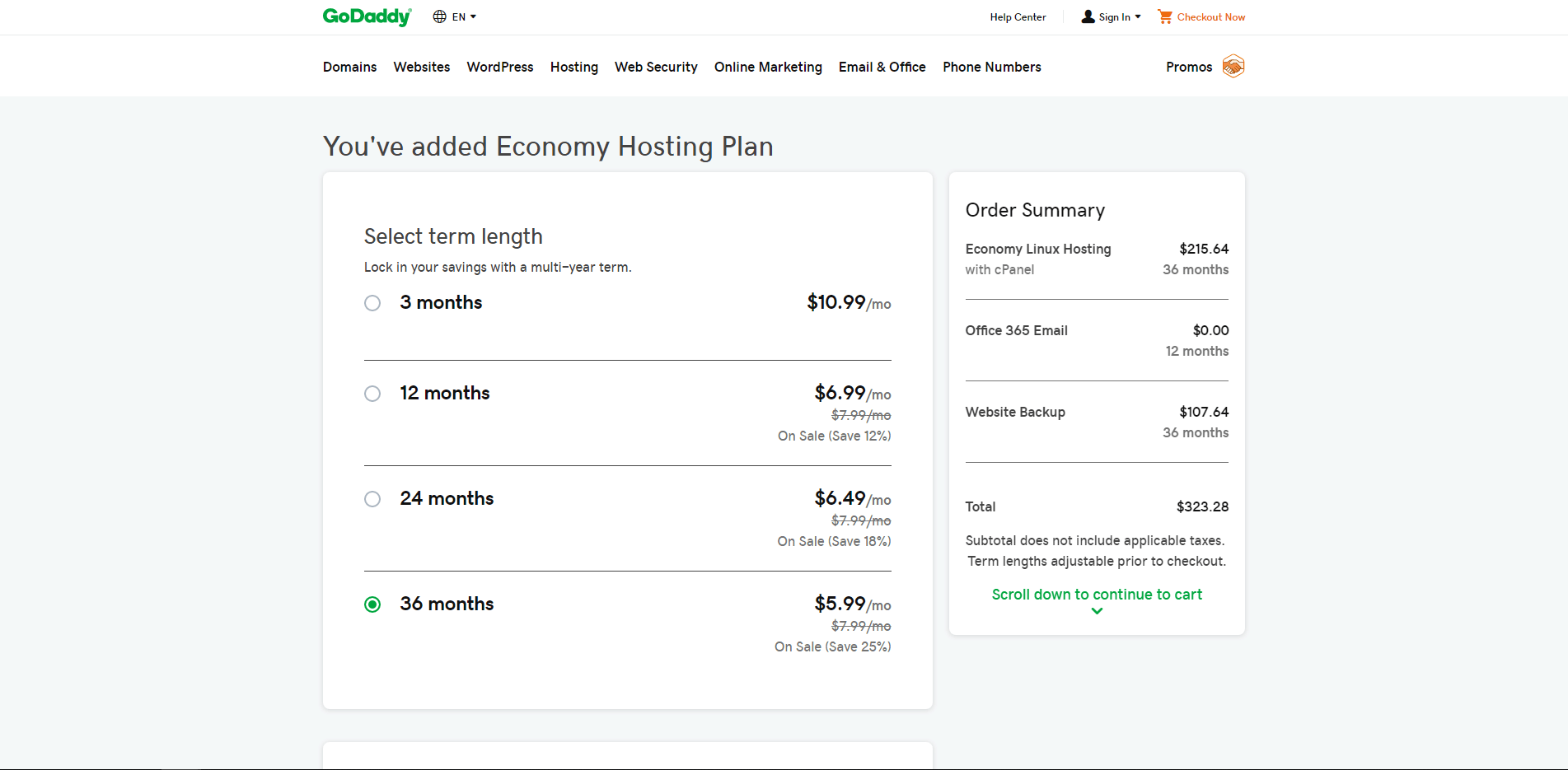 I wish one of them would have taken the high road, but the way things are, Hostgator is the lesser evil and our winner. Don't forget to pay close attention and remove the features you don't need.
Hostgator Includes a Website Builder in All Hosting Plans, GoDaddy Requires You to Purchase It Separately
I learned to double-click before I learned to walk, which is probably why I like using WordPress for my websites. Still, that's not the right choice for everybody. A billion customization options and the chance to mess around with code are great, but website builders are easier.
Good website builders enable anybody to build an awesome website. They come ready with templates and themes, and you can just plug your content in them. Drag a text box here, drop an image there, and your professional website is ready to go.
Hostgator provides its proprietary builder, Gator, with all hosting plans. GoDaddy has its own builder, GoCentral, but it's only available in "website builder" plans. GoDaddy also has a WordPress builder, but that's provided only in the managed WordPress plans.
GoCentral is really easy to use: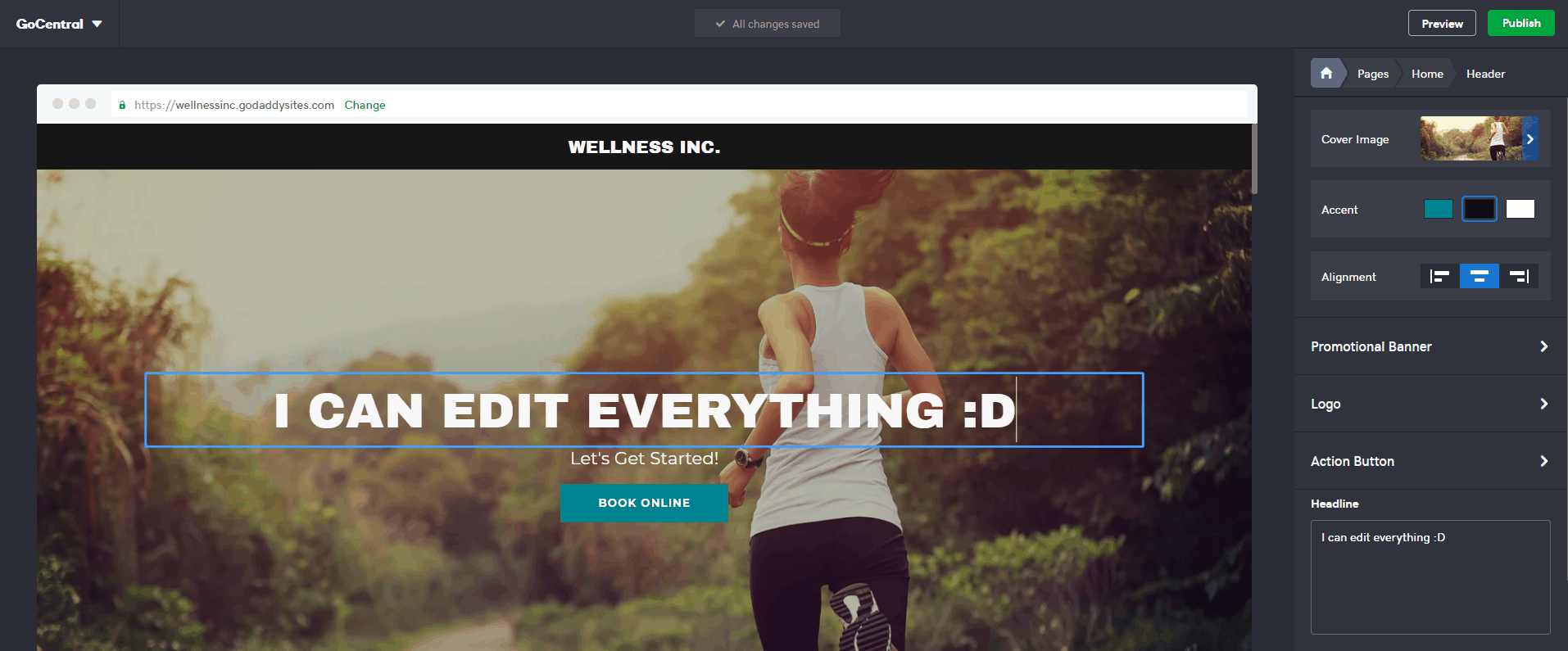 If you'd like to learn more about GoCentral, read our in-depth review.
This means that with Hostgator, you can use the same plan to build a website either with the website builder, or with WordPress or another CMS. With GoDaddy, you have to choose which plan you want from the beginning. There's no going back to using GoCentral if you chose the regular hosting.
In terms of their features, Gator and GoCentral are tied. They both have a nice selection of templates for businesses, blogs, and even e-commerce stores, and both implement drag-and-drop functionality.
GoDaddy's WordPress builder, Quick Start, is probably one of the quickest and most efficient tools around to get a WordPress site going. You'll have your choice of 10 professionally designed themes, which you can then customize freely.
While a WordPress builder scores GoDaddy some extra points, as any site built with WordPress can be easily migrated down the line, the winner here is Hostgator. Website builders should be included with hosting, not purchased separately.
If you're still not sure if HostGator is the right choice for you, read our expert review.
Hostgator Outsources Support, While GoDaddy Constructed a Beauractical Nightmare
As web hosts grow and amass customers, delivering quality support can get real tricky. It's all fun and games when you have a few dozen customer requests, but how do you actively support thousands at a time?
There are two easy ways to go about it. You either outsource your support somewhere far away where manpower is cheaper, or you just make the experience so frustrating that your customers will give up.
There is a third option, which it to put time, money, and effort into crafting a state-of-the-art support service. But that's just not the case here.
Hostgator was bought by hosting conglomerate EIG, a company notoriously known for caring mostly about the bottom line. As part of the "business optimization" that ensued, most of the technical support was outsourced.
Tech agents from India can be no less than phenomenal, but that's not the case with Hostgator. They are slow to respond, have poor command over the technical issues, and generally work off ready made answer sheets. Expect a disappointing experience.
Hostgator told me that loading times in Japan will be alright, all thanks to the magic of SSD. SSD is great (and also the standard for drives in 2019), but it doesn't make the trip from the U.S. to Japan any shorter.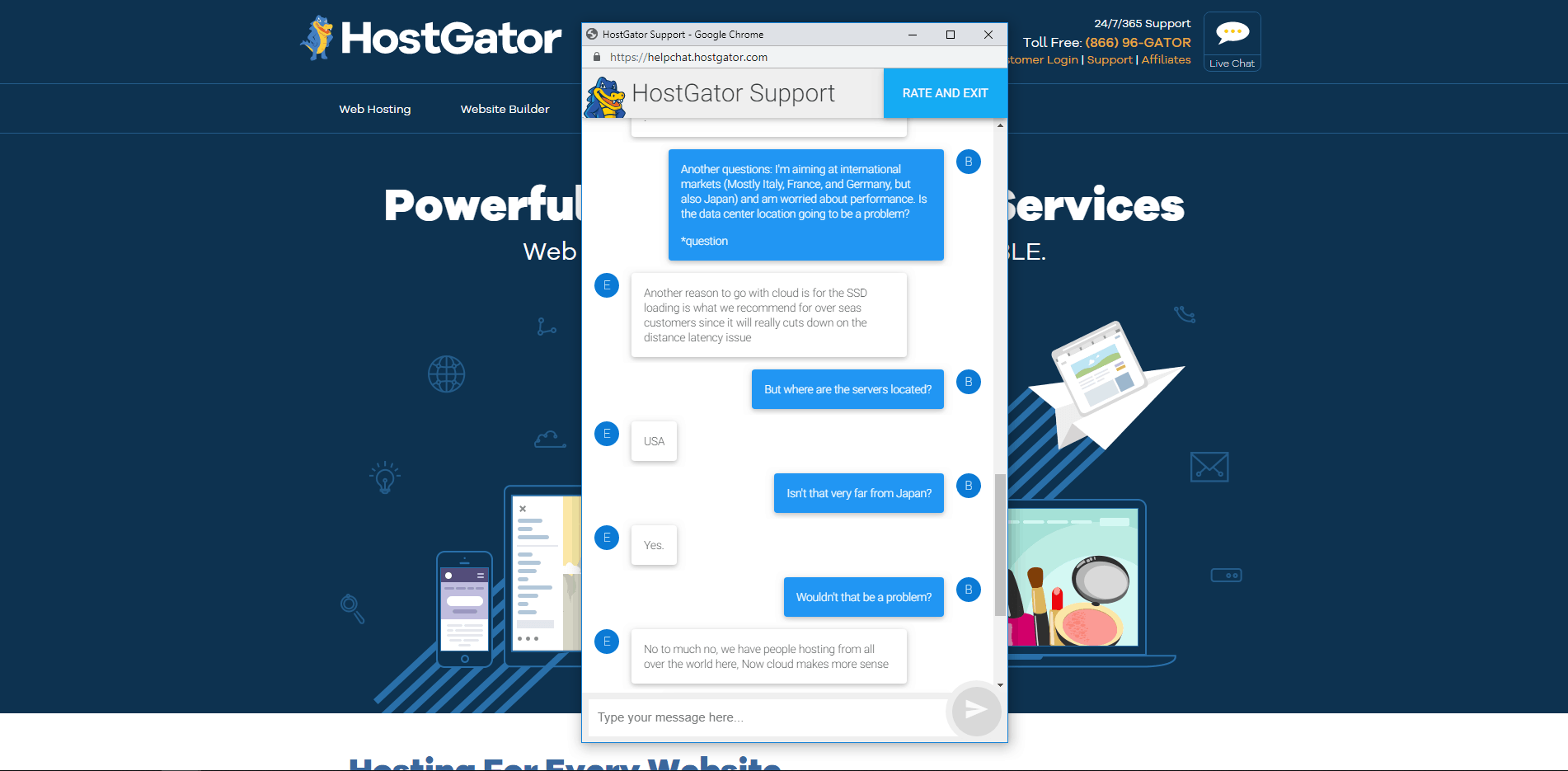 GoDaddy restructured its support into tiers. There's tier 1, the representatives you talk with first, then tier 2, who are somewhat better versed in the technical issues, and tier 3, which are supposedly the real pros.
While this system can theoretically work pretty well, in practice it's a real bummer. Tier 1 agents know almost nothing, and do their best to "resolve" issues without letting you speak with an expert. It's slow, it's inefficient, and it certainly isn't helpful.
Both companies provide 24/7/365 support through live chat, phone, and email, but it really doesn't mean much. It's not high quality support (calling GoDaddy chat support "premium" doesn't make it any better), and I hope you'll never have to use it.
GoDaddy is here to help 24/7. Just, you know, not now.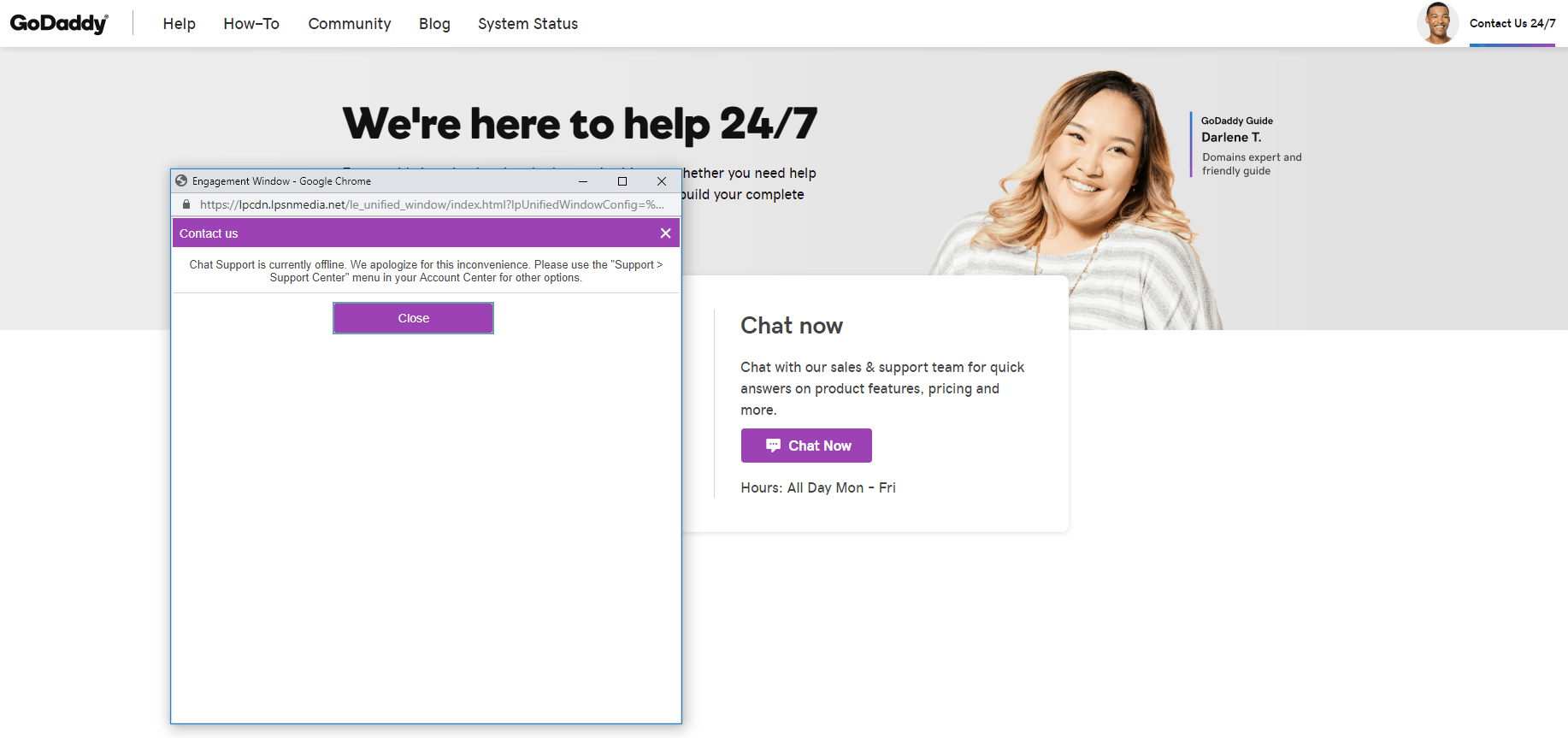 If you're more of an independent problem solver, you'll actually find that both hosts operate a fairly detailed knowledge base. It's messy, and it might require you to do some digging, but I found some quality support materials hiding in there.
Who's the winner here? Not you, I'll tell you that. Let's call it a tie.
Hostgator Wins in the U.S., GoDaddy Takes Home the World Cup
As you can probably tell by now, this is no clash of the titans. These two companies rocked and then some around 15 years ago, but today – not so much. There are worse hosts, sure, but there are just so many better ones.
And still, we need to choose a winner. Society demands it. The pricing structure is similar (medium prices at first, expensive renewals), and both services are easy to use, so it really comes down to performance.
For websites aimed at U.S. visitors, go with Hostgator. For international websites, choose GoDaddy.
Honestly though, the internet is vast and filled with such wonderful options. Do consider alternatives like Hostinger, Flywheel, or InMotion Hosting before making your final decision.
| | | |
| --- | --- | --- |
| | GoDaddy | Hostgator |
| Resources | Unmetered bandwidth and 100GB of disk space on the basic plan, great for small to medium websites | Unmetered bandwidth and disk space, but a bad reputation for shutting down websites for spikes in traffic |
| Performance | Great loading speeds worldwide, 99.9% uptime – but no real guarantee | Great speeds in the U.S., much less so in the international markets. 99.9% uptime with an honest guarantee to support it |
| Upsell attempts | Many upsell attempt. Some are automatically checked at checkout. "Free" services that become expensive services | Many upsell attempt. Some are automatically checked at checkout. At least an SSL is included for free |
| Web builders | GoCentral web builder + Quick Start builder for WordPress. Each available only in specific plans, and not in simple hosting plans | Gator web builder available with all hosting plans |
| Support | 24/7/365 support divided in tiers. First tier is filled with inexperienced personal that makes it very hard to reach the second tier. | 24/7/365 support that's mostly outsourced to India. Agents have poor technical abilities and will not be of much help |