An American giant versus a small operation in the North of England – GoDaddy vs Heart Internet reads like a David vs Goliath battle. And although
GoDaddy has a bigger budget and name recognition, some of its customers are beginning to look elsewhere for their hosting needs.
Heart Internet is one of the alternatives that might be attractive to customers in the UK. Having won awards for its hosting in the mid-2010s,
Heart Internet seems to be stagnating.
 All plans include a decent selection of features, but
anything that would add competitive value to these plans will cost you extra
. It's a close battle, but
GoDaddy offers similar features at a more affordable price
. Heart Internet doesn't give customers anything groundbreaking, yet it costs more.
Click here to see GoDaddy's latest deals
,
 or read on to get further details.
Plans and Pricing
GoDaddy Is Cheaper Overall, but Both Hosts Have Significant Renewal Fees
GoDaddy offers shared, WordPress-specific, business-specific, VPS, and dedicated server hosting. Unlike specialized providers,
it covers a lot of bases, which may be attractive if you want to upgrade your plan in the future without having to jump to another provider.
GoDaddy offers both budget and premium plans. The
shared Economy plan
 is well-suited to bargain-hunters. But watch out for the renewal fees on all of GoDaddy's plans –
you could see the cost double after the initial offer.
GoDaddy Hosting Web Hosting
A free domain name is included with some hosting plans from GoDaddy Hosting
Offering four hosting categories – shared, WordPress-specific, VPS and dedicated servers – Heart Internet is also casting a wide net.
Like GoDaddy, it is offering fairly basic options – but at slightly higher prices.
A word of warning to non-UK customers –
VAT is added to all Heart Internet plans
. This means that all
markups for price will actually be 20% higher at checkout
. This is also true for GoDaddy's UK customers, of course.
Heart Internet Web Hosting
Both providers offer similar plans across the board, but
the slightly lower prices give GoDaddy the edge here.
Features
Similar Feature Sets, but GoDaddy Comes Out Slightly Ahead
GoDaddy's features are very standard
. They aren't top-of-the-range, but they are enough to get you started. For example,
cPanel and Installatron make setting up and managing WordPress easy,
but most hosting providers offer similar options. On the shared plans, GoDaddy matches Heart Internet's storage options, with 100GB of storage space on the basic plan and unlimited storage on the rest, but
Heart Internet clearly indicates that it offers SSD-based storage.
Getting a free domain name for the entire duration of GoDaddy's annual or longer plans is really handy, but the two most basic plans lack an SSL certificate.
Its biggest sin, however, is the lack of free email past the first year on all of its hosting packages.
Heart Internet isn't perfect either. Like GoDaddy, a free SSL certificate isn't included with its two most basic plans. And
unfortunately, unlike GoDaddy, there are limits on the number of websites allowed with every package it offers, whereas aside from its single-site entry-level plan, GoDaddy's shared plans support an unlimited number.
 Also take note: the "free domain name" Heart Internet offers is only free for the first year. Despite Heart Internet offering free email accounts and a competitive feature set overall,
GoDaddy wins this category due to its free domain names and much more generous website allocations.
GoDaddy
Heart Internet
Hosting Types
Shared, WordPress, VPS, Reseller, Dedicated
Shared, WordPress, VPS, Dedicated
Free Domain

✔

 (with long-term plans)

✔

 (first year only)
Free SSL Certificate

✔

 (except with basic shared plans)

✔

 (except with basic shared plans)
Disk Space
30GB – Unlimited
30GB – Unlimited
Bandwidth
From 25,000 visitors – Unlimited
From 25,000 visitors – Unlimited
Automatic Backups

✔

✔

Control Panel
cPanel
cPanel
Email Accounts
1-year trial only
Unlimited
Free CDN

✘

✘

Money-Back Guarantee
30 days
30 days
Performance
GoDaddy Is Good, but Unreliable – Heart Internet Is Always Speedy
Heart Internet's performance is superb,
but is it good enough to beat GoDaddy? We conducted a
long-term test
, and with pages loading in 0.9 seconds, the answer is
yes.
 Google recommends that websites take no longer than 2 seconds to load, so in cutting that time in half Heart Internet is clearly doing something right.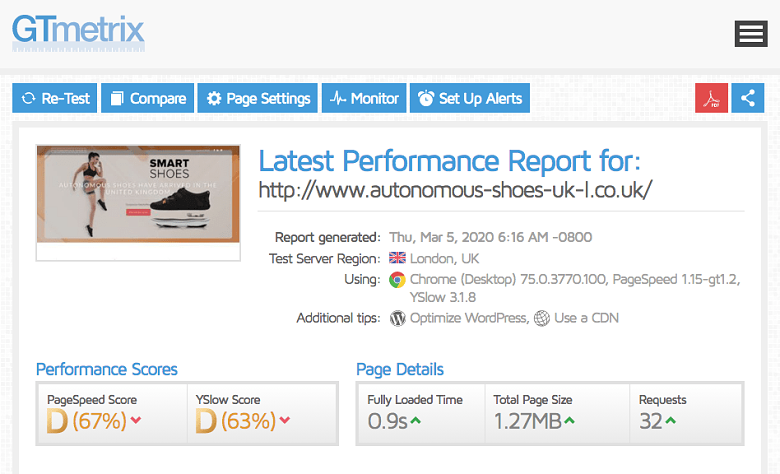 GoDaddy's performance tests turned up less impressive results.
Its
WordPress plans performed better
than the shared plans, but
the loading times were quite swingy.
 With my results falling between 1.1 seconds (great) and 3.2 seconds (concerning), there is definitely room for improvement. Your pages may usually load in under 2 seconds, but prepare for a few hiccups.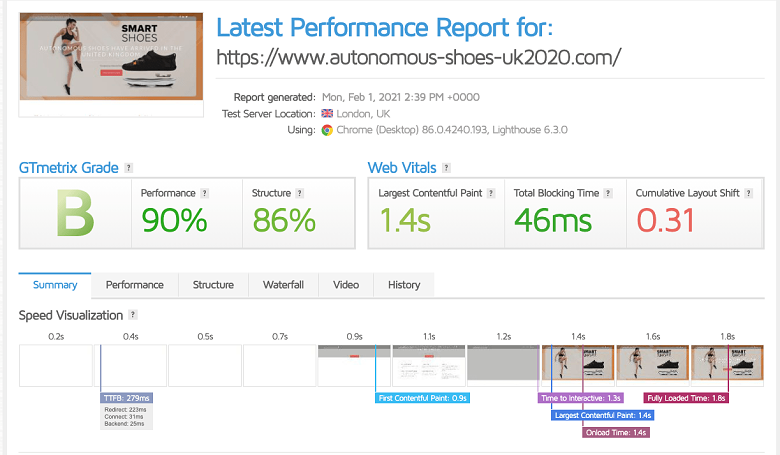 Heart Internet is stronger in terms of pure performance
 – it's faster and more consistent. GoDaddy is speedy too, but the high-performance loading times you're promised might not come when you need them.
Security
Both Providers' Security Features Underwhelm, Unless You Pay More
GoDaddy's included security features don't impress me much. It offers general network security and DDoS protection as standard with shared plans, but the first paid add-on offered when you click through to buy a lower-tier plan is a security suite. On the other hand,
free SSL, malware scanning and removal, and daily backups are included with all the WordPress packages. 
So, one way or another, upgrading is a recommended option if you want top-level security with GoDaddy.
Similarly, aside from general server security,
Heart Internet doesn't include any security features with its two most basic shared plans
, though free SSL, daily malware scans, and daily backups are included with all its WordPress plans.
There are paid extras available
 (malware removal, IP blacklisting, a WAF), but these could easily double the price of your hosting.
GoDaddy and Heart Internet offer the usual automatic WordPress core and plugin updates
 with their WordPress plans as well.
Both providers are playing the same game: offering server-level basics with their cheaper plans, but offering better features to people willing to upgrade.
 This would be a tie, but GoDaddy's included security options come with marginally lower fees, and Heart Internet's upgrades are more expensive.
Support
GoDaddy Is More Responsive, But Heart Internet Gives You More Helpful Answers
Heart Internet offers standard support for a local provider
 — live chat (9-5 GMT) and phone support (9-7 GMT) during business hours. For Americans and Australians thinking about a GoDaddy alternative, this could cause real issues if you like to sleep. Fortunately
it offers a 24/7 ticketing system as well, and while the chat service can be pretty slow
,
the team that responds to tickets is helpful and knowledgeable
.
Support is my biggest area of concern with GoDaddy
. Although 24/7 chat and phone support were offered, I encountered a delayed response from the support team when I tested their service. Live chat operates at irregular intervals, and it is evident that the team is outsourced.
Heart Internet's support is fine for people living in the UK or a nearby timezone.
 GoDaddy isn't the best in class for support, but it will serve American and Australian customers better than Heart Internet will.
GoDaddy vs Heart Internet: Did David Best Goliath?
Heart Internet should offer a little more for its slightly higher initial fees.
 GoDaddy doesn't represent the gold standard of hosting providers, but it does offer useful features at affordable rates, especially on its WordPress plans. If you're only serving clients in the North of England, Heart Internet's local servers might be an attractive option.
But overall, if you want similar features at a lower price, you should go with GoDaddy.
Plans and Pricing
Cheaper at the checkout, but renewal costs are steep
Similar features, but slightly higher prices overall
Key Features
Most of the standard features, but missing free email accounts
A basic suite of features, especially considering the price
Performance
Variable, but below 2 seconds most of the time
Fast speeds that are pretty consistent
Security
Server-level security, free SSL with most plans, and DDoS attack protection
Features very similar to GoDaddy, but at a slightly higher price
Support
24/7 chat, phone, and ticketing, and although availability is suspect, can serve all timezones
Live chat and phone support available during GMT business hours, with very good 24/7 ticket support
FAQ
Is GoDaddy the best host?
Although GoDaddy won this battle, the competition for the best hosting service isn't straightforward. Other companies offer the same as GoDaddy (and even more!) at lower prices. We ran extensive tests on all the major hosting providers to find the best available. Check out our 10 best web hosting services in 2023.
Does GoDaddy offer WordPress hosting?
GoDaddy offers a wide range of WordPress-compatible hosting plans. Its shared plans are enough to run WordPress sites, but you'll get better value out of its WordPress plans, including a WooCommerce-optimized package if you're so inclined. For developers and resellers, it also offers WordPress Pro plans for 5+ sites. However, GoDaddy did not make our list of the 5 best WordPress hosting services in 2023.
Is GoDaddy reliable?
Although GoDaddy's loading times can be a bit swingy, its WordPress plans offered reliable performance in our tests. If you're interested, find out how we test web hosting performance.
Does GoDaddy use SSDs?
Not with all plans. VPS plans include SSD storage, and dedicated servers come with a choice of RAID-configured HDD or SSD, but it doesn't appear to be available on any of the shared or WordPress plans. If you need good quality SSD-based hosting, but are on a limited budget, you may want to try Hostinger's shared plans.