Fasthosts did better than GoDaddy overall, but just barely.
You can save yourself some time by opting for hosting from Hostinger, a provider with far superior performance and even more attractive prices.
 Hostinger actually has a UK data center, so you can further speed up your website by hosting it nearer to your audience.
Click here to see Fasthosts' best plans,
or keep reading to find out why I don't really recommend either GoDaddy or Fasthosts.
1. Plans and Pricing
Fasthosts Gives You More for Roughly the Same Price
Both hosts offer a wide range of services, from domain registration and shared hosting to managed WordPress, VPS, and dedicated servers. For entry-level shared hosting, Fasthosts and GoDaddy have very similar prices.
GoDaddy gives you more storage space per plan – but Fasthosts is not only fairly generous with its other resources, it gives you more freebies too!
For example, Fasthosts includes free email hosting and a basic SEO toolkit even on its cheapest plan.
 GoDaddy gives you a free premium email account for just one year, and its SEO tools are only available for an extra fee. That said, neither host offers a free SSL certificate with its entry-level plan –  which is unacceptable now that there are totally free SSL certificates available from Let's Encrypt.
GoDaddy Hosting Web Hosting
A free domain name is included with some hosting plans from GoDaddy Hosting
GoDaddy Hosting WordPress Hosting
A free domain name is included with some hosting plans from GoDaddy Hosting
As for WordPress hosting, Fasthosts offers a single plan with one website, 10GB of SSD storage, unmetered bandwidth, and the possibility to add more websites and storage for an advantageous price. However, Fasthosts' WordPress hosting is more expensive than GoDaddy's.
GoDaddy offers a free SSL for the entire duration of every WordPress plan, 
while with Fasthosts' the SSL certificate included is only free for the first year. But
Fasthosts does give you free email accounts, built-in caching, and several preinstalled performance and security plugins.
 None of these features are available (let alone free) with any of GoDaddy's WordPress plans. Fasthosts is the winner in this round, but it still wouldn't be my first choice.
Hostinger is cheaper, better value, and more reliable, too
.
2. Features
Fasthosts Has Some Advanced Features, while GoDaddy Barely Covers the Basics
I wouldn't say that either of these two hosts' plans are jam-packed with features, but Fasthosts does have a slight advantage.
For example, it's one of the few providers I've tested that offer load balancing on shared hosting.
 Load balancers are activated, traffic to your website is spread across multiple servers to boost performance and stability.
Also, Fasthosts has a proprietary control panel that is better organized and easier to use than cPanel.
 Most of the same functionality is available, including a one-click installer for WordPress and dozens of other popular apps.
Meanwhile, GoDaddy's dashboard is clunky and filled with add-ons that may not actually be available on your plan without a fee.
 I'm not a big fan of upselling, so I found this very annoying. Fasthosts only offers a free domain name for a year if you buy at least one year of hosting, whereas GoDaddy offers a domain for the entirety of your plan. Still, only Fasthosts offers free email hosting that stays free. Here's a quick breakdown of the two hosts' most important features:
| | | |
| --- | --- | --- |
| Feature | GoDaddy | Fasthosts |
| Hosting Type | Shared, WordPress, VPS, dedicated servers | Shared, WordPress, VPS, cloud, dedicated servers |
| Free Domain | Yes | Yes, for one year |
| Free SSL Certificate | Yes (on Ultimate and Maximum) | Yes, for one year (on all plans except Ignite) |
| Disk Space | 100GB on Economy, unlimited on better plans | 10GB to 120GB |
| Bandwidth | Unmetered | Unmetered |
| Automatic Backups | No | No |
| Control Panel | cPanel | Proprietary |
| Email Accounts | 1 (free trial for the first year) | 1 to 1090 (always free) |
| Free CDN | No | No |
| Load Balancers | No | Yes |
| Free Site Migration | No | No |
| Money-Back Guarantee | 30 days | 30 days |
3. Performance
Fasthosts Is Faster than GoDaddy, but It Has One Major Flaw
Fasthosts has several data centers, all UK-based.
 Meanwhile, GoDaddy claims to have data centers in North America, Europe, and Asia, but customer support refuses to provide their exact locations, so there's no way to know just how far they are from the UK.
What I do know is that GoDaddy is one of the few major hosts that continue to use older HDD storage, rather than faster SSDs.
 Nor does GoDaddy offer any of the usual speed boosters such as built-in caching or a CDN (content delivery network), unless you opt for a WordPress hosting plan, which also includes load balancing.
Fasthosts uses SSD storage alongside load balancing on all its plans.
 It doesn't have an integrated CDN, but if you opt for WordPress hosting, you do get some caching plugins set up for you. When I tested both hosts using GTMetrix, Fasthosts did significantly better with an average page loading speed of under 1.5 seconds.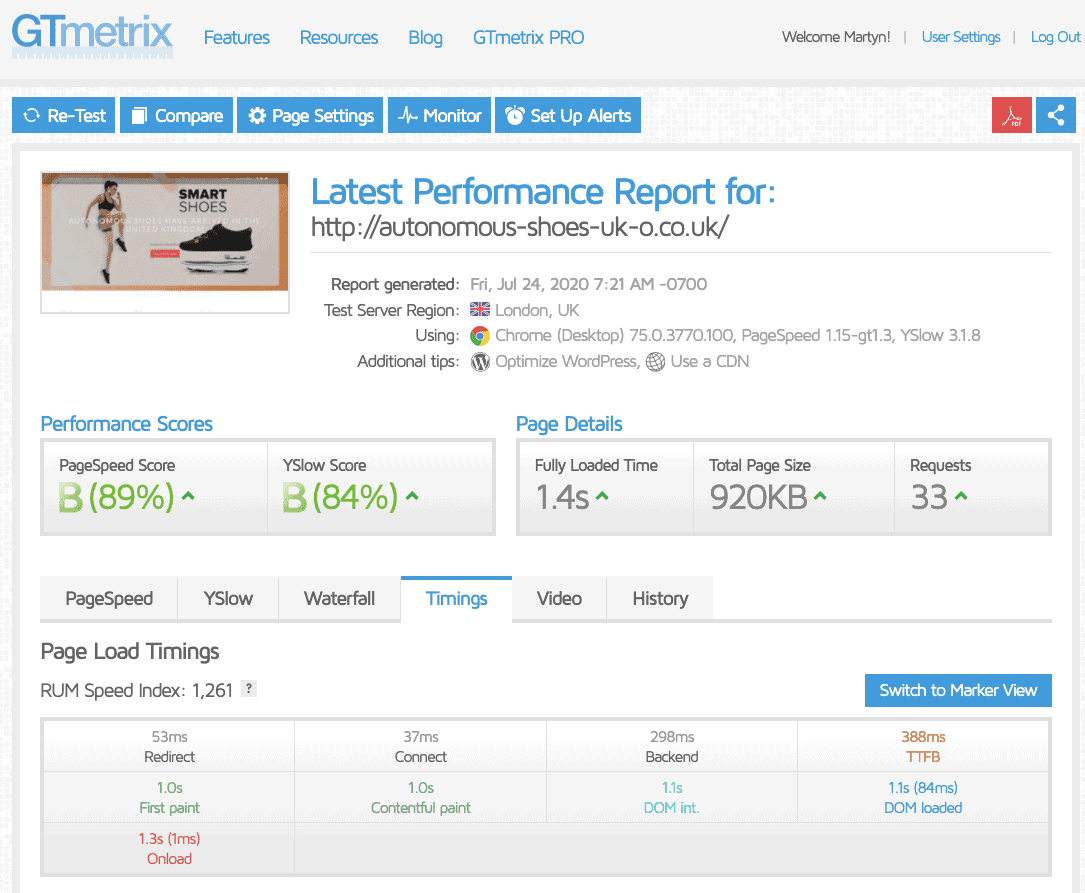 On the other hand, GoDaddy got a measly average of 2.94 seconds – worse than I expected. Even its best score was bad.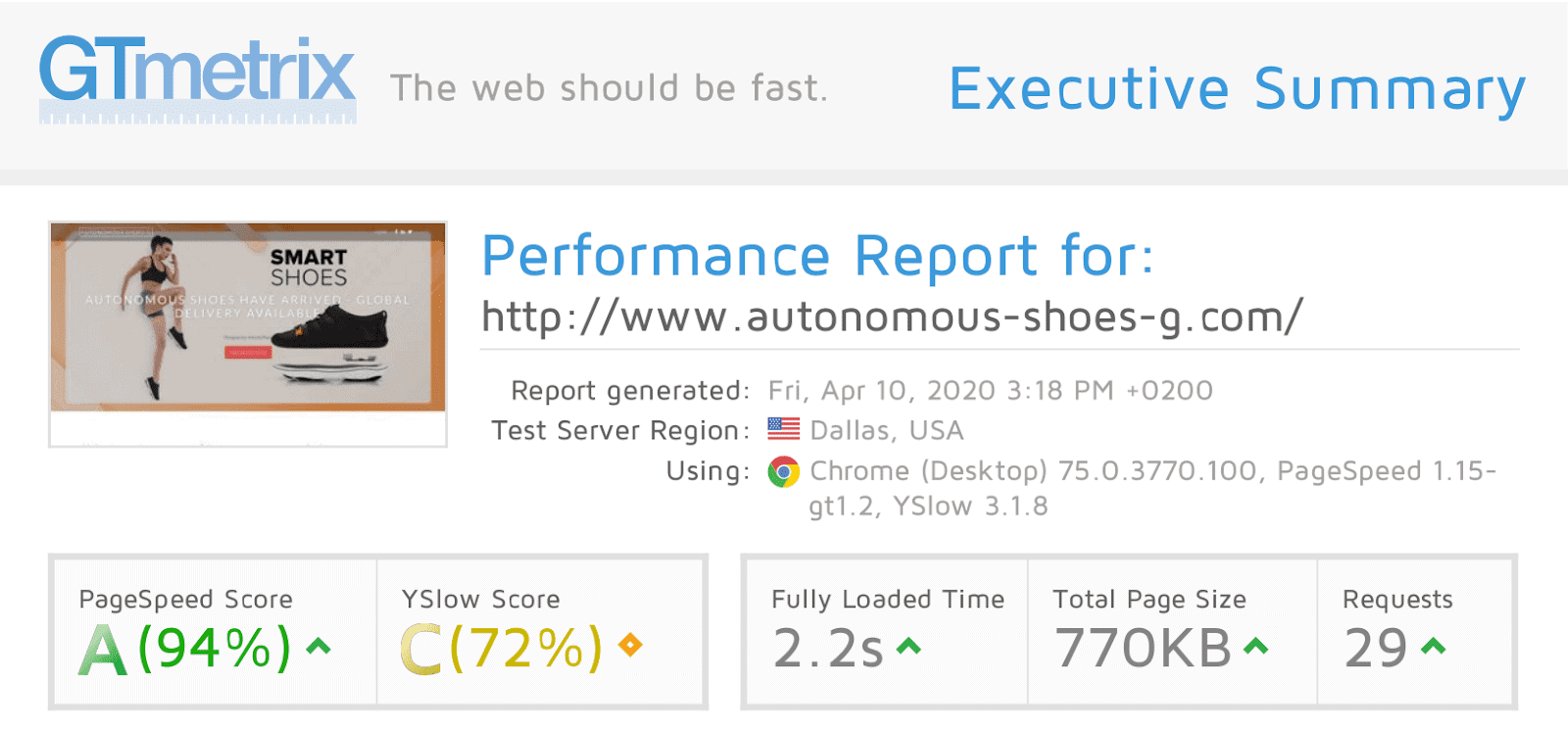 Unfortunately, my recorded uptime with Fasthosts was absolutely shocking, and not in a good way.
Over a period of six months, I got an average of 88.45% uptime.
To find out more, head over to
our in-depth Fasthosts review
.
GoDaddy did better in terms of uptime, with an average of 99.974% over four months.
You'll find all the details
in our expert GoDaddy review
. For speed, Fasthosts is better than GoDaddy, but its appalling uptime score is a problem that's difficult to ignore. Likewise, GoDaddy's performance is mediocre at best – so for performance, neither wins. You're much better off choosing a fast and reliable host like Hostinger.
4. Security
Neither GoDaddy nor Fasthosts Will Secure Your Site for Free
Both hosts monitor their servers 24/7 and have built-in DDoS protection, but that's about it.
SSL certificates are only included in some plans.
 For example, GoDaddy gives you a free SSL certificate for one year on the Ultimate plan, and unlimited SSL certificates on Maximum. Meanwhile, Fasthosts has free SSL certificates for one year on its Momentum and Ultimate plans. However, once the first year is up, keeping your website padlock-protected will cost you a pretty sum. As I've already mentioned, GoDaddy's free SSL certificates on WordPress plans are not limited to one year. Plus, with WordPress plans, backups are included – and
GoDaddy lets you buy automatic backups as an add-on with non-WordPress plans, whereas with Fasthosts, this isn't even an option.
GoDaddy just scrapes ahead of Fasthosts in this round, thanks to the more generous features included with its WordPress plans.
5. Support
GoDaddy's Customer Support Is a Complete Disaster Compared to Fasthosts
GoDaddy claims to have 24/7 customer support through live chat and phone, but in my experience it can take a long time for an agent to become available.
When I did get to chat with a representative, I usually ended up even more confused.
 Take, for example, the way this agent attempts to explain the difference between two GoDaddy plans: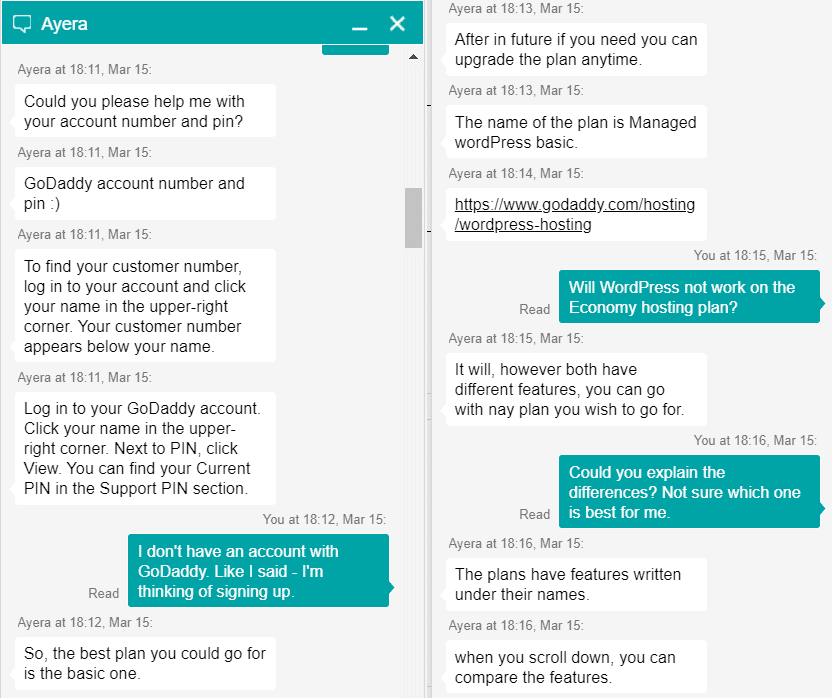 With Fasthosts, I had an entirely different experience. Phone and ticket support is available 24/7, and you can get in touch through live chat during working hours.
I never had to wait too long for a response, and the agents were knowledgeable and polite.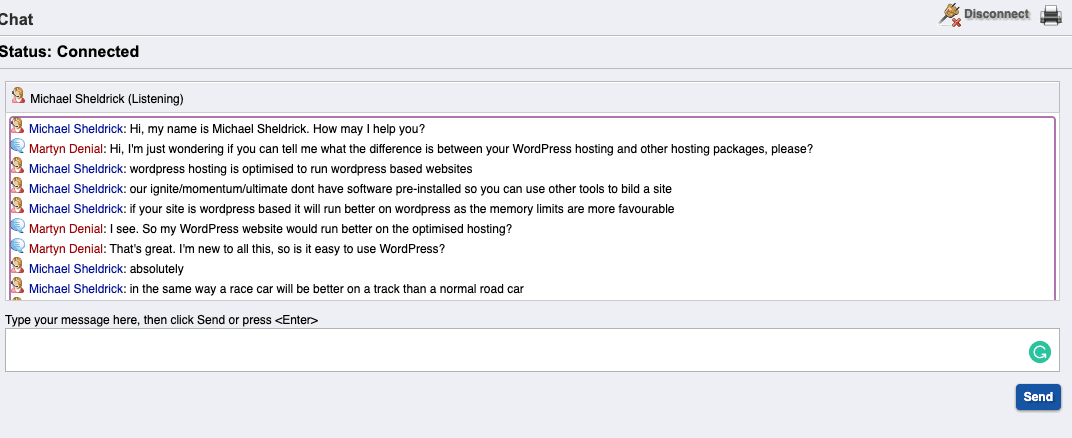 Both hosts have extensive knowledge bases with lots of tutorials, but Fasthosts is clearly in the lead here thanks to its expert support.
Fasthosts Is Better than GoDaddy, but It Has Its Own Major Issues
For approximately the same price, Fasthosts gives you superior speed, more features, and significantly better customer support compared to GoDaddy.
 As far as I'm concerned, that makes it the winner of this GoDaddy vs Fasthosts comparison.
However, I wouldn't use either of these two hosts for my website.
 Fasthosts might be slightly better than GoDaddy, but I can't ignore its ghastly uptime or lack of SSL past a single year.
Hostinger is cheaper, faster, and more reliable than both GoDaddy and Fasthosts.
 That's why it's sitting pretty at the top of our list of
the best web hosting services
.
Plans and Pricing
Slightly cheaper than Fasthosts on most plans, but has fewer features
A bit more expensive than GoDaddy, but you get better value for money
Features
Generous storage, free domain name, lots of paid add-ons available
Free domain name, free email, SEO tools, simpler dashboard
Performance
HDD storage, three data centers, subpar speed, good uptime
SSD storage, load balancers, good speed in the UK, terrible uptime
Security
DDoS protection, SSL certificate on some plans
DDoS protection, SSL certificate for a single year on some plans
Support
24/7 support via live chat and phone; extensive knowledge base
24/7 support via tickets and phone, live chat during working hours; extensive knowledge base
FAQ
Which is better, GoDaddy or Fasthosts?
According to my tests, Fasthosts delivers better performance and superior customer support compared to GoDaddy. It also gives you more features, including several free mailboxes per account, a basic SEO toolkit, SSD storage, and load balancing. All for roughly the same price. Unfortunately, Fasthosts registered terrible uptime during my tests. In one month, my website was up only 32.985% of the time, which is absolutely appalling. Fasthosts does provide compensation for excessive downtime, but it comes in the form of credits and it can't exceed the cost of your plan. In other words, it's not really worth it when your website is offline for 20 consecutive days. You're much better with a low-cost, high-performance host like A2 Hosting or Hostinger. If you want a host that is fast and reliable, take a look at our list of the best web hosting services.
Is GoDaddy reliable?
Sort of. GoDaddy has decent uptime, but its performance is otherwise very disappointing. On GTMetrix, I got an average page loading speed of 2.94 seconds, which is slower than most hosts I've tested. One of the most reliable hosts on our list of the best web hosting services is Hostinger (which is also better value than GoDaddy). A2 Hosting is also a great-value host that has a good uptime history and offers more features for free compared to GoDaddy.
Does Fasthosts offer WordPress hosting?
Yes, Fasthosts does have a WordPress plan, but it only includes one website and 10GB of space. You can add more websites for an extra fee, but in terms of WordPress features, the plan is fairly mediocre. For better alternatives, head over to our list of the best WordPress hosting services. There are options there for all kinds of budgets, and some specialist WordPress-only hosts like Kinsta.
Does GoDaddy offer a free domain?
Yes, GoDaddy gives you a free domain name for the duration of all one-, two-, or three-year plans. However, renewals are costly, so it makes more sense to get your domain name from a reasonably-priced provider like Namecheap.