The truth is that GoDaddy's poor performance and meager value made room for small, local hosts like BigRock.
Don't get me wrong, EIG-owned BigRock isn't amazing either. However, compared to GoDaddy, anything is bound to look better. I've compared BigRock and GoDaddy based on five different aspects of their services.
While BigRock was the ultimate winner here, it also had issues of its own.
For instance, BigRock is missing essential features like SSL certificates, which you have to buy as add-ons to secure your website. If I had to choose, I wouldn't go with either of these hosts. I'd go with Hostinger, which gives you superior performance and more features for the same price.
Click here to see Hostinger's latest deals
, or read on for the full story.
1. Plans and Pricing
BigRock Offers Good Value, while GoDaddy Is Just Expensive
These two web hosts offer a variety of hosting types, from specialized WordPress plans to high-performing Virtual Private Servers (VPS) and more or less affordable shared hosting.
Overall, BigRock's shared hosting plans are not only cheaper than GoDaddy's, but they also pack in more value.
 GoDaddy claims to have the cheapest domains and hosting, but the company is basically all talk and no game. Let's see what the plans actually include. For a single website on shared hosting, BigRock's Advanced plan offers similar features to
GoDaddy's Economy plan
. While both come with unmetered bandwidth, GoDaddy gives you 100GB of storage and just one email account (which is actually a one-year free trial of Office 365), while
BigRock has unlimited storage and email accounts for a significantly lower price.
If you want unlimited shared resources on GoDaddy, you have to sign up for its Deluxe plan, which is about twice the price of BigRock's Advanced, even on a three-year term.
One advantage GoDaddy has over BigRock is that it offers a free domain name for one year on all of its plans.
 To benefit from this freebie, you have to sign up for at least one year of hosting, which is standard practice. That said, it's a small victory considering how much money you can save with BigRock in the long run.
GoDaddy Hosting Web Hosting
A free domain name is included with some hosting plans from GoDaddy Hosting
Surprisingly, GoDaddy offers a slightly better deal for VPS hosting.
 A 4 vCPU, 8GB RAM, 200GB SSD configuration on GoDaddy costs as much as a similar setup on BigRock, with the difference being that BigRock has just 120GB of storage and 2TB bandwidth. GoDaddy allows for unlimited traffic. Keep in mind that neither host includes a control panel, so you'll have to factor in the extra costs if you go with a paid option like
cPanel or Plesk
. For anyone tempted to go for the highly affordable entry-level VPS on GoDaddy, make sure you know your way around a Linux terminal, because that's what you'll be using to manage your hosting environment. You don't even have the option to directly purchase a panel on this plan.
Both BigRock and GoDaddy have a 30-day money-back guarantee.
 But if you opt for GoDaddy, make sure you pay attention to the length of your contract. If you bought less than a year of hosting, the refund period scales down from 30 days to 48 hours.
2. Features
GoDaddy's Best Features Cost Extra
If you're trying to find out whether GoDaddy or BigRock is best in terms of features, know there's no true winner here.
Aside from offering more resources than GoDaddy's Economy shared hosting plan, BigRock's Advanced plan includes advanced caching (which I'll expand upon in the Performance section) and the Roundcube email client. The two hosts come with cPanel by default, but the software for auto-installations is different. Why should you care? Well, this is the plugin you'll be using to one-click install your favorite content management systems (including WordPress, Drupal, and Joomla). Without it, you have to install scripts the nerdy way.
BigRock uses Softaculous, while GoDaddy has Installatron.
Installatron isn't bad, but it does have fewer options than Softaculous, which currently includes over 400 scripts and continues to expand.
Another pro for GoDaddy are its add-on services.
Using its platform, you can purchase a website builder, SEO and/or digital marketing tools, and even premium WordPress support. It's a good way to keep tabs on all of your hosting services in one dashboard, but it'll cost you. Hostinger has far more features, even on its entry-level plan. These include automatic backups, dedicated WordPress caching, and an account access manager (see our
in-depth Hostinger review
for a full list of features). By comparison, both GoDaddy and BigRock are underwhelming.
| | | |
| --- | --- | --- |
| Feature | GoDaddy | BigRock |
| Hosting Type | Shared, WordPress, VPS, Dedicated Servers, Reseller | Shared, WordPress, Cloud, VPS, Dedicated Servers, Reseller |
| Free Domain | On prepaid annual plans | No |
| Free SSL Certificate | On higher-tier plans | No |
| Disk Space | 30GB to unlimited on all other plans | 10GB on Starter, unlimited on all other plans |
| Bandwidth | Unmetered | Unmetered |
| Automatic Backups | No | No |
| Control Panel | cPanel | cPanel |
| Email Accounts | 1 free address for the first year, paid-for afterwards | Unlimited |
| Free CDN | No | No |
| Free Site Migration | No | No |
| Money-Back Guarantee | 30 days, on annual plans; 48 hours on shorter plans | 30 days |
3. Performance
BigRock Is Good, while GoDaddy Is… Not
BigRock is a good option if you're hosting a website for visitors in the Asia-Pacific region, while GoDaddy is never a good option.
Neither BigRock nor GoDaddy includes SSD storage on shared plans.
Between the traditional Apache software, the lack of a content delivery network (CDN), and the scarce data center coverage, the list of drawbacks keeps on growing with both hosts. BigRock can host your website in either India or the US, while GoDaddy generically mentions Europe, Asia, and North America. I wish they'd narrow it down a bit. Between Lisbon and Moscow, Europe isn't that small of a place and neither are the other two regions.
As I mentioned already, an important advantage for BigRock is the fact that all of its Linux plans come with Varnish caching pre-activated.
This is a pro move on the part of the EIG-owned host (one you'll notice in companies like HostGator and FatCow as well), because Varnish greatly improves page loading speeds. Just take a look at the results I got for BigRock on a Sucuri test: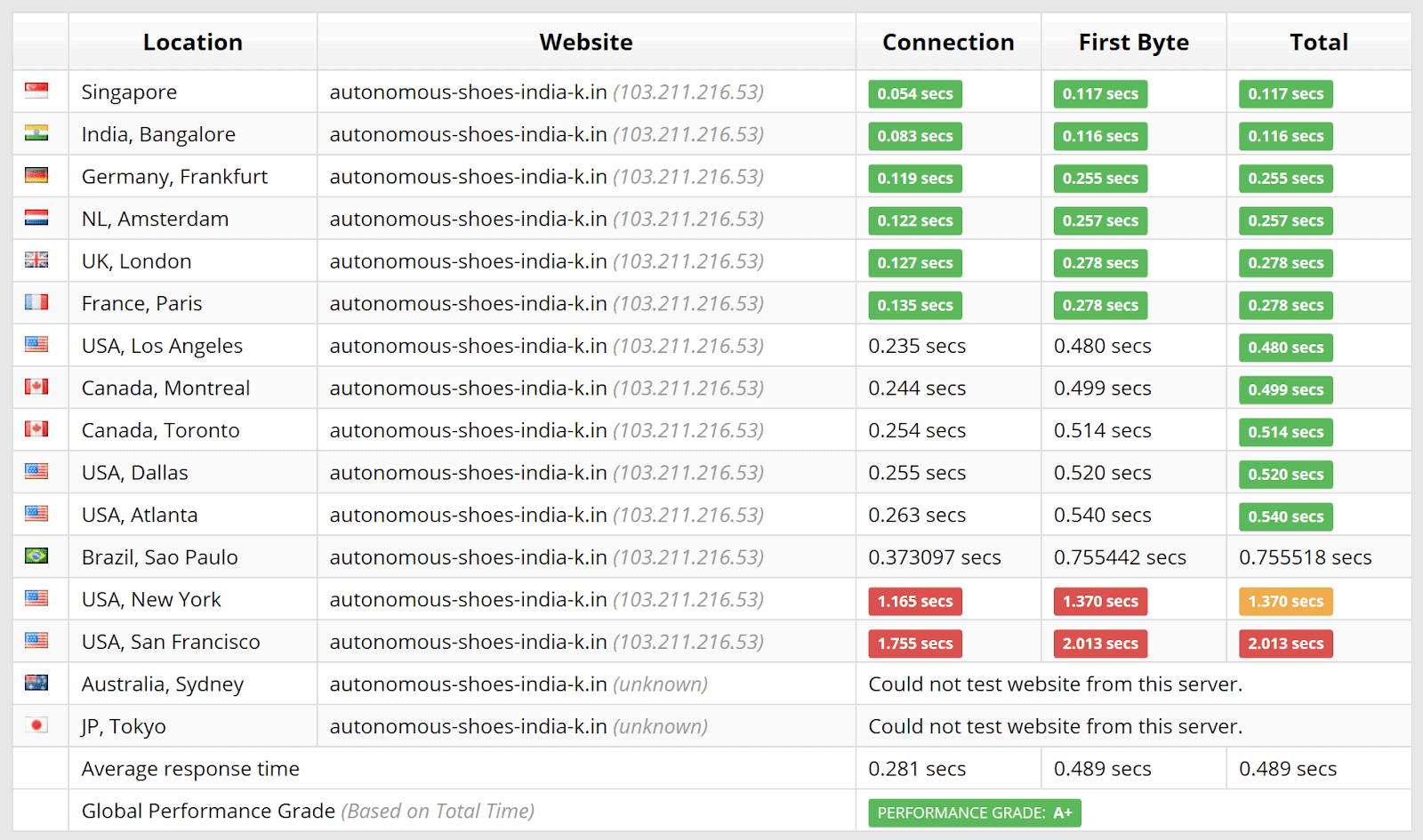 I wouldn't take these numbers at face value, though, since we're talking about a very simple test site with caching enabled. This means two things: 1) that this is likely the best you can hope for and 2) that the baseline page loading speed is significantly slower. For more information,
see our full BigRock review
.
On the other hand, GoDaddy's numbers were so awful that no amount of caching would be enough to mask them.
For the full test results,
see our in-depth GoDaddy review
.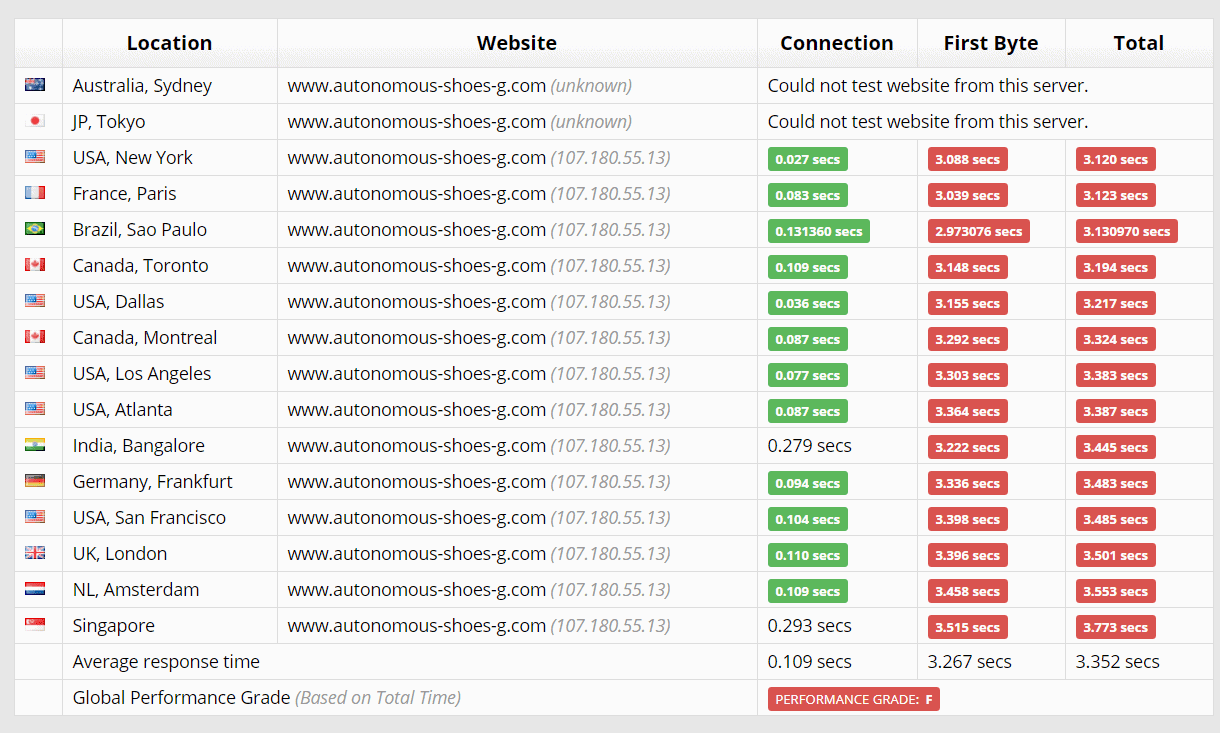 Even though BigRock is the clear winner here, I can't help but be apprehensive.
Hostinger is not only cheaper, but also much faster and more stable.
 In fact, it's the fastest shared hosting service we've tested.
4. Security
Security Tools Are Locked Behind Paywalls with Both Hosts
Although GoDaddy and BigRock isolate user accounts from one another and offer basic protection against DDoS attacks,
more advanced levels of security are locked behind paywalls.
Neither company includes a free SSL certificate in the entry-level plans,
although GoDaddy does have a one-year free trial version with its Ultimate plan and unlimited SSL with its Maximum plan. In an age where SSLs are mandatory (and there free options), not including SSL on all plans is simply unacceptable. As is the case with the Office 365 mailbox, GoDaddy's premium SSL will renew itself at the then-current price, which is nothing more than a shameless cash grab on GoDaddy's part. Go ahead and install a free cert from Let's Encrypt on either host, and you'll be up to code. Unfortunately, if you do choose a free SSL with GoDaddy, you'll have to renew the certificate manually.
Automatic backups are a paid feature with both BigRock and GoDaddy, as are advanced malware scans and detection.
 The more you read into it, the clearer it becomes that both companies are trying to get you to purchase a lot of extras that will raise the cost of your "affordable" plan.
5. Support
BigRock's Support Is Quick and Effective
GoDaddy offers 24/7 phone and live chat support, while BigRock also has tickets and email.
 In theory, this sounds great. However, in practice, BigRock's support was far better. You're lucky if you can get in touch with a GoDaddy rep, and when you do, chances are small that they'll be able to help. I'm one of those people who prefers a DIY approach just to avoid bothering someone else. Still, when I buy hosting, I like to know that support channels actually work. You know, in case something bad happens and I have no idea what to do.
Whenever I reached out to BigRock through live chat, I always got a response within minutes.
 The agents were knowledgeable and responded promptly to any follow-up questions I had every single time.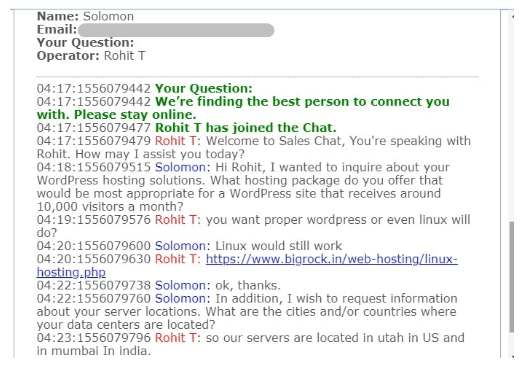 On the contrary, relying on GoDaddy's support is something I would dread. It is highly likely that you will waste your time and your problem will remain unsolved. For instance, when I sought additional details about various plans, I was simply directed to examine their features and make comparisons. It was not particularly helpful.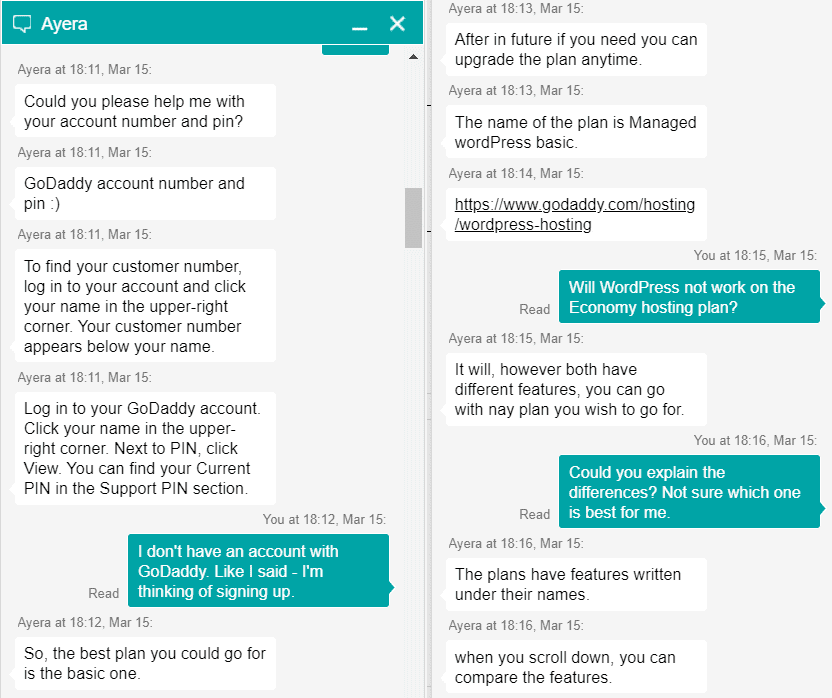 Both BigRock and GoDaddy have substantial knowledge bases with a lot of helpful articles and guides.
 But overall, BigRock's support was very good, while GoDaddy's was disappointing.
BigRock Wins This Comparison, but You Can Do Better
When all is said and done, BigRock is better than GoDaddy in pricing, performance, and support, while security and features are somewhat of a tie.
I never thought an EIG-owned host would ever beat GoDaddy, but here we are. Unfortunately, neither company had what it takes to grab a spot on our list of
the best web hosting services
. For some perspective on what the leaders of shared hosting have to offer,
check out Hostinger's best plans
. It has excellent performance, a complete list of features, and a lot of freebies to boot. If you're still undecided between GoDaddy vs BigRock, here's a short summary of my comparison between the two:
Plans and Pricing
Cheaper than GoDaddy on shared and cloud plans, modest value
Some of the most expensive and poor-value shared hosting plans
Features
Unlimited storage, emails, and bandwidth on most shared hosting plans, traditional cPanel
Unlimited websites, storage, and bandwidth on all shared hosting plans except entry-level, free domain for the first year, traditional cPanel
Performance
HDD storage, Apache web servers, data centers in India and USA, advanced caching enabled, good performance overall
HDD storage, Apache web servers, data centers in USA, Europe, and Asia, poor performance overall
Security
DDoS protection, firewall, no free SSL, paid-for automatic backups and website scans
DDoS protection, firewall, free SSL only on more expensive plans, paid-for automatic backups and website scans
Support
24/7 support via live chat, phone, ticketing and email
24/7 support via live chat and phone
FAQ
Is GoDaddy better than BigRock?
I was actually quite disappointed with GoDaddy's hosting plans. They lack essential features like SSL certificates, and the company often tries to upsell services that are offered for free with other hosts. BigRock's hosting plans are much better than GoDaddy's, but it's still not one of the best web hosts currently on the market.
2. Is BigRock owned by EIG?
Yes. BigRock was acquired by Endurance International Group (EIG) in 2014. This isn't necessarily a bad thing, but quality of hosting has reportedly gone down in some cases of EIG takeover. If you're having trouble making up your mind about which web host to use, take a look at our web hosting coupon page – you might find a deal there that will make your decision easy.
3. Does BigRock offer good performance?
Yes, but only for the Asia-Pacific and EU regions. Even though it did well in our performance tests, the underlying infrastructure is lackluster when compared to industry leaders. Most EIG brands, BigRock included, enable Varnish caching by default in order to boost their page loading speeds. This might work for simple websites, but it won't do for bigger, more complex sites like an e-commerce store. If you're looking for a budget host who can provide reliable performance, I recommend you take a look at Hostinger's best plans.
4. Is GoDaddy good for e-commerce?
I wouldn't choose GoDaddy to host an online store. The two cornerstones of good e-commerce hosting plans are excellent performance and features that help boost sales. GoDaddy is severely deficient in the performance category, and somewhat poor in terms of e-sales features.