Since GoDaddy and 123 Reg are well-known for their domain-name registration services, you'd think either one would be a good choice to host your UK website. Sadly, you would be wrong. I've thoroughly tested them both, and they both have some serious issues.
I've compared the two based on the aspects that matter the most when you're looking for a web host: pricing, features, performance, security, and support. GoDaddy was disappointing in most categories, especially performance and support. 123 Reg was slightly better across the board, but that's not saying much.
To be honest with you, I wouldn't choose either of these two hosts for my own website. You could save yourself a lot of time (and effort, and money) if you go with Hostinger instead. Hostinger has better loading speeds, is easier to use, and is much cheaper than both GoDaddy and 123 Reg.
Click here to see Hostinger's latest deals, or read on to see if one of these hosts could be right for you after all.
1. Plans and Pricing
GoDaddy and 123 Reg Have Similar Prices, but Beware the Hidden Costs
Both GoDaddy and 123 Reg have a wide range of web hosting services, from shared hosting to managed WordPress, VPS, and dedicated servers. At a glance, 123 Reg looks like a good deal, but its headline prices exclude 20% VAT and you have to pay for at least a year up front – there's no month-to-month option.
For shared hosting, GoDaddy's entry-level Economy plan gives you 1 website, unmetered bandwidth, and 100GB of storage. 123 Reg's Starter is slightly cheaper but is identical in terms of resources, except that it also includes one free email address. With GoDaddy, your email is free only for the first year. After that, it renews automatically – and costs a pretty sum.
You get a free domain name for one year with both hosts, but an SSL certificate is not included with either entry-level plan. Since SSLs are absolutely necessary for your website's security, buying one separately will almost double your overall costs.
GoDaddy Hosting Web Hosting
A Free Domain is included when purchasing any hosting service from GoDaddy Hosting
A Free Domain is included when purchasing any hosting service from 123 Reg
Managed WordPress hosting with 123 Reg is more expensive than with GoDaddy. 123 Reg's Business plan includes 5 websites, unmetered bandwidth, and 100GB of storage. By comparison, GoDaddy's Basic plan has just 1 website, 30GB of storage, and enough bandwidth for 25,000 monthly visitors.
Even GoDaddy's highest-tier plan gives you just one website. If you want more than a single site, you have to create multiple accounts. More expensive? Yep. More inconvenient? You bet.
123 Reg is twice as expensive as GoDaddy for self-managed VPS hosting, but GoDaddy makes you buy your control panel separately. Only GoDaddy offers managed VPS, but the plans are super expensive.
123 Reg VPS Hosting
A Free Domain is included when purchasing any hosting service from 123 Reg
If you want affordable hosting with transparent pricing, Hostinger is a far better option. Hostinger's entry-level Single plan is much cheaper than GoDaddy or 123 Reg's entry-level plans, includes everything you need to host one website, and has a 30-day money-back guarantee.
2. Features
Neither Host Has Particularly Impressive Features
GoDaddy and 123 Reg cover the basics, but that's about it. All plans – including the entry-level ones – have decent resources, a free domain name for one year, the cPanel control panel, and a one-click installer for popular content management systems (CMS).
Don't go looking for advanced features, though – there's no integrated CDN (content delivery network), no caching, no site staging, and no automatic backups.
GoDaddy won't even give you a website builder for free. If you want to use the builder tool, you have to buy a separate plan. On the other hand, 123 Reg does include its website builder, but it's only free for the first year.
Another small advantage with 123 Reg is that the tech team will migrate your website for free if you're switching from a different host. GoDaddy has a guide on site transfers, but if you want professional help, you have to pay for it.
Given their prices and compared to the best hosts in the industry, GoDaddy's and 123 Reg's feature sets are poor, to say the least:
| | | |
| --- | --- | --- |
| Feature | GoDaddy | 123 Reg |
| Hosting Type | Shared, WordPress, VPS, dedicated servers | Shared, WordPress, cloud VPS, cloud dedicated servers |
| Free Domain | Yes, for one year on all yearly plans | Yes, on all yearly plans |
| Free SSL Certificate | Only on the Maximum plan | Only on the Ultimate plan |
| Disk Space | 100GB on Economy, unlimited on all other plans | 100GB on Starter, unlimited on all other plans |
| Bandwidth | Unmetered | Unmetered |
| Automatic Backups | For an extra fee | No |
| Control Panel | cPanel | cPanel |
| Email Accounts | 1 Office 365 email address on all plans, but it's only free for the first year | 1 to 5 free mailboxes, depending on the plan |
| Free CDN | No | No |
| Free Site Migration | No | Only on higher-tier plans |
| Money-Back Guarantee | No | 14 Days |
3. Performance
123 Reg Is Much Faster than GoDaddy, but It's Not as Reliable
123 Reg is a local web host, so it operates from a single data center, in London, UK. Meanwhile, GoDaddy says it has servers in North America, Europe, and Asia. Could they be any more vague? Makes it pretty hard to know if your website will perform well for your target audience.
I've already mentioned that neither 123 Reg nor GoDaddy has any integrated caching or CDN options. GoDaddy is still using the older HDD storage rather than fast SSD storage on shared hosting, so I didn't expect much in terms of performance.
But assumptions are useless, so I signed up for both services to see how they would perform. I created two identical websites and ran several tests using GTmetrix, Sucuri, and UptimeRobot.
GoDaddy was a complete disaster on GTmetrix. The fastest page load time I got for my website was an appalling 2.2 seconds, and the slowest was a whopping 5s.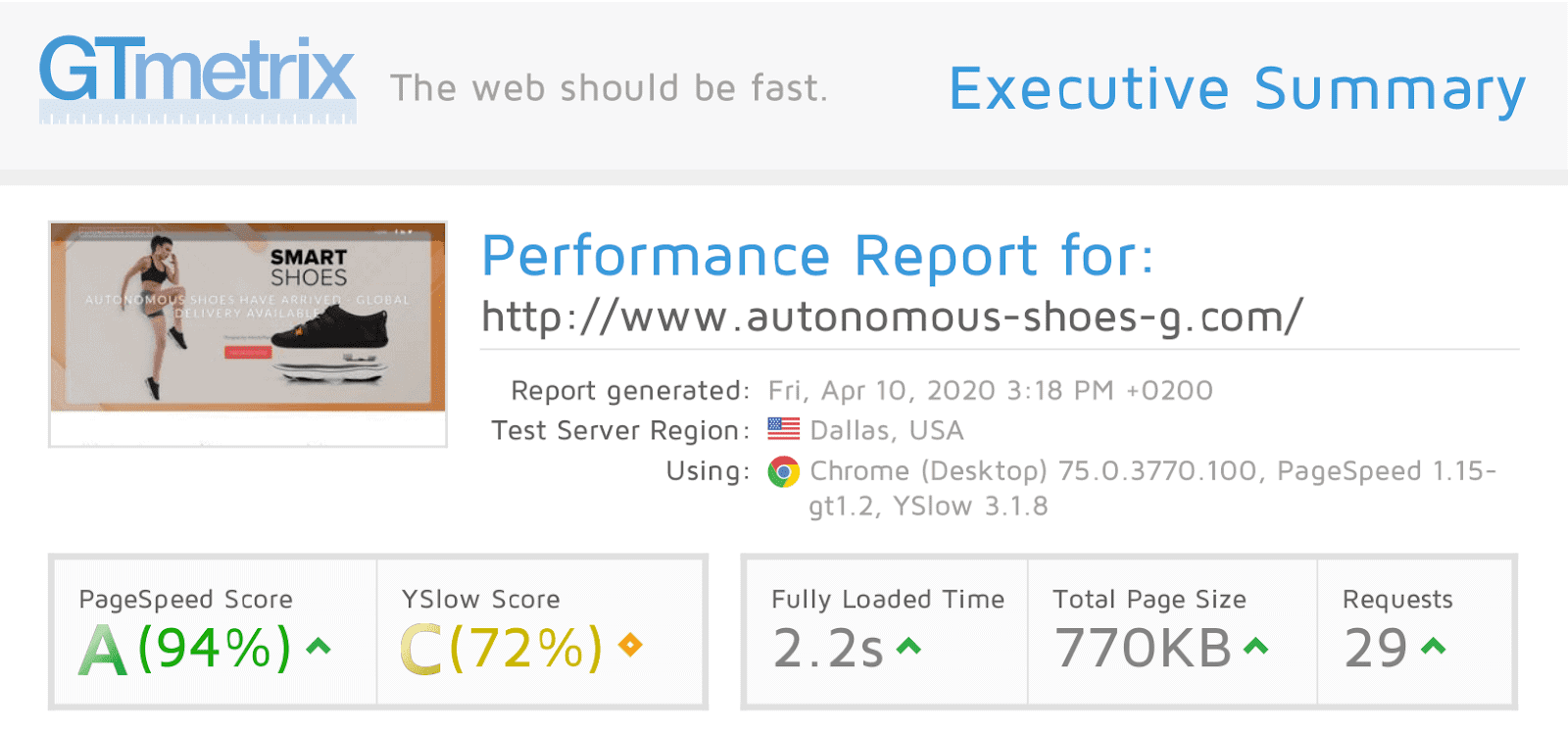 On Sucuri, GoDaddy managed to do even worse, with an average loading time of 4.16 seconds and an overall F for global performance. And Sucuri doesn't even measure full page loading times, just how long it takes to start loading. To understand what went wrong with GoDaddy, see our in-depth GoDaddy review.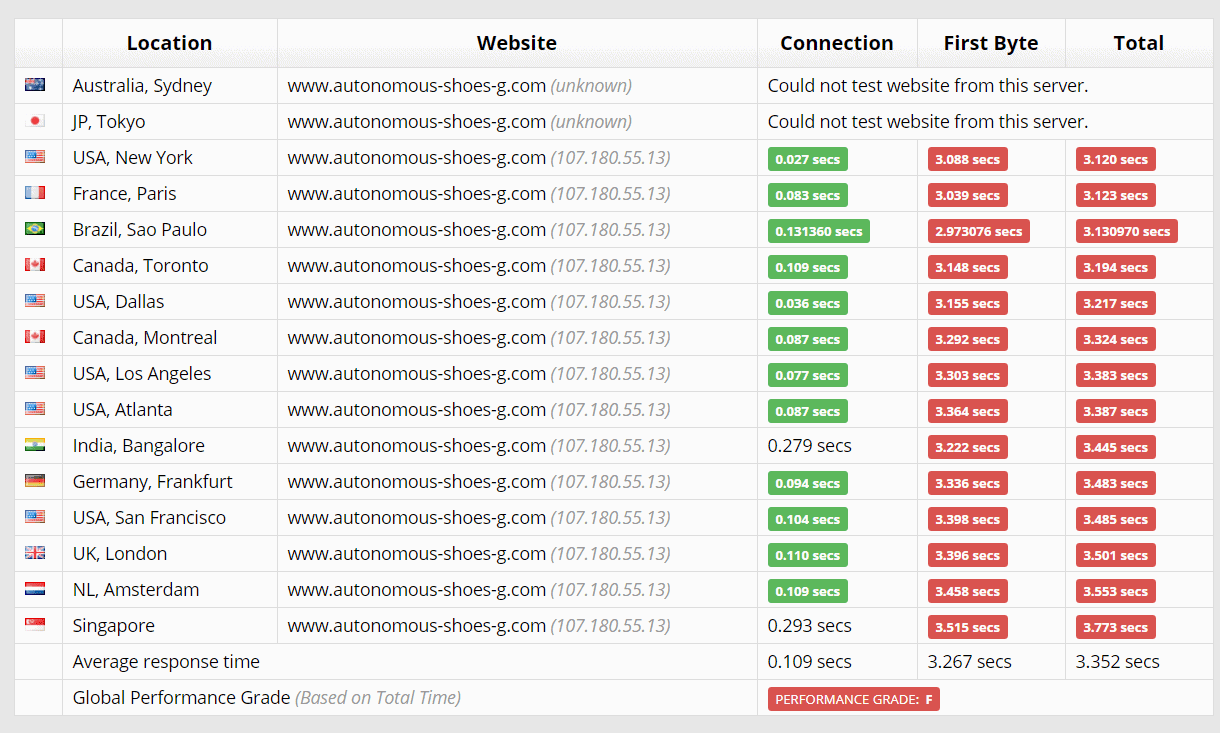 On the other hand, 123 Reg was surprisingly fast in the UK and even got a decent score worldwide. Its best result on GTmetrix was an impressive 0.7 seconds, while its worst was a completely acceptable 1.4s.

On Sucuri, 123 Reg got an average of 1.355 seconds and an overall C for global performance. The results weren't extraordinary, but they were far better than GoDaddy's, and loading times for the UK were pretty good. For the full test results, check out our in-depth 123 Reg review.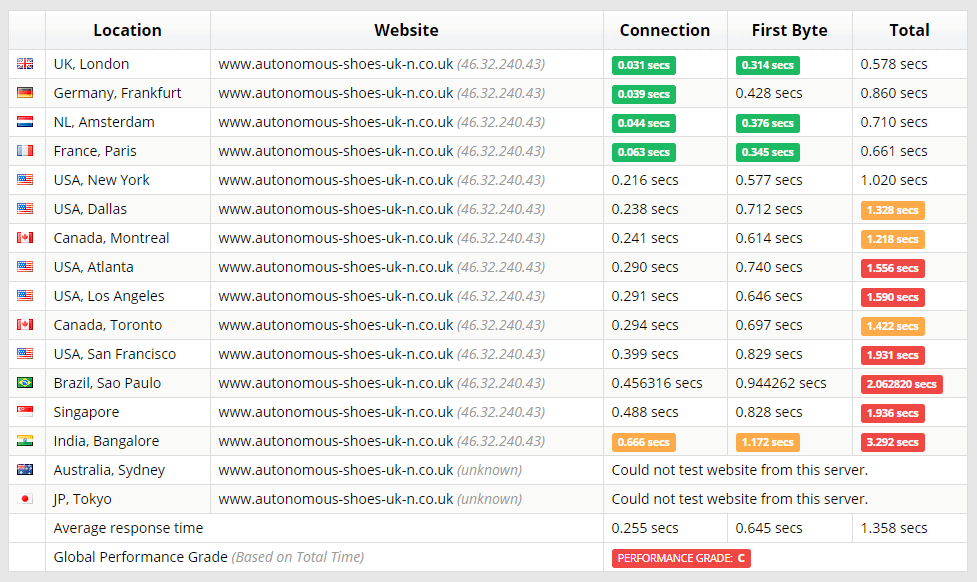 I got some disappointing results from my uptime tests.  With 123 Reg, I got a meager 99.634% over 40 days of testing. That's well under the industry standard, and since the host doesn't have an uptime guarantee for shared hosting plans (the guarantee only applies to dedicated server hosting), I got no compensation for excessive downtime.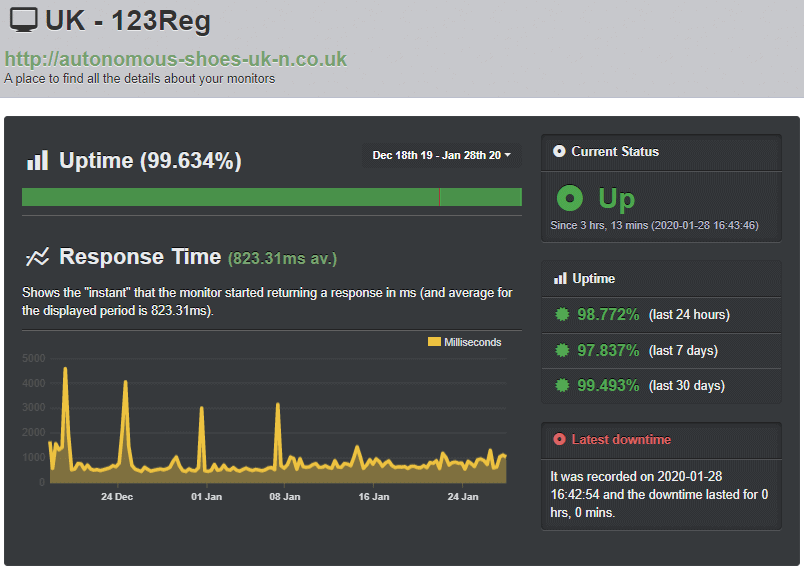 GoDaddy did a bit better. My website was online 99.974% of the time, although I did notice dozens of drops in availability over the course of four months.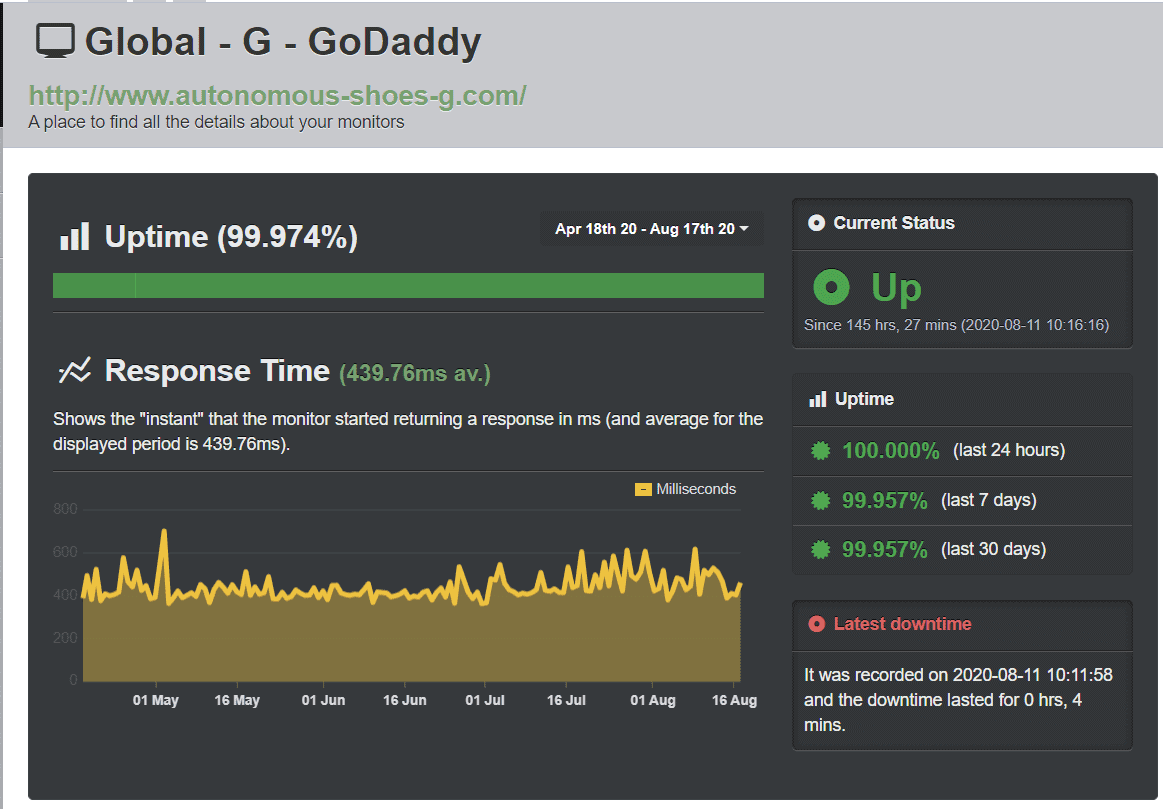 Overall, I can't recommend either GoDaddy or 123 Reg when it comes to performance. For a UK audience, 123 Reg is undoubtedly faster than GoDaddy, though its uptime is less than stellar.
Hostinger offers better speed and reliability than GoDaddy and 123 Reg, and it has a UK data center and an uptime guarantee. Read more about it in our in-depth Hostinger review.
4. Security
The Basics Will Cost You Extra with Both GoDaddy and 123 Reg
As far as your website's safety is concerned, neither GoDaddy nor 123 Reg will cover even the basics for free. By default, all plans come with 24/7 monitoring and DDoS protection, but that's about it. And it's by no means good enough.
Heck, these hosts don't even give you an SSL certificate if you're on an entry-level plan. Instead of giving you a free SSL certificate that can safely encrypt your visitors' data and protect your website, which most other web hosts do, both GoDaddy and 123 Reg ask you to pay a steep fee for their own "premium" certificates.
Automatic backups aren't included either. With 123 Reg, the service isn't even an option, so you have to run your own backups through cPanel. GoDaddy does have automatic backups, but you have to pay extra.
If you want any advanced security features, such as a malware scanner and removal tool, you have to buy them as add-ons with both hosts. And while these extra features may be optional, you will absolutely need backups and SSL certificates to keep your website safe. Keep that in mind when you total up your costs.
5. Support
Neither Host Is Easy to Reach, but GoDaddy's Support Is a Complete Wreck
GoDaddy and 123 Reg allegedly offer 24/7 customer support, but I found out the hard way that this is not the case.
123 Reg has live chat and phone support only during working hours, and the ticket system is plagued with bugs. Plus, it's not exactly 24/7 support if you have to wait several hours (or days) to get a response.
Meanwhile, GoDaddy claims to have live chat and phone support, but good luck getting in touch with an agent. During my tests, live chat was often unavailable, and when I finally did get a reply, the agent disconnected in the middle of the conversation. This happened more than once, with several different agents.
At least when 123 Reg got back to me, they were able to offer some assistance. When I tested the service, a one-click installer for WordPress wasn't included in the entry-level plan (this has since been added to all 123 Reg plans). I wanted some help installing the CMS, and the support agent offered to do it for me.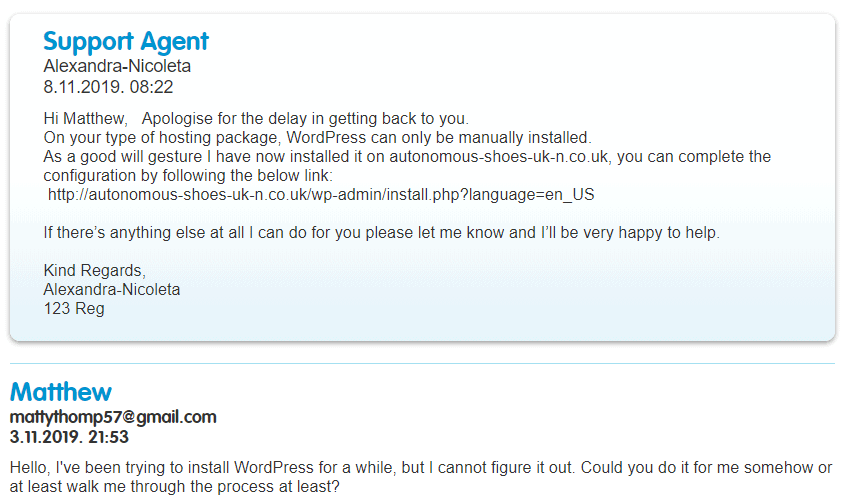 I also wanted to optimize my website prior to running Sucuri and GTmetrix tests, so the agent provided a couple of useful links to step-by-step guides. Not bad at all.
I had an entirely different experience with GoDaddy. When I asked for help with my WordPress installation, the agent couldn't even understand my request. It was obvious that they didn't speak English well, and the entire conversation ended up being a massive waste of time.
When I asked for optimization tips, the agent recommended that I use WP Smush to compress my images, which was decent advice. But even after the optimization, my website took a very long time to load.
I asked one of the support agents about this, and they emphatically assured me that 2.8 seconds is the best loading time I can get with GoDaddy. I don't think they really understood what they were saying, which just goes to show the grasp these "experts" have of web hosting.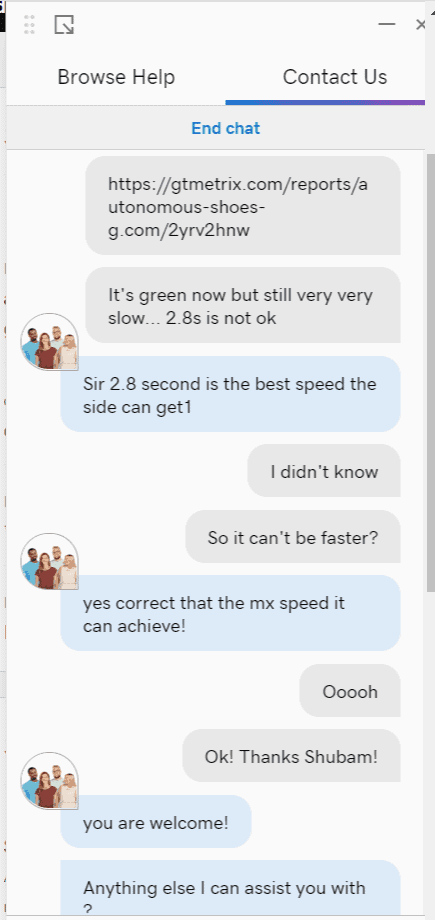 Both GoDaddy and 123 Reg have extensive knowledge bases where you can find guides and answers to the most common issues. If I'm being honest, these articles are the best way to find a solution quickly.
123 Reg Is Slightly Ahead of GoDaddy, but There's a Better Option
If this were a popularity contest, GoDaddy would easily win. But it's not. In terms of features, performance, and customer support, GoDaddy is easily one of the worst services I've ever tested.
123 Reg's hosting plans are slightly better, but not by much. It has great speeds for a UK audience, but its uptime is rather poor, and there's no uptime guarantee on most plans. It's also missing some essential features, like an SSL certificate, automatic backups, and integrated caching. Given that its pricing is pretty average, 123 Reg is just not worth it.
Personally, I'd go with Hostinger instead. Hostinger's Single shared hosting plan is much cheaper and actually includes critical features that GoDaddy and 123 Reg are missing: a free SSL certificate, an email account, caching, and CDN access. Speed and uptime are both outstanding, and there's even a UK data center.
Plans and Pricing
Similar prices as 123 Reg, but you get less value for your money
Slightly cheaper than GoDaddy for shared hosting, more freebies
Features
Unlimited storage space and bandwidth on most plans, free domain for 1 year, cPanel, 1 free email for 1 year, no money-back guarantee
Unlimited storage space and bandwidth on most plans, free .co.uk domain for 1 year, cPanel, 1 free email, 14-day money-back guarantee
Performance
HDD storage, no integrated CDN or caching, 3 data center locations, decent uptime, poor performance
SSD storage, no integrated CDN or caching, 1 data center location, great performance in the UK, poor uptime
Security
DDoS protection, automated backups for an extra fee, additional security for an extra fee, free SSL only on the Maximum shared hosting plan
DDoS protection, manual backups, additional security for an extra fee, free SSL only on the Ultimate shared hosting plan
Support
24/7 support via live chat and phone; extensive knowledge base
24/7 support via live chat, phone, and tickets; extensive knowledge base
FAQ
Is GoDaddy better than 123 Reg?You'd think that GoDaddy is one of the best web hosts in the industry given how often it pops up in reviews. However, my colleagues and I have tested the service extensively and the results were utterly disappointing. Loading speeds are extraordinarily slow, customer support barely speaks English, and essential features like SSL certificates are missing from most plans. That said, 123 Reg isn't much better. When we tested it we found it has superior performance in the UK, but uptime isn't great, and SSL certificates are not included. As for customer support, the agents are helpful and knowledgeable, but they're only available during work hours. There are far better web hosting services out there. Hostinger costs less, has better performance, and gives you everything you need to host, manage, and secure your website.Is GoDaddy fast?No. In fact, GoDaddy is one of the slowest web hosts I've ever tested. After talking to support and optimizing my website, the best loading time I got on GTmetrix was a ghastly 2.2 seconds. The average was 2.94s and the slowest was an abysmal 5s. Using Sucuri, the results were even worse. The average loading time was 4.16 seconds, and my website got an F for overall performance. I even contacted support to complain about the results, and the agent told me that these were the best speeds I could hope for. If you want fast and reliable web hosting, forget about GoDaddy. You'll find far better hosts on our list of the best web hosting services.Is 123 Reg good for WordPress?123 Reg does have two managed WordPress hosting plans, but neither is great. For instance, the Business package includes 5 websites, 100GB of storage space, and unlimited bandwidth, but it has no real optimizations for WordPress, just a one-click installer and automatic updates. A good WordPress host should have a platform built specifically for this CMS, complete with caching tools and an integrated CDN for improved performance. You should also have access to specialized tech support, enhanced security, site staging, and useful WordPress plugins like Jetpack. To get a better idea of what WordPress hosting should include, check out this list of the best managed WordPress hosting services.Does 123 Reg use cPanel?Yes. 123 Reg's shared hosting plans come preinstalled with the cPanel control panel. This makes it easier to manage your websites and email, install your favorite CMS, and create and restore backups. That said, cPanel isn't the most user-friendly tool out there. Hostinger's proprietary hPanel comes with a simplified interface but performs most of the same functions. To learn more, read our expert Hostinger review.