Is it better to choose a simpler all-in-one solution with GoDaddy, or will your website benefit from the vast infrastructure offered by Microsoft Azure? You might assume that Azure offers a better overall hosting experience, but
I've tested both providers thoroughly, and I'd say GoDaddy is the better host, for most users
. This caught me off guard, but it's true –
GoDaddy delivers faster speeds, more useful features, and a lot more value
 than Microsoft Azure. Not to mention that Azure can be very daunting for beginners. I put each host's performance, reliability, support service, and more to the test.
Click here to get GoDaddy's latest deals
,
 or read on to find out how GoDaddy managed to beat a technological giant in Microsoft Azure.
Plans and Pricing
GoDaddy Keeps Things Simpler – and Cheaper – Than Microsoft Azure
If you're at all familiar with web hosting services, you probably already know that GoDaddy offers shared and WordPress-optimized hosting. Higher-tier plans offer faster page loading speeds, more features, and more resources. Whereas 
Microsoft Azure doesn't offer traditional plans at all – it uses a pay-as-you-go system for web hosting pricing.
To host a site with Microsoft Azure, you have to pay for a combination of different services: a virtual machine to host the site, cloud storage, a database, and more.
There's no "package deal" for web hosting.
GoDaddy Hosting Web Hosting
A free domain name is included with some hosting plans from GoDaddy Hosting
Microsoft Azure Cloud Hosting
This allows you a lot more flexibility and ensures that you are paying only for the resources you use.
But it adds a lot of complexity to your monthly bill.
 With GoDaddy, you'll know exactly what your monthly bill will be each month, but with Microsoft Azure, you'll likely need a calculator nearby (and, in fact, there is a pricing calculator on the Azure website). With GoDaddy, each plan has everything you need to get started. Paying for a 36-month plan will get you the best prices.
Every plan also comes with a free domain
for the length of the hosting term. With Microsoft Azure, you'd have to register and pay for your domain elsewhere. While the price increases at renewal time are annoying, GoDaddy is still cheaper than Microsoft Azure, and it provides better value.
Support
Microsoft Azure Provides Straight Answers – GoDaddy, Not So Much
On the surface, GoDaddy and Microsoft Azure have similar support platforms,
 both offering 24/7 live chat and ticketing. I've tested both to see how they would handle common support queries.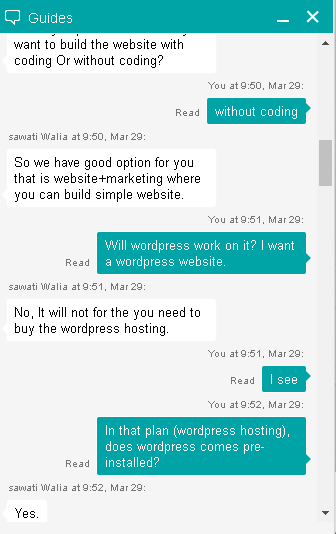 It took a while to connect with GoDaddy's live chat – I had to initiate multiple attempts.
 Once I got through, I noticed the support agent's English was fairly poor. I found myself having to reread a few responses to make sense of them.
Then, with almost no details about what I wanted, the agent tried to pitch an expensive plan
 that simply wouldn't have met my needs.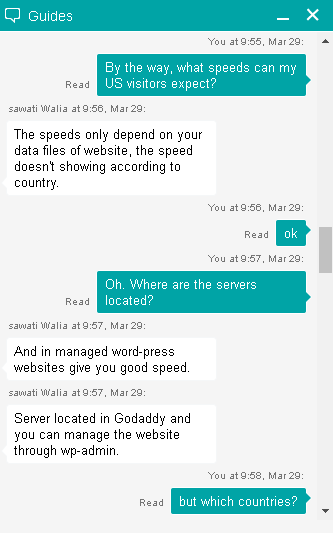 I asked about the performance I could expect for my US visitors, but I was told that performance was only dependent on the "data files" of my website. Aside from not making much sense, this came off as an attempt to absolve GoDaddy of any future performance issues. While I did explore Microsoft Azure's support service, you don't get far unless you pay for a support plan. There are multiple tiers available, but
the basic plan which is included for all customers only provides ticket support.
Moving up to the next level allows you to follow up on ticket requests via email, during business hours only.
 To get an idea of the support quality and level of professionalism you can expect, I asked some basic questions via pre-sales live chat.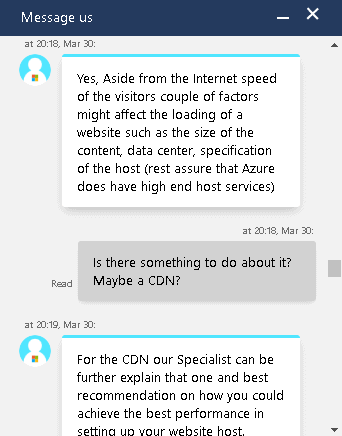 Response times were inconsistent. Sometimes I didn't get a response at all – other times, it'd be instantaneous. However, I found the agent to be much more straightforward with me than GoDaddy's.
There were no aggressive pitch attempts, and my questions were answered as clearly as possible.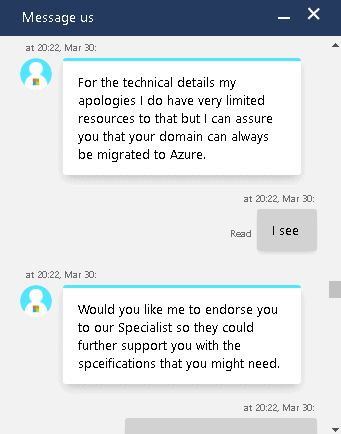 However,
the agent lacked knowledge
. A lot of my questions went unanswered, as the agent simply didn't know for sure. I was offered a phone call with a specialist, but it would have been nice if the information I needed had been available via chat. Overall, both providers' support services could use some improvements, but at least with Microsoft Azure you get clear and professional responses.
Features
GoDaddy Includes More Useful Features Than Microsoft Azure
Microsoft Azure lists a huge variety of hosting solutions – it doesn't just focus on serving websites. This means GoDaddy appears to have more to offer when it comes to web hosting. For example,
 GoDaddy includes a trial Office 365 email account (from Microsoft!) for a year with every plan, but Microsoft Azure doesn't include any form of email hosting whatsoever.
GoDaddy also offers beginner-friendly plans that include a simple-to-use site builder and useful marketing tools,
 which are very suited to small businesses. Again, there are no such options available with Microsoft Azure. Instead of providing any useful little extras,
Microsoft Azure focuses on providing you with a fully-flexible, enterprise-level hosting environment
. The best way to host a website with Azure is through its Virtual Machines, which can be customized and scaled to your exact needs. However, even this service isn't for beginners – configuring and running a Virtual Machine requires a lot of technical knowledge. Migrating an existing site to Microsoft Azure could prove to be a challenge, as there is no migration support given within its basic support plan. On the other hand,
GoDaddy's WordPress plans
 include a plugin that can automatically migrate your WordPress site for free.
GoDaddy
Microsoft Azure
Hosting Types
Shared, WordPress, VPS, dedicated server
Linux/Windows Virtual Machines, app hosting, more
Free Domain
Free for the initial term, available with annual, biannual, and triannual plans

✘

Free SSL Certificate

✔

 (except with low-tier shared plans)

✘

Disk Space
100GB – unlimited
4GB – 30TB
Bandwidth
Unmetered
Data transfer within the same availability zone is free but charged by the GB elsewhere
Automatic Backups
Available as a premium service
Available as a premium service
Control Panel
cPanel
Able to install the control panel of your choice
Email Accounts
Trial account for first year

✘

Free CDN

✔

(only with WordPress plans)

✘

Free Site Migration

✔

✘

Money-Back Guarantee
30-day refund window for annual and longer plans, 48-hour refund window for shorter payment terms
12-month free trial, $200 credit, 750 hours runtime for virtual machines
GoDaddy has a lot more features for newbies and non-techies,
 and while Microsoft Azure certainly is more flexible, this level of versatility is really only useful to developers.
Performance
GoDaddy Edges Past Microsoft Azure With WordPress Hosting Performance
Reliability-wise,
GoDaddy features a 99.9% uptime guarantee, so I expected at least that in the results of my testing. However, results were mixed
 – with the basic shared hosting plan, uptime was generally good, and above the guarantee. Sadly, the WordPress plans were far less reliable, falling below the 99.9% promise.
Microsoft Azure is much more stable
, offering a 99.99% uptime guarantee. My tests showed that it actually manages to fulfill this promise, with very consistent uptime over many months. GoDaddy has three data centers: one in North America, one in Europe, and one in Asia. Conversely,
Microsoft Azure has a whopping 160+ data centers throughout the globe.
Microsoft Azure's Virtual Machines are powered by speedy Intel Xeon processors, so with all of Microsoft's technological power I expected Azure to score higher in page loading speeds.
But GoDaddy turned out to be the better performer overall.
GoDaddy's basic shared hosting plans performed more slowly, but its WordPress plans sped past Microsoft Azure.
These plans
 come with access to a CDN and WordPress-specific optimizations, which seems to have worked wonders.
Check out our GoDaddy review
for more details. Microsoft Azure's speeds were disappointing, especially considering the sheer size of the infrastructure backing it up. To find out what went wrong,
take a look at our Microsoft Azure review
.
Security
Microsoft Azure Leaves Security Up to You – GoDaddy Has You Covered
Microsoft Azure's platform lacks an easy way to install a free SSL certificate. It is possible to install a free Let's Encrypt SSL certificate manually, but this is a bit of a headache.
Thankfully, GoDaddy's WordPress plans (and its upper-tier shared plans) include a free SSL certificate
which is automatically installed for you. GoDaddy also includes 24/7 network protection and basic DDoS mitigation for free on all plans, but
more advanced security features are locked behind various tiers of paid add-ons.
For the most part,
Microsoft Azure leaves you to secure your site yourself.
 You get access to the Azure Security Center for free, which gives you customized security recommendations. There's also Azure Defender, which is a premium service that takes care of network handling and threat detection. These are both nice systems, but they only go so far. The recommendations given by Azure Security Center will need to be configured manually, and many of these require advanced technical knowledge. You'd also still need to purchase expensive firewall services or third-party solutions to be fully secure.
GoDaddy provides comprehensive solutions which are much easier to implement.
GoDaddy Emerges Victorious
I have to declare GoDaddy as the overall winner of this comparison.
Choosing a WordPress plan not only enhances user-friendliness, incorporates an array of additional features, and delivers superior performance but also equips you with everything needed for a seamless start. In contrast, Microsoft Azure necessitates extensive planning and the procurement of multiple services.
Microsoft Azure may still be the better option for personal use, if you're a developer looking to benefit from its great flexibility.
 Just remember to make good use of Azure's pricing calculator when you're setting up infrastructure – costs can add up quickly. However, neither of these hosts are particularly ideal when compared to the providers on our
list of the best web hosting services for 2023
. For example,
Hostinger offers even better performance at significantly lower prices.
 I'd recommend taking a look at some of these other options before making your final decision.
Plans and Pricing
Simpler pricing structure, plans include everything you need to get started at a low price
Complex pay-as-you-go pricing, need to purchase multiple services to host modern websites
Key Features
Many helpful extras included, such as website builders, email hosting, and automatic migration tools
Much more flexible and customizable, but no beginner-friendly features
Performance
WordPress plans offer faster page loading but are less reliable; shared hosting plans are slower but more reliable
Slower page loading speeds than GoDaddy's WordPress plans, but much more reliable
Security
Basic security features included on all plans, advanced security incurs a premium monthly fee
Includes security recommendations for free, but you're expected to configure security manually
Support
Inconsistent responsiveness, poor quality communication and unhelpful information
Inconsistent responsiveness, polite and clear communication, but a lack of technical knowledge (on pre-sales chat)
FAQ
Which host is better, GoDaddy or Microsoft Azure?
I'd say GoDaddy is the better host for typical users. It'll provide a WordPress site with higher loading speeds and more useful features for a lower price than Microsoft Azure. However, there are certainly better hosts out there – Hostinger is both faster and cheaper than GoDaddy by a wide margin. For more recommendations, check our guide to the best web hosting providers.
Does GoDaddy offer WordPress hosting?
GoDaddy is a good choice for WordPress hosting. Even the cheapest plan includes a CDN, a free domain, and automatic WordPress updates. It also offers good page loading speeds. If you're looking to get a WordPress site up and running without any headaches, read our guide to the best managed WordPress hosting providers.
Is GoDaddy fast?
If you choose one of the WordPress plans, your site will benefit from decent page loading speeds. I'd avoid the lower-tier shared hosting plans, as our tests have revealed those to be significantly slower. Read this article to find out more about how we conduct web hosting performance tests.
Is Microsoft Azure cheap?
No, but Microsoft Azure can offer competitive prices for larger and more complex online projects if you take advantage of its discounts for paying in advance. But it can't beat Hostinger's fantastic prices. Or, if you're looking to save some money on any web host, you can get great deals for 2023 on our coupon page.